I am so excited to be sharing part two of my recent trip to Germany today (I'm not sure how many parts there will be yet, but it's going to be a lot! I explored so many towns and have so many places, stories, and adventures I want to share with you). While part one was all about my trip to a castle in Darmstadt, today is about my trip to historic Miltenberg.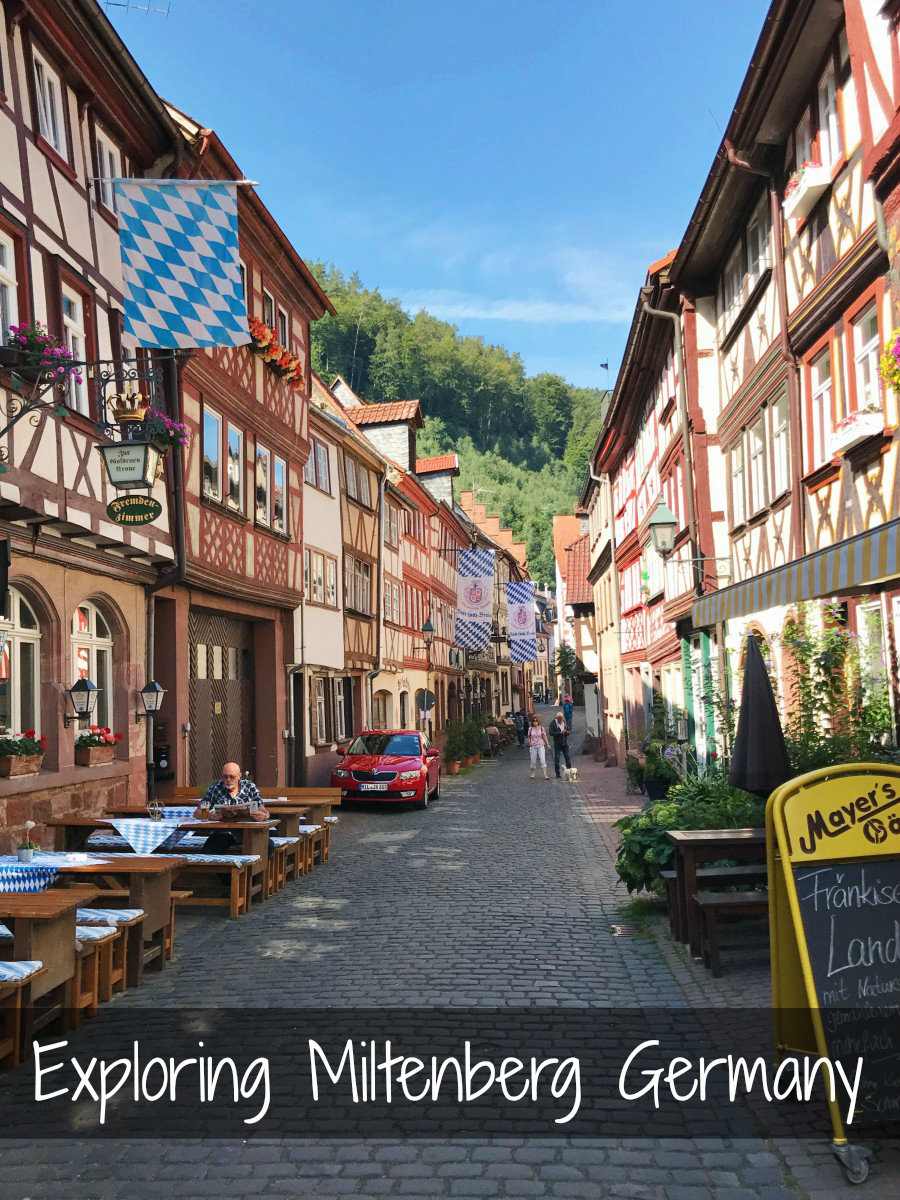 Exploring Miltenberg Germany
Miltenberg is a town in Bavaria Germany that is located along the Main River just an hour from Frankfurt. This prime location on the river made the town a flourishing economic center throughout history. Wine, fish, lumber, and stone were all heavily traded and shipped from Miltenberg.
While tourism is now the main lifeblood for the town, history has remained intact in Miltenberg, with buildings from the 14th century and on dotting the streets. Walking along downtown you truly feel like you stepped back in time.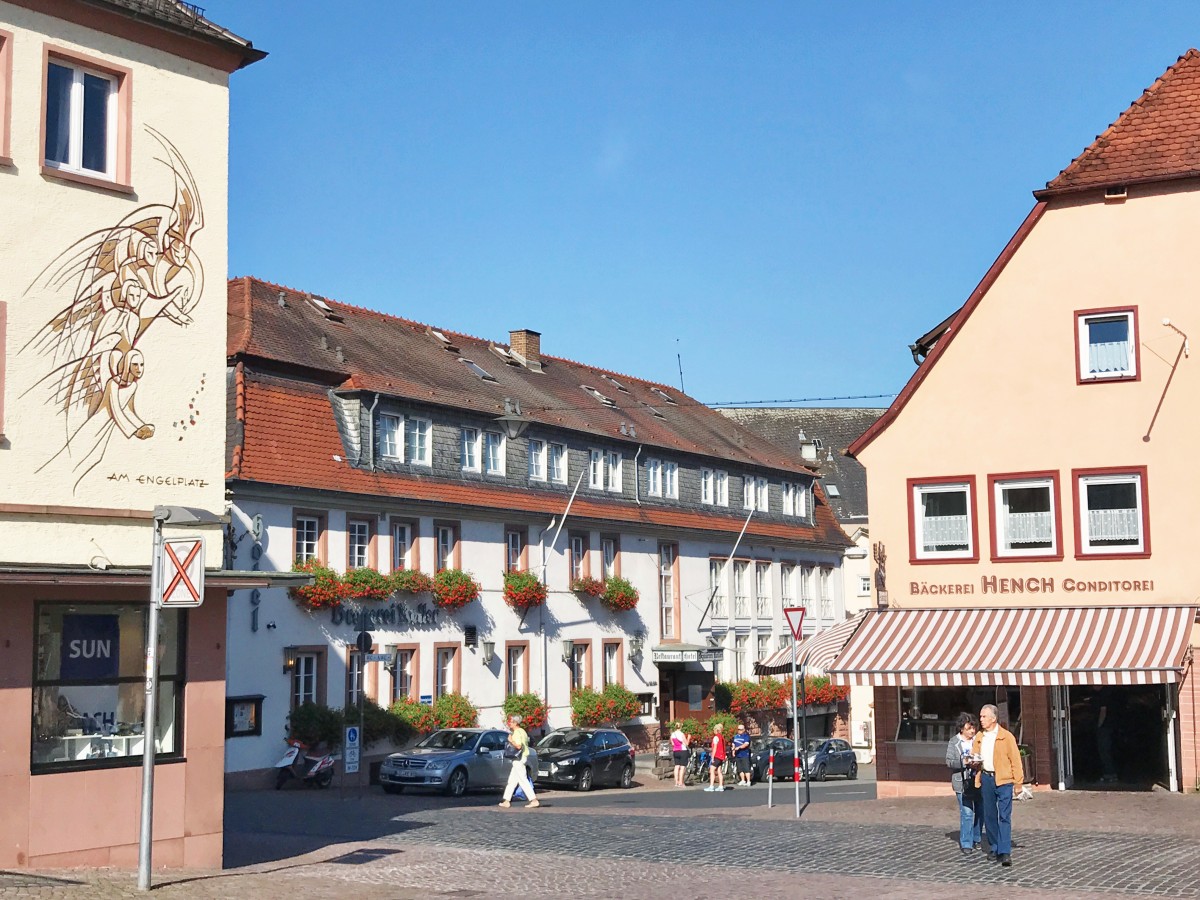 Angel Square
We arrived in Miltenberg at Angel Square to meet up with a tour guide and begin exploring the town by foot.
Miltenberg is beyond gorgeous. We were there on a beautiful day, with all the flowers in bloom, and a bright blue sky.  The buildings are picture-perfect. Traditional half-timbered houses line the streets, in all sorts of colors and designs. I must have snapped 500 photos of them all. You can truly feel the history as you walk around Miltenberg.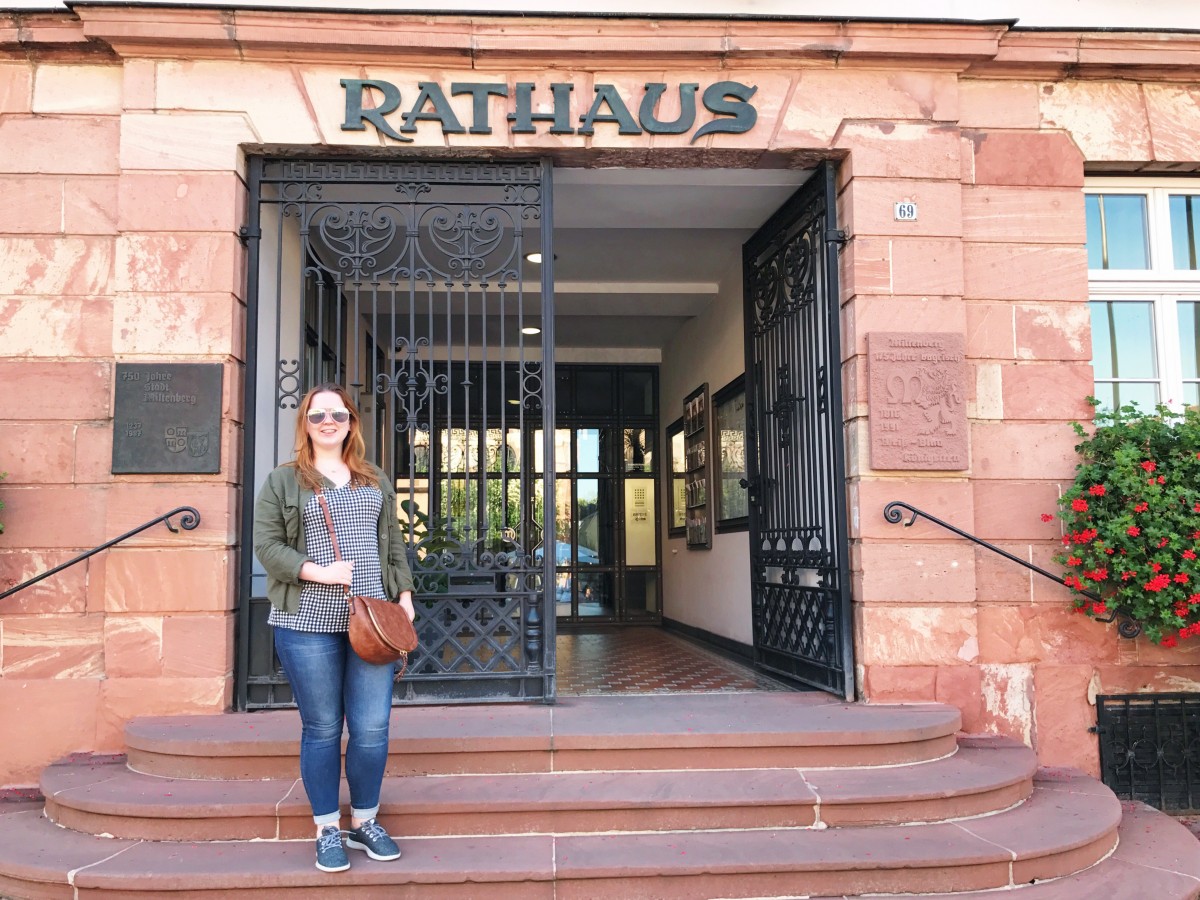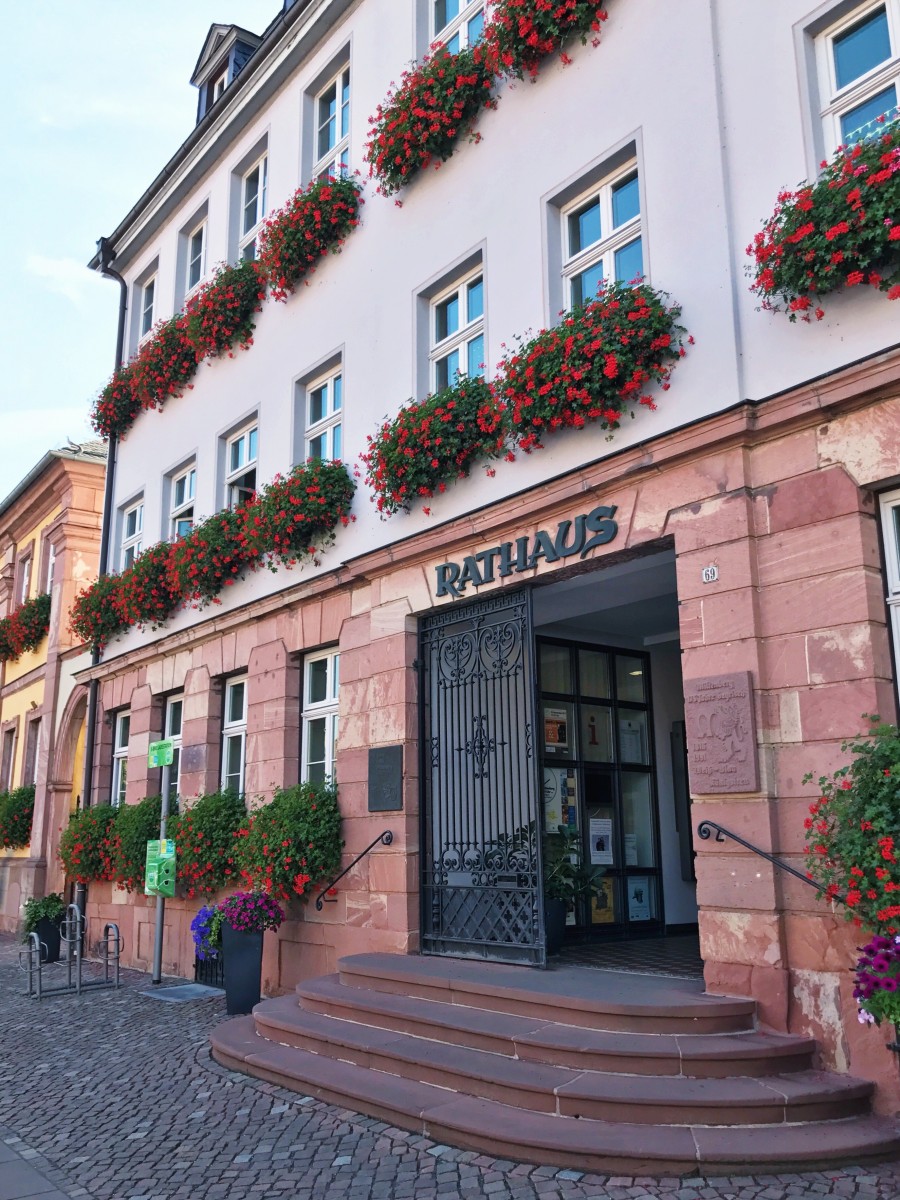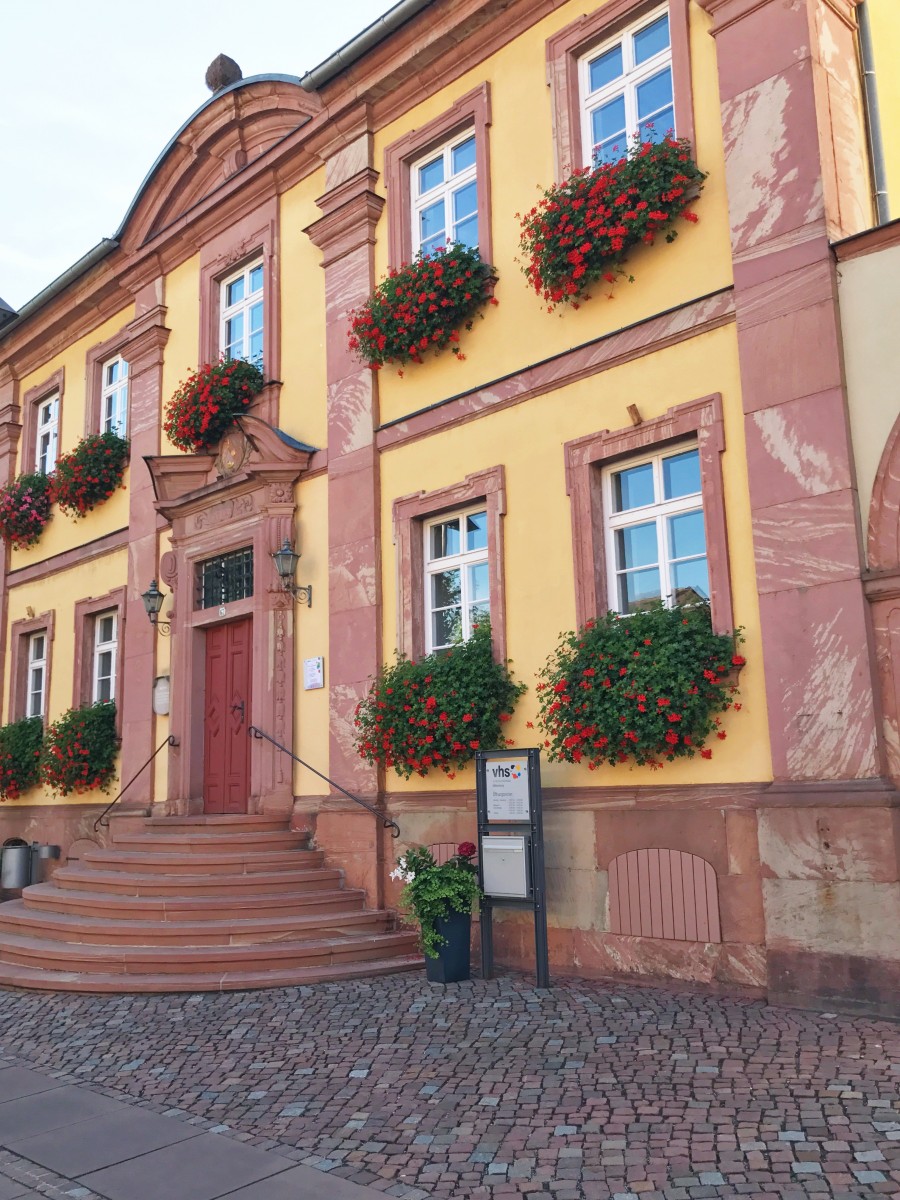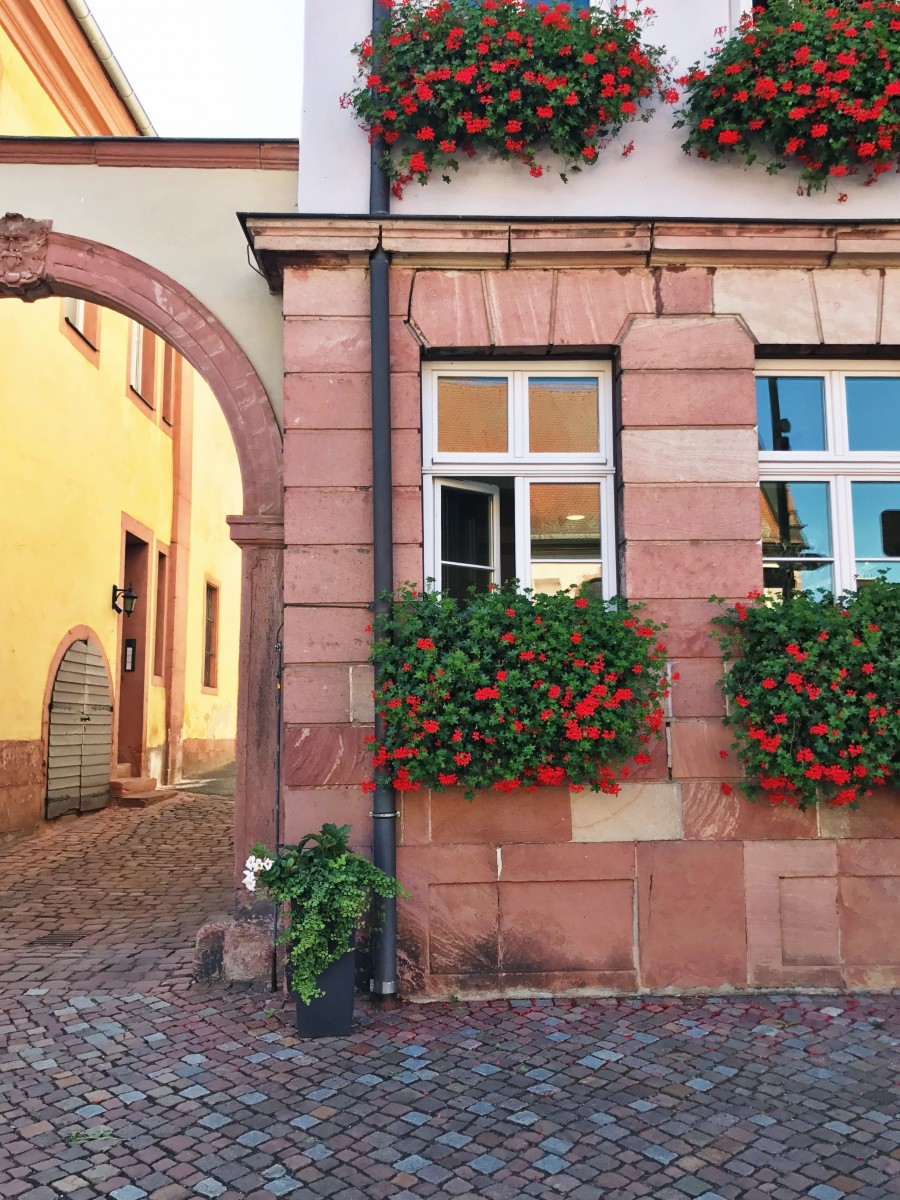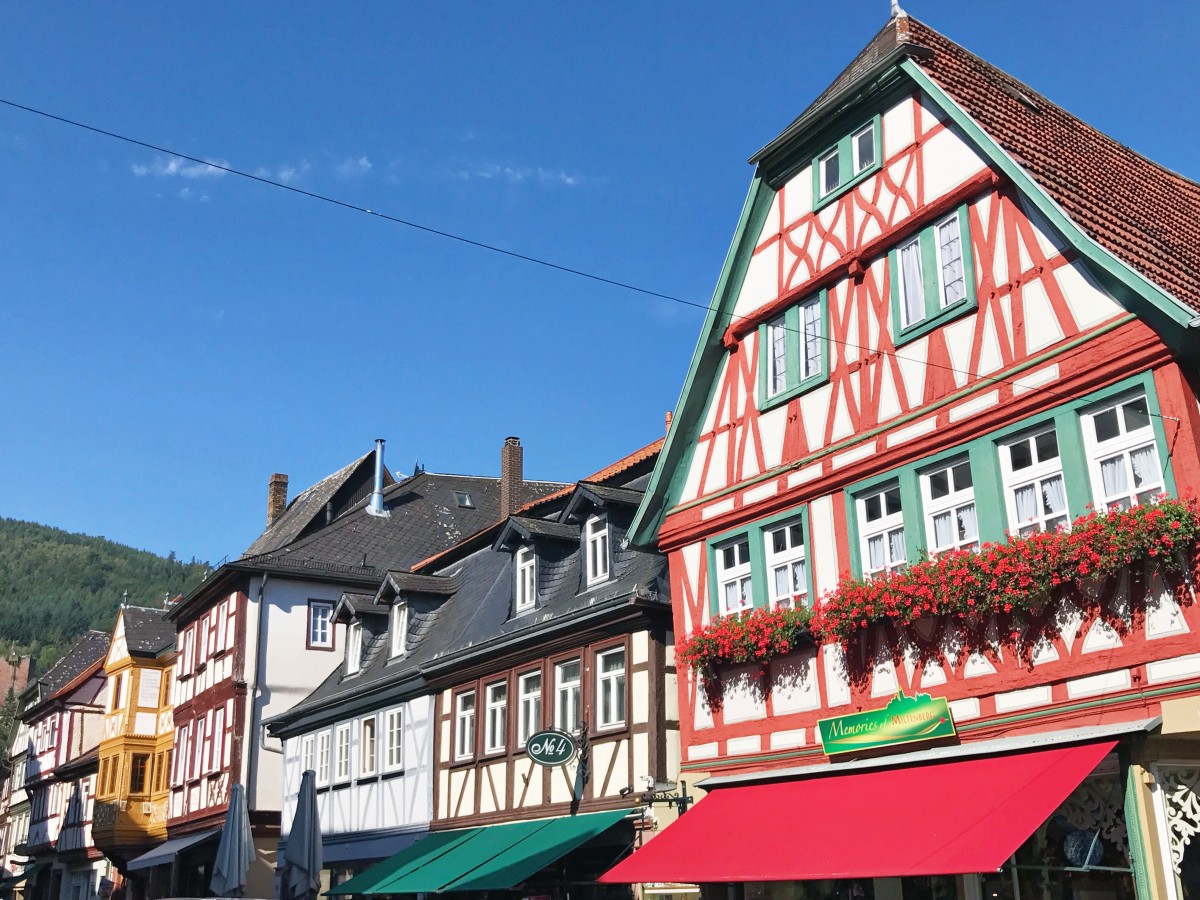 Old Town
Old Town has some of the most beautiful half-timbered houses. I love the variety  in the designs and how colorful the whole town is. Strolling along the cobblestones, I saw people walk by with grocery bags, take a seat at a table outside for a quick bite, and just enjoy their day. The feeling of the town is infectious. You want to be a part of it.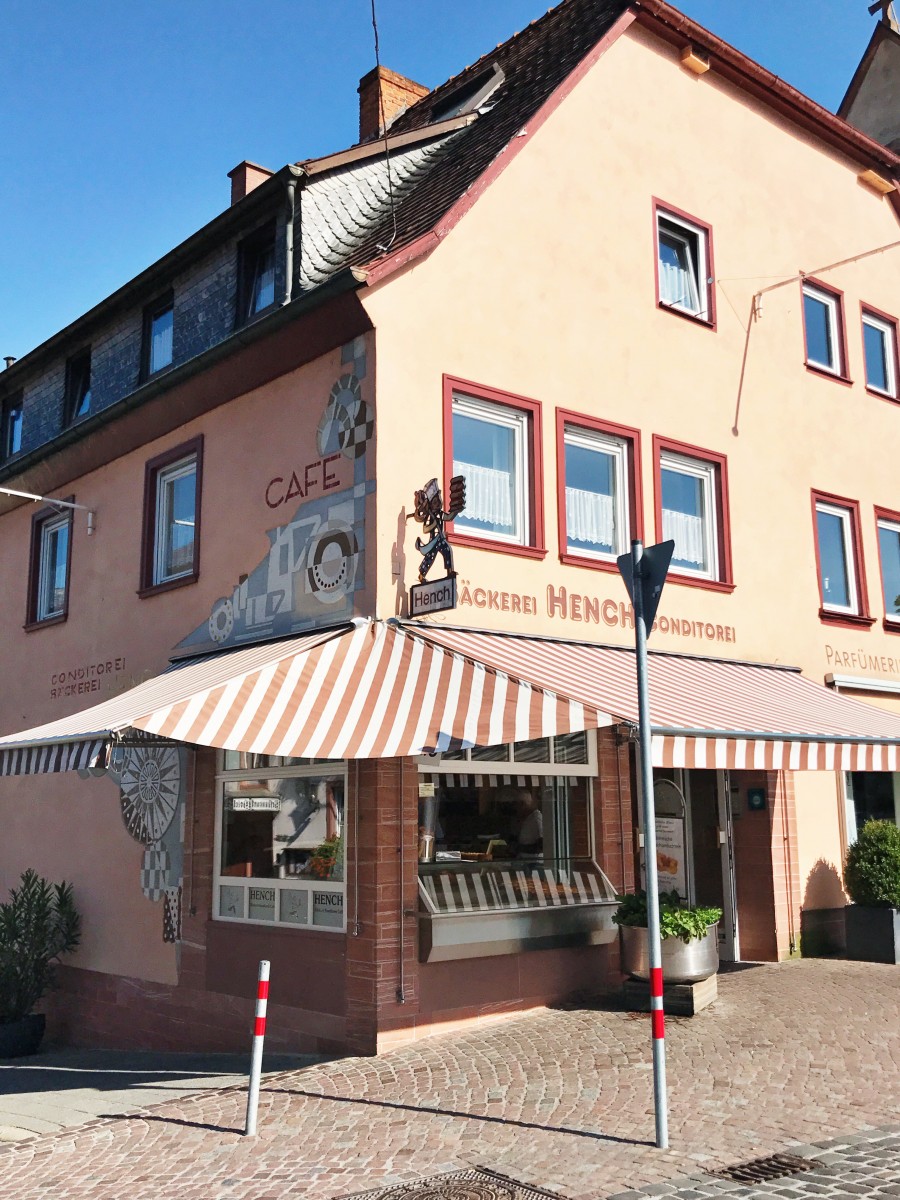 My advice on German bakeries: eat at as many of them as possible! They are ridiculously good.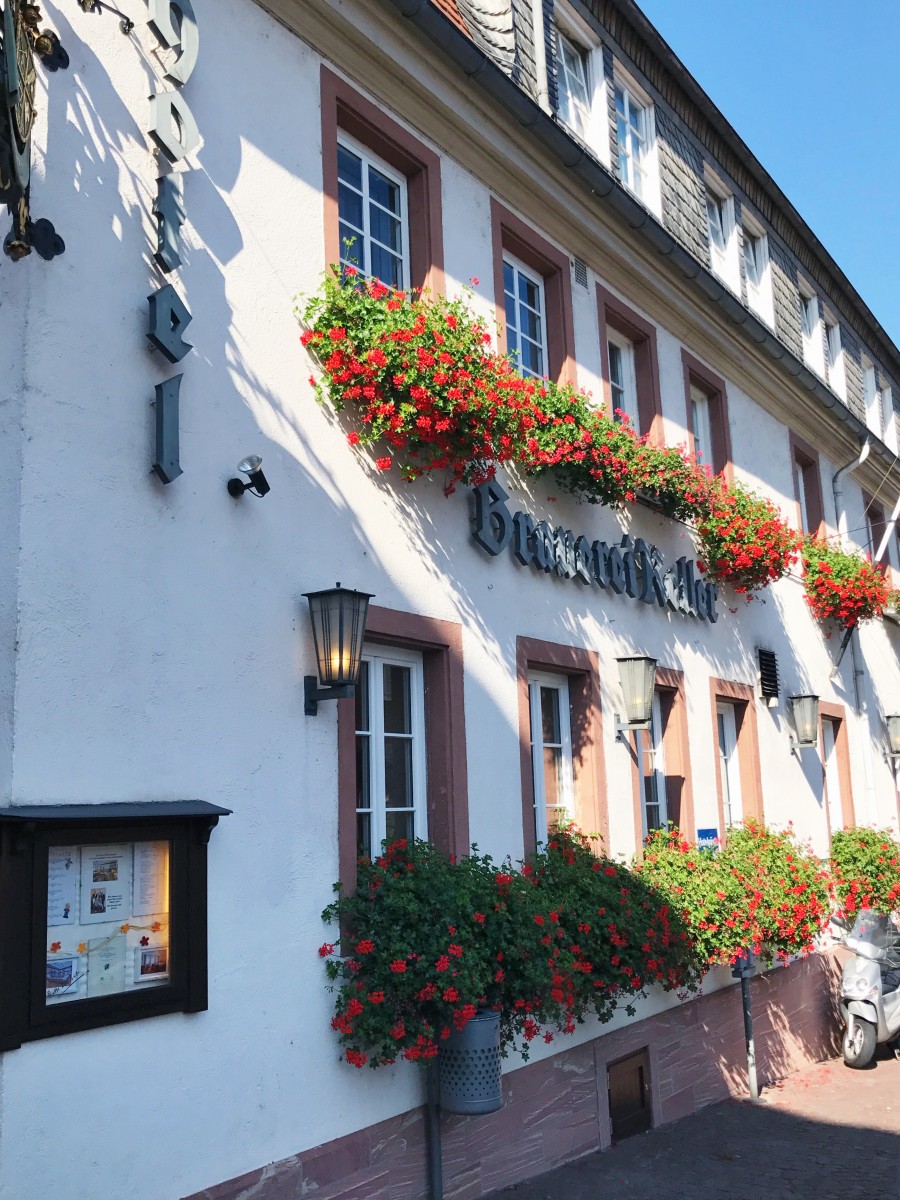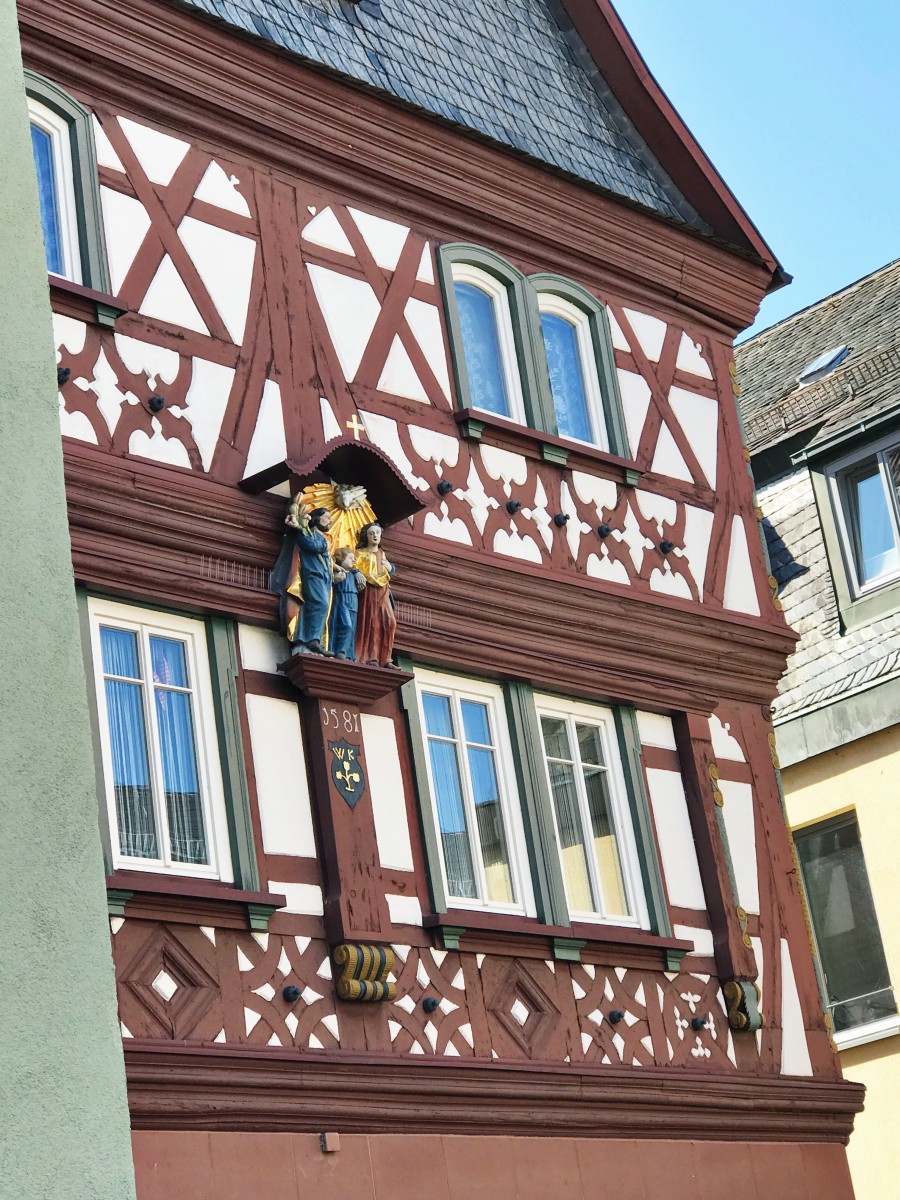 This building was built in 1581. See the little date stamp?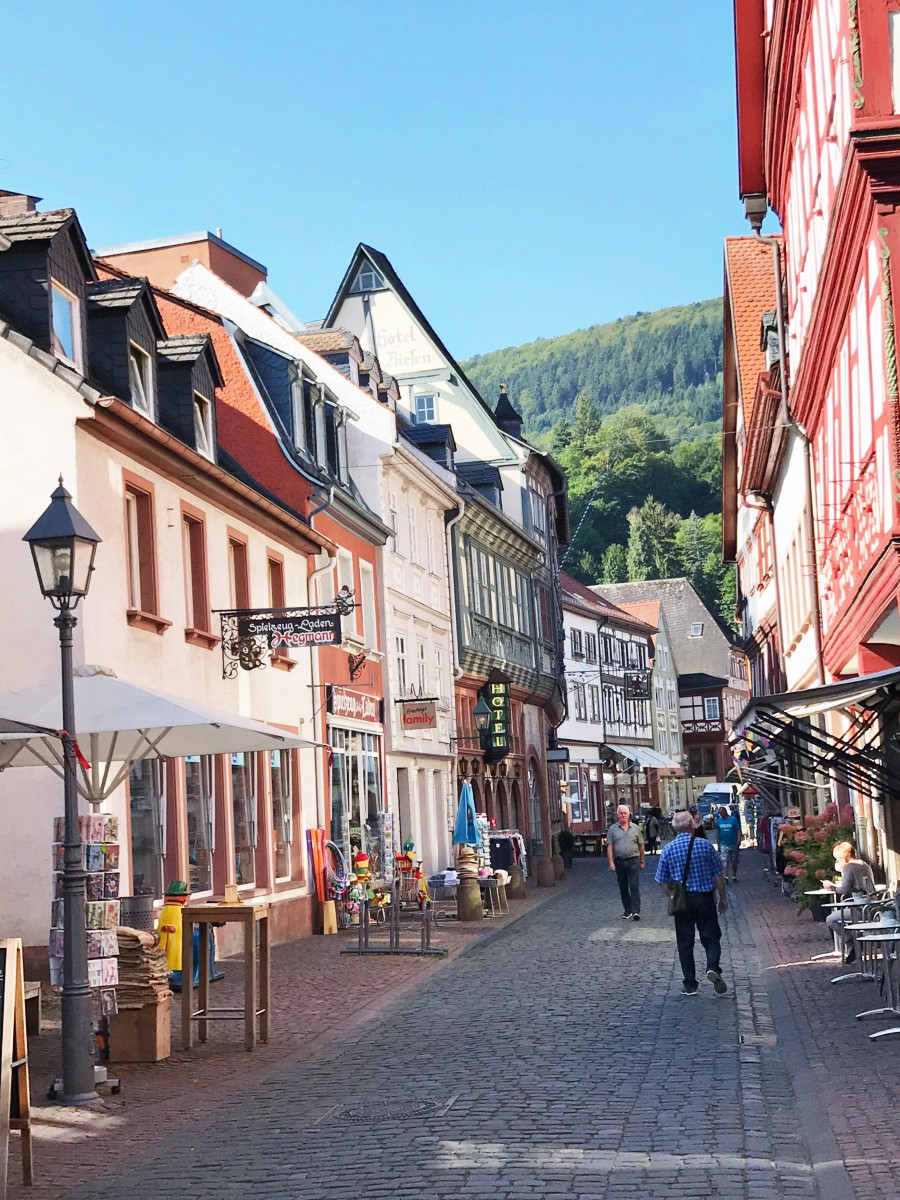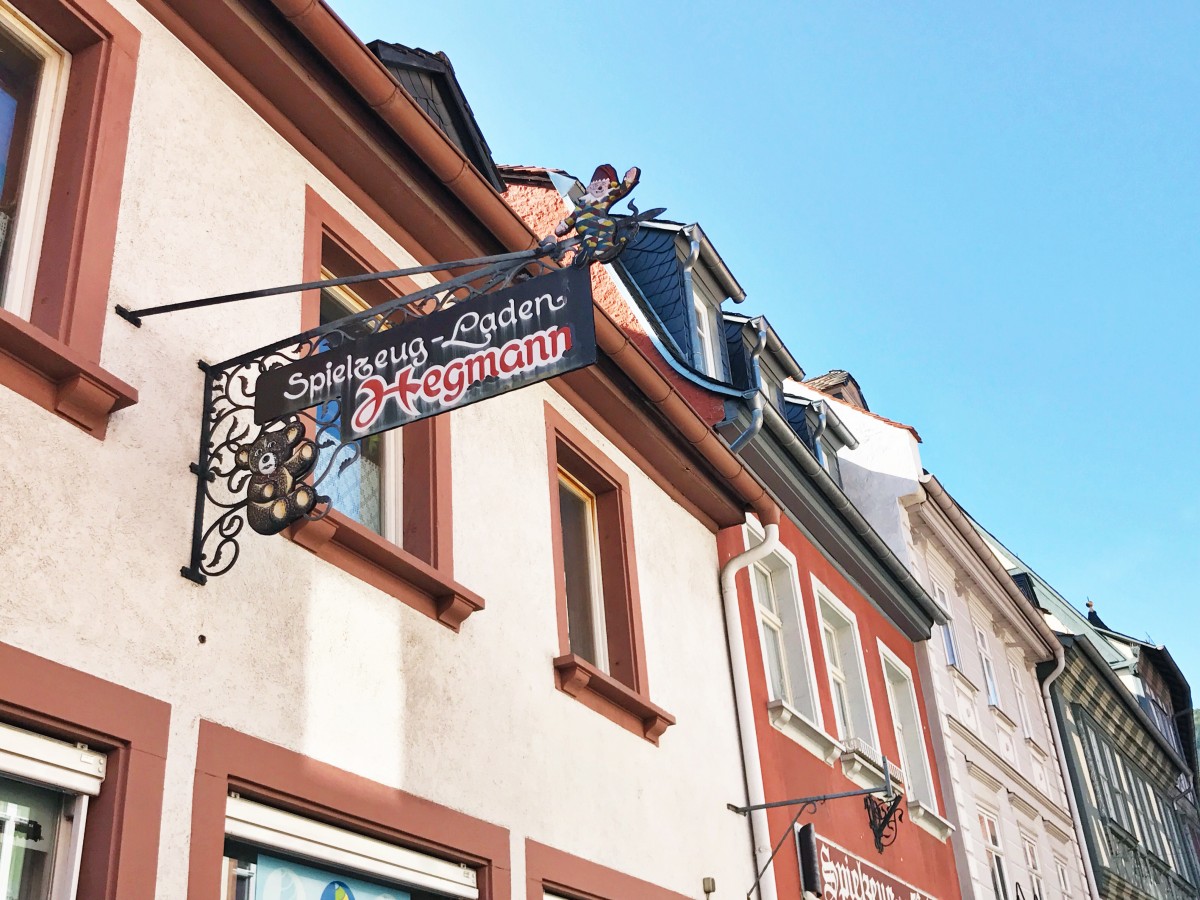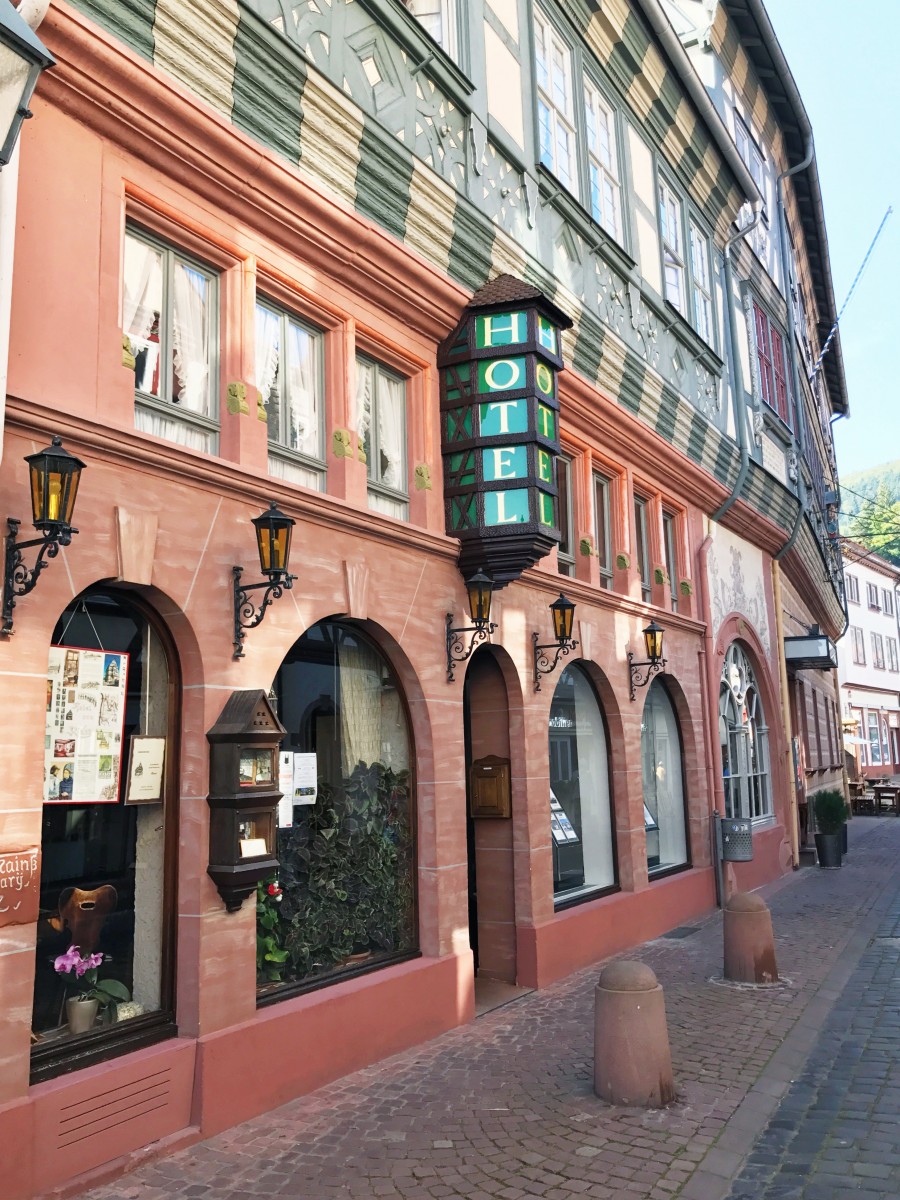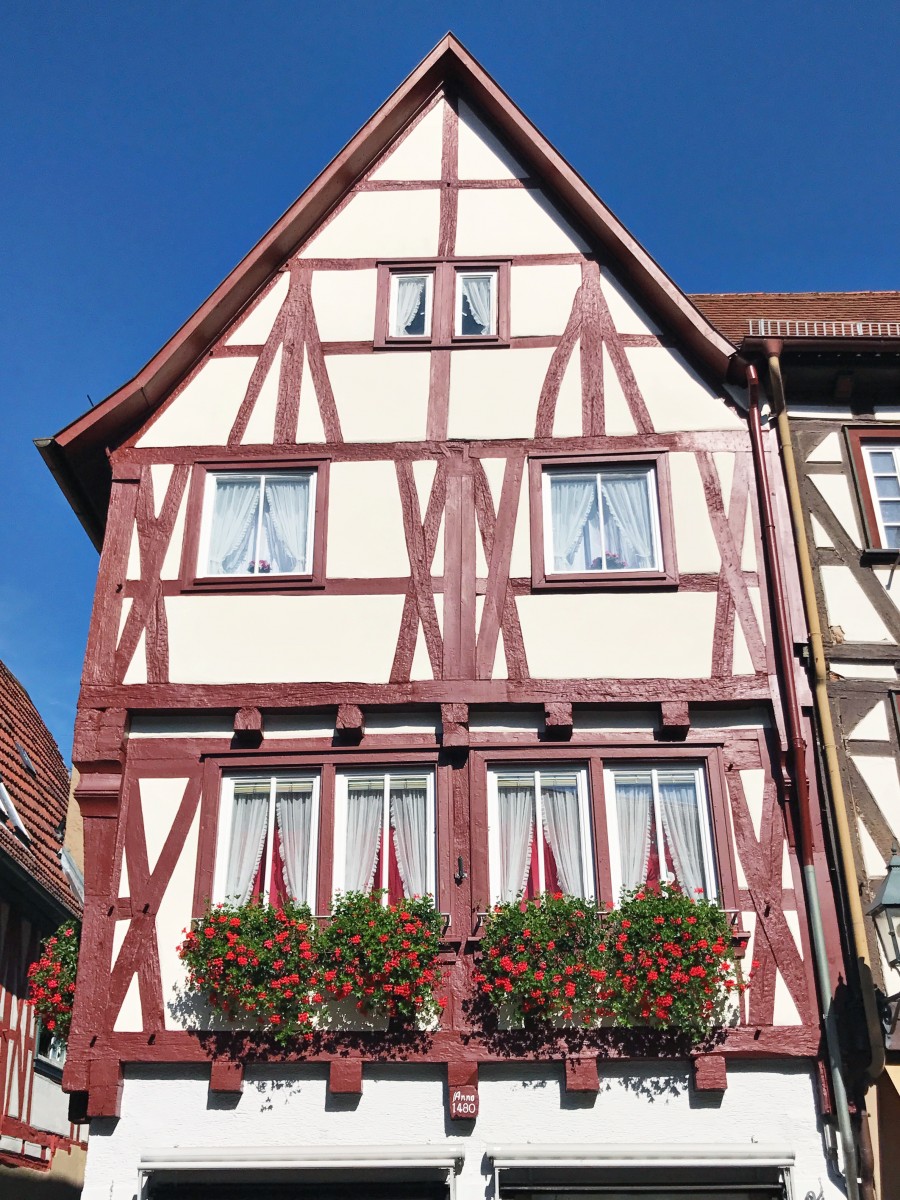 This one is from 1480! Spending time in Germany really drilled home how much older other parts of the world are than America. We're still pretty young in comparison!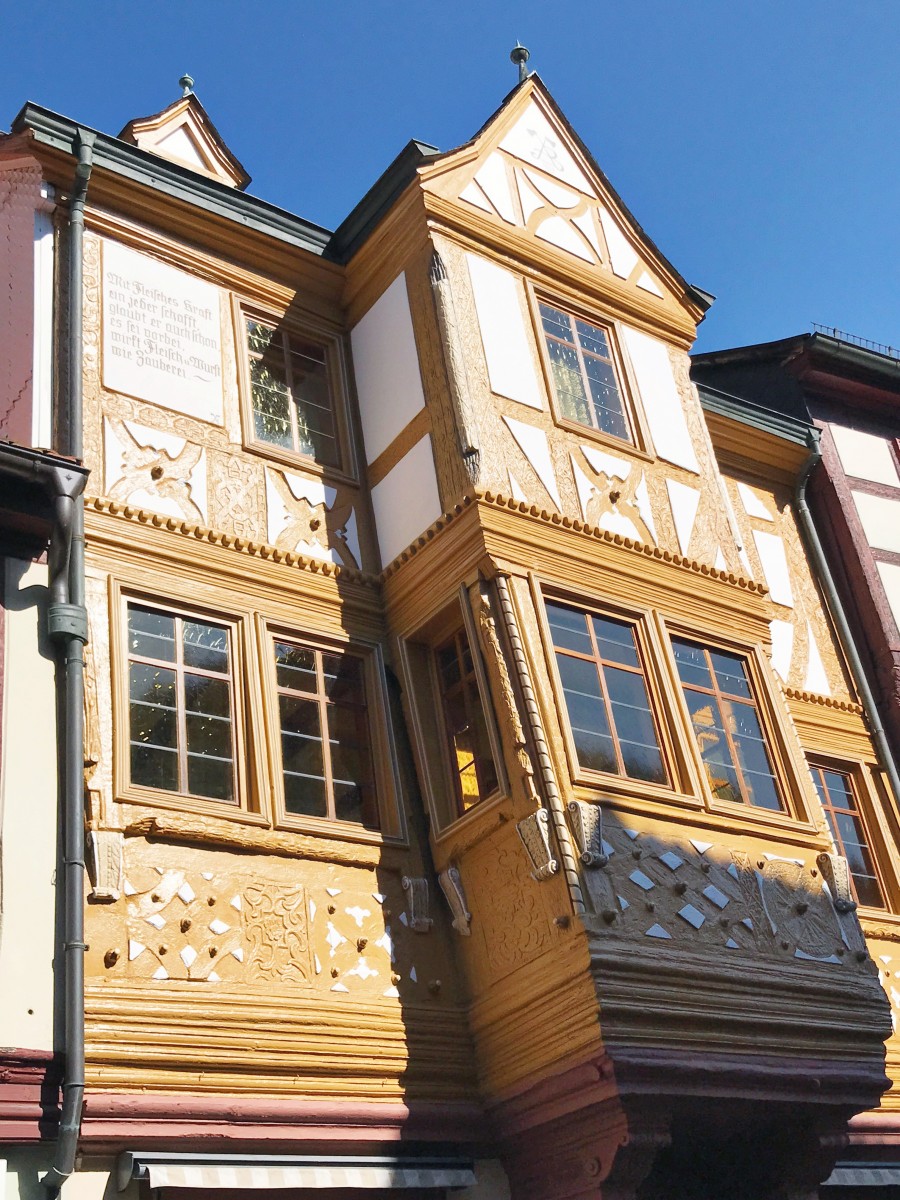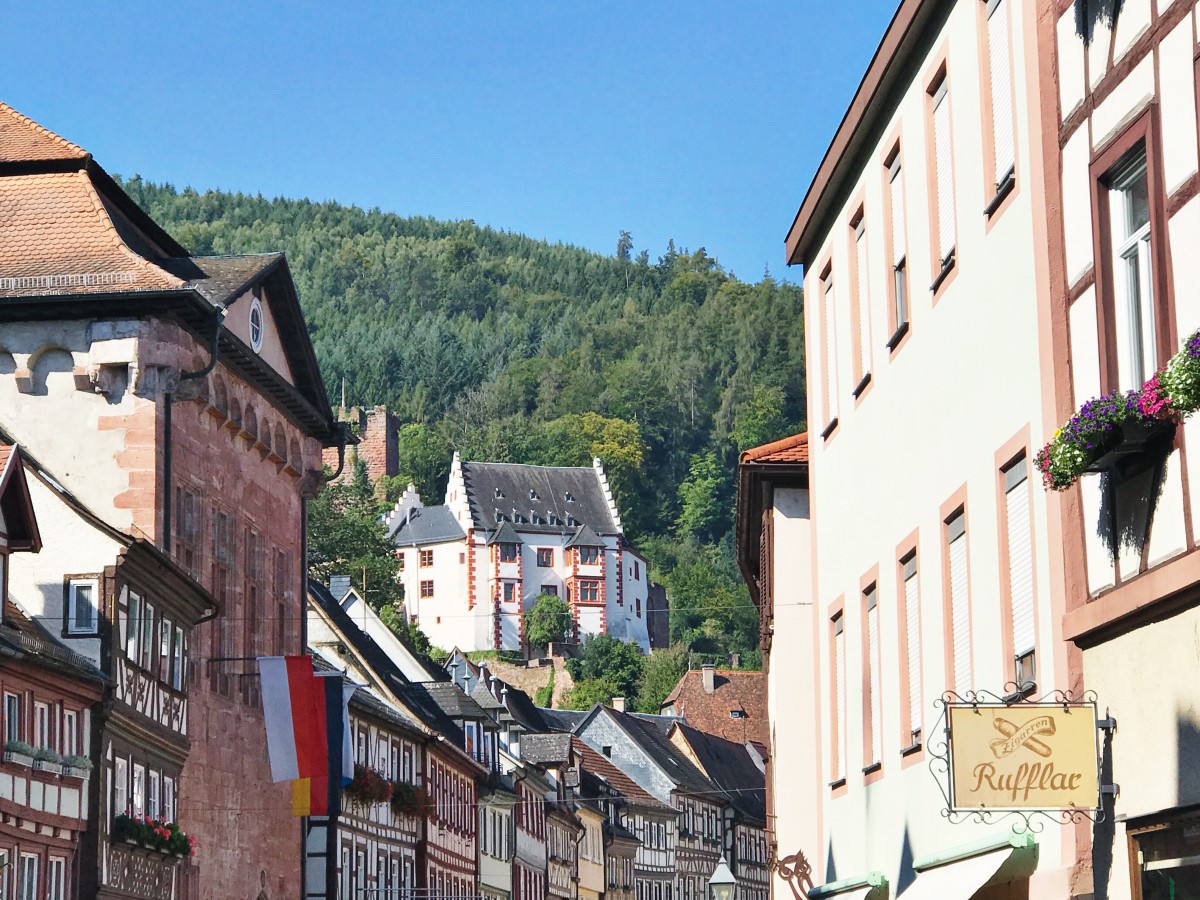 It's a castle on a hill! (Any Ed Sheeran fans? 😉 )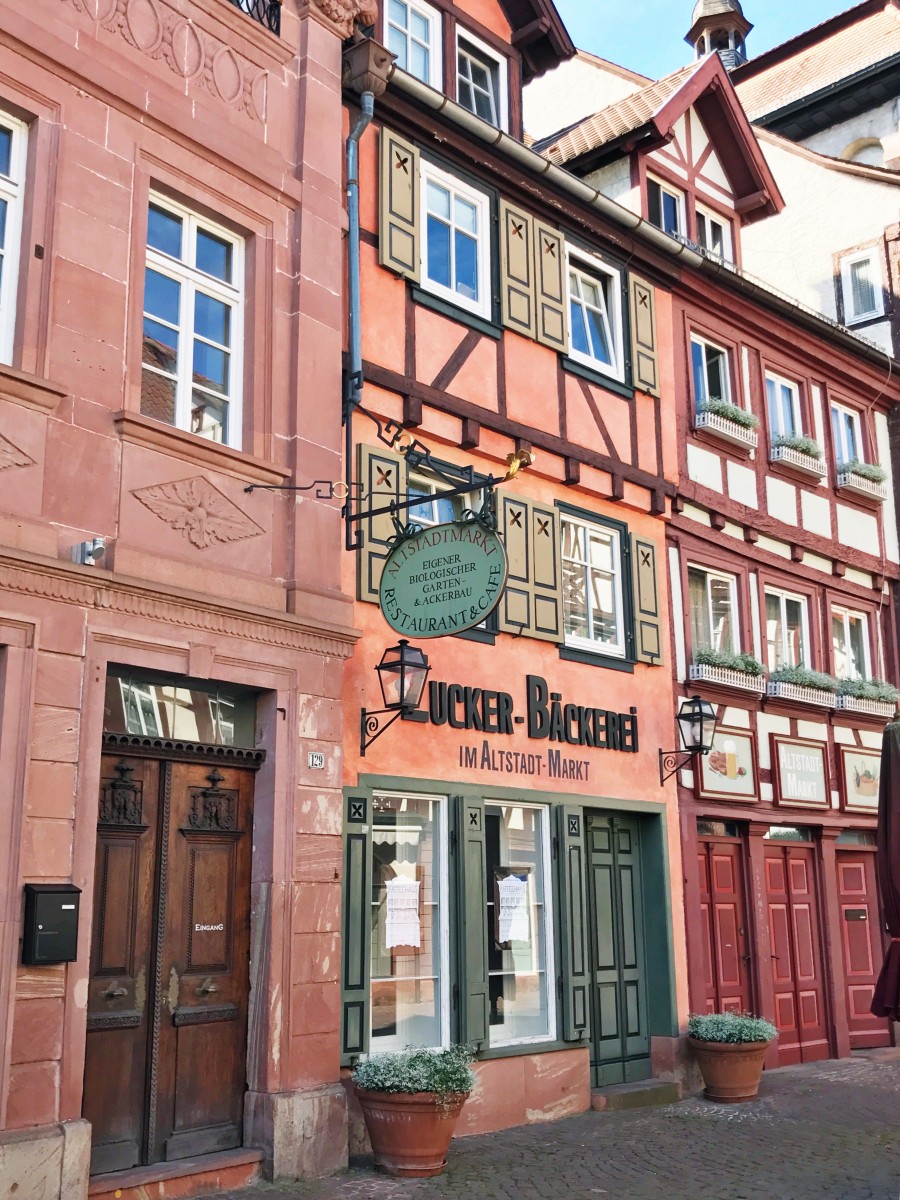 This literally felt like a movie set. But it's real! Oh how I wish these walls could share their stories.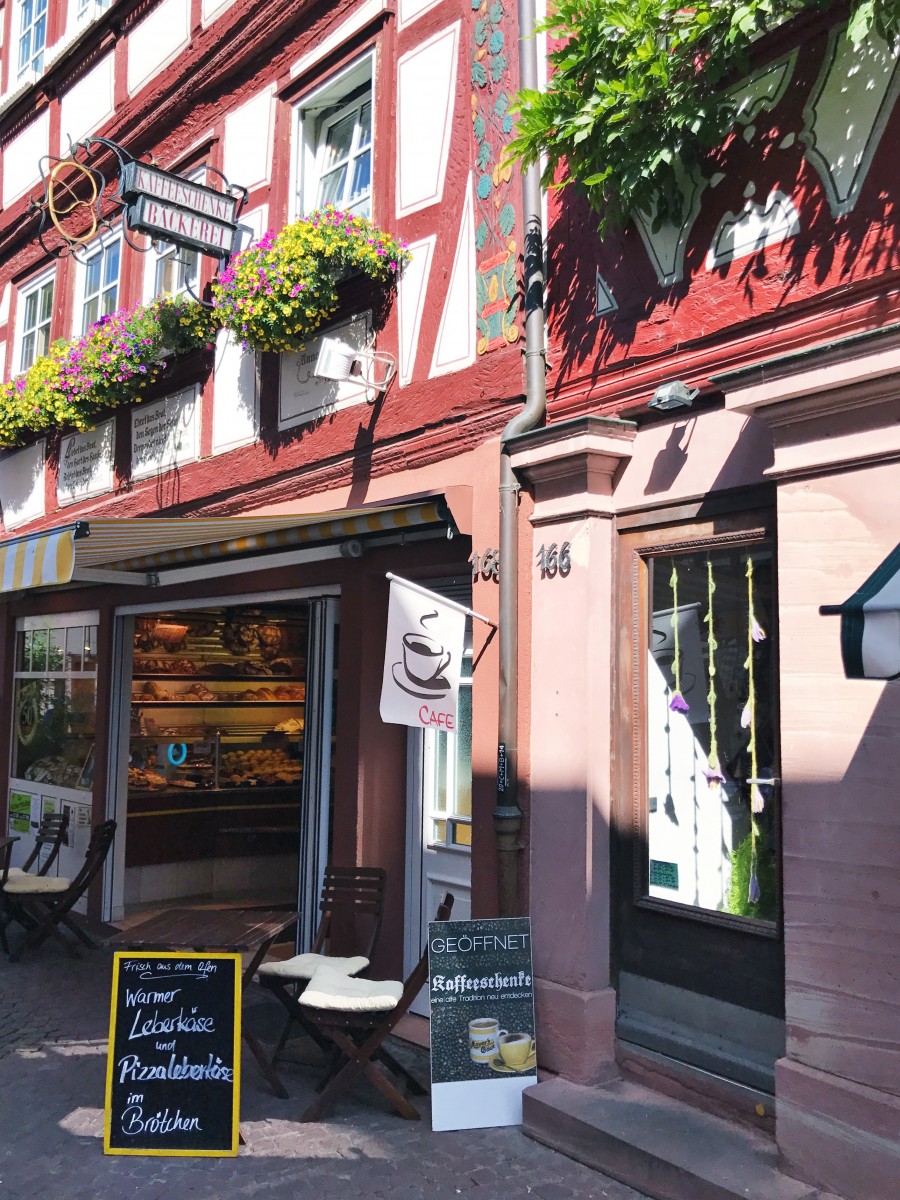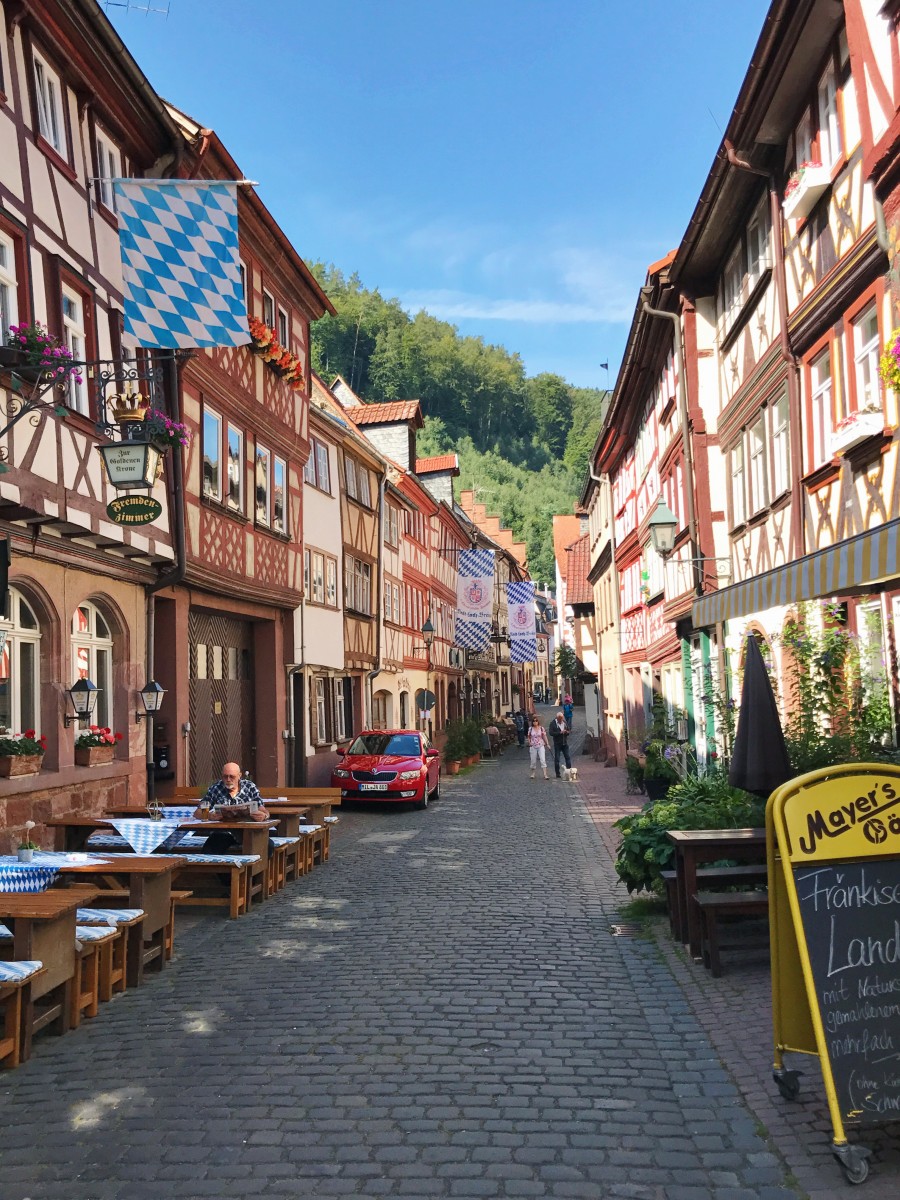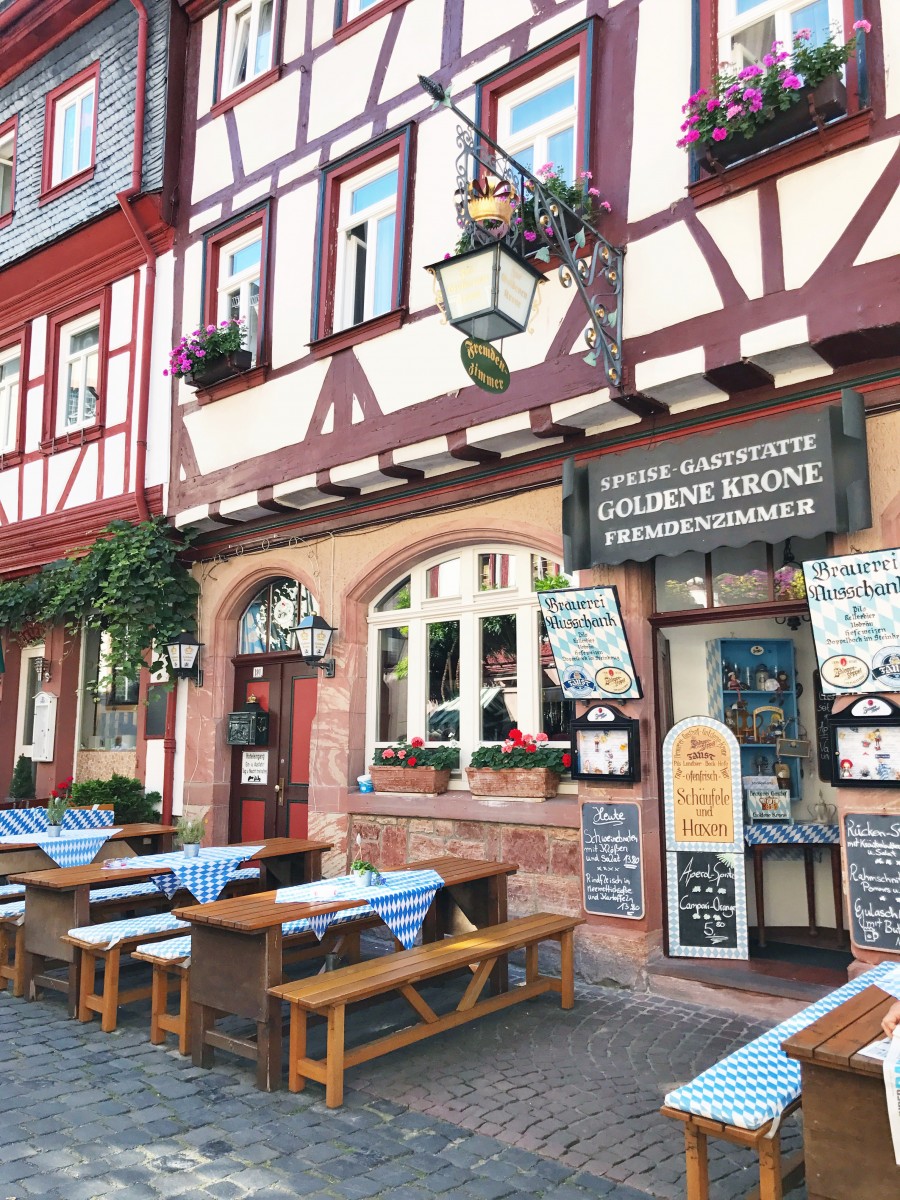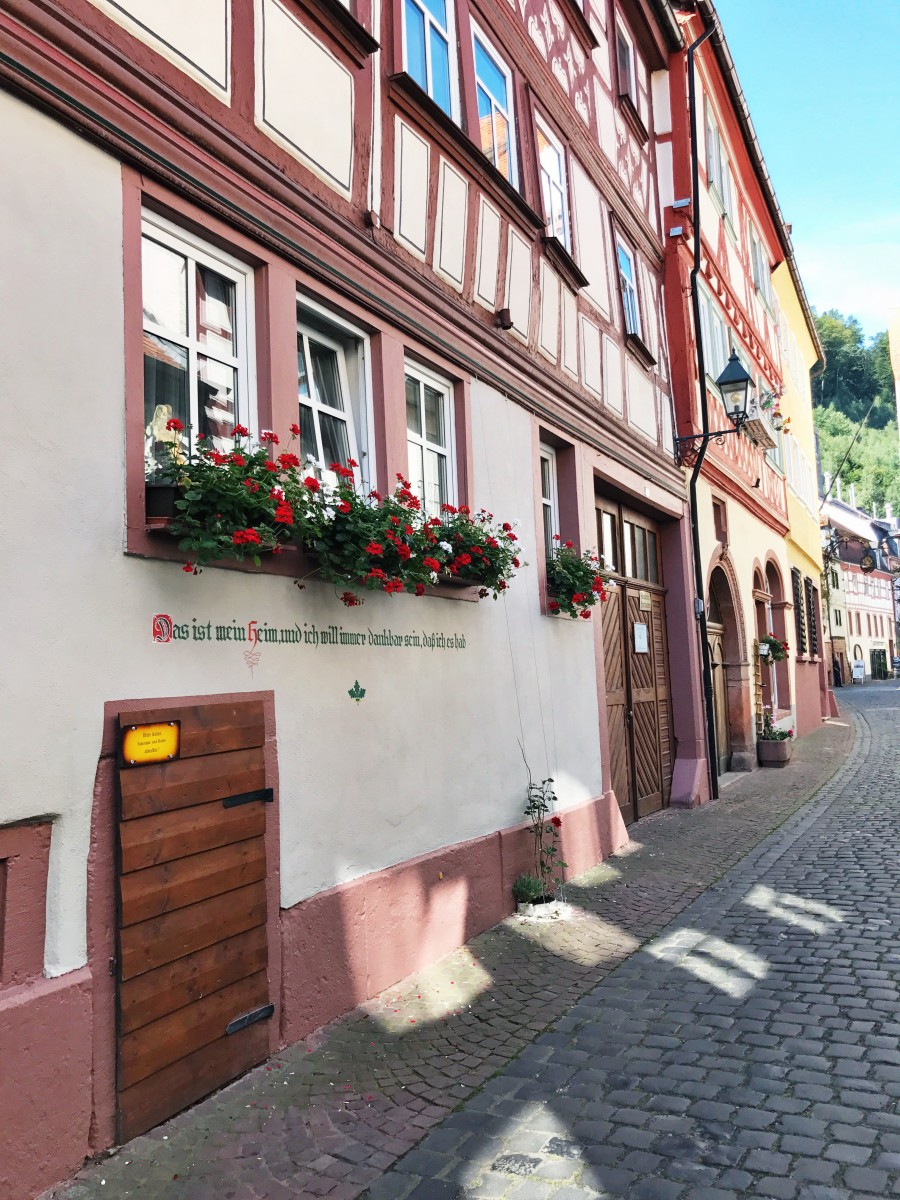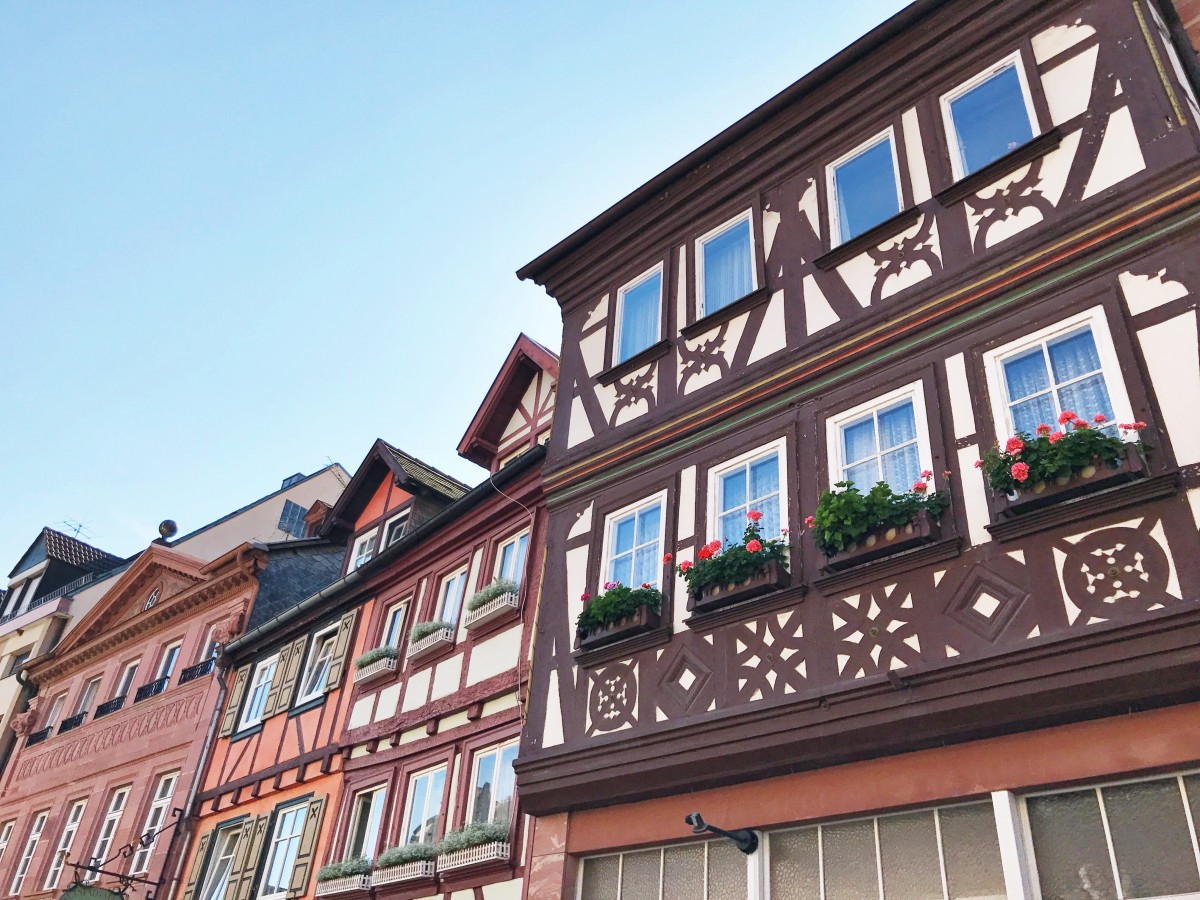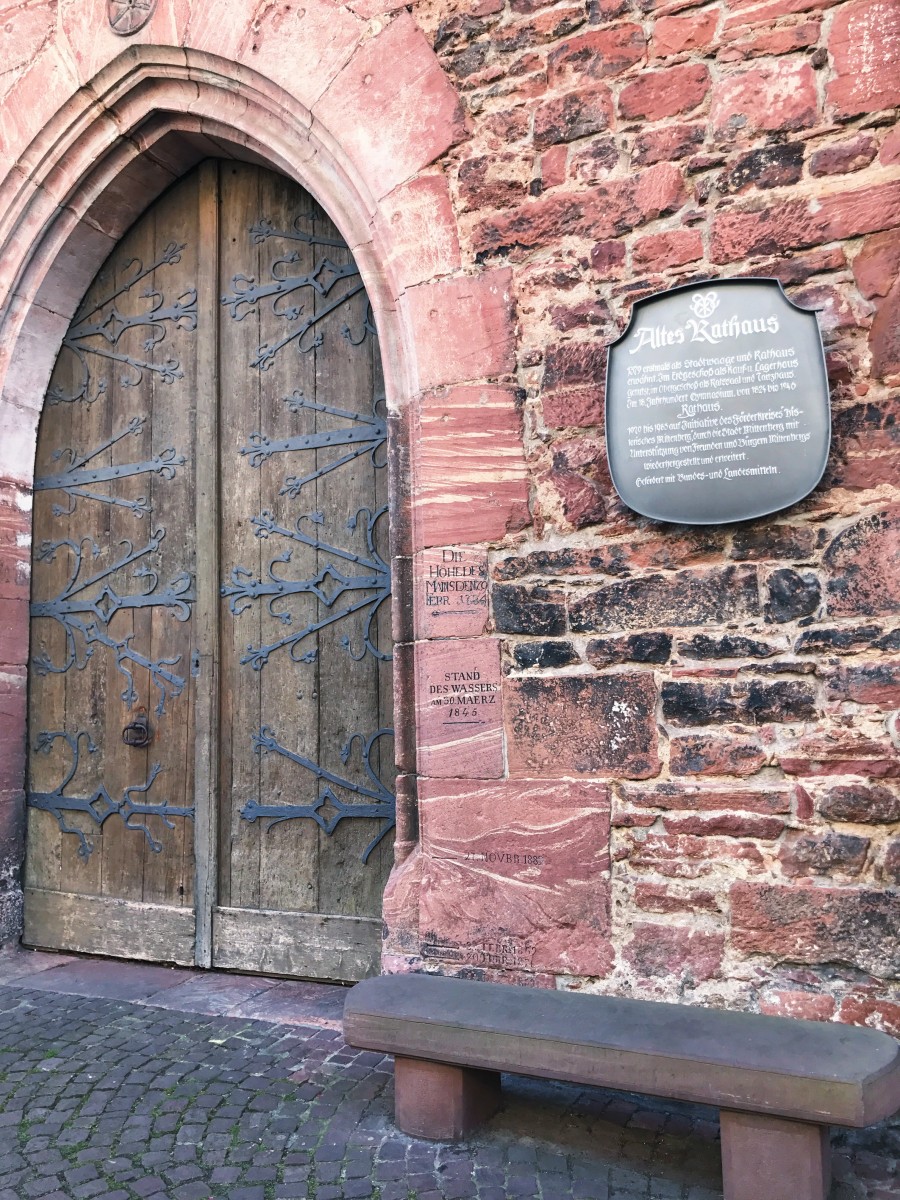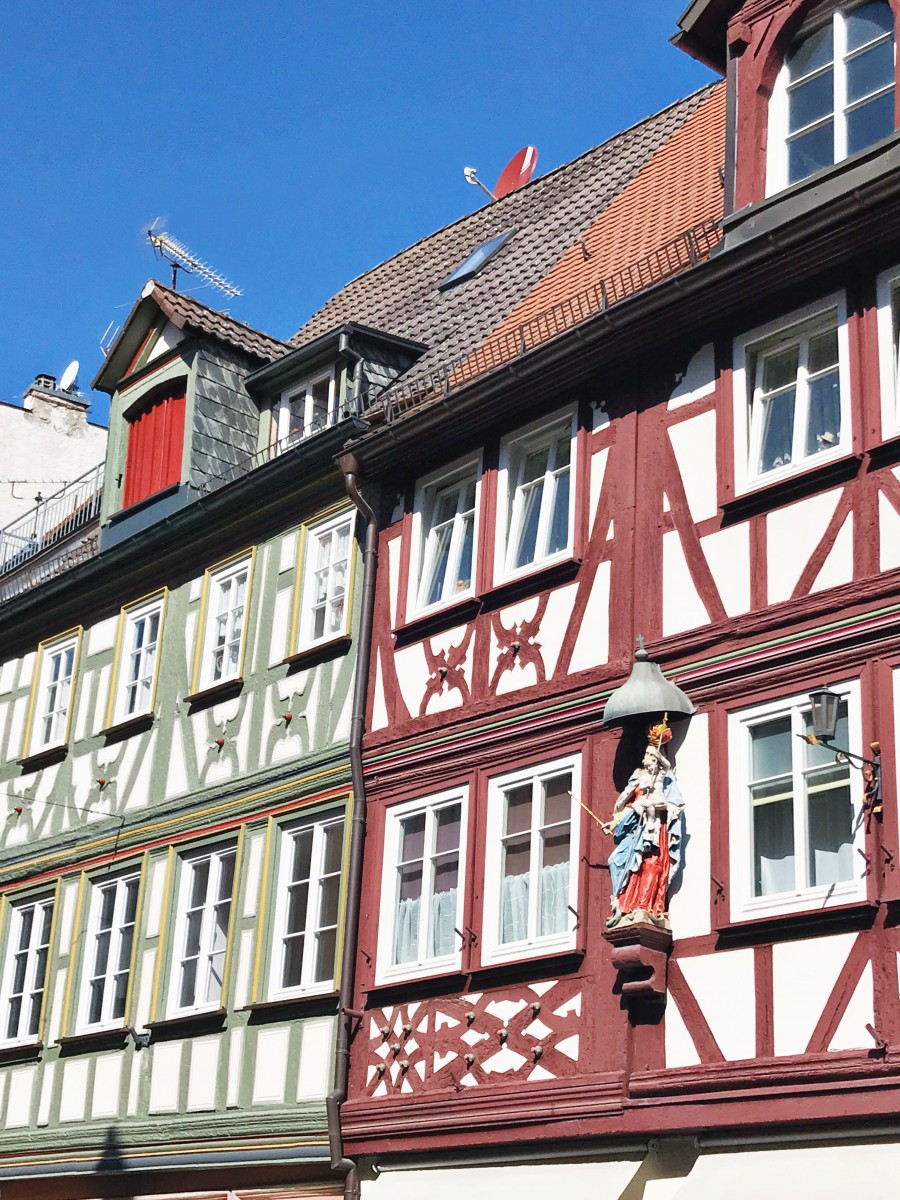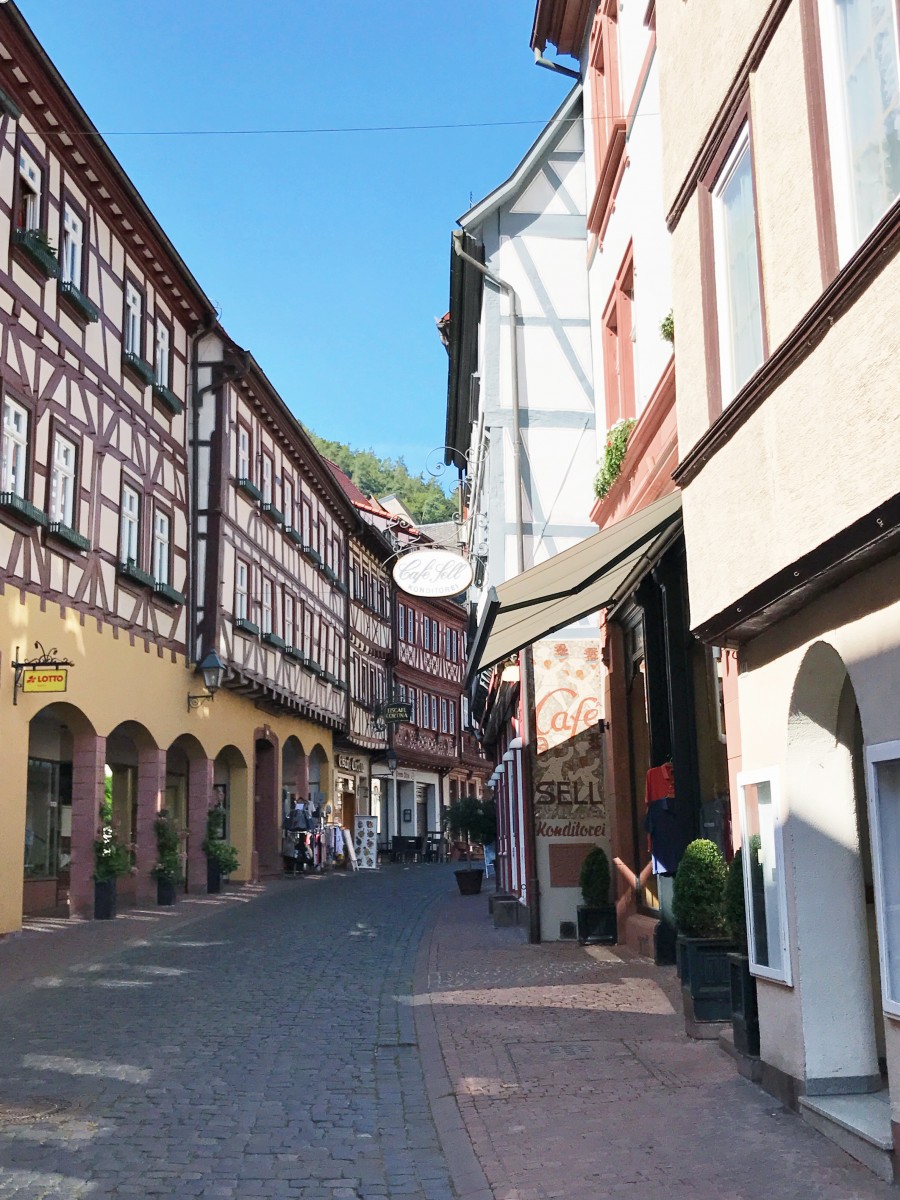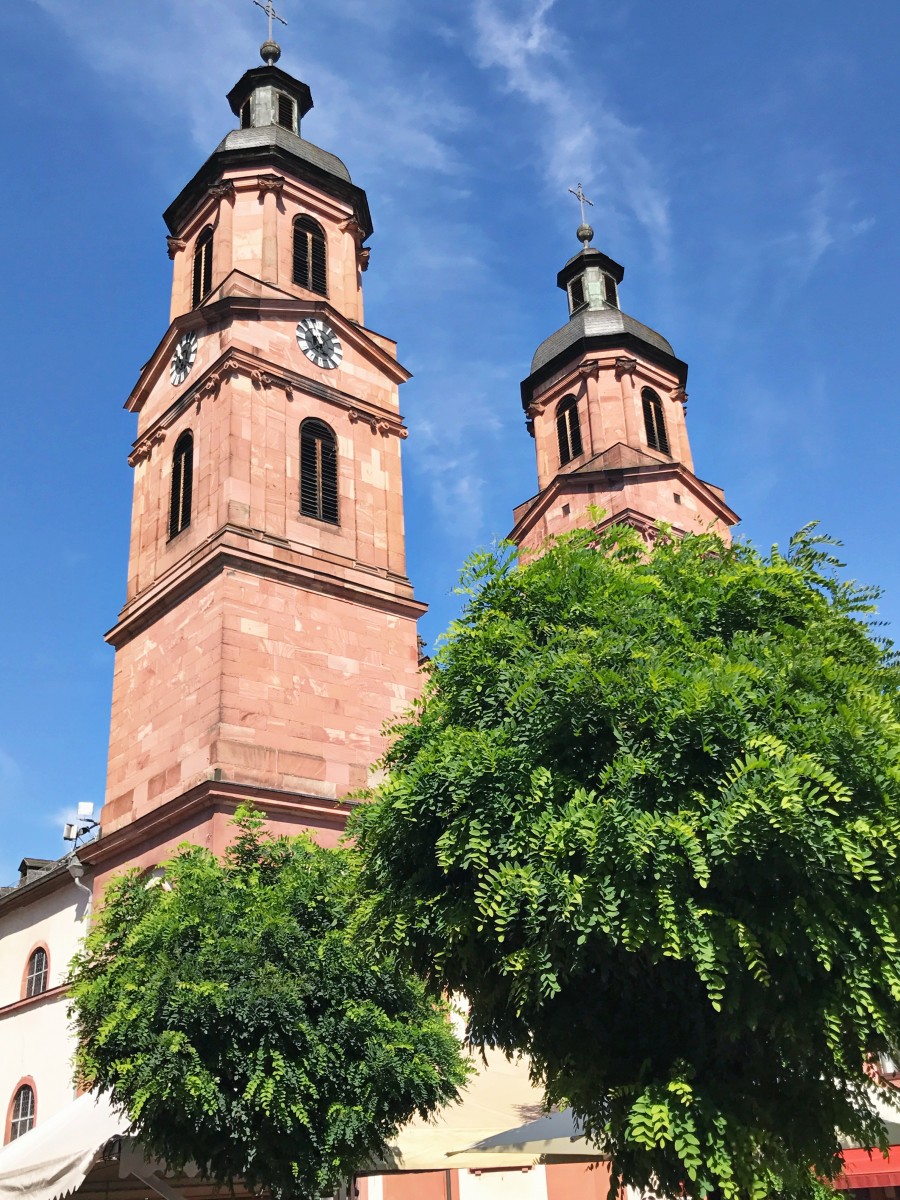 The gorgeous Church St. Jakobus.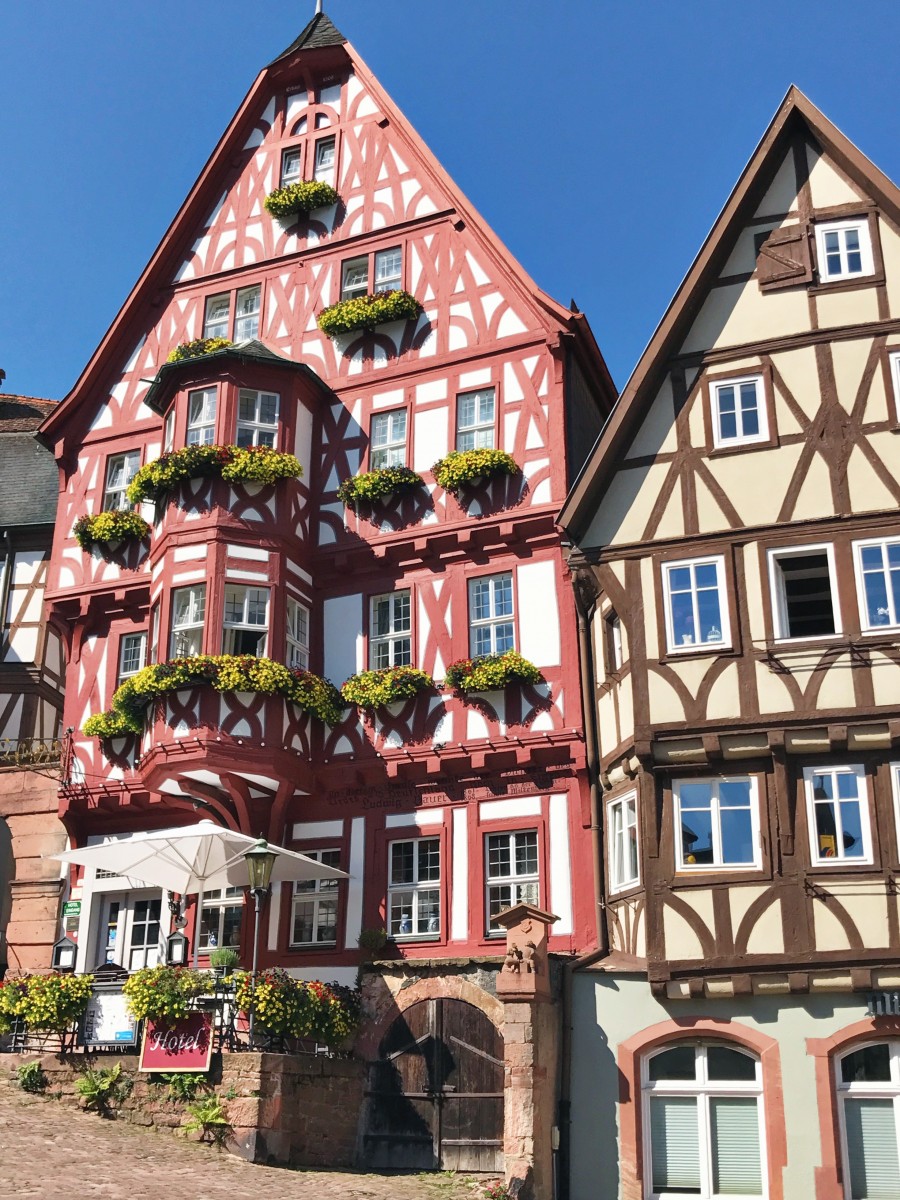 Market Square
Starting at Angel Square, we walked through Old Town to arrive at Market Square. This hotel is my very favorite building that I saw in town. I now want to come back here with Josh and stay here.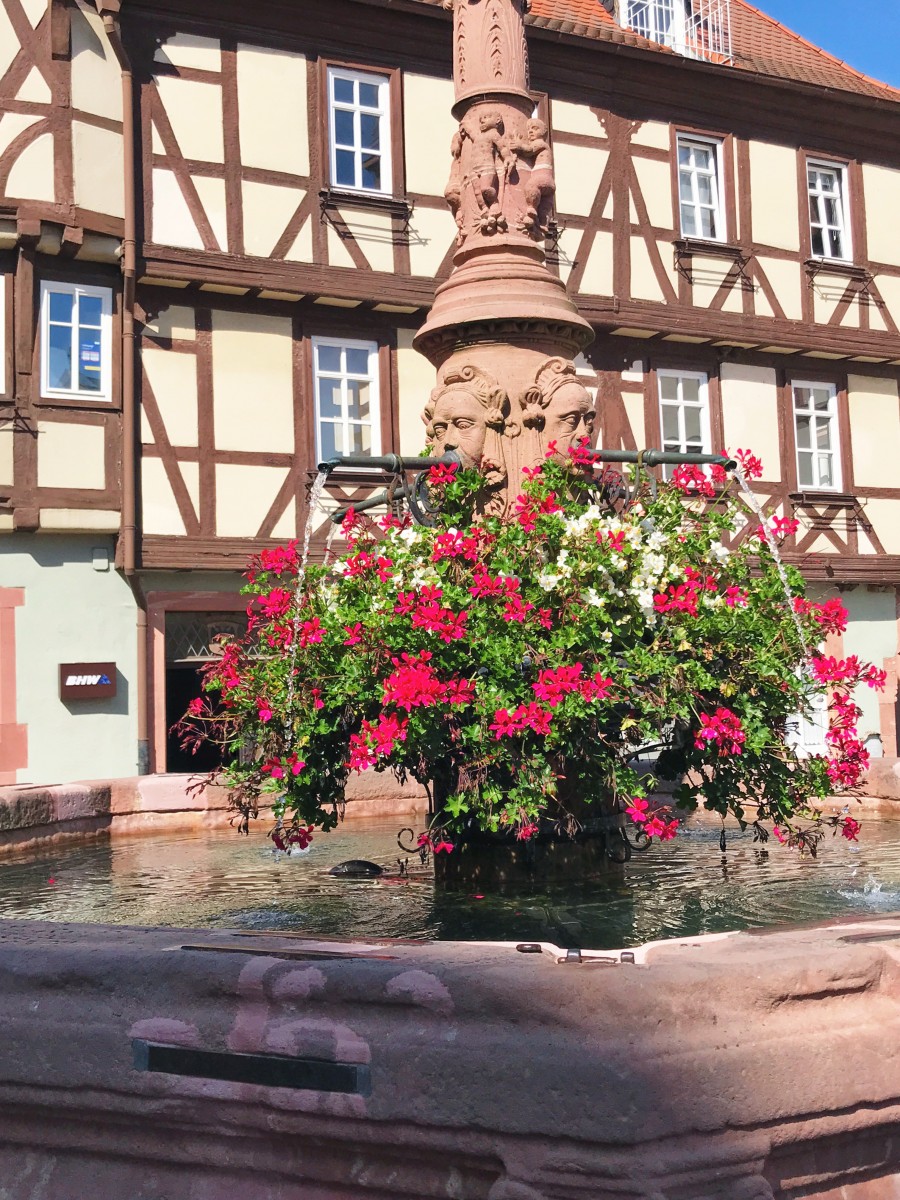 I love this fountain.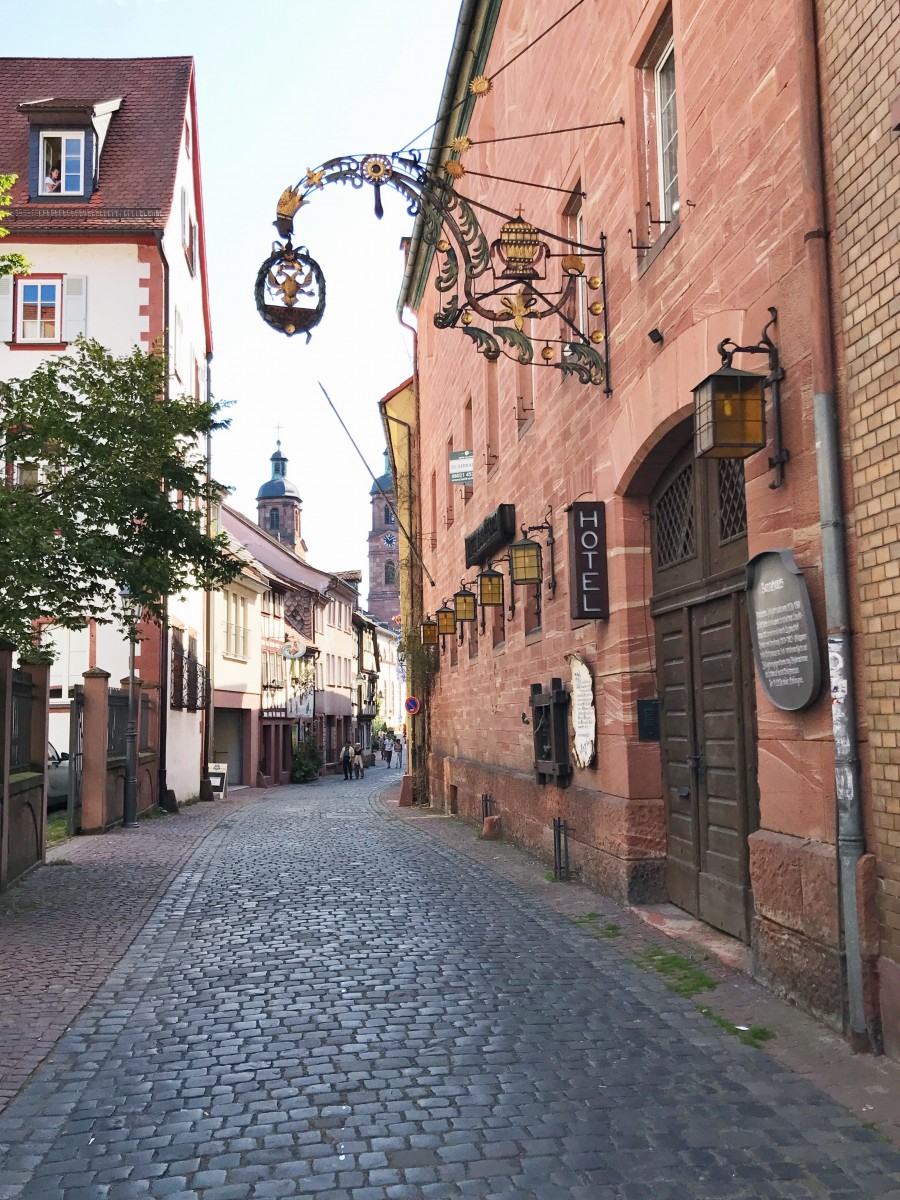 We meandered our way back through Old Town for a tour I know Josh would also love to experience one day.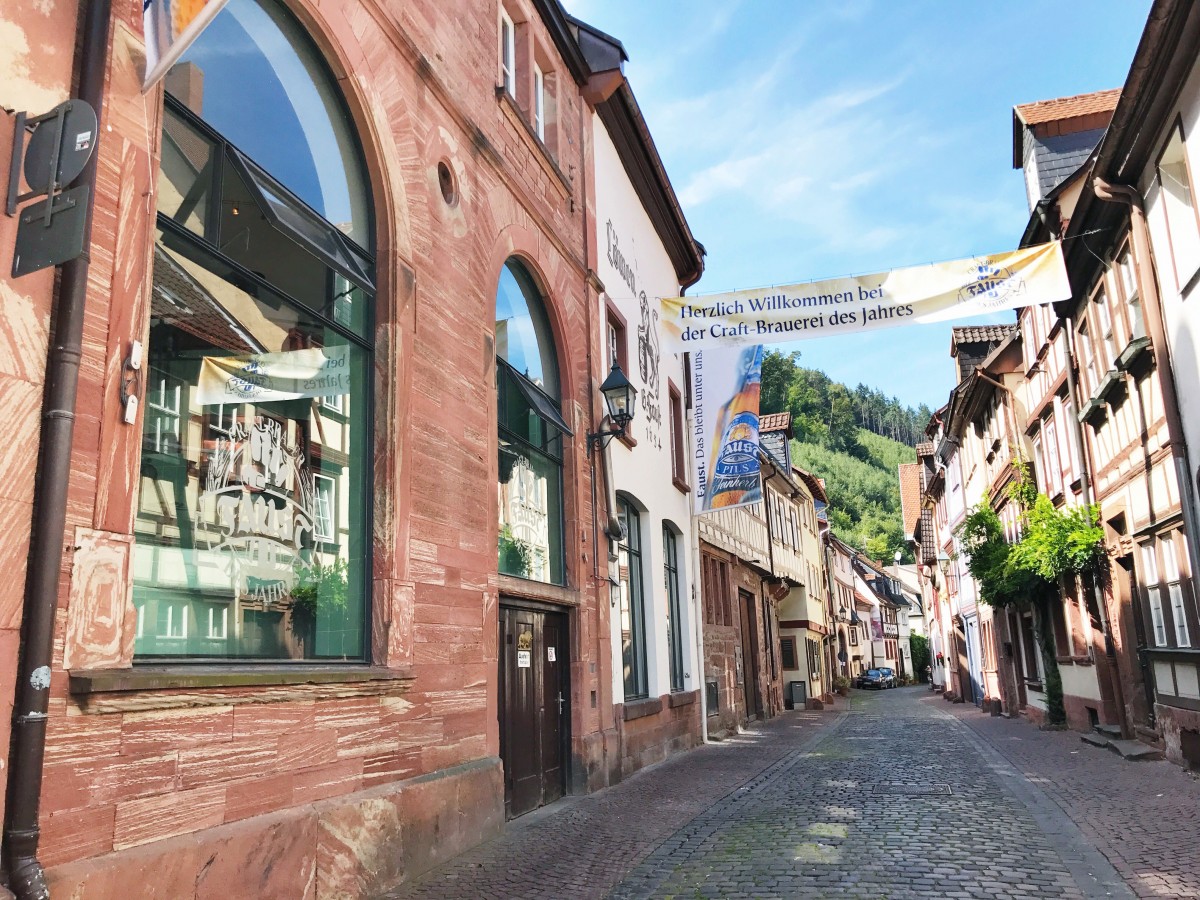 Faust Brewery
We were getting to tour Faust Brewery. This Germany brewery has been doing craft beer well before it was a fad. Their history dates back to 1654!
As someone who really doesn't like beer, but has a husband who's a huge fan, I've been to a lot of brewery tours. I can tell you that this one blew them all away.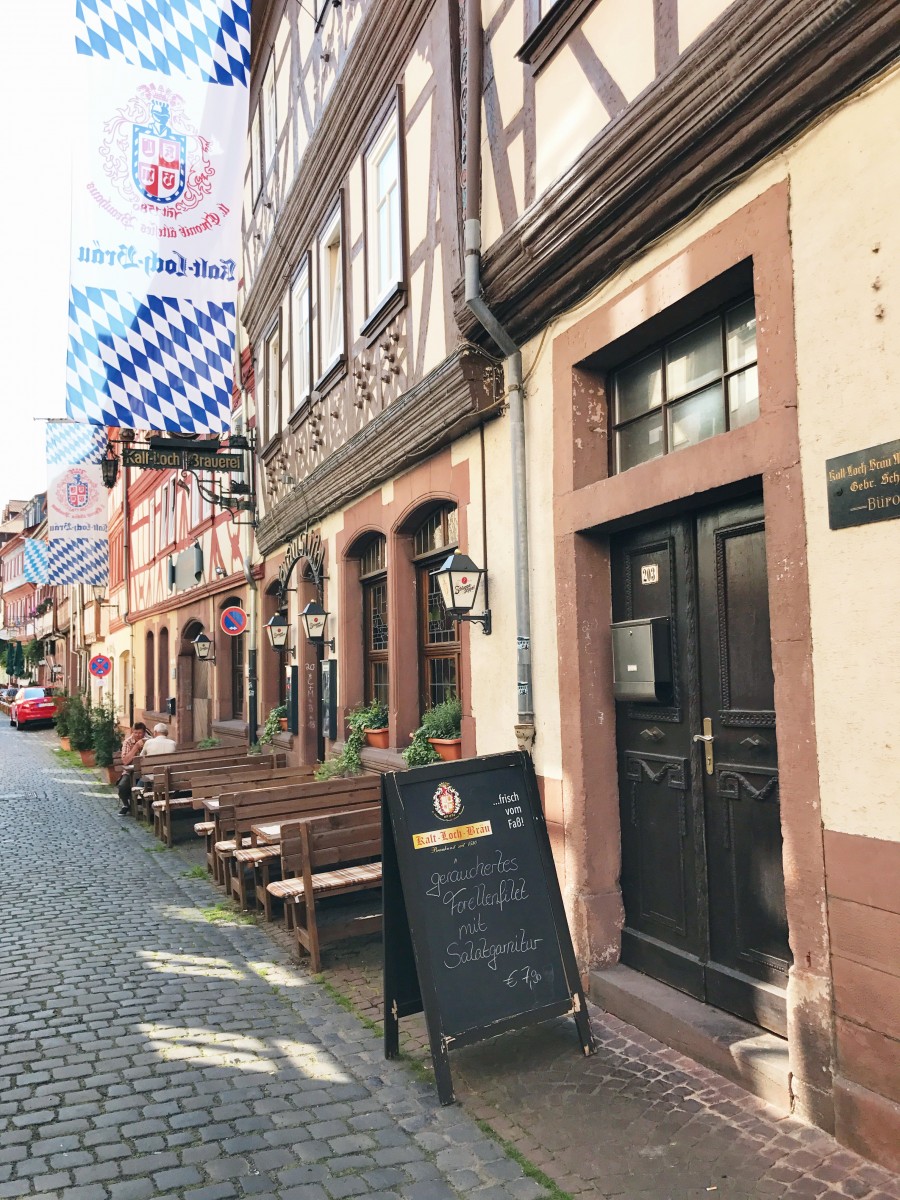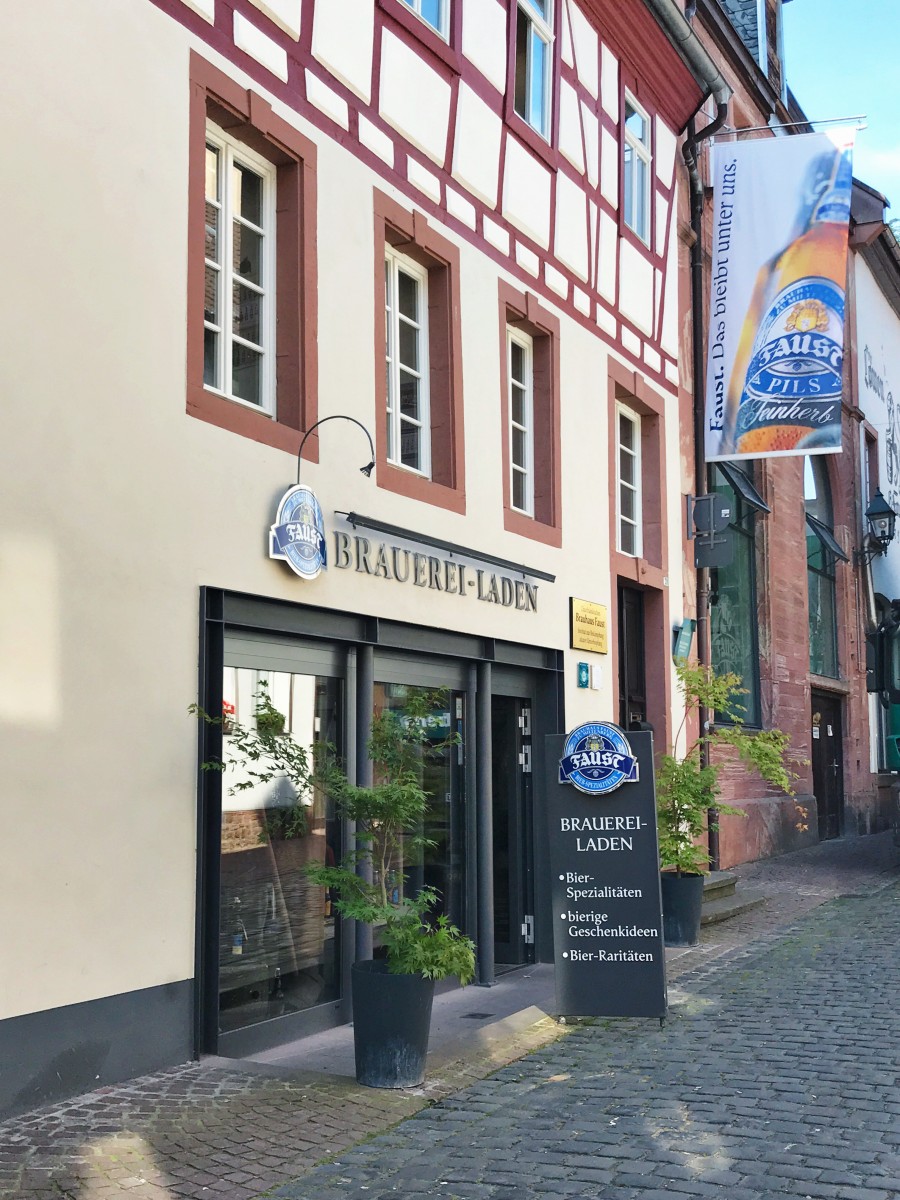 Their storefront is definitely the prettiest of the many breweries I've visited. 😉
Faust does not distribute outside of Bavaria. They're small, local, and make incredibly fresh beer that is made to be enjoyed immediately.
Josh loves trying beers from different locations. I bought five different bottles and managed to pack them safely and securely for the trip home. The hassle was worth it as Josh still raves about how good they were.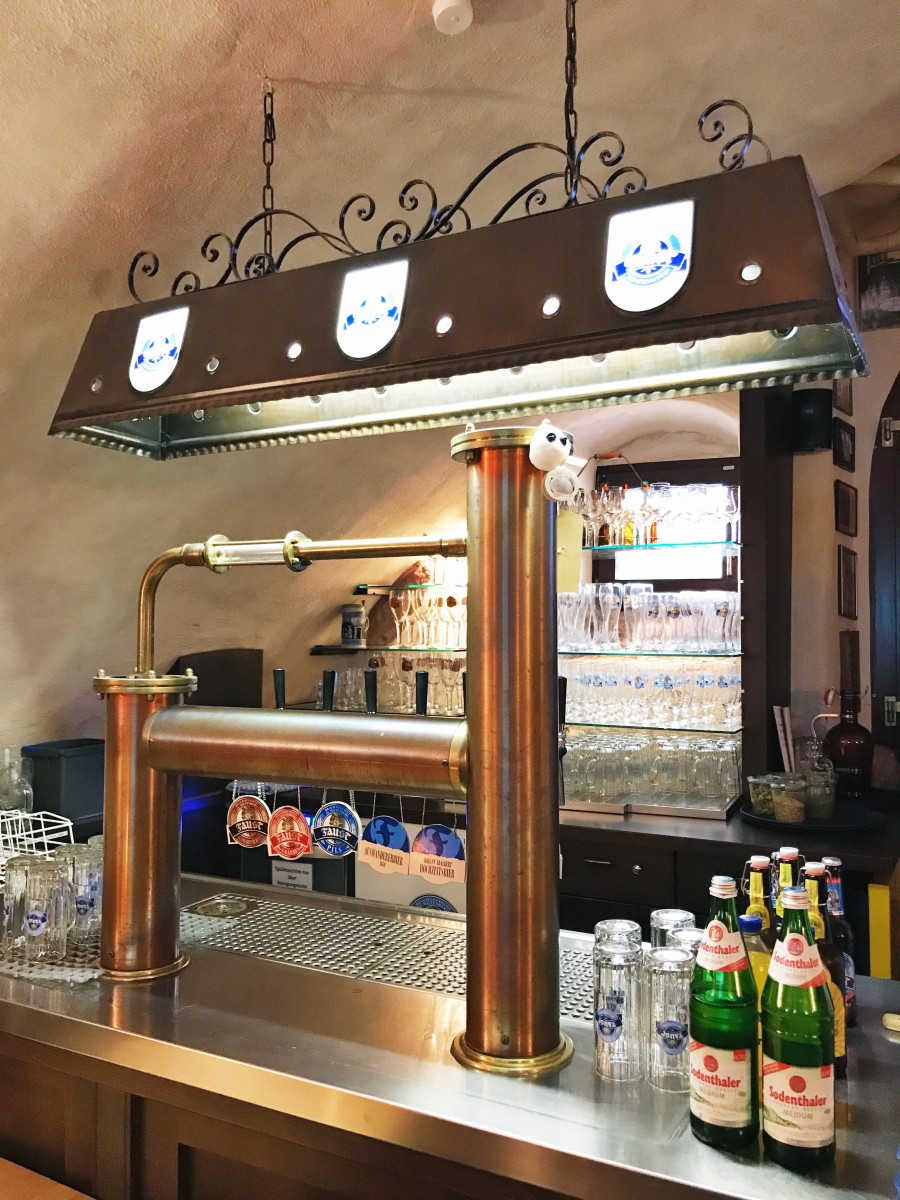 We started our tour off in their tasting room, where we were offered samples of any of their beers, including their seasonal and special Oktoberfest varieties. While it kills me to turn down free samples, I passed on most of them.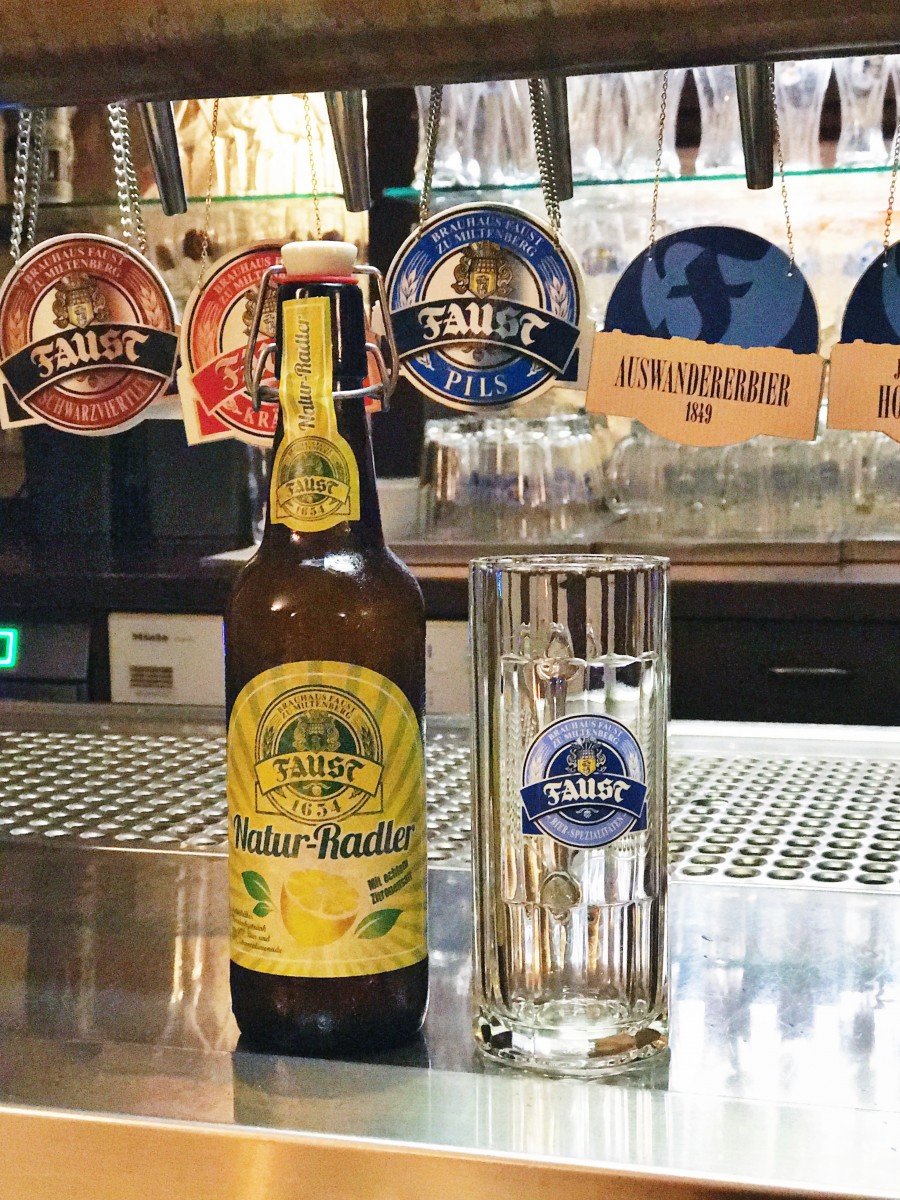 One I was curious to try was the German version of a Shandy. It's made with real lemon juice and is very light and refreshing. It tastes more like lemonade than beer. (I should specify, it tastes more like flat American lemonade. Lemonade in Germany is sparkling!)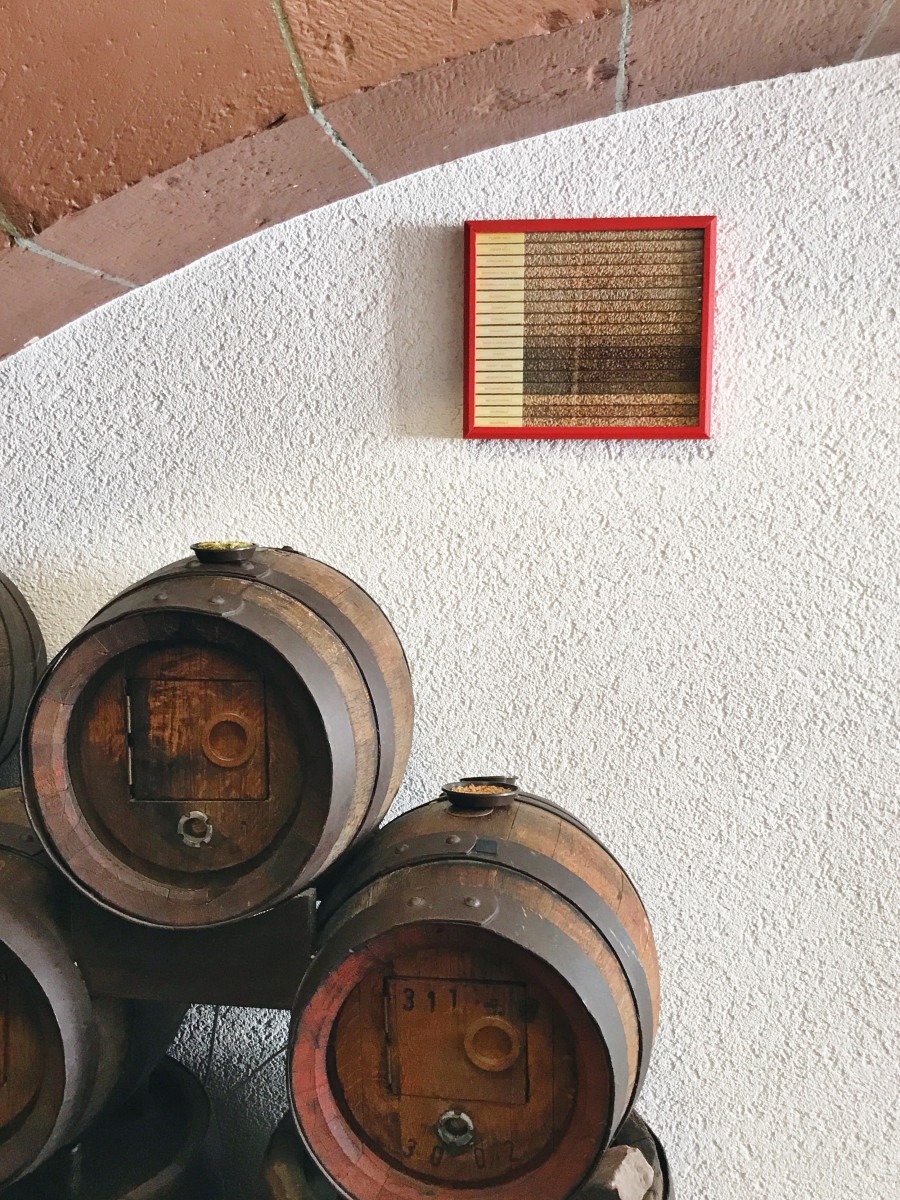 The tour started with the usual lecture on what ingredients are used to make beer and where they come from. This tour took a new turn for me as I learned that German beers are much less hoppy than American beers. When beers were brought over to America originally they had to add lots of hops to preserve them. So now while America is all about all the hops, German beers are much lighter.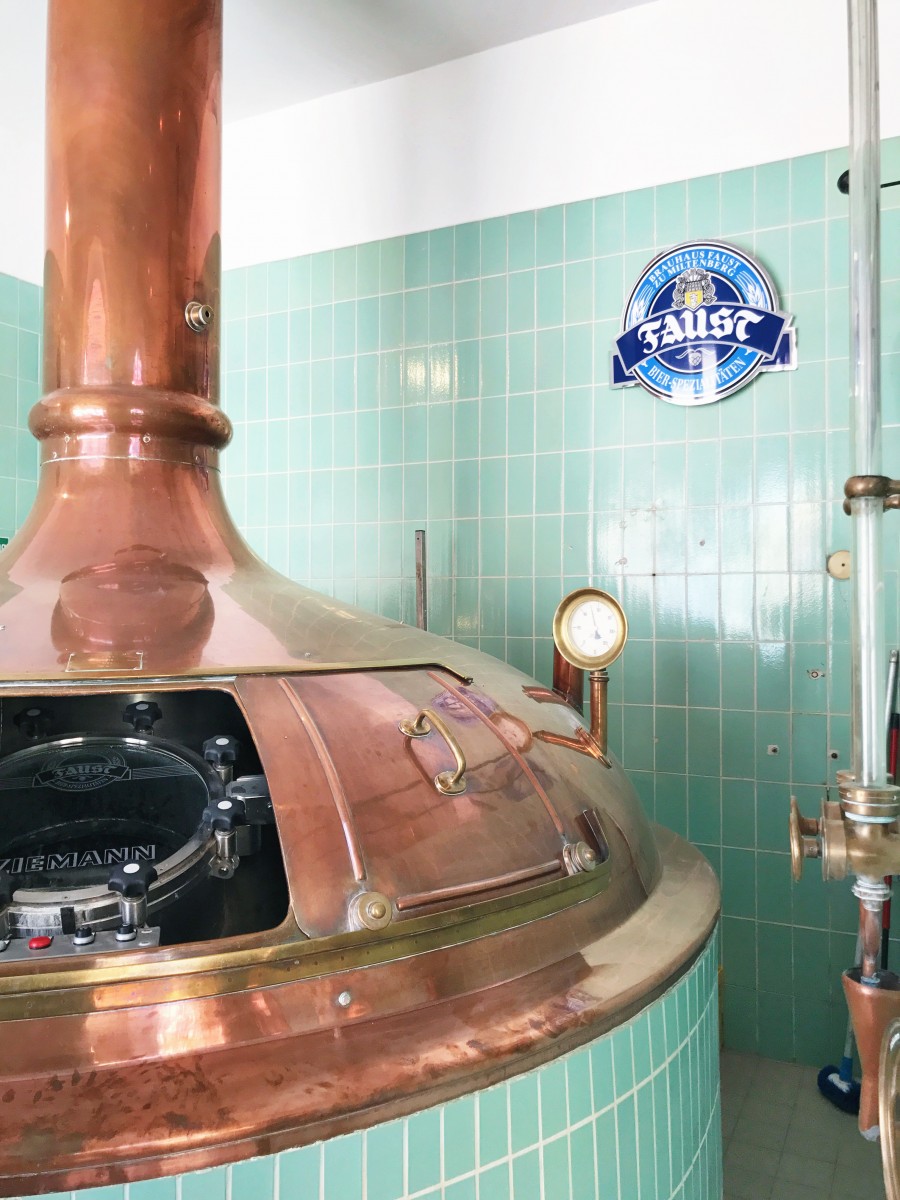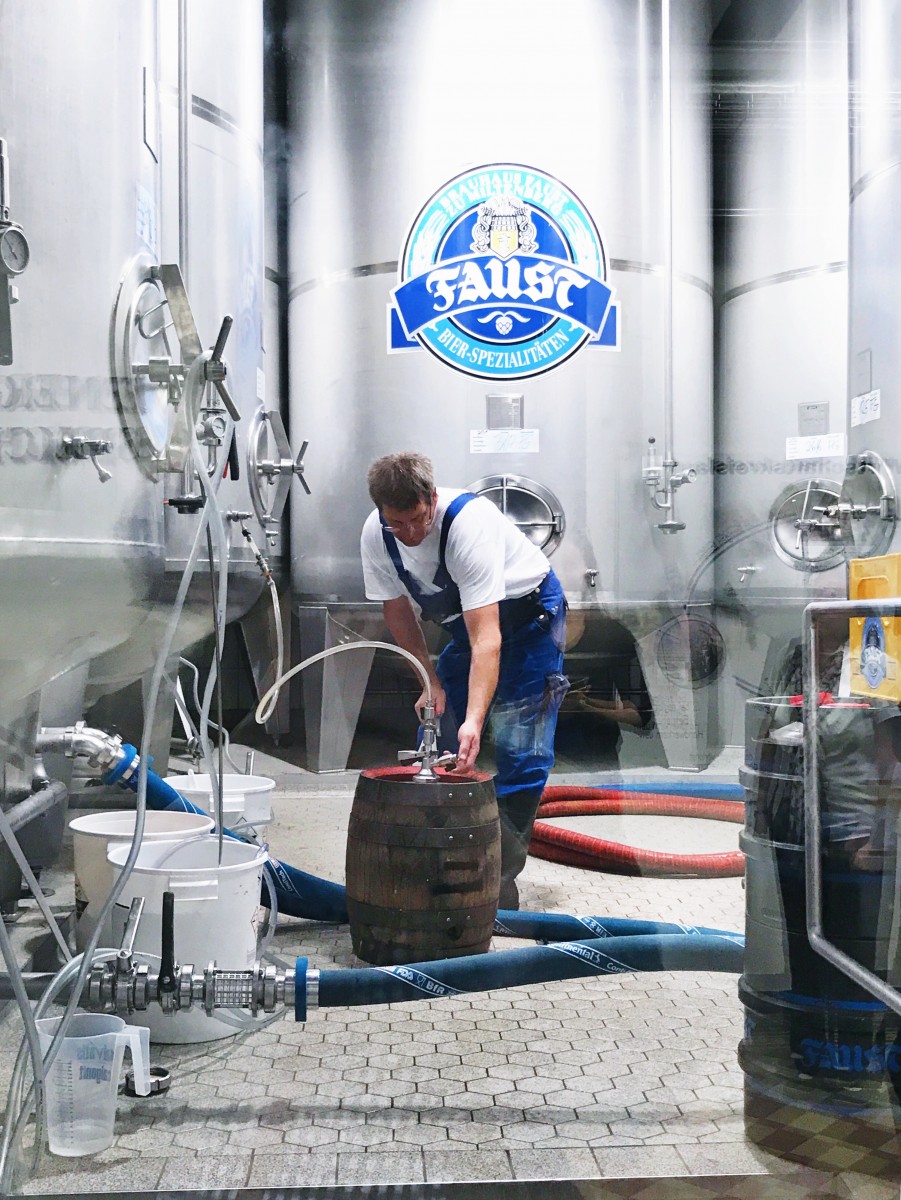 The Faust brewery is huge. The building is a maze of rooms and stairways. It was always fun when we'd run into a worker to see them in action. Through this encounter I learned non-alcoholic beer is a new trend in Germany that is encouraged for after athletic events. It's funny, because in America we're now trying to encourage people to drink real beer after races and endurance events.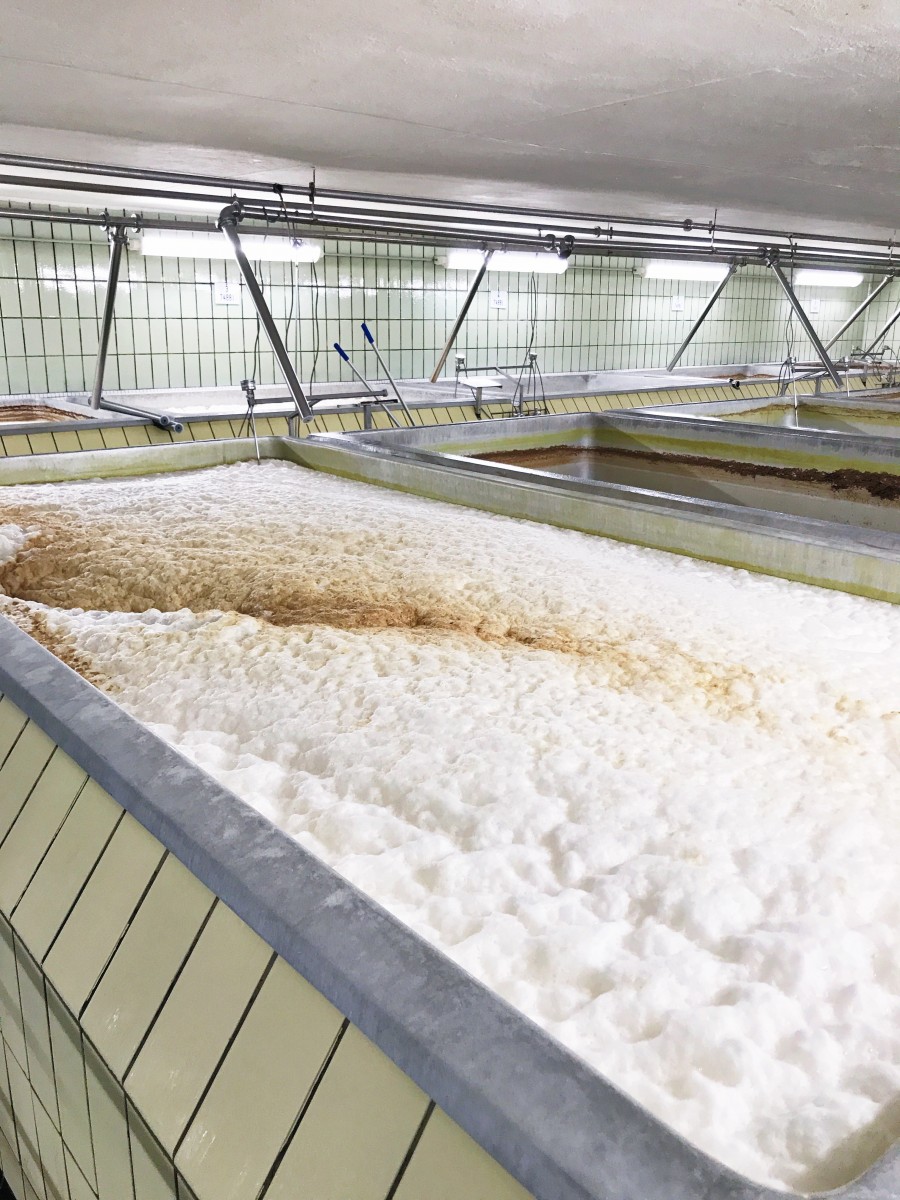 I have never seen a brewery that open-air ferments before. It was so cool and felt like a room out of Willy Wonka's factory!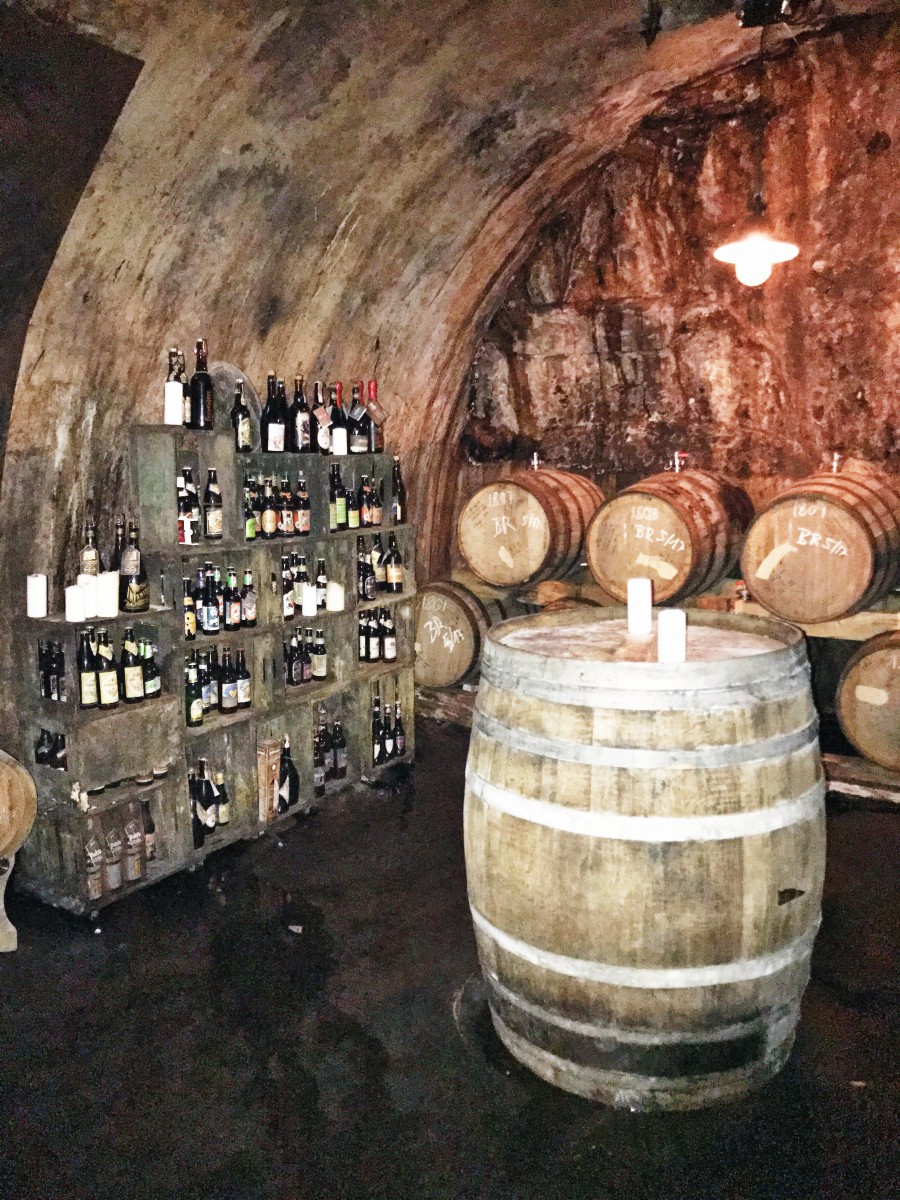 We visited their beer cave where they store rare bottles. This thing felt like something out of Game of Thrones!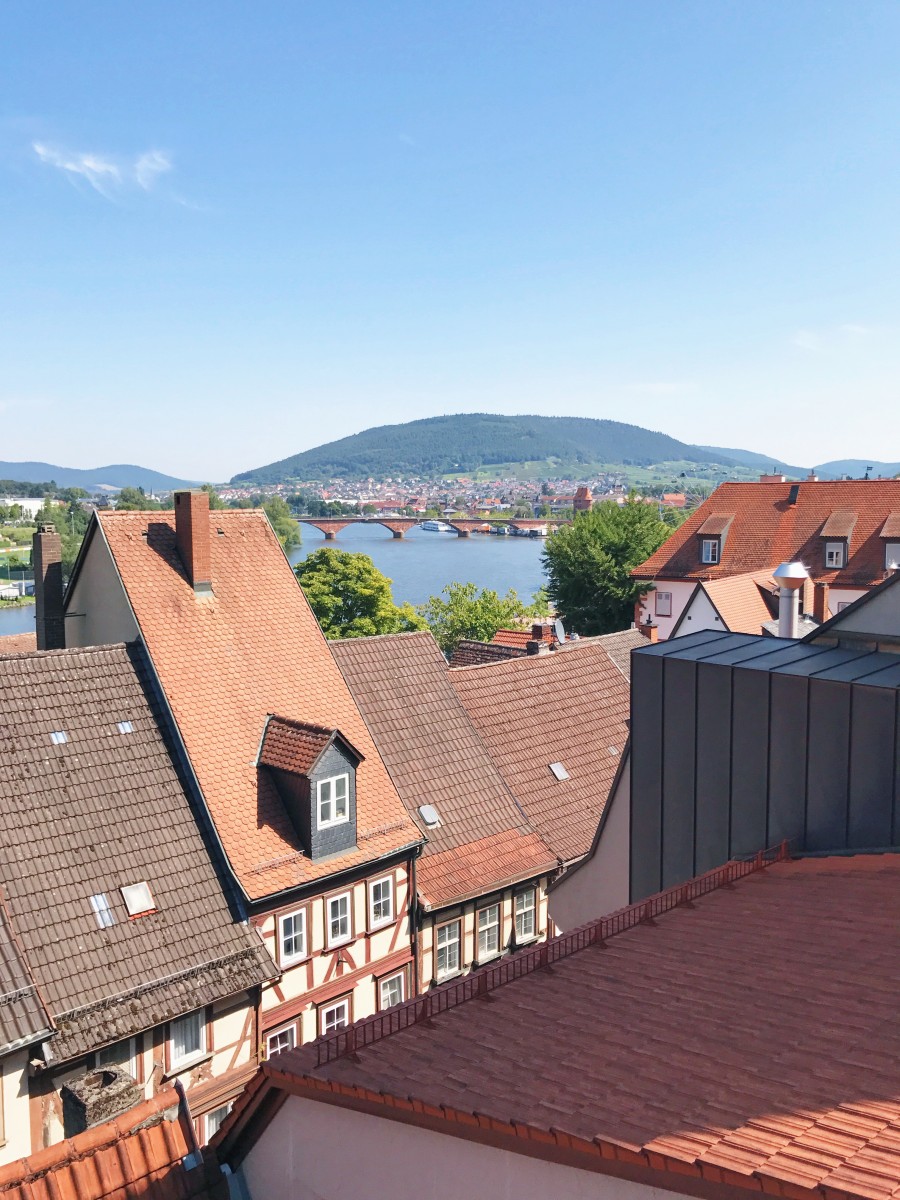 We ended our tour on the roof of the brewery. I could not get over this view! Miltenberg, you sure are pretty!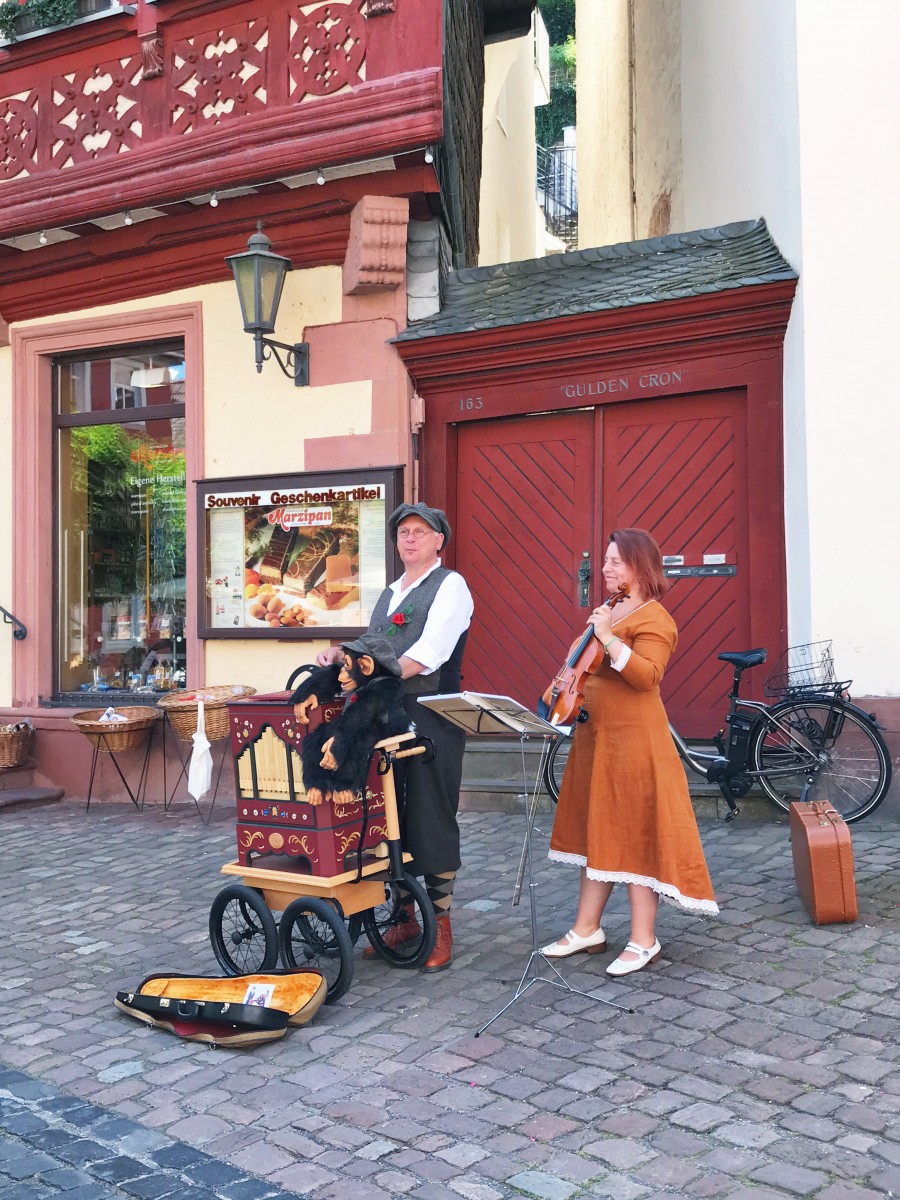 After the tour, it was time for lunch! We walked to our restaurant and ran into these street performers along the way.

Gasthaus Zum Riesen
Lunch was at Gasthaus Zum Riesen. This restaurant is also a hotel and is one of the oldest continuously operating hotels in the world. (They first opened their doors to guests in 1411!)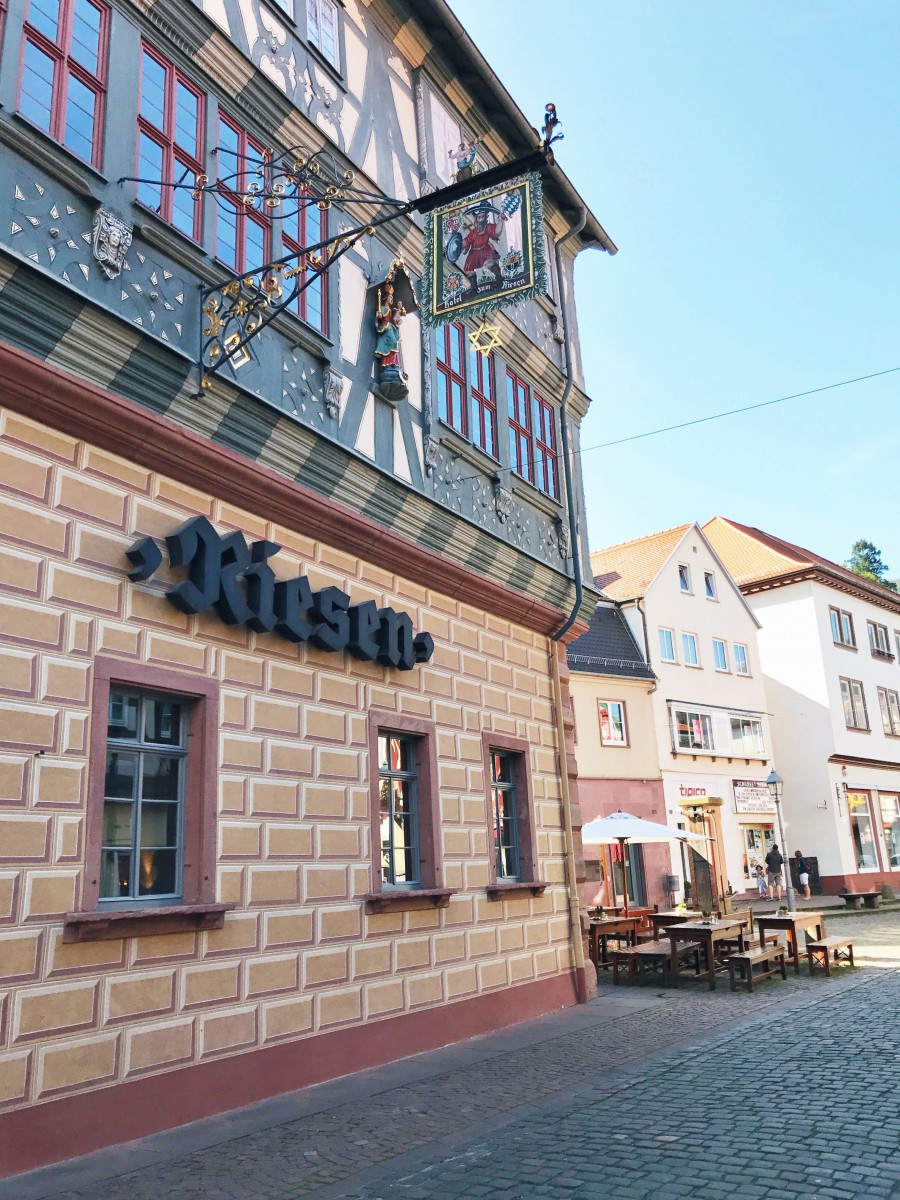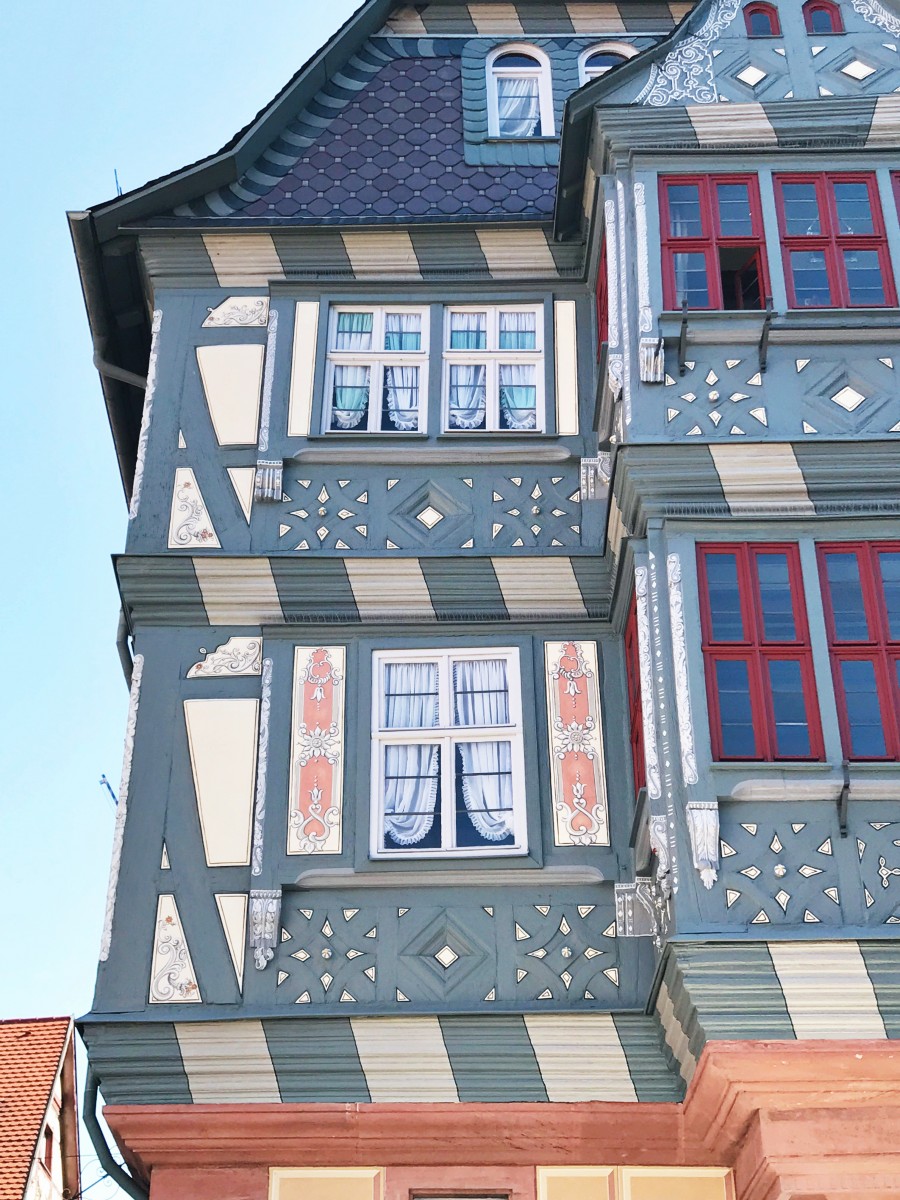 I love this building and how it looks like a ship!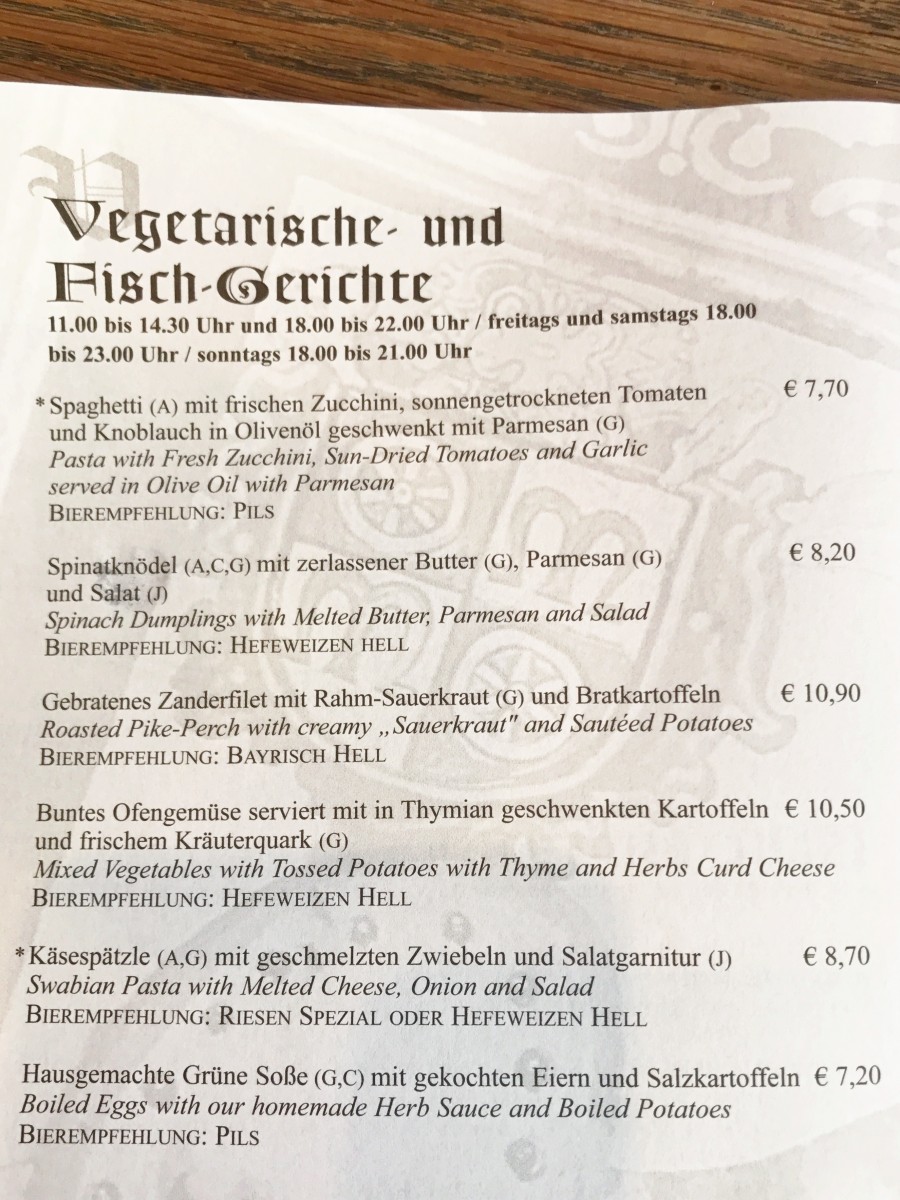 A page in my German menu. I can't tell you how much I appreciated English menus available at places I went and menus like this that were German with English translations. While I would love to be able to speak another language, I don't and it can feel handicapping when traveling some times. The fact that all the towns I went to in Germany were so accommodating to English-speaking visitors really meant a lot.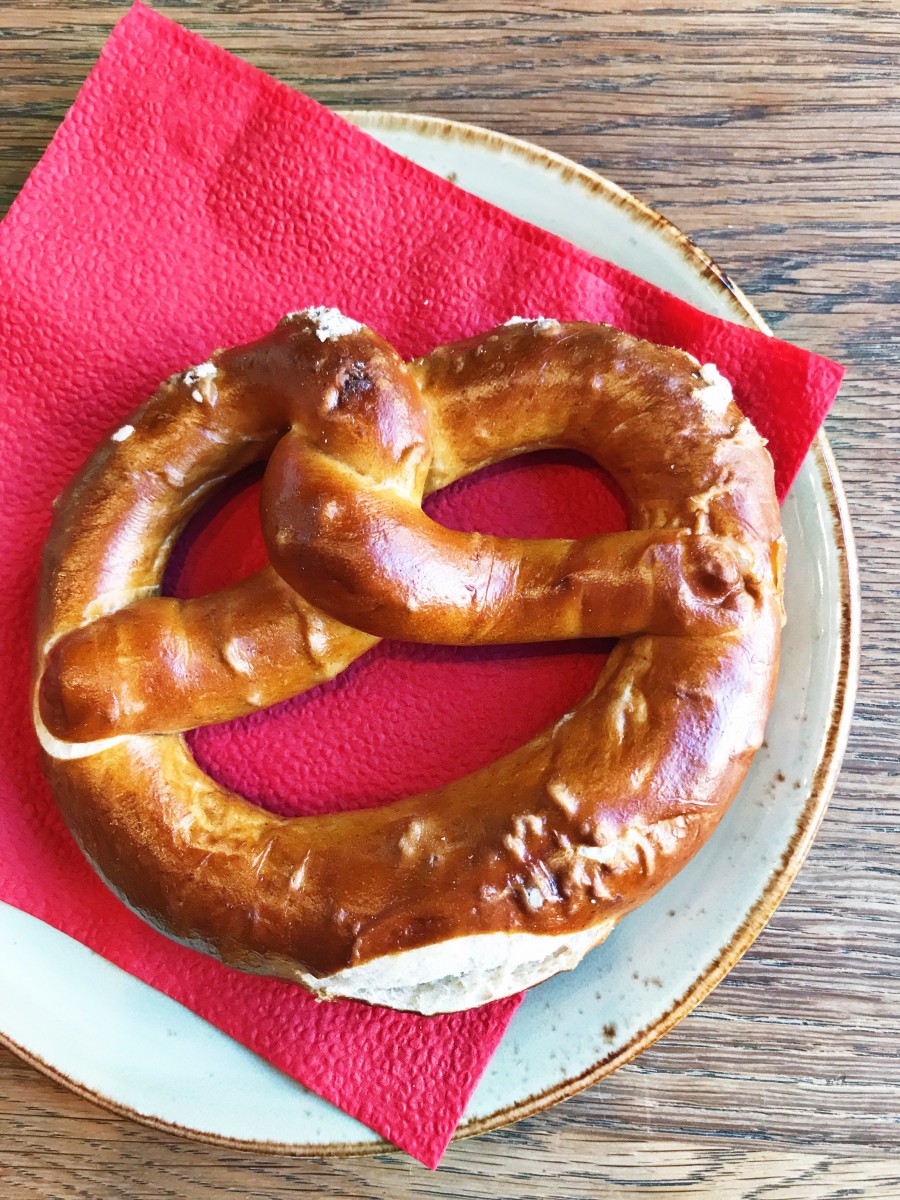 I got my first German pretzel of the trip here. It lived up to all the hype.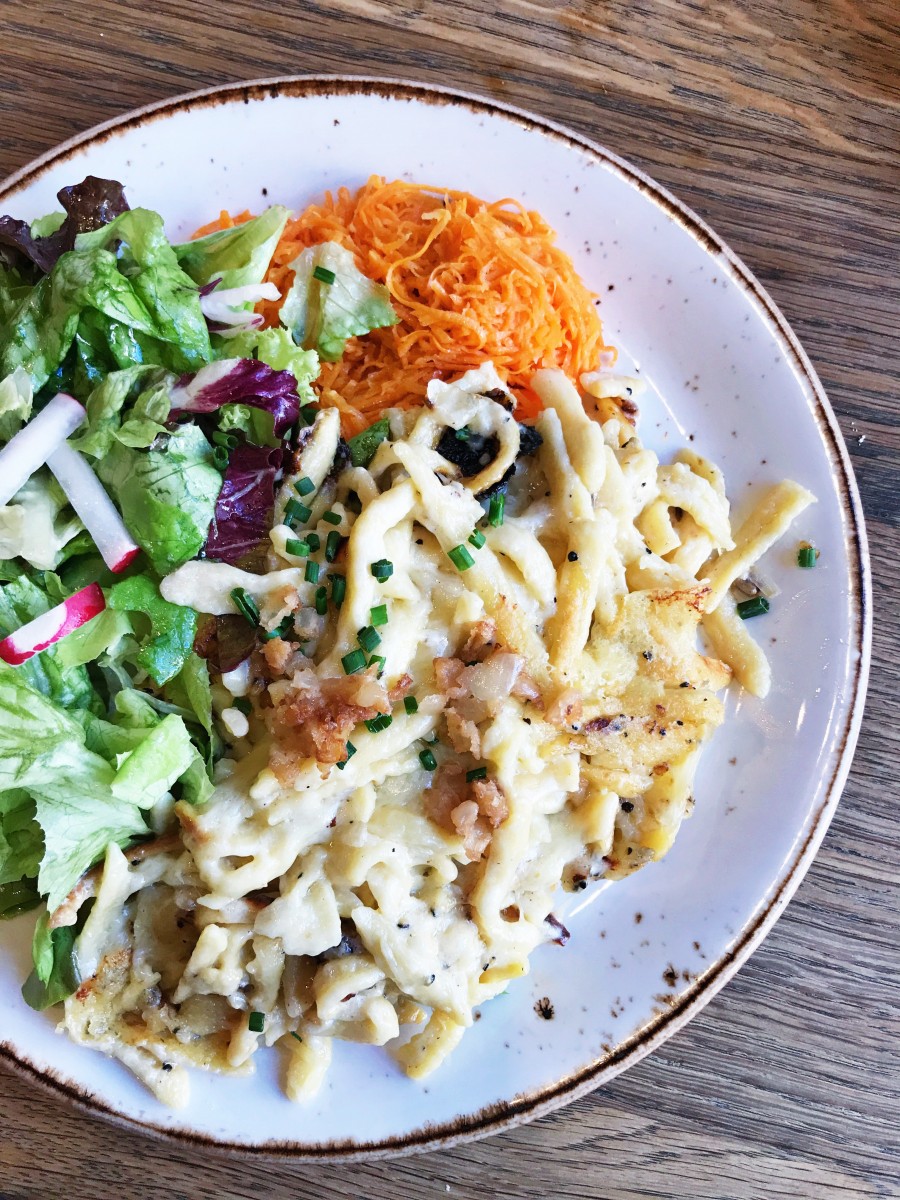 For lunch I ordered Swabian Spätzle. I am obsessed with this cheesy dish!
And with that, it was time to head on to our next adventure. But Miltenberg will always hold a very special place in my heart.
Questions of the Day: Have you been to Bavaria? Are you a fan of pretzels? Do you love the half-timbered house style?