Last month I was invited by the Frankfurt Rhein Main Region Tourism Bureau to spend a week in Germany. I jumped at the chance as I've only heard incredible things about the country and am actually part German. I was excited to see more of the world, learn more about my heritage, and then come home and share it all with you guys!
I spent seven days exploring beautiful towns, historic castles, and eating the most delicious food. (Seriously, German bread is unreal!) I made friends with talented writers from around the world and our fabulous German hosts. I came home with so many new stories, experiences and an even stronger desire to discover more of this planet we call home.
I did and saw so much I'm going to be breaking this trip down into multiple parts. Today I want to share with you day one, otherwise known as the day I went to my very first real-life castle. 😀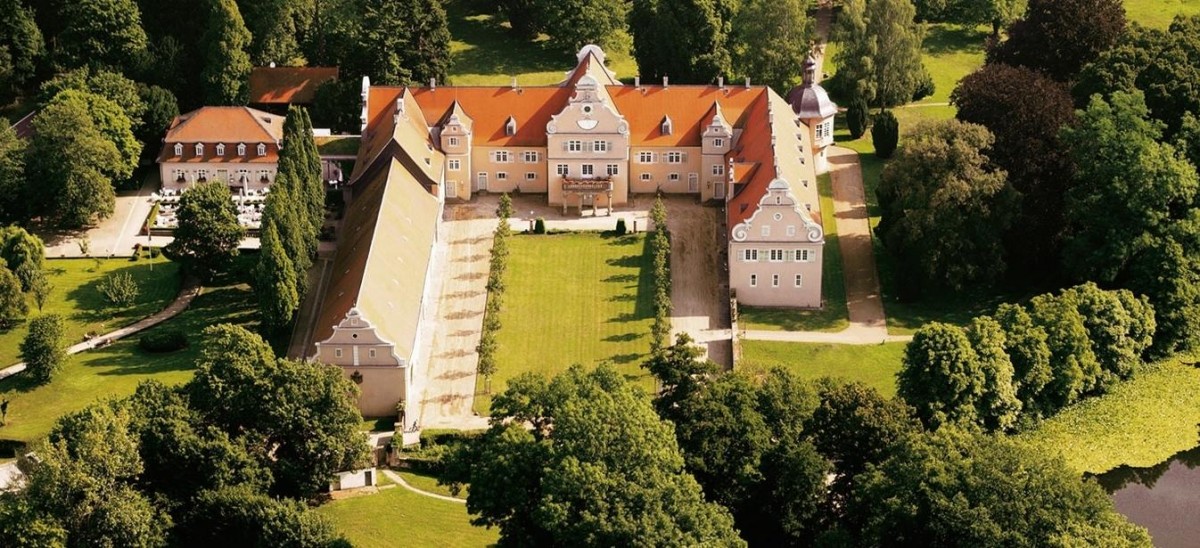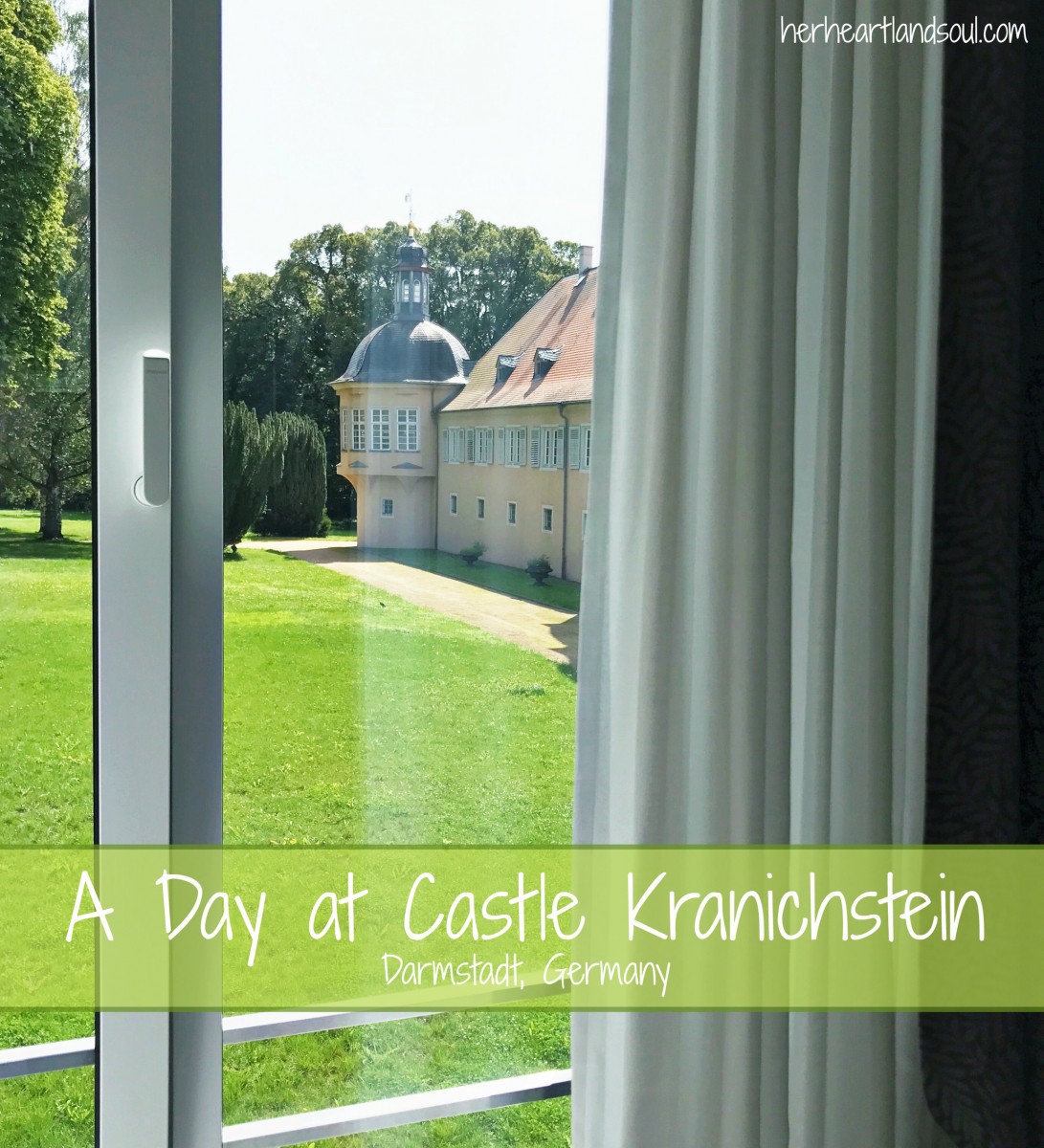 A Day at Castle Kranichstein
Castle Kranichstein is located in Darmstadt, Germany, an area just 30 minutes away from Frankfurt. With Frankfurt being the banking capital of Germany and home to one of the largest airports in the world, it's incredibly easy to get to. We actually rode on the autobahn to get from Frankfurt to Darmstadt which was so much fun.
The castle was built in 1580's and is oozing with history. The property now includes a beautifully modern hotel attached to the castle so you can step back in time by day and sleep in air-conditioned comfort by night.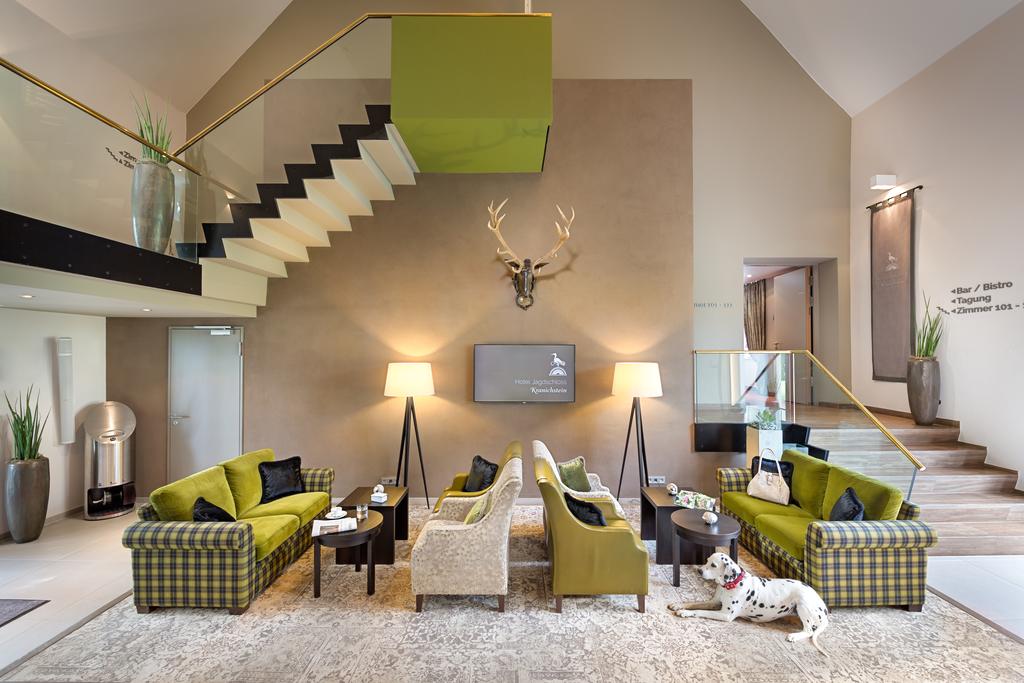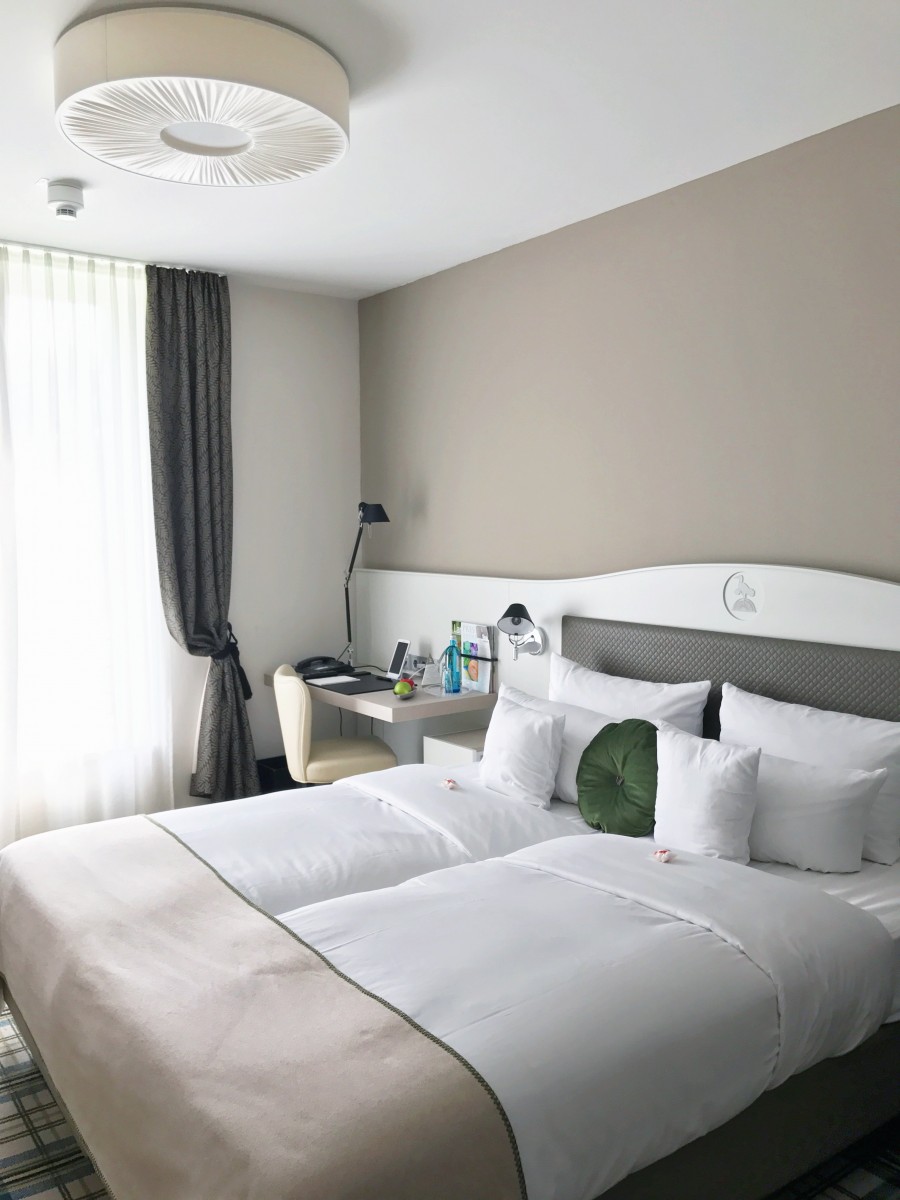 After checking in we had time to relax and unwind in our rooms which was very nice as I had been traveling for twelve hours and looked a hot mess. (Although I weirdly didn't experience much jet lag on this trip.) I did however, experience my first European King bed, otherwise known as two twin beds combined. While it perplexed me a little, I know Josh would probably prefer this situation as he would get his own blanket and not have to deal with me stealing the one we usually share in the middle of the night!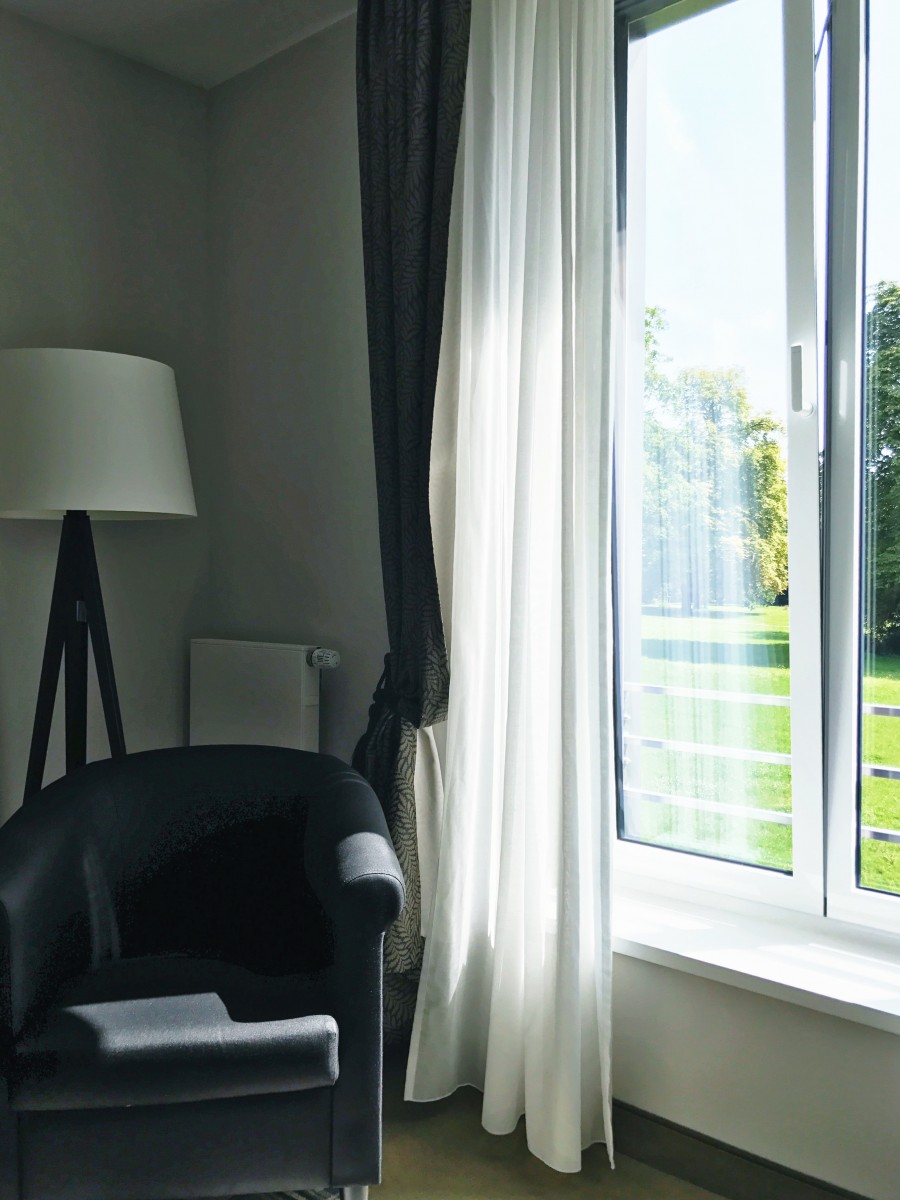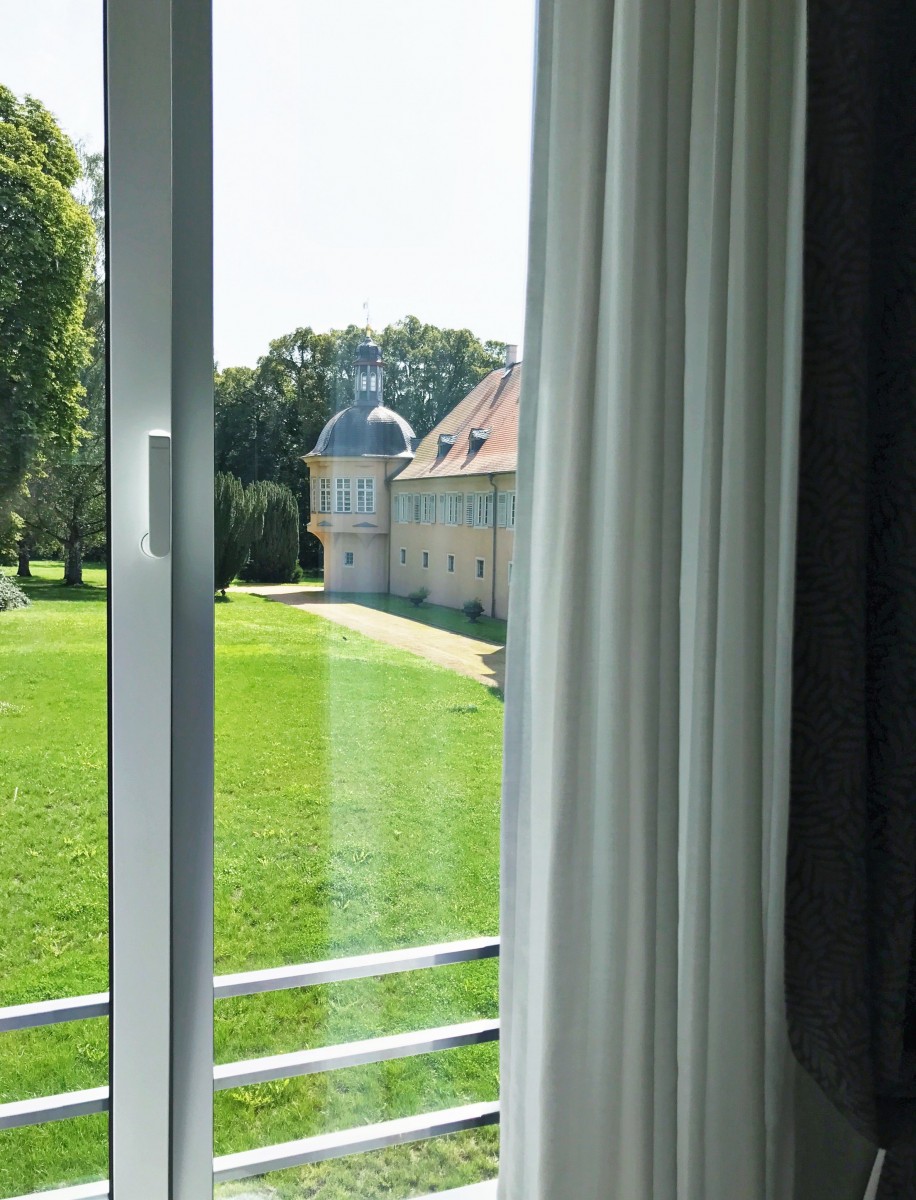 I loved the view from my room.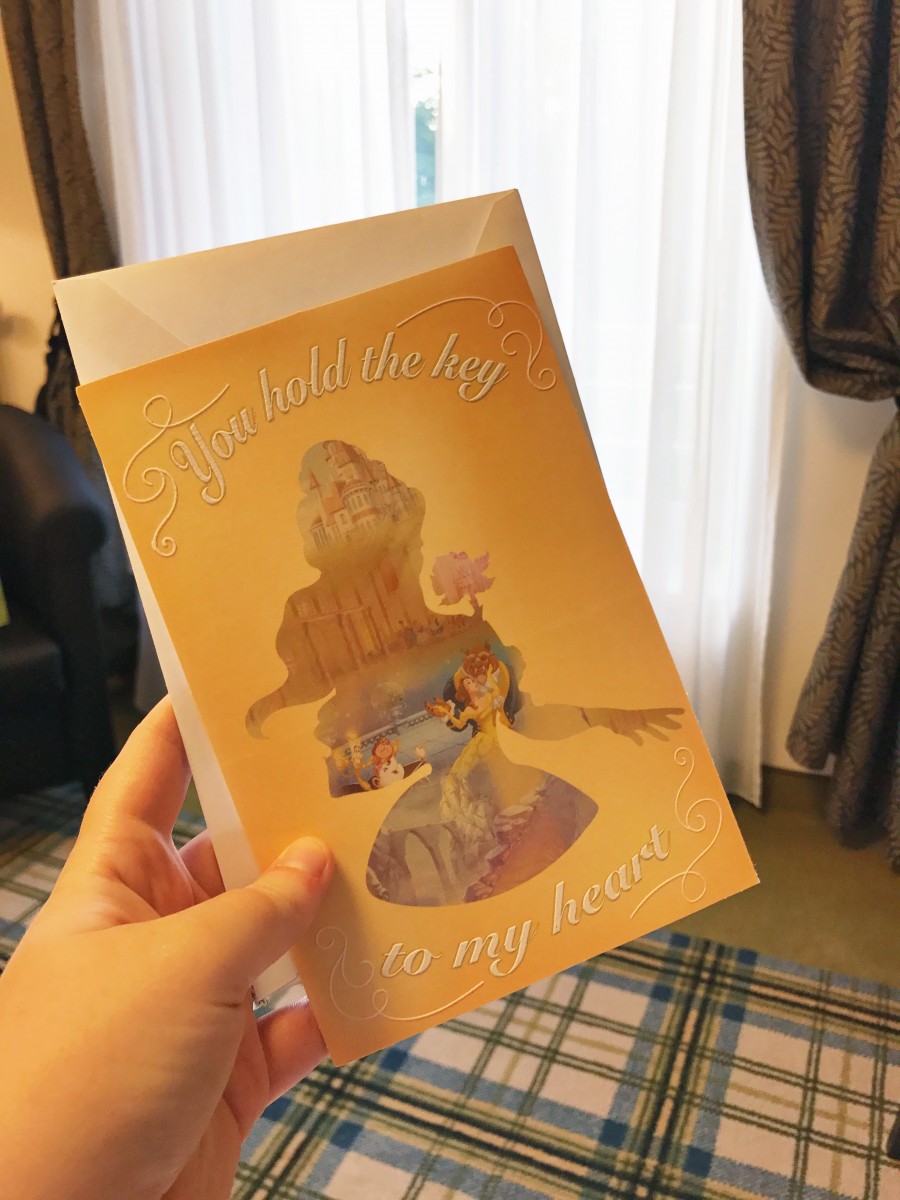 And as I unpacked I found this sweet card from Josh. This was my first trip to Europe and I was traveling by myself so it really meant a lot to find this tucked away in my suitcase.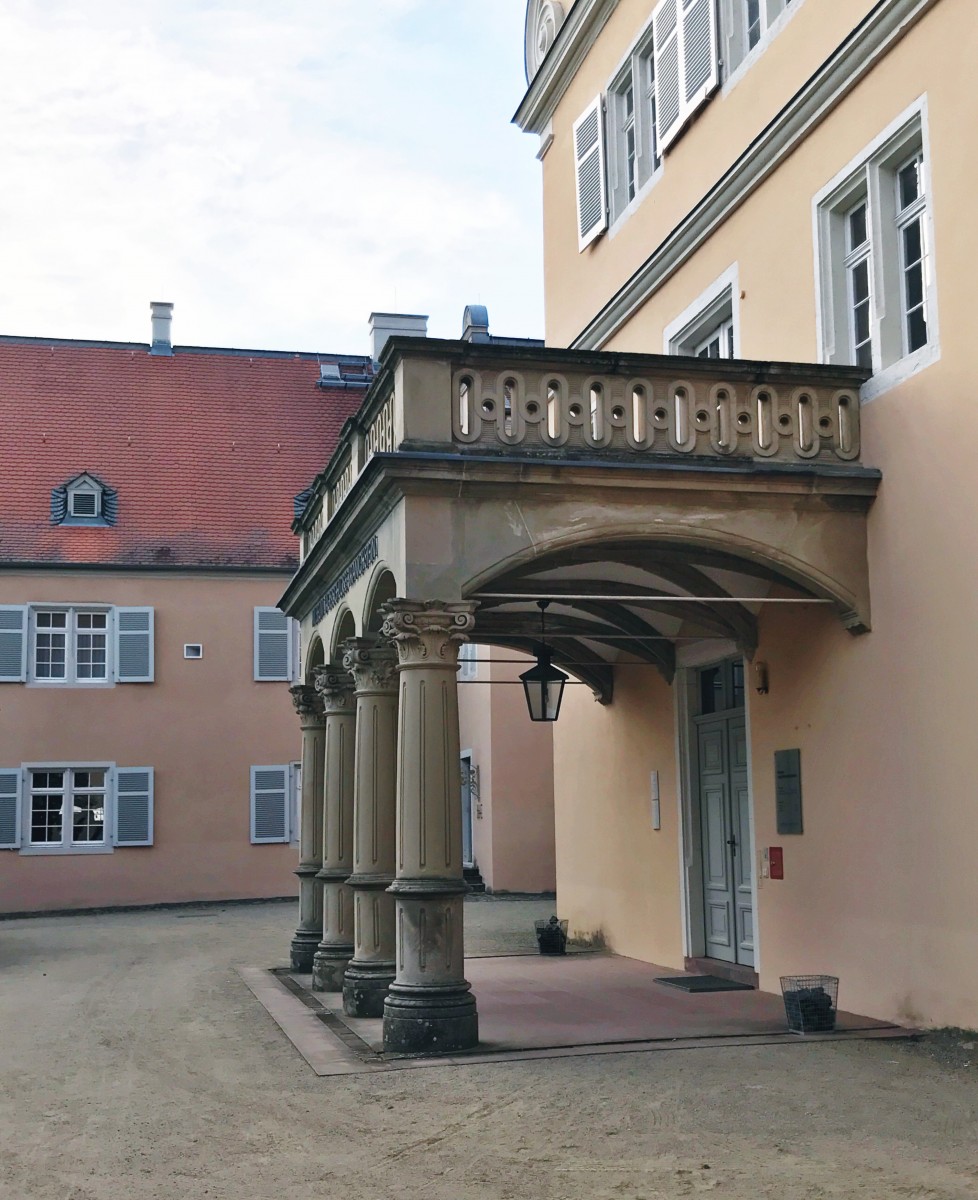 After unpacking it was time to explore the grounds!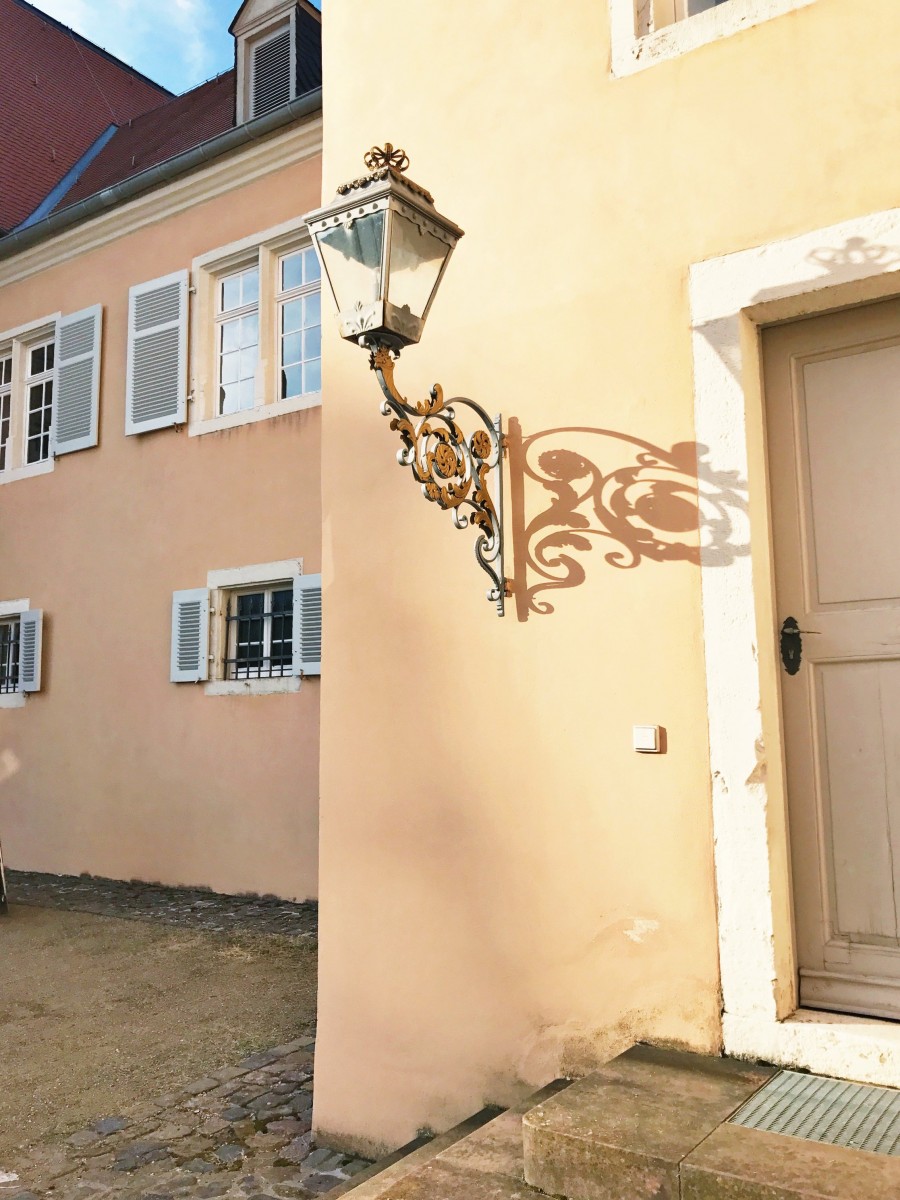 I have a thing for pretty lamp posts.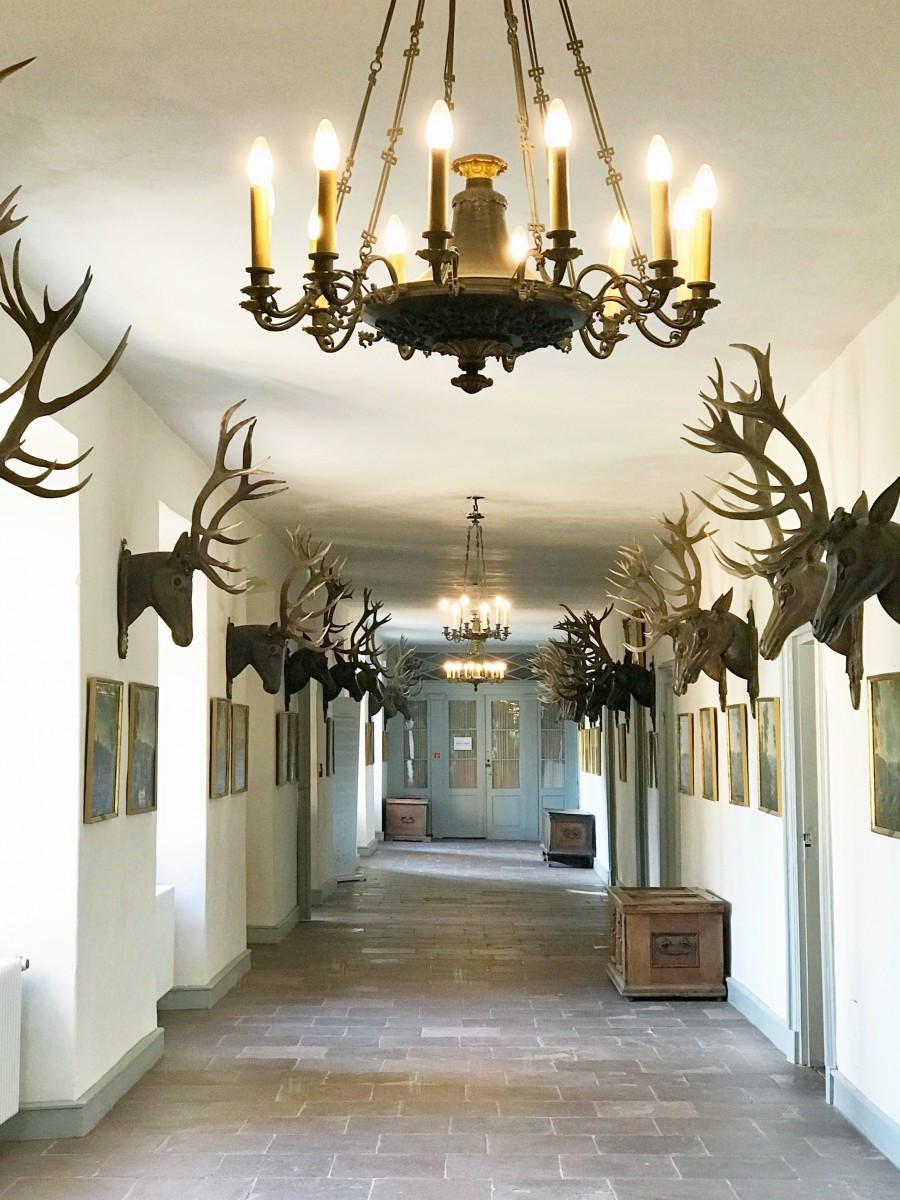 This castle was originally designed to be a hunting castle. It really shows in the decorations lining the walls.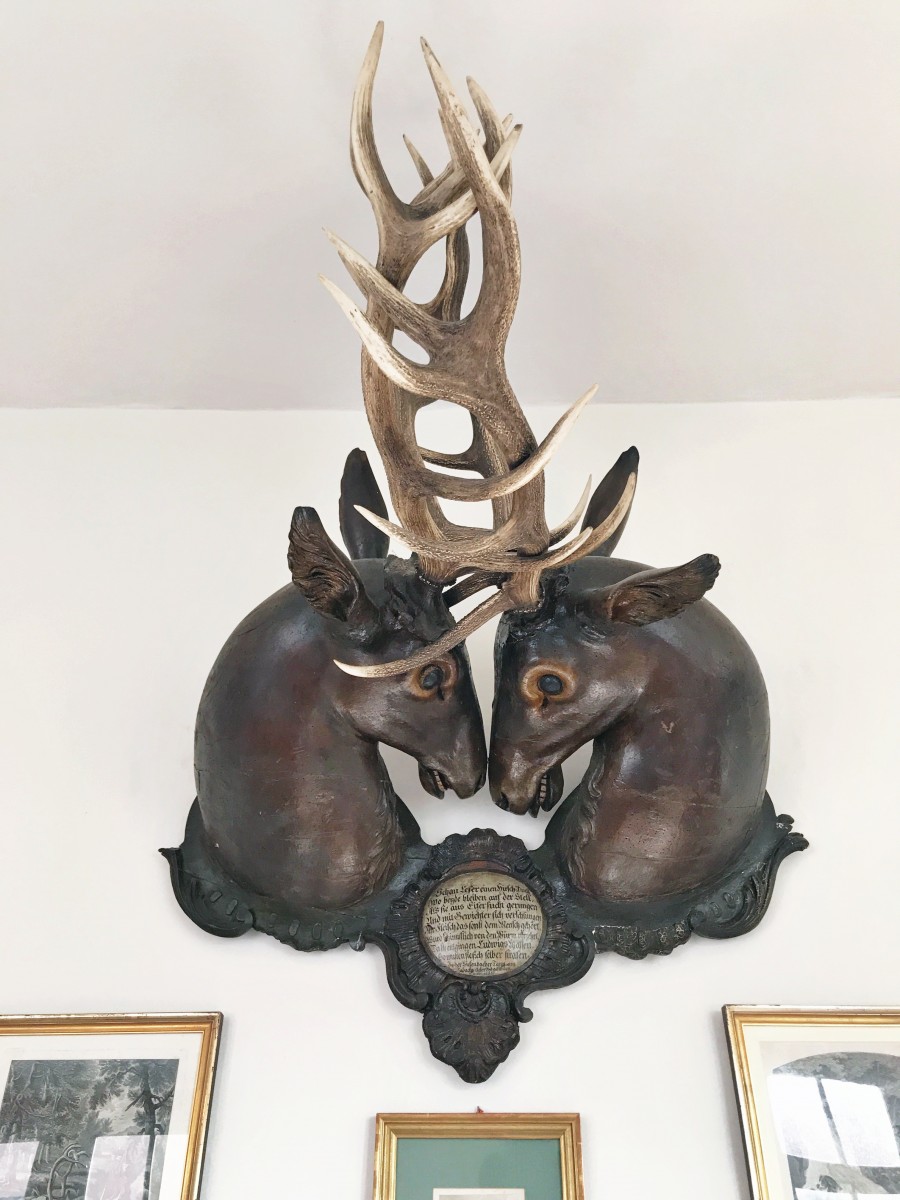 I learned that this castle was owned by a landgrave (otherwise known as a count or prince). When the royal families would come hunt here they would only display the most unique and prized antlers on the wall. As we walked around I wondered why just the antlers were displayed and not the entire head of the deer. It was then explained that these antlers are so old, they predate taxidermy!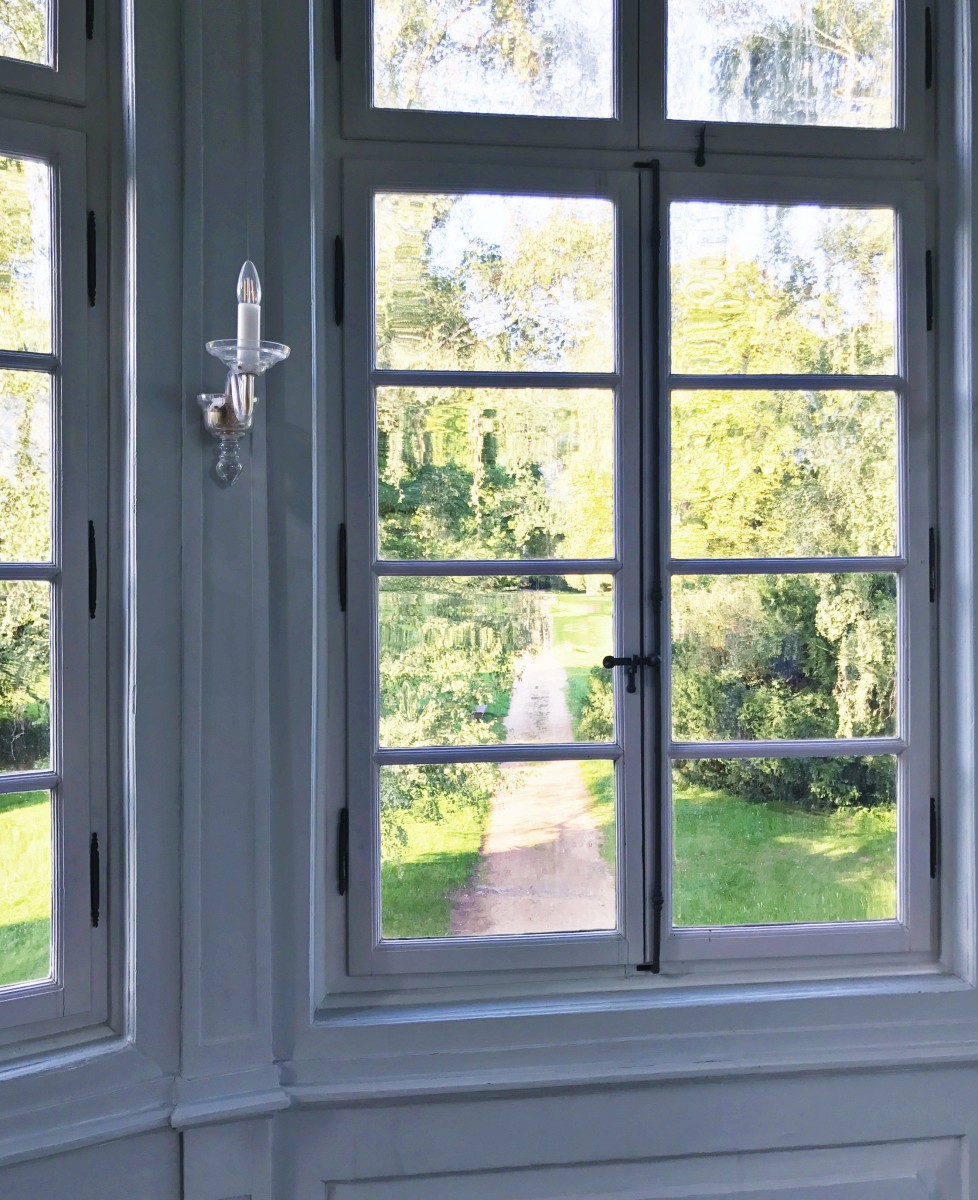 The castle has absolutely magnificent grounds. This shot was taken in a room of windows that I would absolutely love to replicate in a house someday.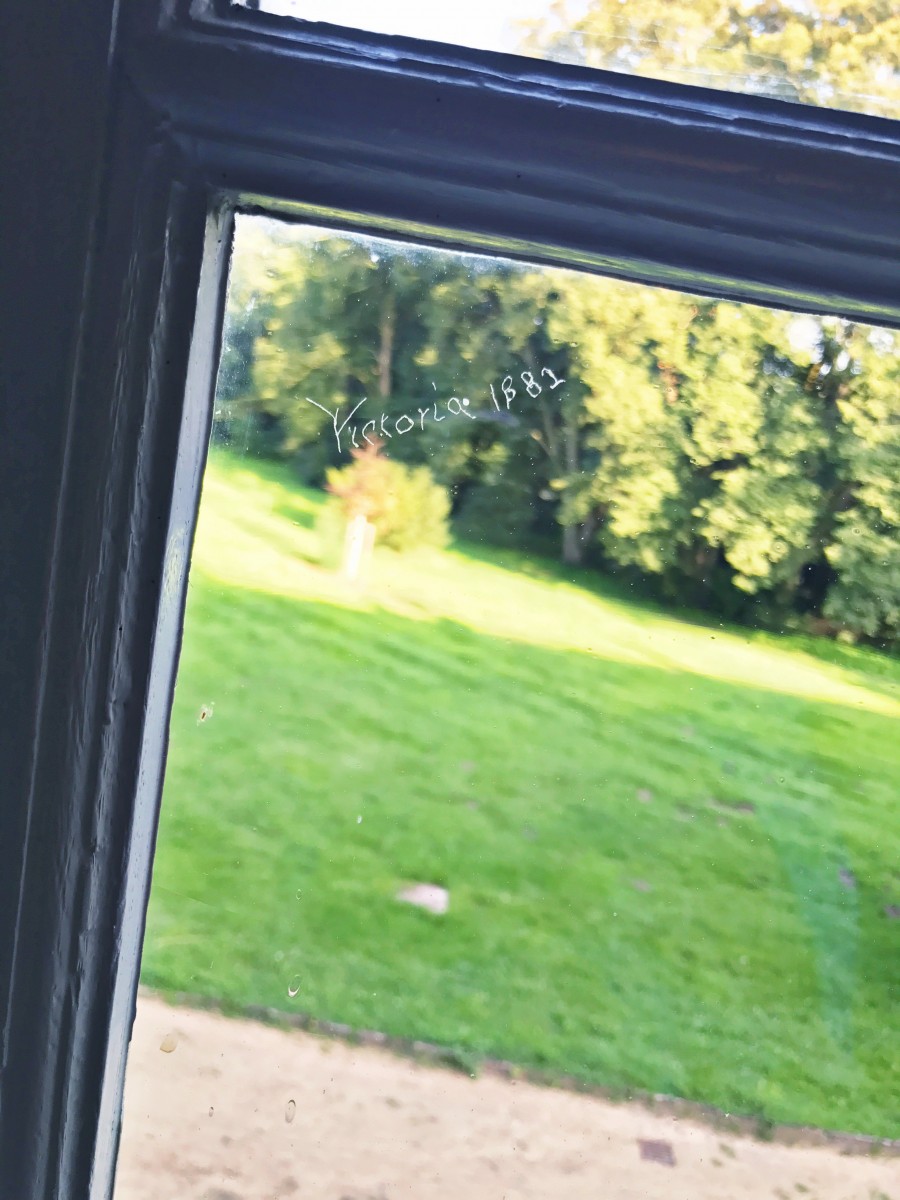 Castle Kranichstein has been home to quite the notable guests over the years. When Queen Victoria visited (her daughter married a landgrave) she scratched her name into the glass window with her diamond ring. It was crazy to be up close and personal to such a real piece of history. I felt like this window should be behind a case in a museum!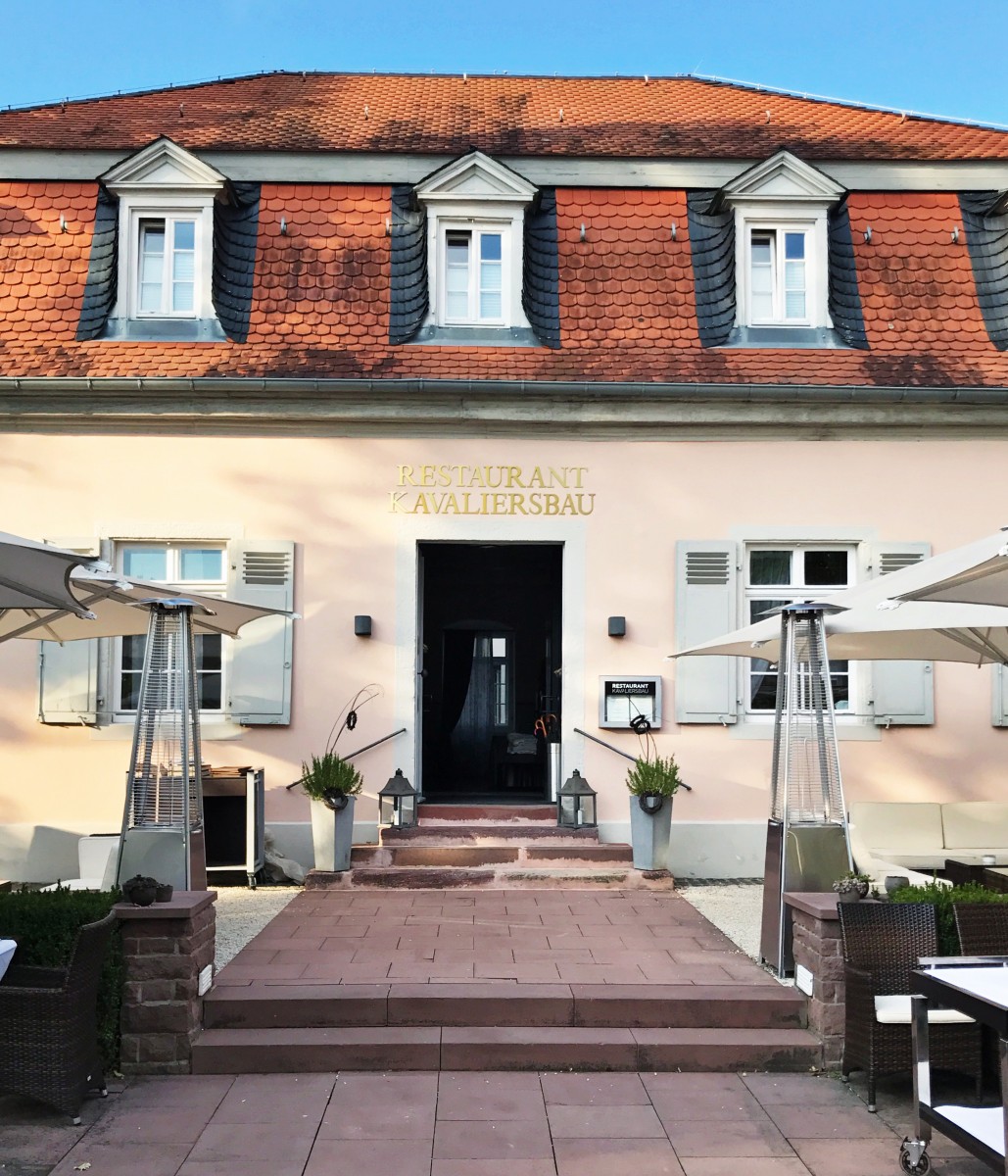 After exploring the castle it was time for dinner at the restaurant on property, Restaurant Kavaliersbau.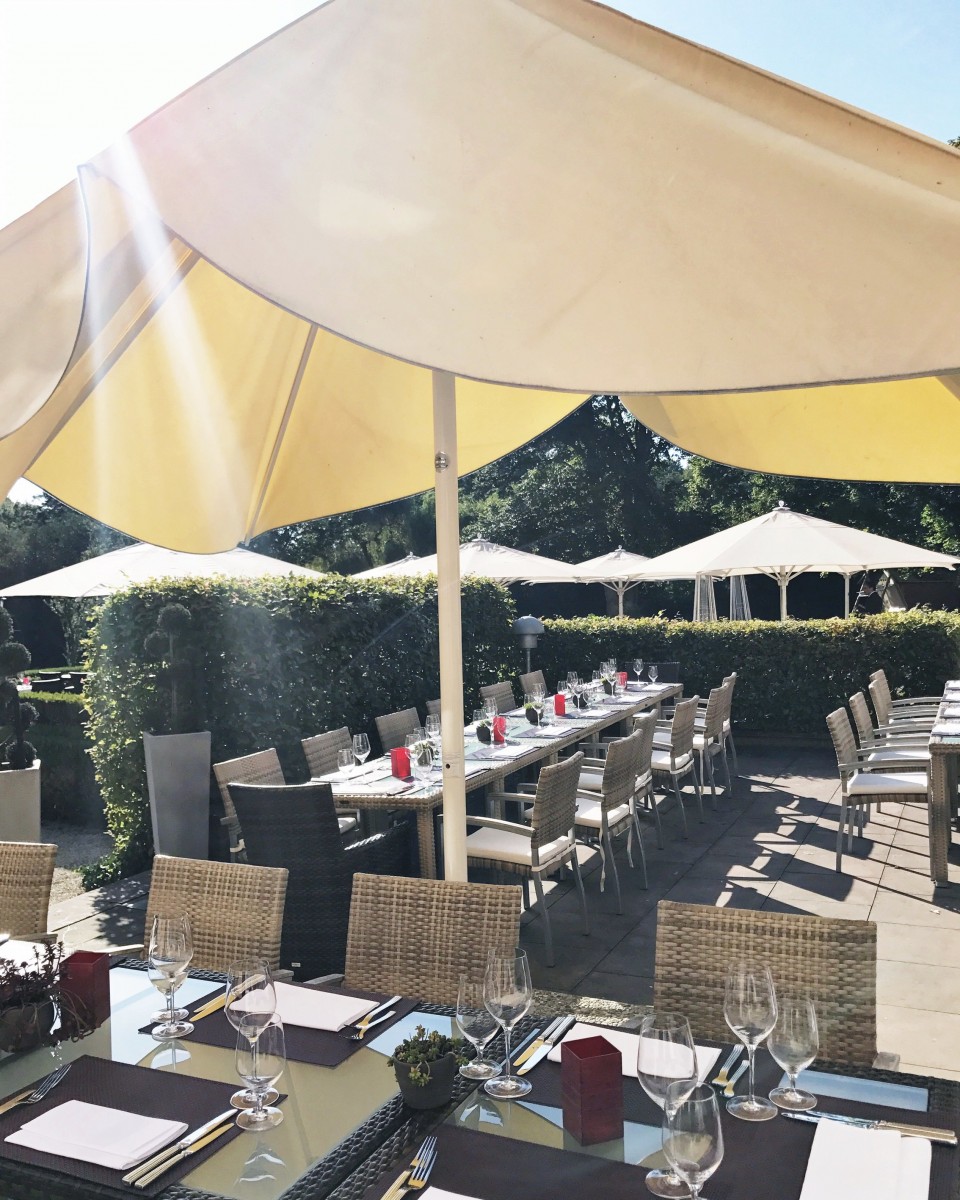 The setting could not have been any more perfect.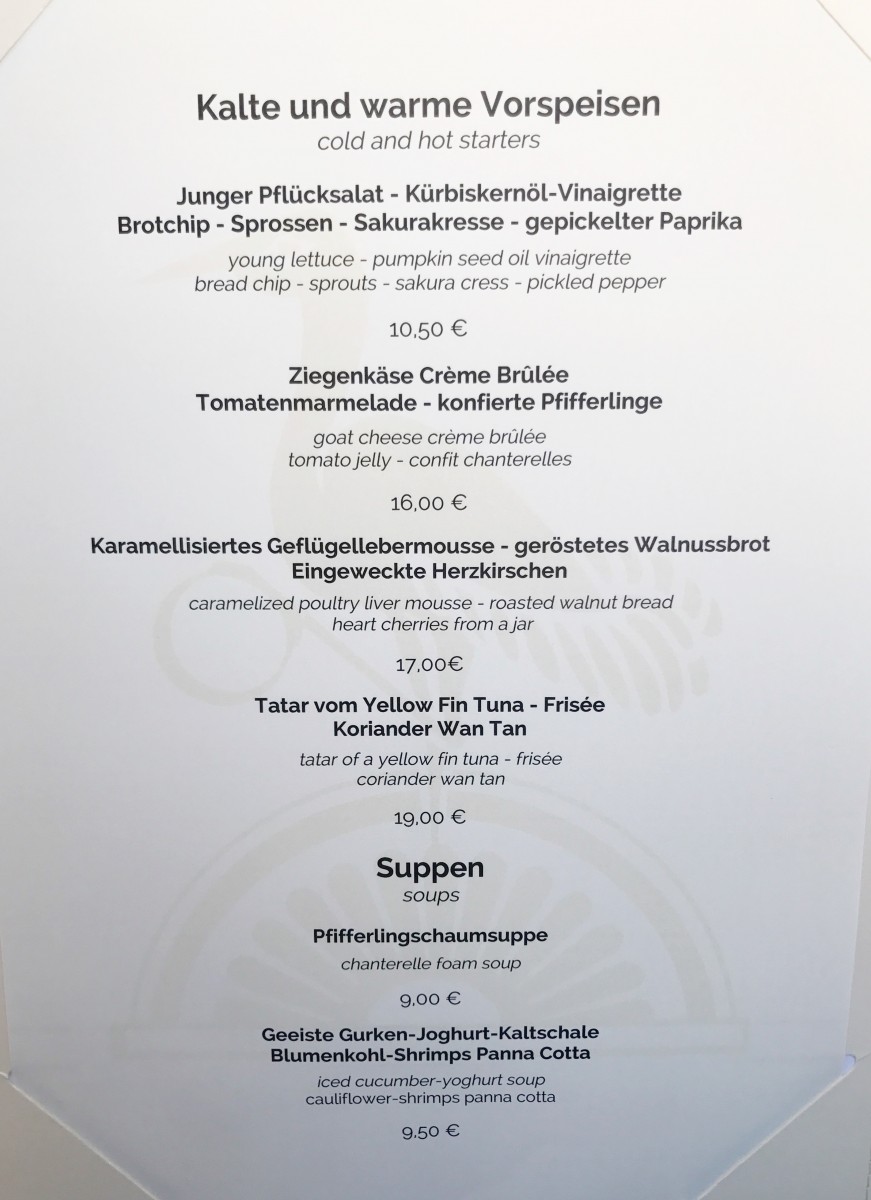 Our menu for the night. Can you guess which starter I got?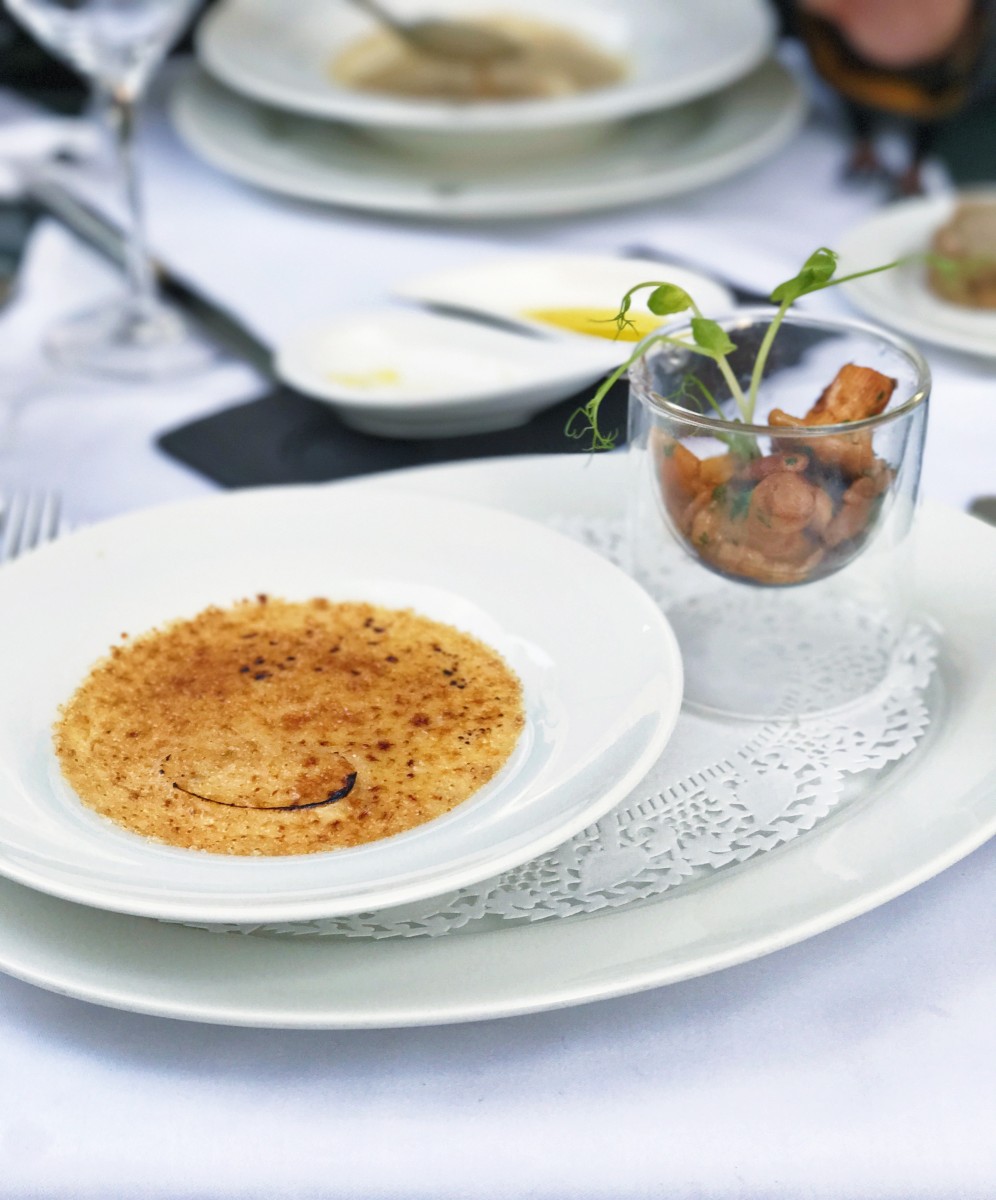 Spoiler alert: I went with the goat cheese creme brulee. 😀 I had never had a savory creme brulee before but it was absolutely delicious.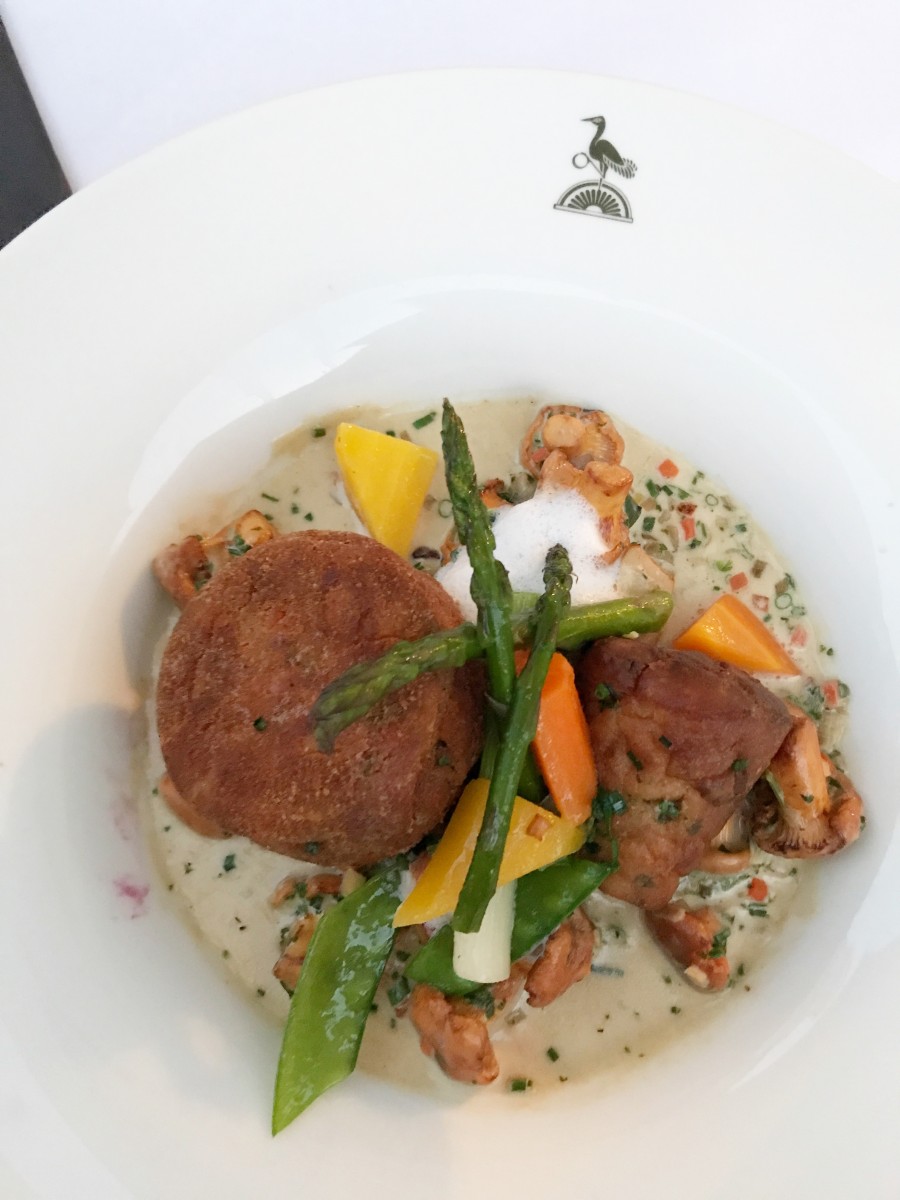 Chanterelle mushrooms were in season and incorporated into almost every dish on the menu. (Both here and most places we went!) Mushrooms are one of my favorite foods so I could not get enough of this. I thoroughly enjoyed my mushroom and dumpling dish.
Our group stayed up talking late into the night out on the restuarant patio. We had the perfect start to our trip but eventually had to totter off to bed to rejuvinate for day two.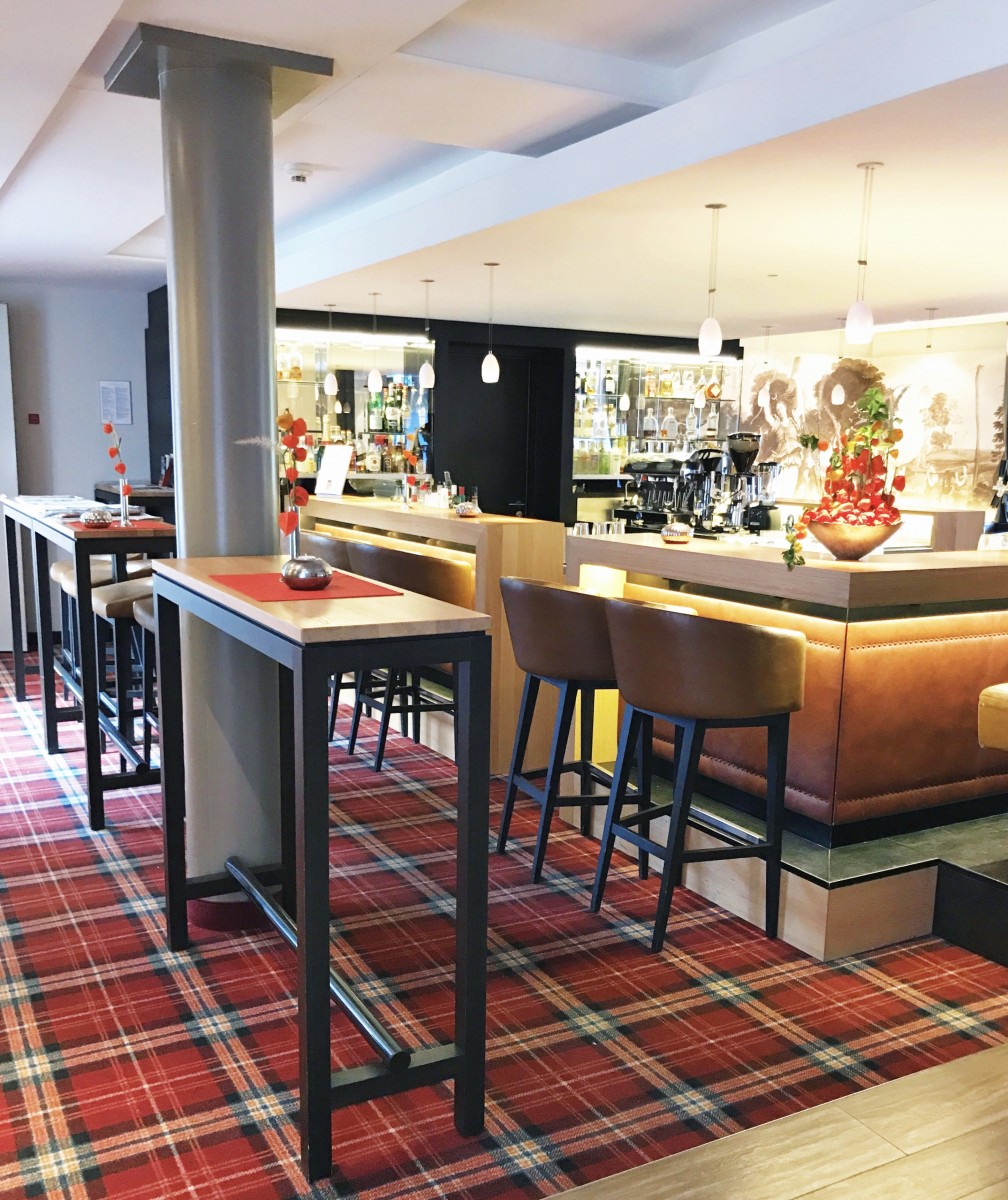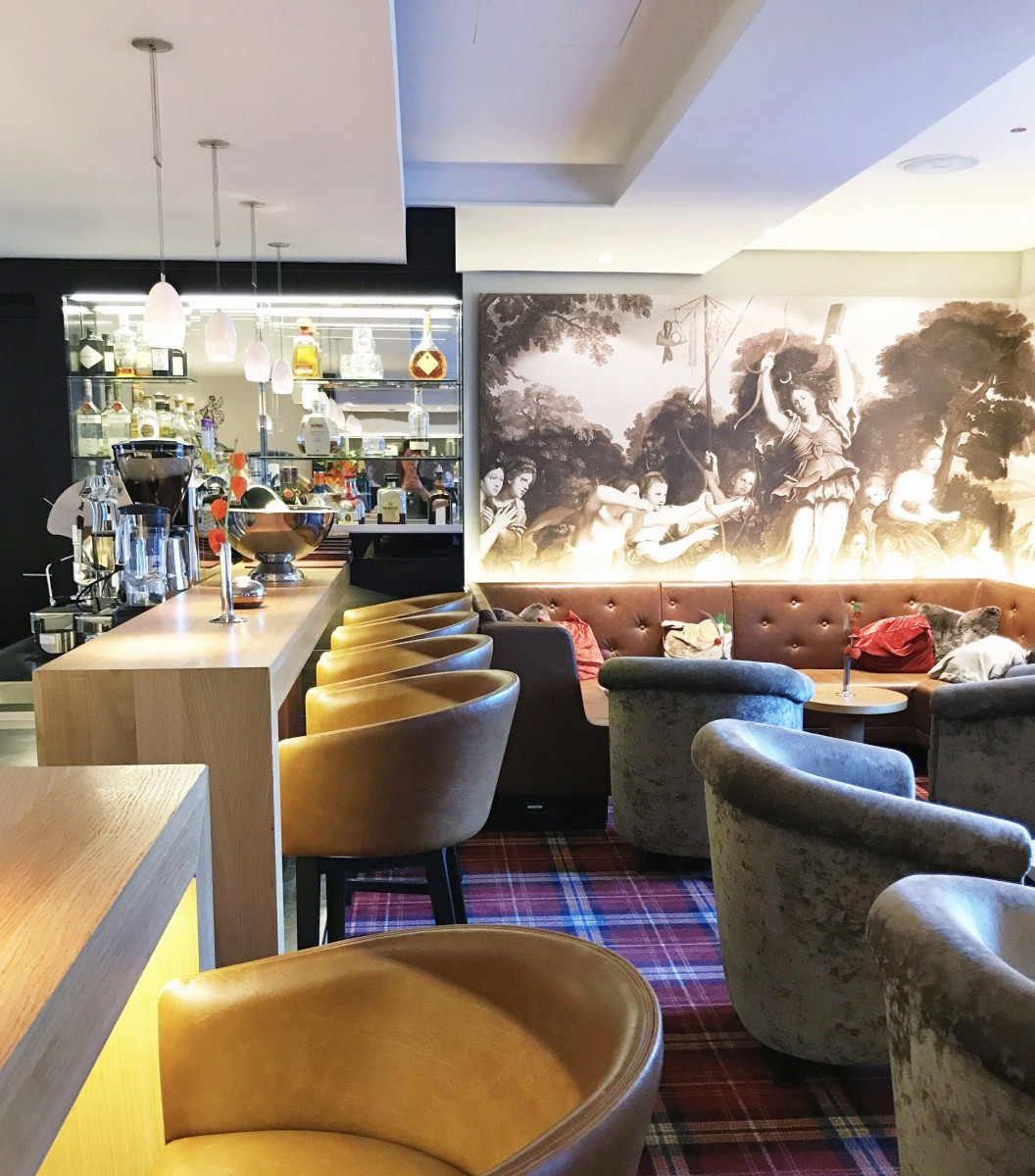 Luckily for me, before we left the next day we had breakfast at the hotel. Normally hotel breakfasts are nothing special, but Germany does breakfast on a whole other level. We're talking fresh baked baguettes, the fluffiest eggs, raw honeycomb, a wheel of brie, multiple types of sausages, and a host of other things. And it was like this at every hotel we stayed at! America needs to step up its breakfast game.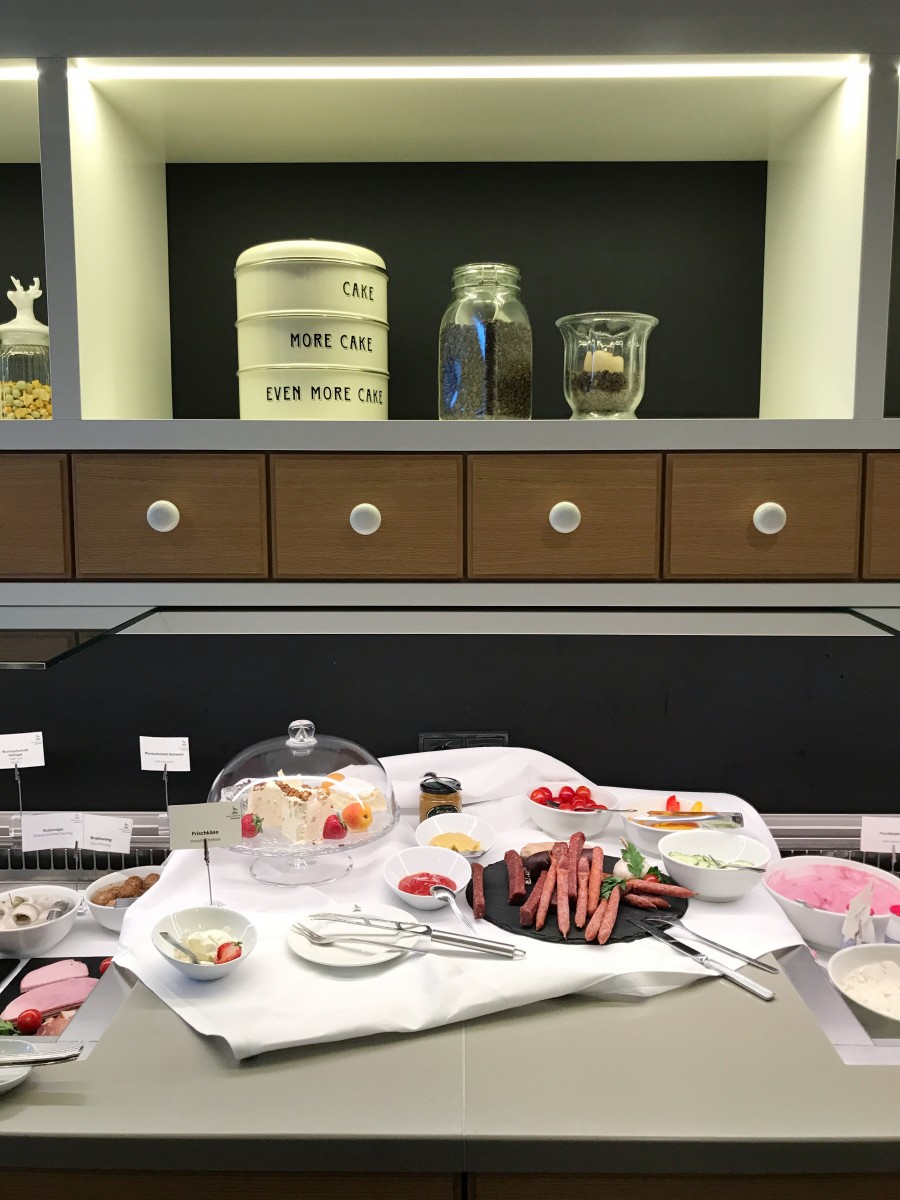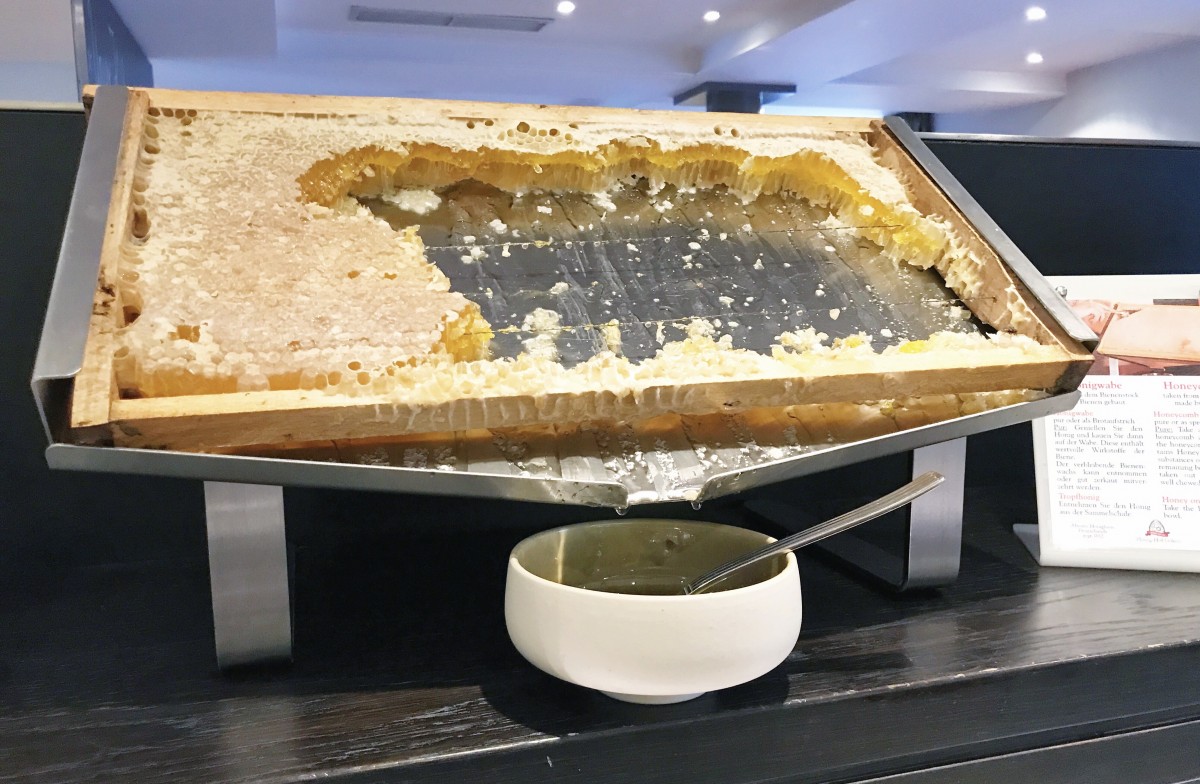 Be still my honey loving heart.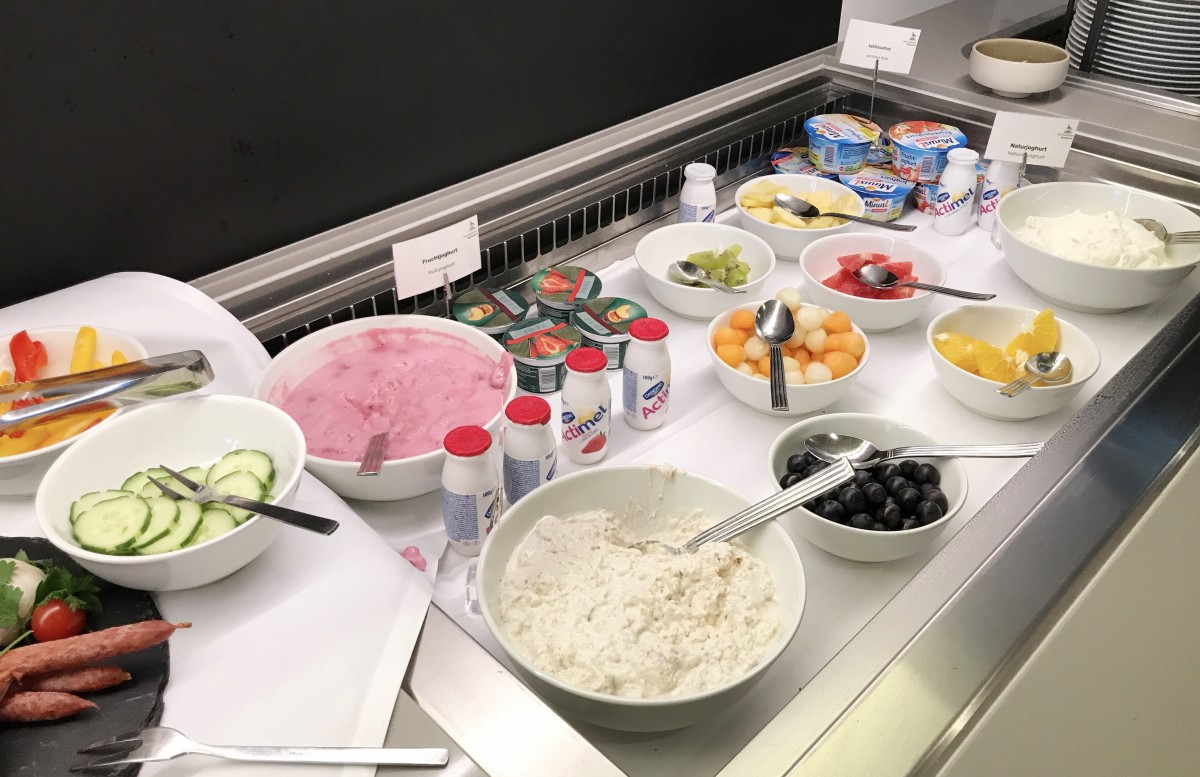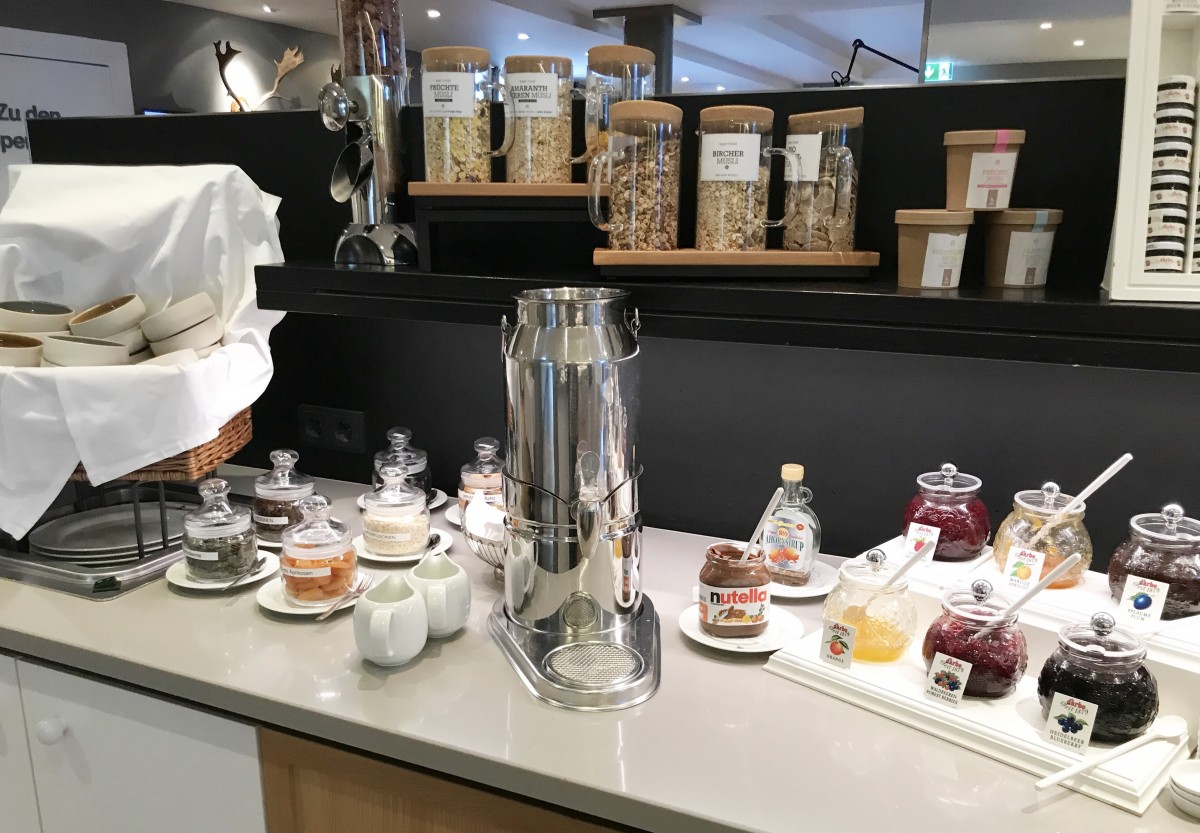 I wanted to sneak all these jams into my suitcase! They were so yummy.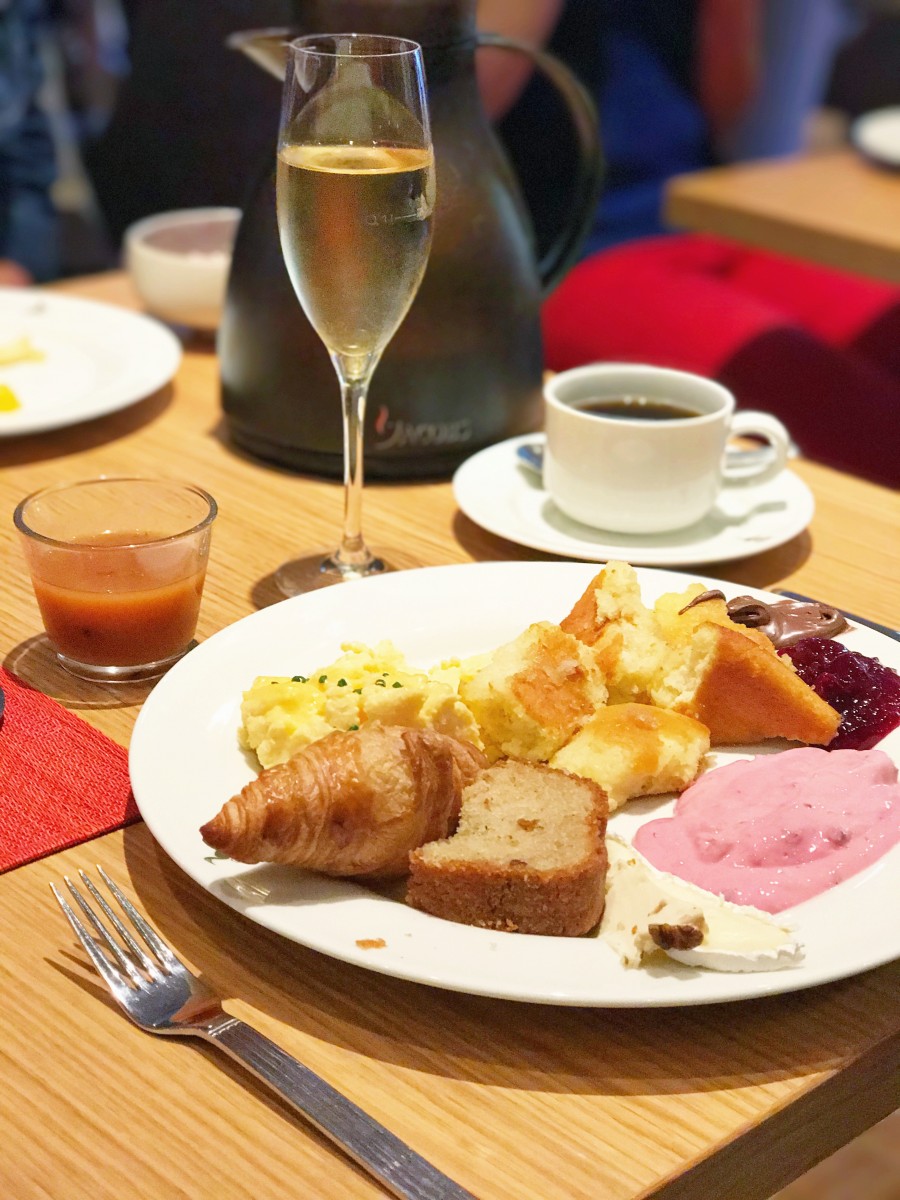 Champagne, coffee, fresh squeezed juice, and all the food. I had no shame in my breakfast game. 😉
After breakfast it was time to hit the road. Next stop: Miltenberg!
Questions of the Day: Have you been to a castle before? What part of Castle Kranichstein would you enjy the most? Would you eat brie and baguettes for breakfast?
Thanks to Frankfurt Rhein Main Region Tourism Bureau for sponsoring this post!
SaveSave
SaveSaveSaveSaveSaveSave
SaveSave
SaveSaveSaveSave
SaveSave