Soo I did not expect to be writing this post today. To say this weekend was full of surprises would be the biggest understatement ever. I mentioned in my last post how I was so excited to get to spend the weekend relaxing and enjoying myself with Josh. I got to do all of those things and had the best time and will be recapping our weekend together tomorrow. Today I have some news to share…
I GOT ENGAGED!! To the most amazing guy in the whole entire world. Who somehow managed to keep this a surprise from me despite the fact he asked my dad's permission over a month ago! I got to his place late Friday night after I got out of work late and picked up Chipotle for us on the road. When I got to his place the conversation went like this:
Me: Babe I picked up dinner.
Josh: Great, I got dessert.
Me: Ohh, what did you get?
Josh: I got us a cookie cake. (Cookie cakes are kind of special to us.) But I know the icing has trans fat so I got it without any and made my own for you. Do you want to come into the living room and see it?
And then he got down on one knee, said some of the sweetest things to me, and put this ring on my finger. On my right at first, I accidentally gave him the wrong hand. ;p

It's the most beautiful ring I've seen and is exactly what I envisioned for my engagement ring. It is so sparkly!! I was so surprised when Josh asked me, I'm so glad he recorded it because its all just a blur of excitement in my head. When he asked me to marry him I didn't even let him finish the question, I was just so happy I had to hug him and kiss him. It's so funny because I am such a crier, I cry over sappy songs, Hallmark commercials, pretty much everything and anything. But when Josh asked me to marry him I didn't cry, I was bursting to the brim with happiness there was no room for tears. Everything just felt so perfect and so right.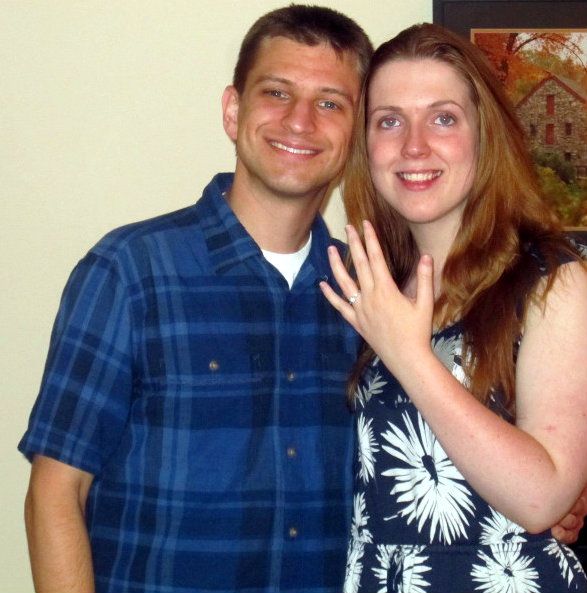 We are just starting the wedding planning process so we are not sure of any of the details yet. The one thing I'm certain of is that I've got the best groom. 😀 Thank you so much for all of the congratulations on Facebook, Pinterest, and Instagram. They meant so much to Josh and I. I'll make sure to keep you guys in the loop as the wedding planning process continues.
If I could ask you guys one huge favor it would be to click THIS link and head on over to the Facebook webpage of where Josh got my engagement ring. For every like we get on our engagement story we get $1 off our wedding bands. Wedding bands are pretty expensive so every dollar helps. I would be so so grateful.
Question of the Day: Share engagement stories!! The best you've heard, your own personal one, how you dream of being proposed to. I've kind of got wedding fever! ;p
P.S. I also had to post this, just because this song always made me so excited for the day I could. He put a ring on it!!