I hope everyone had a wonderful weekend! I know I did! And as of yesterday I am officially 21! I'm so excited to finally be fully legal! The last milestone I have left is being able to rent a car at 25. Somehow I think this one is much more exciting! I'm sorry I promised an update yesterday and didn't get around to it til today, I thought I would have time on my birthday to make a post but that didn't happen. This weekend was jam packed and one I will remember for a long time. It was the most special birthday and I am so thankful to Josh, my family, and my friends for making me feel so loved! <3 I'm so excited to get to share with you my birthday weekend!

Friday night after my last blog post was spent relaxing with Josh drinking hot apple cider. But not just any apple cider, Josh's homemade hot apple cider.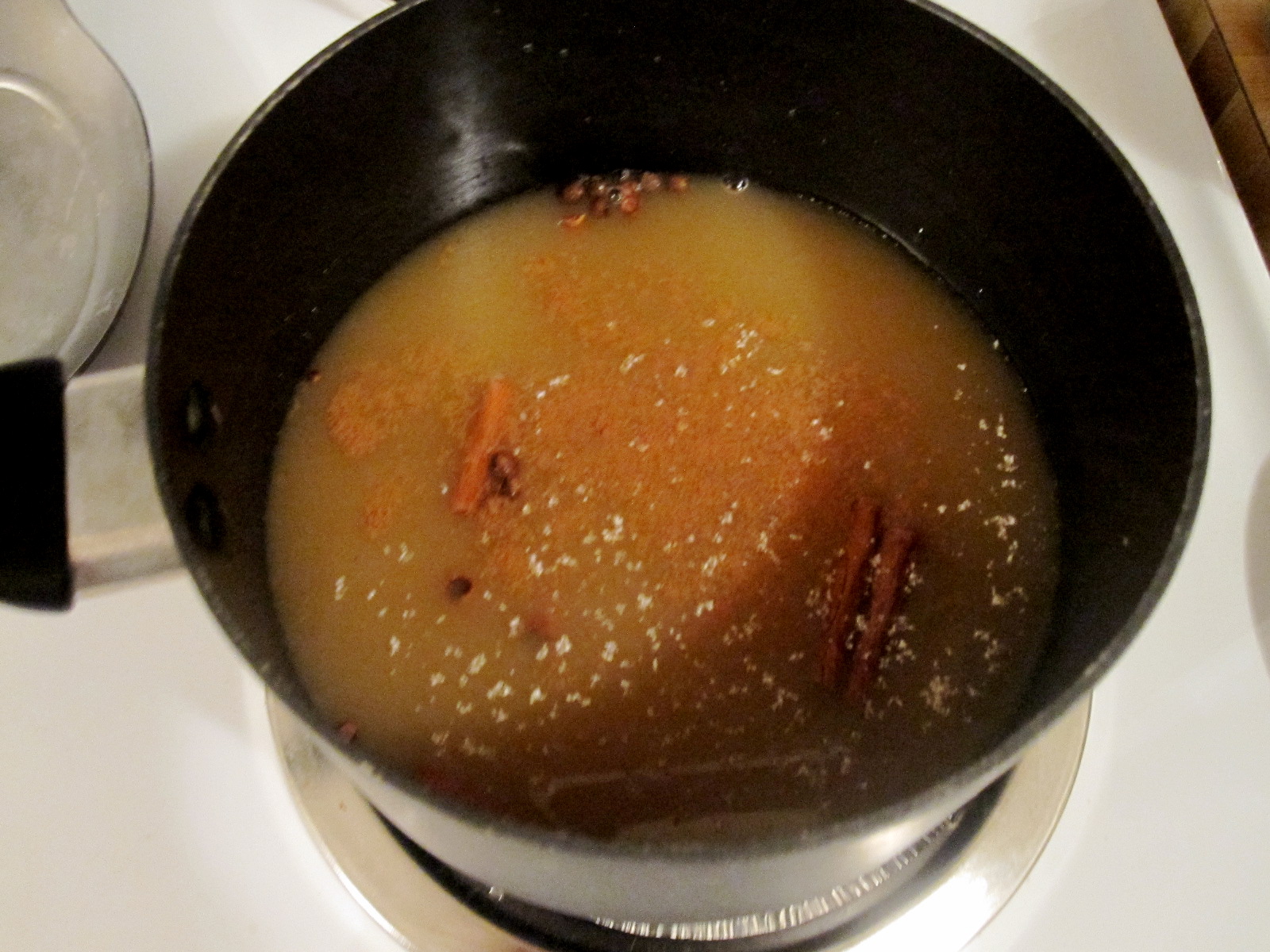 Cinnamon, nutmeg, cranberries, orange peels, and so much more. He's a blur as he whizzes around the kitchen adding a touch of this and that.
His special ingredients give the cider a really nice flavor. It was the best cider!
Saturday morning breakfast consisted of cold leftover pizza. It was so good. After a relaxing morning in, when lunchtime rolled around we were both craving something healthy. We decided to head to the store to pick up the ingredients for pita pockets.

All the makings of a falafel sandwich! Healthy, yummy, and cheap! All of this cost only $8! And there was so much we had enough left over for Sunday's lunch as well! That's $2 a meal per person! Healthy food can be cheap, you just have to shop for deals and look around.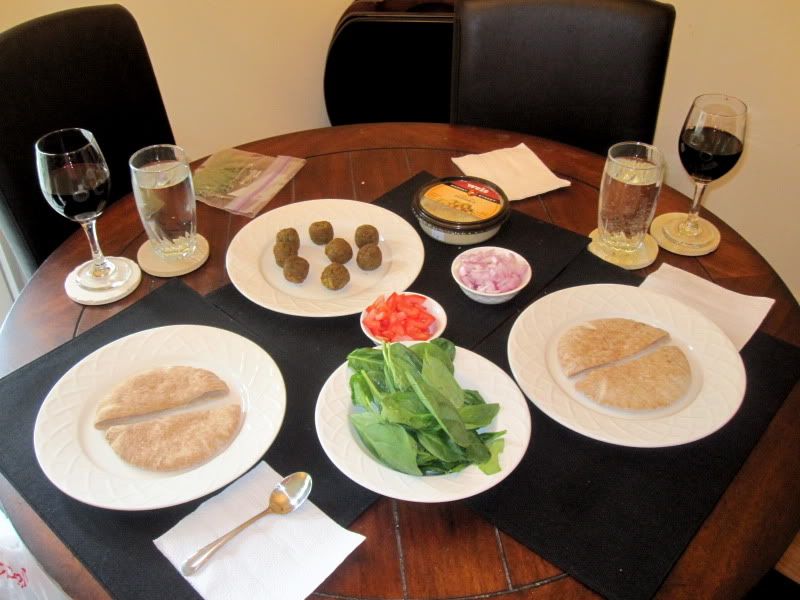 Our falafel buffet all set up!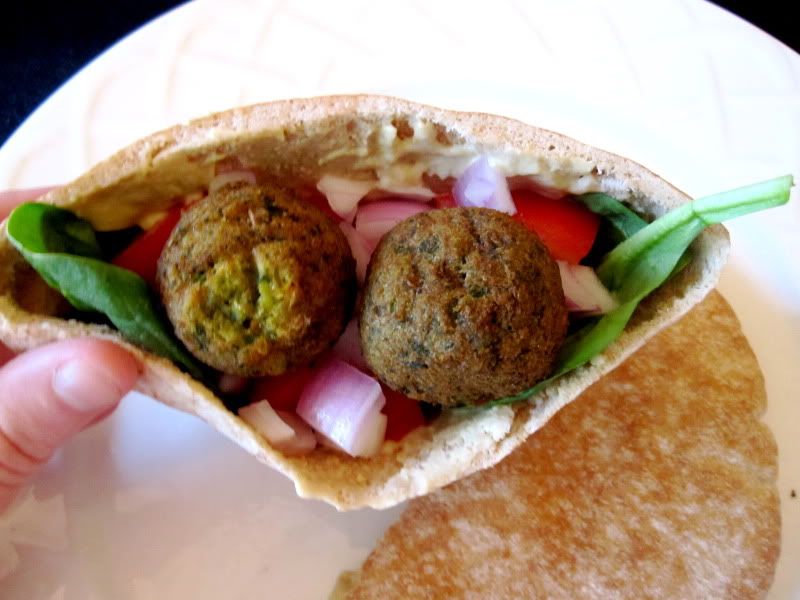 My happy lunch. I thought it looked like a smiley face. 😀
After lunch we hung out until it was time to get ready for our movie date. We were going to see one of my childhood favorites! I can't go to the movies without some kind of snack. Popcorn is my movie food of choice but it so expensive at the movies and so bad for you. We decided to bring our own.

Don't worry, we didn't bring all of that! But check out how much popcorn you get for $4 from the grocery store! Our favorite is the Popcorn Indiana Kettle Corn. They can fit a lot of popcorn in those big red bags!
We went to see the Lion King in 3D! I saw a commercial for this last weekend and have been dying to see it since. The theatre was packed! Living in Central PA definitely has its perks, movie tickets are half the price of big cities! And student discounts make them even cheaper!
Check us out rocking our sexy 3D glasses! The movie was incredible! I am a huge Disney fan, and the Lion King is actually the first movie I ever saw in theatres. It was just as good as I remembered, and this time I got all the jokes. I also cried, twice. Simba's interactions with his dad, both when he's little and older are heart-wrenching, and I am such a sap.
After the movie we were craving something warm and gooey and yummy to eat. Cinnabuns sounded perfect, and topped with a little frozen yogurt they're even better!
Sunday morning I woke up and wanted to treat Josh to a homemade breakfast. Peanut Butter Fingers posted a recipe for banana bread protein pancakes I really wanted to try. They're filled with old fashioned oats, cottage cheese, bananas, eggs, and cinnamon.
They were delicious! I did have a bit of a cooking mix-up (I blame it on not being a morning person.) and instead of blending the ingredients with an immersion blender I blended them in Josh's Kitchen Aid. It made for thicker, denser oat-cake that tasted great, but I don't think were how they were supposed to turn out. I already promised Josh I'm making him the pumpkin protein pancakes next weekend. We want to compare if we like them better with the oat like texture of today or more a pancake like texture that happens when you blend oats with an immersion blender.
After breakfast we went out to do a little shopping and on our way home passed the Penn State Arboretum. We've driven by it before and always meant to stop sometime to check it out. Sunday was such a beautiful day we decided to finally check it off our to-do list and stop and explore. I am so glad we did.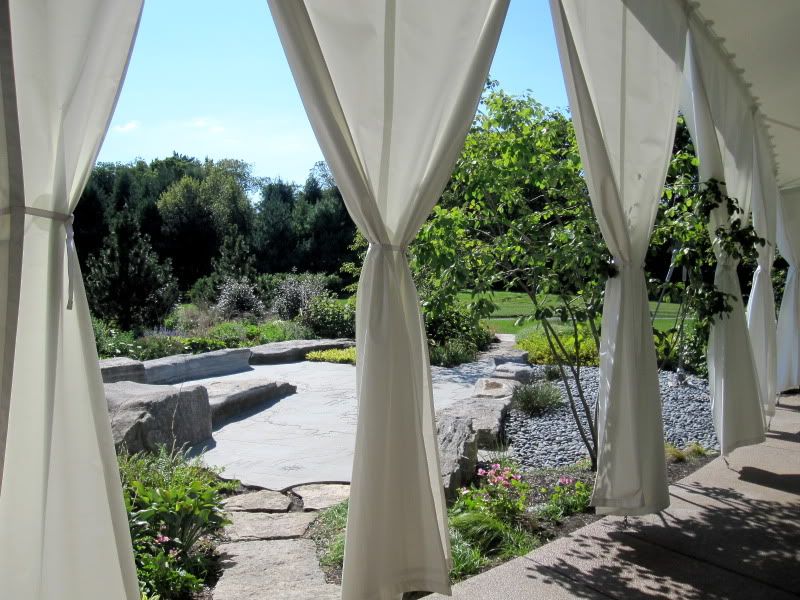 This is the beautiful entrance. It was filled with colorful flowers and plants and trees. There were lots of hidden away benches and chairs that were so cozy and cute. Josh and I are already planning to go back and bring some books and a picnic lunch! It must be really popular because there was construction going on as we were there with signs announcing the planned expansion. I can't wait to see it all finished in the Spring! I took a lot of pictures while we were there and thought I would share some of my favorites with you.
Can you see the butterflies? They were everywhere!
Josh was loving this chair.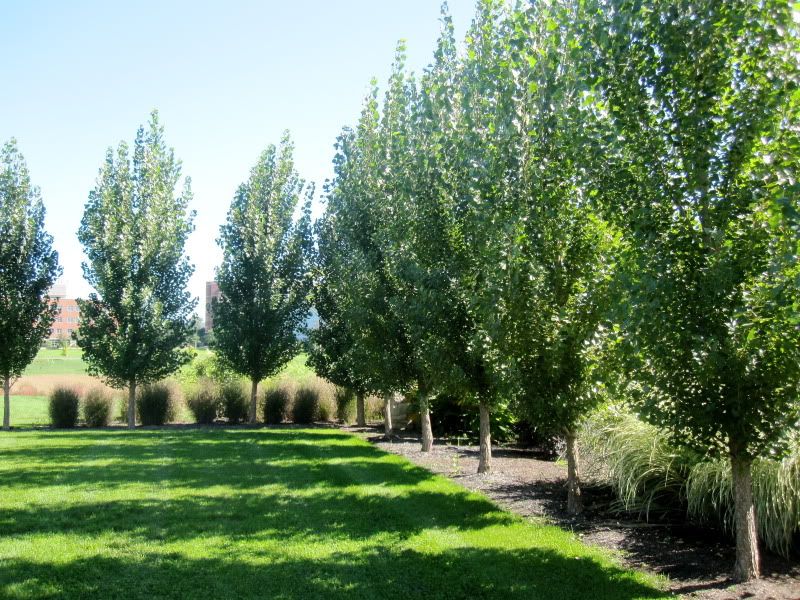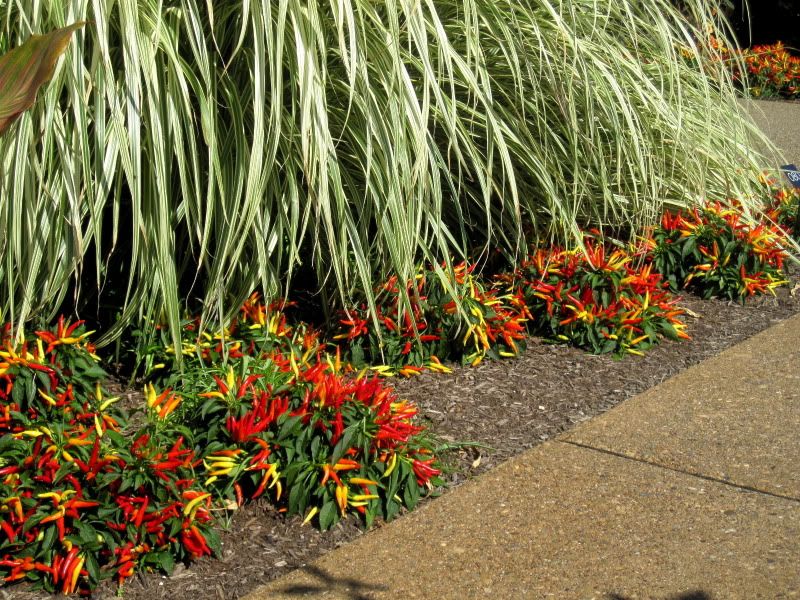 Pepper plants!
The coolest lily pads ever! I feel like a frog could build a house on those things!
After exploring the arboretum in its entirety it was time to head home so we could get ready for our exciting plans that night!
We had tickets to see Cirque du Soleil's Quidam! I have always wanted to go to a Cirque show since visiting Quebec when I was little and seeing the place where the original show got its start performing on the streets. When I found out Cirque was coming to State College I knew I had to see it. Despite all the rave reviews I've heard I still had no idea what to expect, and was completely blown away by Quidam. They had a live band with a soundtrack that blew me away, crowd interactions that were hysterical, and performances that were mesmerizing. It was an incredible experience.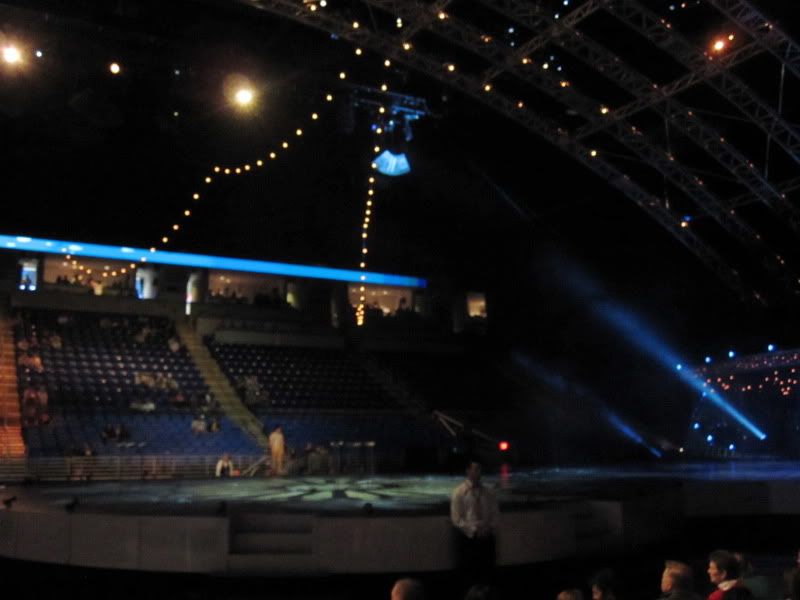 The view from our seats. We were in the front row! Originally we purchased student tickets (aka the cheapest and farthest back) but were mistakenly given seats for a handicapped booth. When we were trying to figure out where we were supposed to sit an attendant told us that this performance was under-sold and they had extra seats available down front. We were slightly off to the side in what I think were the best seats in the house. Quidam has a performance going not only on the front of the stage but on the sides and the back of the stage as well. Being on the side let us see absolutely everything going on. It was such a great show!
After we got home we were hungry for dinner, and Josh was sweet enough to offer to make nachos. These were chock full of onions, peppers, black beans, cheese, and spices.
And then we topped them with guacamole and salsa. They were so good!
Monday (aka my 21st birthday!) morning Josh and I woke up and played Kuuduk while we had honey nut cheerios, coffee, and apple cider for breakfast!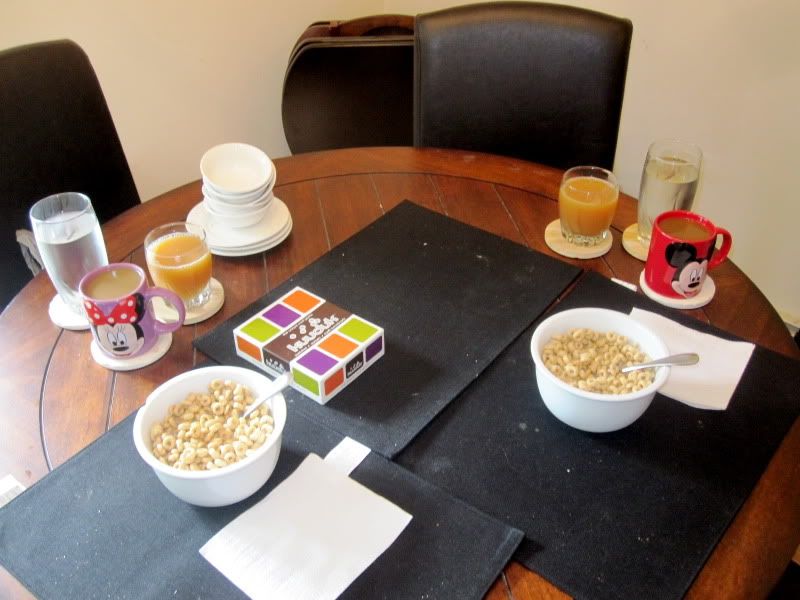 After breakfast I dropped Josh off at school where he had a meeting with his adviser. I thought the meeting would take a few hours so I started working on a blog post then. Little did I know Josh was going to come home early and surprise me with this:
A cookie cake! It was the sweetest surprise and so yummy! He is the most thoughtful guy! Afterwards it was time to open presents. His parents were so sweet and got me a present that I can't wait to get to use!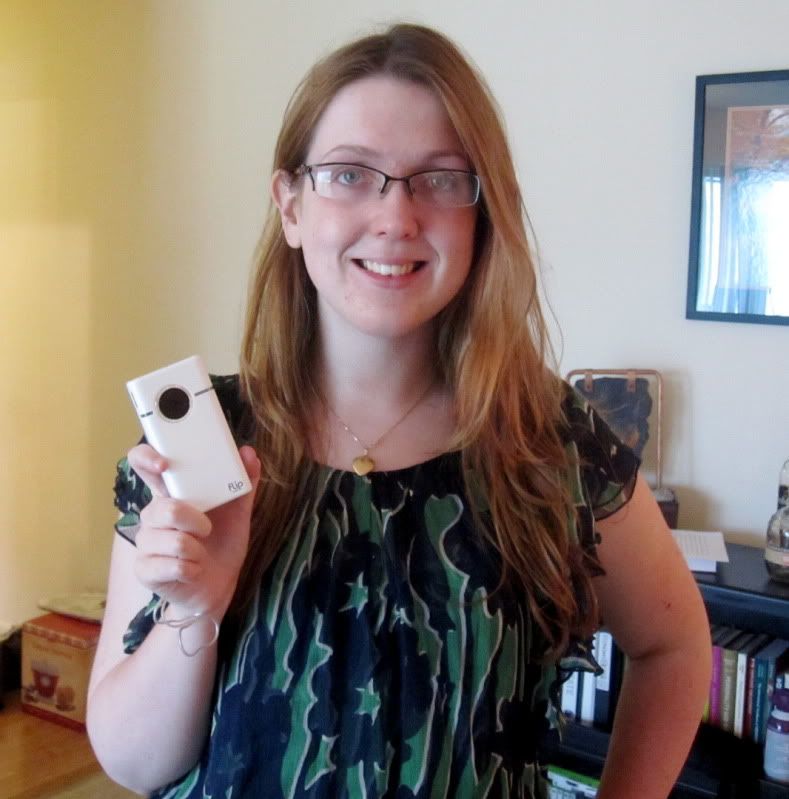 A Flip video camera! I have never had a video camera before, besides the one on my camera, and am so excited to finally have one! I'm taking it with me this upcoming weekend when Josh and I take a trip to a bed and breakfast. I can't wait!
After reading two very sweet cards Josh surprised me with this:

A Nook! And an adorable carrying case! I was so surprised and so excited! I have been wanting a Nook for the longest time and actually came close to buying it more than once. Josh always talked me out of it for one reason or another and now I know why! 😀 I can't wait to start reading on it, it came with a free copy of Pride and Prejudice, which just so happens to be my favorite book!
After opening presents it was time to head downtown for lunch and get my first legal drink at a restaurant! We decided to start with Inferno. I had never been there before but every time Josh and I passed it while walking downtown I would always remark on how cool it looked. I was so excited to finally get to go there!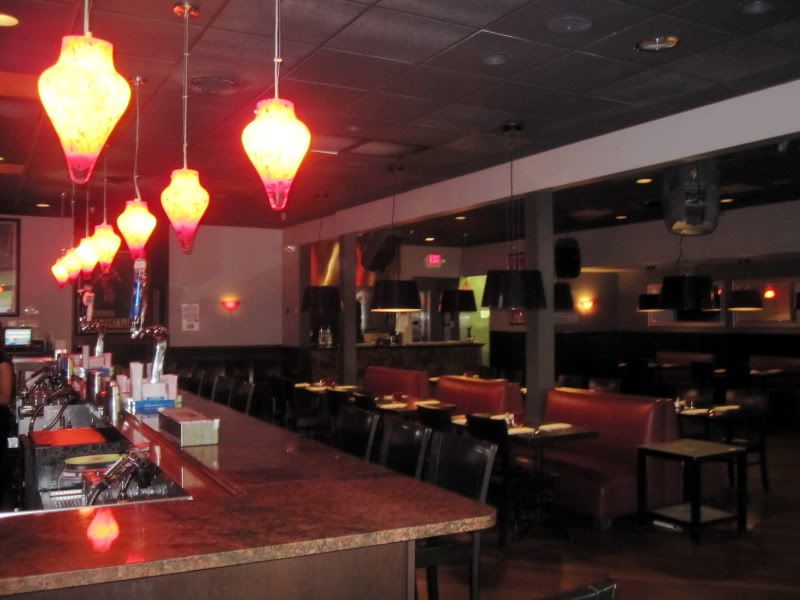 The awesome interior. We had the whole restaurant to ourselves, probably because it was a 3pm on a Monday! ;p
I had the hardest time picking out a drink! They had a list of their house drinks that were all named after one of their seven deadly sins. I ended up going with The Tease, a super fruity creation that I loved. Josh got a delicious ginger martini. I was so shocked when I found out my drink was only $4!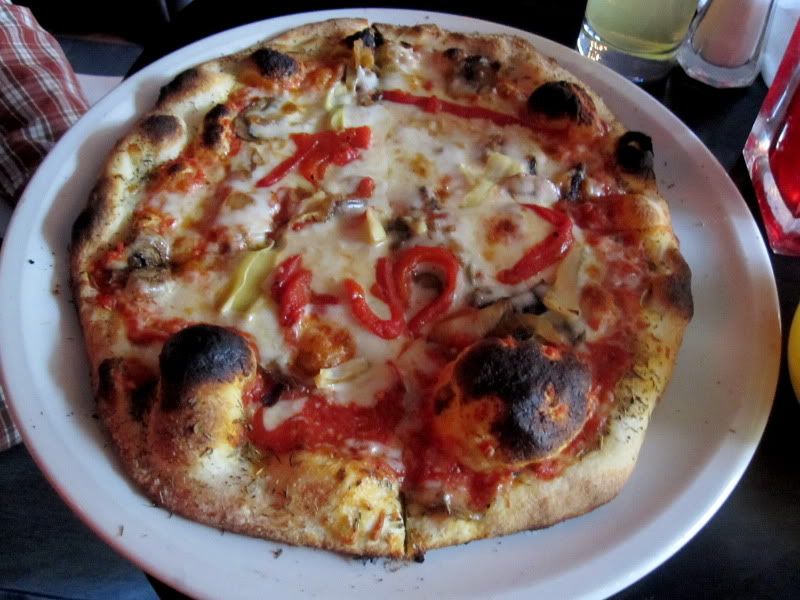 For lunch we split an artichoke, mushroom, red pepper, three cheese pizza. It was so good! We had such a nice waitress and had a great time there. After finishing our mini lunch we decided to walk around State College for a little while until we were hungry for dinner. We explored a vintage shop, a cheese shop, and posed for a picture with a pig.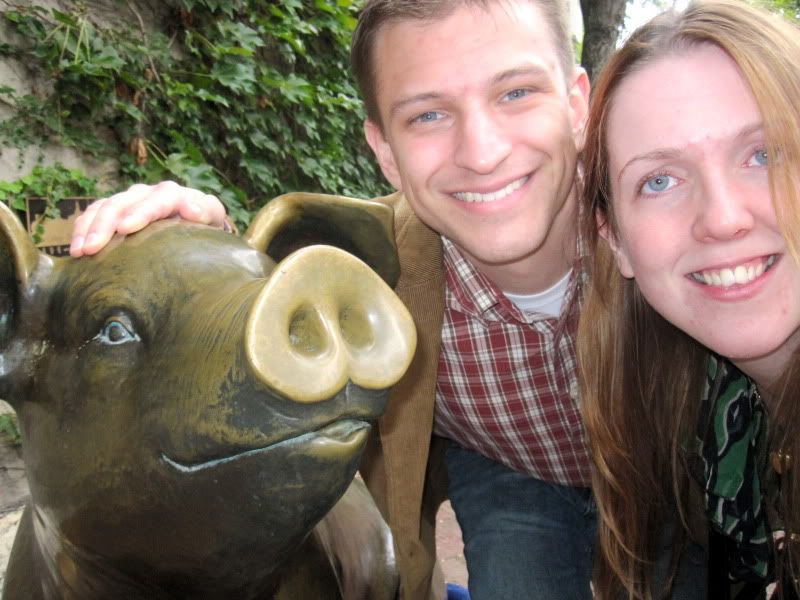 It was a good time! ;p
When we decided we were hungry for dinner we headed over to The Deli. Also owned by the same owners as Inferno it is home to the best veggie burger I have ever tasted. And I've had some great veggie burgers so that says a lot.

Josh got a man drink while I decided to keep rolling with something extra sweet and fruity. This one was another house special called the Z-Bar Zen that was not only ridiculously big but also ridiculously tasty. I don't know if its typical for house drinks to be cheaper, but this one was again only $4!
I was starving by the time my veggie burger and sweet potato fries came. The Deli's veggie burgers are not like typical veggie burgers, they are made fresh and are composed of a wide assortment of veggies grilled and held together by cheese. It starts falling apart as you eat it, so I recommend using a knife and fork. I always eat it with just one half of the bun so I don't get prematurely filled up by bread. This burger is so good I want to be able to enjoy every single bite.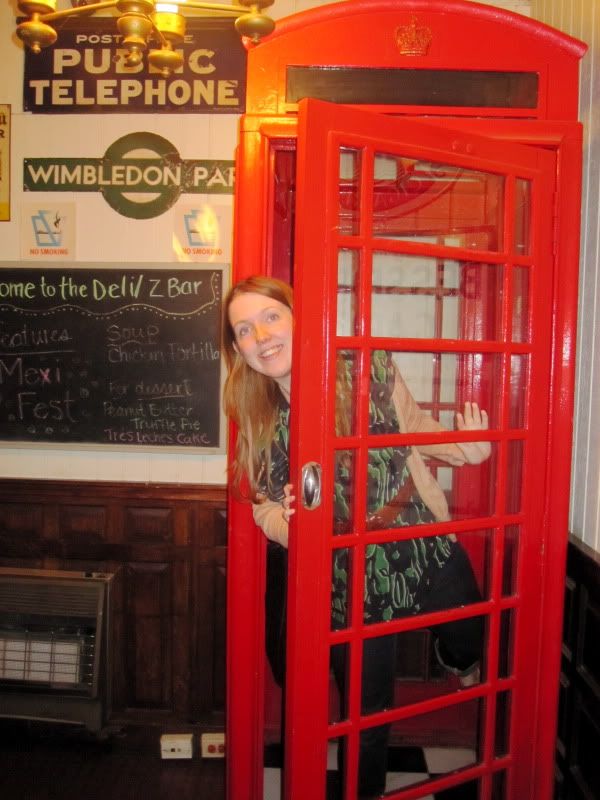 I had fun posing with the phone booth in the lobby after our dinner. I swear I'm not a huge lightweight.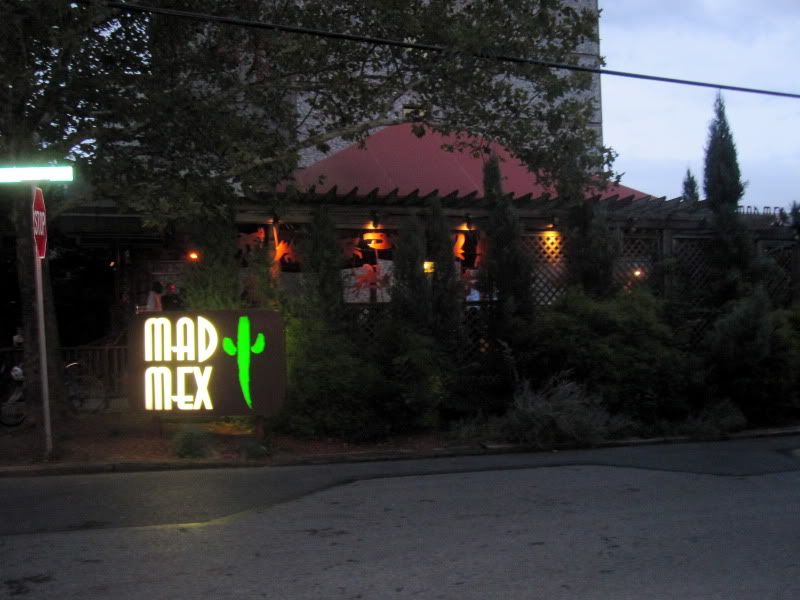 After dinner we decided to continue our food booze crawl with a stop at Max Mex. After getting carded at the entrance I got both of my hands stamped with X's. In State College its illegal to take shots on your 21st birthday, as a girl died from attempting to do so a few years ago. To prevent this from happening at Mad Mex they physically mark you so the bartender knows not to serve you shots. I was not planning on doing shots so having my hands stamped was actually a perk as everyone was wishing me happy birthday!

Modeling my X's.
Despite eating a lot by this point I was somehow still hungry. Josh and I decided to get hummus, guacamole, and black bean dip to go with our "big-azz" margaritas. It may have been my slightly-tipsy state of mind, but these three dips were some of the best chip dips I have ever had.
Josh modeling his big-azz margarita. He opted for a plain one while I went for a frozen mango. Both were delicious! After spending a while there we decided to head home, just as it started to rain. Josh, ever prepared, had brought an umbrella, so we enjoyed a leisurely, giggle-filled walk home.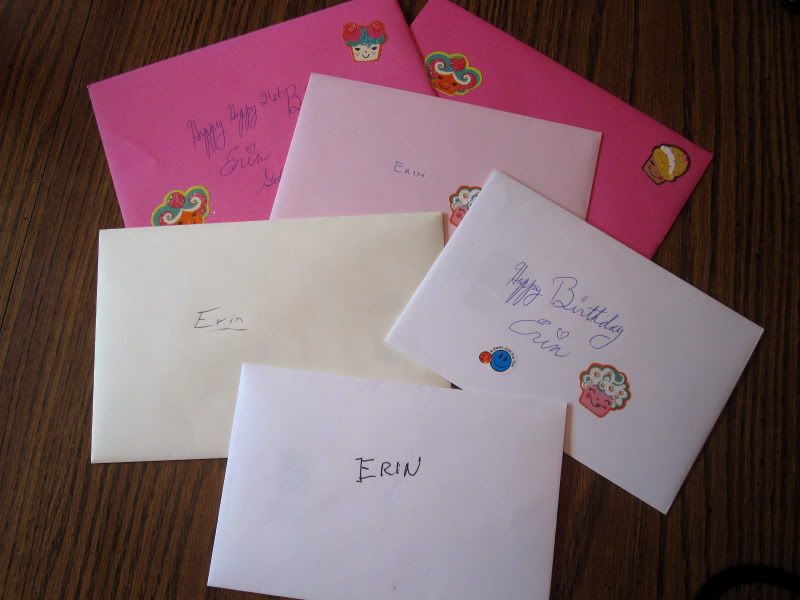 Today I woke up and began packing for the trip back to Williamsport. The ride was easy and when I got home I was surprised by wonderful cards from my family.
And a super special surprise from my friend Nicole! It was so sweet of her and really meant a lot.
Today I'm planning on relaxing and catching up on some TV shows and snuggling with my puppies. Tonight I'm having a birthday celebration with my parents involving some amazing ice cream cake and Diane's special eggplant parm. I've got a big workout planned for tomorrow after all this good food these past few days!
Its so crazy that I'm finally 21. This birthday was the best birthday I've ever had. I felt so surrounded by love and happiness, and it meant so much. I want to thank all my friends for their calls and texts and facebook messages, my family for being so wonderful and sweet, and Josh for being the most amazing boyfriend in the world. I am a very lucky girl. 🙂
I hope you all have a wonderful Tuesday! I updated the Fashion page with my outfits from this weekend!