I can't believe it has been nearly four months since I had LASIK surgery. Time flies when you have better than perfect vision!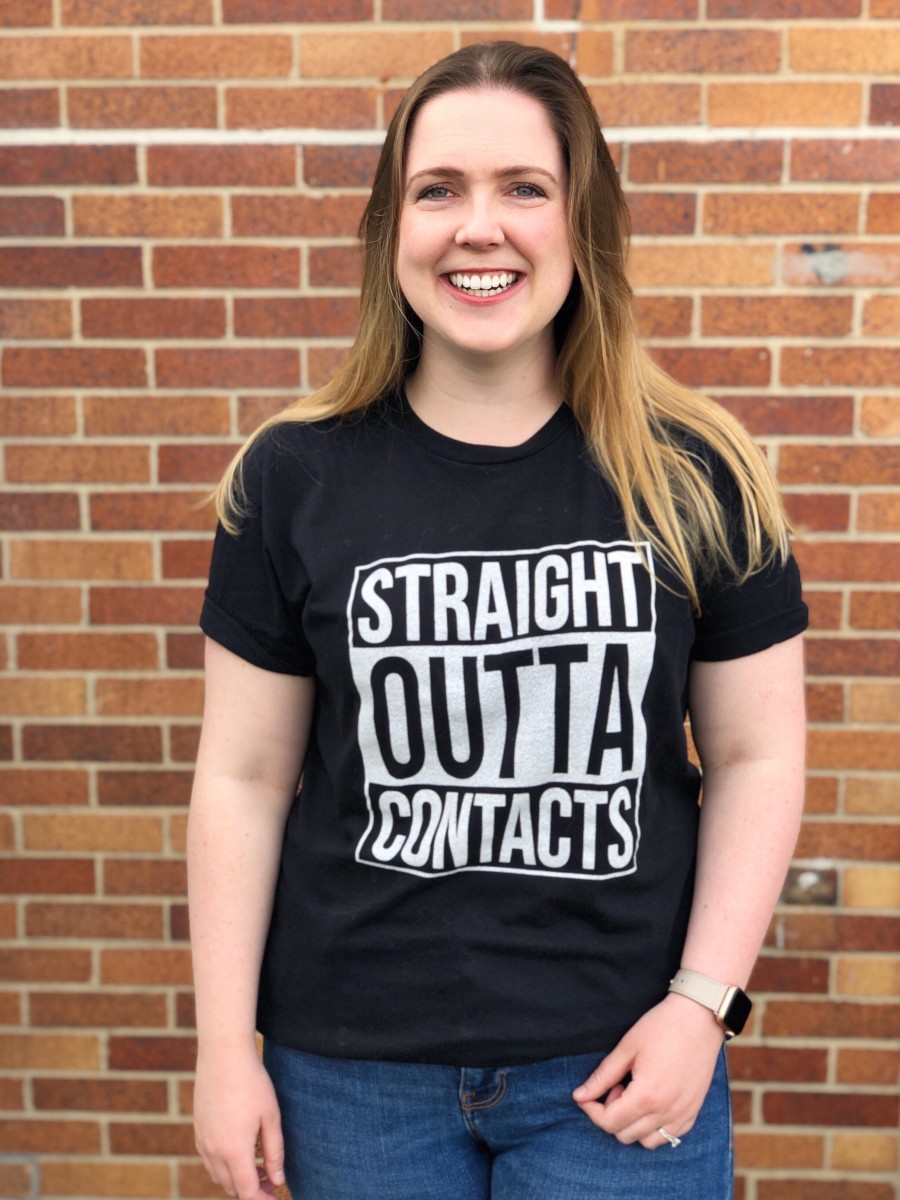 If I had to pick one word to describe my life after LASIK it would be easy. I don't have to worry about looking for my glasses first thing in the morning to be able to see. I can wear sunglasses without having to put in contacts first. I can see in the shower, pool, and ocean! I don't have to worry about checking a bag when I travel to make sure I can lug around my over 3 ounces container of contact solution. I can just go to bed at night without having to remind myself to take out my contacts.
Life is just easier when you don't have to worry about glasses and contacts. Like my shirt says, I am straight out of contacts and I am loving it!
My LASIK recovery was also easy. I had 20/15 vision within 24 hours and no pain throughout the process. I was able to shower and workout normally within a week and felt like my eyes were fully back to normal within a month. While I've dealt with some dryness, it was no more noticeable than the dryness I had before surgery. And thanks to the magic of permanent punctal plugs, I have less dry eye symptoms now than I've ever had before.
I've talked to quite a few of you guys about LASIK since I mentioned I was interested in getting it, and first went to my LASIK consultation, so I thought I would share some of my biggest tips for LASIK recovery. Big caveat: I am not a doctor or medical professional in any way. This is purely my experience and not intended to be medical advice in any way, shape, or form.
5 tips for LASIK recovery
1. Pick a good surgeon
If you want to have a good LASIK recovery, the absolute most important thing you can do is pick a good surgeon. Your vision is one of the most important assets you have in life. Do your research, read reviews, and ask lots of questions. This is not the time to look for the cheapest price. You are putting your sight in someone else's hands. Make sure you feel good about it.
In going to Kugler Vision, my eyes were in the very capable hands of Dr. Kugler. He is so talented and I felt confident and comfortable in his care. His entire staff was professional, put me at ease, and most importantly, knew their stuff. My entire LASIK experience at Kugler Vision has been phenomenal and I recommend the practice completely and wholeheartedly.
2. Don't rub your eyes
If you're someone who touches their face a lot (guilty!) this can be hard to deal with at first, but you get used to it. Rubbing your eyes while they heal can lead to surgery complications and is just not good for your eyes in general. Use this recovery time as an opportunity to break yourself of a bad habit. After jaw surgery I managed to stop biting my fingernails. And after LASIK I managed to stop mindlessly rubbing my eyes.
3. Take your eye drops
You'll have to take medicated eye drops for the first week after surgery, but it's so important to keep taking the preservative free eye drops they give you after that (And then eventually switch to regular eye drops). Eye drops keep the eyes moist which helps them heal. They also just feel really good. I was using drops every hour for the first few weeks, then every few hours for the first few months. I'm now using eye drops once or twice a day and just love how they make my eyes feel. As someone who has always had dry eyes, I should have started using eye drops years ago!
4. Wear sunglasses
My eyes were sensitive to light after surgery so it was so important for me to wear sunglasses when I went outside. It also just helped me feel like my eyes were protected while they were so fresh and new from surgery. Surgery is a great excuse to treat yourself to a gorgeous new pair of frames!
5. Take your recovery at your own pace
My LASIK recovery tips are pretty light because recovery was so easy for me. Aside from treating myself to a new pair of sunglasses, I didn't need to buy myself anything special or make any major modifications to my life. It really is that simple, and over in the blink of an eye. (Bad pun!)
For me, one of my biggest tips for LASIK recovery has nothing do with the physical recovery. You just had eye surgery and are able to go back to work the next day and resume your normal life. You're not alone if you feel scared about treating your eyes like your regular eyes so quickly again. I think it's important to give yourself grace and take that mental recovery at your own pace. After LASIK I babied my eyes for way longer than they needed. It took me a month to feel like I could put on makeup and use a washcloth on my face again. Just know that even if you're an extra-cautious person like me, you'll be back to putting on eyeshadow and mascara without a second thought in no time.
Oh, and in case you were wondering, I am 100% happy I had the surgery and have zero regrets. I tell all my family and friends who ask me about it that getting LASIK was one of the best things I've ever done.
Questions of the Day: Have you had LASIK? How long did it take you to feel like your eyes were fully back to normal? Any tips for recovery I missed?
Kugler Vision provided complimentary LASIK services in exchange for my honest review. All thoughts and opinions are my own.