I was in fifth grade when my vision got blurry. I don't remember the specifics of how it happened but at the start of the year I could see everything clearly and by the end of the year I needed glasses to make things far away come into focus. (Otherwise known as nearsightedness.)
Thus began my journey with glasses, and in my teen years, contacts. I will be the first to admit that complaining about glasses and contacts is a first-world problem, but man have they been annoying over the years.
As a kid I hated glasses because I couldn't wear cute sunglasses like my friends, and spent my summers swimming in pools and oceans blind. As a teen I was horrible at taking care of my contacts and had multiple eye infections. I also struggled with wearing goggles in science class and 3D glasses at the movies. As an adult, I'm just over having to poke my eyes in the morning if I want to wear contacts and how un-put together I feel when I wear glasses.
I always said I wanted to fix two things about myself: my teeth and my eyes. Now that I'm on the other side of jaw surgery, I'm ready to ditch my glasses for good. My eye doctor has always told me I'm a great candidate for LASIK, but I still had so many questions centered around safety, cost, and recovery. Together with the Refractive Surgery Council I visited Kugler Vision to speak with Dr. Kugler and learn more about LASIK. Here's what I learned.
(Big caveat that I am not a Doctor. Please consult one for all things medical.)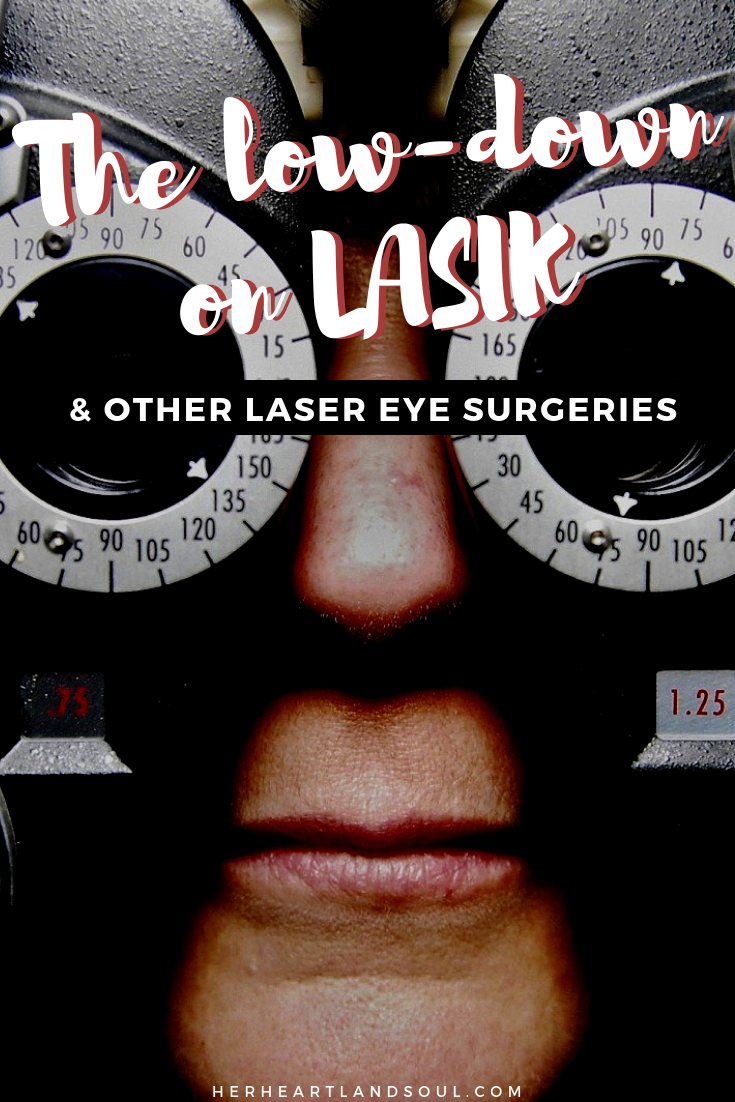 Pin me!
The lowdown on LASIK and other laser eye surgeries
What is LASIK?
LASIK is a type of laser eye surgery, otherwise known as a refractive surgery. Its primary purpose is to improve the focusing power of the eye by reshaping your cornea. It was approved by the FDA in the '90s and treats astigmatism, myopia (nearsightedness), and hyperopia (farsightedness). Since then, roughly 9.5 million Americans have had LASIK done.
What types of laser eye surgery are there?
Before visiting Kugler Vision, I thought LASIK was the only laser vision correction option. Turns out, there's a bunch. For your average person in their 20's and 30's looking to ditch their glasses and contacts, there are three options: PRK, LASIK, and SMILE. They all accomplish the same thing, but go about it in different ways. You will need an examination by a surgeon to determine which surgery is right for you, but here is the general gist:
PRK is widely considered to be the first generation of laser vision correction. It has a longer recovery time, but is good for people with thin or irregular corneas and people with chronic dry eye. It can treat nearsightedness, farsightedness, and astigmatism.
LASIK was approved after PRK and is the most commonly performed laser eye surgery. It can treat nearsightedness, farsightedness, and astigmatism. It has a faster recovery time but may not a good option for people with abnormal corneas or who participate in high-contact sports.
SMILE was just FDA approved in 2016 and is considered the least invasive laser vision correction option. Unlike LASIK, it doesn't require the creation of a flap on your eye, but it has a slightly longer recovery time than LASIK, and is currently only able to treat nearsightedness and astigmatism. (Meaning if you're farsighted SMILE is not an option for you.)
Can I have LASIK if I have an astigmatism?
Growing up I always heard you couldn't have LASIK if you have an astigmatism. Laser eye surgery has come a long way since the 90's guys. PRK, LASIK, and SMILE are all suitable for people with astigmatism.
Is LASIK safe? Are there major side effects and risks?
I'm a worrier you guys. And my biggest worry with LASIK is going blind. Turns out, that's really, really, really rare.
My biggest learning from talking with Dr. Kugler is that laser eye surgery carries less risk of infection and vision loss than wearing contacts. Overuse, improper cleaning, and improper storage of contacts increase risk for cornea abrasions and infections. Not to mention contact use thins and reshapes the cornea.  As you age, you're less and less likely to be able to wear contacts. I had no idea.
All surgeries have risks, but LASIK has been found to be incredibly safe. The most common side effects are dry eyes and night glares and halos.
The lasers they use are so high-tech, they track your eye movement. If you moved your eye during the procedure the laser would either follow your eye or stop, it wouldn't just keep slicing.
What really reassured me was hearing that in the very rare chance that something goes wrong with your surgery, there are other surgeries to correct the issue.
The best thing you can do to reduce your risks when getting LASIK is to do your research and find a well-respected, board-certified surgeon. This is your eyes we're talking about people. Put them in good hands!
What is the recovery time like?
LASIK has the quickest recovery time with most people returning to work the next day with clear vision. SMILE can take a few days, and PRK can take a week or longer.
How long does LASIK last?
LASIK lasts forever on your cornea. As we age though, our lenses begin to wear out. (Located behind the cornea.) This is why people in their 40's can struggle to see up close. Their lenses are becoming less flexible and it's harder for their eyes to switch back and forth between seeing near and far. At that point, there are other surgical options to correct those issues.
How much does LASIK cost?
LASIK prices can vary but the national average is $4,500 for both eyes. That seems incredibly affordable to me, especially when you consider how much you'll save on contacts and glasses over the years.
Are you getting LASIK?
Can you tell I'm interested?! Haha I've been doing a lot of research and have a full consultation with Dr. Kugler coming up. I'm a little nervous because in addition to astigmatism, I also struggle with dry eyes. Fingers crossed I'm still a good candidate. I would love to have my eyes fixed.
Questions of the Day: Are you interested in LASIK? What questions do you have about the surgery?
If you're thinking about LASIK, the RSC Insight blog has a lot of information for researching whether laser vision correction is right for you.
Thanks to Refractive Surgery Council for sponsoring this post. All thoughts and opinions are my own.