Valentine's Day is coming up! I can't be the only one that is getting excited! I know some people believe it is an overly-commercialized day that is all about selling greeting cards and candy. That may be true, but I still love any excuse to celebrate love. Josh is so great about making sure every day of the year is special for me, it makes me want to make this day extra special for him.
This is our third Valentine's Day together. I'm both so happy with all the memories and experiences we've had these past three years and so in awe at how fast time flies. Josh and I love to celebrate the holidays. We have been known to go over the top with gifts but we also know that wedding planning means cutting down on extra spending for the year while we save up for our big day. I know a lot of couples are in the same situation as we are, so I thought it would be fun to come up with a list of affordable things you can give your significant other to show your love this Valentine's Day.
Letter art:
I love this present because not only is it sentimental it is so versatile it can be placed in any room in the house. It is also a great way to show off engagement photos! If you have any artistic skill you can get photo matting and cut out the letters you want in the frame. Then simply put the photos you want displayed underneath for a seriously touching (I cried when I opened this.) and incredibly beautiful present. If you are not artistically inclined (me either!) you can order the matting here.
A way to remember special dates:

As Josh's and my wedding day gets closer it dawned on me that soon our dating anniversary is eventually going to take a backseat to our wedding anniversary. While I'm so excited to have a new date to cherish I also really want to remember and continue to celebrate the day we first met. I ordered this print on Etsy and could not be happier with how it turned out. I got the frame from Micheals and love how it matches the print so perfectly. I'm so excited to hang this in our future home.
A home cooked meal:
You don't need to be a super amazing cook to be able to make a meal for your guy and have it be a nice present. They'll be touched you took the time and made the effort to make dinner. Unlike when you go out to a restaurant, by eating in you'll be able to guarantee the menu and service will be good and that it won't cost you an arm and a leg. ;p
A bound book of your love letters:
Josh and I emailed daily for three months before we went on our first date. Our emails were so long we joked they could fill a book. I thought it would be fun to have them all printed and bound so we would be able to remember them forever. I printed the letters at my school (gotta love a huge printing allowance!) and had the book bound at Staples.
Sweet treats: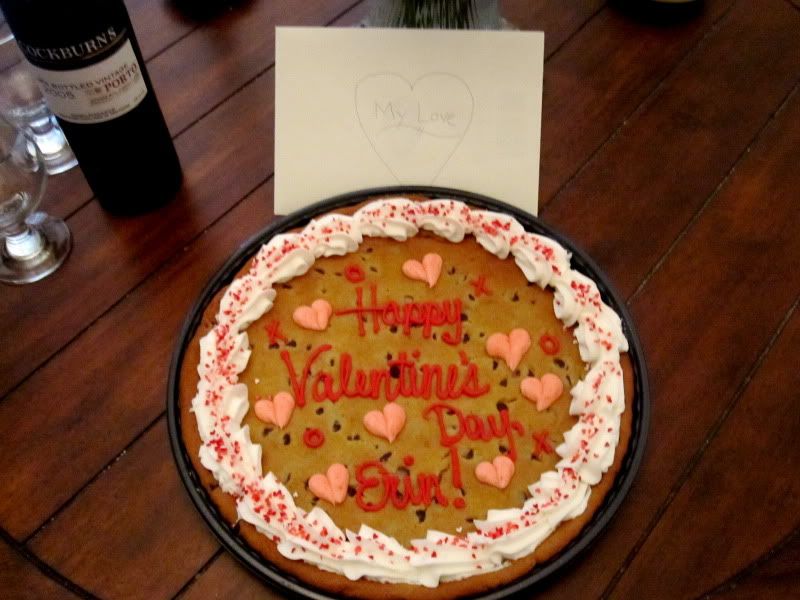 Touching and tasty! Josh surprised me with this cookie cake last year for Valentine's Day and it was such a sweet surprise. He later surprised me with an engagement cookie cake four months later! This can easily be made at home as well, especially if you're a fan of more unique flavors or want to add your own toppings to the cake.
A photo collage:
In case you can't tell, I'm a sucker for sentimental gifts. To celebrate our second Valentine's Day together Josh made me a photo collage of all of our memories. It meant so much to me that he took the time to pour through all of our photos, and then cut them up and arrange them so beautifully. I have this displayed on my vanity and look at it every day.
Appreciation:
I think it is too easy to get lost in the big gestures that the holiday encourages and forget what the day is really about. To me Valentine's Day is about celebrating the other 364 days a year that you spend together and how wonderful they are. One of my favorite gifts I've ever made for Josh is what I call a love box. I picked a photo from one of our Halloweens together for the outside of the box and filled the inside with 150 slips of paper. On each paper I wrote something about Josh that I loved. It's almost a year later and I still see him sometimes reaching into the box and pulling out a slip of paper to read.  I'll have to sneak some new ones in there at some point because the reasons just keep on growing.
And those are some of the ways Josh and I have made Valentine's Day special for each other. At the end of the day, if I'm with my Valentine, that's really all that matters.
Question of the Day: What's your favorite way to celebrate Valentine's Day on a budget?