Plan the perfect getaway with this list of 9 fun things to do in Sarasota Florida. Sarasota is the perfect vacation destination for those looking to enjoy beautiful beaches, world-class art, and some of the best Southern cuisine.
Wow was this past weekend was a whirlwind! On Friday I flew out to Sarasota, Florida for a weekend of fun with Visit Sarasota and some other awesome bloggers.I had heard good things about Sarasota before this trip, but I didn't really know what made it special. The answer, it turns out, is a whole lot. Guys, I fell in love with Sarasota on this trip. There is so much natural beauty and so many fun things to do! I want to plan a winter vacation there with Josh when Omaha is freezing cold and Sarasota is still nice and warm!
I had heard good things about Sarasota before this trip, but I didn't really know what made it special. The answer, it turns out, is a whole lot. Guys, I fell in love with Sarasota on this trip. There is so much natural beauty and so many fun things to do! I want to plan a winter vacation there with Josh when Omaha is freezing cold and Sarasota is still nice and warm!
9 fun things to do in Sarasota Florida
Siesta Key Beach
As soon as we got to Florida you know we had to check out a beach! And what a beach it was! Siesta Key Beach was just rated by Trip Advisor as the #1 beach in the country! I've never seen a beach stretch this long before meeting water. And it's all natural! The ocean has warm water and calm waves. The absolute best part of this beach is the sand. It's made almost entirely of quartz which means it doesn't conduct heat. You can walk on the sand all day and will never burn your feet! It's incredible.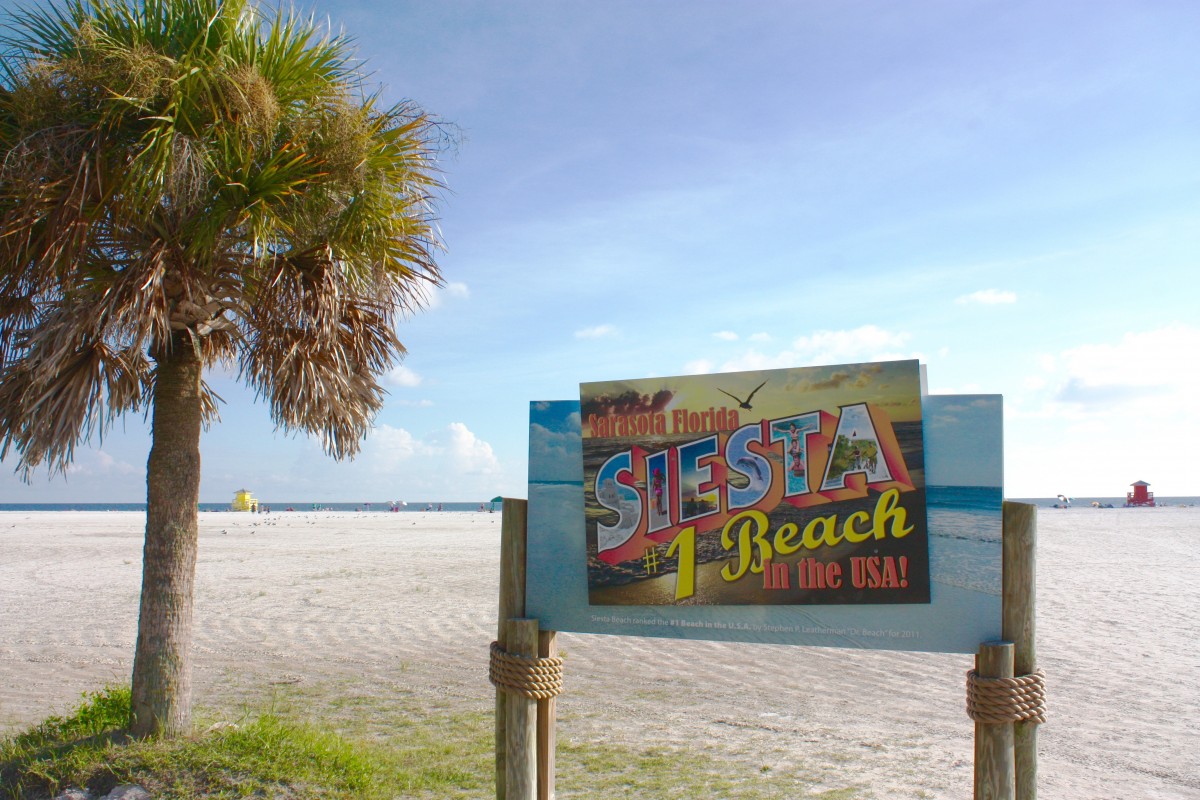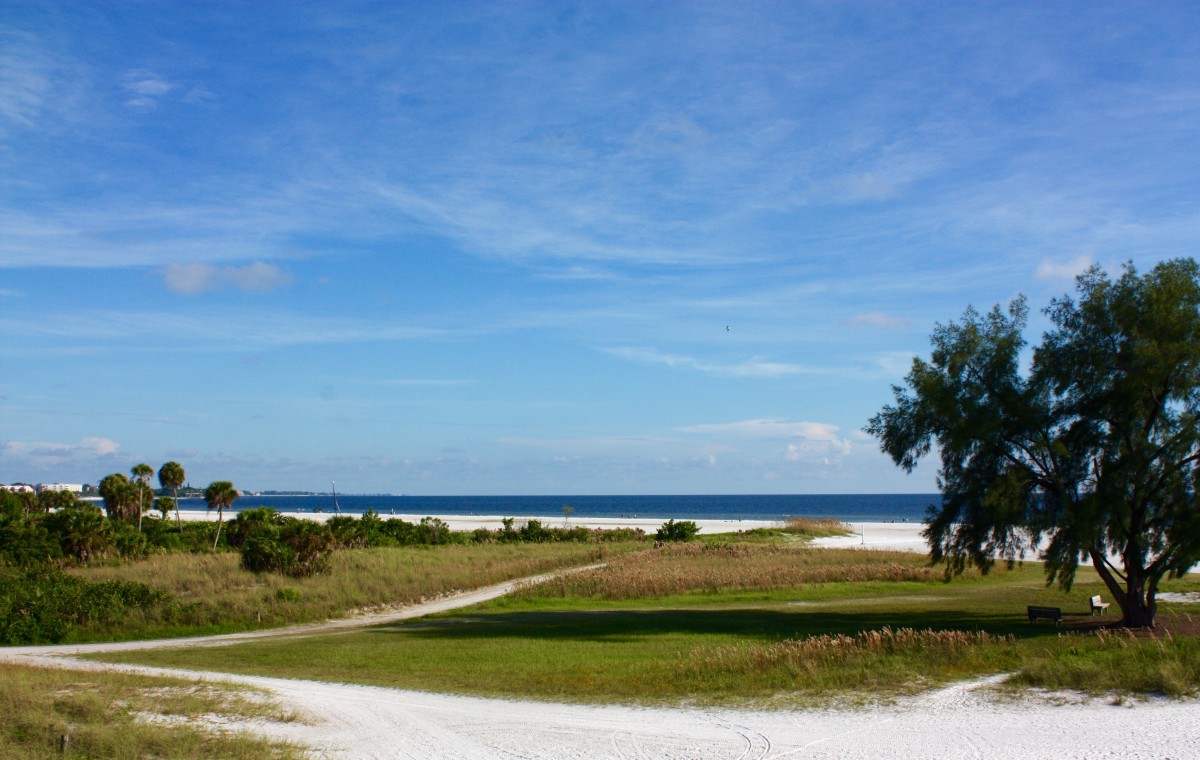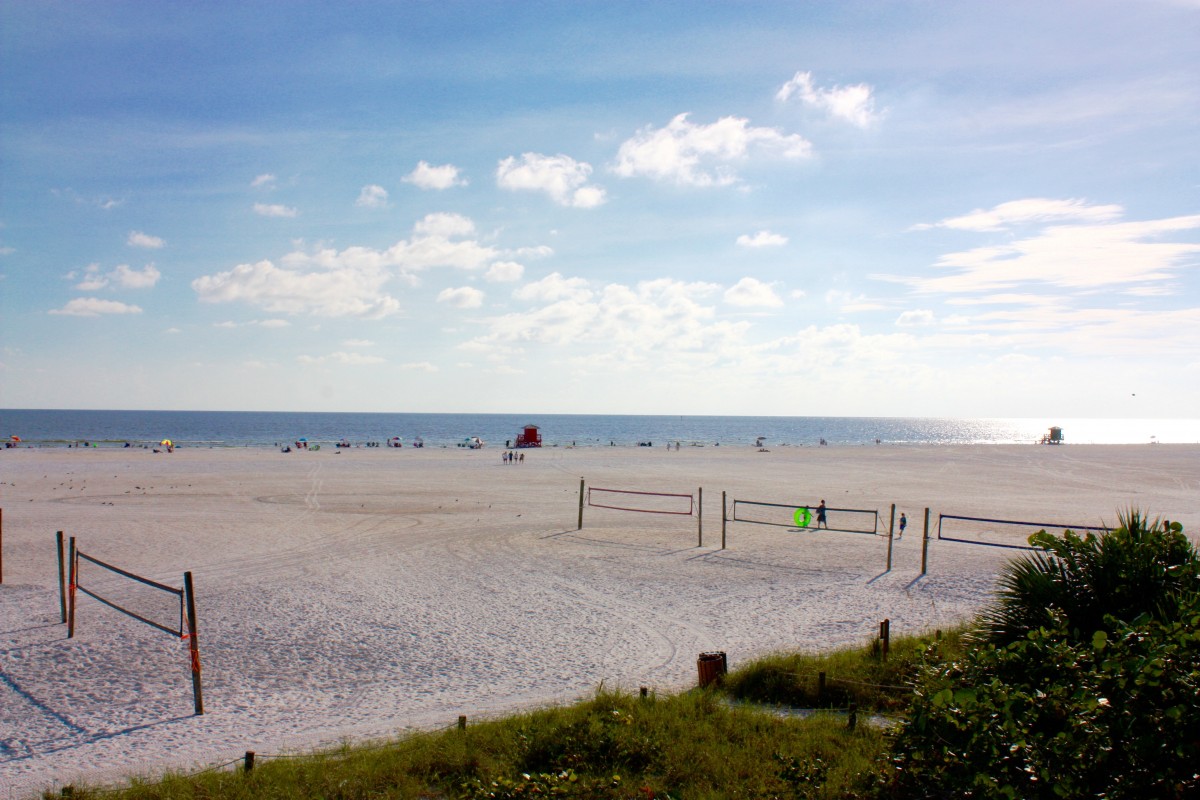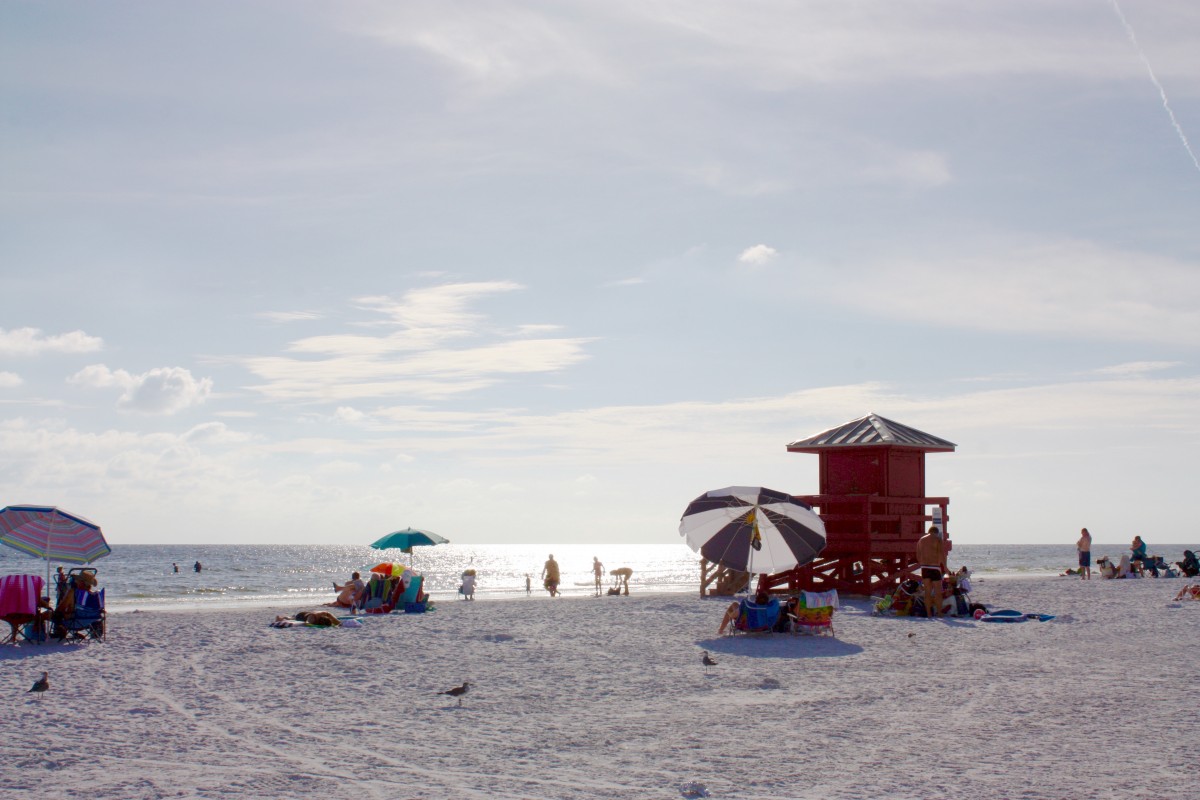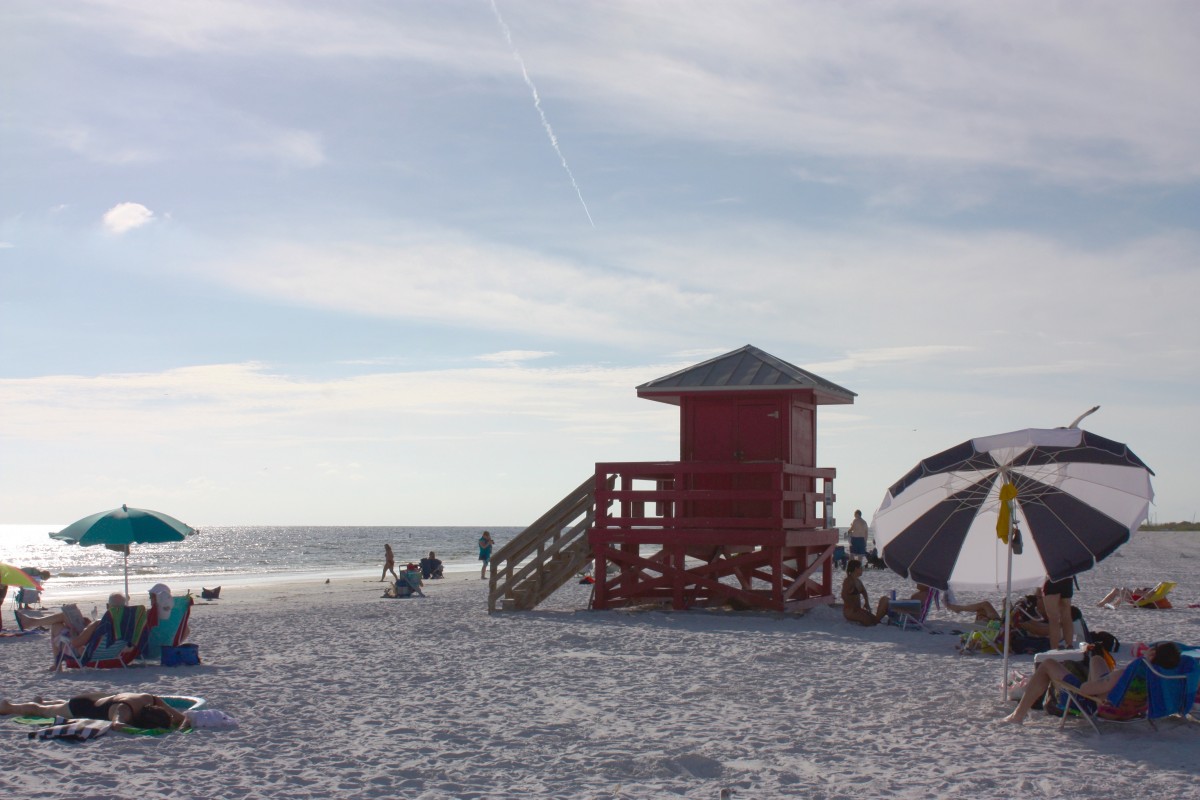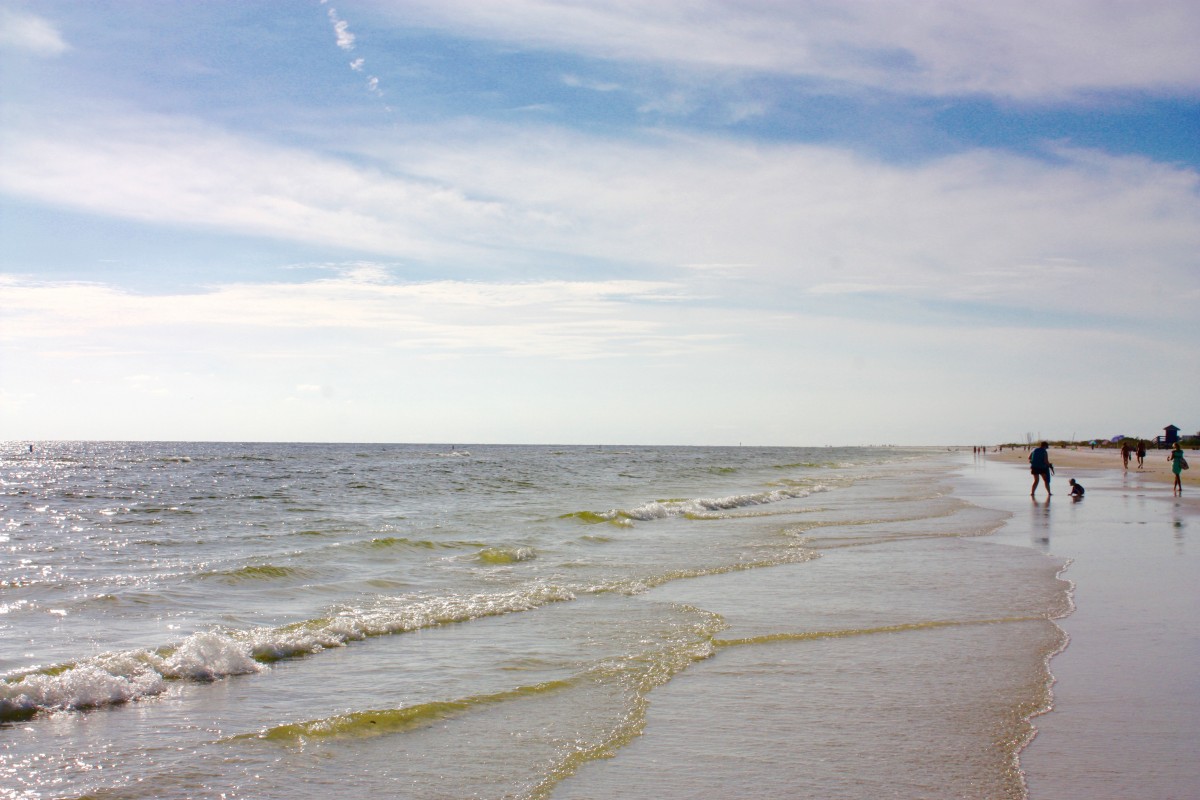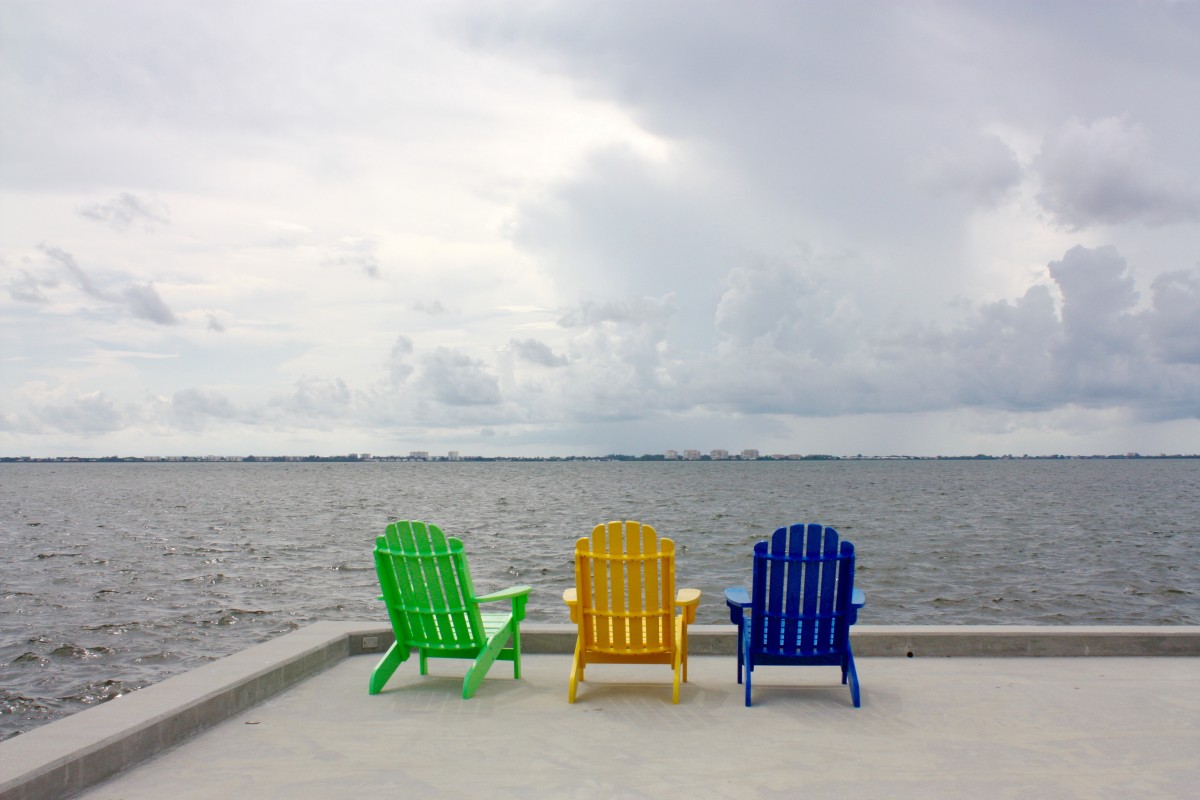 What I would give to have a view like in the back of my house.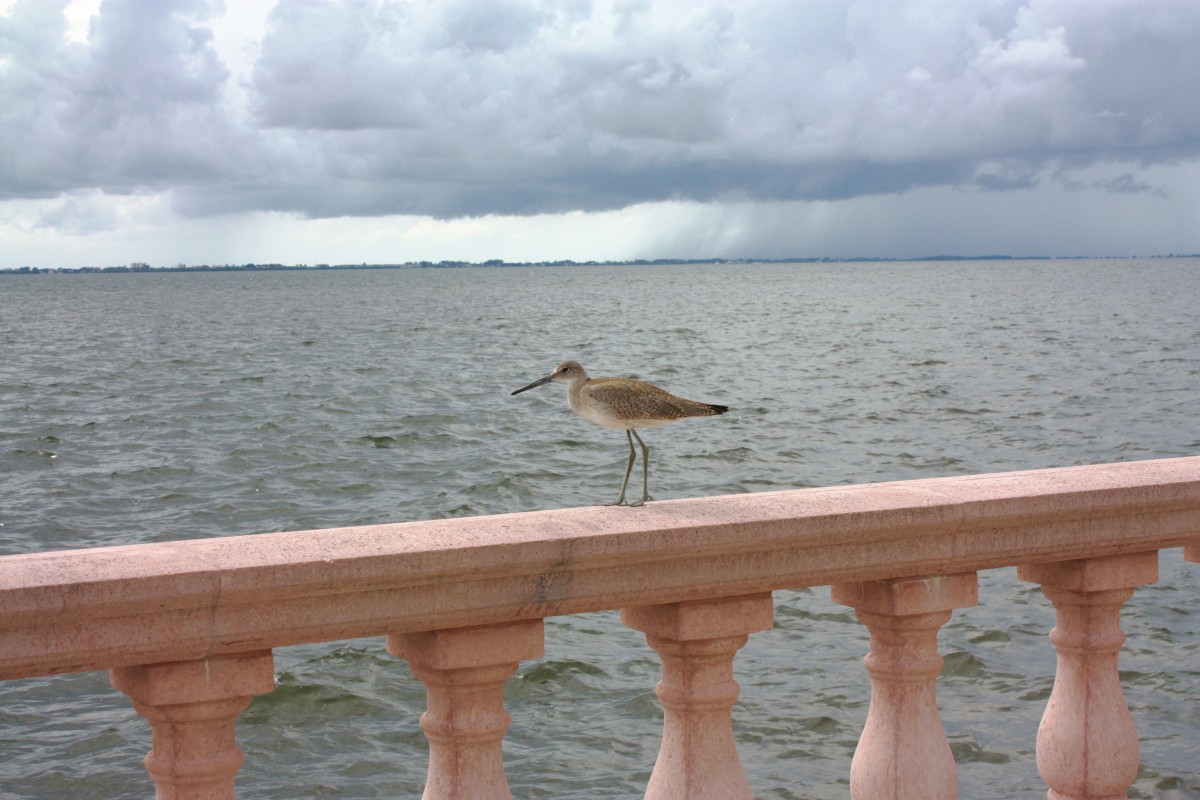 A cute little Florida bird.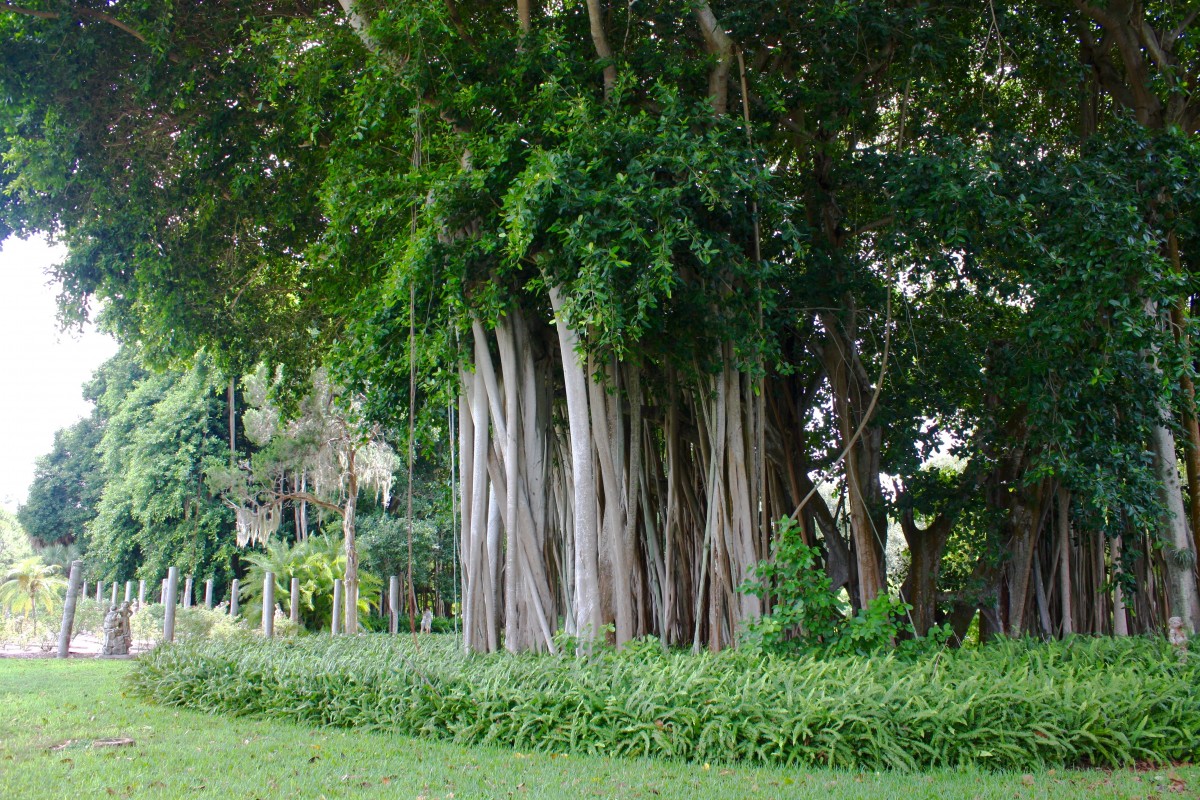 I love the banyan trees all over Sarasota. I haven't seen these since Hawaii!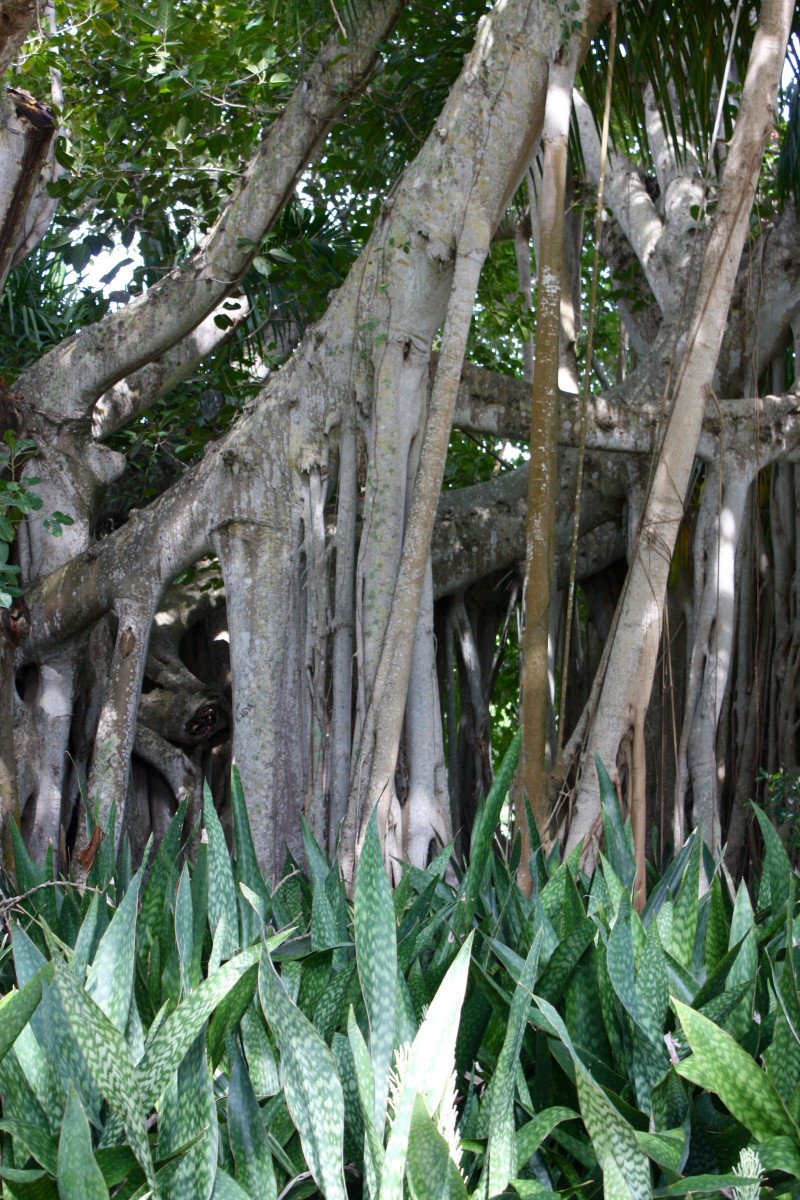 Siesta Key Oyster Bar
We went to Siesta Key Oyster Bar for dinner our first night. It was the coolest cross between dive bar and upscale farm-to-table eatery and is a pretty famous place in Sarasota.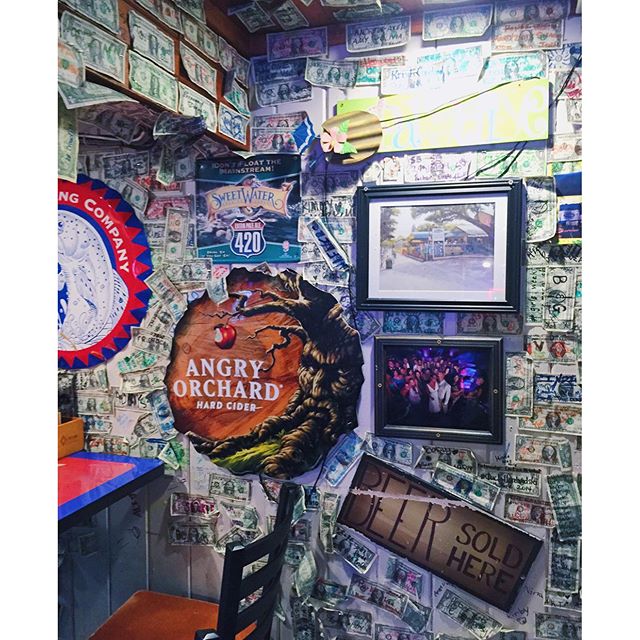 I'm in love with the decor. It's definitely a place you want to pull up a chair, order a few rounds, and enjoy the live music and fun atmosphere.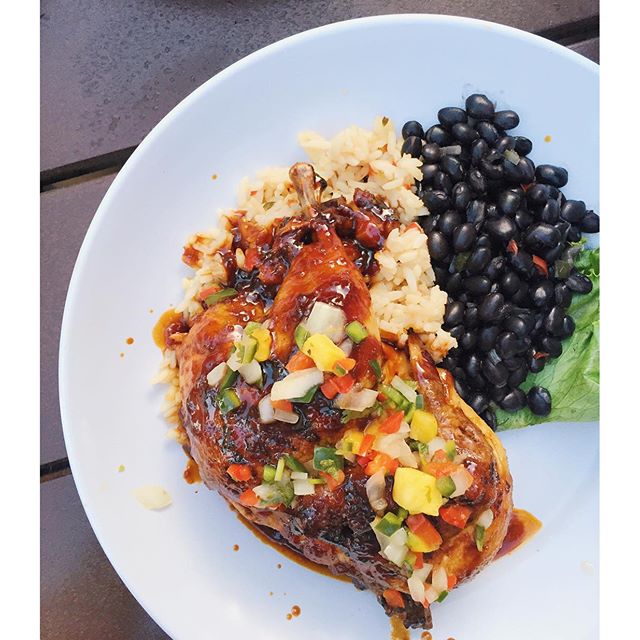 And the food! If you're a seafood fan, this would be the place to get it. Tara ordered the oysters and said they were great. As it is, I'm not a seafood fan, so I stayed in my wheelhouse and got the Dark N'Stormy BBQ chicken. It was superb.
Meaney's Mini Donuts
After dinner we decided mini donuts from Meaney's were in order. I mean, how could we see this stand and pass them up?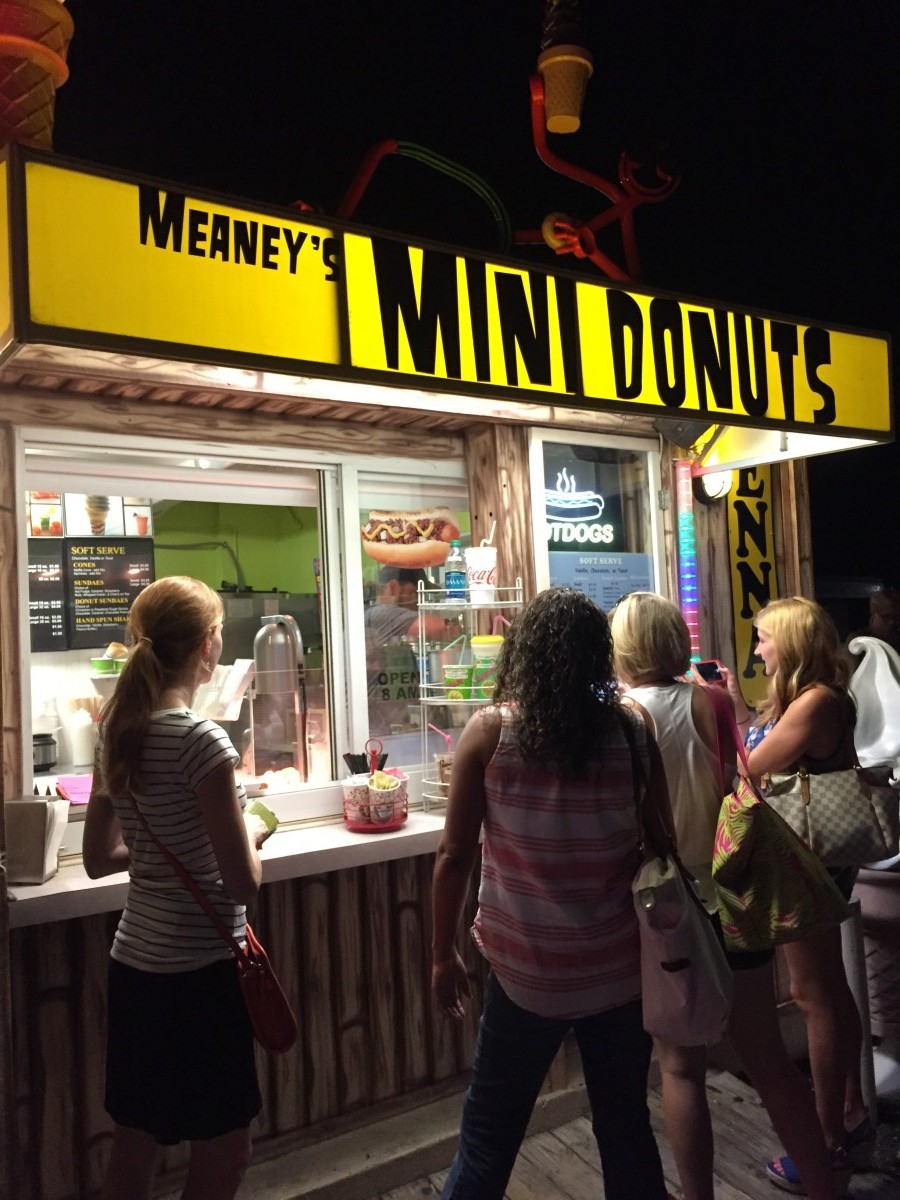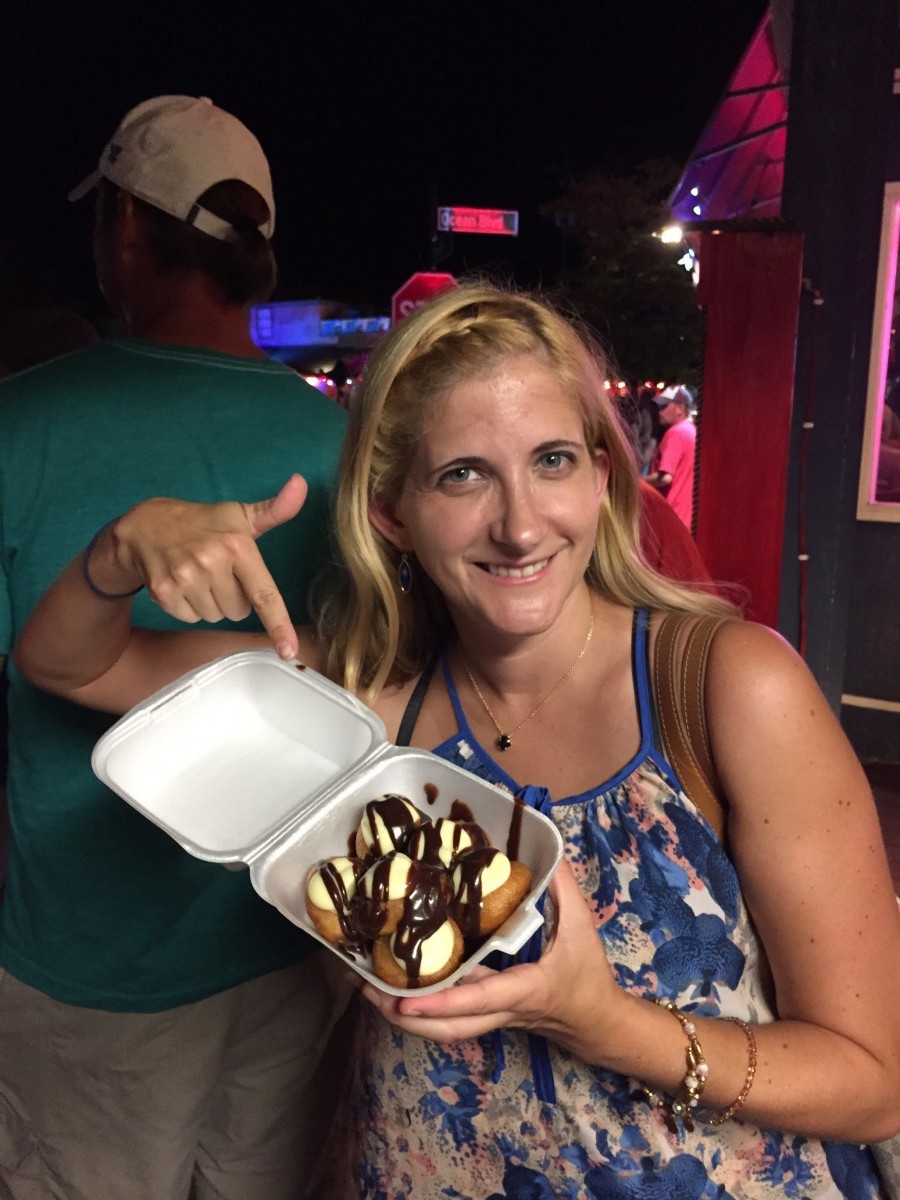 Tara modeling our Bavarian cream donuts. In case you're wondering, yes, they were as incredible as they look!
Sarasota Farmers Market
The next morning started off bright and early as we headed to the Sarasota Farmers Market. First off: holy puppies! I was in heaven stopping to pet all.the.dogs. We perused the different tents and I could not get over how fresh and colorful everything was. There was a guacamole tent sampling some of the best guacamole I've ever tasted. If I could have found a way to get it back to Omaha without spoiling I would have bought a case!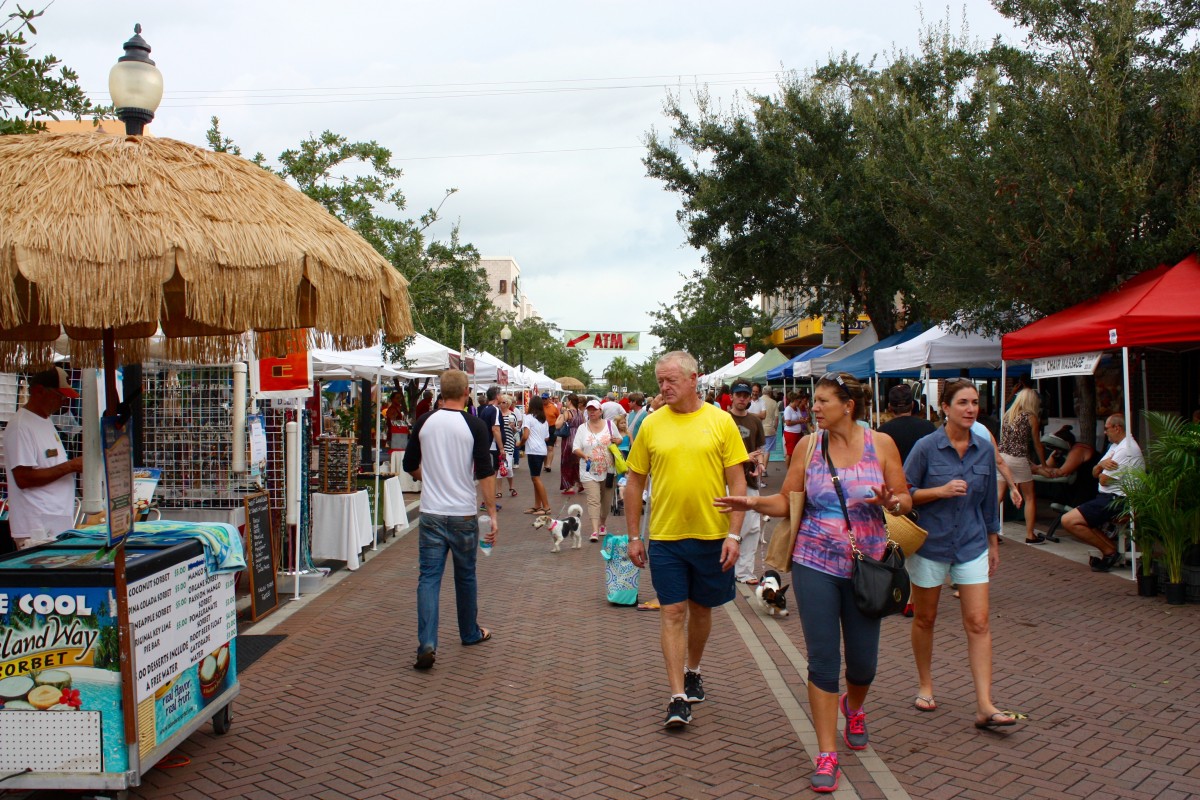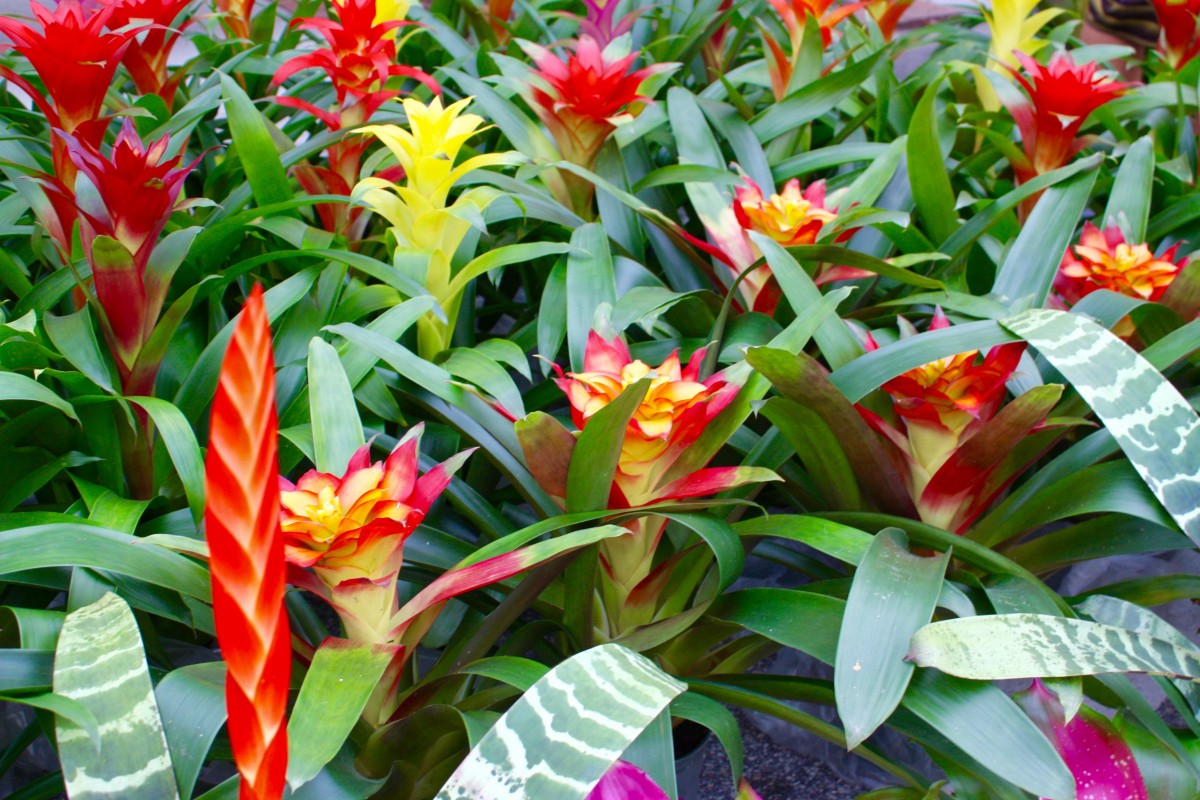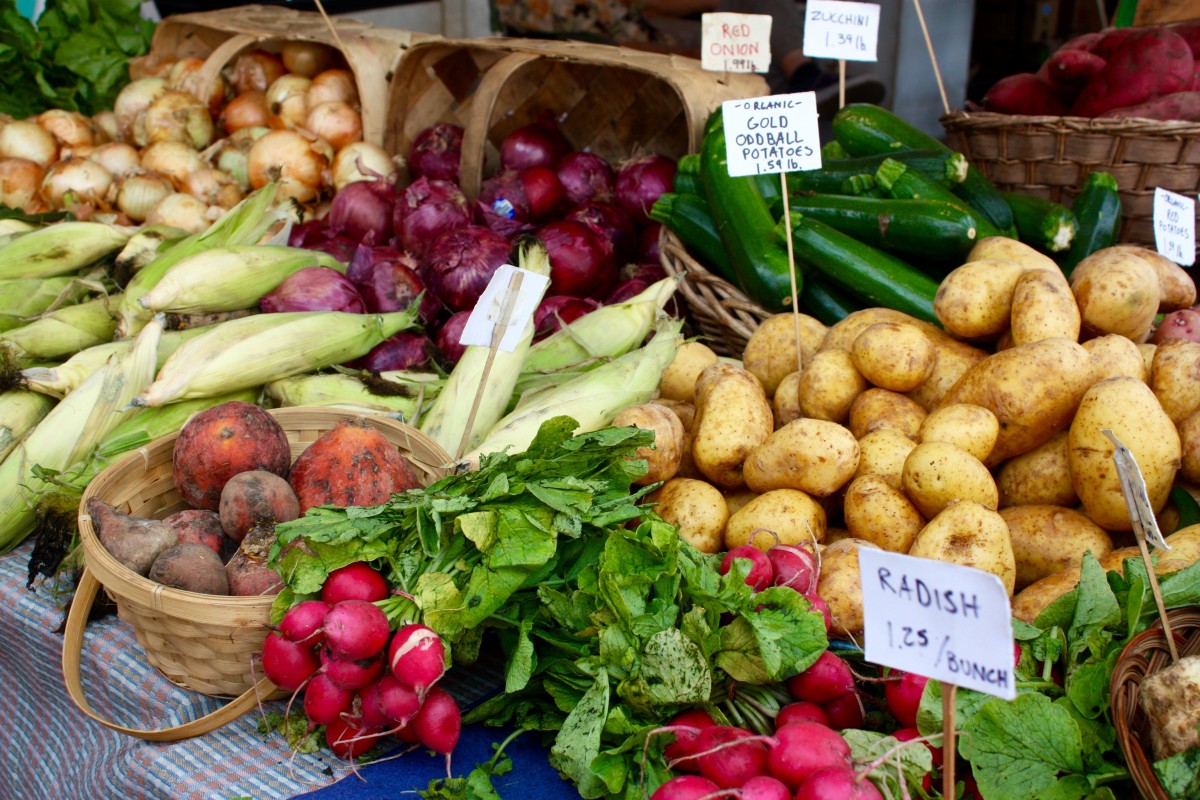 I'll take this whole table please.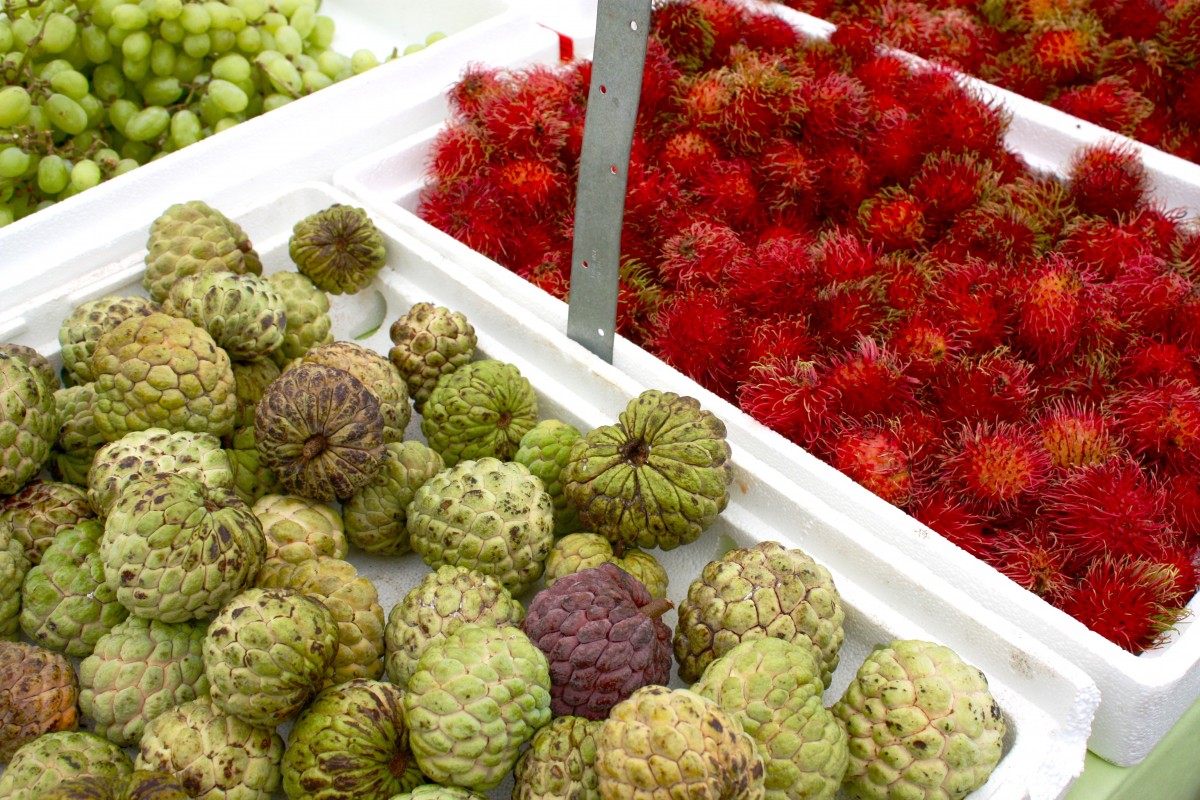 There were so many interesting fruits and veggies you just don't see back home!
Yoder's Restaurant & Amish Village
After breakfast, we all headed to Yoder's Restaurant & Amish Village. Yoder's is celebrating 40 years of bringing delicious Amish food to the Sarasota community. That's a pretty big reason to celebrate! They have a restaurant, a deli market, a produce market, and a gift shop. We got to taste our way through them all.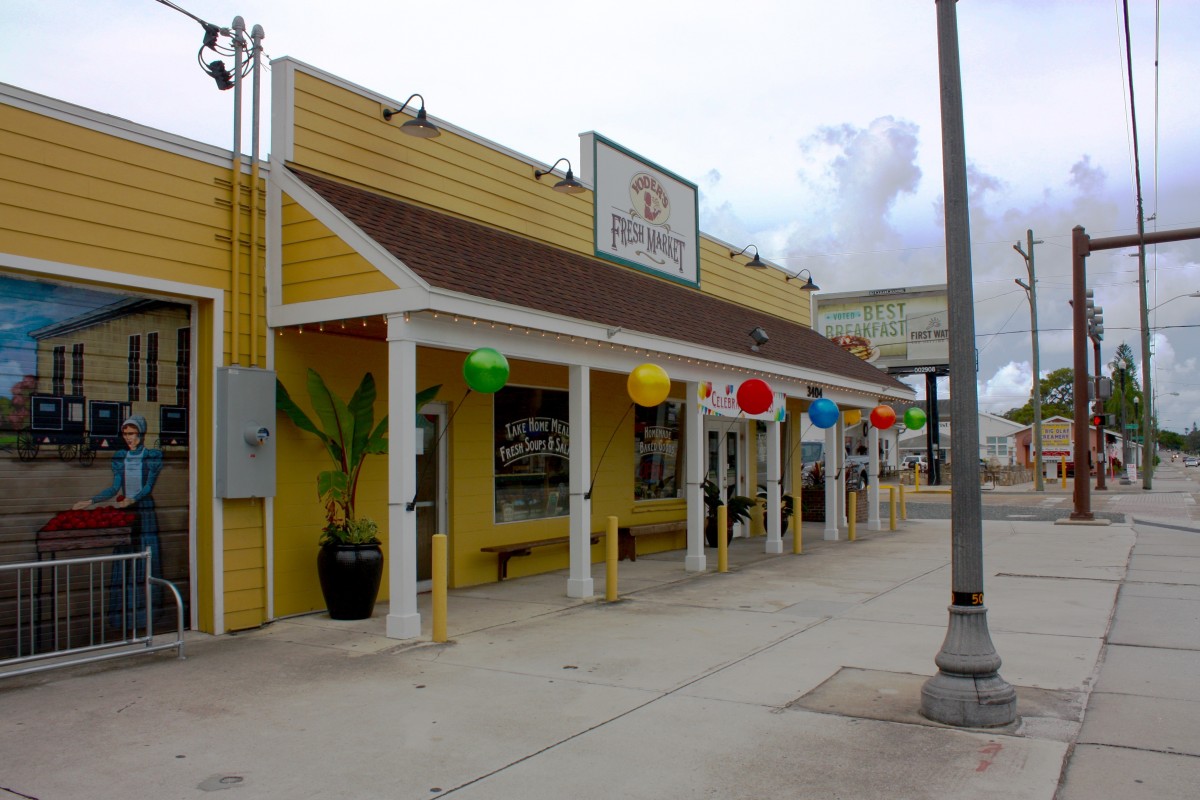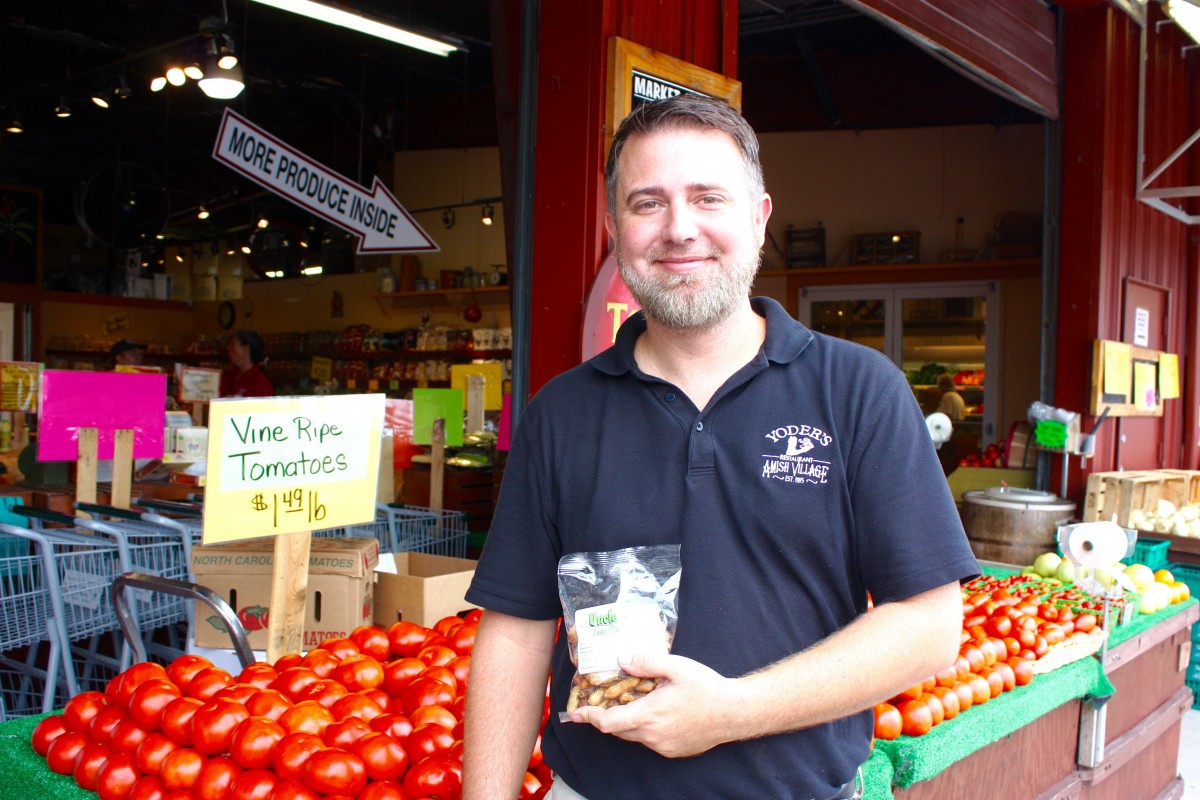 That's Brian Emrich, the grandson of the original founders. He opened a bag of deep fried peanuts for us to try. You eat the shell!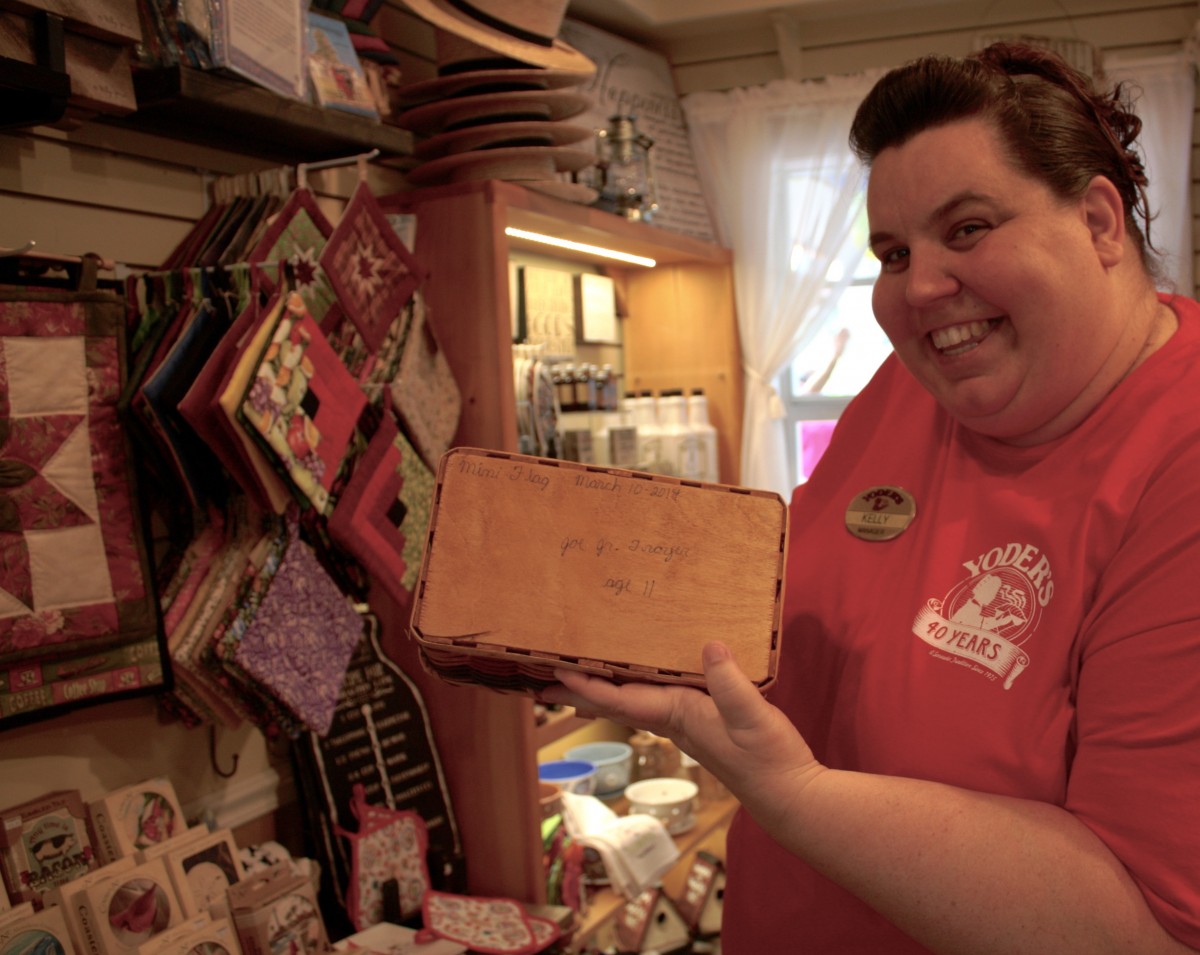 Kelly showed us all the handmade Amish goods in the gift shop. This basket was made by an 11 year old Amish boy!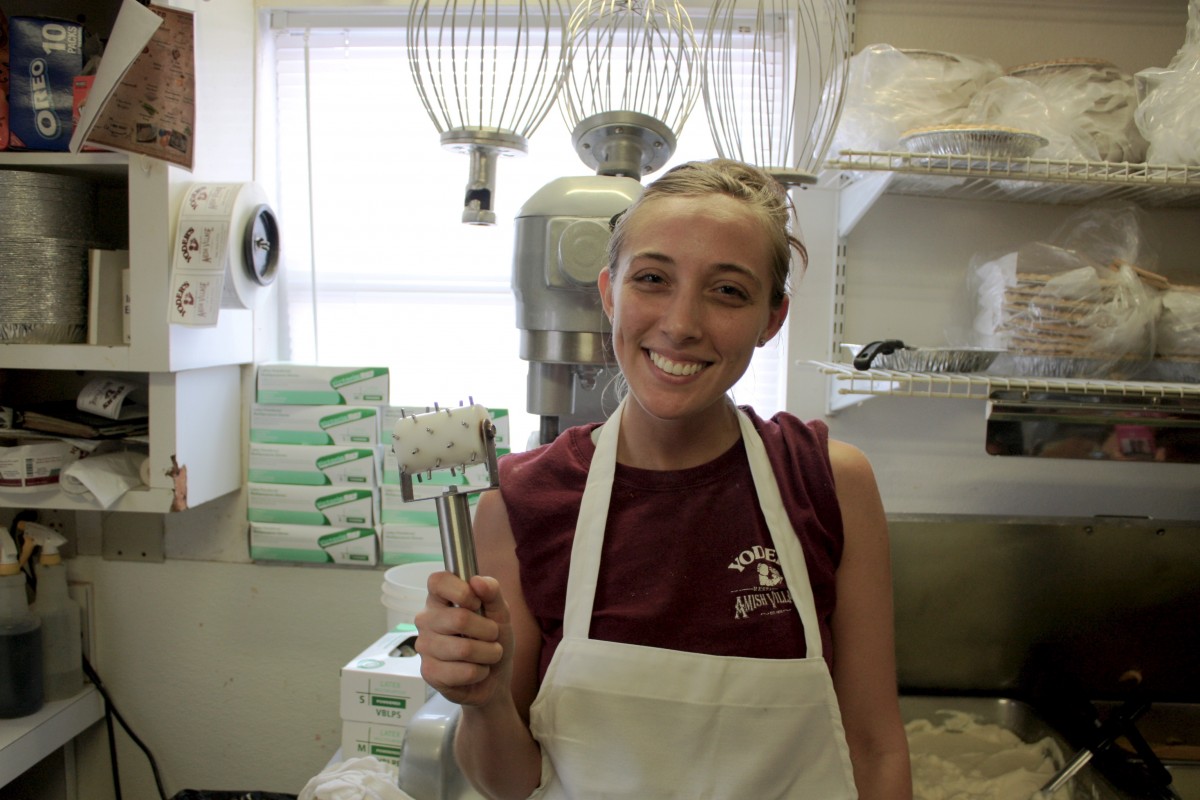 The coolest part of the tour was definitely the kitchen. We got to see how Yoder's award-winning pies are made! This device that looks like a torture weapon is actually how Yoder's makes their crust so perfect.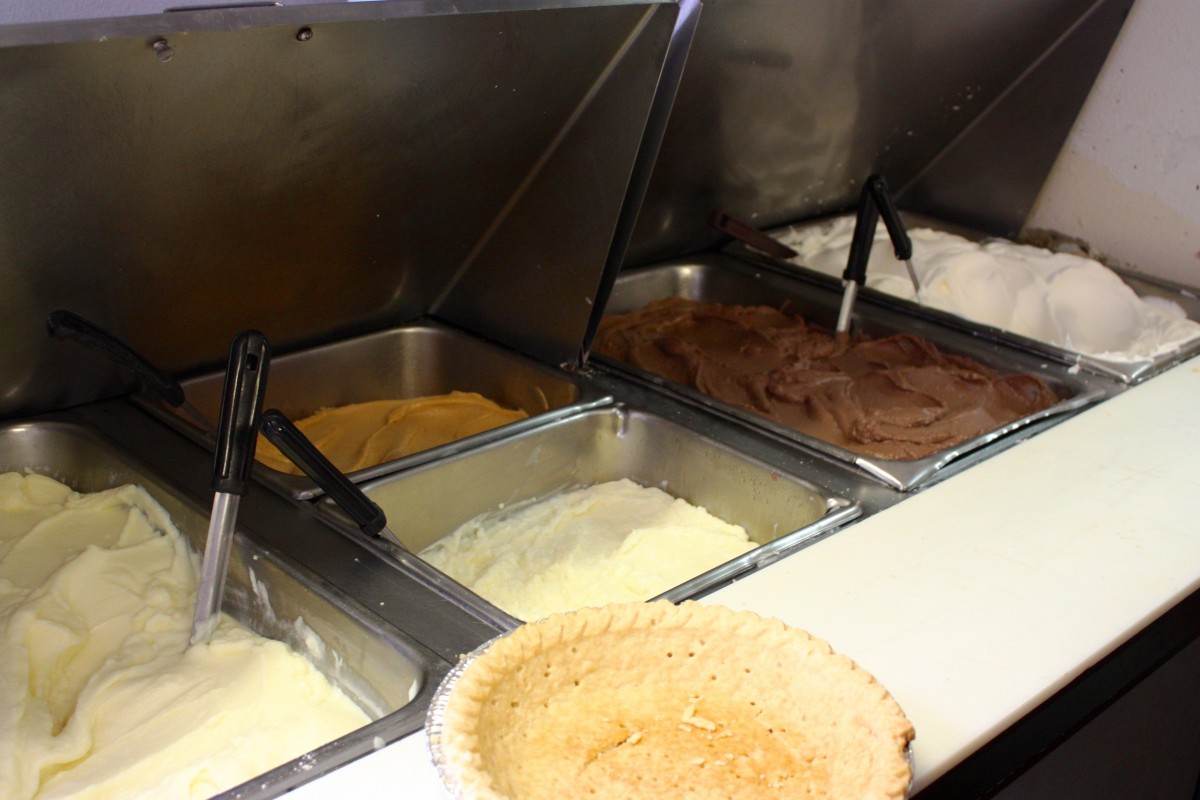 All the cream fillings.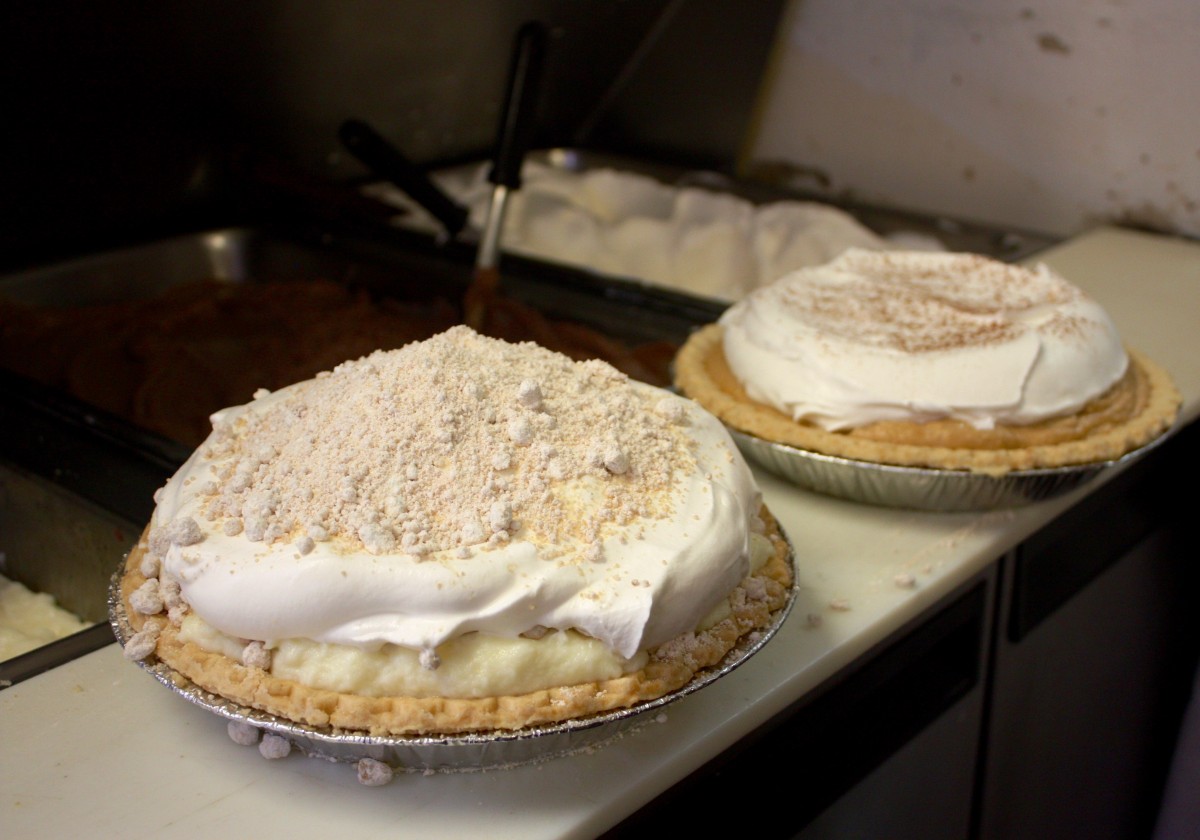 Check out these perfect pies. That pumpkin one in the back has my name all over it!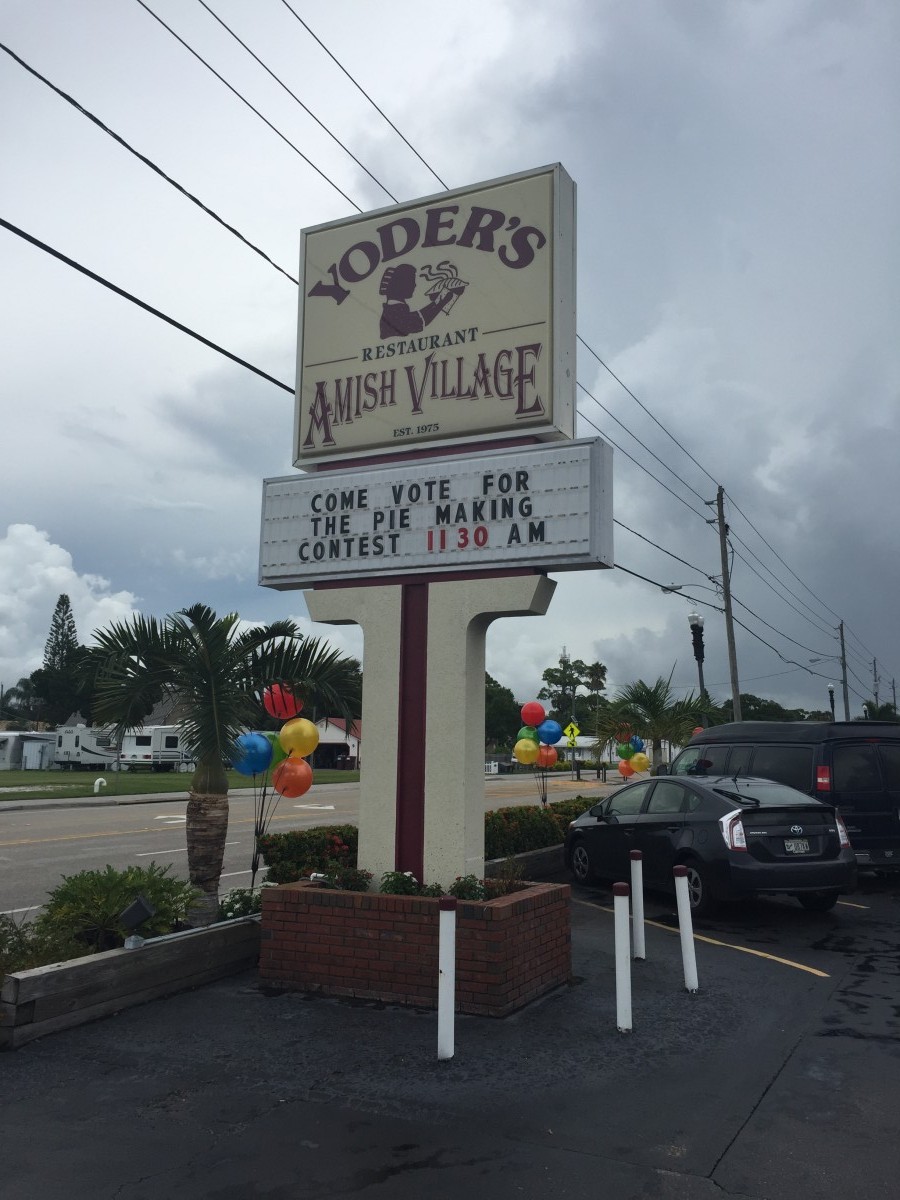 We didn't just come to Yoder's to watch the professionals make pies. We were also participating in a pie making contest!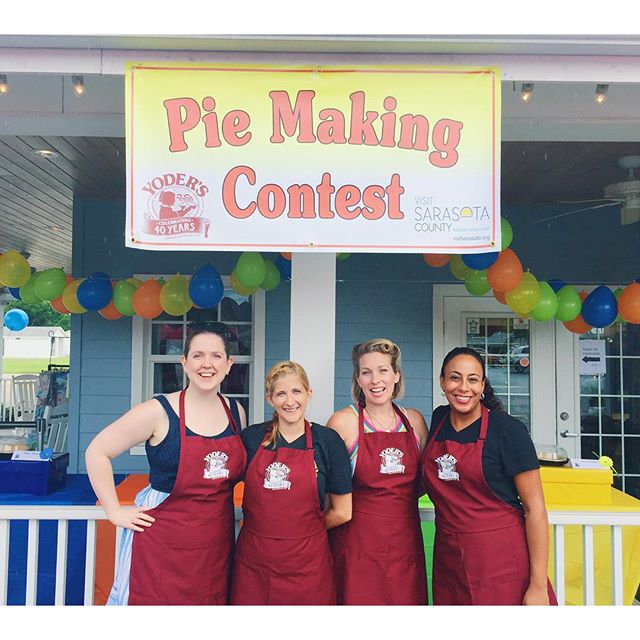 The four contestants: Me, Tara, Mary, and Leanette.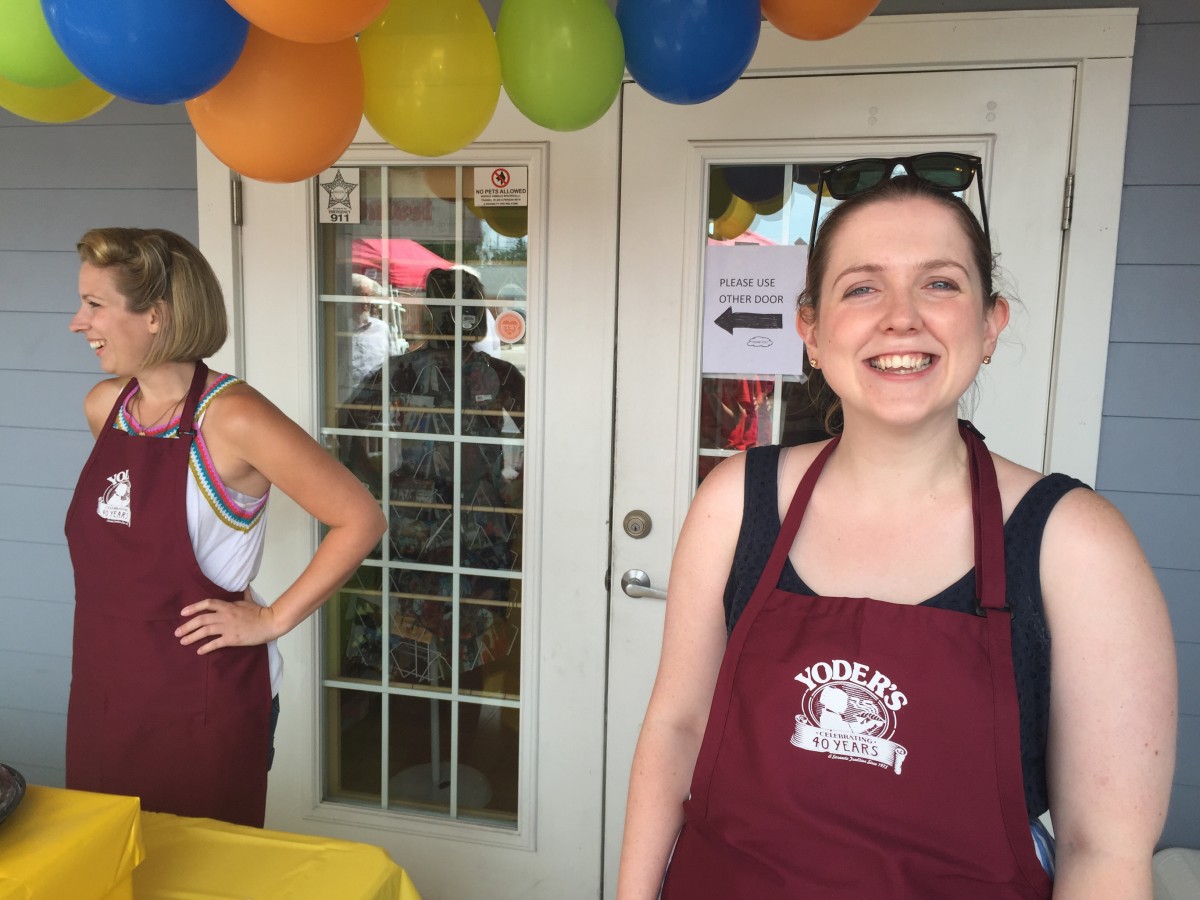 It was all smiles before the contest started.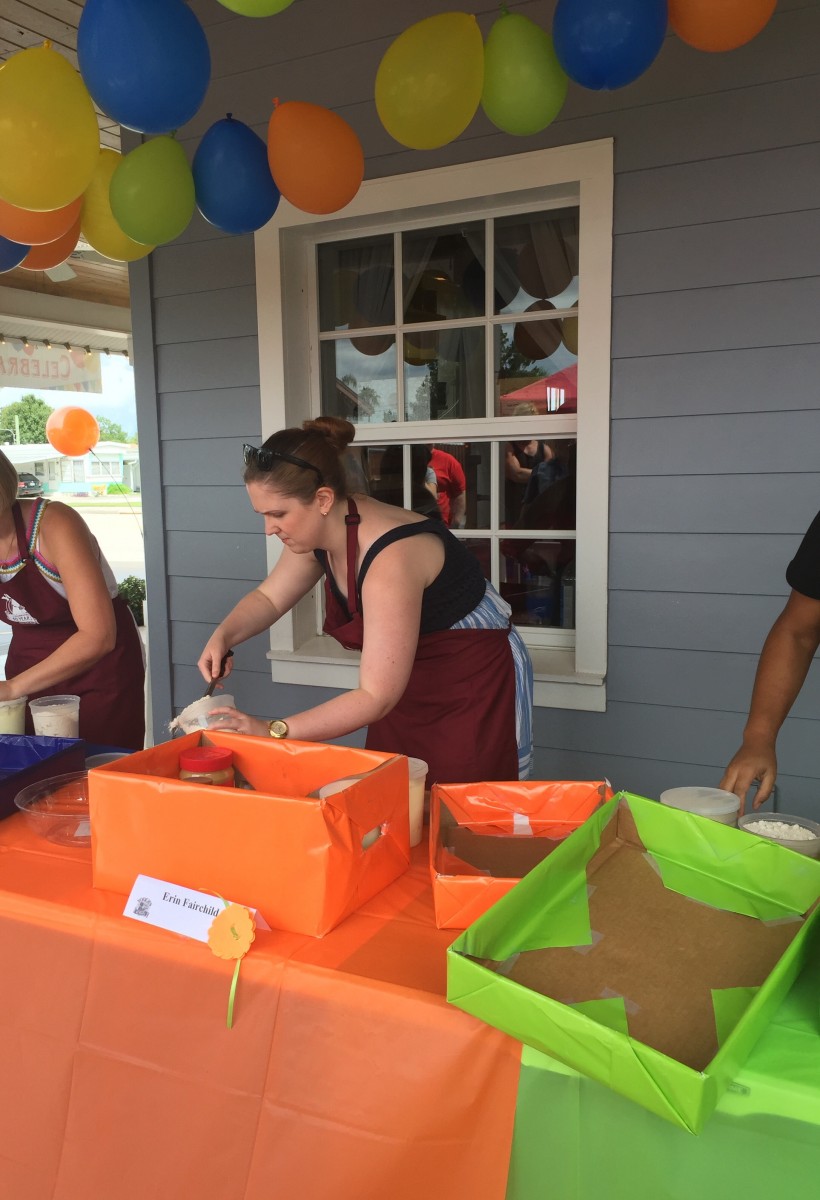 But once the games began, it was every woman for herself. We had to make our best Yoder's peanut butter pie in three minutes using the ingredients from the box. There were lots of extras meant to trip us up. (Here's a fun video of me learning to make it back in the kitchen.) The audience then voted for the prettiest looking pie.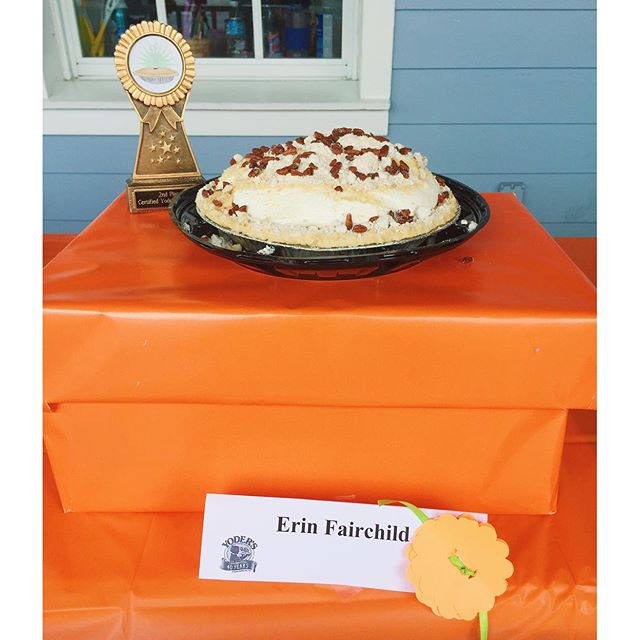 My final creation. I was pretty proud of my work and threw some pecans on top for good measure.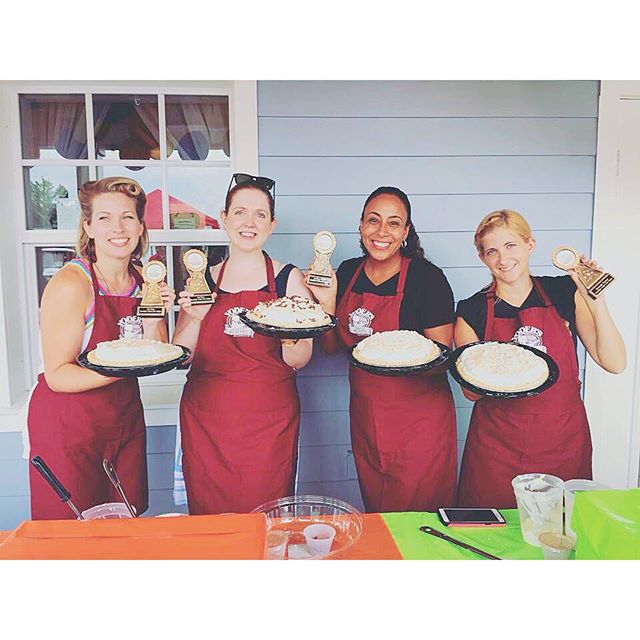 In the end I took second place. If Leanette hadn't out-campaigned me, I think I would have stolen the show. 😉 I mean who doesn't love pecans?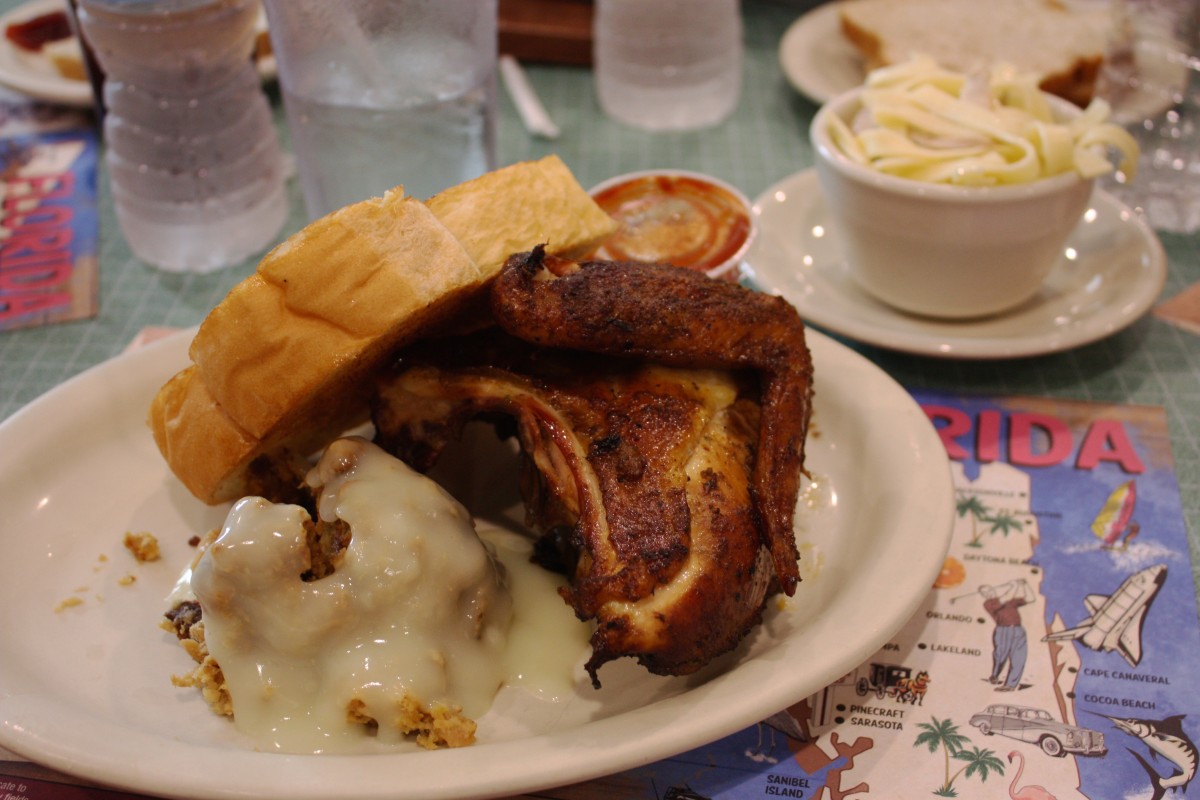 We all had a blast at the pie making contest and worked up quite an appetite. For lunch we went back to Yoder's restaurant and I ordered the smoked chicken with Amish noodles and chicken stuffing.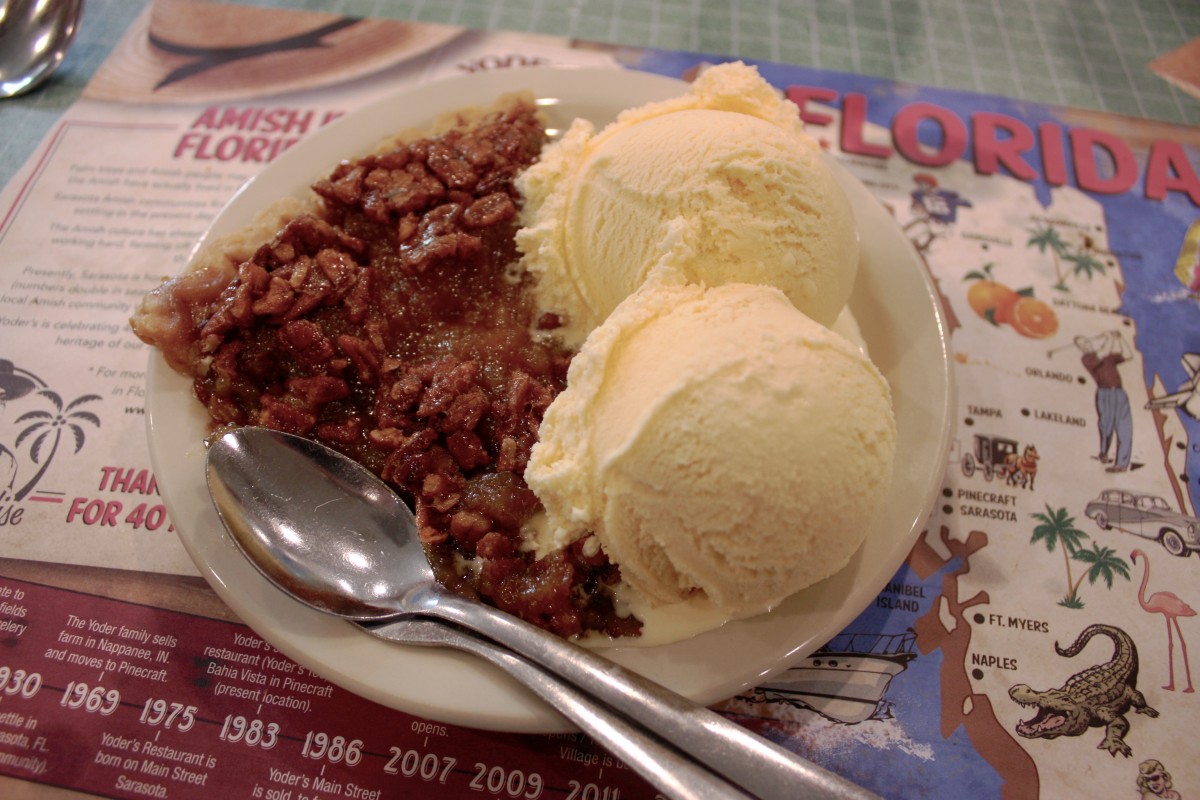 As good as the meal was, the real star of the show was the pie. Check out this piece of ooey gooey pecan pie deliciousness. I love traveling with bloggers because everyone shares their food. Leanette let me try a piece of her pumpkin pie and I about died and went to heaven. I'm going to do my best to try and get the recipe for you guys because Yoder's currently doesn't ship and it is the absolute best pumpkin pie. My family used to order pumpkin pies from the Amish in Pennsylvania and it was made in a similar vein. Less spicy than traditional pumpkin pies and way more creamy. Ah, it's so good!
The Ringling Museum
After our pie-filled morning we headed over to The Ringling Museum. The Ringling used to be the home of John Ringling, one of the five brothers who created The Greatest Show on Earth.
Today The Ringling includes the Circus Museum, the Museum of Art, the Historic Asolo Theater, the Ca' d'Zan mansion, an education center, and The Bayfront Gardens. You could truly spend days in here and not get bored. There is so much to do and see and learn. You can buy a membership there to get to attend all the shows and performances the theater brings in, and if I lived in Sarasota I absolutely would.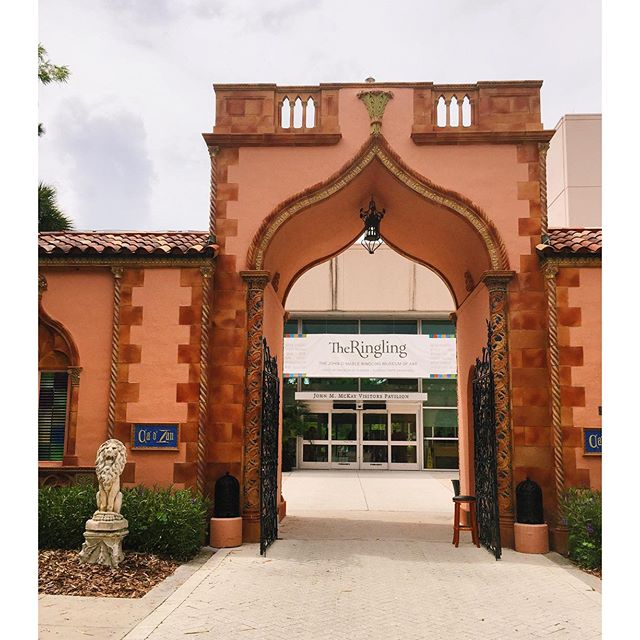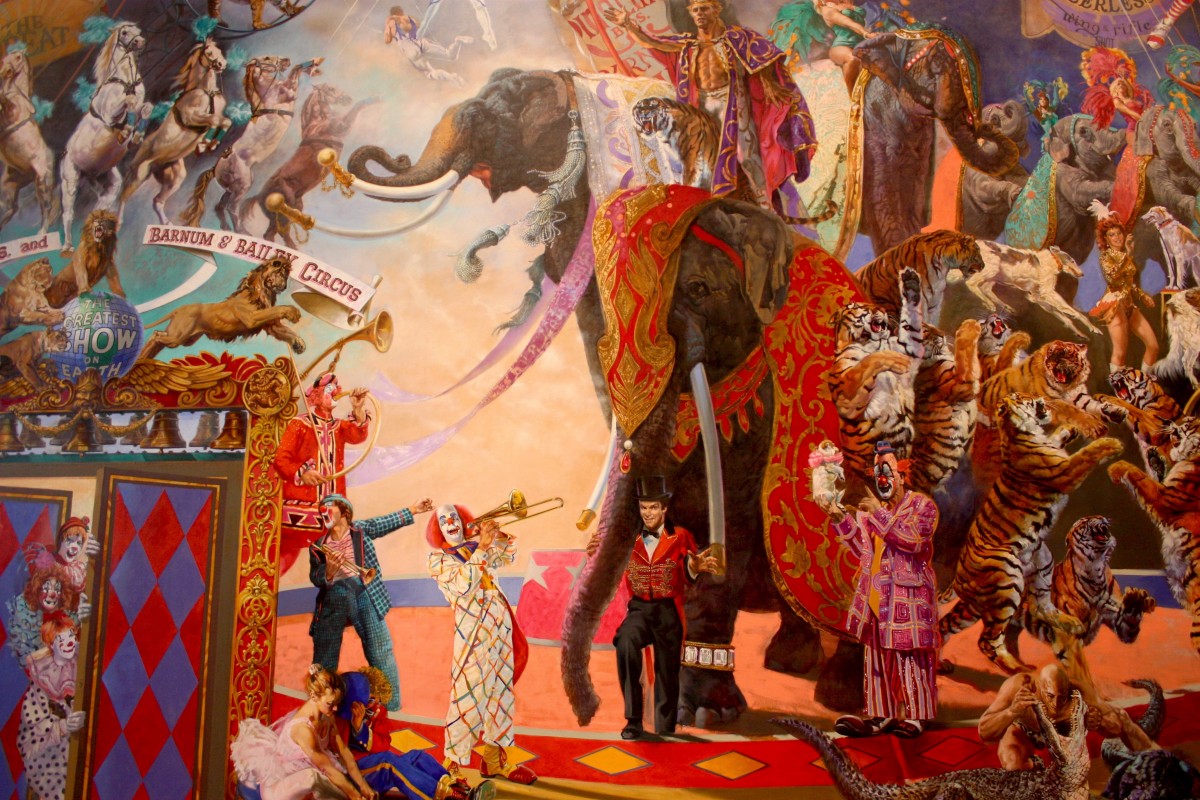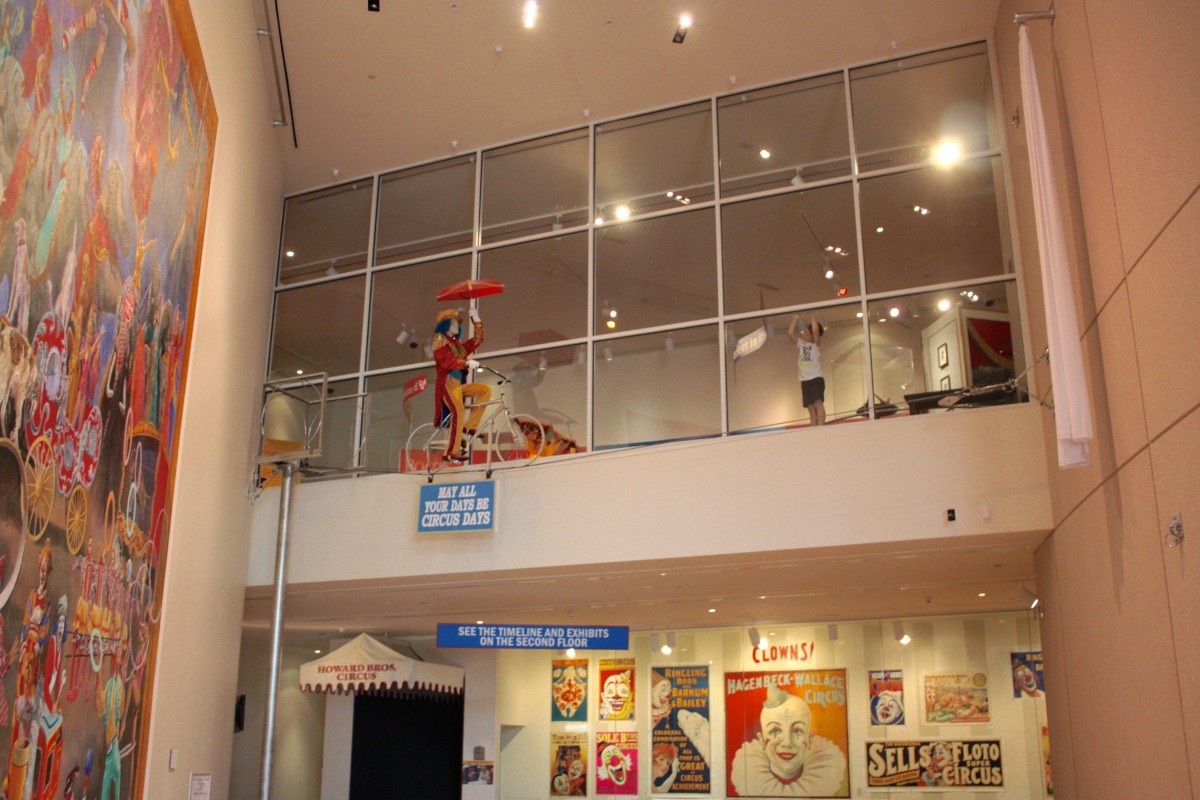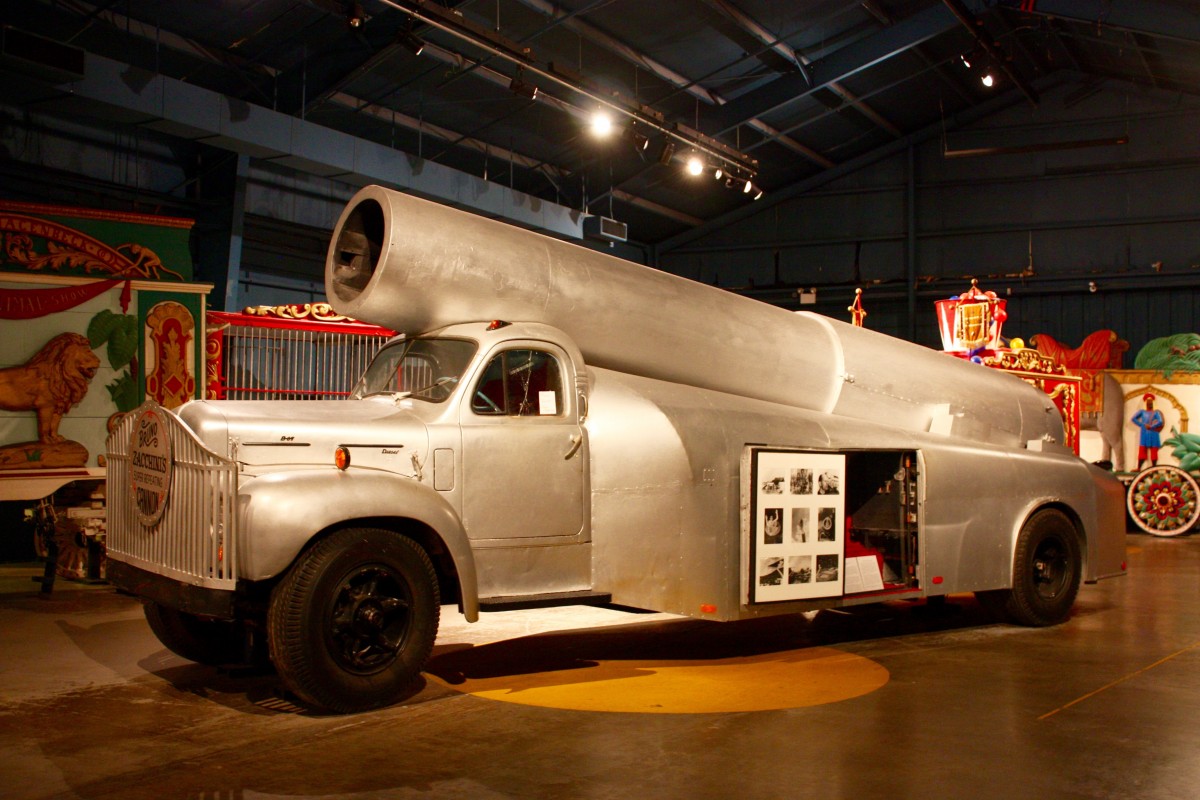 The cannon they used to shoot circus performers out of!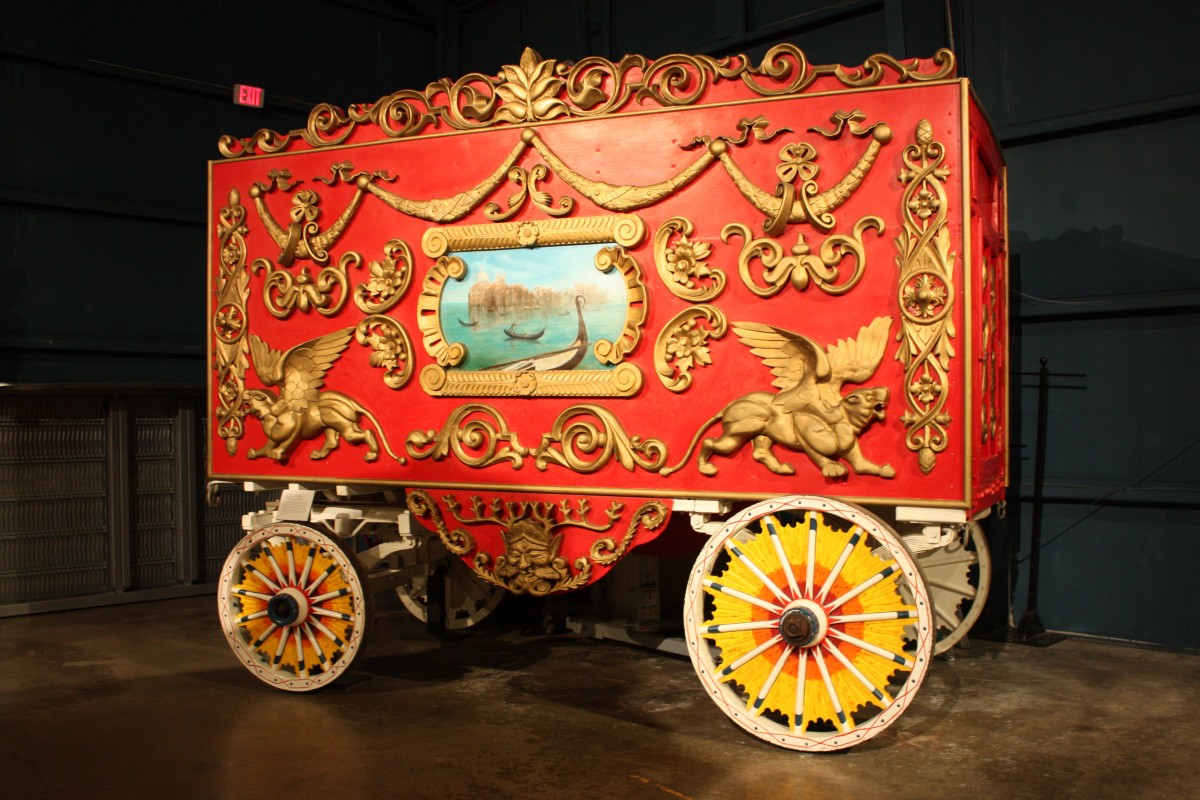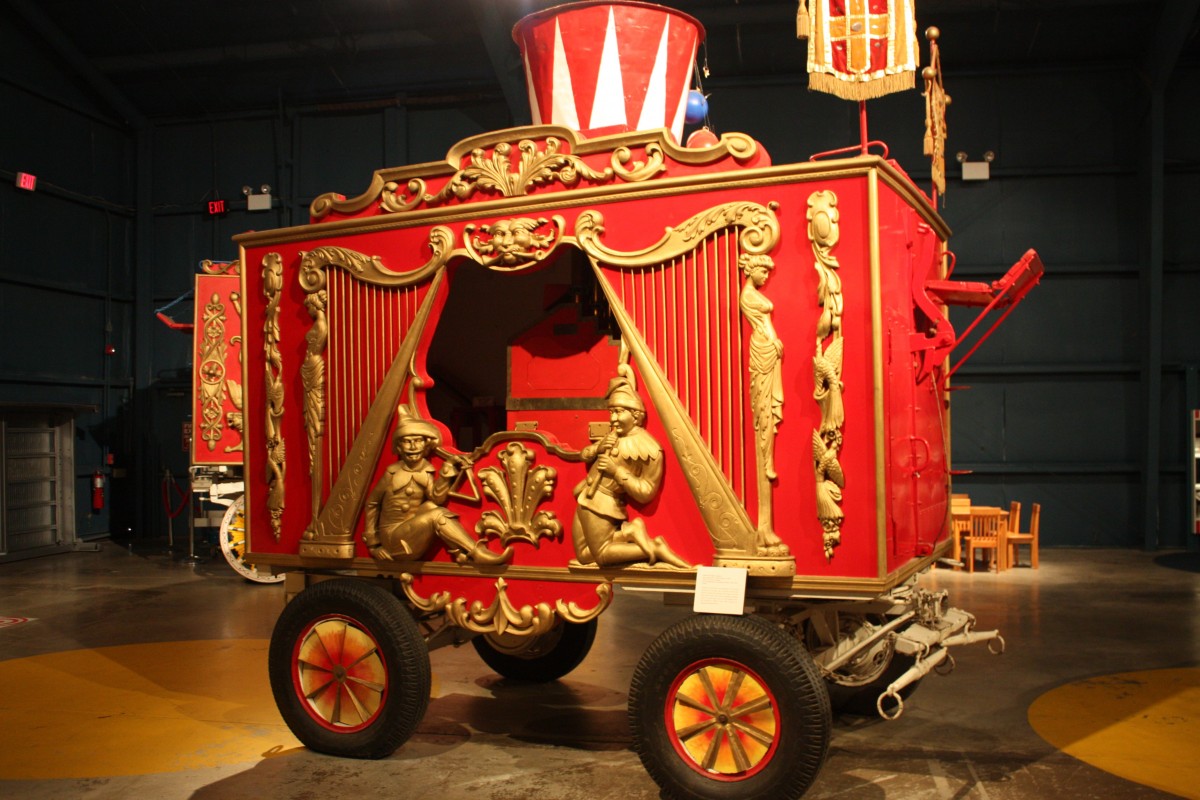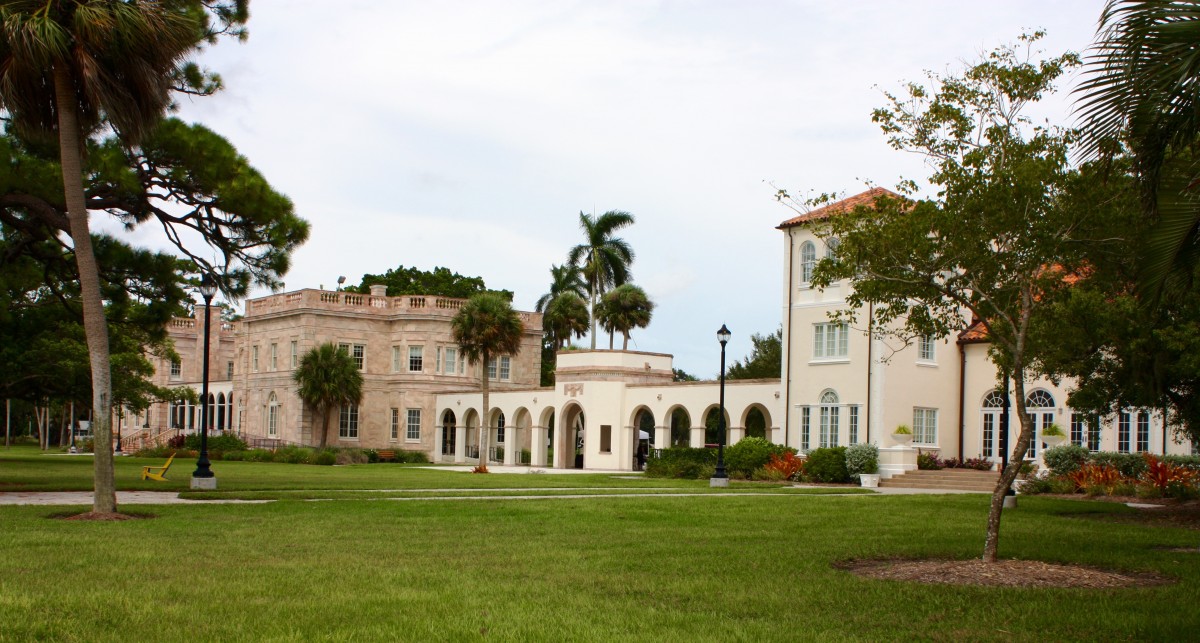 The grounds are expansive and exquisitely maintained.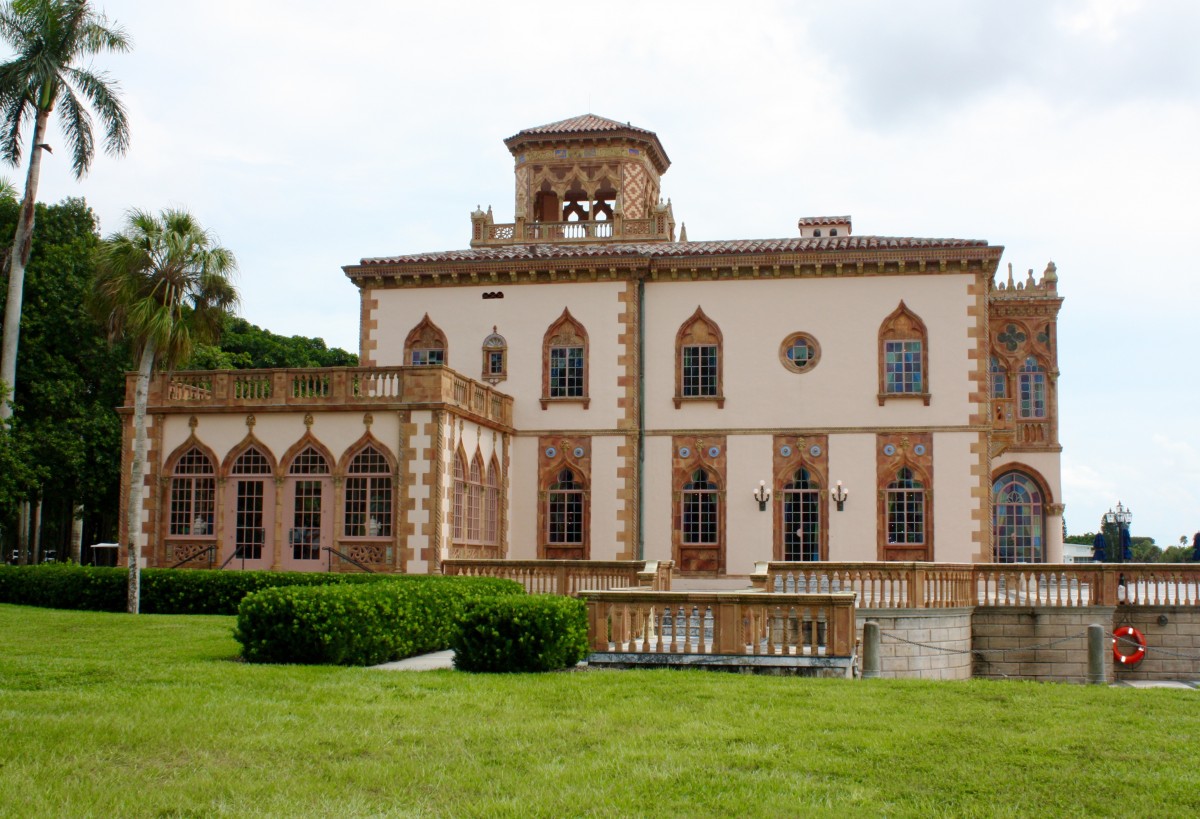 The mansion John Ringling used to spend his winters in.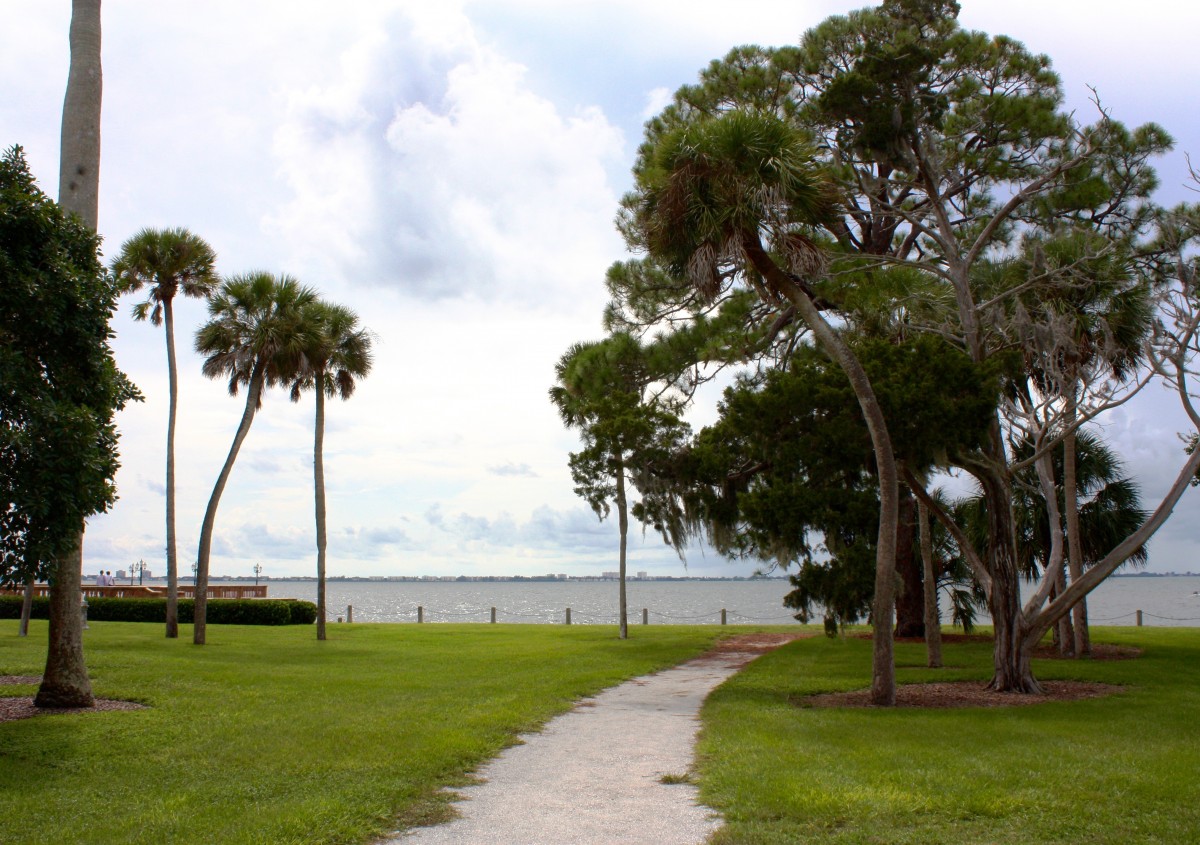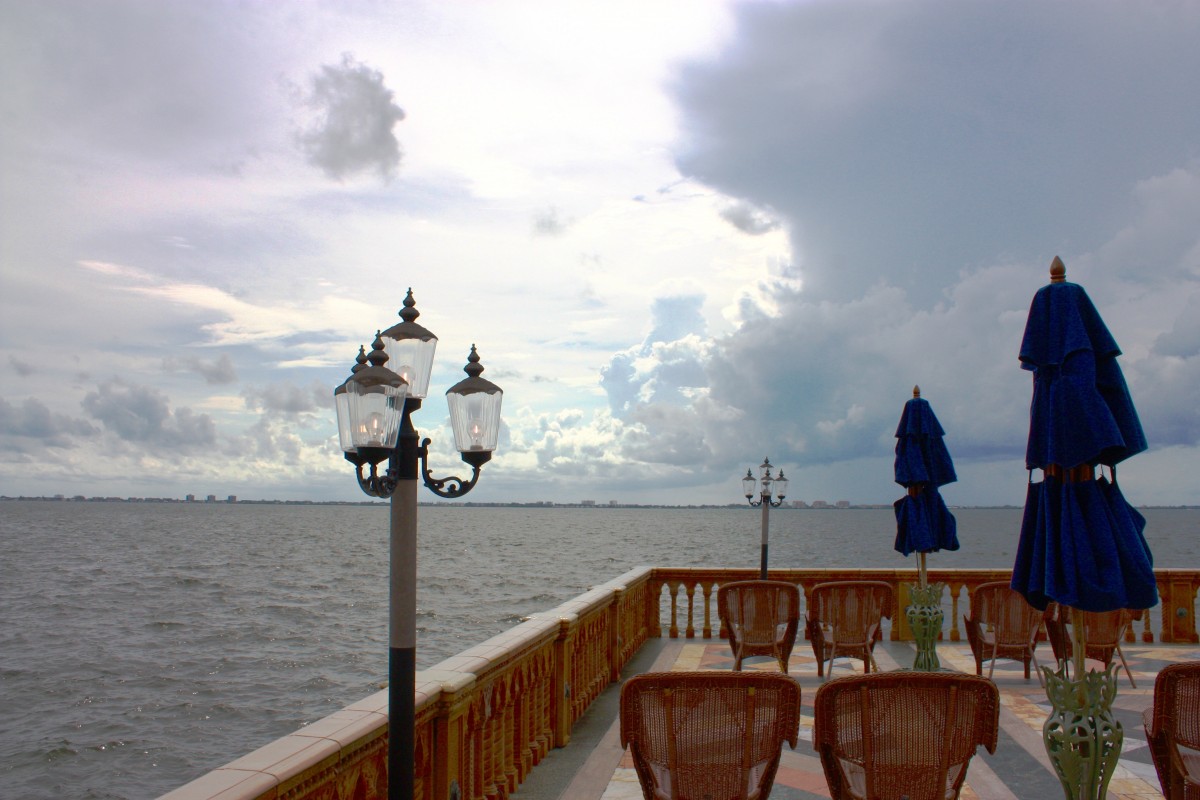 I wouldn't mind having this view from my backyard. 😉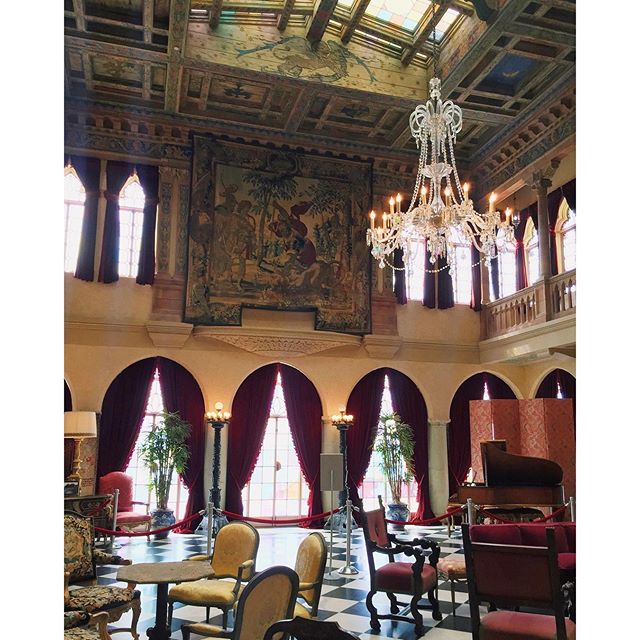 We toured the inside of the mansion and it felt like we were stepping back in time. True opulence.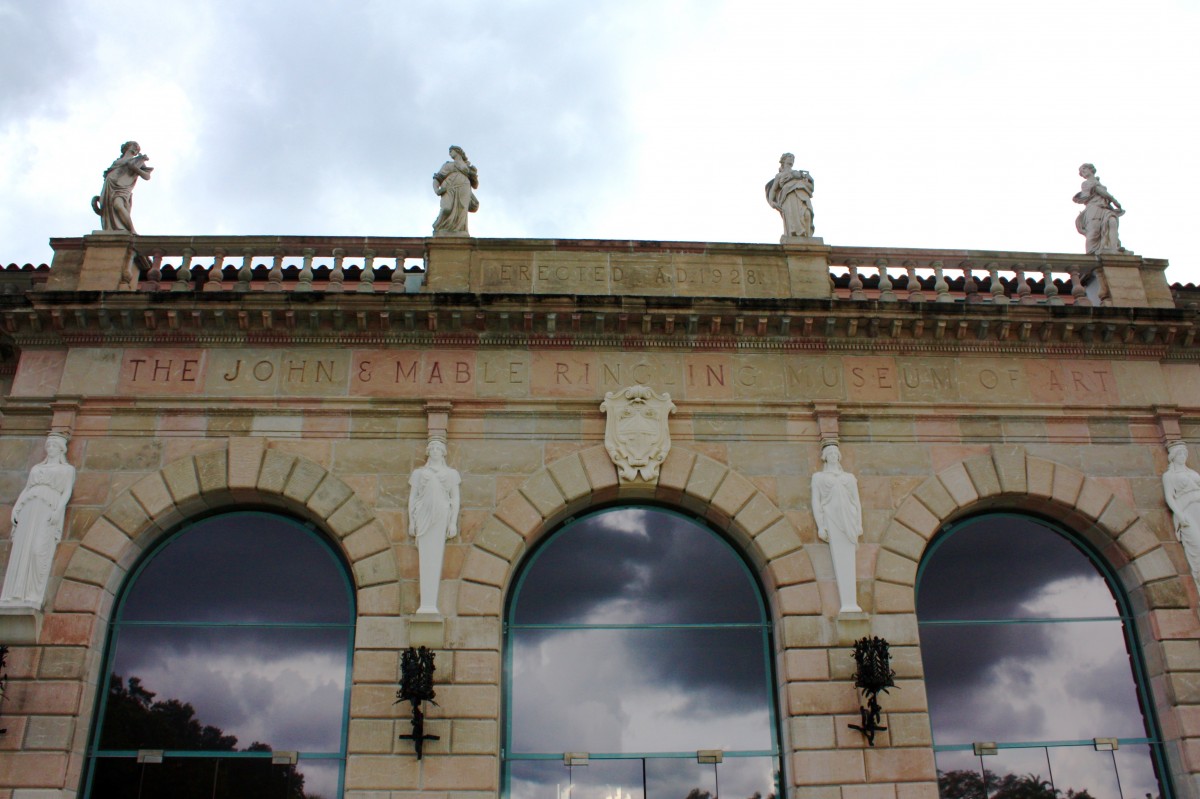 My favorite part of The Ringling had to be The John & Mable Ringling Museum of Art.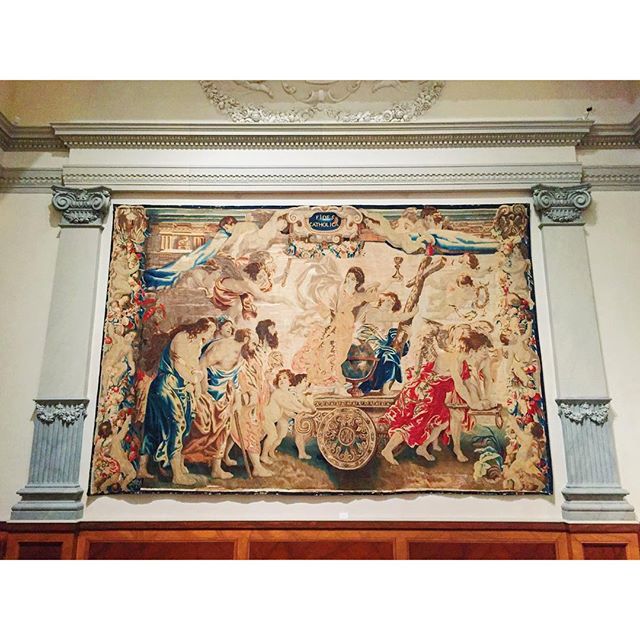 Check out this Peter Paul Ruben. It took my breath away.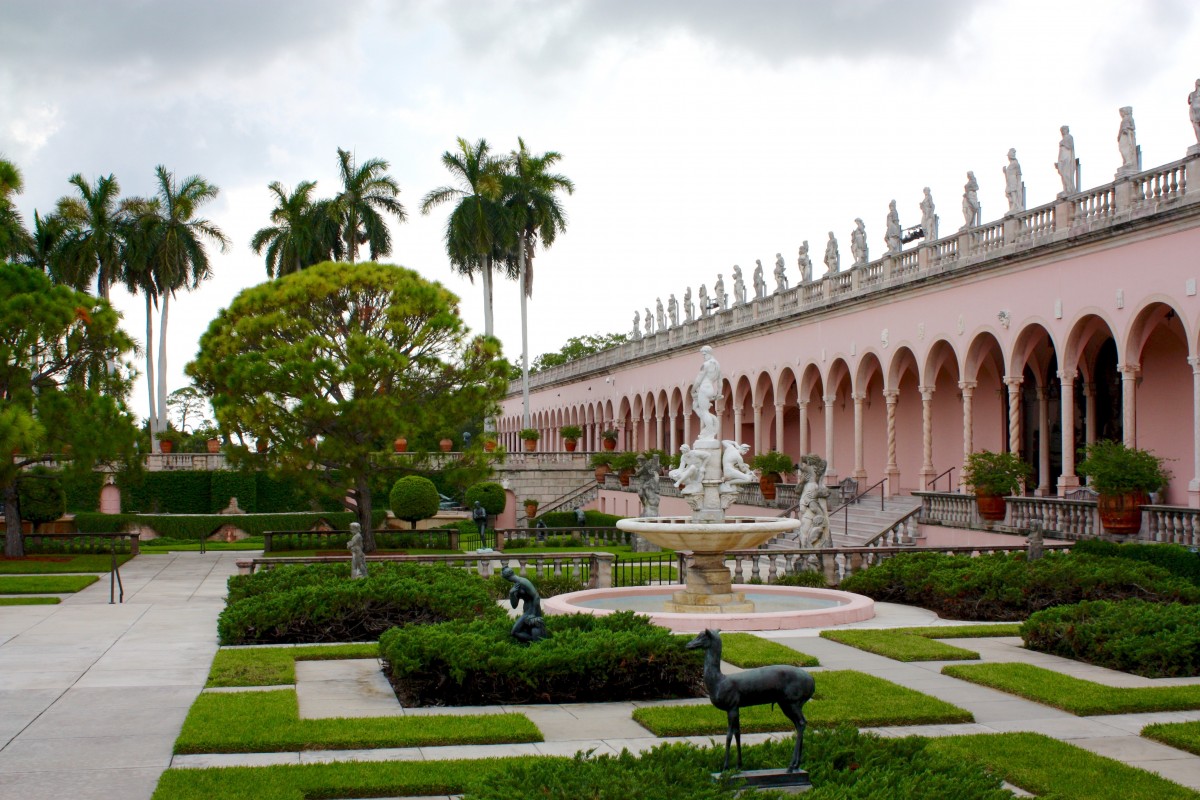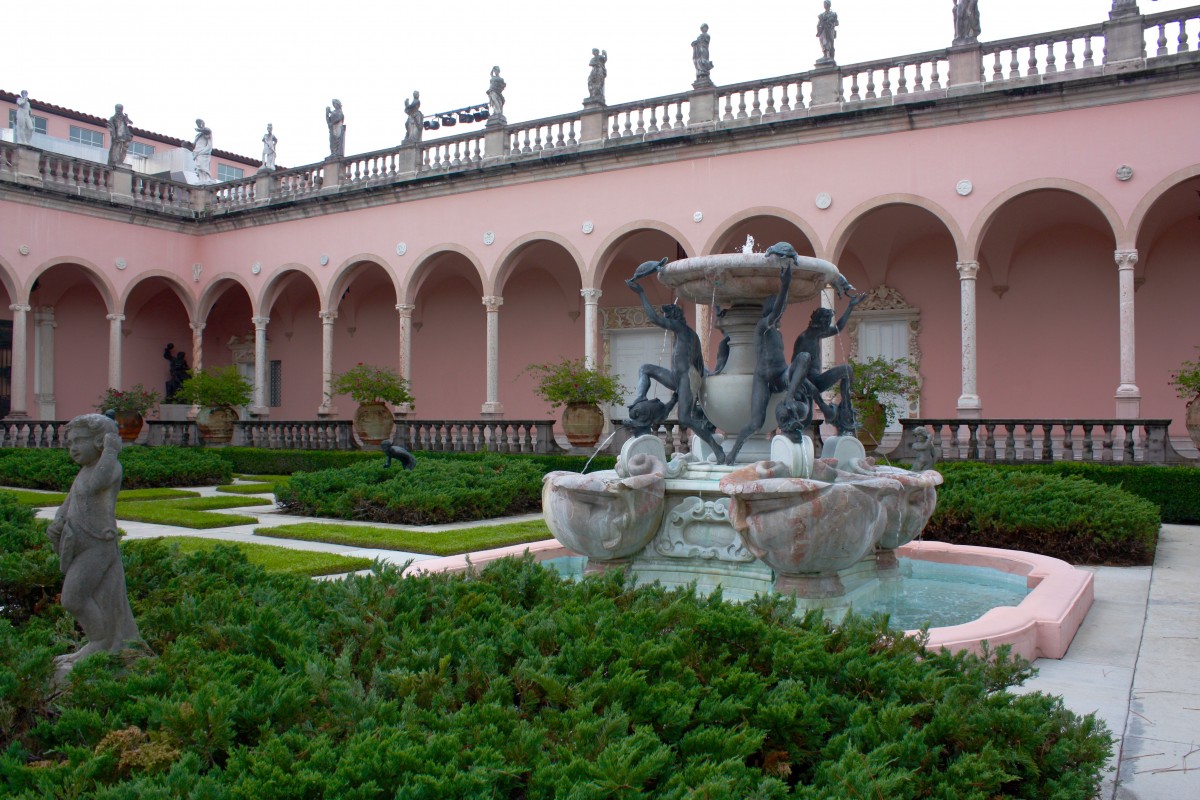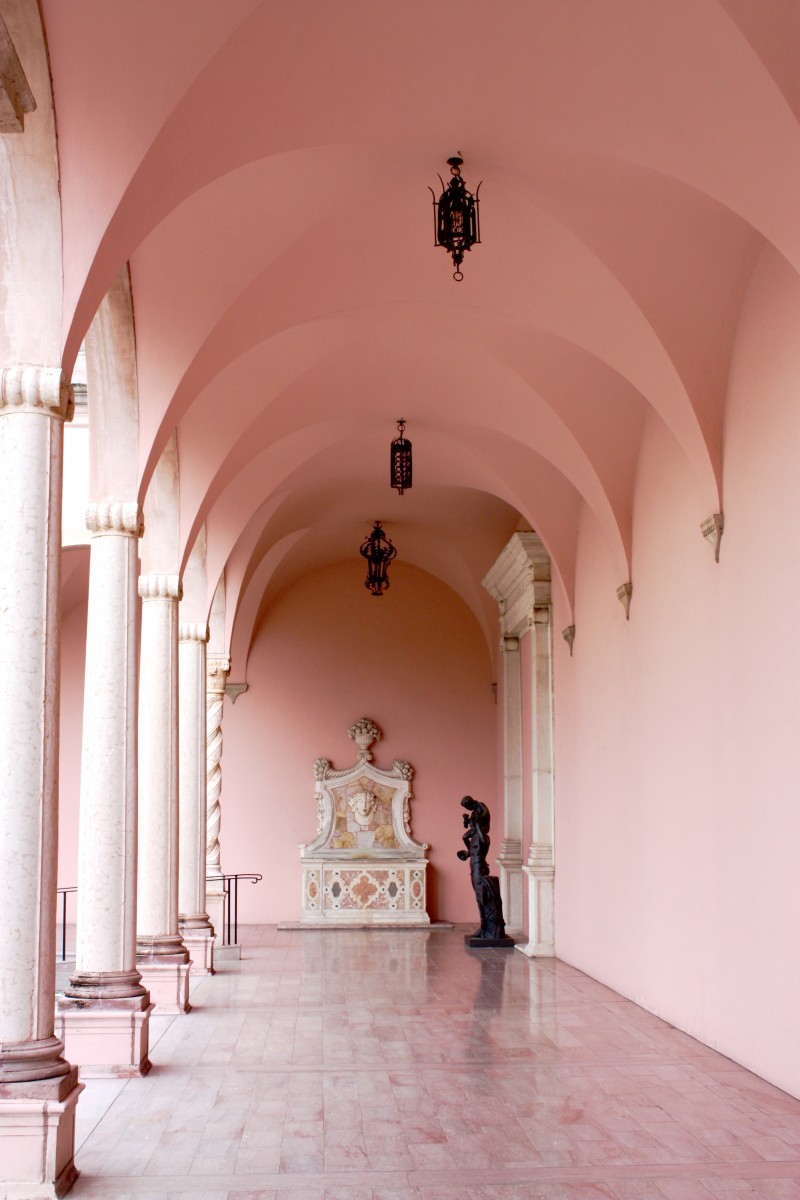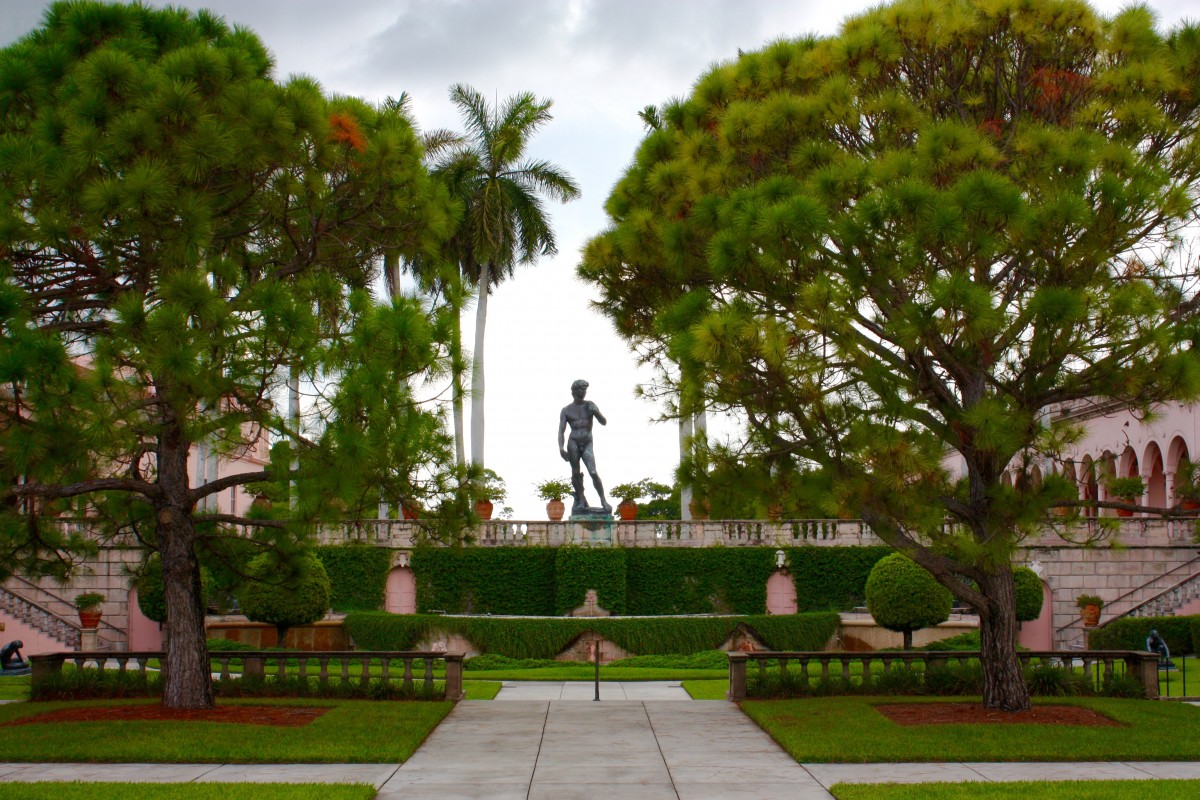 And the courtyard has to be one of the most beautiful courtyards I've ever seen.
Salute
An afternoon of art and culture left us feeling a little fancy come dinner time. We enjoyed a true Italian dining experience at Salute and I savored every bite. There are a ton of good restaurants in Sarasota, but this is one of my favorites.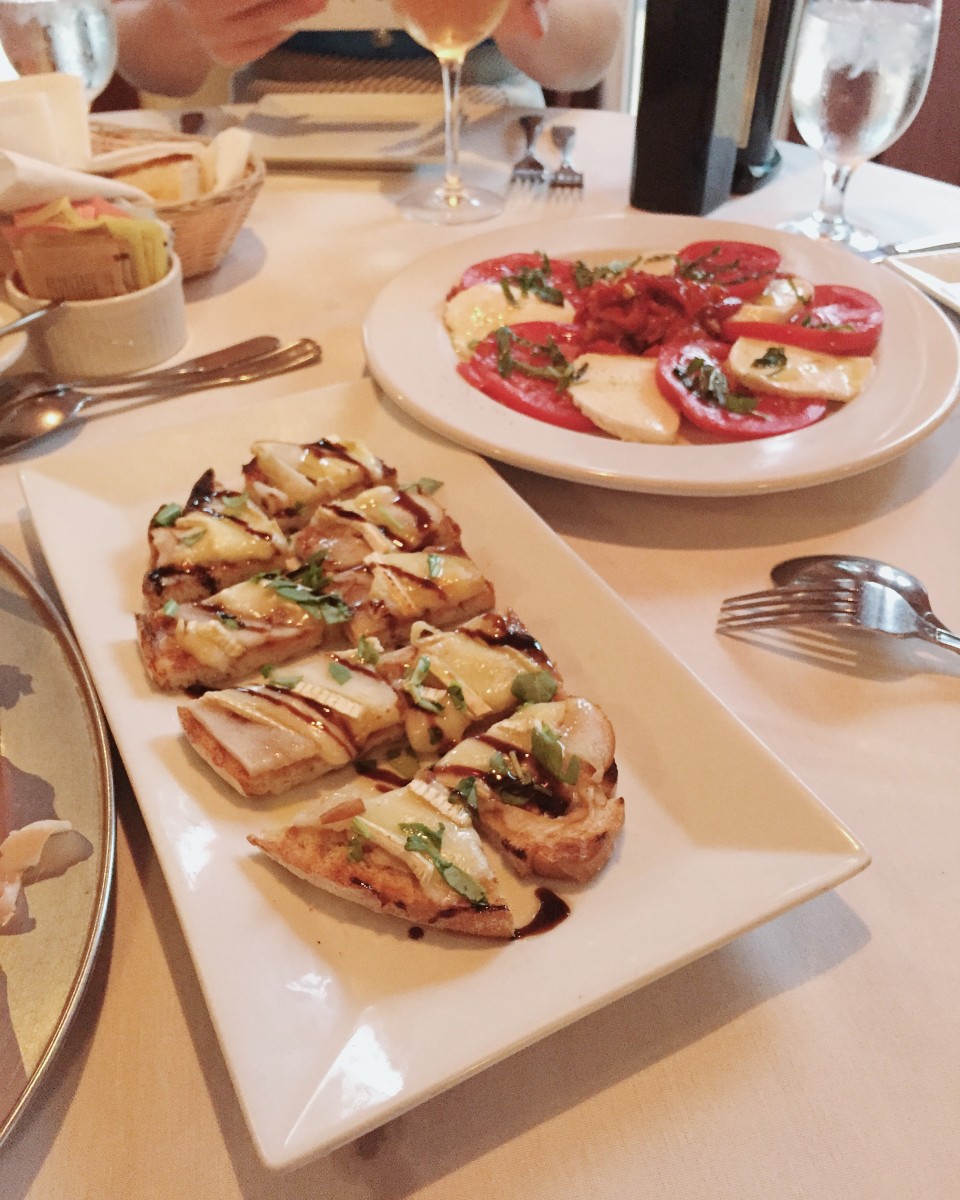 We started dinner off with a few appetizers: a brie and fig flatbread, caprese salad, and a burrata and arugula dish that was out of this world.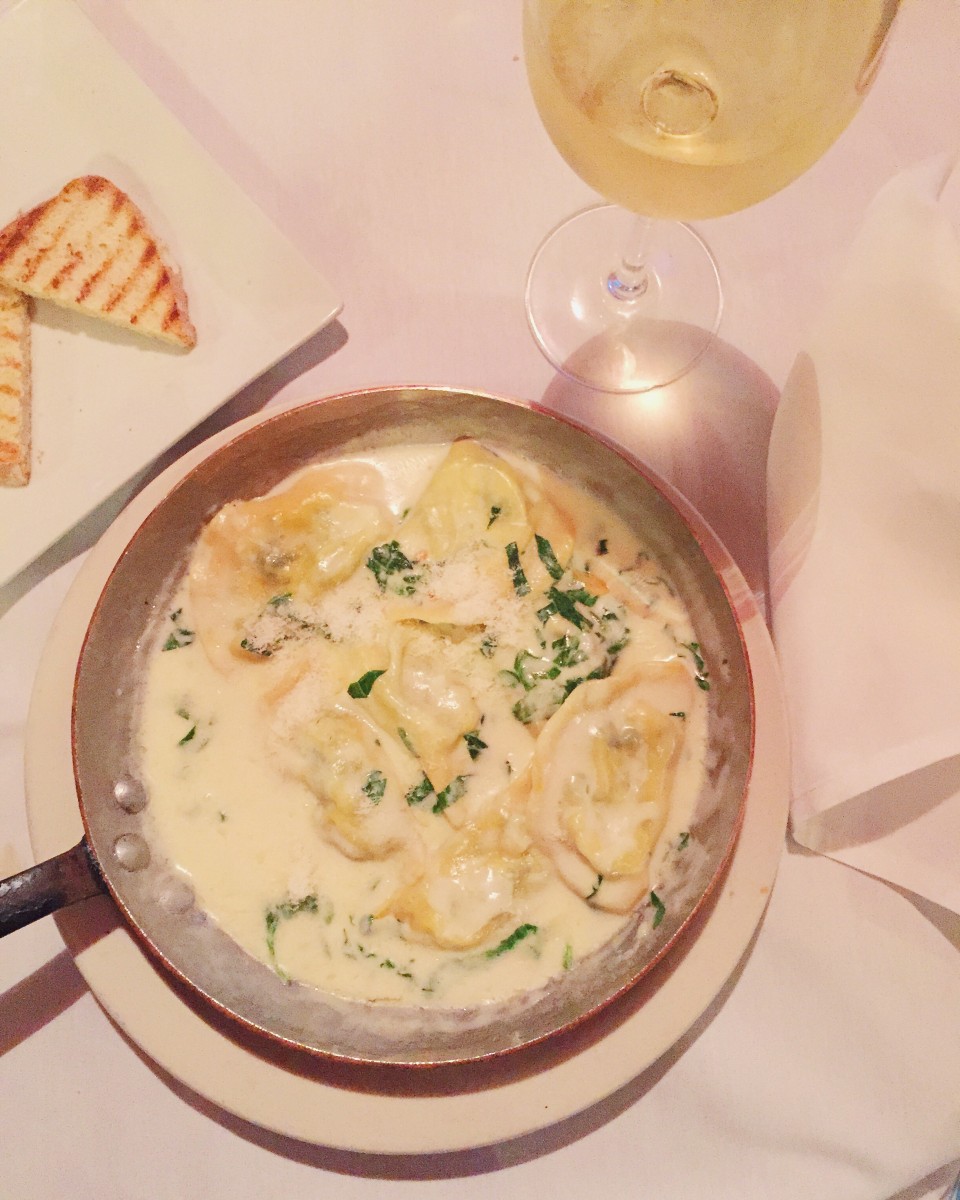 For my main entree I had three cheese and spinach agnolotti. Salute makes their pastas in-house and it was absolute perfection. This is one of those places I absolutely need to visit again.
The Blue Rooster
Sunday was our last day in Sarasota and while I was sad to leave I was super excited for brunch at The Blue Rooster.  It's a traditional southern brunch with a big side of gospel music. The singers raised the roof and knew how to get a Sunday morning started off right!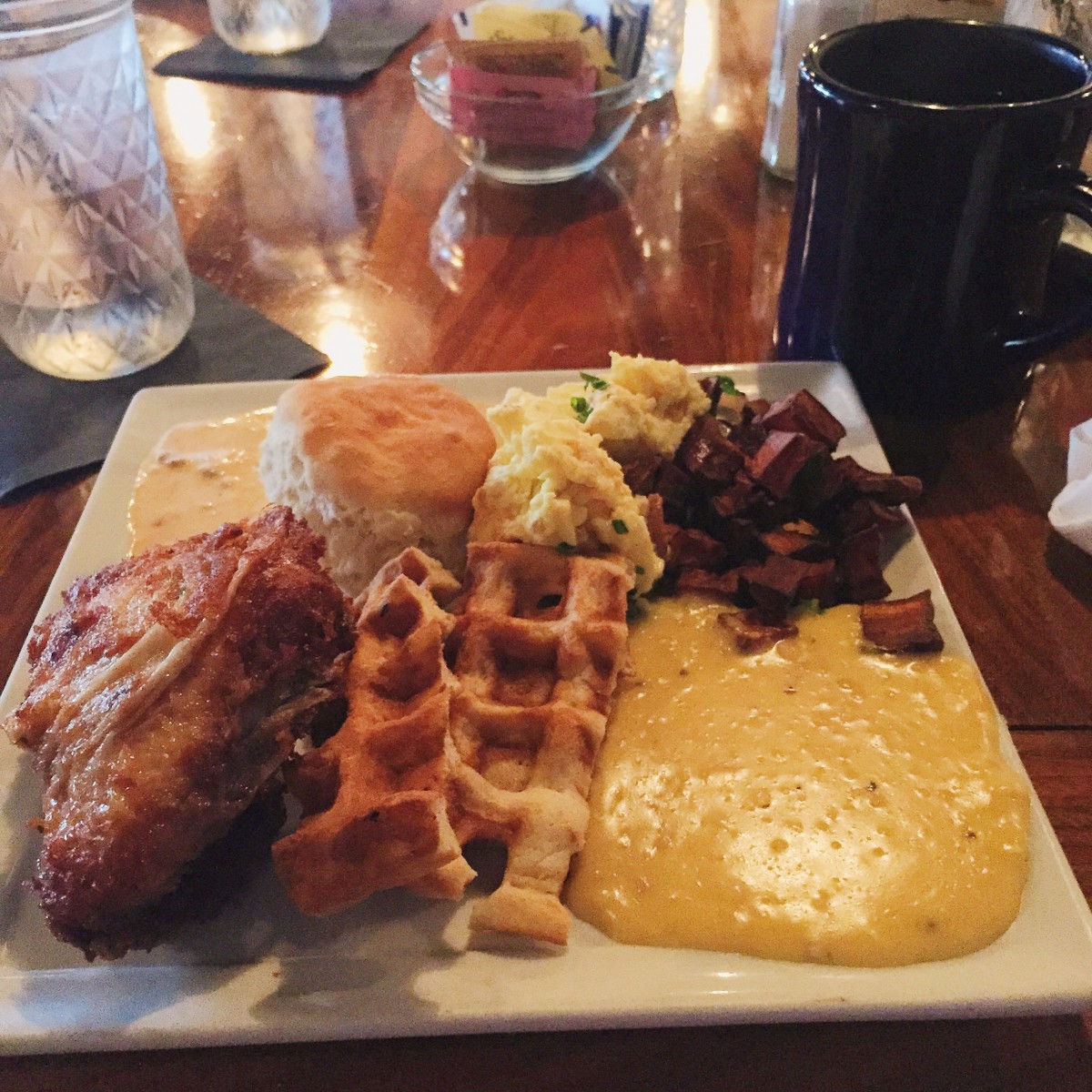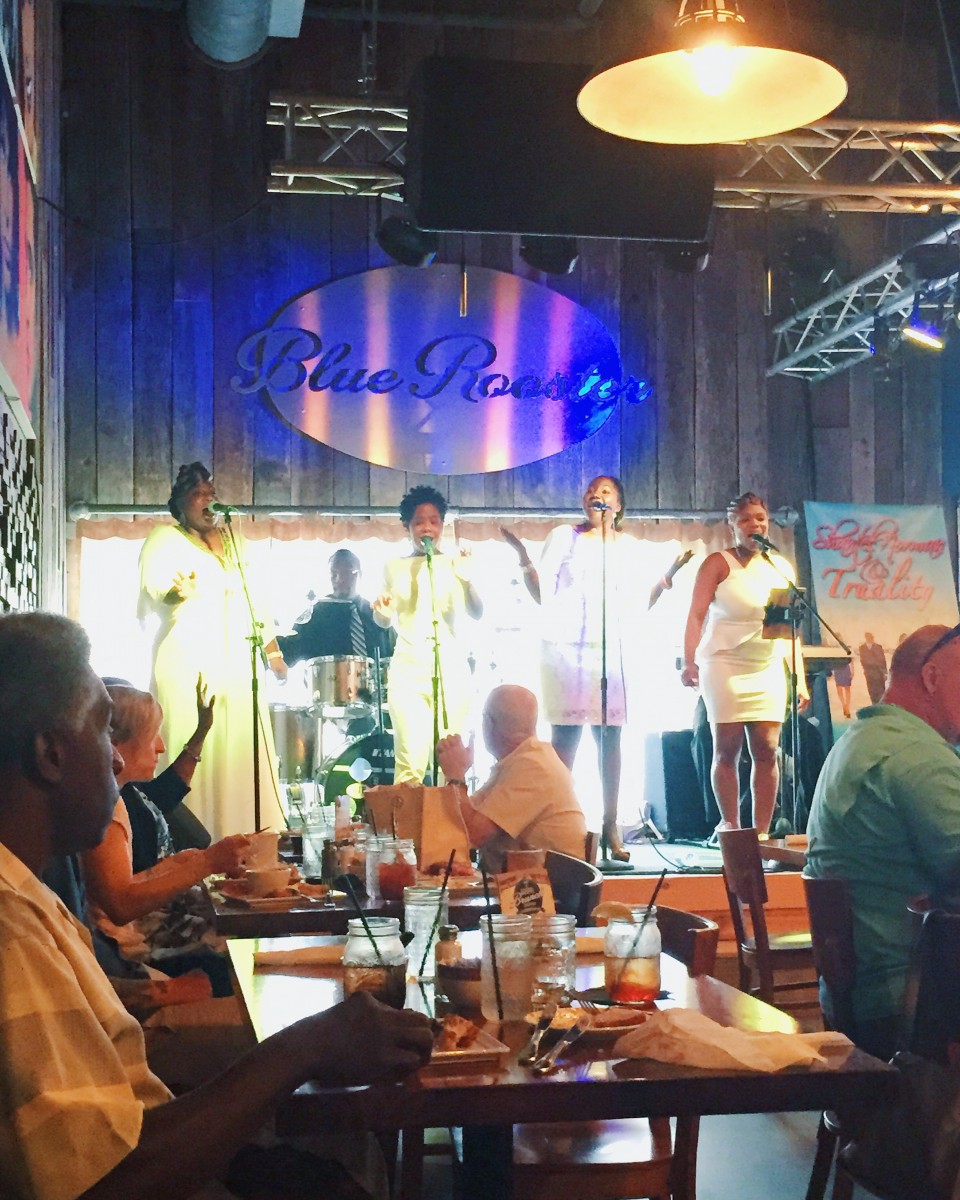 Shopping at St. Armands Circle
Before heading to the airport, I was excited to get a few hours to explore St. Armands Circle. This is the place to go for shopping in Sarasota with everything from fashion to home decor to macarons to spices.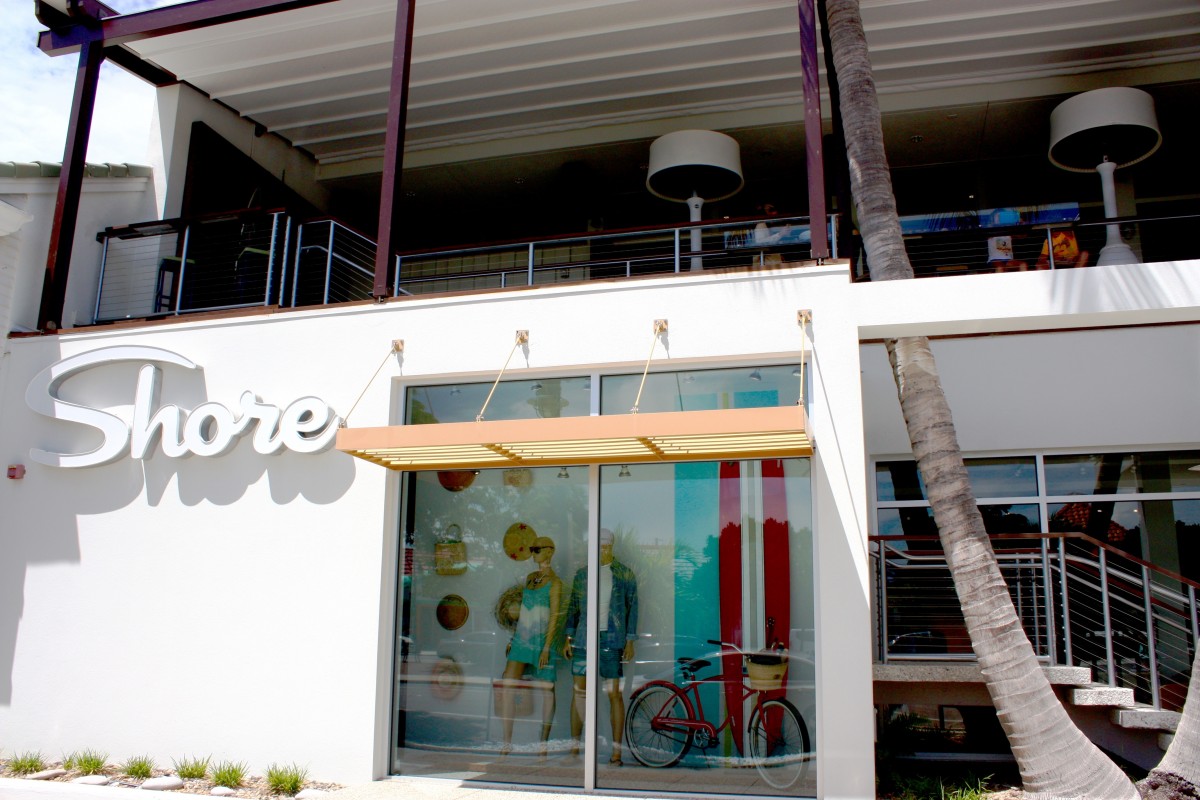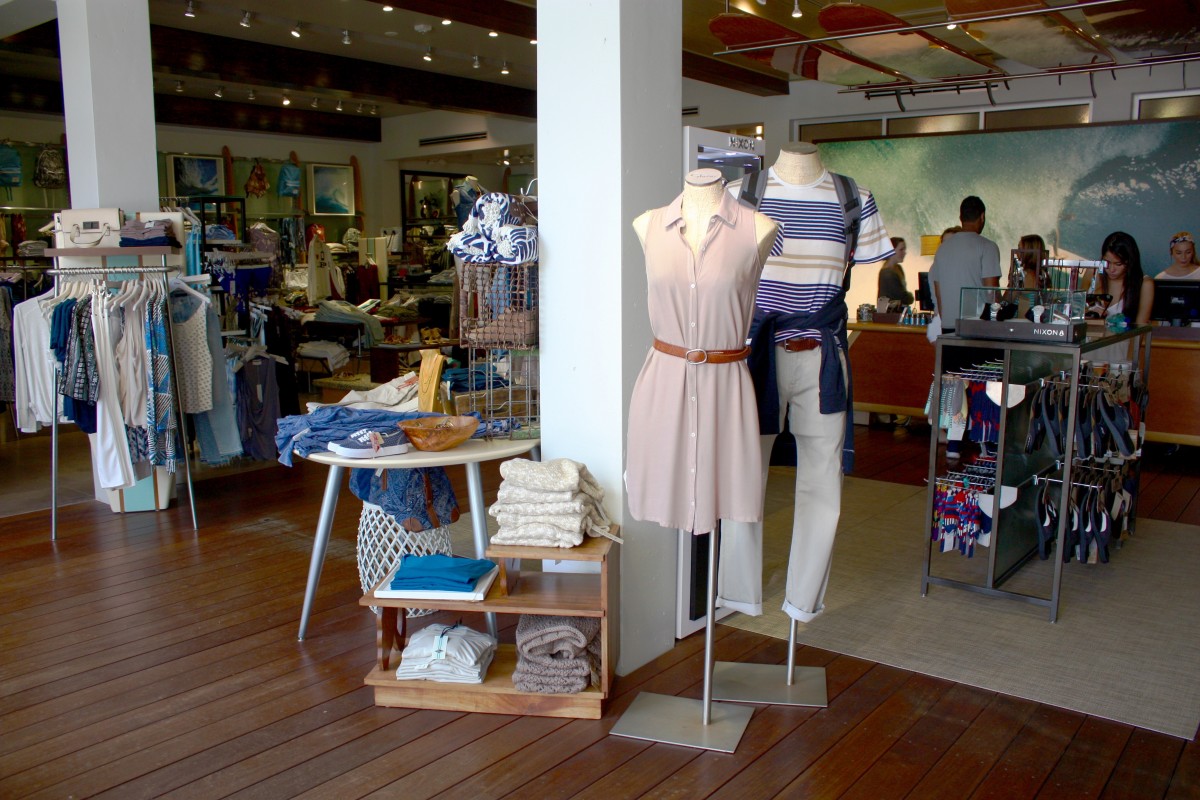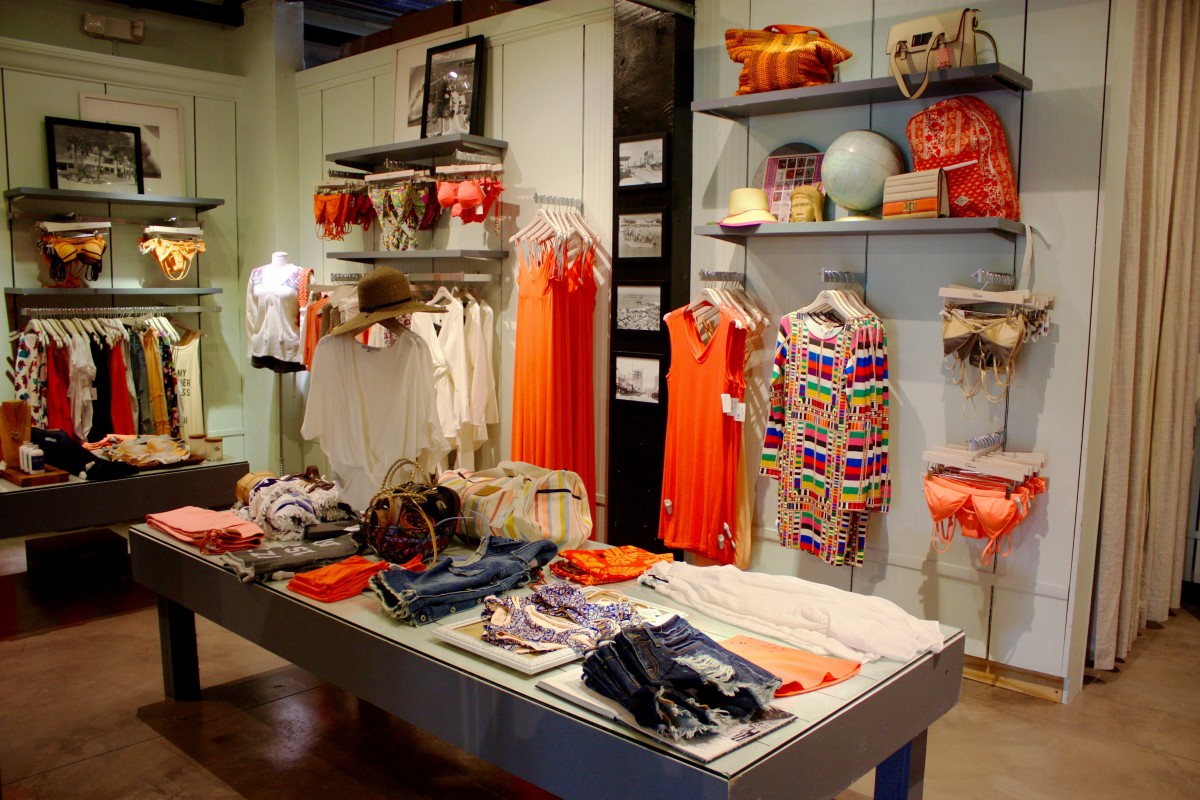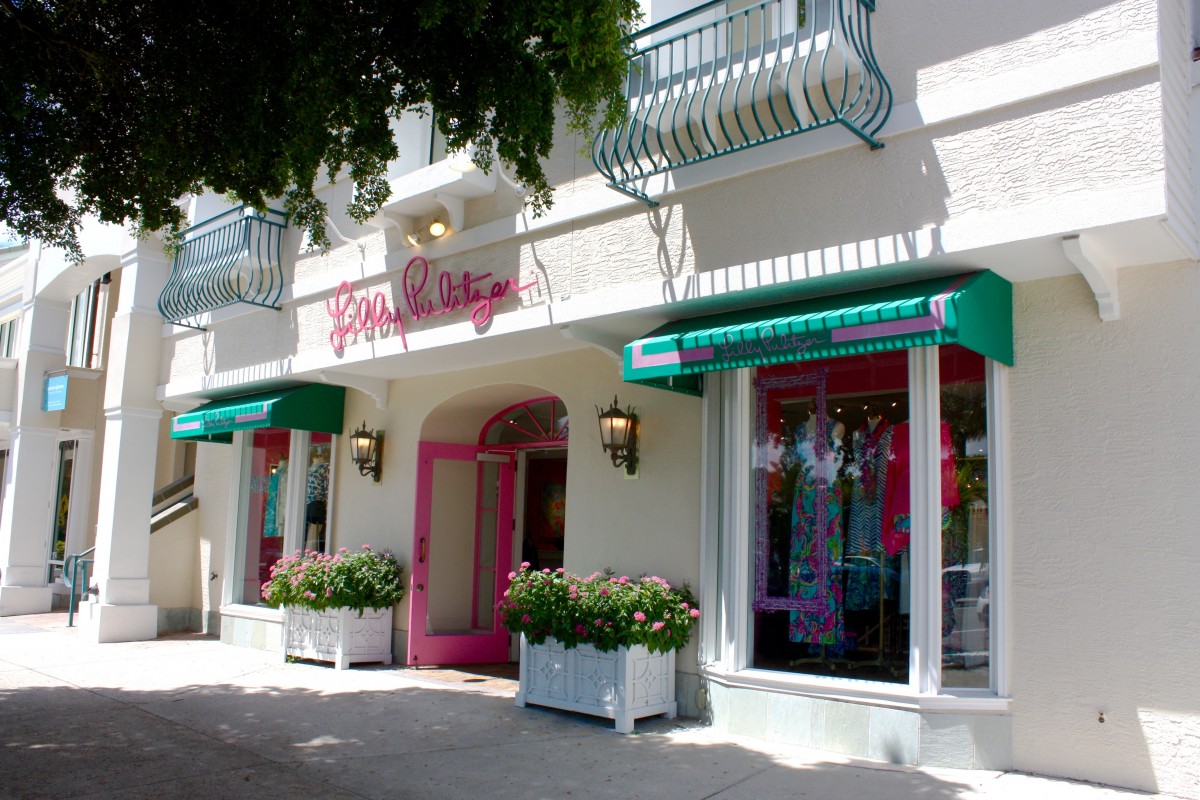 I love Lilly.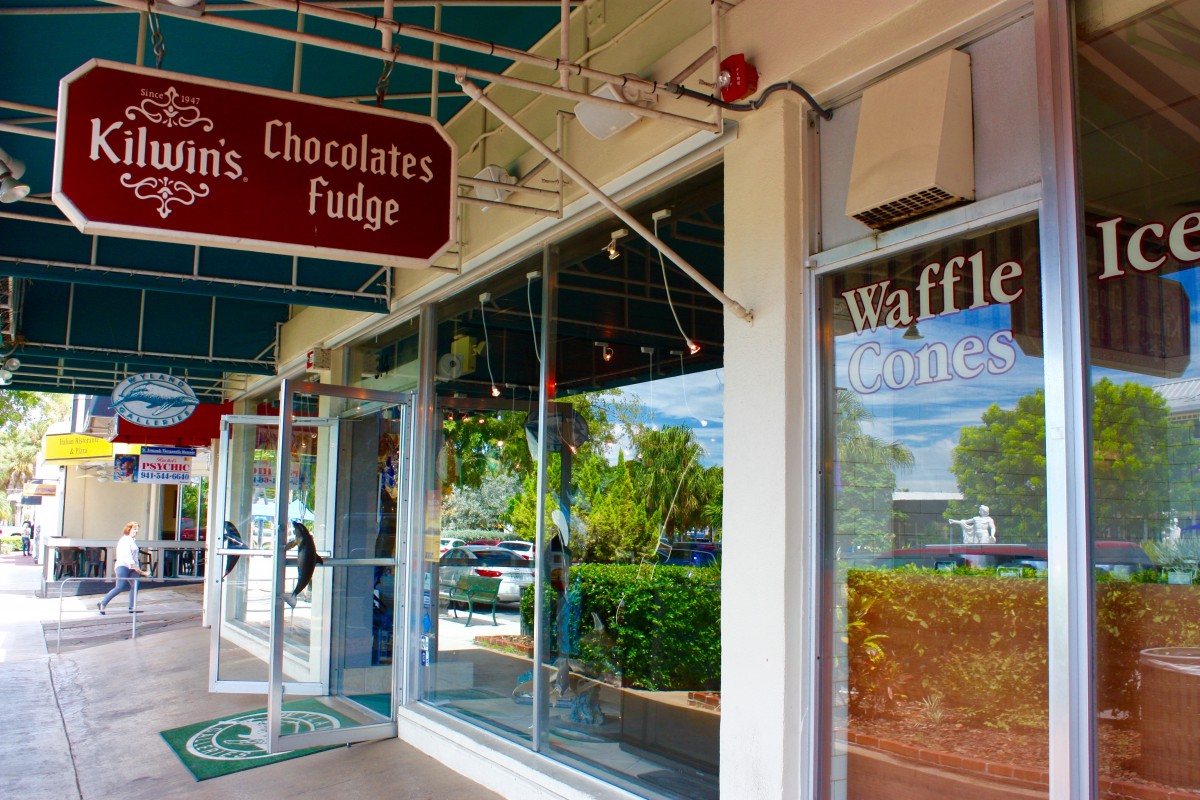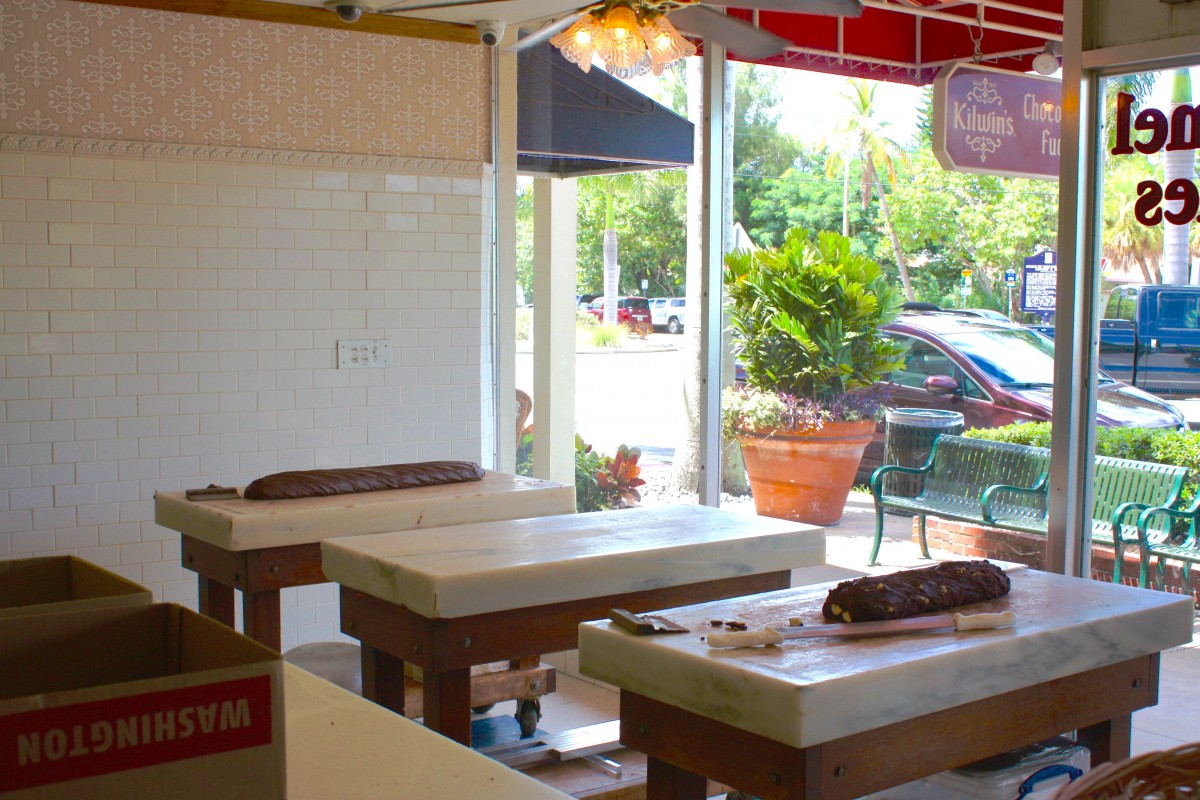 Fresh fudge anyone?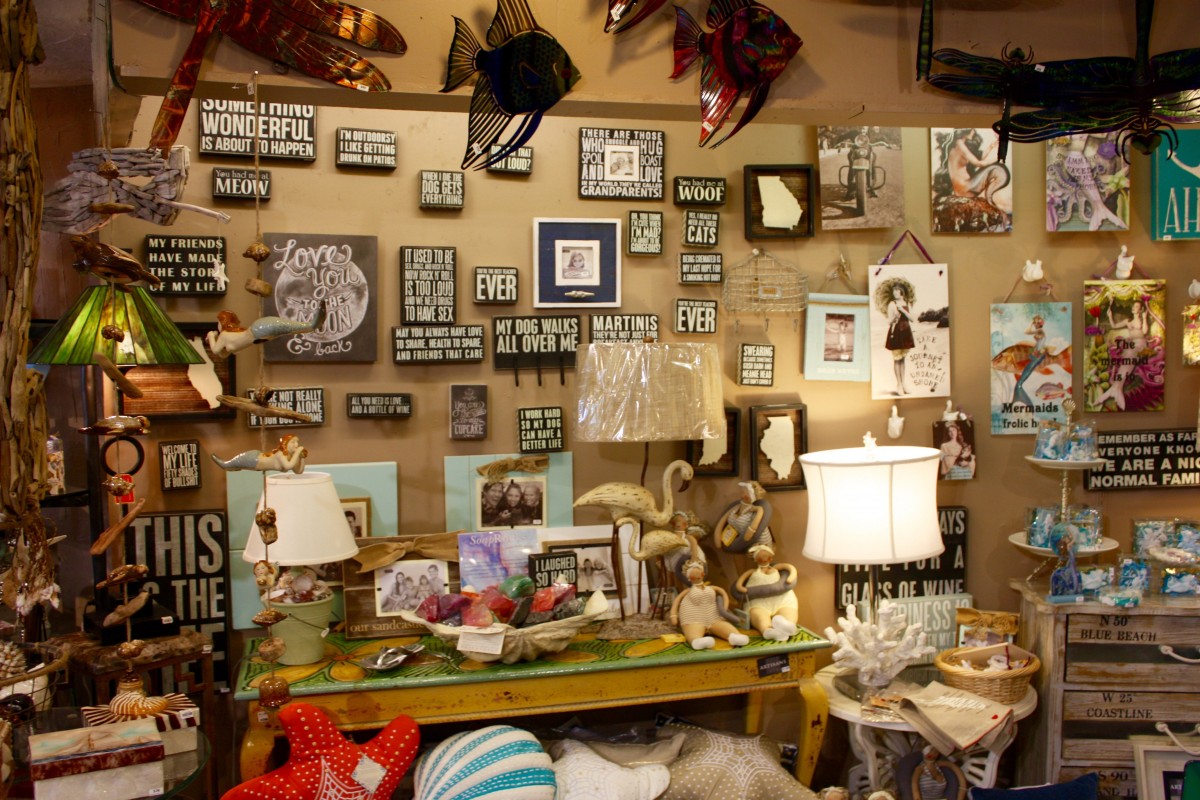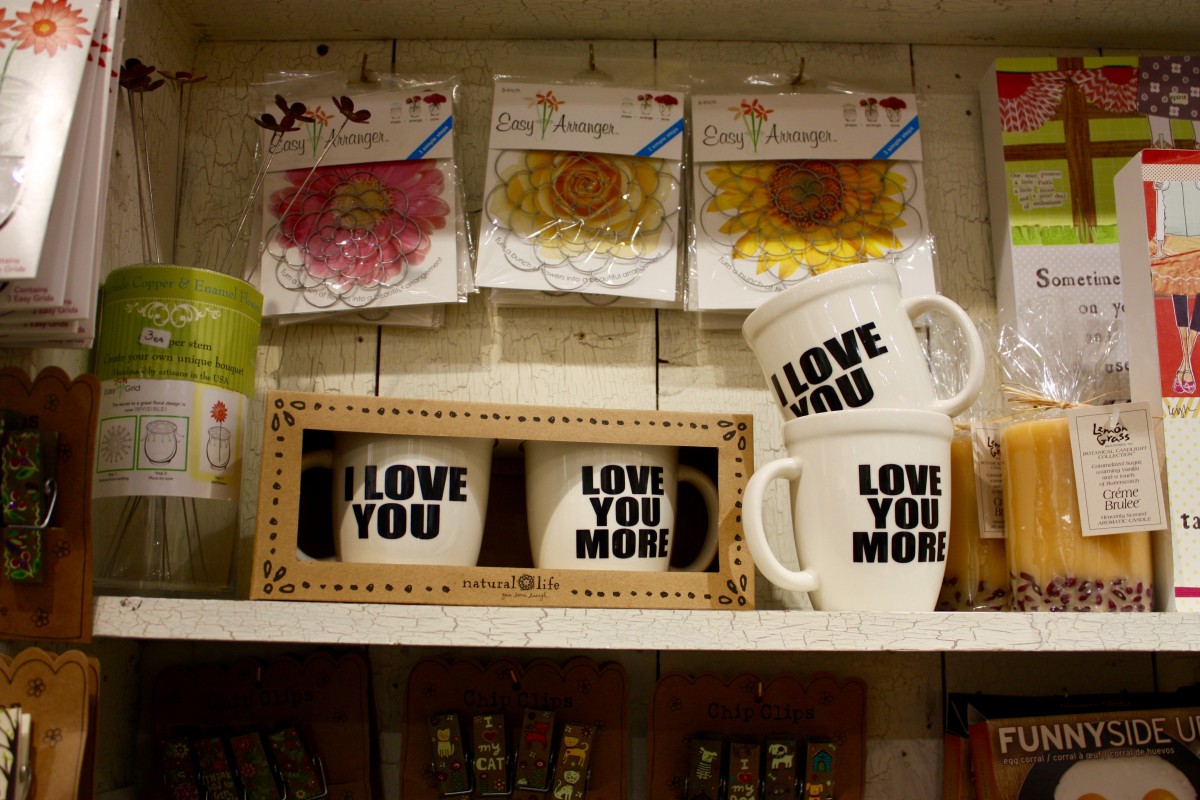 How cute are these mugs? I have a serious mug collection problem and was so tempted to bring these home.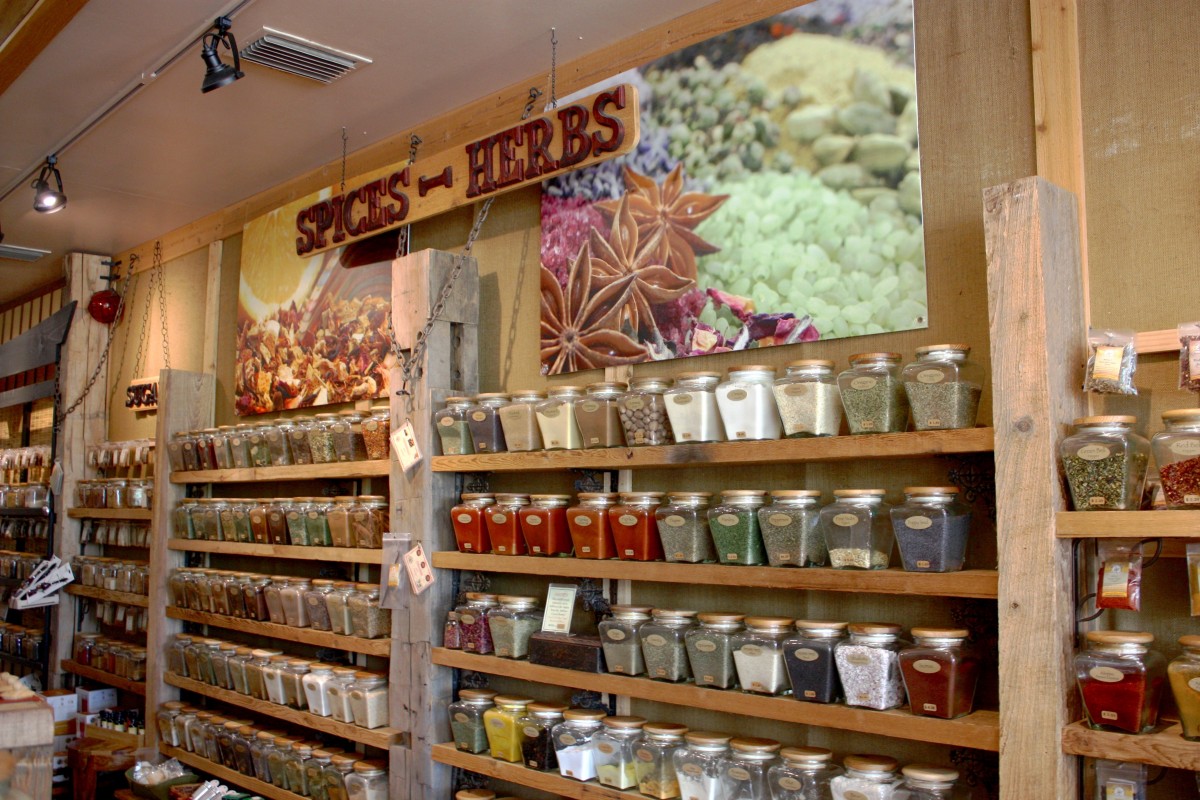 Josh would have had a field day in this store.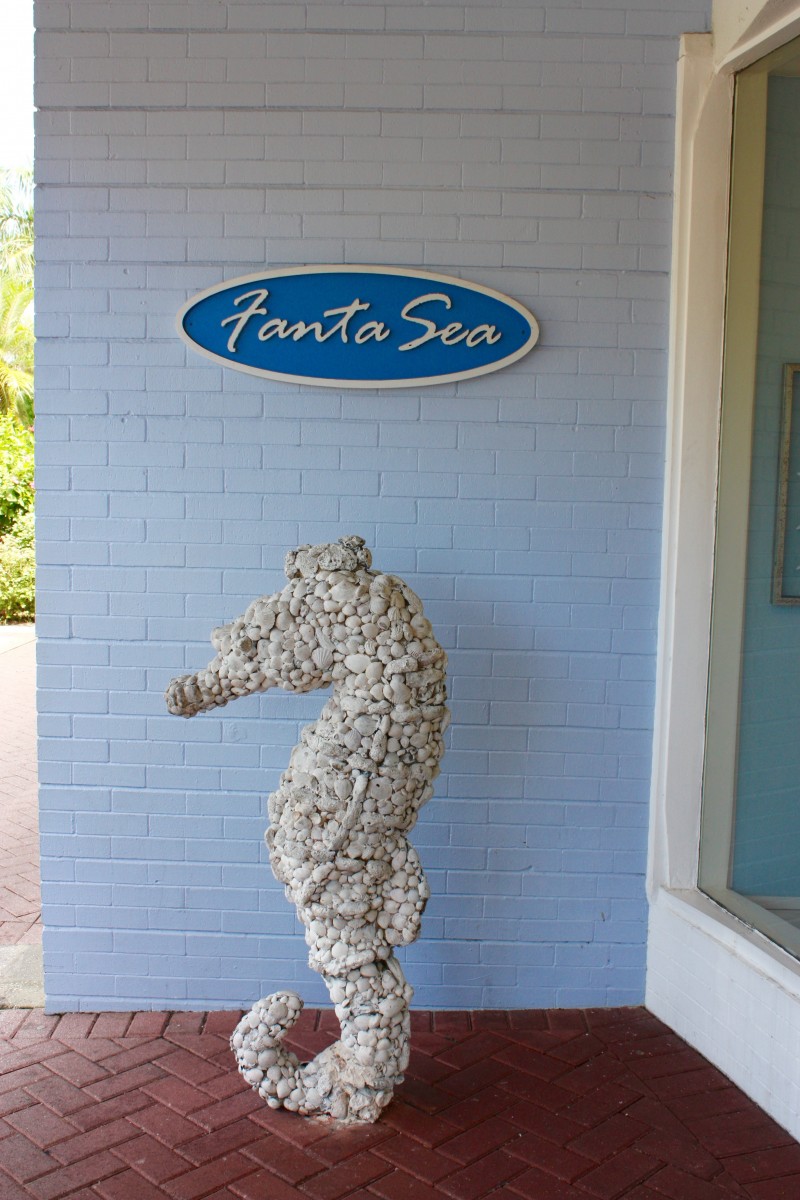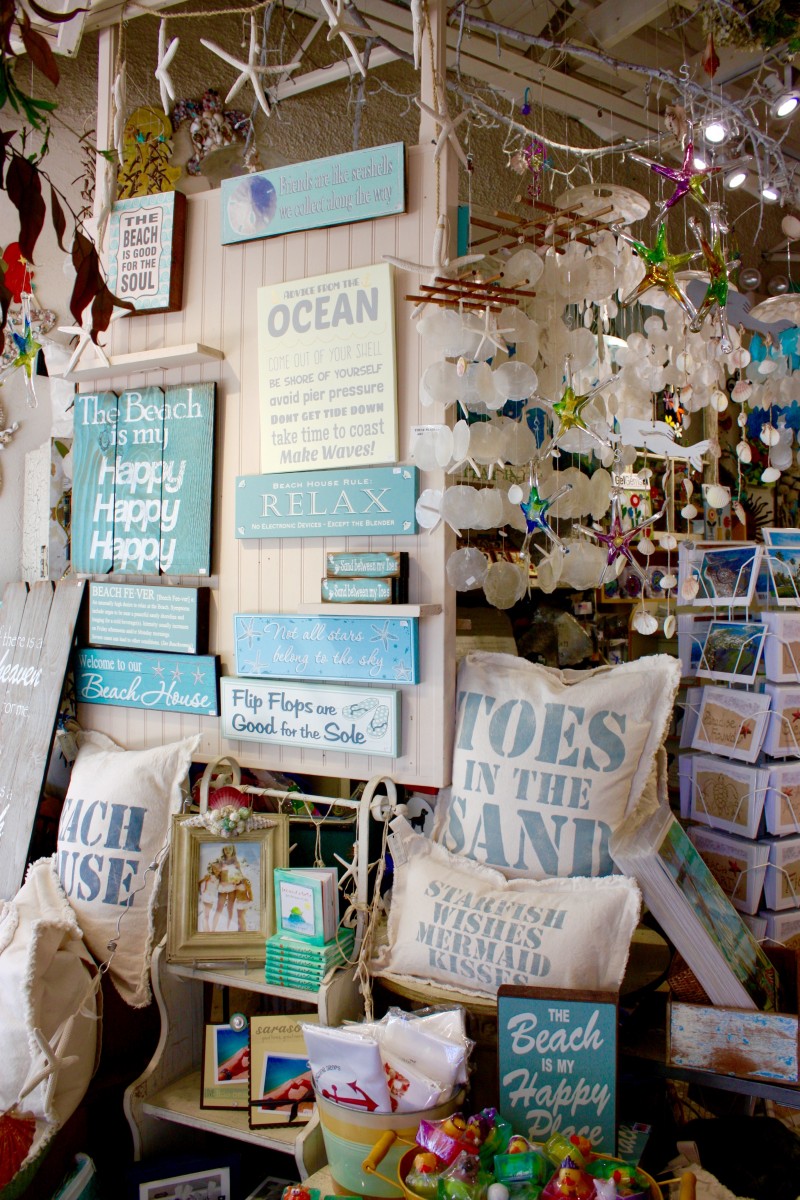 One day I will own a beach house and it will be filled with decorations like this and be my happy place. <3
And that was my trip to Sarasota, Florida! It was a fantastic time with good people in an absolutely beautiful location. There was so much fun stuff to do and insane amounts of delicious food. The beach will always have my heart. What I love about Sarasota is that there's so much for everyone. It's family friendly, there's a lot of culture for the older crowd, and it would be the perfect place to take a group of girlfriends or  couples for a week-long vacation. Now I just need to get planning! 😀
Questions of the Day: Have you been to Sarasota before? What's your favorite kind of pie? What was the highlight of your weekend?
A big thanks to Visit Sarasota for covering my traveling, lodging, and expenses on this trip!
SaveSave
SaveSave
SaveSave