Next week Josh has a work conference at Disney World that I am tagging along for. We will be spending a little over a week in the happiest place on Earth. I've been to Disney World twice before, but never for this amount of time. And I have never stayed at a hotel in the park. To say I'm excited is a huge understatement!
I've already started planning out what I'm going to pack and thought I would share my tips and tricks with you. Two quick caveats:
This guide is only useful if you're visiting Disney sans-kids. If you're bringing kids I'm sure you care way more about the park's stroller guidelines and nursing station locations than what kind of tennis shoes to bring. I can't wait to have the Disney experience with kids one day, but I'm a ways away from it at present.
I'm staying at a hotel that has a few pools to lounge by so I'm planning a few downtime days of day drinking by the pool. If you're going to Disney to do all the Disney stuff all the time, I'd worry less about bringing a pool bag and sundresses and way more on comfy clothes to walk the parks.
What to pack for Disney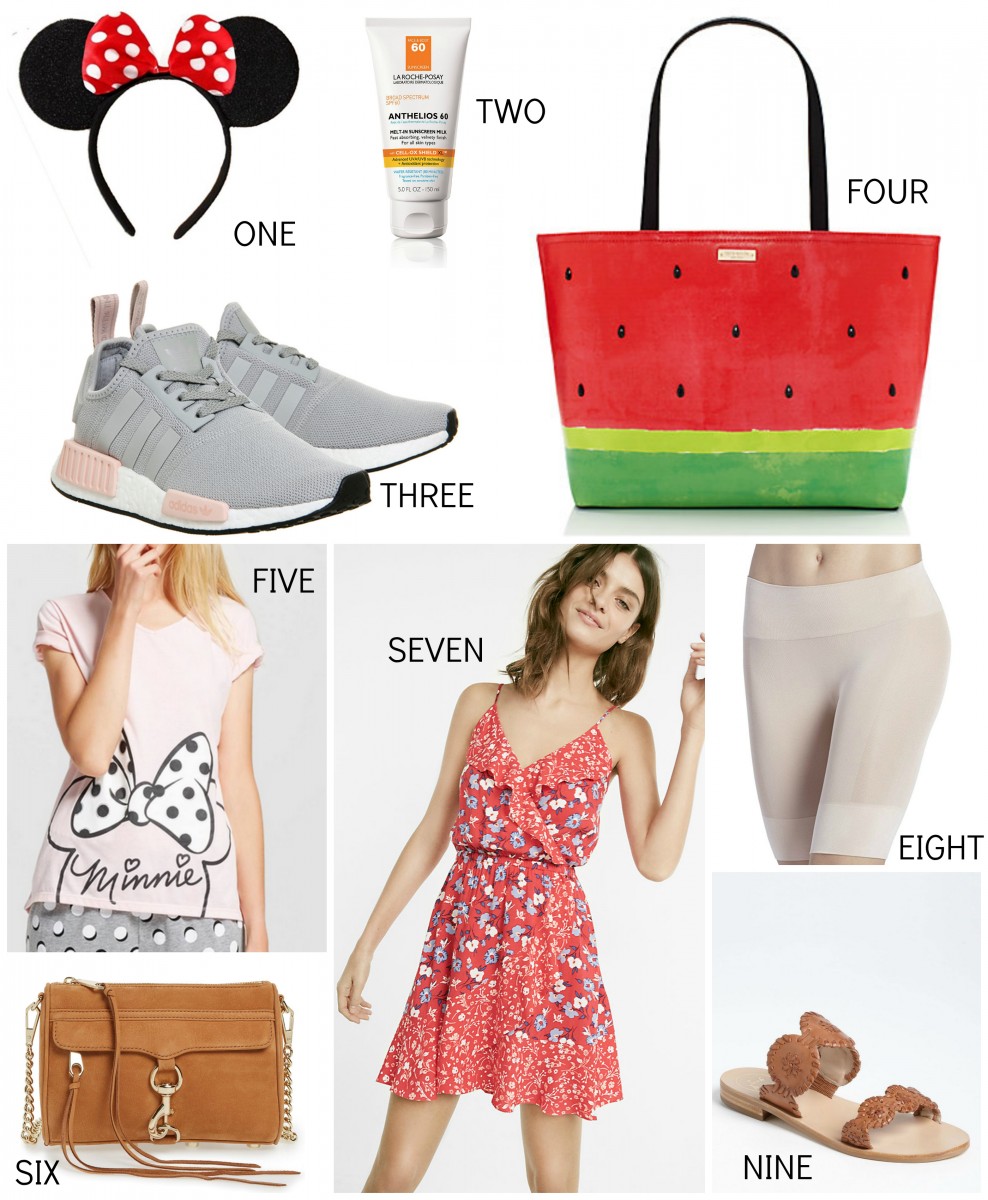 ONE – It's basically a requirement to rock some Minnie ears when you're in Disney. I mean when else can you do this in public and not get weird looks? I love the classic ones but there are a wide variety of Minnie ear designs out there. Picking these up before you hit the parks will save you a ton of cash.
TWO – Florida is the sunshine state. If you are pale like me that means sunscreen is a must. La Roche-Posay makes some of the absolute best to help protect you from both UVA and UVB rays. I use this stuff now so 40 year old me will thank me for my fabulous looking skin later. 😀
THREE – In Disney World you are going to be doing a lot of walking. Spare your feet discomfort by wearing shoes that are both practical and cute. I am obsessed with Adidas NMDs and love this grey and pink pair.
FOUR – I spotted this adorable Kate Spade bag while on our holiday cruise and knew I had to have it for Disney. It is the perfect pool bag and is on sale!
FIVE – Much like Minnie ears, visiting Disney is the time to go all out and wear all things Disney related. I picked up this top from Target, that is technically a PJ top, but is so soft and cute I don't care. I plan on rocking it with jeans (and my pink sneaks!) around the park.
SIX – While my watermelon bag is super cute for the pool it is way too big to bring to the parks. My rule when out and about on vacation is to bring the smallest bag you can fit everything you need in, and make sure it's a cross-body so your hands are free.
SEVEN – I live for cute sundresses in the summer and this one is perfect for hanging around the resort during the day and going out to dinner with Josh and his colleagues at night. Bonus: it's on sale!
EIGHT – I'm going to be real with you guys: walking in the summer heat can be brutal for girls who have larger thighs. Chub rub is a real problem! Whoever invented these lightweight, sheer skimmer shorts deserves to be a millionaire. They make it so I can walk around in dresses and shorts in the hot summer heat and not hate my life.
NINE – This is another pick that's perfect for time by the pool and going out to dinner. I first fell in love with Jack Rogers sandals freshman year of college. This newer double-strap style is everything I originally loved and more.
Questions of the Day: Have you been to Disney? What's your favorite park in Walt Disney World? Any other recommendations for what to pack for a Disney trip?