It's time for April's Three Cooks One Kitchen!
In case you aren't familiar Three Cooks One Kitchen is a monthly cooking installment Joanna, Hannah and I do. We pick one of our places to get together and a food theme we want to focus on. This month was at Joanna's house and involved my new favorite obsession: zoodles!
I got a spiralizer
 for Christmas and have been using it religiously ever since. You can spiralize just about any veggie and make it into a pasta-like meal! When Hannah suggested us making a zoodle dish for April I was immediately on board. They're tasty, healthy, and super easy to make!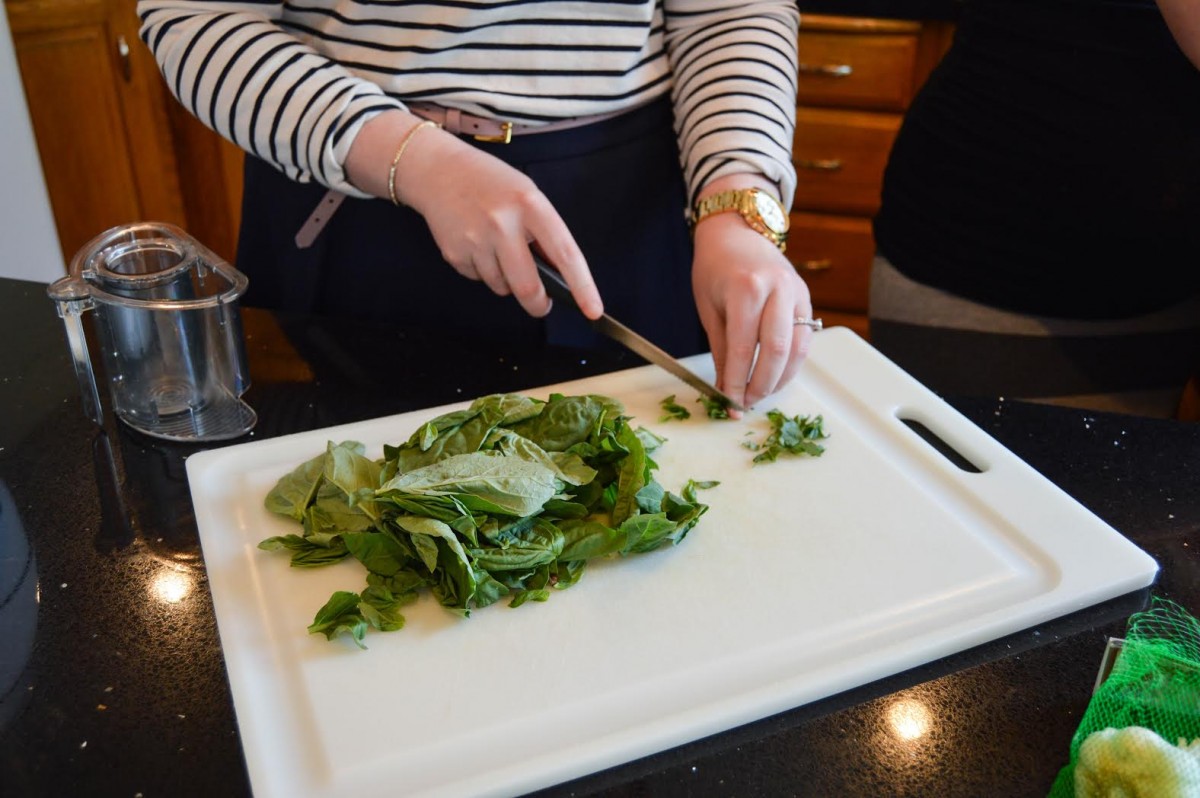 We decided to concoct a pesto and peas zoodle dish so as soon as we unpacked all of our stuff we got to work on the pesto.
Pesto Recipe
2 cups basil leaves
3 cloves garlic, peeled
1/3 cup pine nuts
1 cup olive oil
1/2 cup fresh grated Parmesan cheese
Roughly chop basil leaves.  In a food processor, combine garlic and basil.  Slowly drizzle in 1/2 cup olive oil while food processor is on low.  Stop often to scrape down the sides.  Gently blend in remainder of olive oil and the pine nuts.  When all ingredients are well-combined, add in cheese and blend until just combined.  Do not over blend cheese.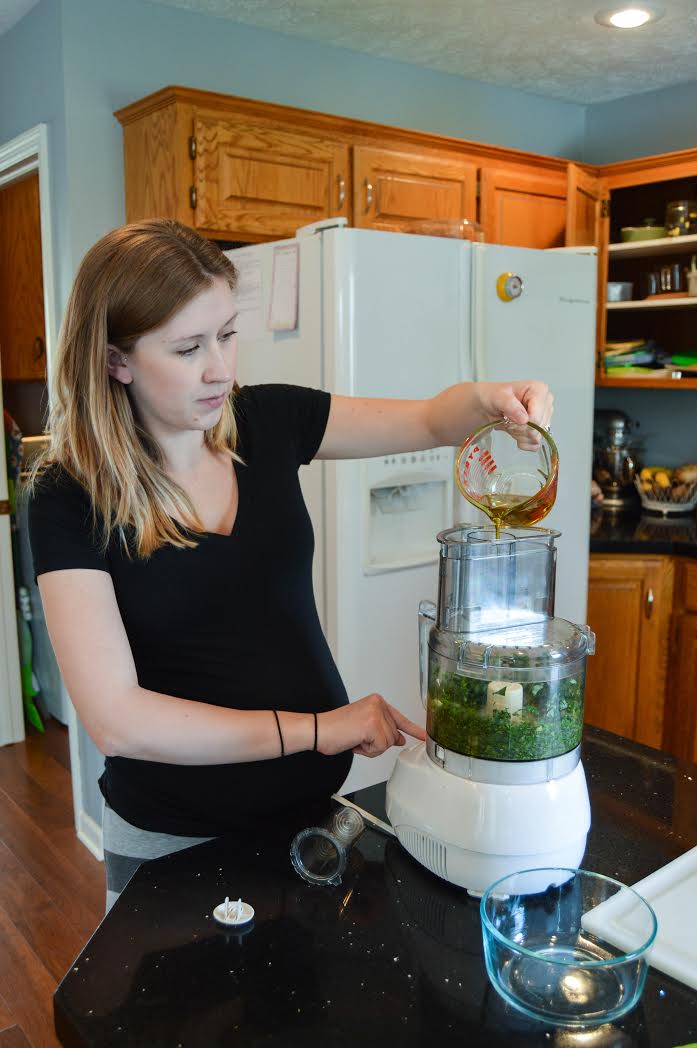 We used a food processor to mix ours all up but you could use a high-quality blender too. Once it's all mixed the pesto is supposed to sit for an hour but ain't nobody got time for that. It was lunch time! We only let ours sit for 20 minutes and thankfully it still tasted delicious.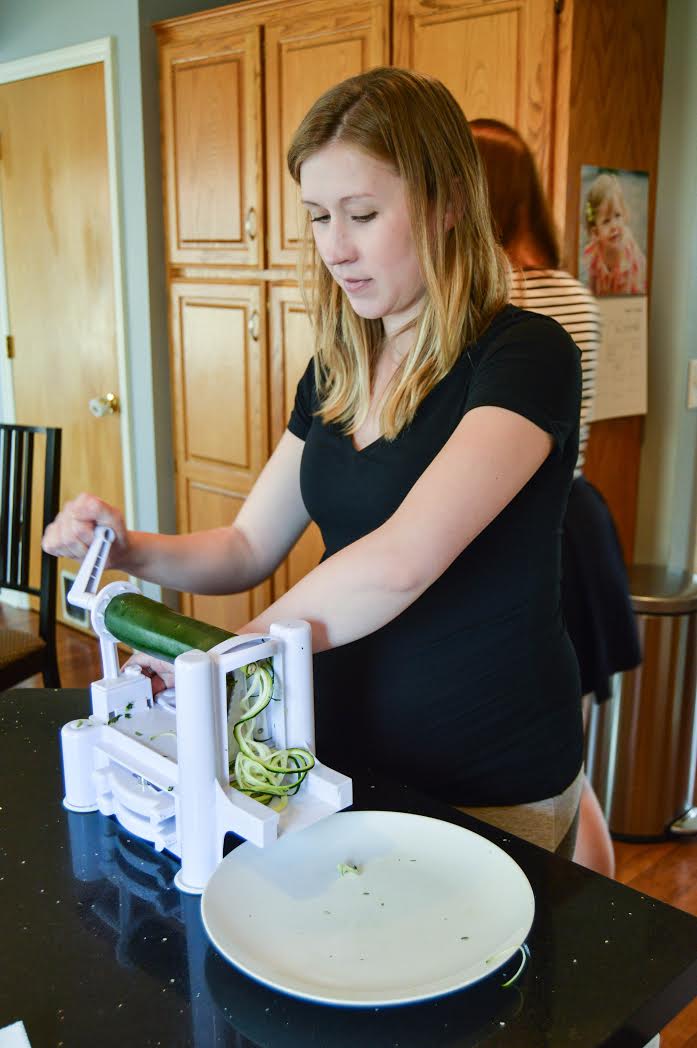 While the pesto sat we all took a turn spiralizing a zucchini. We used three zucchinis for this recipe and it worked out perfect. The girls had never used a spiralizer before so it was fun to show them how to use it. It feels so strange at first but once you get the hang of it you feel like you've been doing it forever.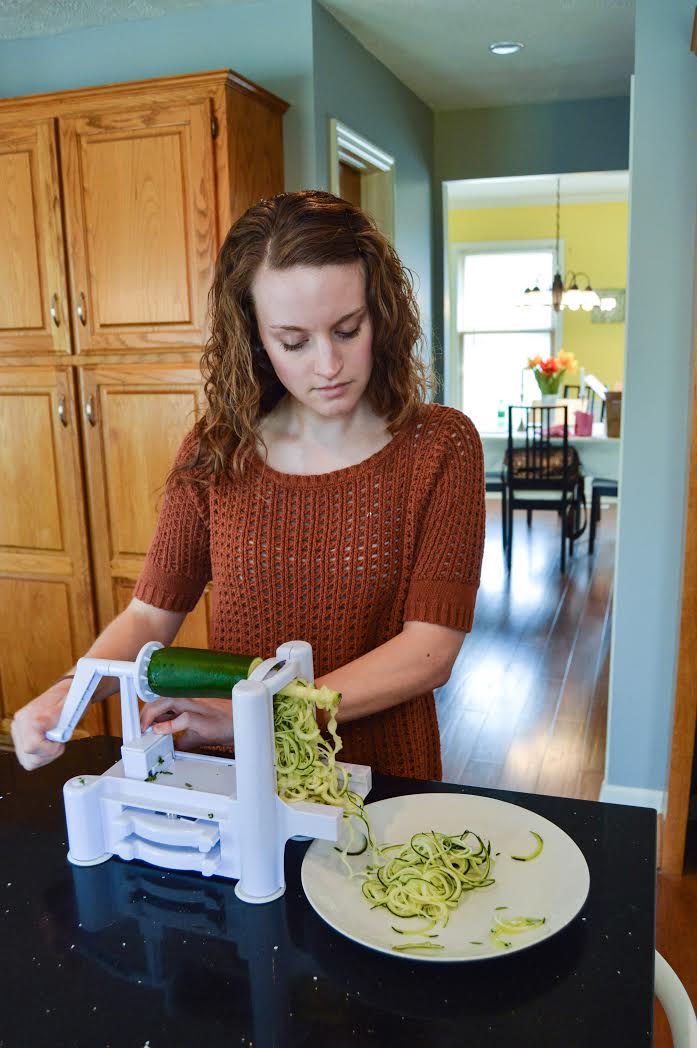 Hannah zoodling like a pro.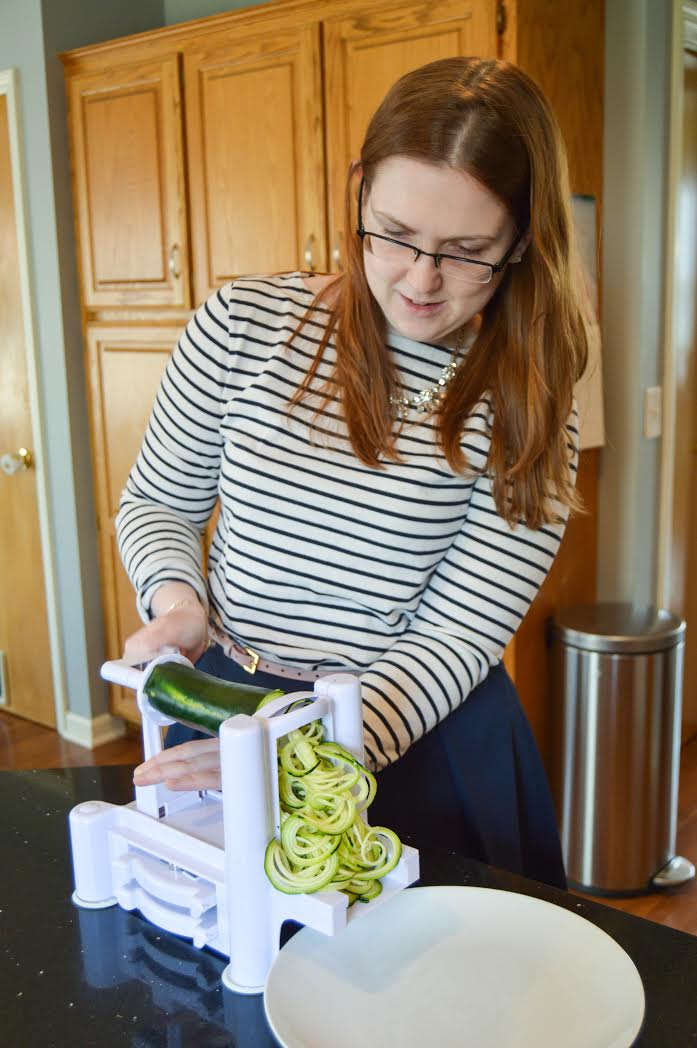 These zucchini spirals totally remind me of the wig I used to wear when I Irish Danced. So many curls!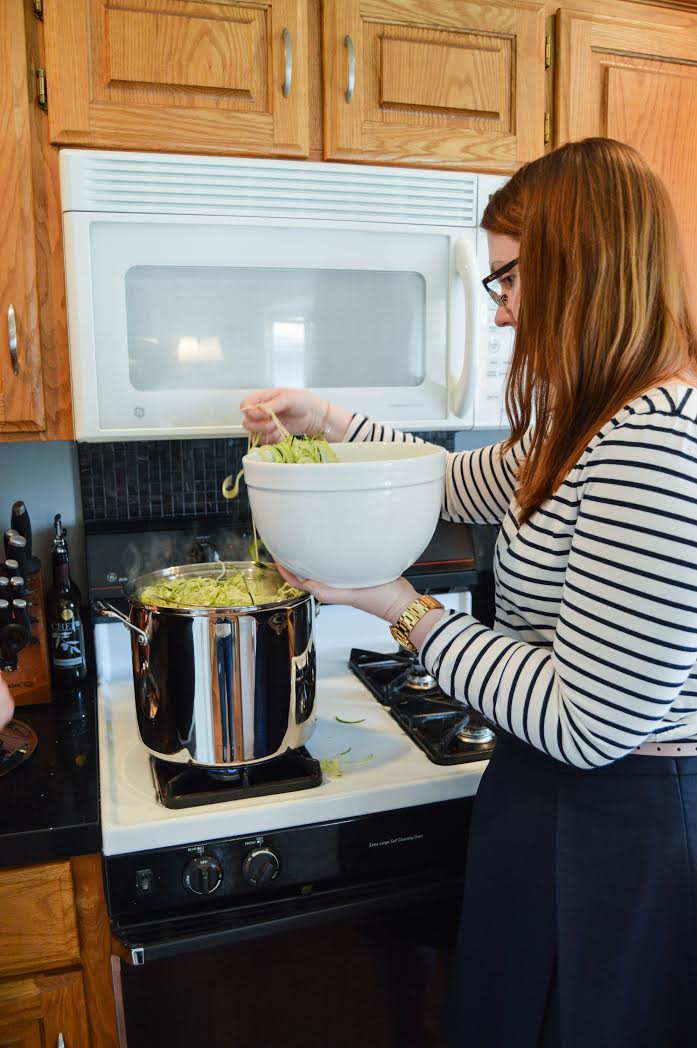 After the zucchini is all zoodled transfer it to a steamer and steam for four minutes.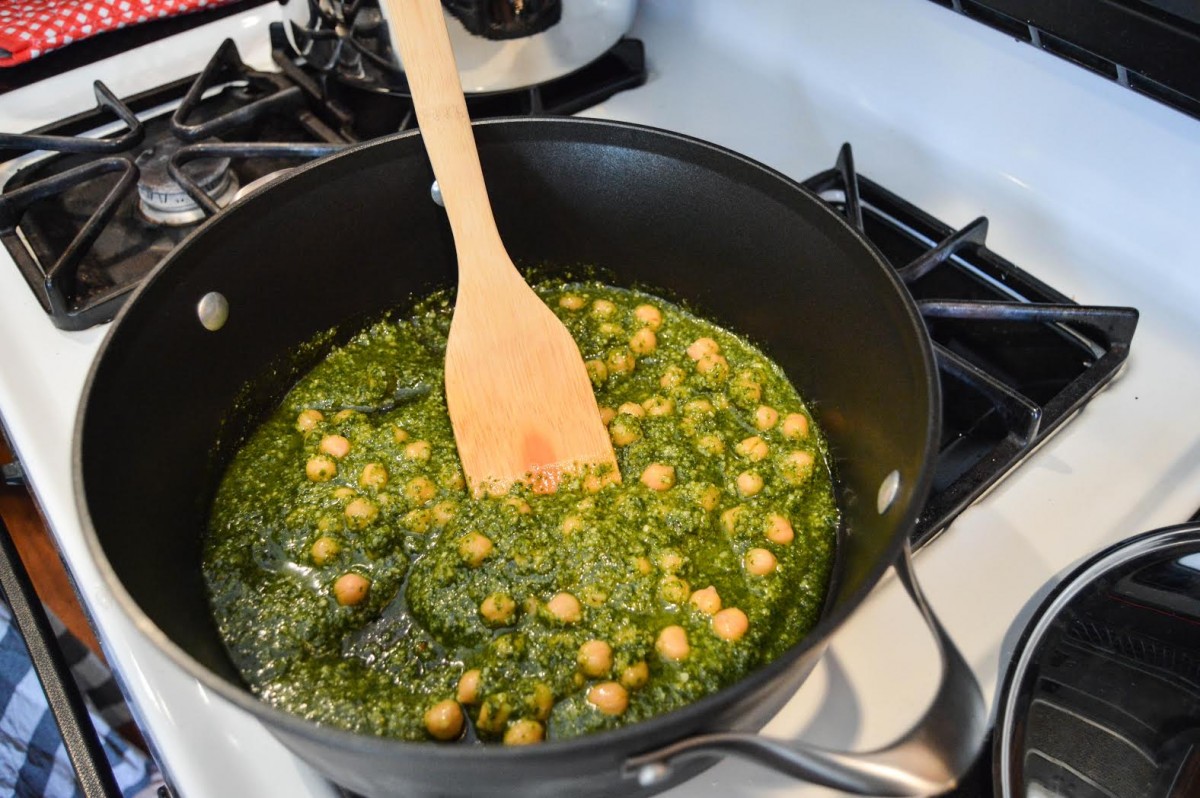 Meanwhile heat the pesto to a simmer in the sauce pan and add in your toppings. We did chickpeas.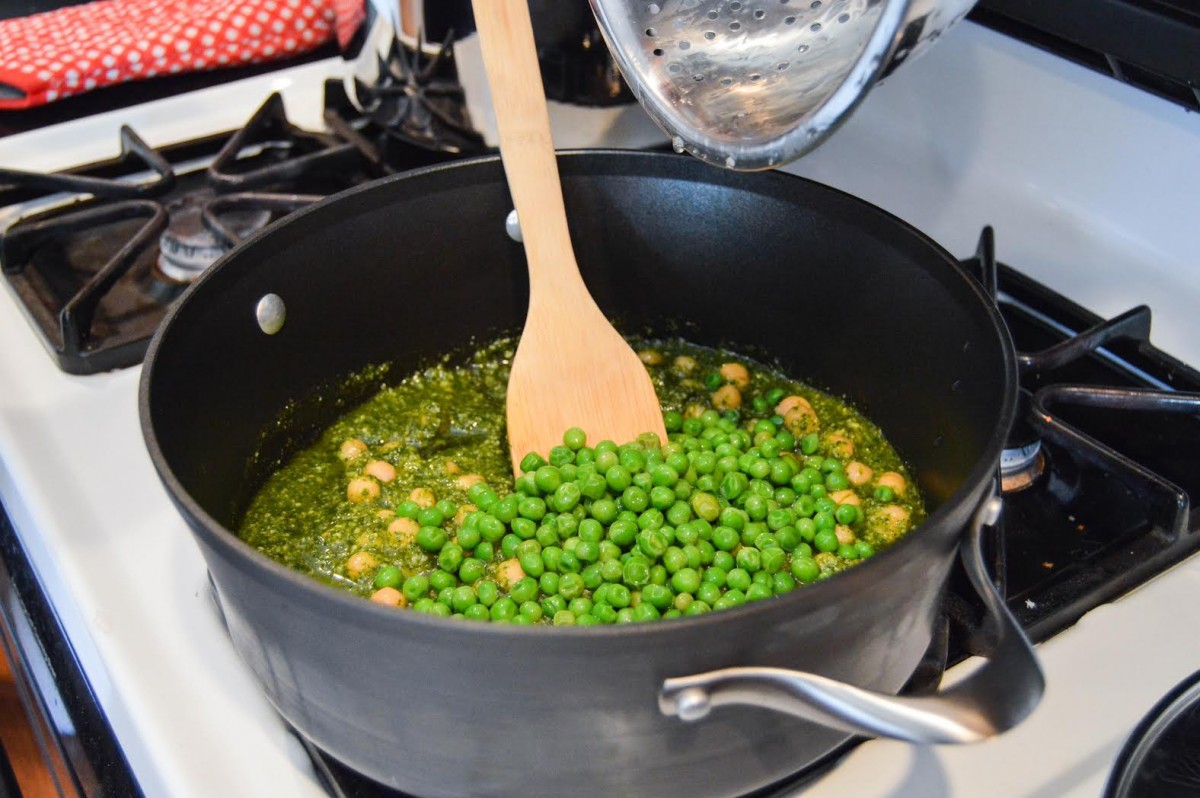 And a whole lot of peas! Yay for pea protein!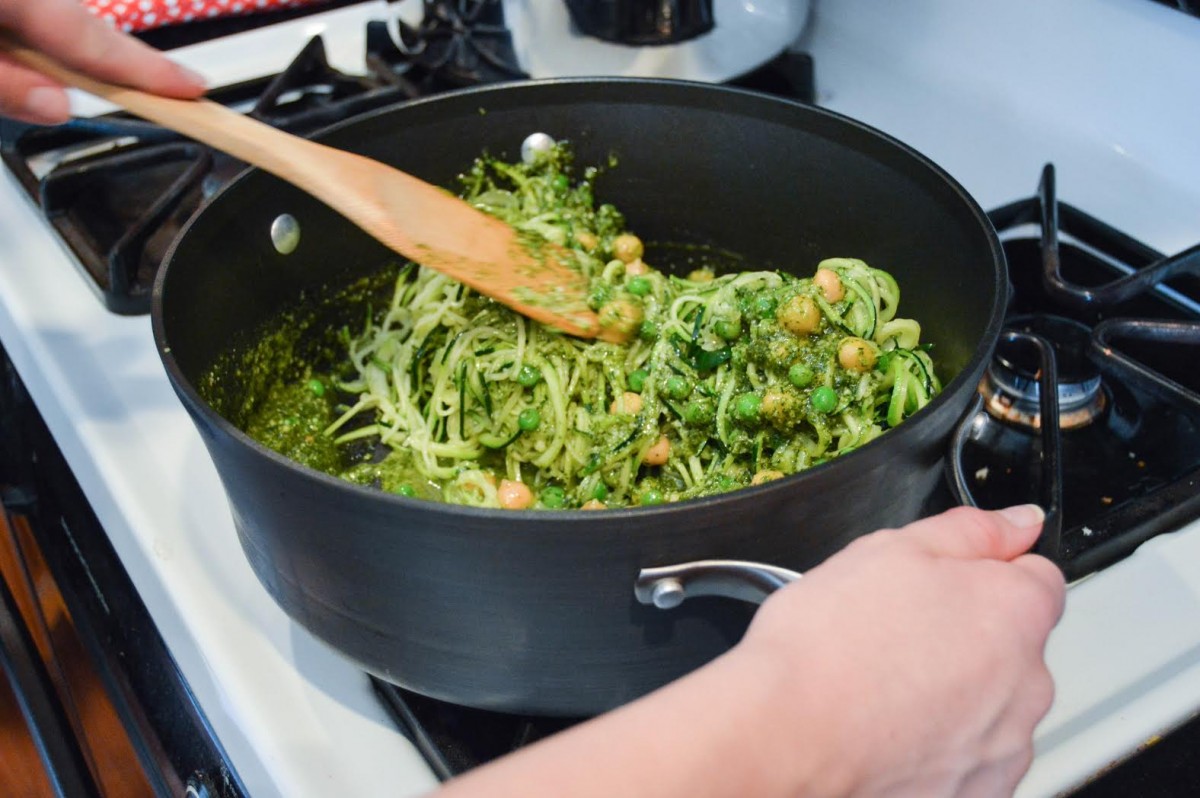 Once the zoodles are all done steaming and the sauce has simmered, mix it all together and cook for ten minutes in the saucepan.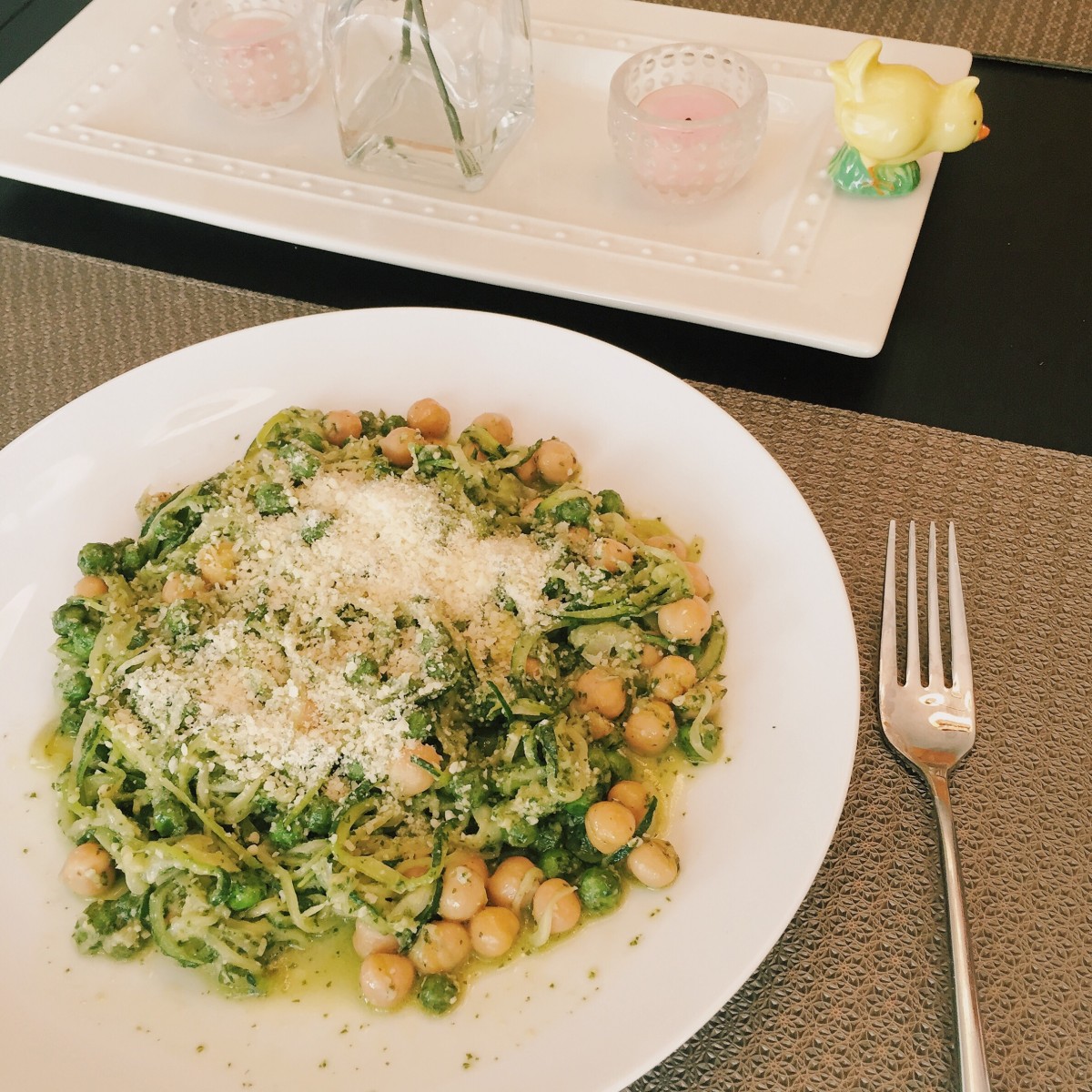 Then plate and top with fresh parm. It's such a delicious meal and a healthy one too. Our April 3 Cooks 1 Kitchen was a wild success!
To check out Hannah and Joanna's recaps of the day check out their posts here:
Questions of the Day: Have you zoodled before? Are you a fan of pesto? I love to use it as a dip for crackers!