I recently returned from a two-week trip to Finland where I learned  how to sauna like a true Finn. Learn the health benefits of using a sauna, what to wear in a sauna, how long to stay in sauna, and what the heck ice swimming is. (Plus a video of me trying it for myself!) Finnish sauna is truly an experience like no other.
Before traveling to Finland, my only experience with saunas were at spas. There is usually a meditation room next to the locker room with an adjoining sauna and steam room. After getting a spa treatment I would be encouraged to spend time in these rooms to continue relaxing and unwinding.
Not knowing what to do, I'd usually walk into the sauna for a minute, start to get really hot, skip on over to the steam room, hang out there for a bit, then grab a glass of water and be on my way.
During my time in Finland, I learned a lot about sauna. Suffice it to say, saunas are a huge deal in Finland. There are only 5.4 million people in Finland but over two million saunas. Most homes, hotels, and apartment buildings have saunas. And there are public saunas everywhere.
Saunas are an essential part of Finnish culture and a tradition with a lot of documented health benefits. Thanks to my two weeks in Finland and my new Finnish friends, I not only learned about sauna, I learned how to sauna like a true Finn.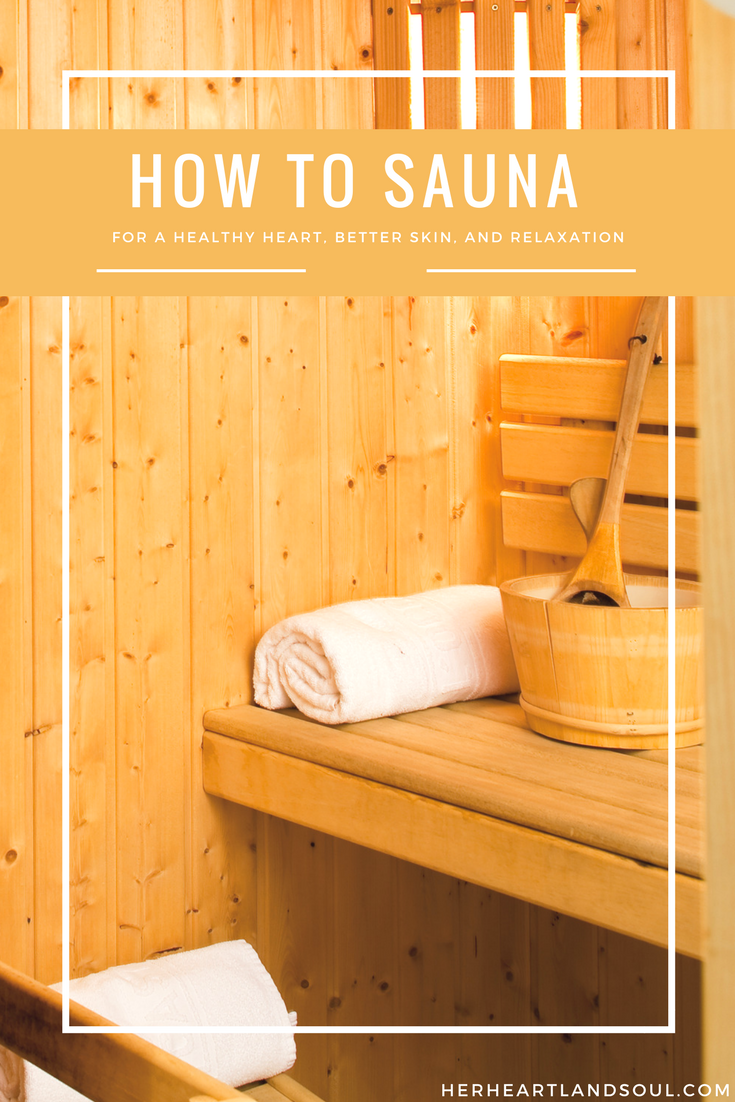 Pin me!
How to sauna like a true Finn aka Sauna 101
What is sauna?
Saunas are small, wooden rooms, heated to temperatures upwards of 212 °F (or 100 °C) to produce dry heat, designed to cause the body to sweat. Steam is added to the room by pouring water on heated rocks, a practice known as löyly. There are wood burning saunas, electric saunas, and smoke saunas. I was lucky enough to try all three types of saunas while in Finland and felt like they were all pretty much the same in terms of experience and effect.
The health benefits of sauna
Aside from promoting relaxation, the high temperature of saunas increase blood flow throughout your body. This causes a decrease in blood pressure, which promotes cardiovascular health. Saunas are also known to relax sore muscles, flush toxins, cleanse the skin, burn calories, and help fight off illnesses.
I actually had a head cold when I arrived to Finland and my Finnish hosts all encouraged me to sauna with a cold to help fight it off. They were also quick to tell me that while sauna is great for a head cold, it is not safe for those with a fever or the flu.
Important note: If you have any serious or chronic conditions you should talk to your doctor before going to sauna as what is beneficial to most could be detrimental to you.
What to wear in a sauna
True Finns sauna naked when at home or with groups of same-sex friends. I wish I had that Finnish body confidence, but this American wore a bathing suit to every sauna. Going to sauna in a bathing suit or towel is perfectly acceptable in most Finnish saunas. Since I was invited to Finland on a press trip with a bunch of bloggers from around the world, bathing suits were actually encouraged.
How long to stay in sauna
If you ask a Finnish person how long you should stay in a sauna, they will always tell you, "as long as it feels good." For me, this was ten to fifteen minutes. For others it could be more or less, but your body will tell you when you've had enough of the heat and it's time to leave. It's recommended to drink a big glass of water after leaving the sauna.
How often you should sauna
Finnish people sauna anywhere from weekly to daily. While I wish I could sauna that often now that I'm back at home, I want to try and sauna every time I'm at a spa or gym that has a sauna.
Ice swimming: an important step in Finnish sauna
If you want to sauna like a Finn, you don't just sit in the sauna and get hot. You alternate between the hot sauna and a frozen lake/pool/shower to cool you off. Hardcore Finns skip the cold water and just roll around in the snow. (Not kidding!) While it sounds crazy, its incredibly invigorating, and like the original version of cryotherapy. (Just make sure to not dunk your head under water!)
Here is a video of me trying ice swimming in Finland for the first time:

It was 26°F!
Please note that while ice swimming has a lot of benefits, it also has a lot of dangers and is not recommended for those with heart conditions or other serious conditions. Please talk with your doctor before trying ice swimming for yourself.
The four steps of Finnish sauna
1. Cool yourself down via a cold plunge (into a lake, pool, bath, or fresh snow)
2. Shower with warm water to clean yourself off and warm up your feet
3. Sit in the hot sauna, and if available, lightly hit your skin with a "vihta", or bundle of fresh birch branches to promote circulation in the body
4. At this point you can either conclude your sauna experience with a warm shower or repeat steps one through three. These steps can be repeated for as many times as it feels good for your body. Happy sauna!
Questions of the Day: Are you a fan of sauna? Have you ever been to a Finnish sauna?
Photo credit: Hôtel Occitan Castres on Best Running / CC BY-ND
SaveSave
SaveSaveSaveSave