It's time for part two of decorating my office! If you're just now checking in make sure to read part one first. Alright, let's get back to color selection and my room reveal!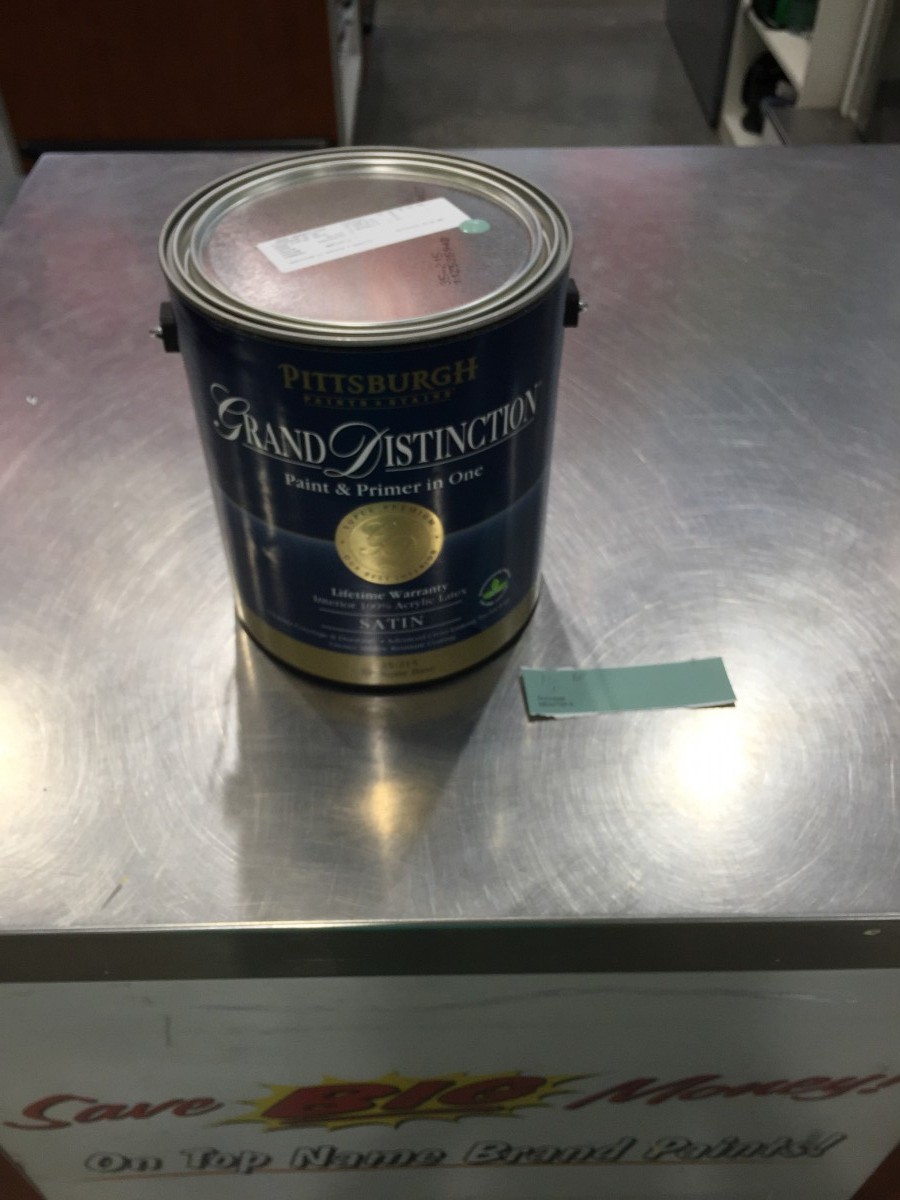 So we ended up choosing Donnegal for my office accent wall color. I loved the beautiful blue shade. We went with Pittsburgh Paints & Stains Grand Distinction Interior Paint. It's a paint and primer in one which is amazing! We went with the satin finish and I love how it has a little shine to it without being overwhelming.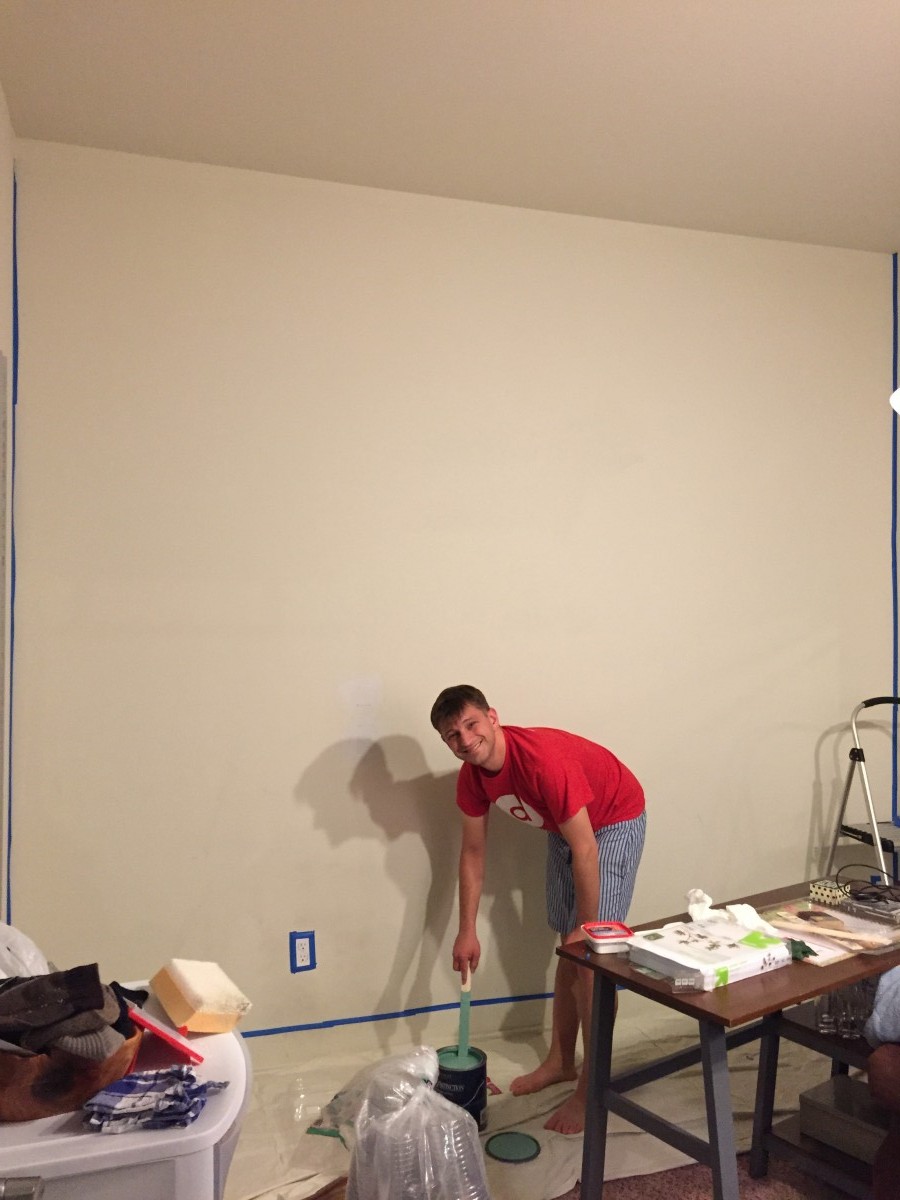 When we got home with our paint we were so excited we immediately got started painting. Here's what the room looked like before we did anything to it.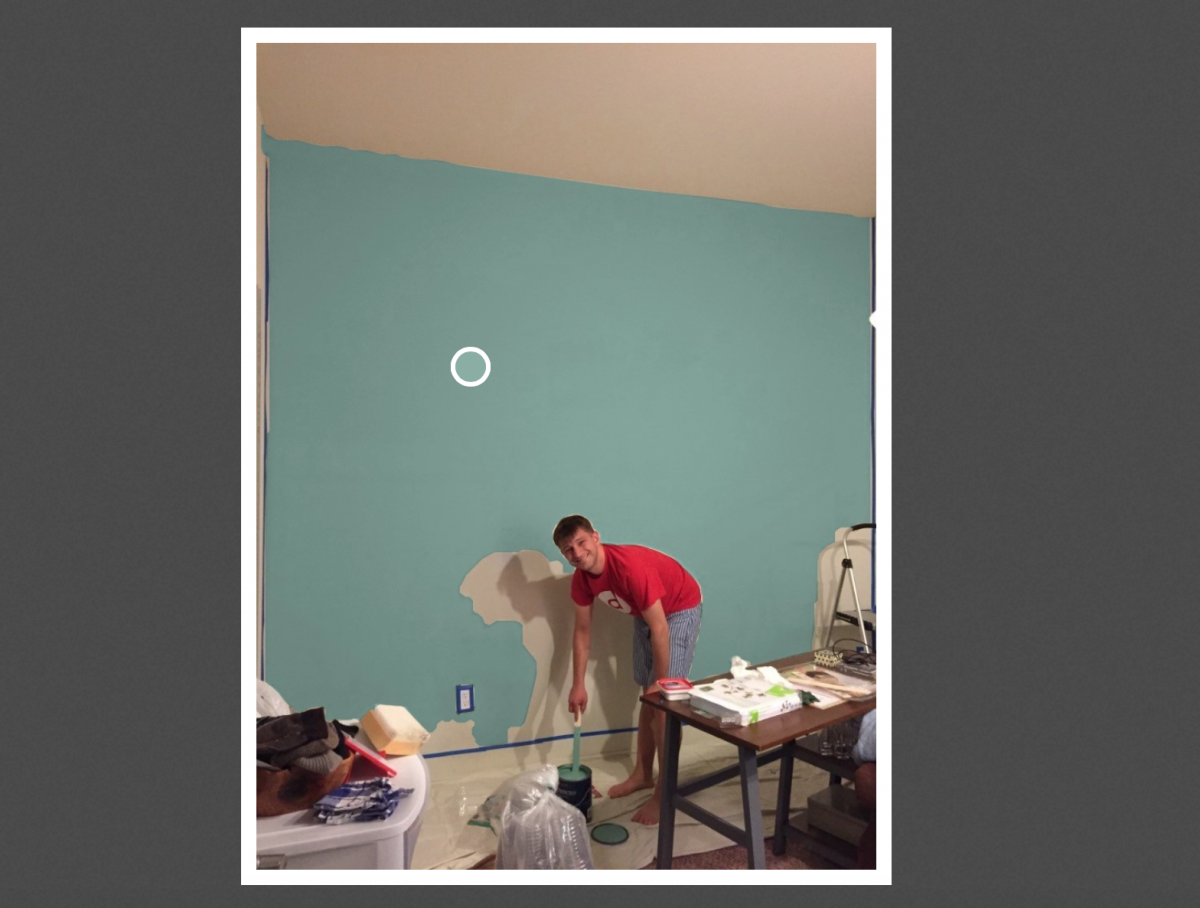 And here's a digital representation of what the room would look like using Pittsburgh Paints and Stains' Online Paint Color Visualizer. I thought this was such a cool feature!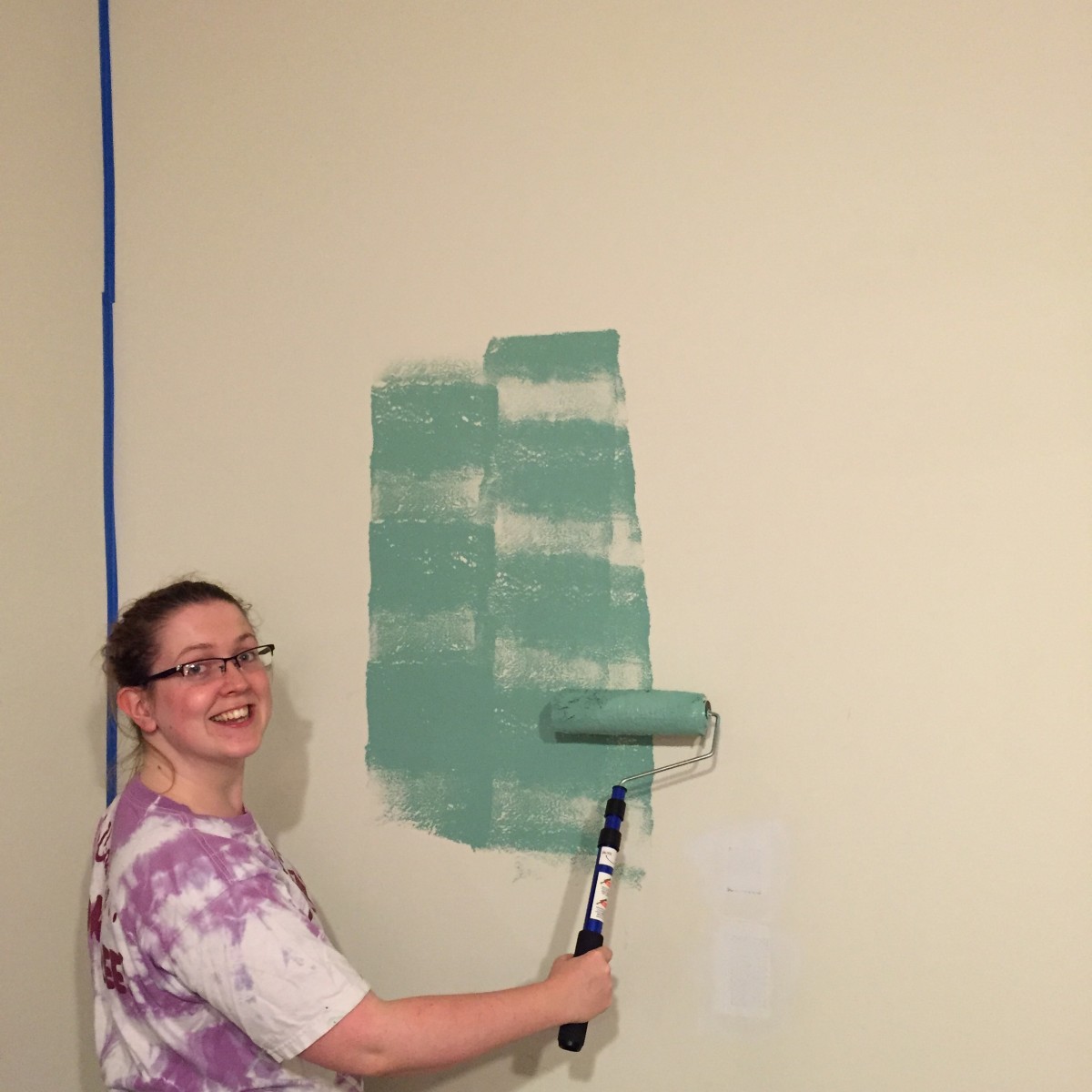 Here I am putting on the first coat of non-virtual paint in my new office! Can you tell I'm excited? 😉 I was amazed at how quickly the painting process went. Two coats and we were done!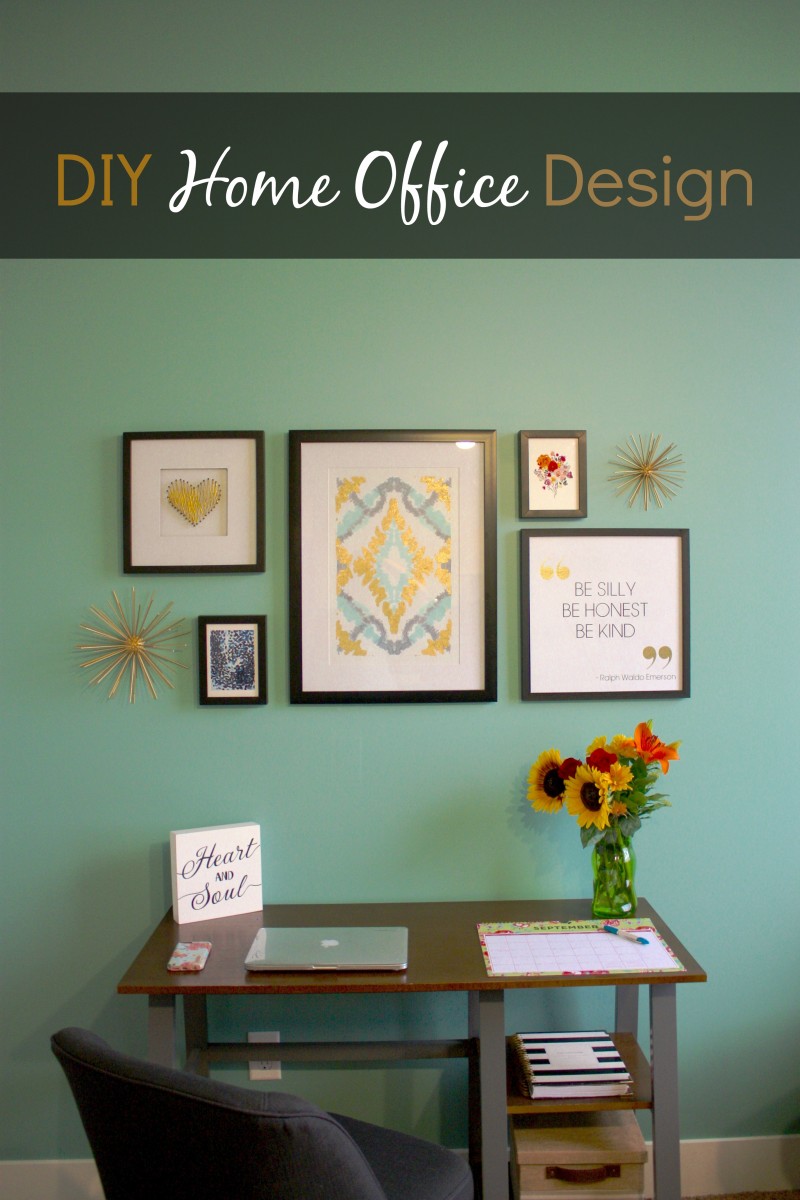 As soon as the paint went on the wall I knew it was the perfect color. My mind started reeling with ideas for how to decorate it. This was my first real decorating project for a room of my own and I wanted to make it special without spending a ton of money. I went to Target and Hobby Lobby to get some accessories to help infuse a little bit of my personality into the room. I love gold so I had fun adding some gold accents to the room. While this is definitely a feminine office I tried to not go overboard since Josh does live here with me. 😉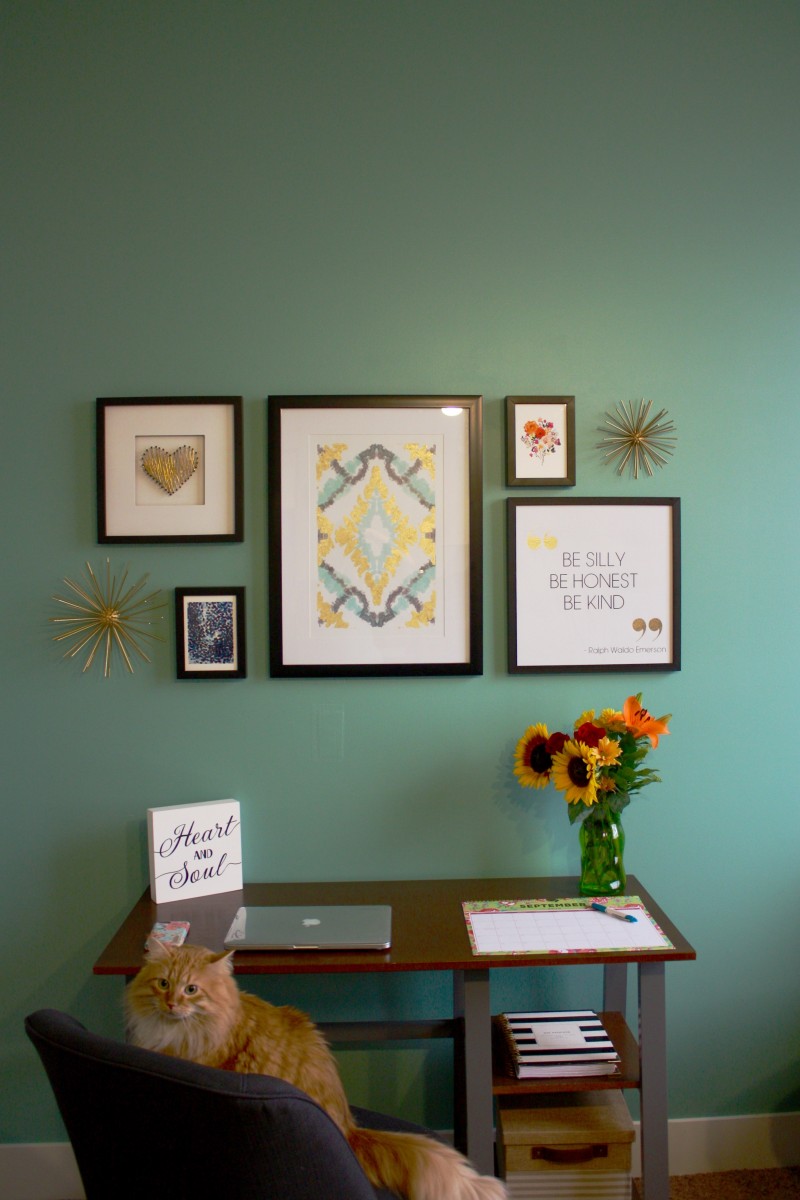 Punkin was a big fan of the room and immediately claimed this chair as his own.
I really like how the blue wall helps the grey, black, and brown play nicely in this space. Josh has a brown chair from his bachelor days that I wanted to incorporate into the room and I think it looks great against the blue.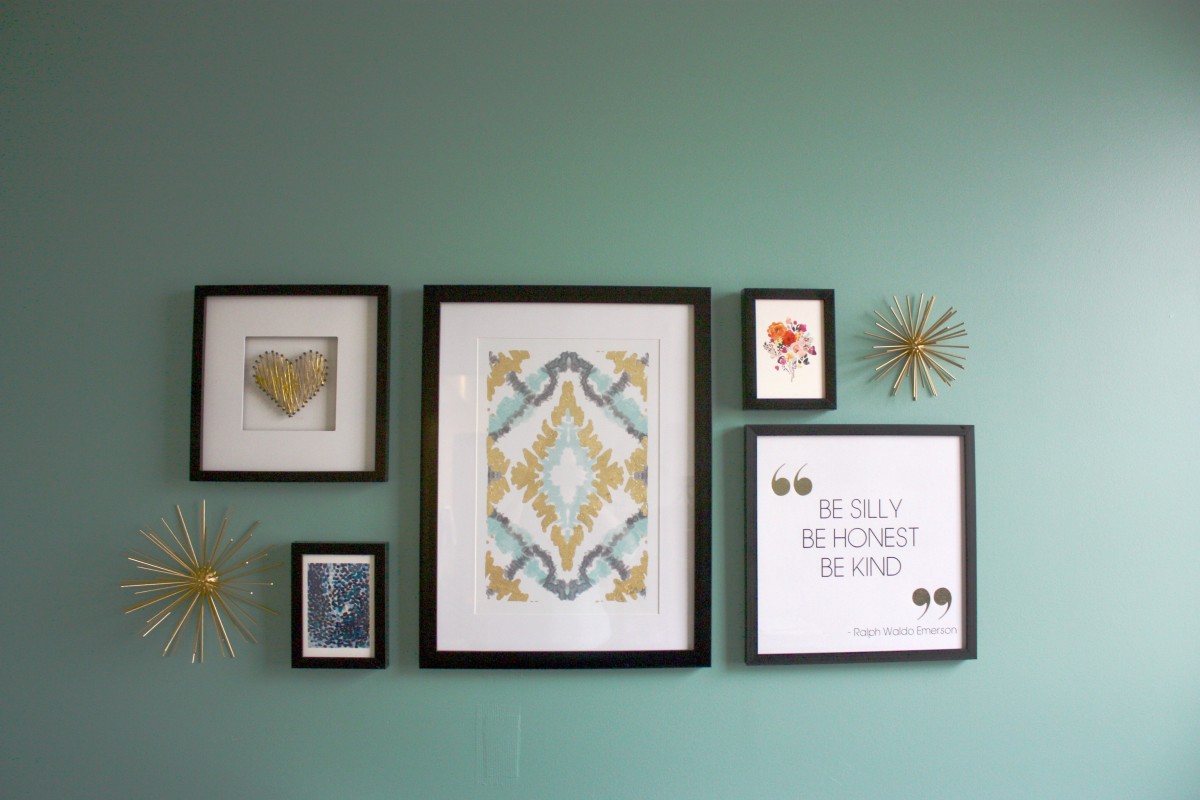 Coming up with this wall art design was a lot easier than I expected. I went to Hobby Lobby and laid all my options out on the floor. I loved how the middle picture ties in the blue wall and that the gold poofs add a little texture to the design.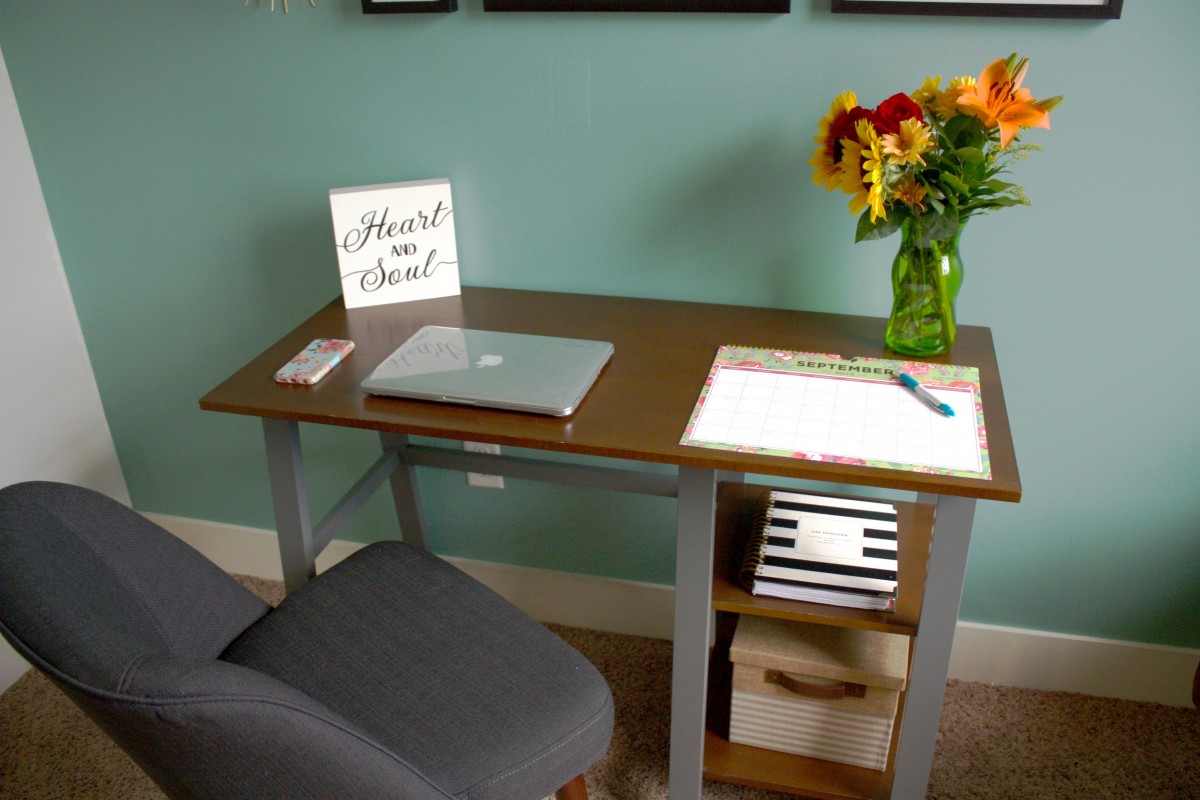 While at Hobby Lobby I found this Heart and Soul wood block and had to have it. It was on sale for $6 and was a perfect nod to the fact that I put my heart and soul into Her Heartland Soul.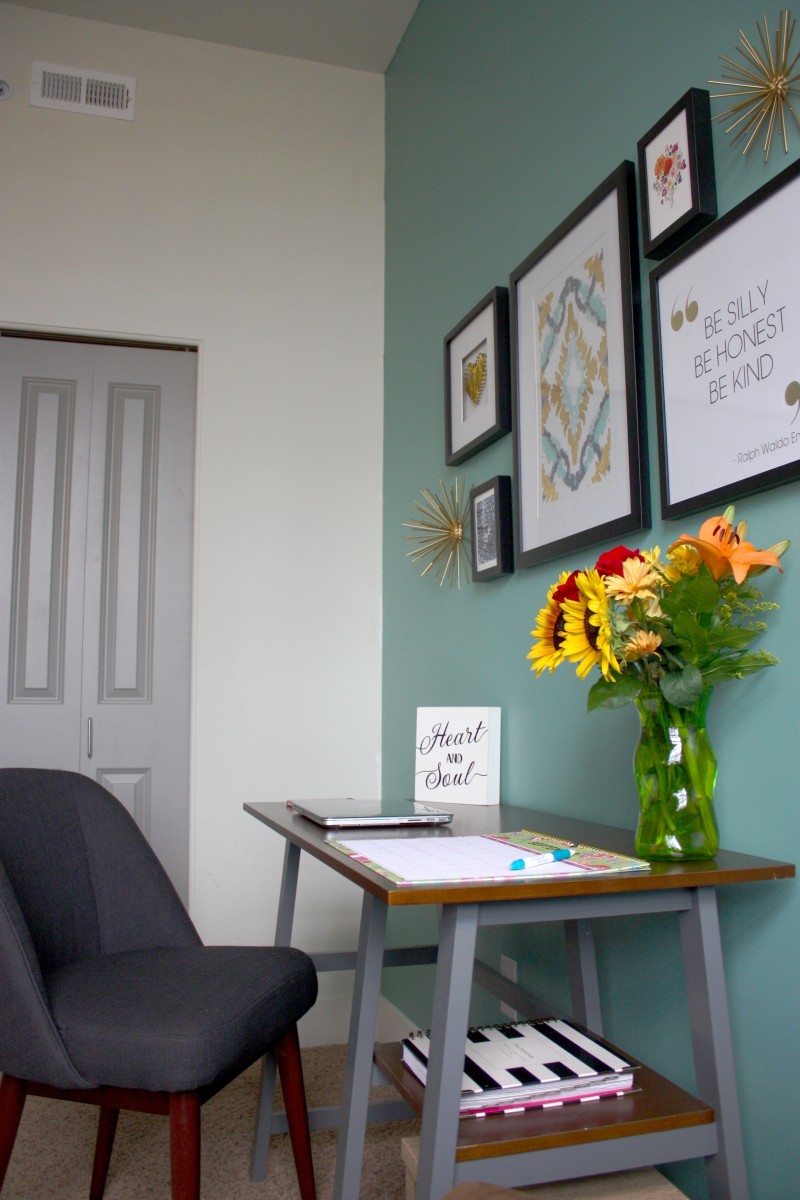 This desk was another Target find. I swear my entire apartment is basically Threshold products.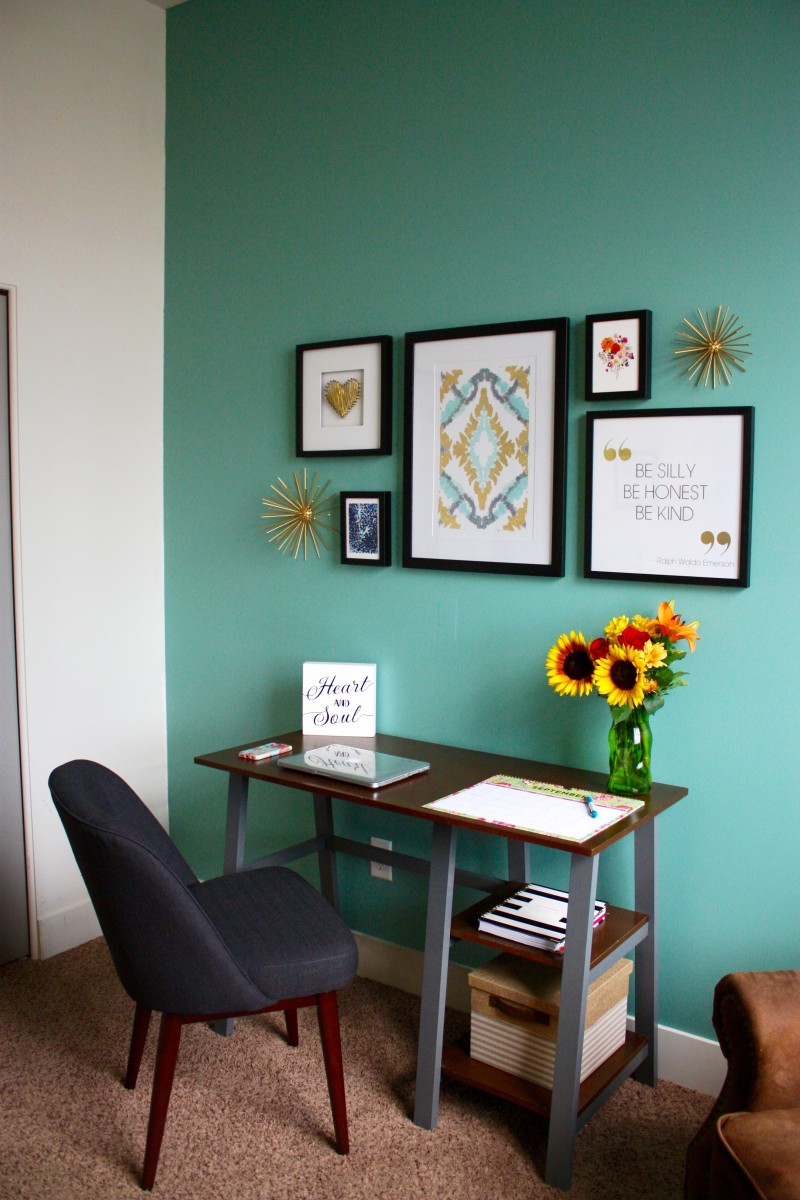 The flowers were a sweet surprise from Trader Joes on my birthday! When they asked what we were up to last weekend I said celebrating my birthday and before I knew it a team member was coming over with flowers. It was such a kind gesture and put a huge smile on my face.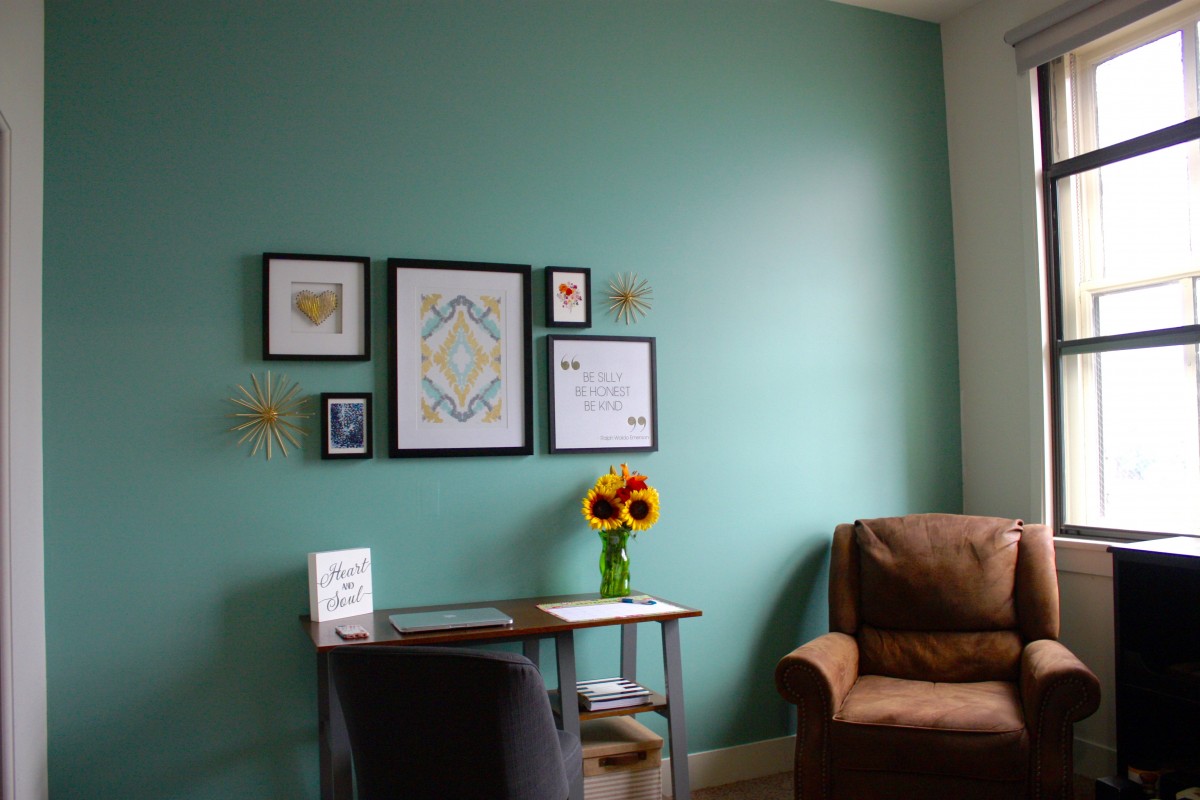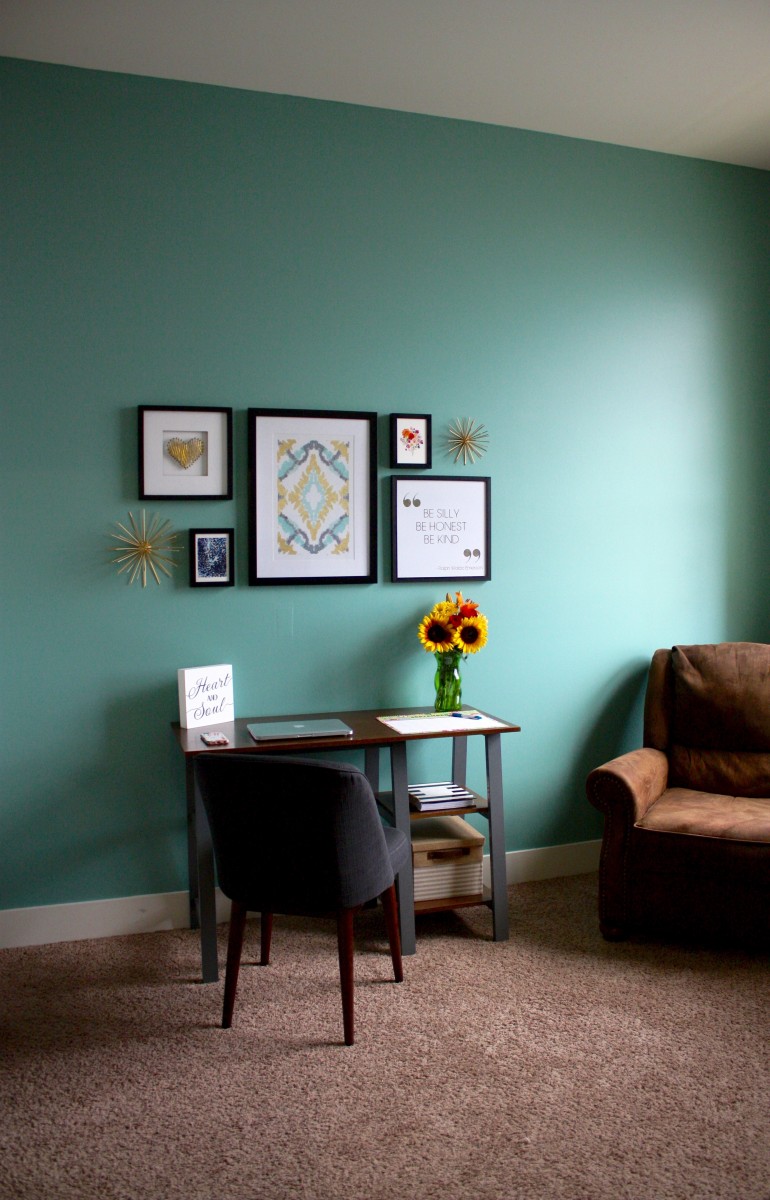 I'm not showing the rest of the room right now because it's not finished. We have a book case and a long black shelf (seen right) to still get rid of. We're then replacing the black bookshelf that is currently in the room with a new brown bookshelf that we still have to assemble. Fingers crossed this room will be completely done sooner rather than later!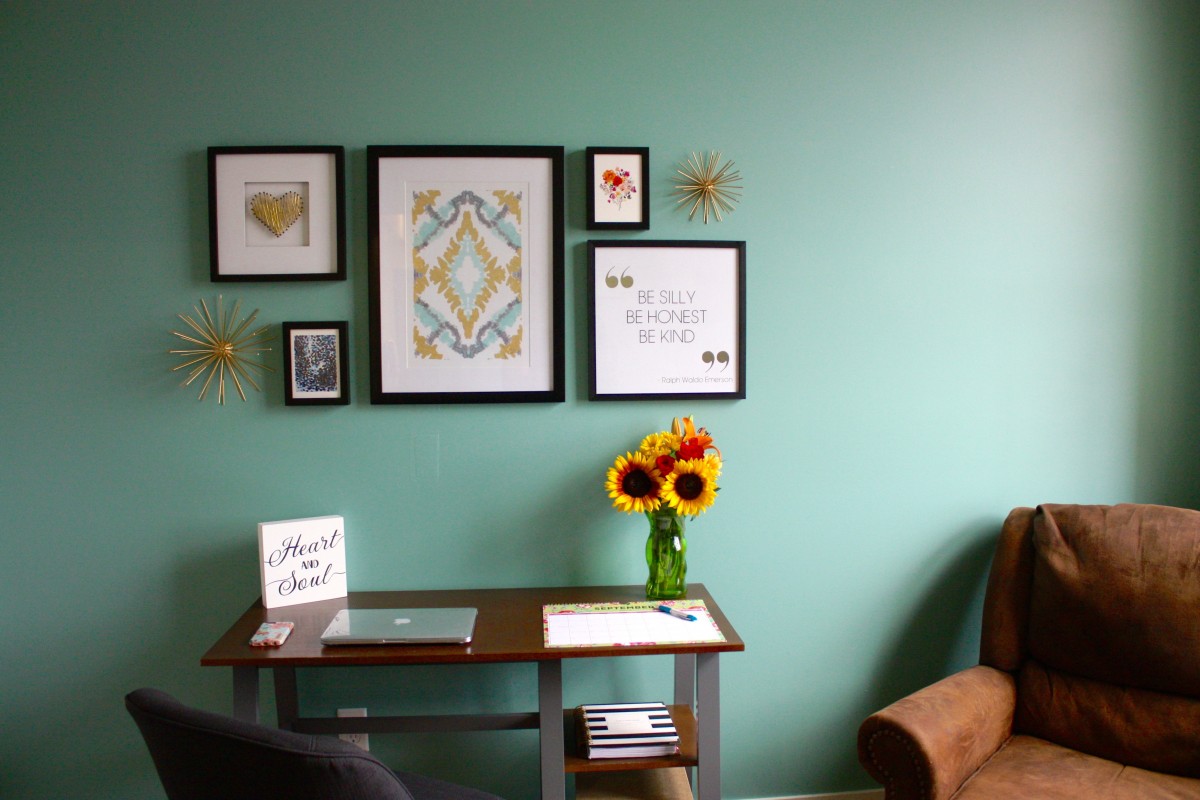 Turning my blog into a full time business has been my dream for years and I couldn't be more excited for the path I'm on. This beautiful new office is one exciting step in my journey. 🙂
Make sure to stop by later tonight for a chance to win $500 to Menards to design your own dream room!
Questions of the Day: What do you think of the accent wall color? Are you a fan of my office design? What is your favorite picture out of the ones I used to create the wall art?
Thanks to Pittsburgh Paints & Stains for sponsoring this post!