Ever since I started working from home I knew I needed to start putting together my home office. As comfy as my couch is, it's not really conducive to sitting on for hours on end to write.  We have a second bedroom in our apartment that would make a perfect office, but I've been overwhelmed by the fact that it is currently a glorified storage room. It needs a lot of cleaning, organizing, and freshening up.
When Pittsburgh Paints & Stains reached out to me and asked if they could help me tackle a home project I answered back with a big YES. It was just the push I needed to get started on designing my home office.
Today is a special posting day in that I will be posting THREE times about the process involved with decorating my office. (Morning, afternoon, and evening!) This first post highlights me choosing a paint color, the second post today will show how my office came together, and the third post will offer an amazing $500 Menards giveaway for a lucky reader! So make sure to check back often today! Alright, let's get this party started…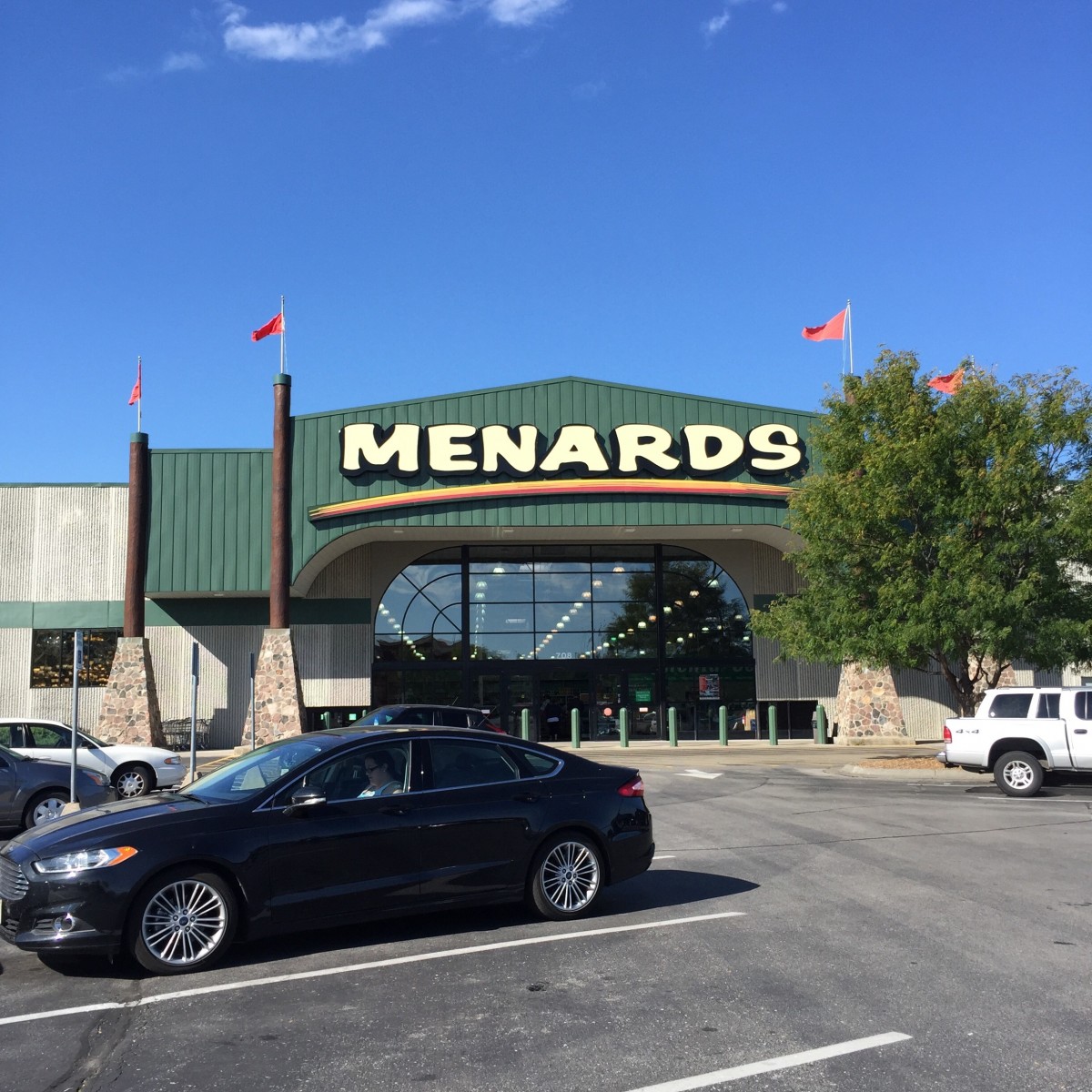 I love color. It is amazing how much life it can add to a space and the effect it can have on your mood. When deciding on what I wanted to do with my office I knew that I wanted to add an accent wall to stand out amongst the white and brighten up the space. This past weekend Josh and I headed to Menards to pick out paint colors for the first time ever together!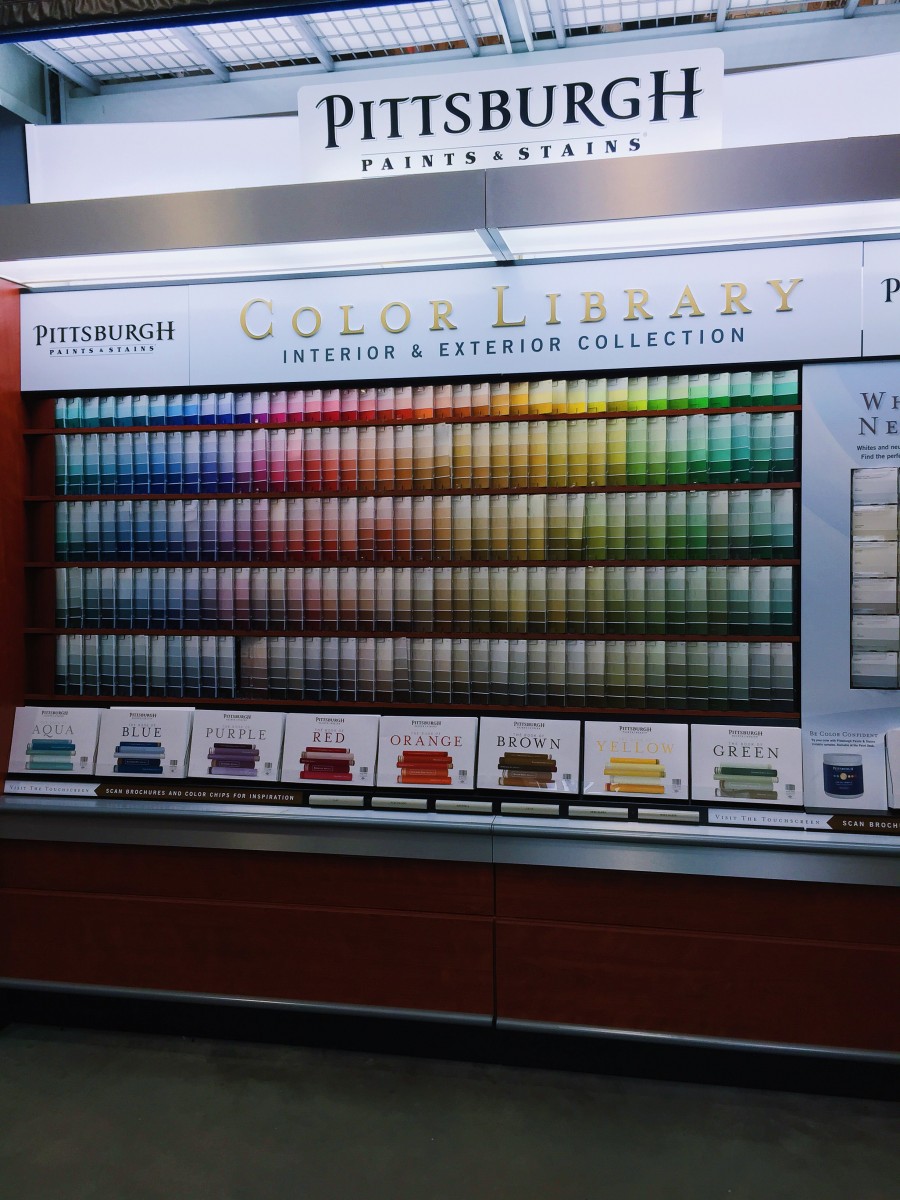 I don't know what it is about choosing paint colors but it just seems like such a grown up activity. It's also more than a little daunting. I mean look at all those colors! How are you supposed to pick just one? And how do you know which one is the right one? I nervously imagined Josh and I getting home with the paint, putting it on the wall, and realizing it wasn't the right color for the space. Ain't nobody got time for that!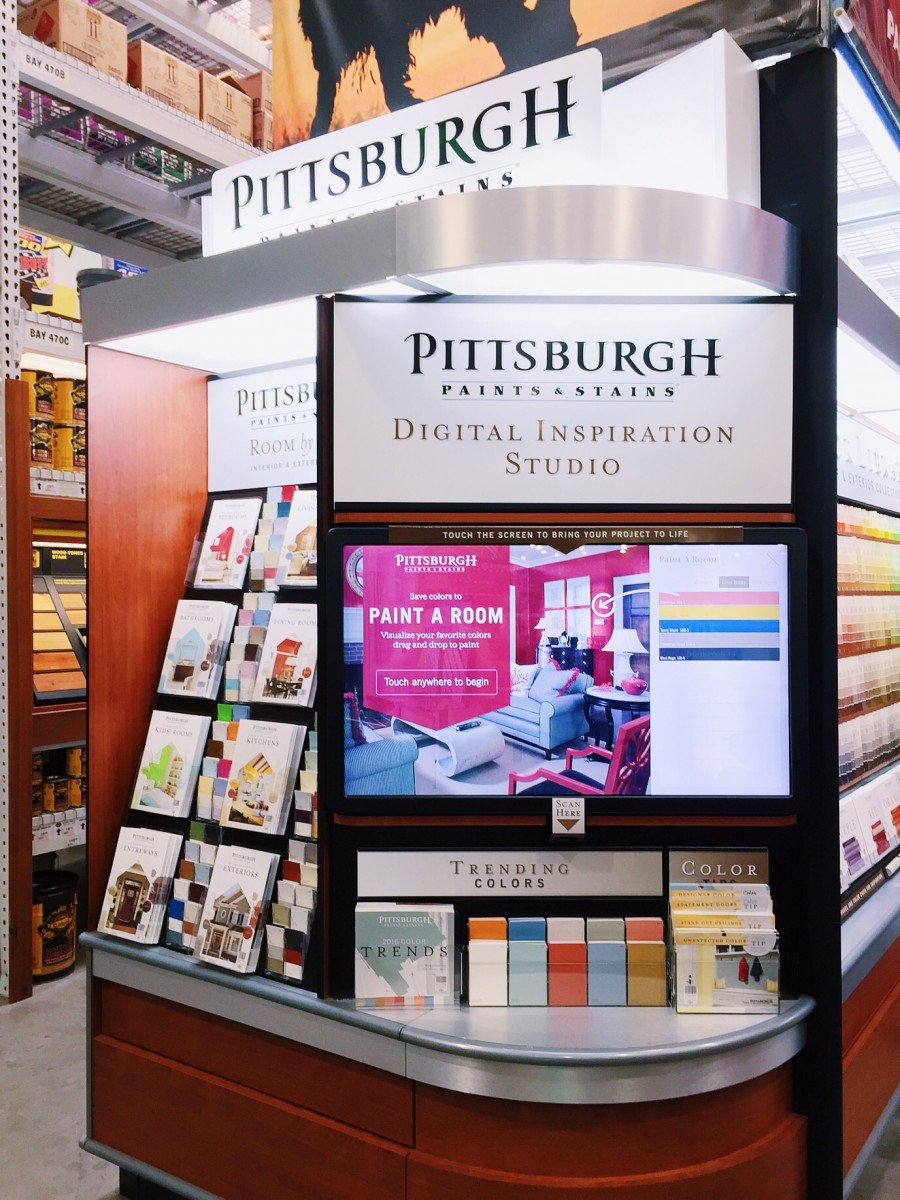 This is where Pittsburgh Paints & Stains becomes a lifesaver. Using their Digital Inspiration Studio you can see what any of their paint colors will look like in a room. You can even upload your own room photos online and see what your room would look like in different shades before you paint it.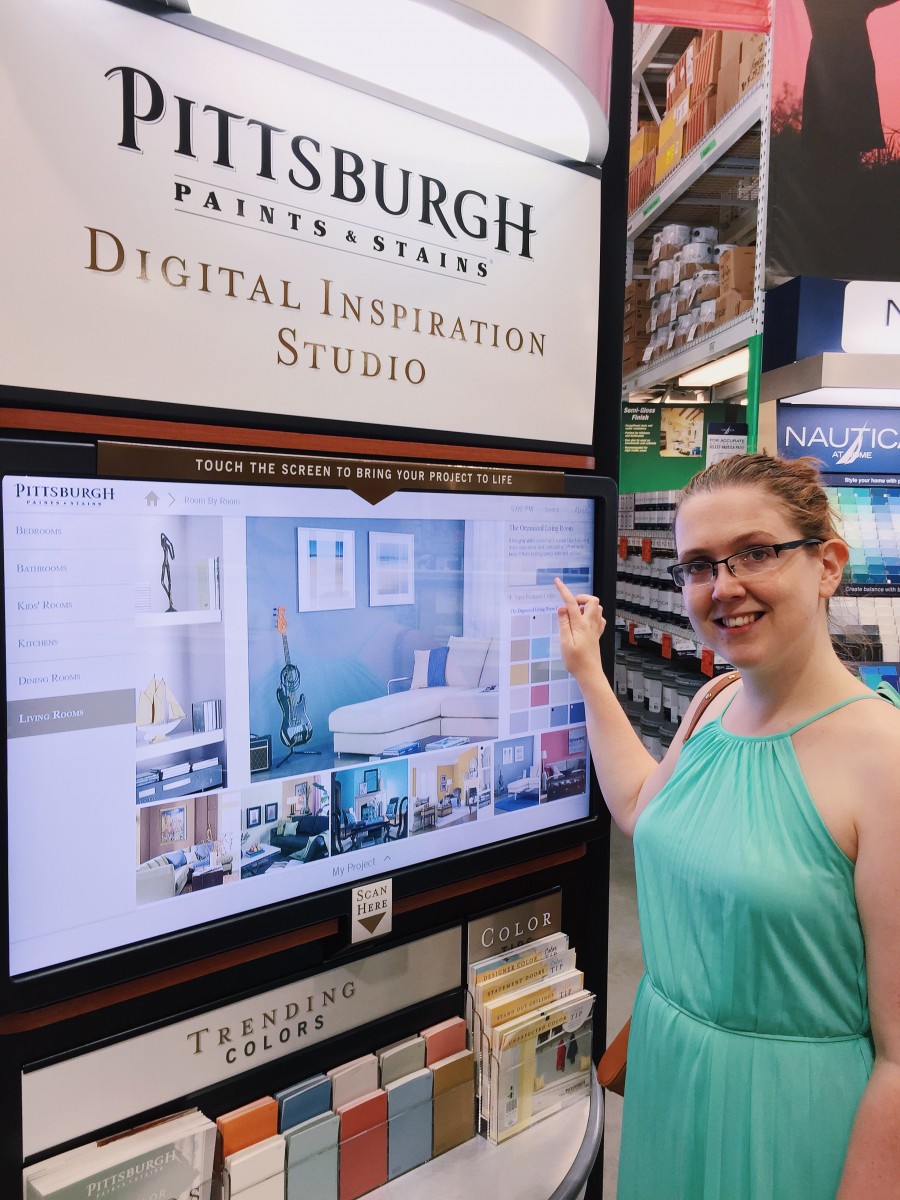 It was so simple to use. You simply pick a room layout.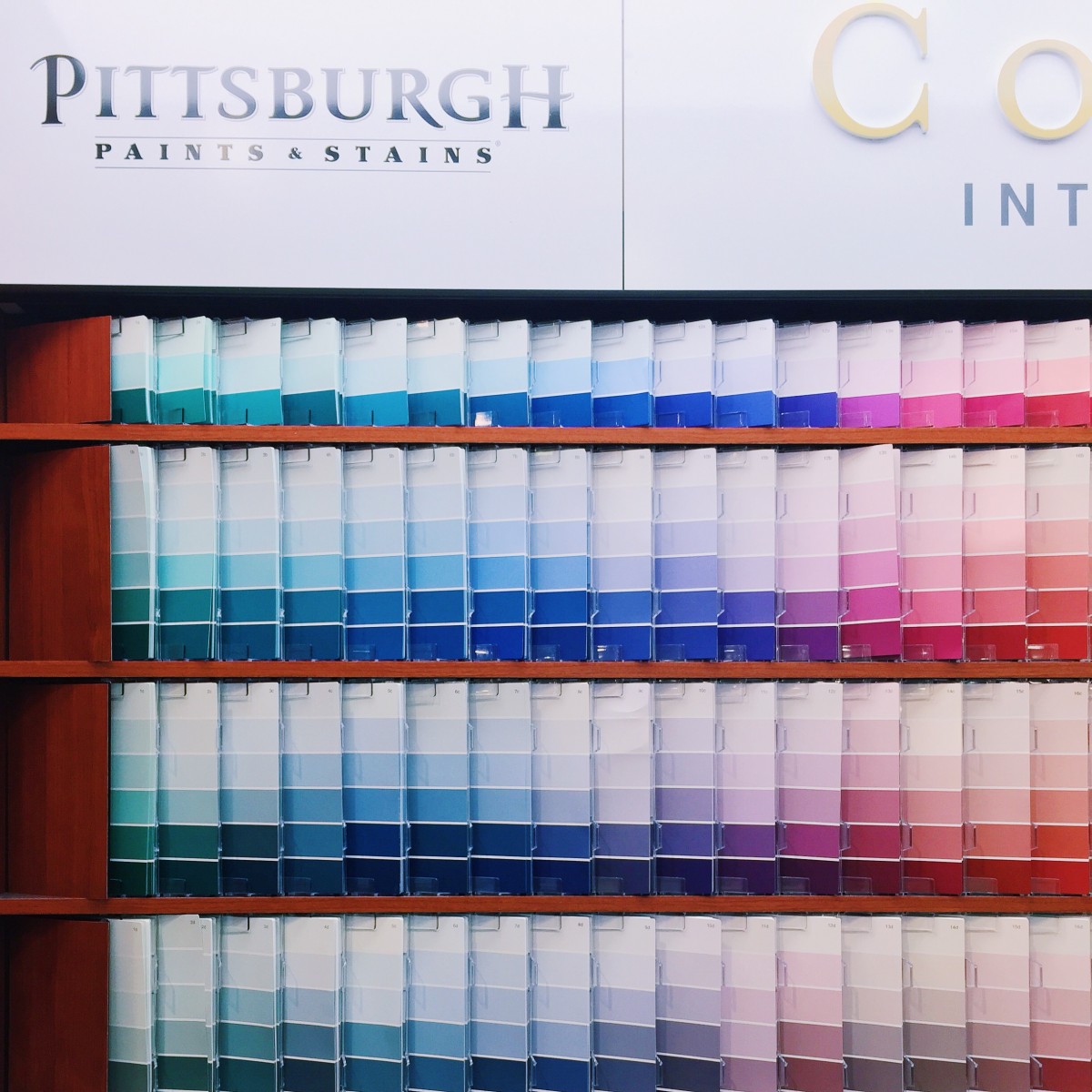 Then pick the colors you're interested in. This was the hardest part for me and Josh. Talk about option overload! And they're all so pretty! I knew I wanted something that was warm, inviting, and would foster creativity.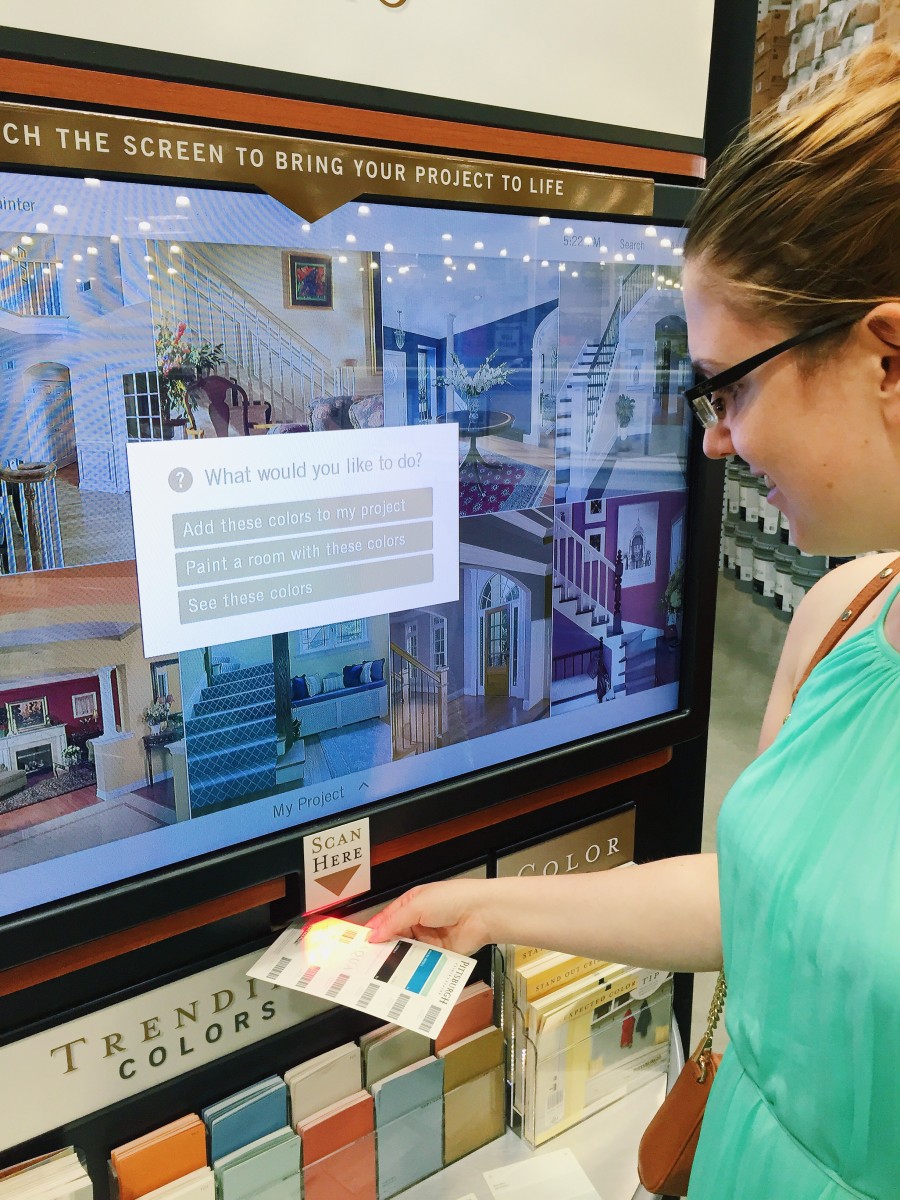 Then scan your chosen colors into the design studio to begin the virtual painting process. Josh and I had picked out about ten colors that caught our eye. It was amazing getting to see them on walls and against trim and windows. Some colors that looked great on paper were not what we were looking for in the room. Others that only one of us originally liked ended up impressing both of us and becoming real contenders.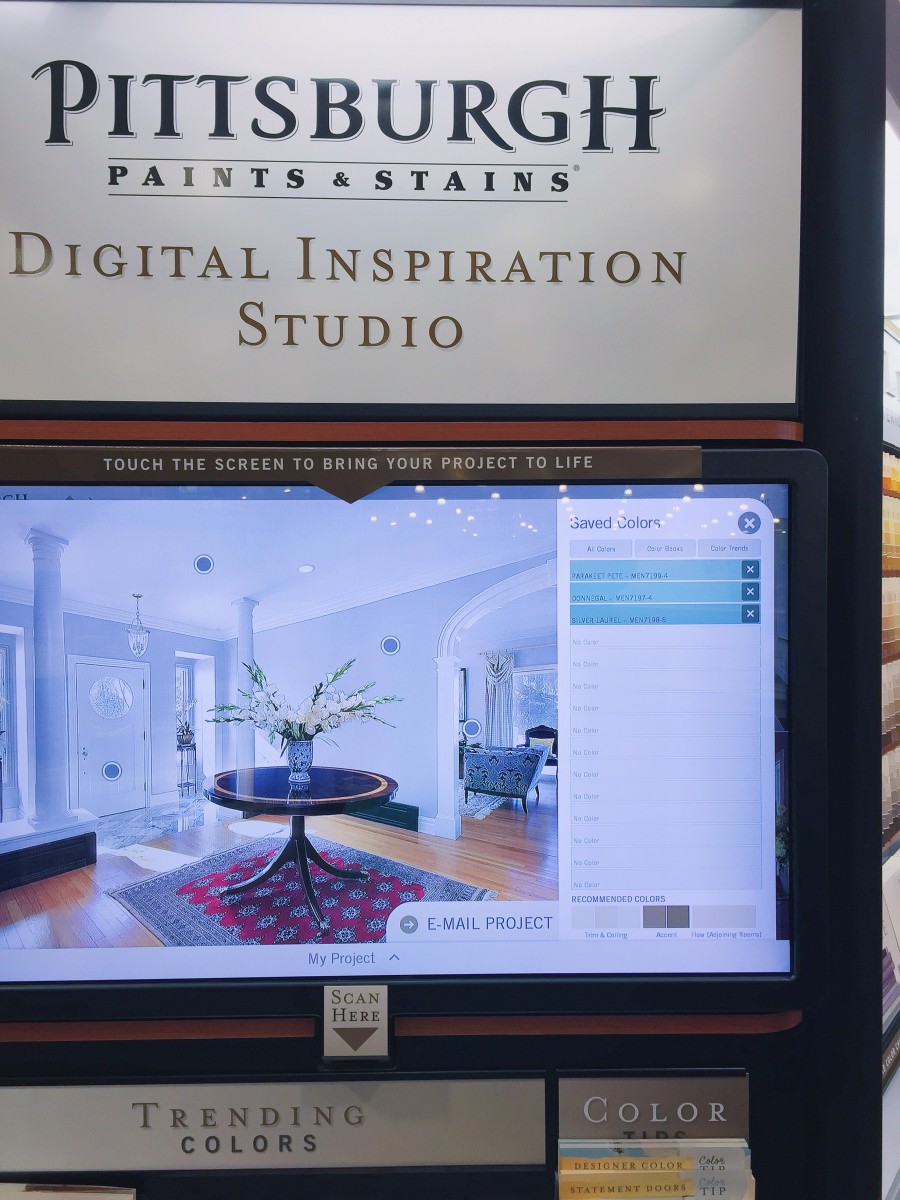 I'm an incredibly visual person so I really appreciated the fact that the Digital Inspiration Studio made it easy to lay out my options and see which ones I liked best. We were able to narrow it down to our top three colors pretty easily:  Parakeet Pete, Donnegal, and Silver Laurel. Narrowing our paint choice from three to one proved to be the harder decision as all three colors were so similar but had unique properties we really liked. In the end, we knew couldn't go wrong with any of them. Check back later today to see which one we picked!
Questions of the Day: Have you painted a room before? Which color would you pick out of my top three? What is an activity that feels really grown up to you?
Thanks to Pittsburgh Paints & Stains for sponsoring this post!