A delicious and healthy recipe for vegetarian BBQ jackfruit tacos. These tacos are perfect for summer and taste great with a cold margarita!
We are entering one of my very favorite seasons. I like to call it: lay by the pool and drink margaritas and eat tacos season! It's a pretty self-explanatory season and it is really the best.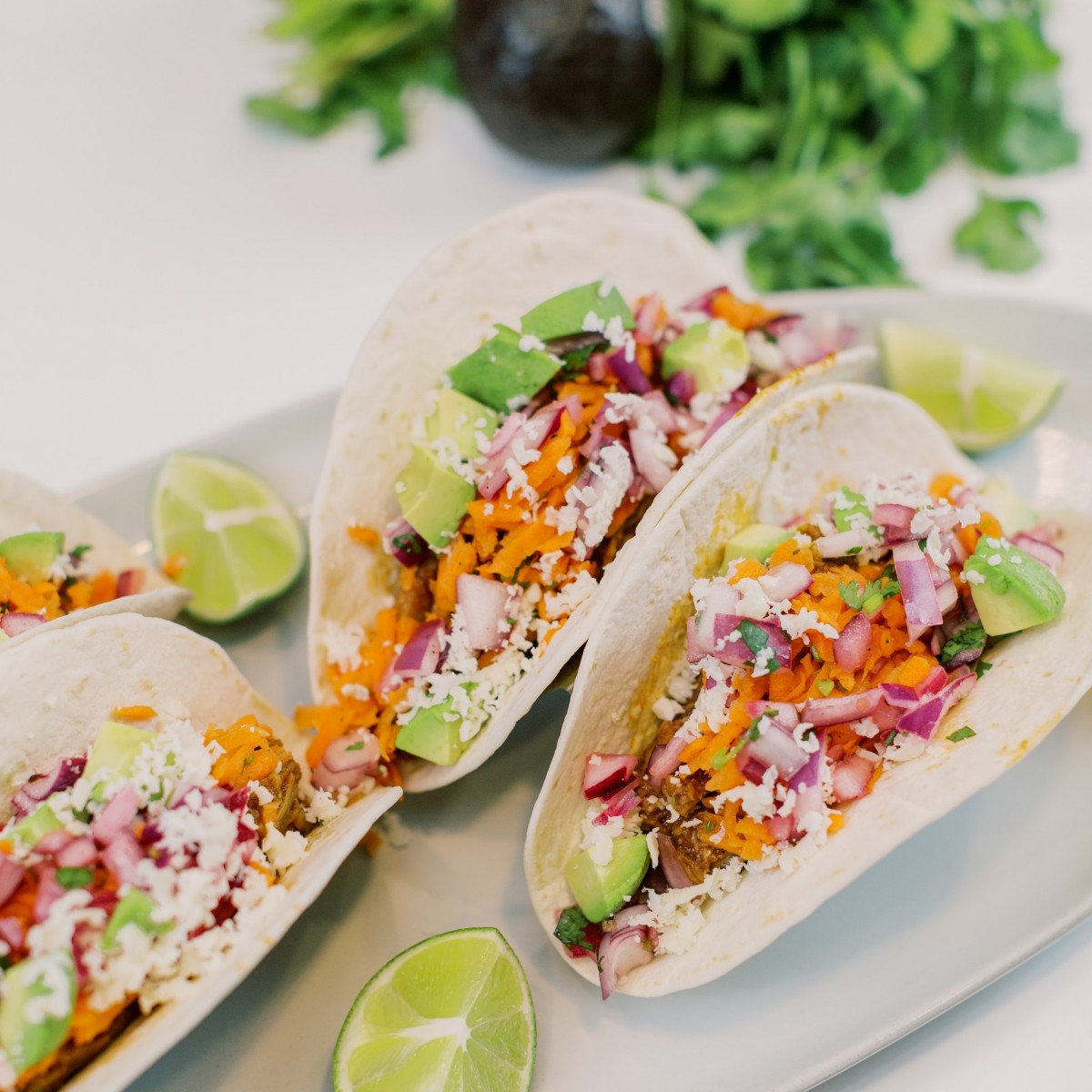 My go-to tacos are chicken. Grilled or fried you can layer them with so many things and they always taste good. When I was in Kentucky I had a fried chicken taco that was topped with mac and cheese and pickles and it was seriously the bomb dot com.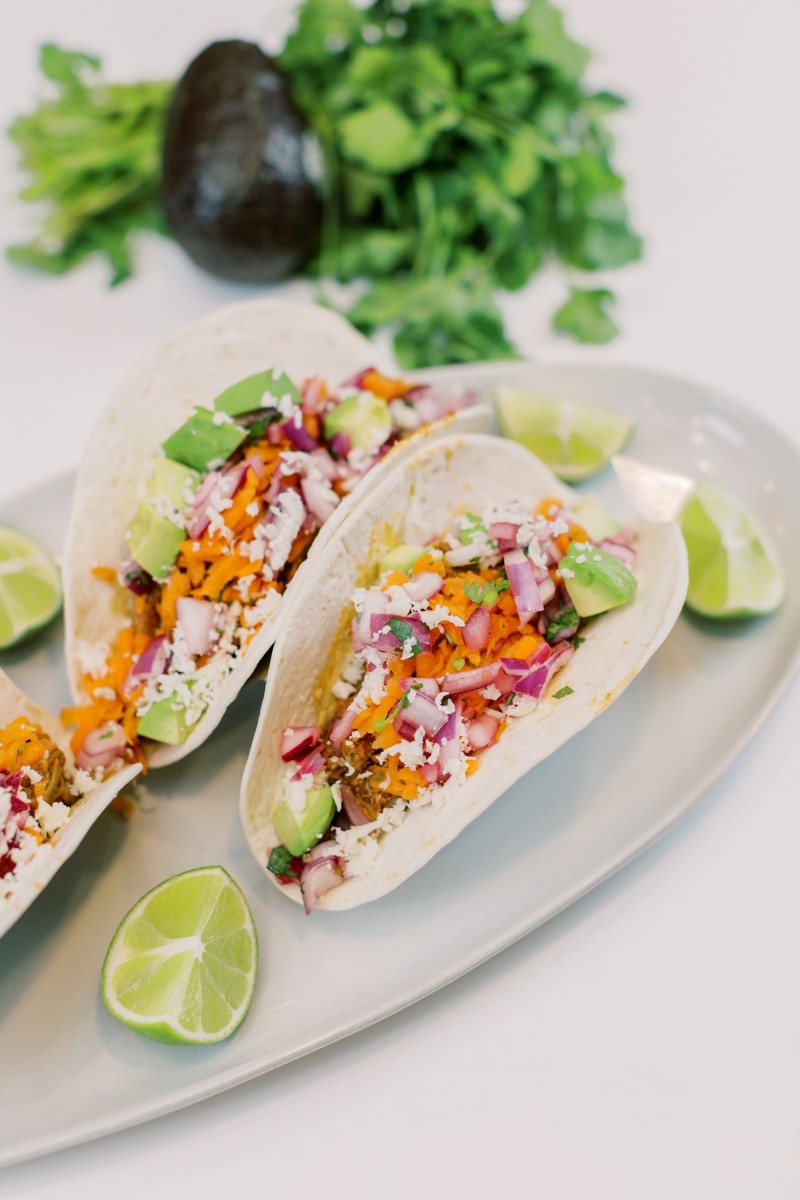 Finding tacos that Josh loves can be more of a challenge. For those who don't know, my husband is a vegetarian. He loves Mexican food but often wants more than a basic bean taco. Marinated meats add so much flavor to a dish. Thankfully we have found a veggie-friendly option and now love cooking up jackfruit tacos for Josh.
You may be asking, what the heck is a jackfruit? Essentially jackfruit is a fruit that tastes like pulled pork. We buy it in cans from Trader Joes. When you open the can it looks like artichokes, but once you start shredding it up it looks like chicken. Jackfruit is packed with nutrients, particularly fiber, magnesium, B6, and antioxidants. It takes on flavors just like meat does, and goes fantastic with BBQ flavors.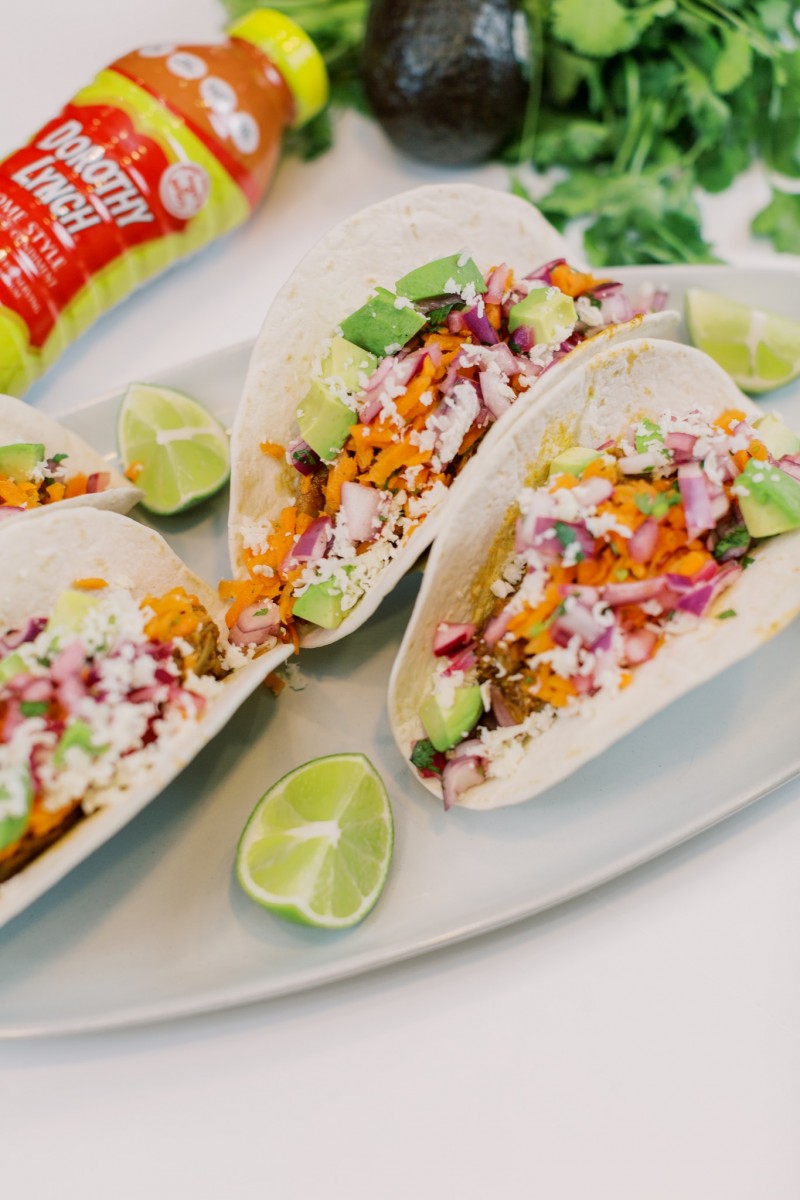 You know what else goes good with BBQ flavors? Dorothy Lynch. Nebraska's favorite sweet, tangy (gluten-free!) dressing pairs perfectly with BBQ sauce and makes one mean marinade. It is such a versatile ingredient when cooking. (Last time I cooked with it, I made tempeh Reubens!)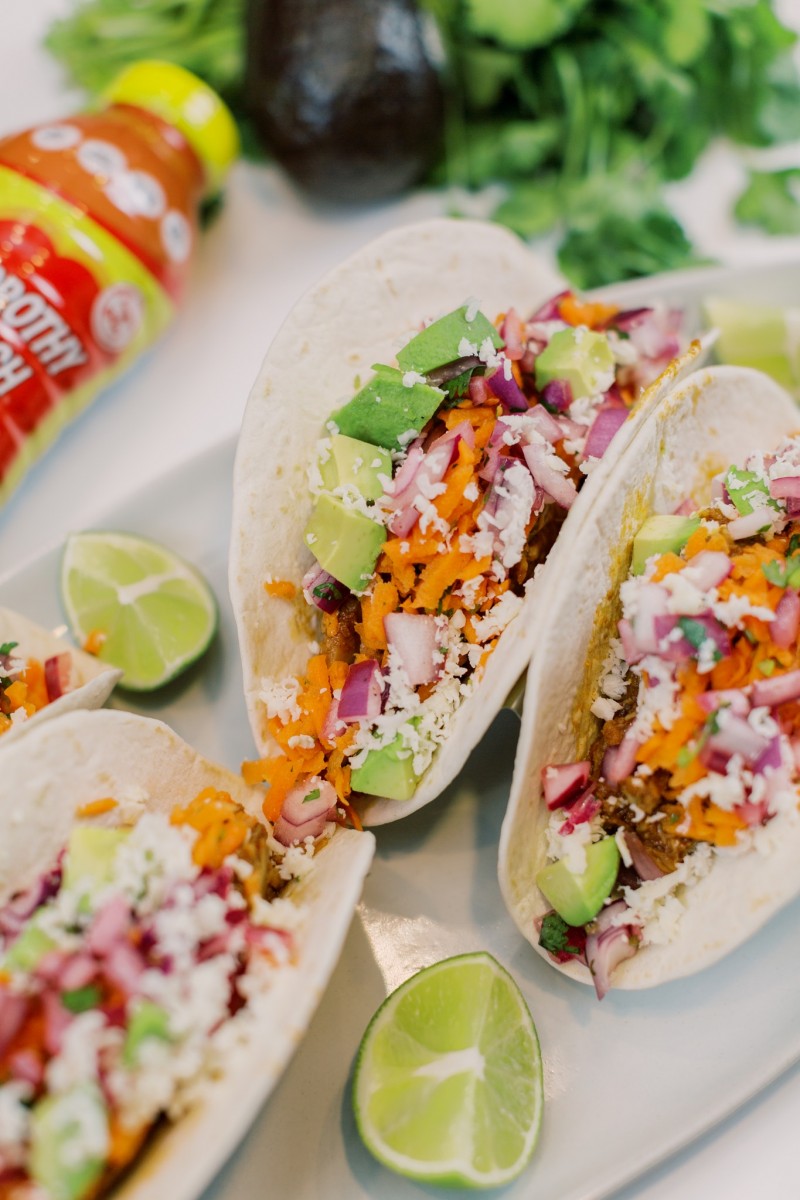 We cannot stop eating these BBQ jackfruit tacos, so I wanted to share the recipe with you. (Full disclosure: I have tried this recipe with shredded chicken too and it is also phenomenal.) Dorothy Lynch really is the secret sauce that makes this recipe so good. It gives the tacos an extra oomph and adds a really nice depth to the flavor. Make sure you pick some up before you make this recipe! (And then let me know what you think once you do!)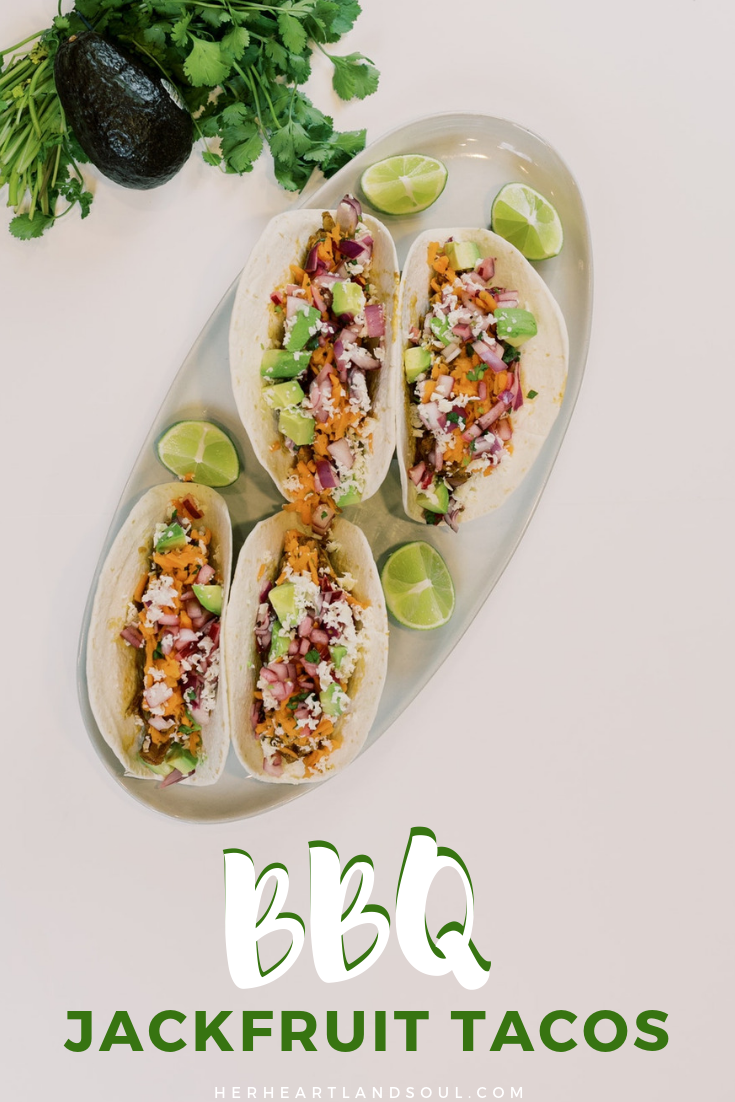 Pin me!
BBQ Jackfruit Tacos
Makes 8 tacos
Ingredients
8 small flour tortillas
2 20-oz cans green jackfruit in brine
¼ C Dorothy Lynch
½ C BBQ sauce
2 Tsp hot sauce
Juice of 3 limes, divided, plus more lime wedges for garnish
1 ½ C water
½ Tsp cumin
2 Tsp chili powder
1 Tsp granulated garlic
1 Tsp diced chipotle in adobo
Salt and pepper, to taste
3 oz grated Cotija cheese
2 avocados, thinly sliced
8 Tsp salsa
1 red onion
3 medium carrots
4 teaspoons chopped fresh cilantro leaves and stems, plus more leaves for garnish

Directions
Dice the onion and add to a small bowl with the juice of one lime, 2 tsp chopped cilantro, salt and pepper
Stir to combine then set aside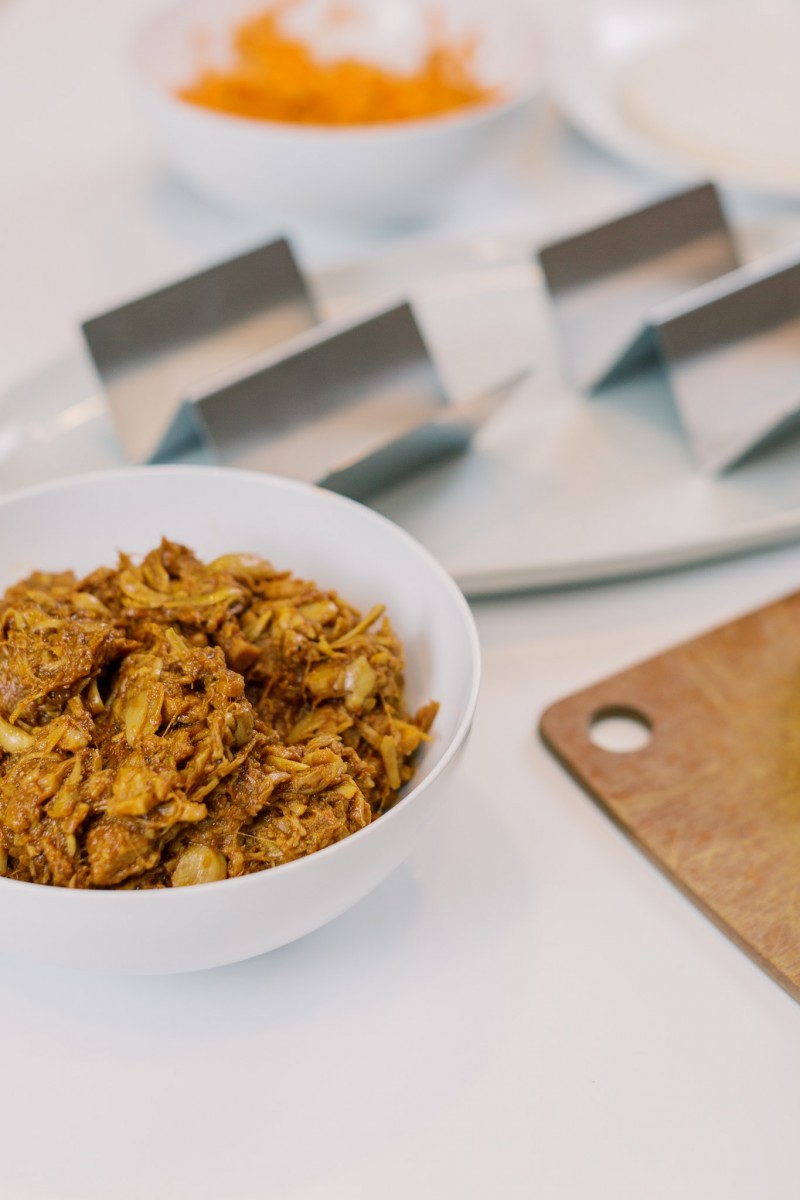 Grate the carrots and add them to a separate small bowl with the juice of one lime, 2 tsp chopped cilantro, salt and pepper
Stir to combine then set aside
While the onion and carrots marinate, rinse the jackfruit chunks under cool water and transfer to a medium bowl
Using a fork (or clean fingers), shred the jackfruit chunks into small shreds
Add the Dorothy Lynch, BBQ sauce, hot sauce, cumin, chili powder, juice of one lime, and season with salt and pepper. Stir thoroughly
Add 1 ½ cups water and stir again until everything is evenly mixed
Heat 1 tbsp oil in a cast iron skillet over medium heat
Add the jackfruit and marinade and cook, stirring occasionally, until jackfruit has softened and the marinade has reduced (about 15 minutes)
Set aside to cool slightly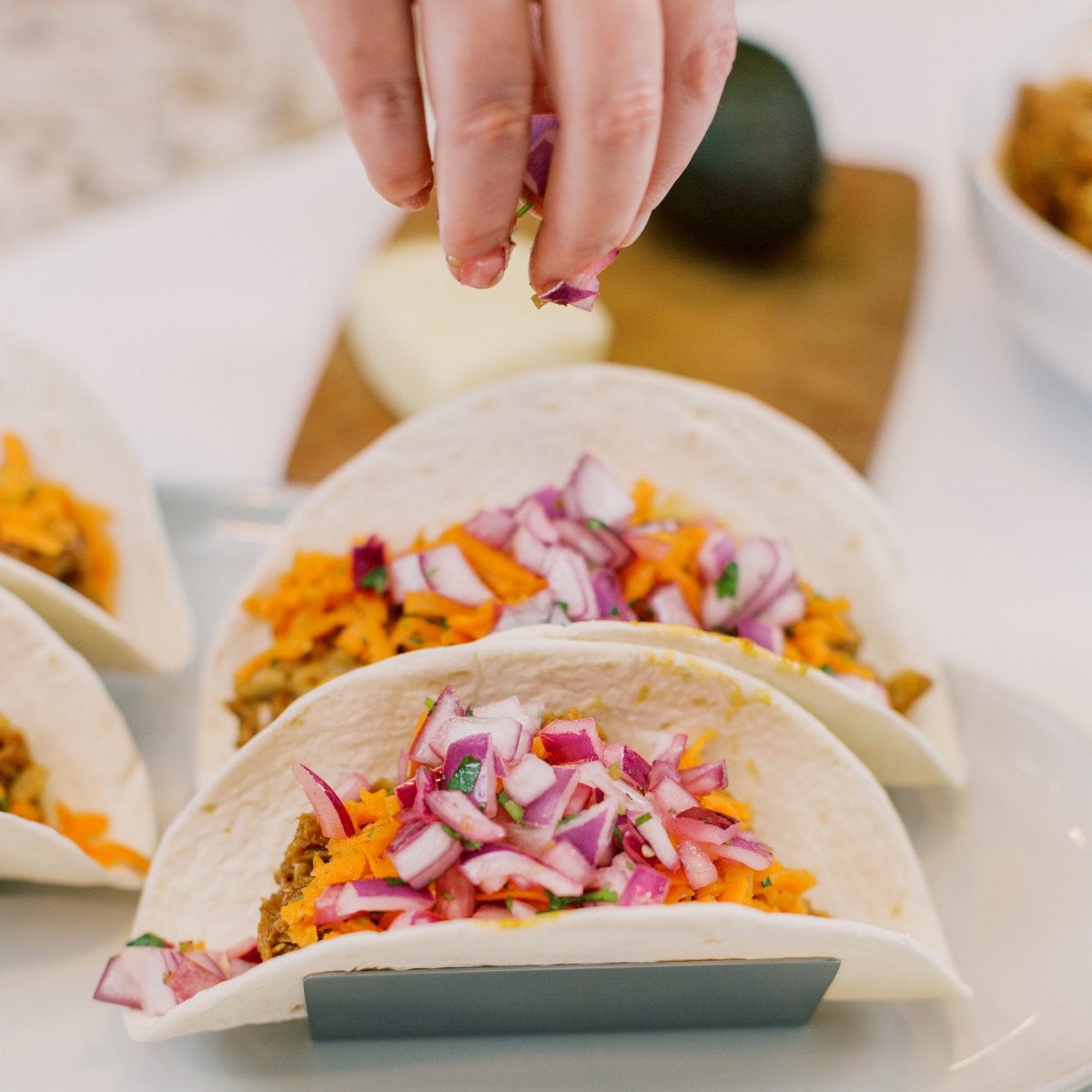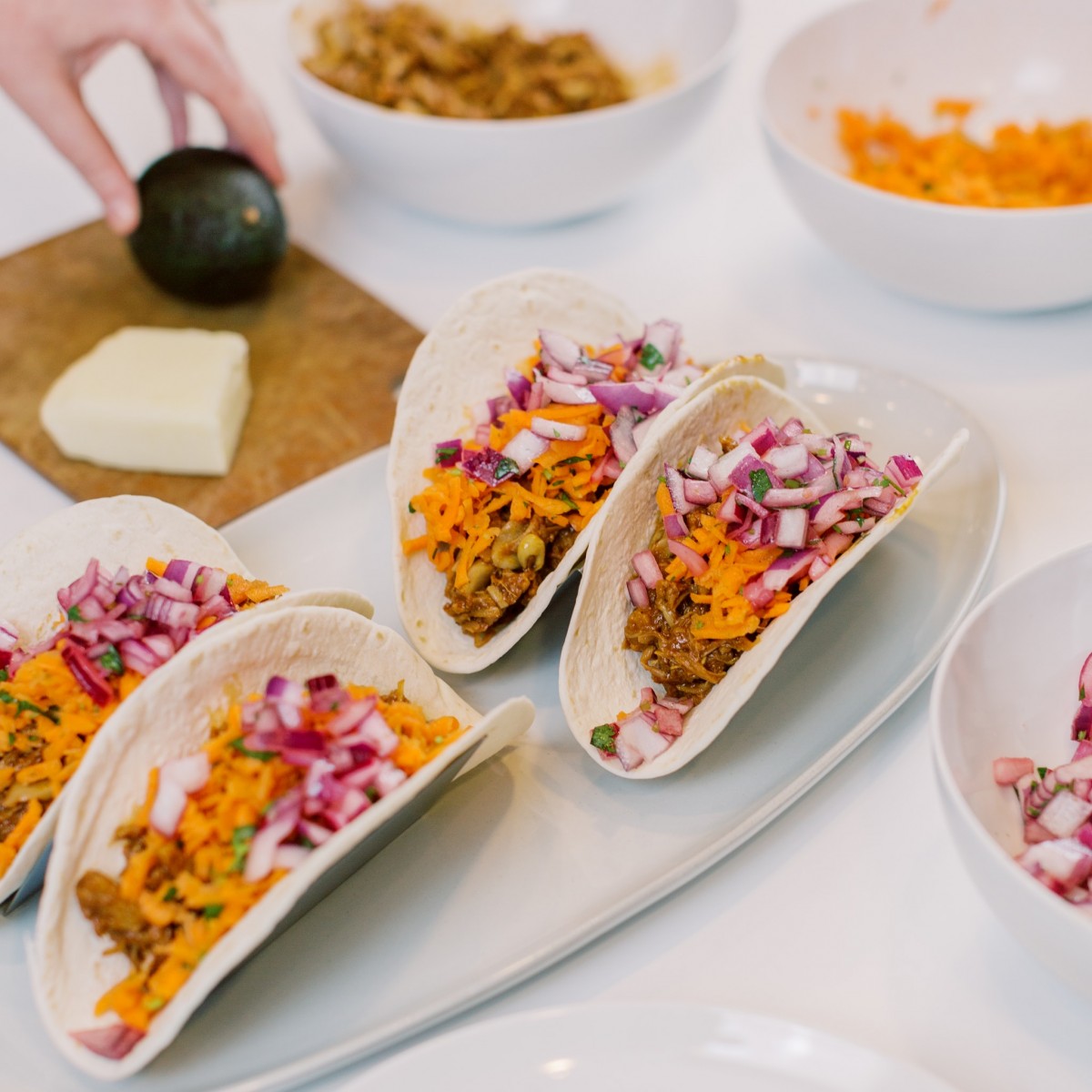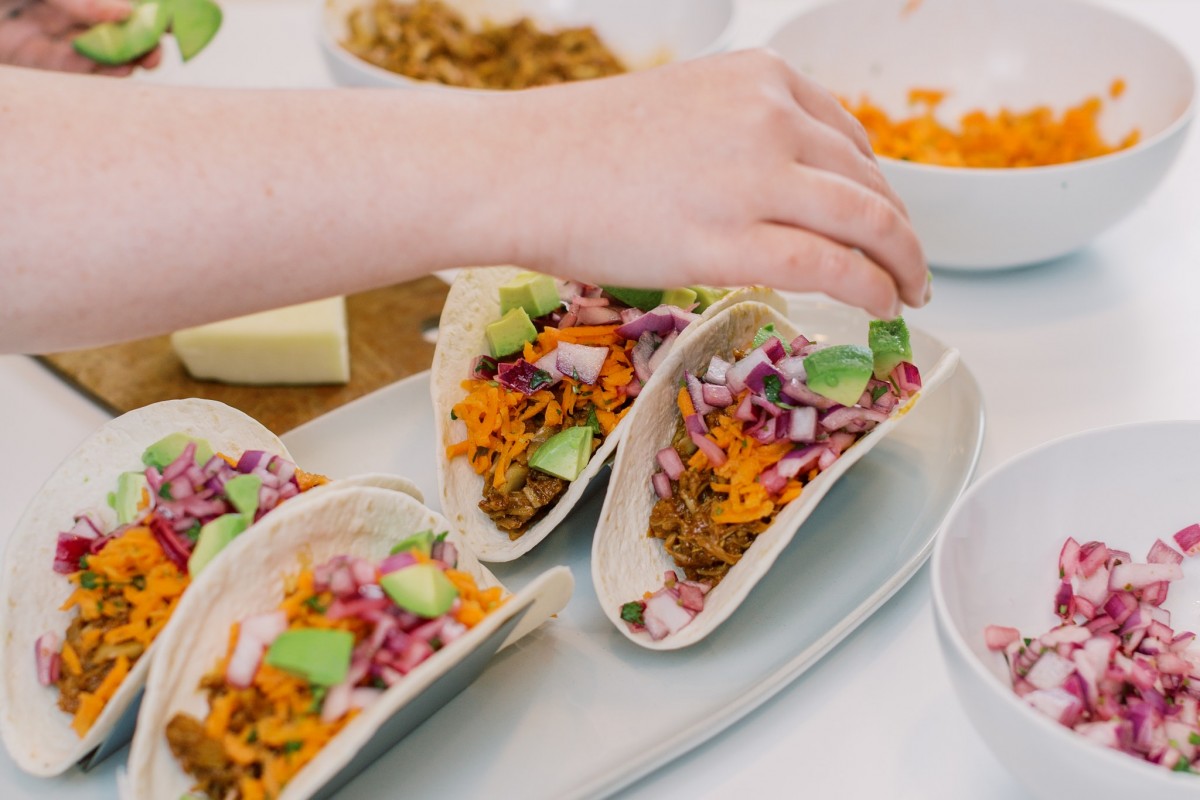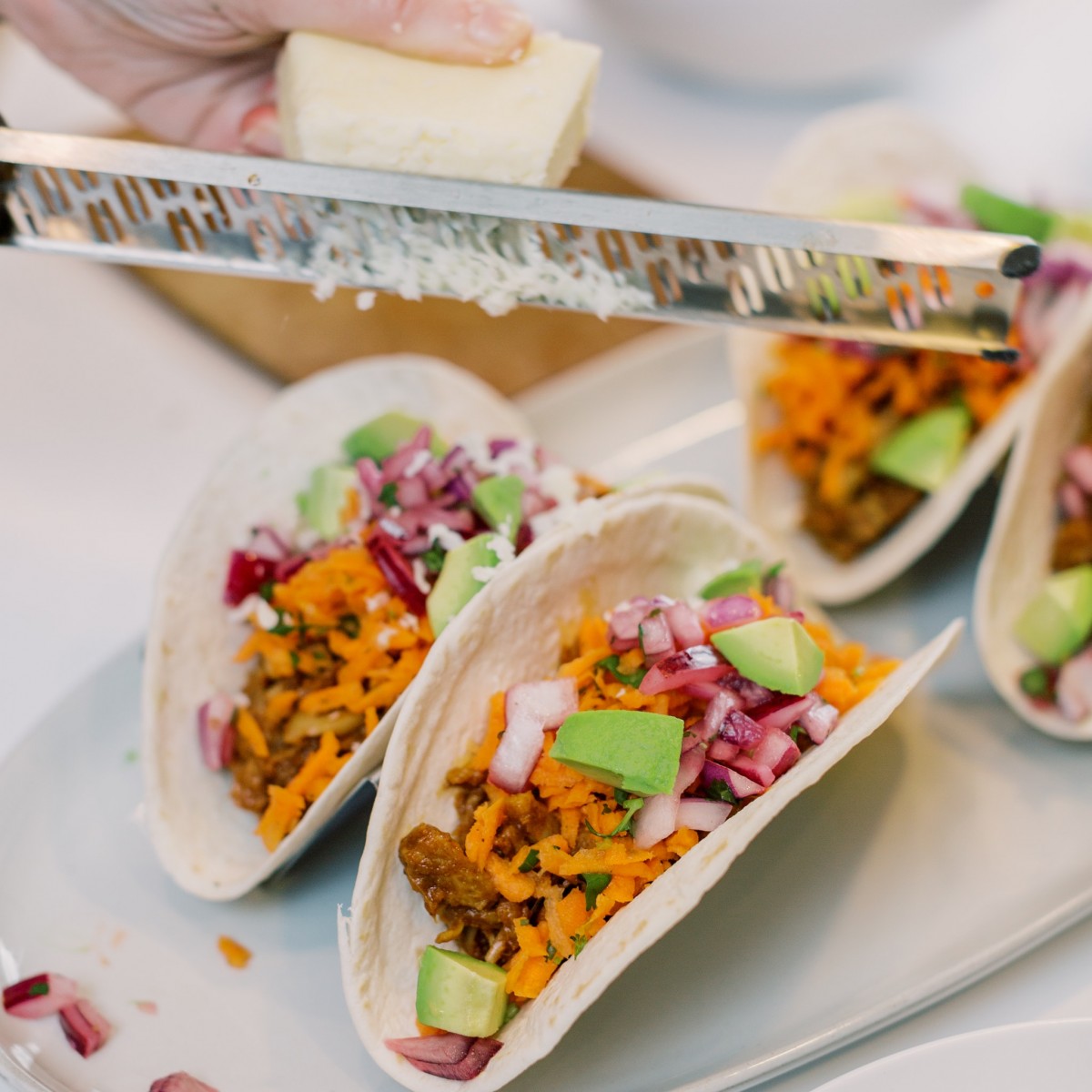 Take each tortilla and add some of the cooked jackfruit, the carrots, and the onions. Add 2 slices of avocado, 1 teaspoon salsa, and top with a sprinkle cotija cheese
Serve with a lime wedge and enjoy!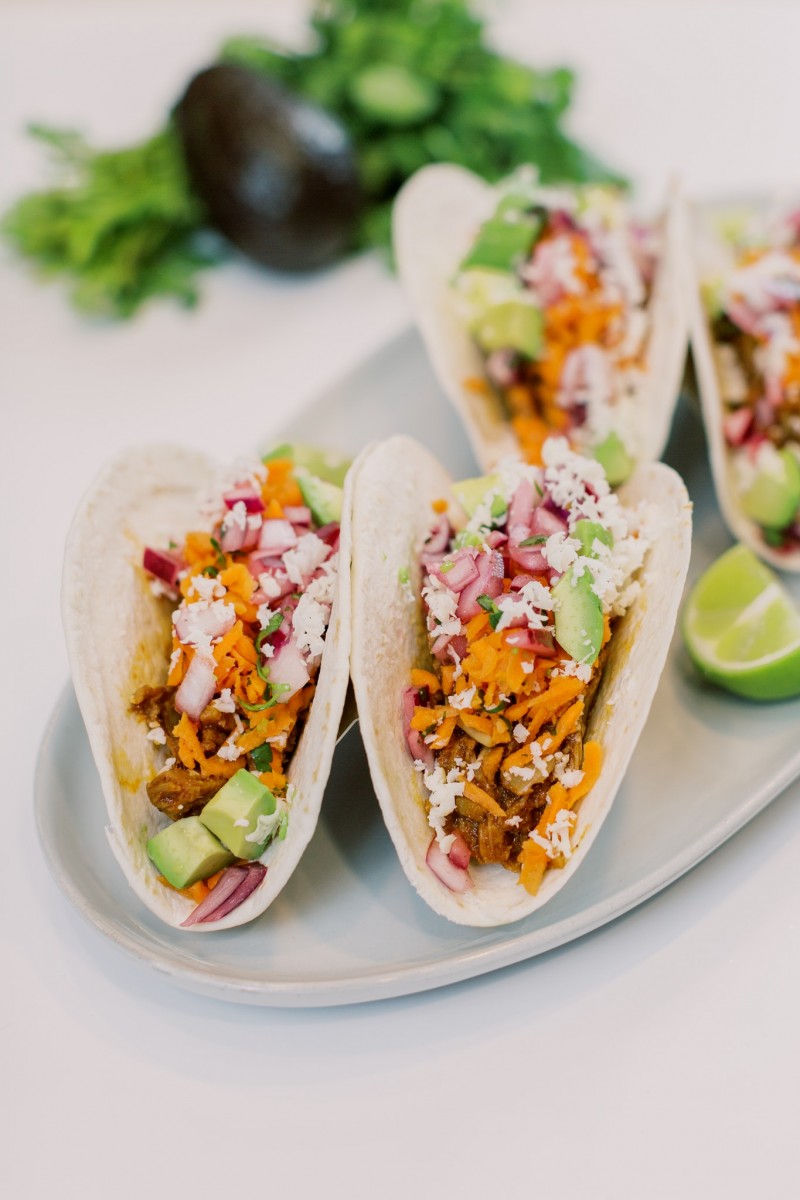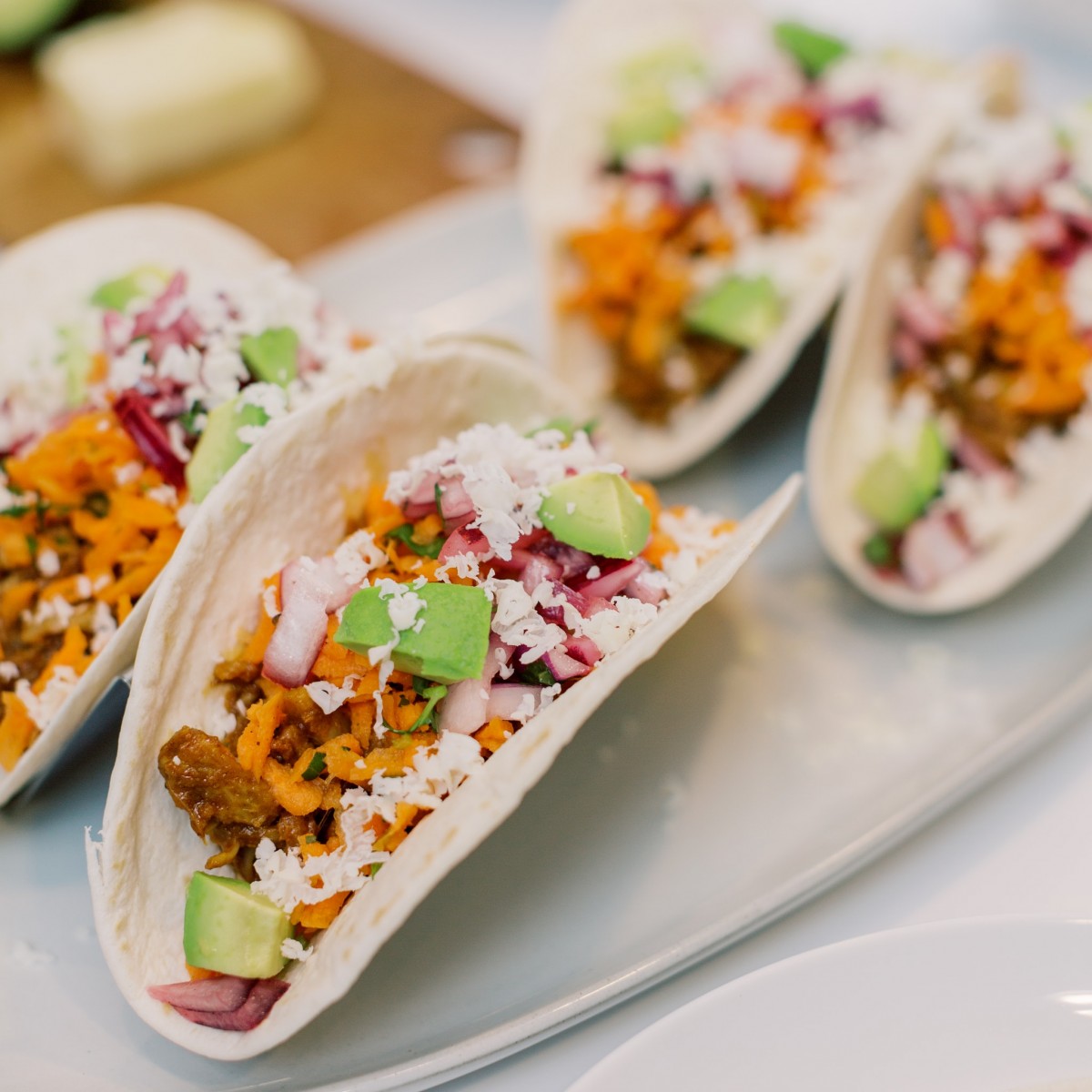 A big thanks to Ashley for the fabulous photos and video in this post!
Questions of the Day: Have you tried jackfruit? Do you prefer corn or flour tortillas? What's your favorite taco topping? Have you ever paired Dorothy Lynch and BBQ?
Thanks to Dorothy Lynch for sponsoring this post! For more delicious recipe ideas, check out their online recipe catalog.