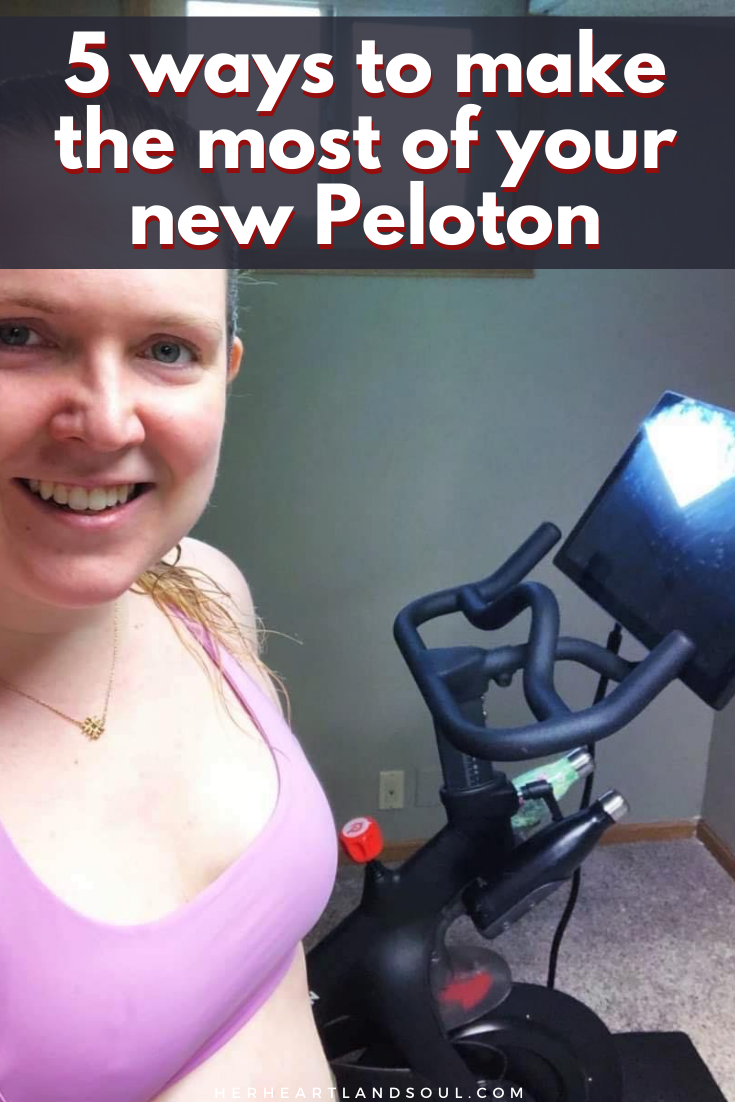 Pin me!
I can't believe it was this time last year I was picking up my Peloton. I had heard good things about the bike from a few friends and was really looking for a boutique cycling experience (Soul Cycle-esque before it became toxic if you will) from the comfort of my house.
We had just moved to West Omaha from downtown and all my favorite spin studios were far away. I also hated having to rush to a scheduled class. Time management is not always my strong suit. 😉 The idea of being able to jump into a class whenever I wanted sounded amazing and like such a good fit for me!

I had no idea that in a few short months having a Peloton would transition from a nice-to-have to a must-have. Peloton helped keep me sane during the dark early days of the Pandemic. And now it's an integral part of my routine and schedule. I feel like I know my favorite instructors. I look forward to all the new class series. I love getting to send high-fives and connect with all of you on there. I feel big emotions when I ride and process thoughts and get inspired and have new ideas. I'm also doing something amazing for my body and my heath. It's truly the best!

If you have recently Peloton as we stare into the face of a winter in Quarantine: congrats! You are going to LOVE it. And smart move!
Here are my top 5 tips to make the most of your new Peloton!

(Also if you haven't yet bought a Peloton, I HIGHLY recommend it. Here's a link to save $100 off accessories when you purchase!)
Properly adjust your bike before you ride! 

Holy moly I cannot believe how many people just pick a few setting numbers and jump on the bike to start riding before making sure it's accurately calibrated for their height, leg length, etc. 

It is super easy and simple to adjust your bike. Just watch this 4 minute video! This ensures you're not only being safe and protecting yourself from injury, but that you're protecting yourself from pain and discomfort and setting yourself up to enjoy the bike!



Try out different rides and instructors.

It's so funny that Josh is now as obsessed with the Peloton as me but we could not have different experiences. We ride to completely different music. We take different length rides. And we prefer totally different instructor styles. He likes minimal talking and no-nonsense encouragement. I want to feel like I'm at a church sermon learning how to become my best self and feel all the feels. 

The best way to find what you like is to try a lot of different classes! An don't get discouraged if the first few you try aren't for you. Peloton has an amazing variety of instructors. Here's a list of all of them. You'll find your fit!

For anyone curious about my favorite instructors: Alex, Ally, Cody, and Robin. All day. Every day.



Download the app. 

I cannot believe I waited so long to do this but the Peloton app is amazing. They have a weekly calendar with all the live rides listed that you can RSVP for. They also have a TON of other types of workouts on the app. And it's all included in the Peloton membership!

When the weather was nice I did the outdoor running classes (manifesting getting a Peloton tread in 2021!) and absolutely loved them. I've done the dance classes and some meditation classes. Josh loves the yoga classes. We just ordered a ton of kettlebells and weights so we can start taking their strength classes. There's truly something for everyone and they just keep adding more!



Join the Facebook group. 

Be warned, there can sometimes be drama (like any Facebook group), but the Official Peloton Member Page Group is filled with 380,000 members who can answer questions and act as a resource when you need it most. Josh had this thing happening when he pedaled where the bike made a squeaky noise. We were able to film it, share it in the group, and members let us know it was his shoe! You can also find inspiration, and foster connection and all that good stuff. It's seriously a resource every Peloton member should utilize.



Follow and connect with friends.

Doing things with others makes it more enjoyable! (And you're much more likely to stay motivated!) I love jumping into a class and finding out five of my friends are also riding. I love getting to give you guys high-fives. Connect your Peloton to your Facebook account and follow your friends, ask for people to connect with on the leaderboard in the Peloton Facebook group and connect with me (herheartland)! I'd love to ride together!
I hope you love your Peloton! And I hope to see you on the leaderboard soon!

Don't forget if you haven't bought a Peloton yet you can use my code to save $100 on accessories with your purchase!
Questions of the Day: How often do you use your Peloton? Who's your favorite instructor? What type of class do you prefer?