As a teenager, I was constantly looking for the miracle product that would give me flawless skin. I wanted to wake up looking airbrushed, with nary a pore, pimple, or blackhead in sight. I tried a lot of products that promised a lot of things, yet I always ended up disappointed and feeling bad about myself in the process.
As I got older, I realized that flawless skin is simply not attainable. Your skin is a living, breathing organ. It's going to have spots and bumps and things that make it unique to its owner (you!). While your skin may never be flawless, it is possible to have skin that glows and that you feel absolutely beautiful in.
Once I put down the magazines and started looking in the mirror, I realized that my skin is actually pretty great. And it usually looks its best when I steer clear of all the fancy jars promising unattainable miracles. Now, I just do a few very simple things to my skin to keep it healthy and glowing. Here are my 3 secrets to beautiful skin.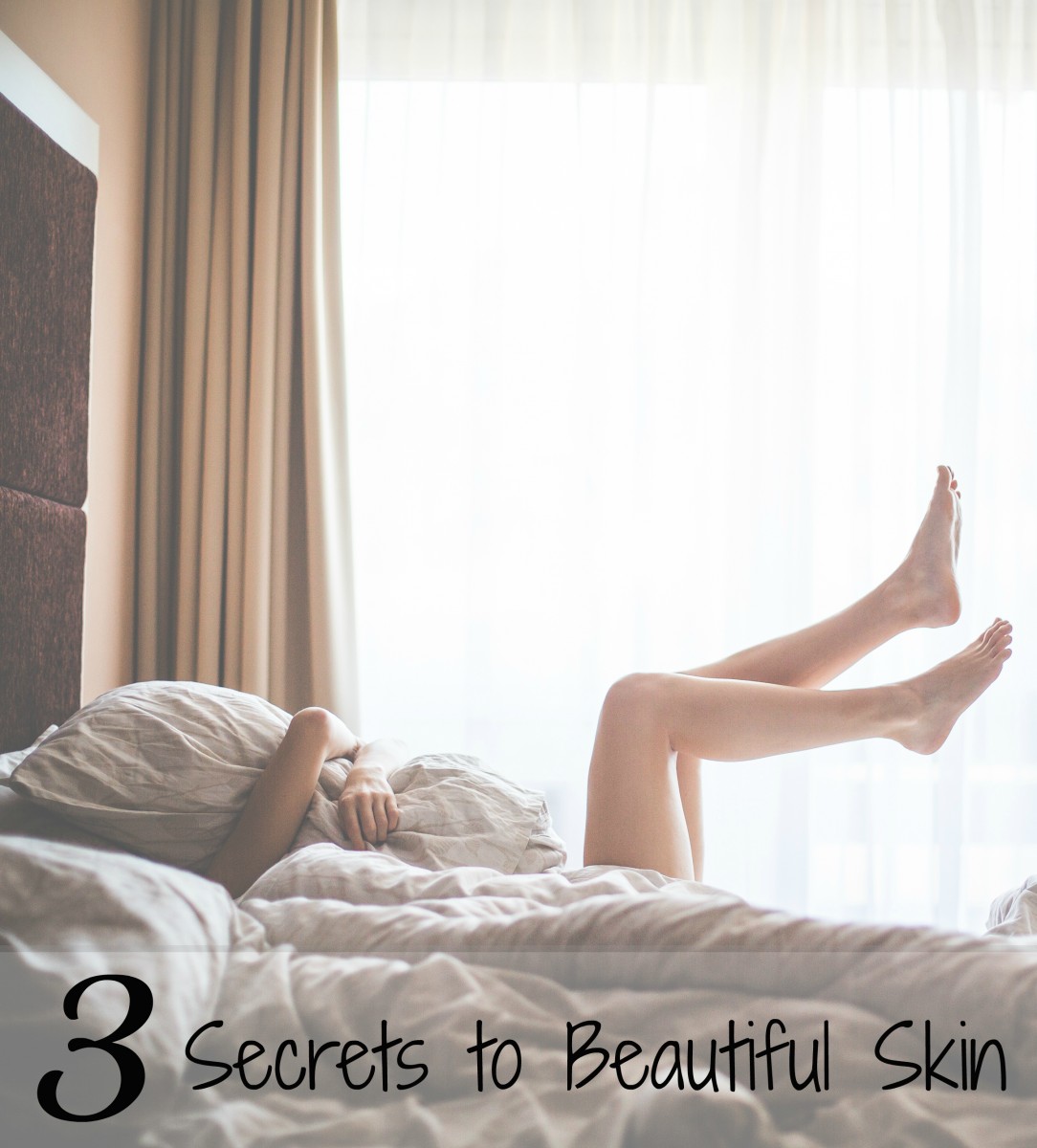 3 Secrets to Beautiful Skin
1. Drink enough water
Everyone and their mother is telling you to drink more water for a myriad of health benefits. I've been seriously upping my water intake as I work on losing weight. While shedding pounds, I'm also noticing a big difference in my skin. When you're dehydrated (which most of us are!) your skin also dries out and shows more wrinkles and fine lines. Staying hydrated helps keep those wrinkles at bay and your skin looking plump and full. I make it a goal to get up and refill my S'well water bottle every hour I'm at work. Hydration and movement for the win!
2. Always remove your makeup at night
Sleeping on unclean skin causes all the dirt and makeup that's been sitting on your skin all day to clog your pores.  It can cause chronic inflammation and pimples. Even worse, the oxidative damage it causes severely ages your skin. Just like the rest of our body, our skin needs time to rest, relax, and breath. Here are some of my favorite makeup removing products:
[show_shopthepost_widget id="1782211″]
3. Moisturize, moisturize, moisturize
Moisturizer is the only product I make sure I apply to my skin each and every day, twice a day. It's essential for keeping skin healthy and functioning optimally. When your skin is healthy it is able to repair itself, shed dead skin cells, and turnover fresh cells at a normal rate. As we get older, that turnover rate begins to slow and our skin begins to show signs of aging. Moisturizer is key to keeping our skin functioning at peak performance. Here are a few of my favorite moisturizers:
[show_shopthepost_widget id="1782380″]
Bonus: Sunscreen!
This is one of those do it now and thank yourself later type things. While you won't notice a difference in your skin by applying sunscreen today, the sun is responsible for the vast majority of aging done to your skin, so you will definitely notice it in the future. (Did you read about the truck driver who after decades of exposing only one side of his face to the sun now looks like he has two different faces?) In addition to using a moisturizer with SPF, I always have one of these sunscreens in my purse:
[show_shopthepost_widget id="1782183″]
Spray Sunscreen | Clarisonic | Micellar Water | Makeup Remover | Moisturizer | Sunscreen Lotion
Questions of the Day: Do you feel like your skin is beautiful? What's a skincare tip you swear by? What's the best skincare advice you've ever received? Mine is: Your face starts from your boobs up!