Weight loss is a daily exercise in persistence and patience. It can be so frustrating when you make good choices day after day and feel like you're failing to see the results that you want. Having faith and trusting the plan will ultimately get you to your goal.
These 15 healthy eating hacks amp up your weight loss and can help you get through a plateau. Weight loss is like a train going downhill. Once you gain momentum and start to see results, it's so much easier to keep it going. Use this list when you need to gain some momentum.
Please note that I am not a physician, these are just weight loss tips that worked for me. Consult a professional before making any drastic changes in your diet and always listen to your body as it's yours and yours alone.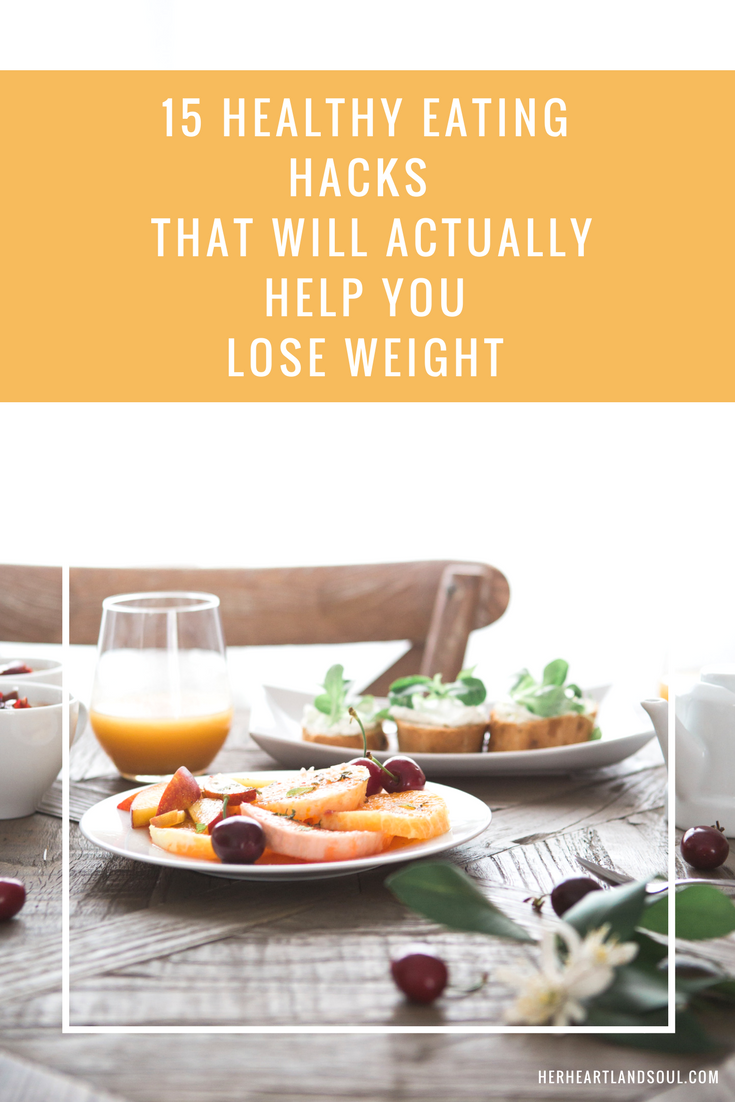 Pin me!
15 Healthy Eating Hacks That'll Actually Help You Lose Weight
1. Eat breakfast
While it's super tempting to skip breakfast so you have more calories left to eat throughout the day, nothing can derail your weight loss plans like skipping breakfast. Eating breakfast helps get your metabolism running, your energy levels up, and your body ready to start the day. Breakfast is what sets you up for success for the day.
2. Choose whole grains over refined grains
I am not on the carb-hating bandwagon that everyone else seems to be on right now. Carbs are essential for good health. Just make sure to pick whole, unrefined grains like whole-wheat, bulgur, and oatmeal over refined grains like white rice, white bread, and white pasta.
The process for refining grains involves adding a crap ton of chemicals, artificial flavors and colors. It also strips out a lot of the naturally occurring nutrients and fiber found in whole grains. While whole grains can taste a lot different than refined grains, I taught myself to like the taste over a decade ago and now I much prefer things like whole grain bread to white bread.
3. Ditch the Diet Coke
You guys, I wanted Diet Coke to NOT be bad for you so badly. It's calorie-free and tastes delicious. Unfortunately drinking Diet Coke led to serious heartburn for me. For others it can lead to tooth erosion, headaches, increased sugar cravings, weight gain, and a host of other problems. Unless I'm going out for a night on the town I'm sticking to drinking water, coffee, tea, and not much else.
4. Meal plan for the week on Sunday
There's a popular saying that says, "those who fail to plan, plan to fail." When it comes to weight loss, this is the truth. I like to map out my schedule for the week on Sunday to figure out what days I need to account for after-work events where there will be food,  and what days I will be cooking meals at home. This helps me figure out when I need to be strict with my eating and when I can be a little more relaxed. Having a plan helps keep me prepared, which is good, because surprises usually equal bad decisions.
5. Pack snacks
Similar to the logic above, surprise hunger without good planning equals bad decisions. Stash healthy snacks in your purse, your car, and your desk at work so you always have something nutritious to munch on to help you avoid unexpected temptation. My go-tos are nuts, apples, and peanut butter.
6. Use an air fryer
I love fries as much as the next girl, but they are a pretty terrible food choice when trying to lose weight. Josh got me an air fryer for Christmas and now we are able to make a much healthier alternative: baked sweet potato fries (that taste fried thanks to our air fryer). This is the air fryer we have and absolutely love.
7. Sub Greek yogurt for sour cream
Sour cream is basically the biggest nutritional waste of a food. Anything sour cream can do, Greek yogurt can do better, with less calories and more protein. Sub Greek yogurt in your recipes that call for sour cream at a one to one ratio and prepare to be amazed at what a perfect swap it was.
8. Drink cinnamon water in between meals
This may sound so odd, but cinnamon can actually decrease your appetite. I drink cinnamon infused water after lunch and it helps hold me over until dinner time.
9. Take a daily probiotic
Health begins and ends with your gut. Take a daily probiotic to help regulate your digestion and keep your body on its A-game. A healthy gut does everything from processing your food faster to fighting off illness. Here is the probiotic I love.
10. Drink your greens
If you struggle to eat enough greens each day, try drinking them! Green smoothies are delicious, nutritious, and give you a natural burst of energy. They're a great way to pack a lot of vitamins into one meal, and with a little sweetener, green smoothies don't have to taste like you're drinking a salad. If you're looking for inspiration, try this yummy green goddess smoothie recipe.
11. Load up on healthy fats
Fats don't make you fat. What they do is make you full, which is a very good thing when you are trying to lose weight. Every meal should have some healthy fats, as fats are required for your body to properly absorb nutrients from your food. That's why doing things like sprinkling chia seeds into your green smoothie is such a good idea. They don't only help fill you up, they also help your body get the most out of that green smoothie.
12. Swap rice for cauliflower rice
While I love rice as much as the next girl, it is a huge calorie bomb. And cauliflower rice tastes virtually the same as regular rice, with a quarter of the calories and the benefit of adding nutritious veggies into your meal. While you can rice cauliflower yourself, places like Trader Joes sell pre-made cauliflower rice, so it's as convenient as it is good for you. If you're a fan of BBQ rice bowls, check out this BBQ Cauliflower Rice Bowl recipe.
13. Season with spices instead of salt
Variety is the spice of life. It's also the flavor in food! We all consume way too much salt in our daily diet, mostly because it tastes good and is a quick and easy way to give food flavor. While salt is great, there are a bajillion other spices out there that will blow your tastebuds if you give them a chance.
14. Make your own salad dressing
Salad dressing is ridiculously easy to make and so much healthier than the ones you buy at the grocery store. Save on calories, artificial ingredients, and cost by making some for yourself. Here's a great recipe for all my fellow ranch lovers.
15. Treat yourself
Life is too short to not enjoy it! While I'm working on my fitness and striving to lose weight I also take time to enjoy occasional treats. Sometimes going off-plan is exactly what my body needs to help me get over a plateau.
Question of the Day: What's a healthy eating hack that helps you lose weight?
SaveSaveSaveSave
SaveSaveSaveSaveSaveSaveSaveSaveSaveSave