Disclosure: This #AwesomelyActive post was sponsored by Tampax® Pearl® Active™ through their partnership with POPSUGAR. While I was compensated by POPSUGAR, all opinions are my own.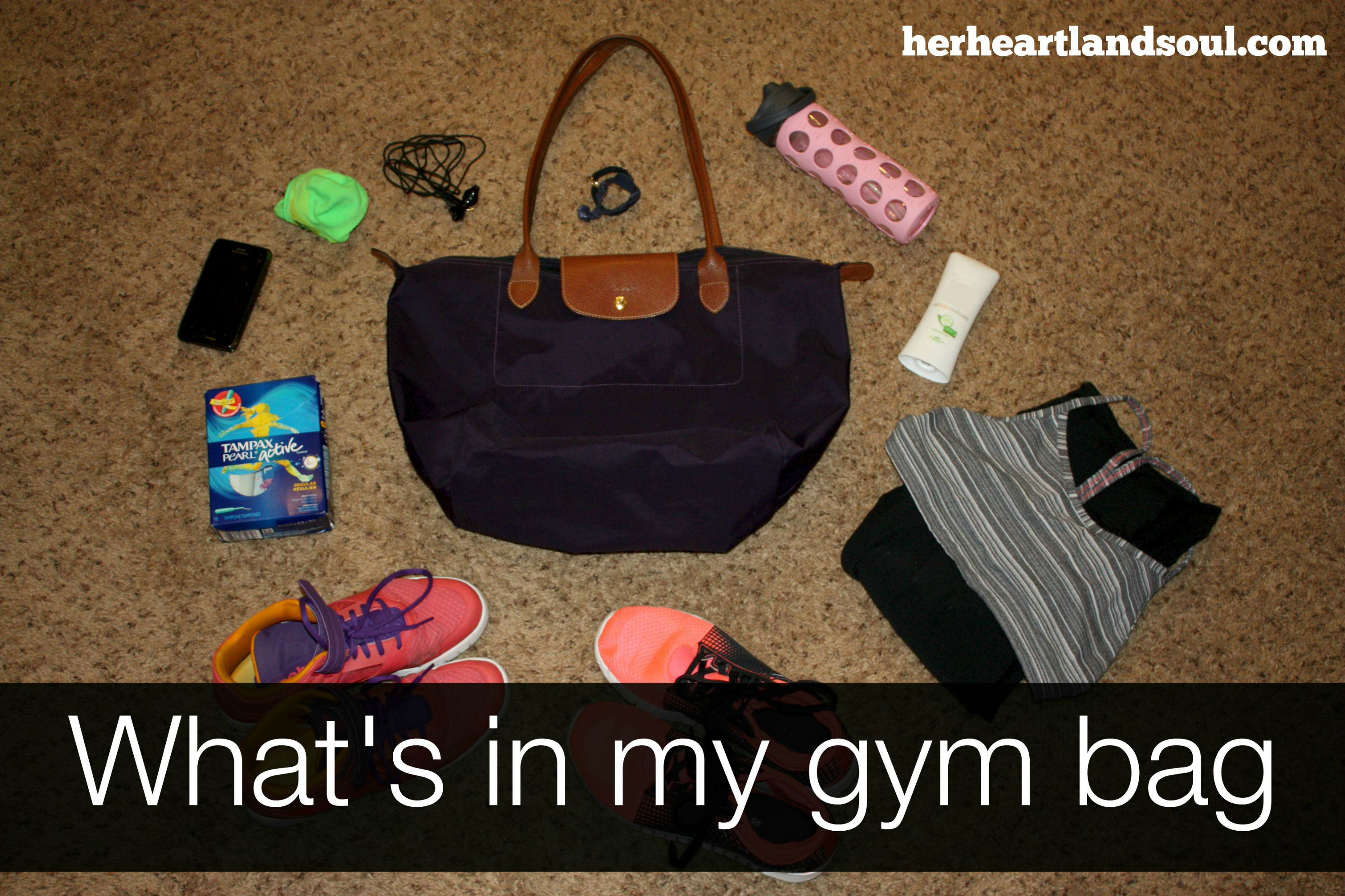 It's easy to feel like there's not enough time in the day to get in a workout. I totally get it – life is busy! I used to use my hectic schedule as an excuse when workouts didn't happen. Now I'm of the mindset that with proper planning, workouts are almost always possible.
One of my best time-saving tricks is packing my gym back the night before. I can't tell you how many Zumba classes I was late to because I was scrambling to find clean workout clothes ten minutes before the class started, or how many HIIT sessions I talked myself out of because my headphones took too long to find.
By packing everything up the night before, I can grab my bag on my way out the door to work and already have it in my car for when I head to the gym in the afternoon. There's no fuss, no rushing, and no worry about not having something I need.
Here's what I make sure to pack in my gym bag: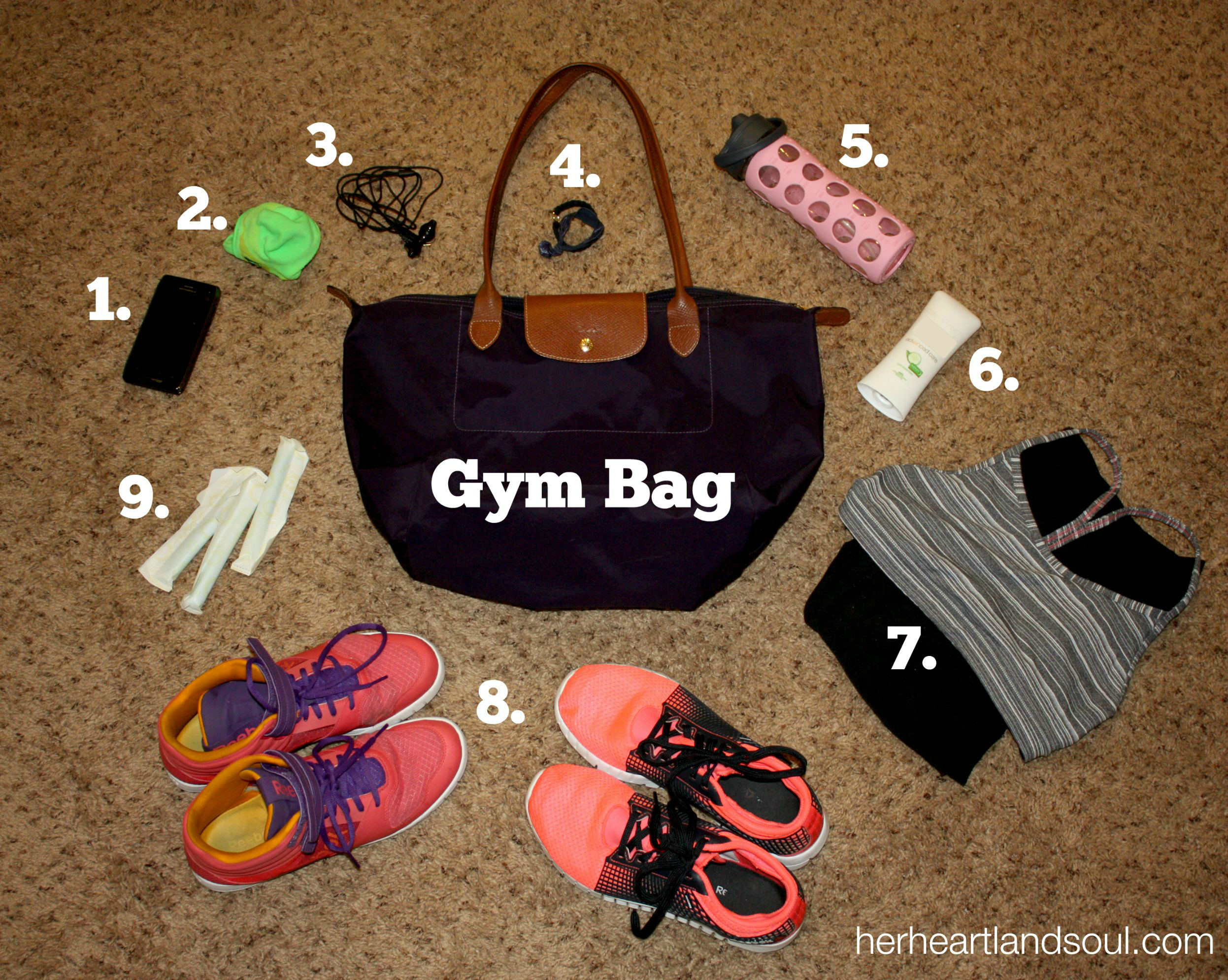 My gym bag essentials
My gym bag is my old college school bag. Yay for re-purposing. I like that it's vinyl so I can just wipe it down if it gets gross. It's also huge and fits everything I need while still sitting comfortably on my shoulder.
1. My phone – Aside from the the clock and communication factor, I use my phone for music while I run, and have apps for the tabata and HIIT workouts I do.
2. Athletic socks – There is a big difference between regular socks and athletic socks. Save yourself from damp, smelly socks that ride up and roll down on your foot as you workout by investing in a pair of good athletic socks.
3. Headphones – I have to listen to music when I workout. And since I don't want to be a walking boombox, I use headphones to be considerate to others. 😉
4. Hair ties – I cannot work out with hair in my face or on my neck. I sweat a lot and do not want hair sticking to me mid-workout. I like cloth hair ties because they don't rip out my hair and cause split ends like other hair ties can do.
5. Water bottle – I drink water like it's going out of style when I workout. Staying hydrated is so important, especially if you're exercising heavily and sweating a lot. I use a glass water bottle so when my bag is hanging out in my hot car I don't have to worry about plastic heating up.
6. Deodorant – I feel like you guys are going to think I'm gross with how many times I've mentioned how much I sweat when I workout. But isn't that the point of working out? I want to go hard and burn calories! I always have deodorant in my bag so I never have to get that gross feeling you experience when you haven't applied deodorant in a while and break a sweat.
7. Workout clothes – When I get home from a workout I immediately put my dirty workout clothes in the hamper, and slip a clean set into my bag. This ensures I never forget to change them out and have to make a last minute decision at the gym between skipping my workout and heading home or staying and working out in dirty, smelly workout clothes.
8. Workout shoes – I seriously once got to the gym and realized I didn't bring workout shoes. Major fail. I pack different shoes depending on what type of workout I'm planning on doing. (See my post on the best workout shoes for every workout.)
9. Tampons – This is not just a gym bag necessity. This is a every-purse-and-overnight-bag-I-own necessity. I always carry tampons because I've been in the situation where I've needed them and not had them and that is seriously not fun. Having a few always stashed nearby ensures that not only will I have one whenever I need it, but I'll have them in case friends or random strangers in the bathroom/locker room/office need them too. (I've seriously been asked for and asked others for tampons in some really strange places.)
I love Tampax® Pearl® and always have a few boxes stashed away in my closet at any time. (TMI, maybe?) Their Pearl applicator is seriously the bomb.dot.com, especially when compared to cardboard applicators some of the other brands use. I have so many girlfriends that swear by this line and don't use anything else.
I was excited to hear about their Tampax® Pearl® Active™ line. It's their slimmest applicator and is made  for comfort as you move and shake and sweat. It's got The Built-in Backup Braid™ for leak protection and FormFit™ protection to help stop leaks before they start.
I was really impressed with the slim design and think this is a perfect fit for those who don't want to let their time of the month stop them from getting their workout on. It's also a great option for teens and those who have been having trouble finding a tampon that feels comfortable to them.
Questions of the Day: What's in your gym bag? Are you a Tampax® Pearl® fan? Have you tried Tampax® Pearl® Active™? Where is the weirdest place you've ever been asked/ asked for a tampon?