Hey everyone! Happy Monday! This weekend flew by way too fast but was so much fun. (Isn't that always the case?) Don't forget to link up to yours at the bottom of this post!
Failing at Bowling
Friday night Josh and I went bowling with my office as part of an Omaha Ad Agency event. The bowling alley was the coolest bowling alley I have ever been to and the event was so much fun.  There was good music, yummy food, and a great bar. Not so fun were my bowling skills: I won worst bowler of the event! Womp womp. Oh well. I'll get a kick out of seeing this trophy on my desk at work today.
Adventures in Lincoln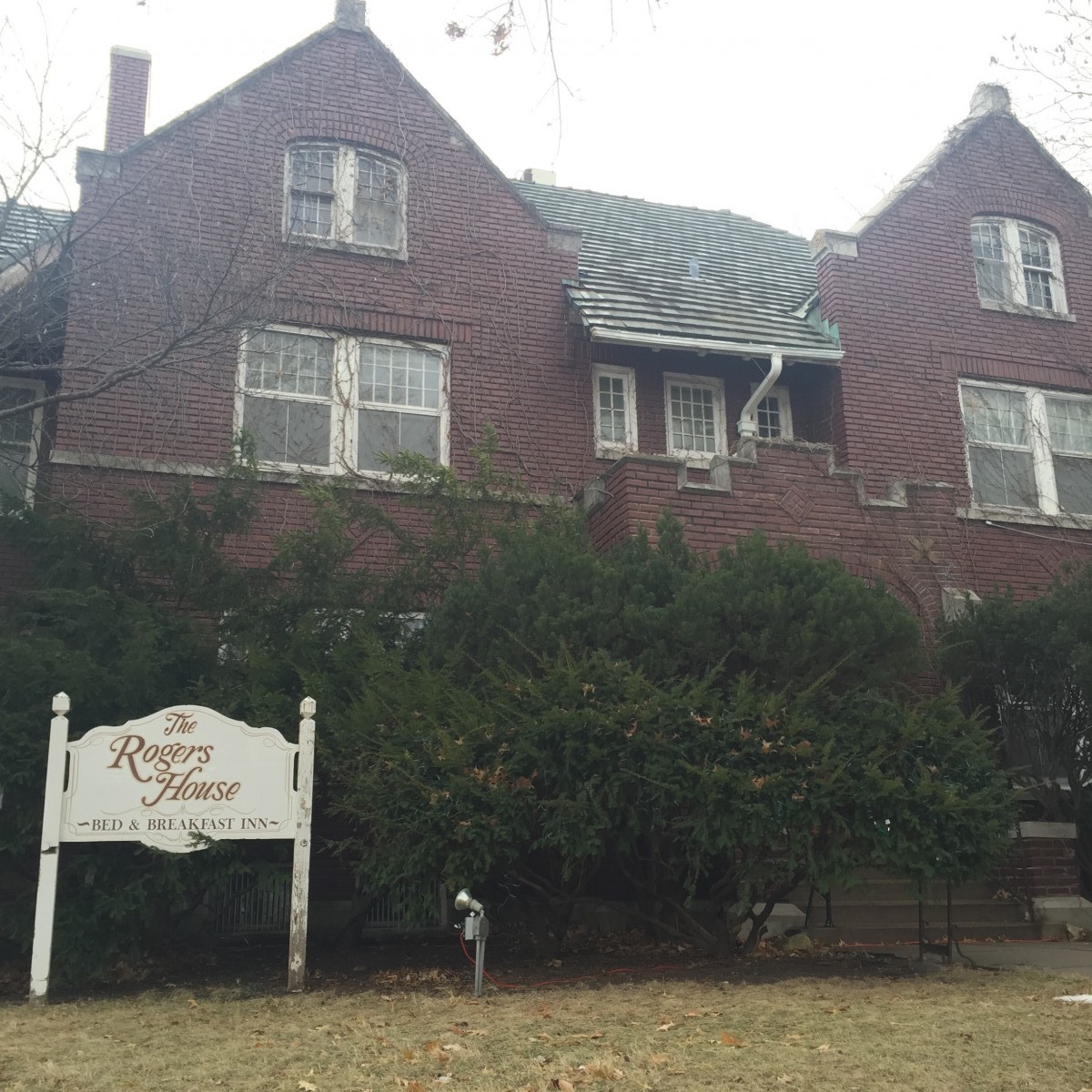 For Josh's 30th Birthday this past November I got him a night stay at a Bed and Breakfast in Lincoln, Nebraska. It's less than hour away from us and is such a fun college town. It reminds us both of State College where we met and fell in love. Saturday afternoon we made the drive from Omaha to The Rogers House B&B. I picked the place after doing some research online and was so glad I chose the one I did. The place is beautiful and the owners are so nice.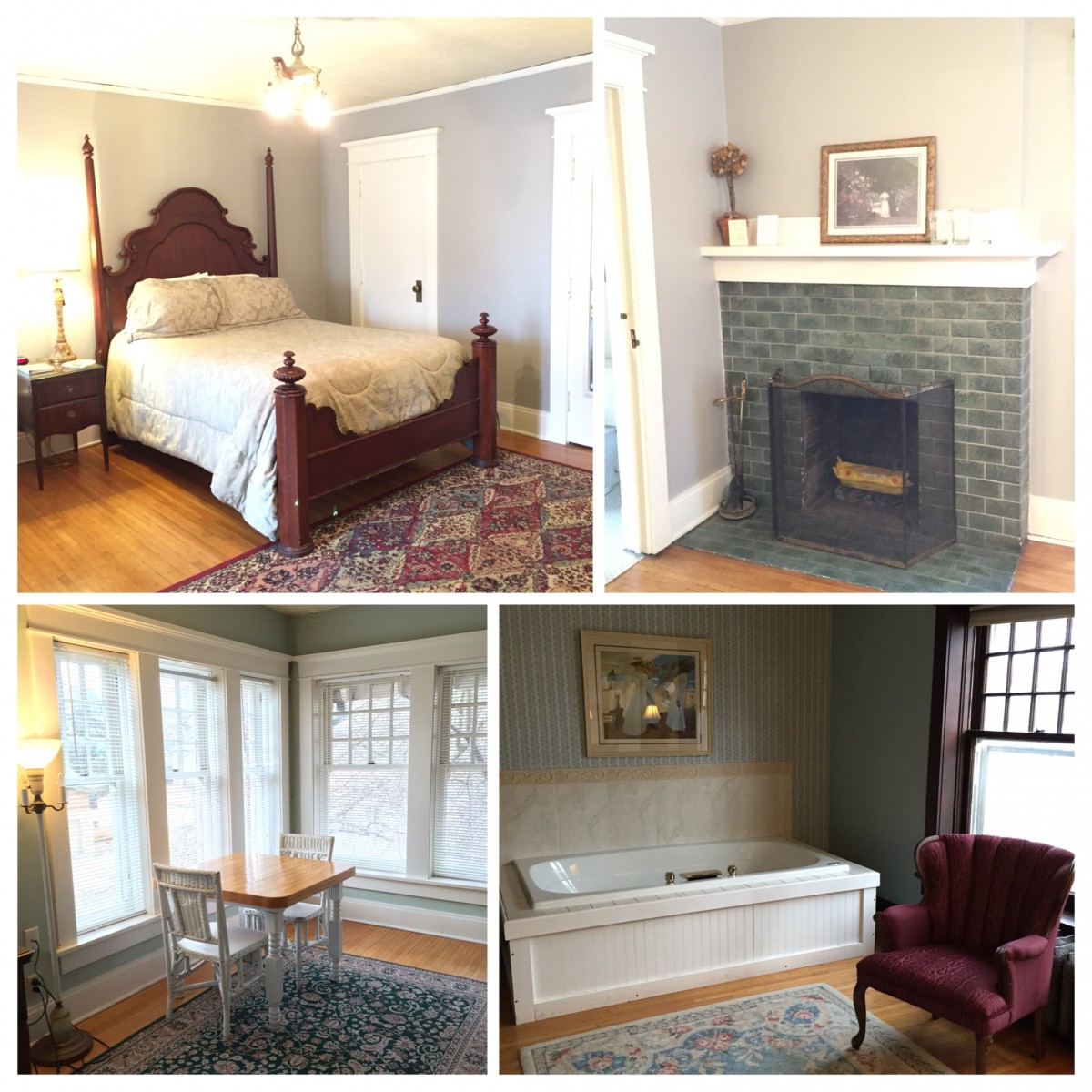 We stayed in The Bankers Suite and absolutely loved it. It was so charming. The bed was incredibly comfy, there was a log to burn in the fireplace at night, a sunroom to eat breakfast in, and a huge bathtub with jets. I didn't want to leave! I would absolutely recommend this place to anyone looking for a nice place to stay in Lincoln.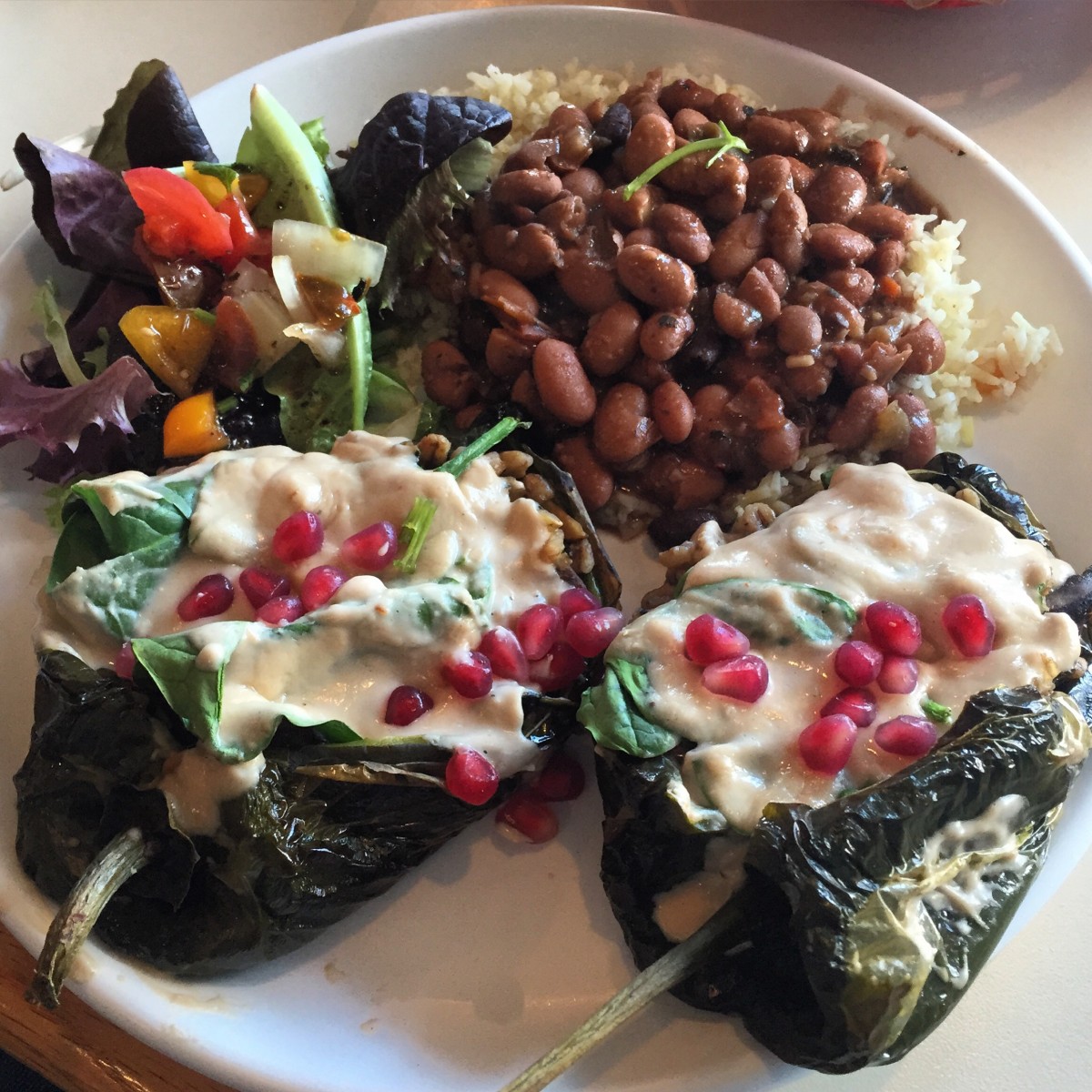 After we checked in we decided to head out and get exploring. We stopped at Pepes for a vegan Mexican lunch and loved it. The menu was so inventive and the chef was incredible. Not pictured is the side of guacamole we got that was so fresh and absolutely delicious. I can't wait for Mexico in March. If I have just guacamole and a margarita with me at all times I will be a happy girl.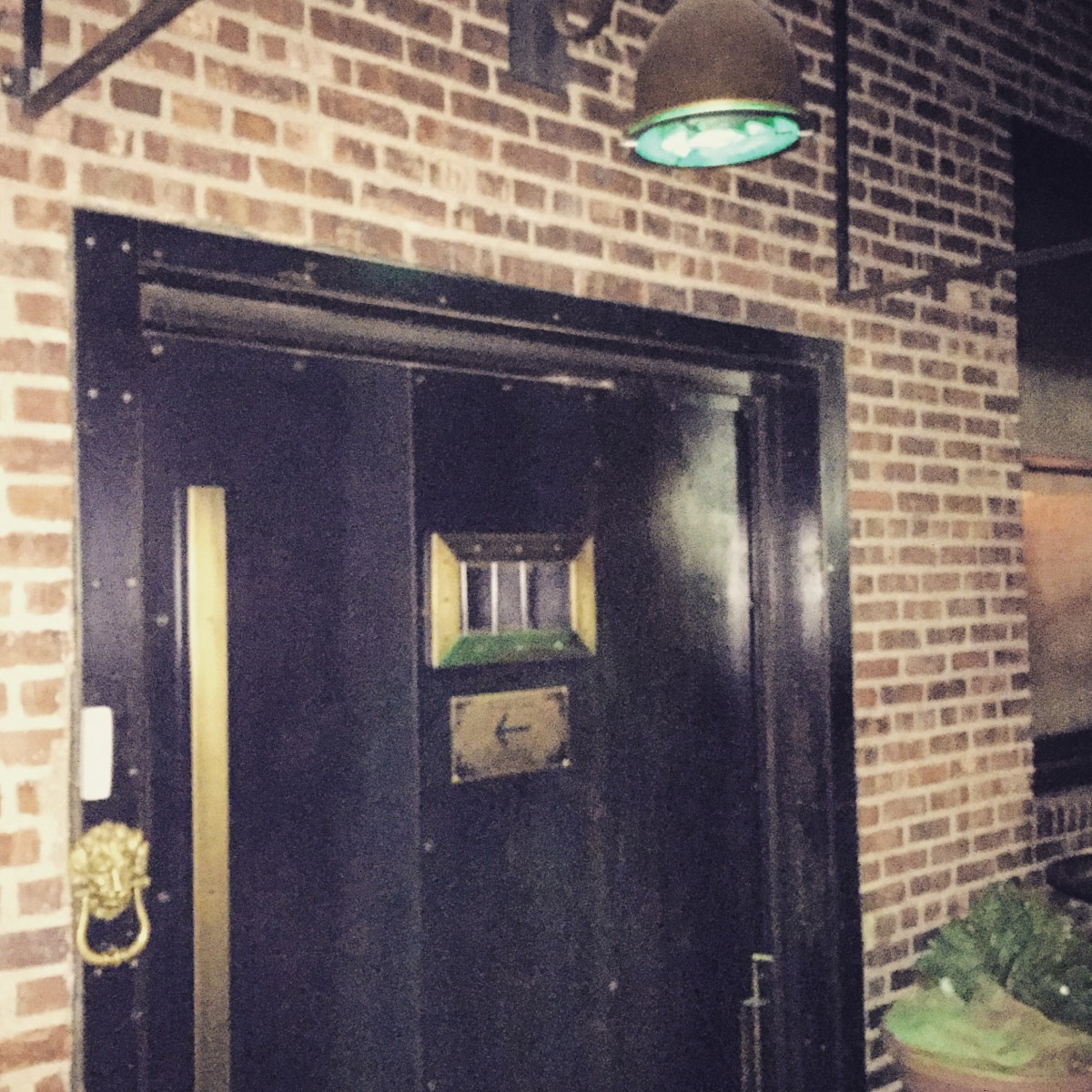 We then headed to The Other Room, a place we heard about from friends and have been dying to check out. It's a speakeasy with pre-prohibition style drinks. Only 25 people can be inside at a time and the light above the door indicates whether they're accepting visitors or not. There's no signage to find the place and we were absolutely lost for a good 15 minutes trying to find where the heck it was on the block. (Even after asking people on the street!) haha No photos are allowed inside but it was so cool. And the drinks were the best I've ever had. I got the Dr. Suze and Goldrush and now can't wait to have Josh recreate them for me at home. 😀 This will be a must-stop every time I'm in Lincoln.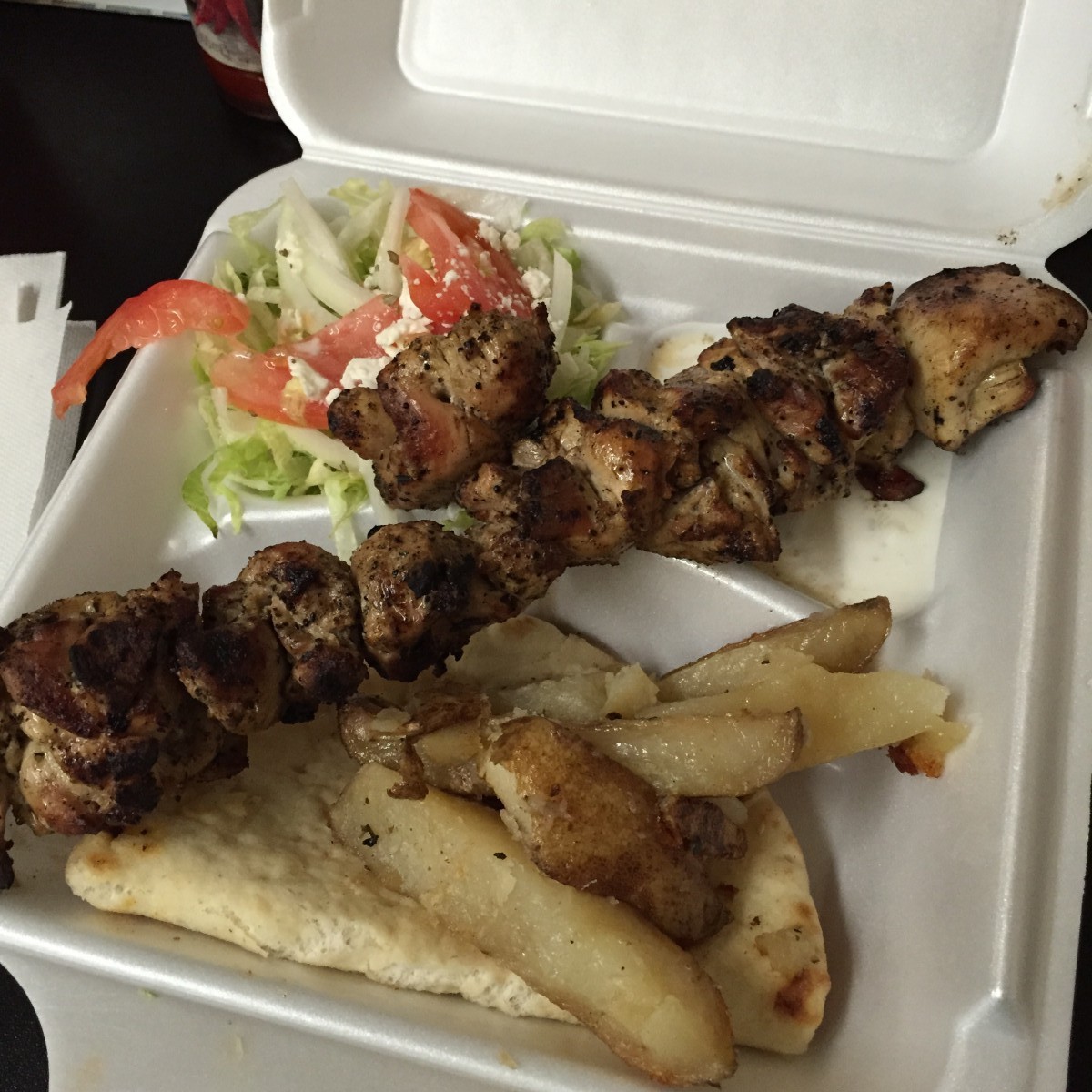 A late night quest for dinner led us to Ali Babas for Greek food. We ran into Penn Staters there for a gymnastic tournament and I got a delicious chicken kabob and fries. It was a great stop all around.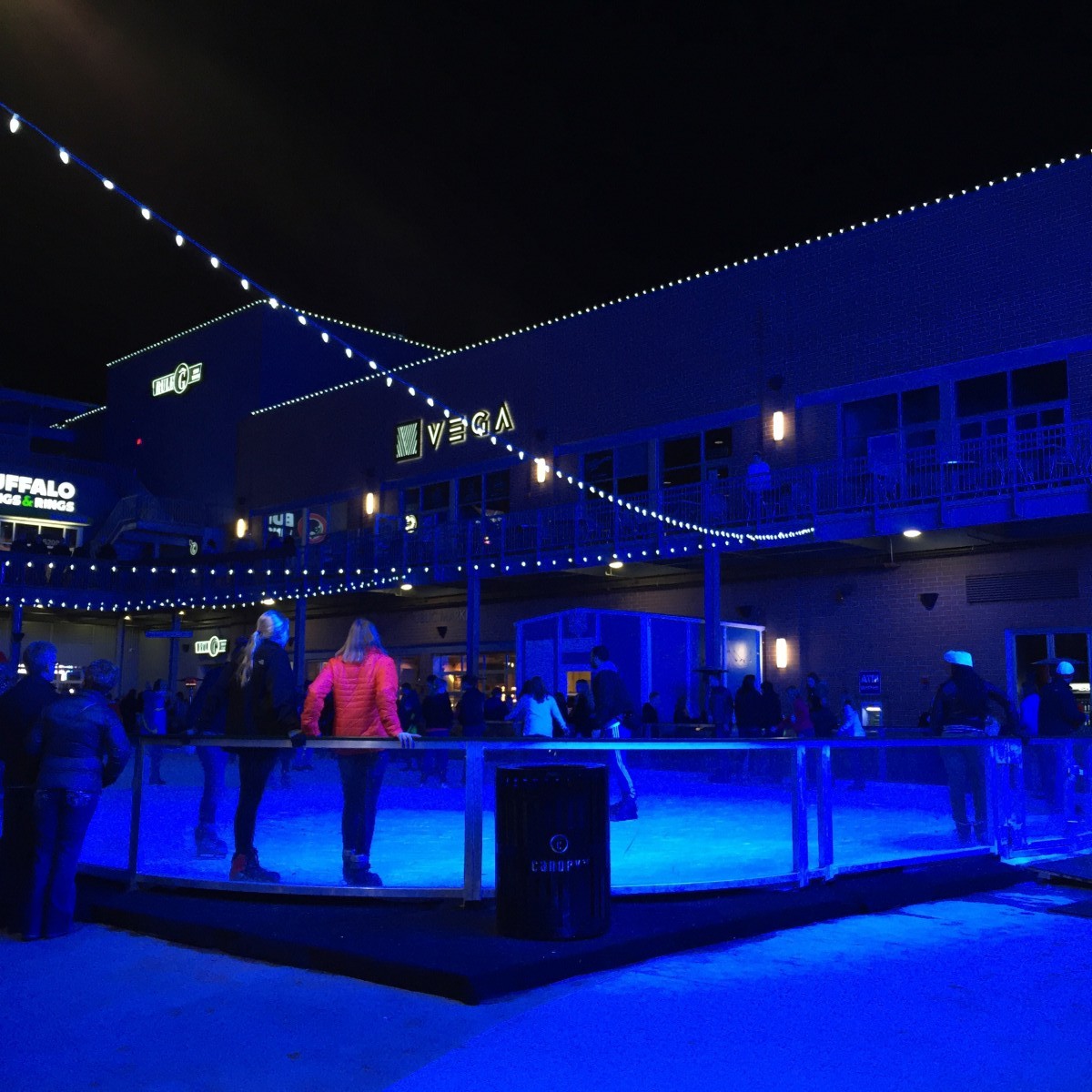 Afterwards we headed to The Railyard in the Haymarket to check out the nightlife scene. It was such a fun area and reminded me of a smaller Kansas City Power and Light District. I can't wait to go there with Josh one day.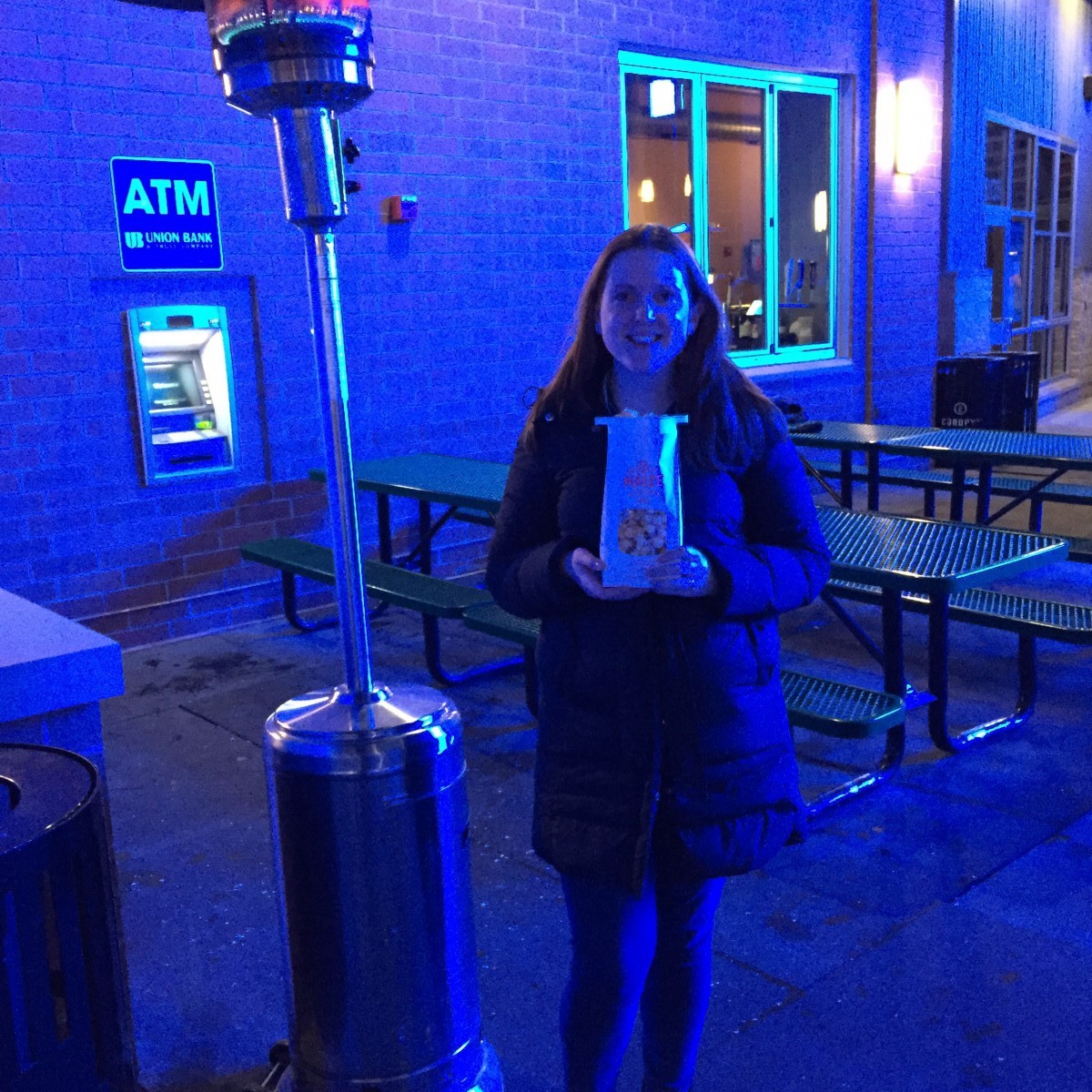 My favorite thing about The Railyard? Popcorn from Maize! It was the perfect late night snack. I loved all the flavors. We ended up mixing caramel popcorn with buffalo ranch popcorn for the best mix. It sounds weird but it's the perfect salty-sweet mix. We enjoyed it with a bottle of wine back at the bed and breakfast.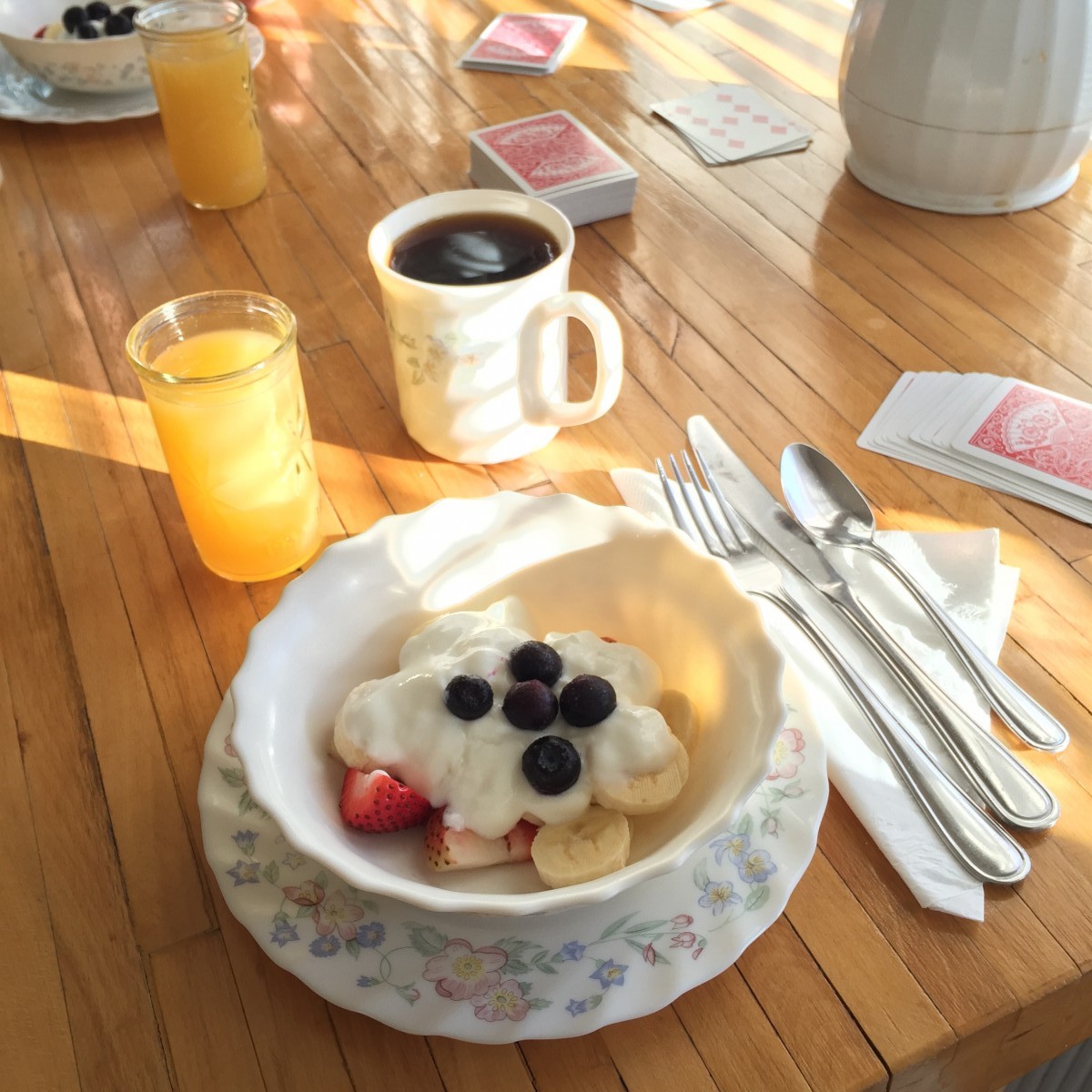 We were spoiled in the morning with breakfast in our room. We ate in the sunroom while we played cards. The night before we were able to list the foods we like and don't like and select what time we'd like breakfast to be served. First up was yogurt with fruit.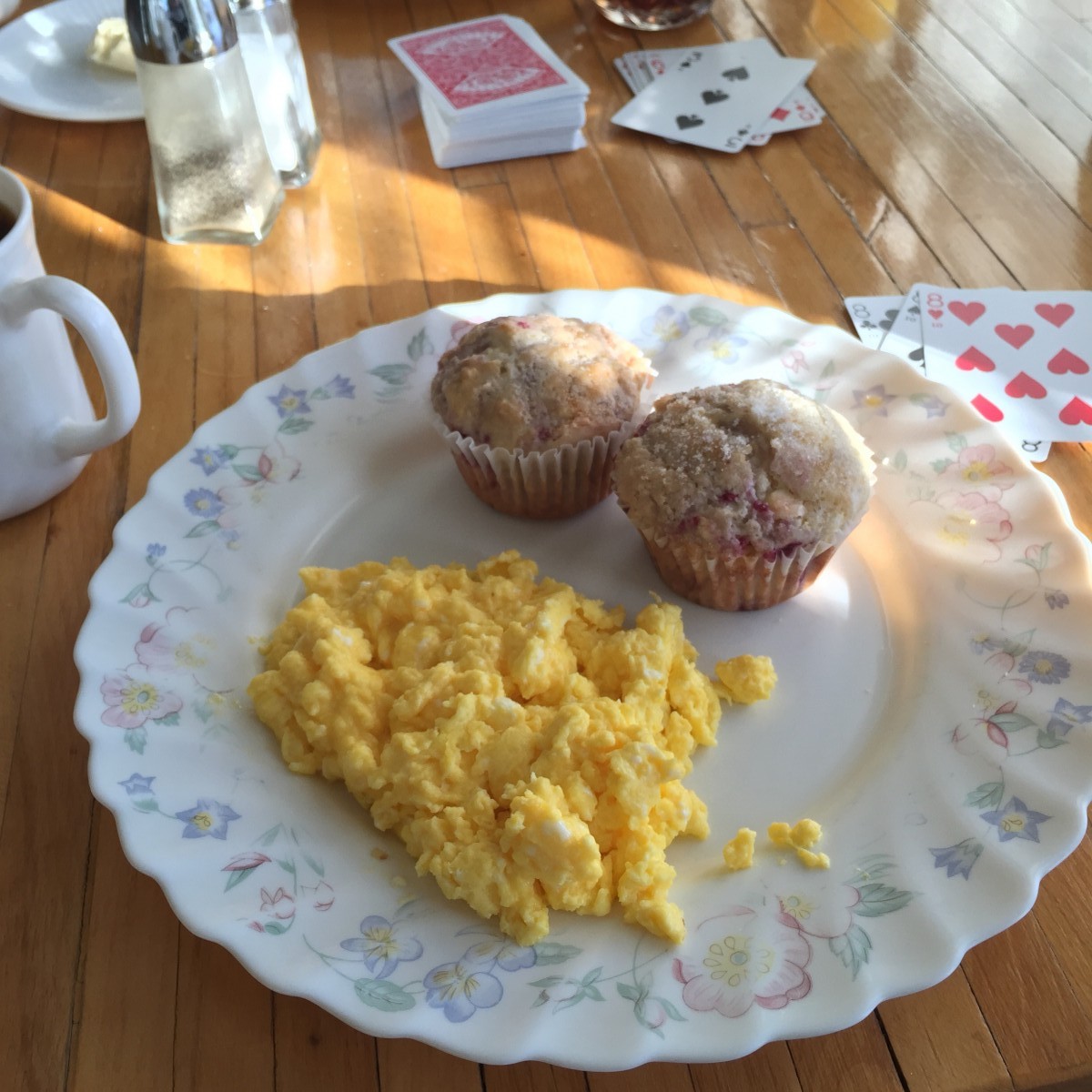 Followed up with eggs and yummy cranberry muffins for me and French toast for Josh. Everything was delicious. Kicking Josh's butt at Canasta was the cherry on top. 😀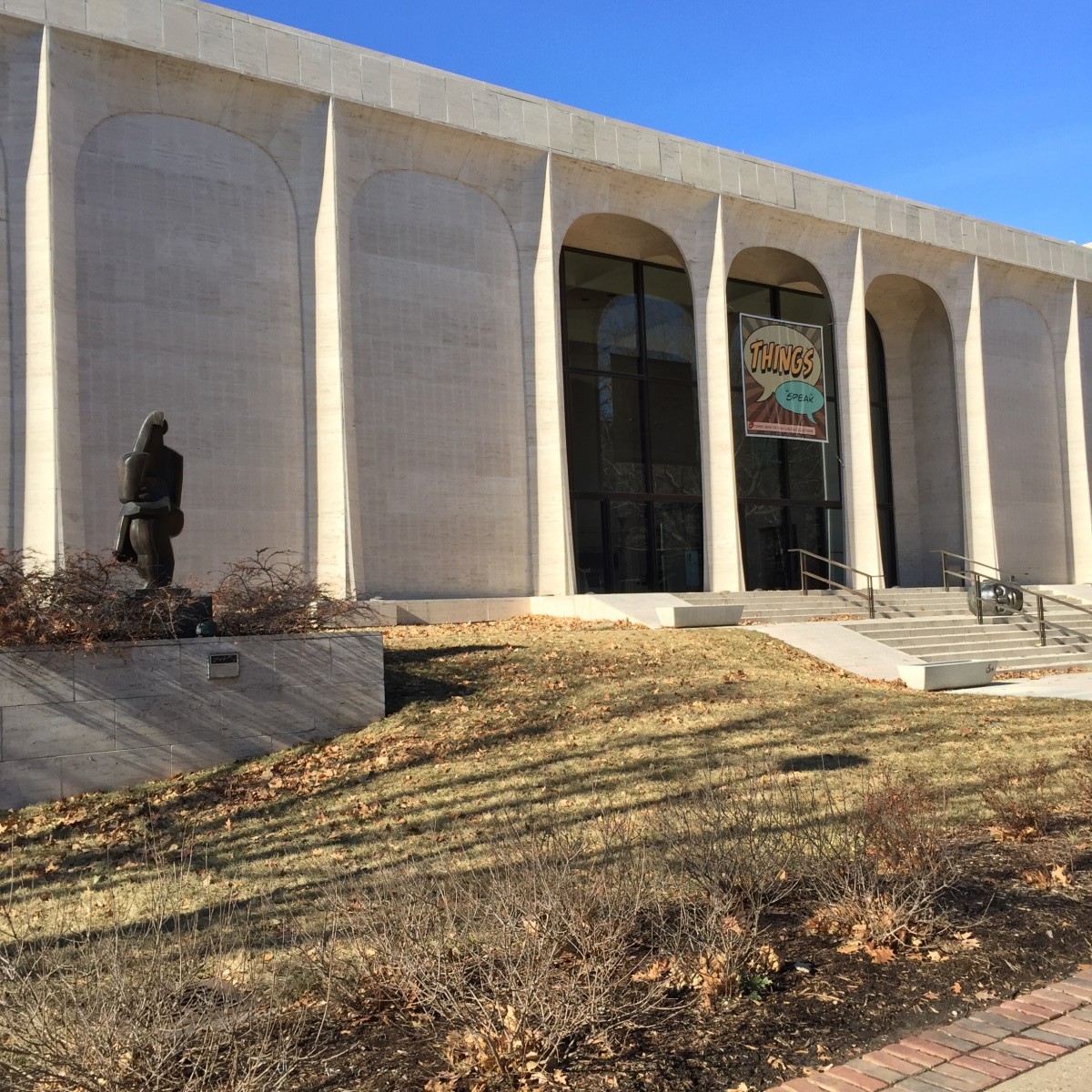 After checking out of the hotel we headed over to the Sheldon Art Museum on UNL's campus. It was such a beautiful day!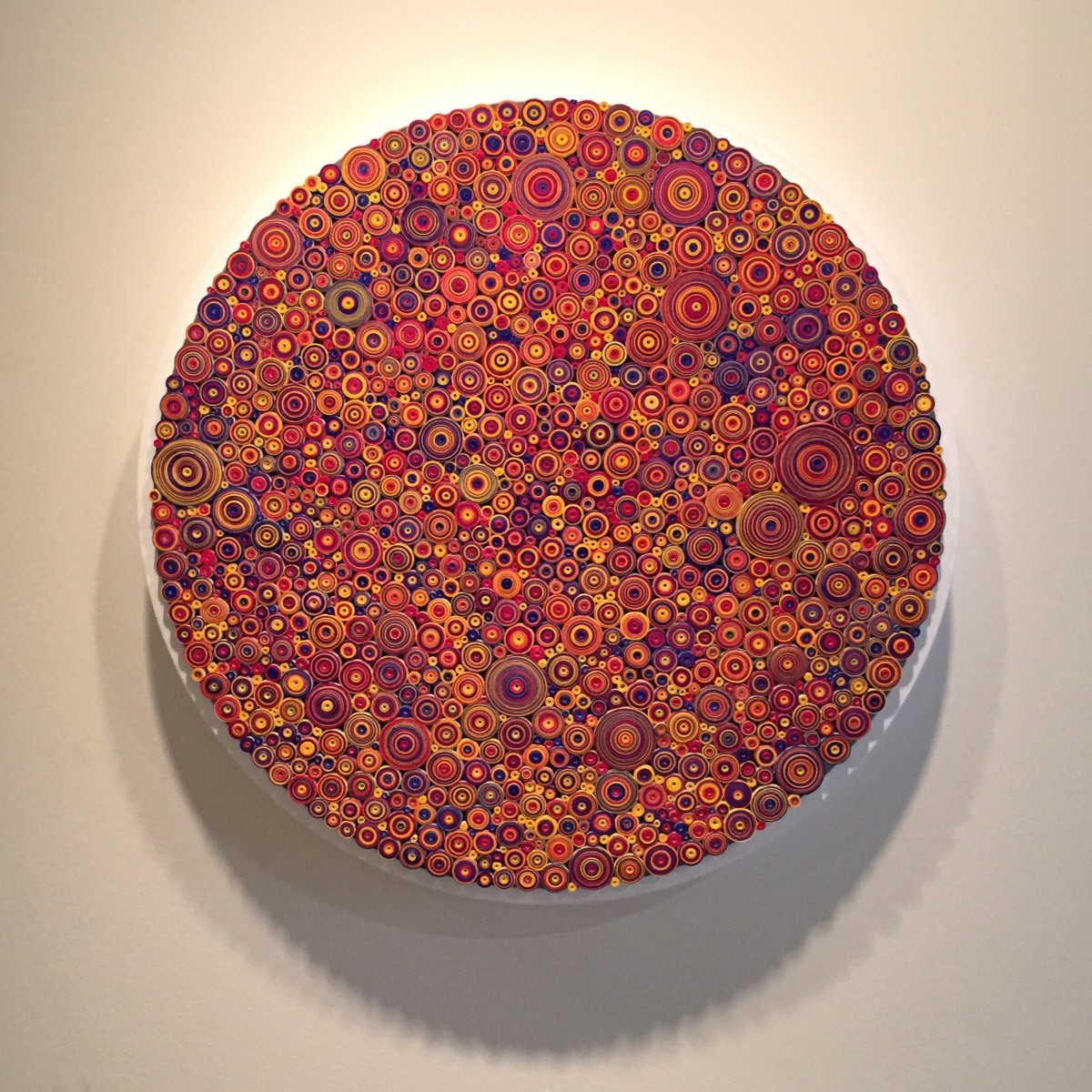 We had a lot of fun looking at everything. Josh and I both loved this piece. It's made out of rolled up paper!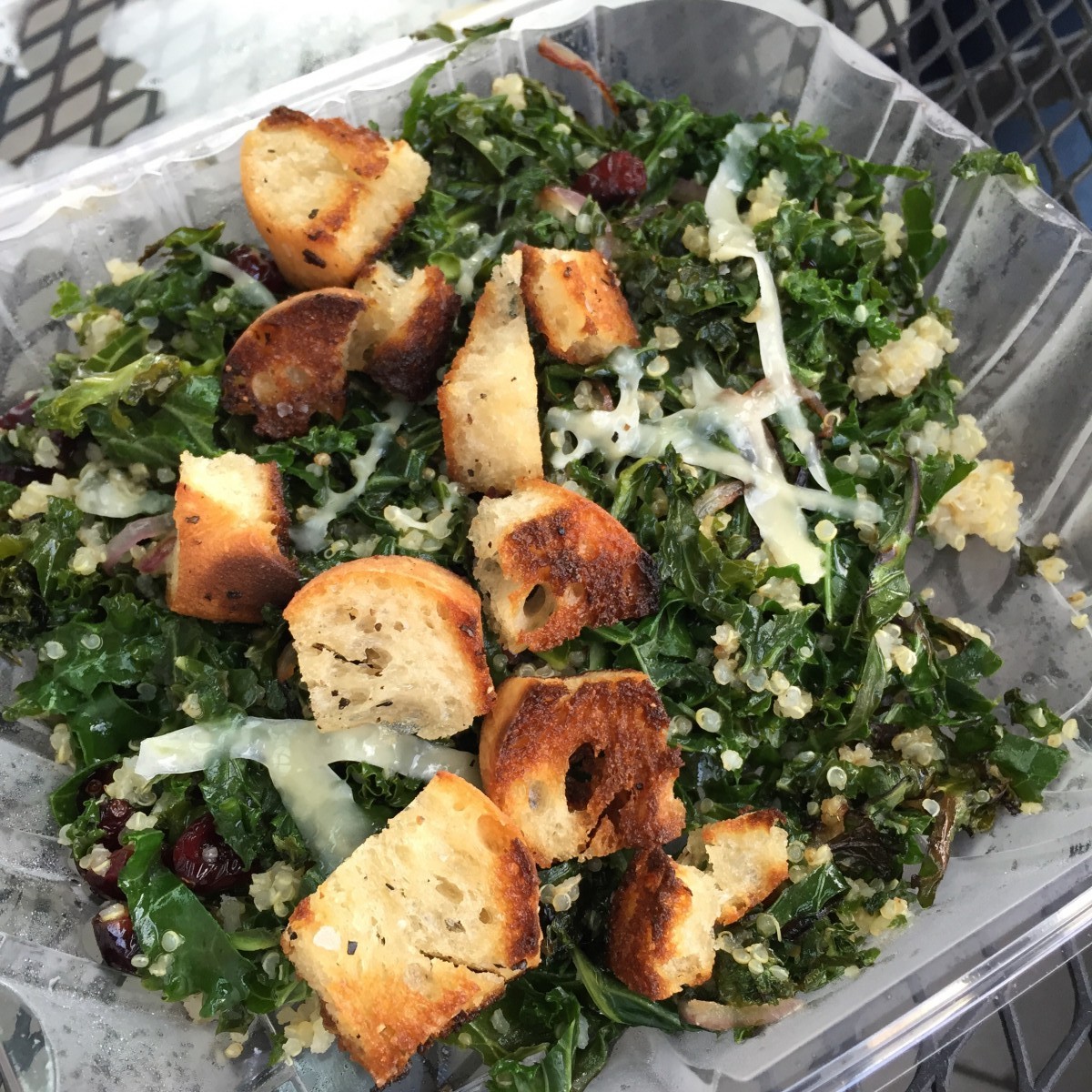 We got so caught up in the museum we realized our lunch choice was about to close for the day! Thankfully they take last minute to-go orders so Josh and I were able to try out Bread & Cup. Their kale salad was delicious, nice and light, and flavored perfectly with honey and vinegar. Josh got the mac n cheese benedict with a cinnamon roll. I'm jealous of guys metabolisms. 😉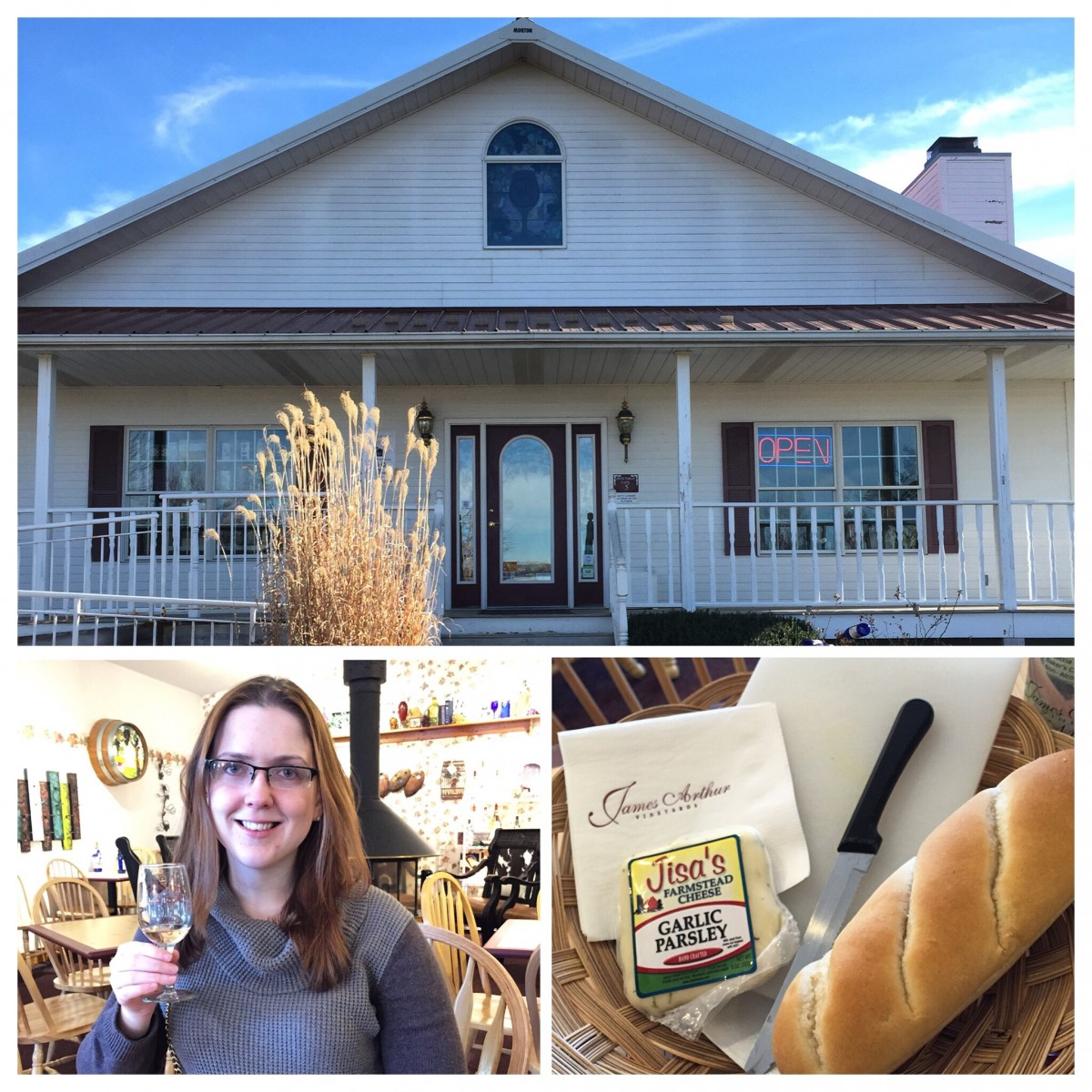 On the way home from Lincoln Josh and I stopped at James Arthur Vineyards to do a wine tasting. While we sampled sweet wines (the best!) we talked ourselves into some local cheese too. When in Rome, right?
It's neat to be Elite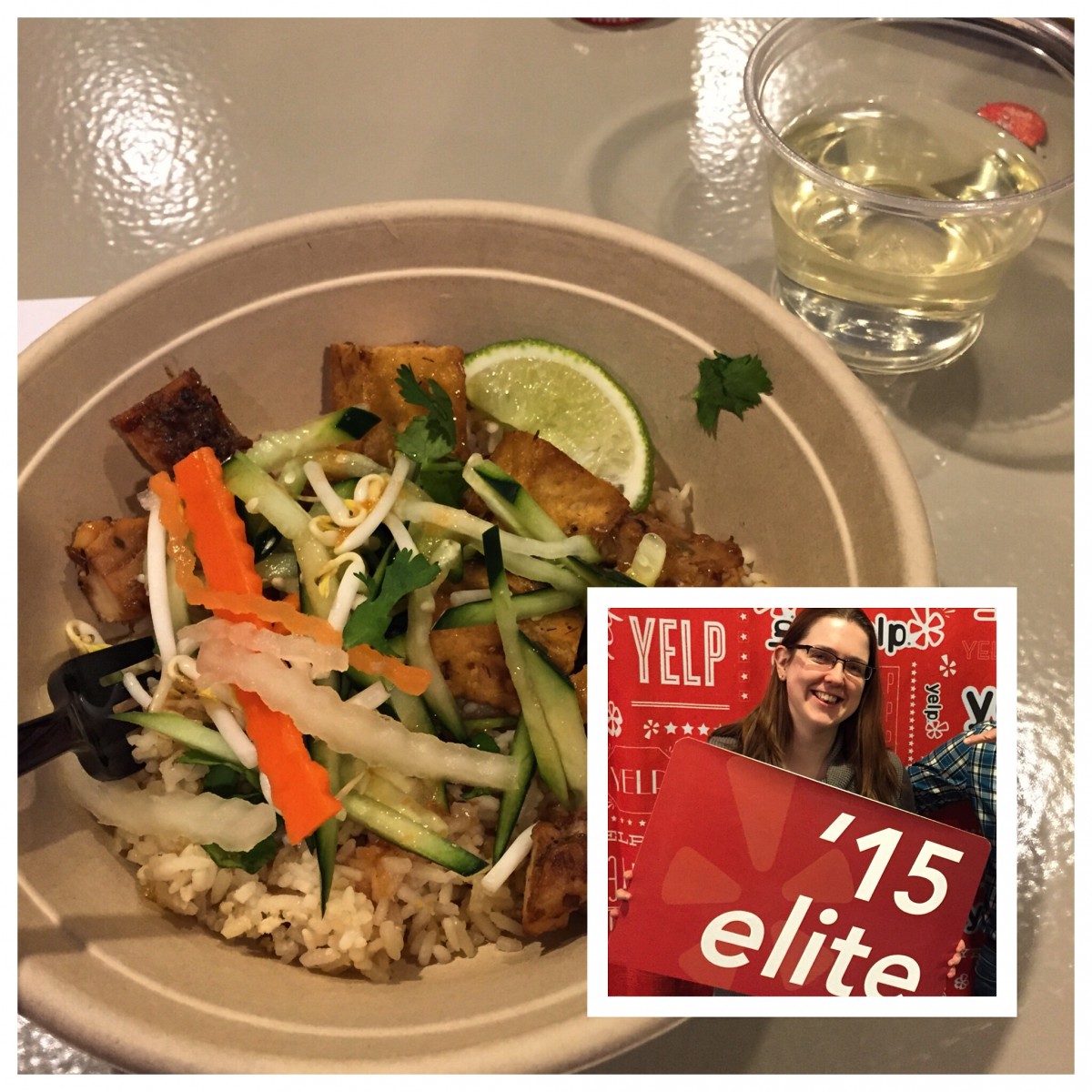 We got home just in time on Sunday to get our grocery shopping done for the week and head to Saigon Bowl for the first Yelp Elite event of 2015. I love Yelp. And Saigon Bowl was delicious! It's a Chipotle-esque concept with Vietnamese food. Fast, fresh, and so yummy. I can't wait to come back and order even more tofu. It was seasoned perfectly.
And that was my weekend! It went by in the blink of an eye but was so fun. My strict healthy eating took a detour but I made smart decisions when I could and splurged on what I really wanted. This was a weekend for fun new experiences with that one guy I love and I wouldn't trade that for anything. 😀
Questions of the Day: Are you a fan of Vietnamese food? Do you like staying at bed and breakfasts? What was the highlight of your weekend?