Valentine's Day is just around the corner. I normally let holidays sneak up on me and than frantically rush to find the perfect gift. Not this year! This year I am being mindful of time (well, more mindful… baby steps 😉 ) and shopping early.
Josh makes it a point to show his love for me each and every day. I love opportunities like Valentine's Day to spoil him and show him lucky I feel to get to love him right back. So a full 14 days before Valentine's Day, here are my picks for the perfect Valentine's Day gifts for guys.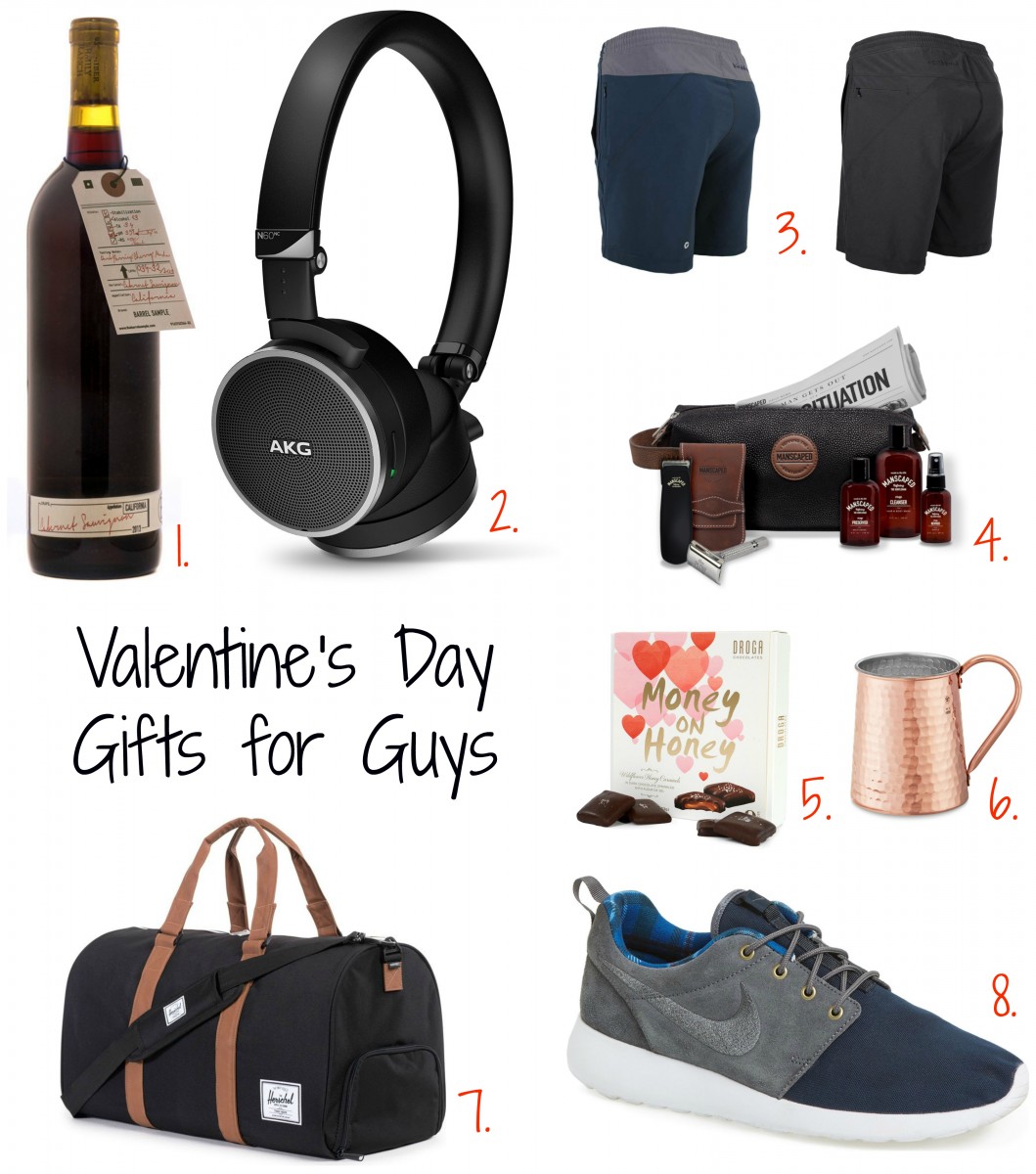 Valentine's Day Gifts for Guys
1. Josh and I love gifting each other bottles of wine. It's a gift that will always be enjoyed no matter the holiday or time of year. This Barrel Sample Cab is perfect for red wine lovers. It's smooth, fruity, and a lot of fun to drink.
2. These noise-cancelling headphones are amazing. They are light-weight, have incredible sound-quality, and fit comfortably over your ears. (They have also personally saved me from many a long flight with crying babies onboard.)
3. Does anyone else feel like guys have a hard time when it comes to gym wear? I recently heard about the company Birddogs, and their shorts are supposed to be the next best thing since sliced bread for guys gym shorts. Josh is coming to a "bring the dudes" Barre class with me on Valentine's Day so I thought it would be fun to surprise him with these sweet workout shorts. Their marketing is a little bro-tastic but they're designed by the former head of men's design at Lululemon, so I figured they're worth giving a shot.
4. This is for the guy who likes good grooming. And who has a sense of humor! There's so many products out there for the hair on his face, but what about hair a little lower south? Manscapped has you covered with their "perfect package" kit. 😉
5. Girls aren't the only one who like getting chocolate on Valentine's Day! If your man has a serious sweet tooth these gourmet caramels may be right up his alley. I also love the fun name.
6. Josh is super skilled behind the bar so I love gifting him barware to add to his collection. If your man likes to make a killer cocktail, these copper pint mugs are perfect for displaying and have some serious heft when you handle them. They're also a good excuse for your guy to make you more drinks!
7. Josh gifted me an overnight bag for our anniversary last year and it has been so convenient to have a bag that you can pack with weekend essentials and throw in the car for a quick getaway. We're wanting to go on more roadtrips as the weather gets nicer and explore more of the Midwest. This men's overnight bag looks perfect for weekend jaunts. It also matches the backpack Josh has from the same company. We used it every single day of our cruise.
8. I have finally gotten Josh to trade his all-white New Balance walking sneakers for some stylish kicks. Hallelujah! I'm encouraging this progress by stocking his closet with a few nice options. These Nikes are the perfect sneaker to take from gym to street.
Questions of the Day: Do you celebrate Valentine's Day? What are you getting your special someone this year? Did any of the items from my list catch your eye?