I love the Nordstrom Anniversary Sale. It's crazy to think I used to shop this sale for back-to-school clothes in high school over 10 years ago. Thankfully my style has gotten an upgrade from the Dooney & Bourke and Juicy Couture trends from yester-year. Now I'm all about finding affordable, quality classics that will last me for years to come. I'm even more focused on basics this year thanks to the fact I'll be working from home for the foreseeable future. I want all things comfy and cozy! Here are my top 15 Nordstrom Anniversary Sale picks.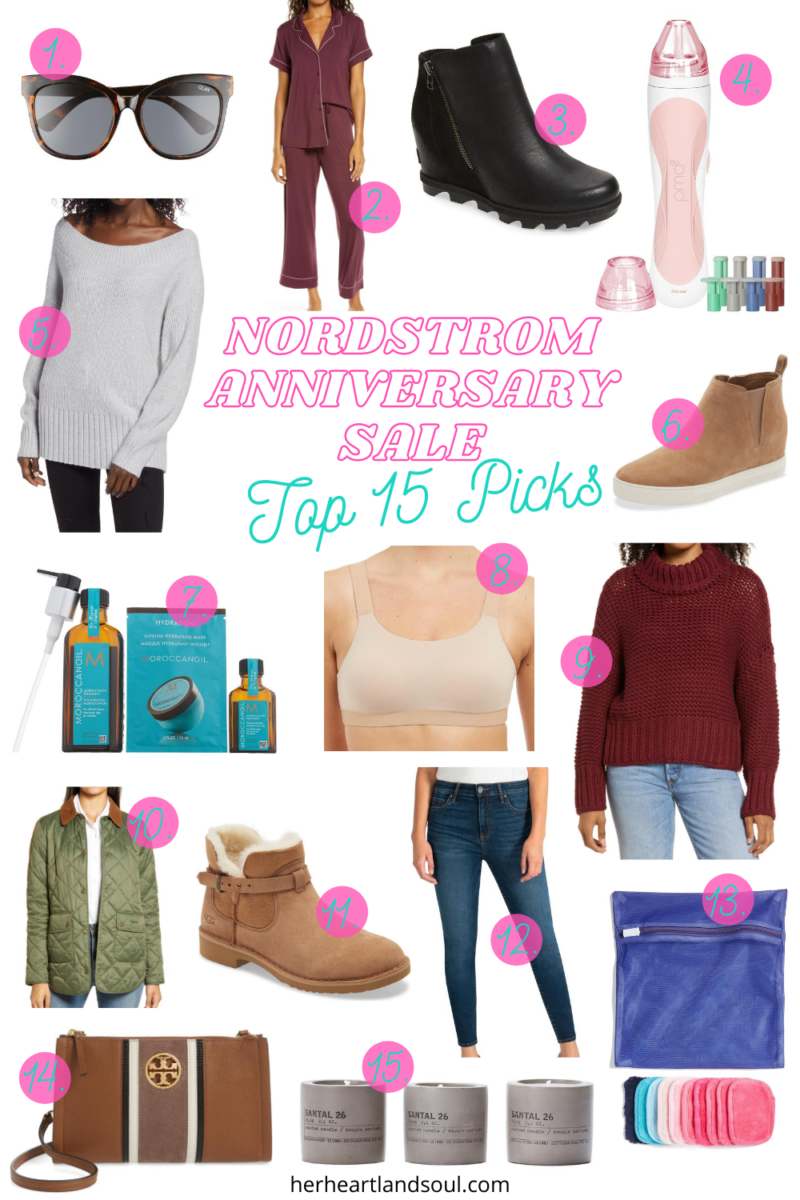 1 | 2 | 3 | 4 | 5 | 6 | 7 | 8 | 9 | 10 | 11 | 12 | 13 | 14 | 15
1: I love this brand. I love these sunglasses. I love the price. This is a must purchase.
2: I'm stocking up on all the PJs this year, since I've been living in them. I love this brand and how comfy they are.
3: These are the perfect functional-yet-fashionable winter boot. You can never go wrong with SOREL.
4: My skin is getting allll the TLC right now while I'm bored in the house, bored in the house, bored. I'm excited to try out at-home microderm.
5: While I'm not looking forward to cold weather I am all about a comfy sweater that will go with everything.
6: I love the wedge sneaker look. These come in three colors and I want them all!
7: I am living for deep conditioning at-home hair treatments since I'm still not venturing out to the salon. This set is a great way to stock up on some ultra-moisturizing hair products at a deep discount.
8: True story: I think I'm over bras. Sadly, I don't think the rest of the world is, so these barely-there bras are my solution for when I need to Zoom with coworkers and eventually see people in person.
9: I live for a chunky sweater in the winter. Free People never disappoints.
10: I love how timeless this coat is. It will be perfect for fall for years and years to come.
11: If still wearing Uggs is wrong I don't ever want to be right. These are a winter staple, and super cute to boot.
12: The wash on these jeans is SO good. They're from one of my favorite denim brands that are always super affordable. Do you think we'll ever stop wearing skinny jeans? I hope not.
13: A 10 day set of my favorite makeup remover wipes? Add to cart. I'm so excited for the laundry this will save me.
14: Call me basic but I love Tory Burch. This purse is so freaking cute, will go with anything, and is super affordable.
15: Okay this one is totally a splurge but if I'm going to be stuck at home all day every day I want it to smell nice! Soul Cycle got me hooked on Le Labo and I am obsessed with these soy-based candles!
Questions of the Day: Do you shop the Nordstrom Anniversary Sale? What are you stocking up on? Which of these picks is your fave?