I love a good shopping post. It's fun to see what others have bought and are loving. Here are some of my very favorite recent purchases that I love and highly recommend.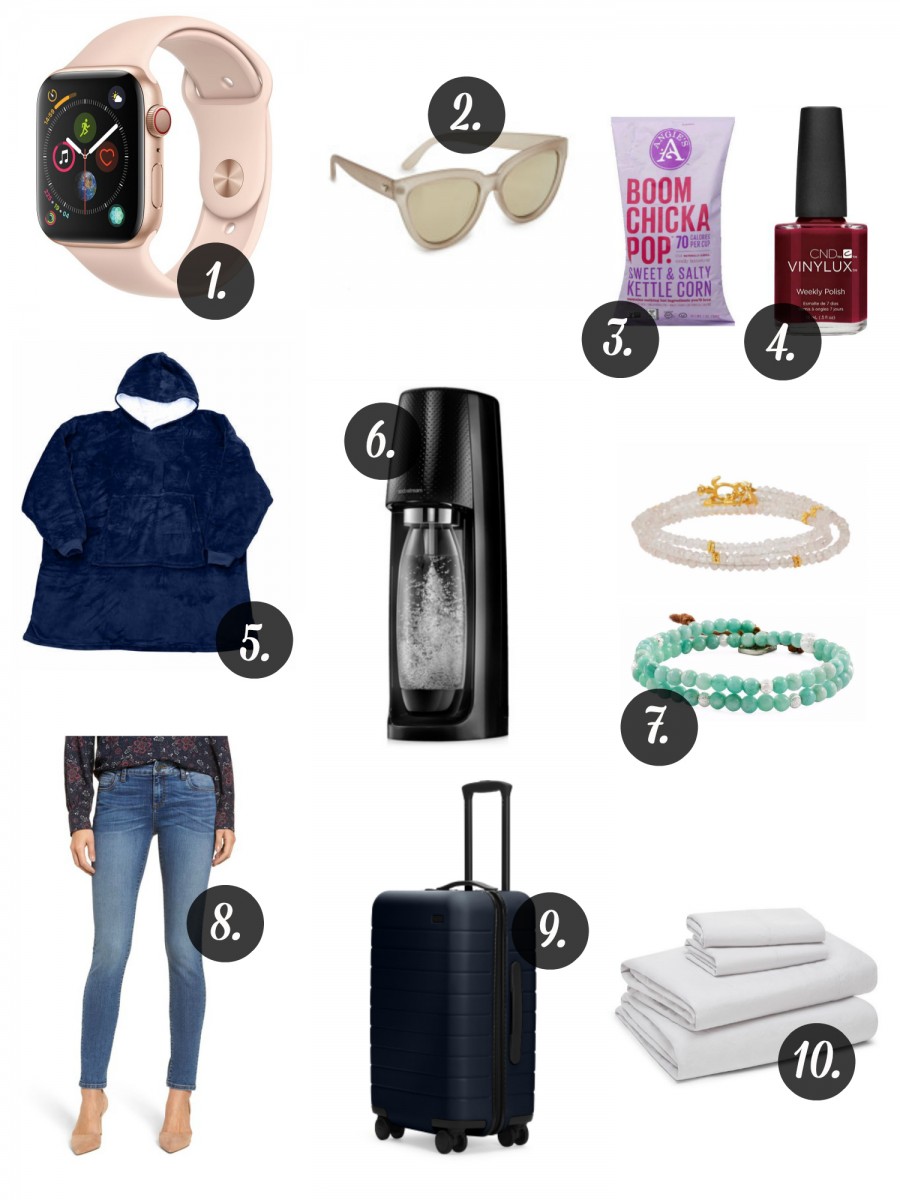 1. Apple Watch – I did not seee what the hype was about with Apple Watches for a very long time. After reading great reviews about the Series 4, I finally caved and got one. It's basically an extension of your phone on your wrist that you can ask whatever questions pop into your head. So freaking cool.
2.  Le Specs Liar Liar Sunglasses – These were my LASIK surgery present to myself. I bought them after seeing Meghan Markle wear a similar pair to her baby shower in New York City. I love them so much, I wear them every day.
3. Boom Chicka Pop Kettle Corn – This stuff is literally crack. It's my favorite late night treat that I don't feel terrible about after I eat it.
4. Vinylux Oxblood Nail Polish – This color is so good. I've been using it on my toes for months now.
5. Huggle – I've come to accept the fact that I usually look like a hobo when lounging around the house. Comfort > everything. This hoodie blanket is not attractive in the least but dang it is the most comfortable thing I've evern worn. It is love friends.
6. SodaStream – I can't believe that I used to hate sparkling water! As I've moved to elimate Diet Soda from my life, I've replaced it with sparkling water and found myself craving the taste. Josh whips up the best flavored waters in this thing. It's seriously so easy to use and saves you money over buying cans of sparkling water.
7. Karma and Luck Bracelets – I wore these every day of my Peru trip and love them so much. They go with everything, look cute, and are a grounding reminder to stop, breathe, and just enjoy the moment.
8. Kut from the Kloth Jeans – This is one of my favorite denim lines. Kut from the Kloth is super affordable and has washes and cuts that work really well on my body.
9. Away Bigger Carry on – I bought this suitcase for my trip to Peru and managed to live out of it for 10 days. It's incredibly well designed, super cute, and a great value when you consider that all their bags have a lifetime guarantee. I'm looking at getting a larger one for my trip to Greece this summer.
10. Coyuchi Linen Sheets – Wow. How did I miss the linen sheet train for so long? Linen feels SO nice to sleep on and looks so good on our new (and fantastic!) bed. I'm a big fan of the Coyuchi line and want to order these sheets in more colors.
Questions of the Day: What's on your shopping list? Did any of these items catch your eye?