Black Friday may not be until the end of this week, but so many stores have started their Black Friday deals early. Here are the best sales to shop right now!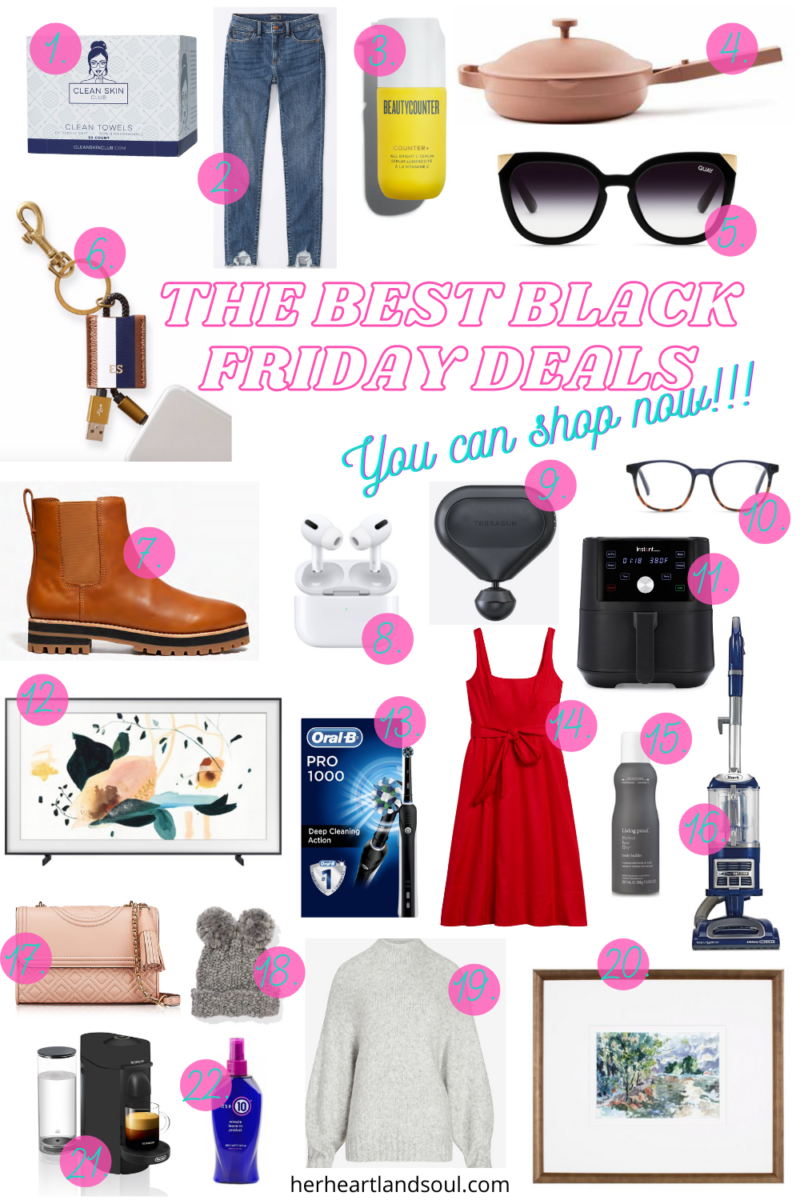 1 | 2 | 3 | 4 | 5 | 6 | 7 | 8 | 9 | 10 | 11 | 12 | 13 | 14 | 15 | 16 | 17 | 18  
19 | 20 | 21 | 22
1: Save 35% off Clean Skin Club biodegradable single-use towelettes. The perfect way to have a clean towel to remove your makeup each and every night.
2: Save 40% off the entire Abercrombie and Fitch site for Black Friday. I'm obsessed with these jeans.
3: The entire Beautycounter site is 15% off! You won't find a better clean Vitamin C serum or anti-aging night routine on the market.
4: The Always Pan is non-stick AND non-toxic. It's also $50 off for Black Friday. Snag it for under $100 before it sells out!
5: I love these Quay cat-eye sunglasses. They're even better at 30% off!
6: Monograms are so chic. This keychain is 40% off and practical, too!
7: Madewell makes the best boots. The entire store is 40% off. I love these winter boots.
8: Airpods are one of my all-time favorite purchases. This is a great opportunity to save 20% off AirPod Pros.
9: If you have ever dealt with sore muscles you need a Theragun in your life. I'm so excited to try this out on my back and neck.
10: Blue-light glasses are a must to reduce eye strain these days as we all live our life behind screens. This ombre design is so cute and 30% off!
11: An air fryer is one of the best purchases Josh and I have made in a long time. We use it for literally everything. We're upgrading from a 3 quart air fryer to this 6 quart one to give us more cooking space. It has great reviews and is an absolute steal!
12: The Samsung Frame is one of the prettiest TVs ever made. This is a great opportunity to save over 25% on one!
13: There is no reason to be using anything other than an electric toothbrush at this point. They work so much better than a standard toothbrush. And this dentist-recommended one is less than $30.
14: Banana Republic is 50% off the entire site! How cute is this red dress?
15: Living Proof makes some of my favorite hair products. This Perfect Hair Day Body Builder spray gives you va-va-volume!
16: You know you're old when you get excited for deals on vacuums. This one is over 50% off and an absolute steal.
17: I love this bag so much I have it in two colors!! Tory Burch is one of my favorite designers and it's extra exciting her whole store is 30% off right now!
18: The cutest double-pom hat. And it's 40% off!
19: Everything at Express is 50% off right now. This tunic sweater looks so cozy and snuggly. Perfect for nights cuddled by the fire.
20: McGee & Co is offering 20% off their entire site for Black Friday!  I love this gorgeous artwork. It's a neutral piece that will go with nearly any room design.
21: Josh and I drank Nespresso every morning on our cruise around the Mediterranean. This is a great opportunity to snag a fantastic coffee machine for $70 off!
22: Save 50% off one of the best leave-in products to add shine, volume, and life to your hair!
Questions of the Day: Who are you shopping for this holiday season? Any particular items you're looking for?