Black Friday is HERE! While this year has been crazy and Thanksgiving does not look like it normally does, I'm so excited for a cozy weekend with Josh and all the yummy holiday food leftovers. And shopping the sales. The sales this year are unreal! If you have gifts to buy still (or are just looking for yourself), I highly recommend shopping today!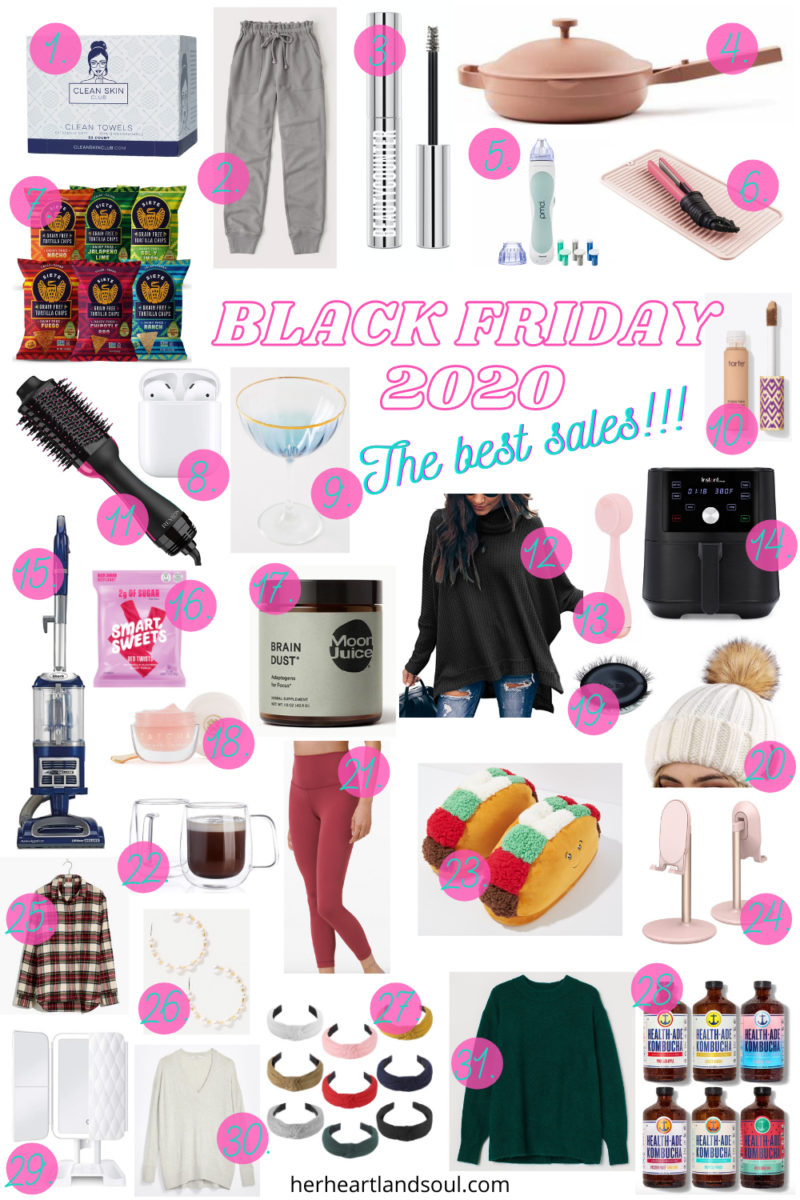 Pin me!
1 | 2 | 3 | 4 | 5 | 6 | 7 | 8 | 9 | 10 | 11 | 12 | 13 | 14 | 15 | 16 | 17 | 18 | 19 | 20 | 21 | 22 | 23 | 24 | 25 | 26 | 27 | 28 | 29 | 30 | 31

1: Save 35% off the best cleansing cloths with code HHS. These ensure you're never reusing dirty towels or wash clothes and getting your face clean every time.

2: These joggers are perfect for bumming around the house. They (and everything else at Abercrombie) are 40% off.
3: How have I lived so many years without a brow gel? This stuff is AMAZING. And 15% off!
4: You need an Always Pan! It's non-stick, non-toxic and on sale for less than $100!

5: I love this at-home microderm tool that helps keep your pores clean and your skin smooth. It's $50 off right now.

6: If you always struggle with where to put your hot tools while you're using them you need this.

7: These chips are so good! And they're 20% off!

8: Save $50 on a pair of AirPods. I don't think I can ever go back to cords after this.
9: I love a good coupe glass. These are perfect for fancy drinks and are 40% off. (Like everything else at Anthropologie too!)
10: This concealer is perfect for adding some color and life to your under-eyes. It's also 30% off for Black Friday!
11: This brush is amazing for giving at-home blowouts. Snag it while it's on sale!
12: Snag these cute and comfy sweaters for less than $20!
13: This is a great tool to help ensure your cleanser really gets into the pores of your skin to deliver the ultimate clean. And it's 30% off!
14: You can't beat a 6 quart air fryer for less than $60! Snag this one before it sells out.
15: This light-weight vacuum is $120 off and has great reviews. We just bought one!
16: Smart Sweets are the best way to satisfy your sweet tooth without excessive sugar. They're also 20% off right now!
17: Save 20% off the best adaptogens to lift your mood and give you a little extra pep in your step for the day. I like to add them to my coffee.
18: This is the best lip mask to keep your lips from getting dry and cracked during the winter. It's also made with clean ingredients and is 20% off. Do yourself a favor and get this!
19: I'm obsessed with these false eyelashes. They look so natural and are easy to apply. And they're 20% off today!
20: You can never have too many cute hats with fun poms!
21: Lululemon makes the best workout pants. They're running sales on some of their best-sellers, including my favorite, Align pants.
22: How cute are these glass coffee mugs? Perfect for sipping hot cocoa by the fire. 
23: Everything at American Eagle is 40% off. These taco slippers are so fun.
24: I have been looking for a good phone holder for forever. I love this one!
25: This may be one of my favorite flannels. It's perfect for looking put together on Zoom while still being comfy.
26: J.Crew is 50% off everything! I love these pearl hoop earrings and the fact they're under $15. Earrings make a great Zoom accessory.
27: I have been living in headbands during my months of working from home. I love this affordable variety pack.
28: My favorite booch is 50% off! I'm stocking up.
29: Such a cute lighted vanity mirror. You can't beat the fact it's under $20!
30: LOFT is 50% off everything! I love how this sweater is cut on the sides. It makes it extra swingy and snuggly. 
31: I love everything about this sweater. The color, the cut, and the fact that it's on sale for under $15. (Everything at H&M is on sale for 30% off!
Questions of the Day: Are you shopping today? Any special deals you're looking for?