These strawberry rhubarb bars are sweet and gooey and everything you're looking for in a summer dessert. Topped with an oat crust and packed with lots of fresh fruit, these bars are perfect for your 4th of July BBQ.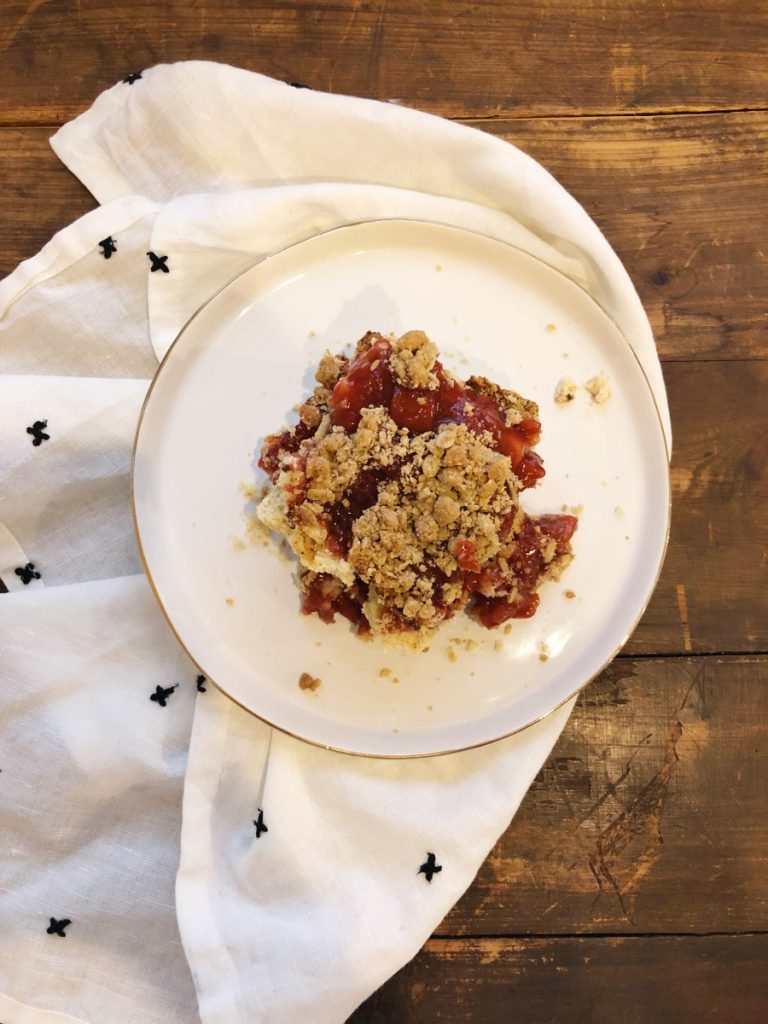 Growing up, I wasn't big on fresh fruits or veggies. I lived on carbs, counted potatoes as my daily veggies, and rarely strayed from the standard American diet. (Also known as: SAD) I'll never forget the first summer I spent in Hawaii when I was 17. We visited the Dole plantation and at the end of the tour they hand you a piece of pineapple as you step off the ride. I remember hesitating before deciding to try it and then thinking, "Wow, that's really not bad!"
Thankfully I have come a long, long way since 17 year old Erin. I now love fruits and veggies and try to make sure I not only eat a lot of them, but eat seasonally, locally, and organically whenever possible.
The old Erin used to hate when fruits were incorporated into desserts. I remember walking through the school cafeteria and wondering why someone would ruin cheesecake by putting strawberry pieces on top of it. (Thinking back on these memories I cringe. I'm really hoping I don't have a little me one day!)
Now some of my favorite desserts incorporate fresh fruits. They add so much natural sweetness! We are in prime strawberry and rhubarb season so I am living for strawberry rhubarb combinations.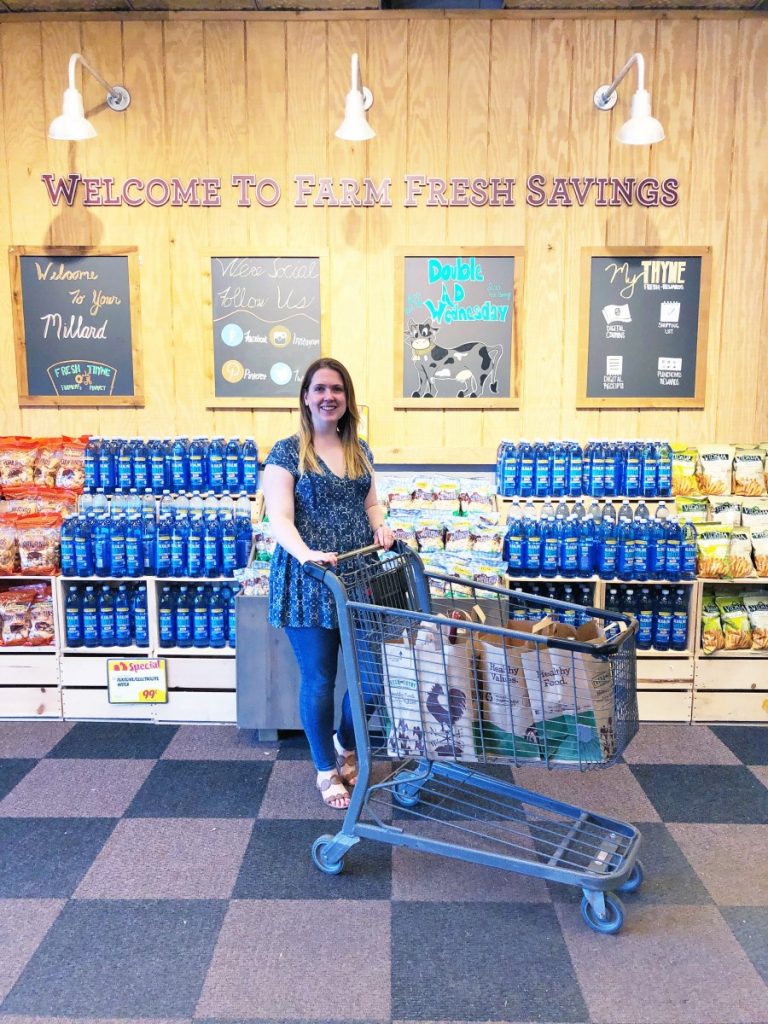 Fresh Thyme is my one of the best places to get affordable, high-quality food. They have a great selection of organic produce and try to focus on supporting local whenever possible. I recently stopped by and stocked up on all the ingredients needed to make strawberry rhubarb bars. These bad boys are delicious, relatively easy to make, and made with high quality, organic ingredients from Fresh Thyme.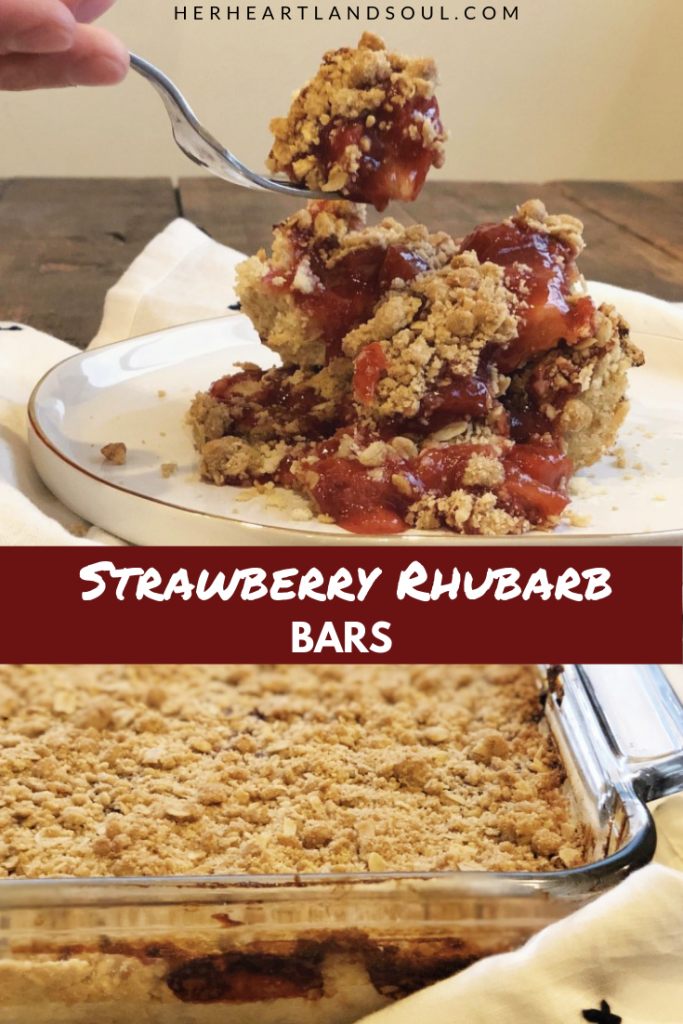 Pin me!
Strawberry Rhubarb Bars Recipe
Makes 9-12 bars
Crust Ingredients
¾ Cup old fashioned oats
¾ Cup all purpose flower
¼ Cup white sugar
½ Tsp salt
1 stick cold unsalted butter
2 Tbsp cold water
Filling Ingredients
1 1/2 Cups sliced strawberries
2 C diced rhubarb
1 C white sugar
¾ C dark brown sugar
Juice of 1 lemon
1 Tsp salt
½ Tsp cinnamon
3 Tbsp corn starch
Topping Ingredients
1/4 C flour
1/4 C old fashioned oats
1/4 C dark brown sugar
1 Tsp cinnamon
1/2 Tsp salt
1 Tbsp unsalted butter
Directions
Preheat oven to 350 degrees.
Add the oats to a food processor and pulse until they have a flour-like consistency.
Add the salt and flour and pulse briefly to combine everything.
Cut the butter into 1-inch cubes and add to the food processor. 
Pulse until a rough, sandy dough forms. 
Add the water and pulse again until the dough thickens and appears relatively smooth. 
Line an 8×8 baking dish with parchment paper (You could also use a 9×13 pan if you want a thinner, crispier crust).
Evenly press the dough into the dish, making sure to get it about halfway up the side of the dish.
Bake for 12-15 minutes, or until the crust is light golden brown.
Remove from the oven and set aside while you prepare the filling.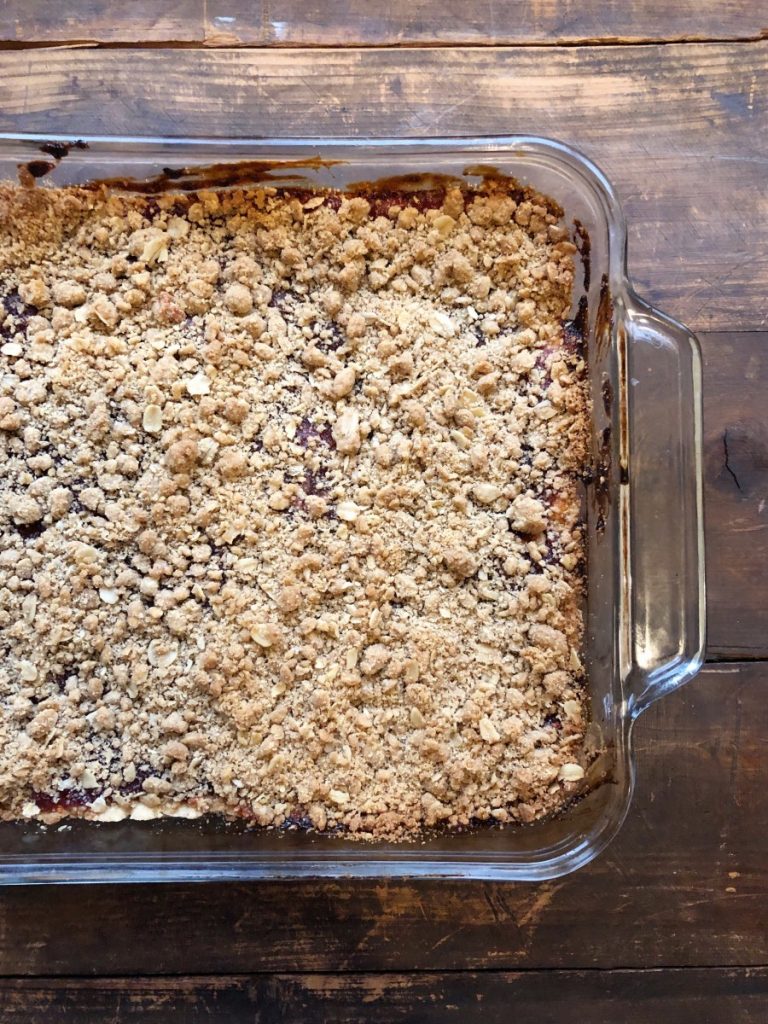 In a large pot, combine the strawberries, rhubarb, cinnamon, salt, and white sugar.
Cook over medium heat, stirring occasionally, until the fruit begins to break down (about 5-10 minutes)
Bring to a simmer, then add the brown sugar and continue cooking until the mixture is relatively smooth (another 10-15 minutes).
Whisk in the corn starch and continue cooking, whisking frequently, until the mixture is slightly thickened (about 10 minutes more).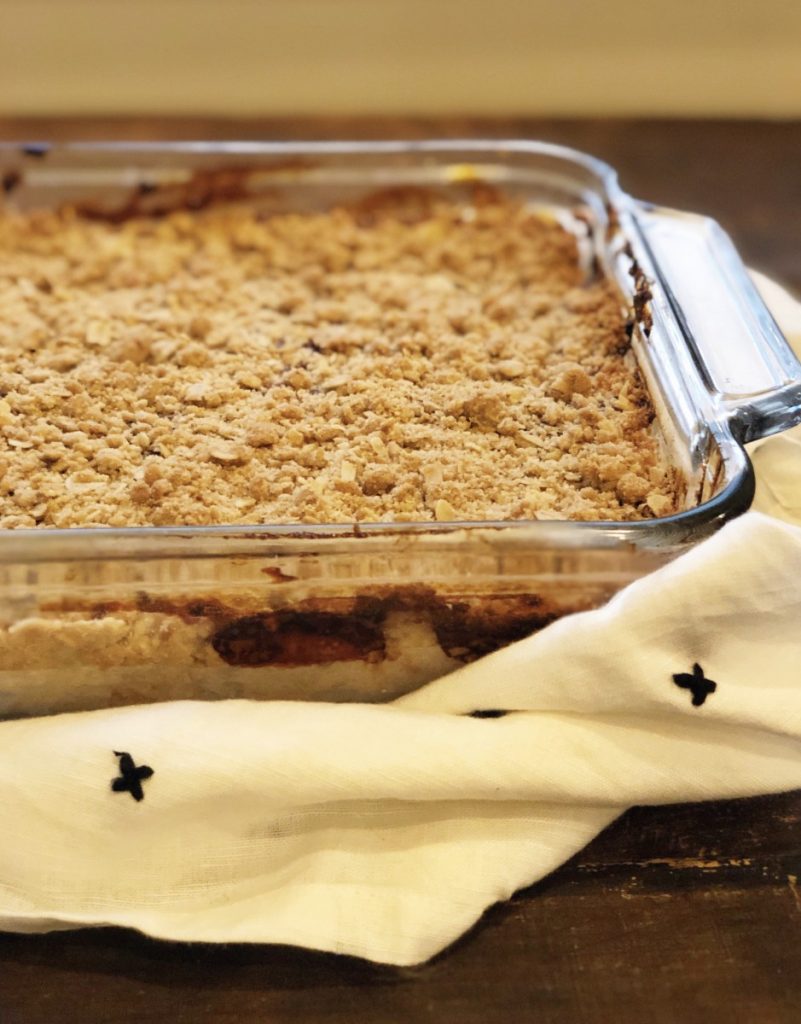 While the filling cooks, prepare the topping: In a medium bowl, add all of the topping ingredients.
Massage together with your hands until everything is evenly combined and small lumps form.
Set aside until the fruit is fully cooked.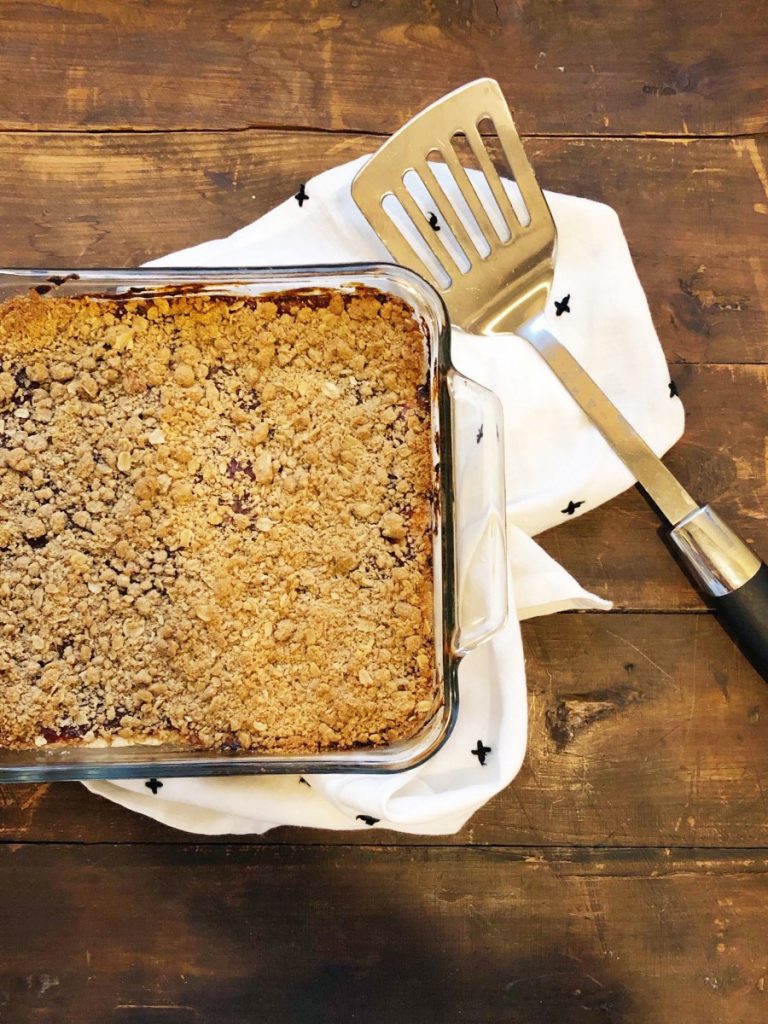 Once the strawberries and rhubarb are finished cooking, pour evenly over the baked crust and sprinkle with a generous layer of the crumb topping.
Bake at 350 for 25-30 minutes, or until topping is golden brown.
Allow to cool, then cut into squares and enjoy!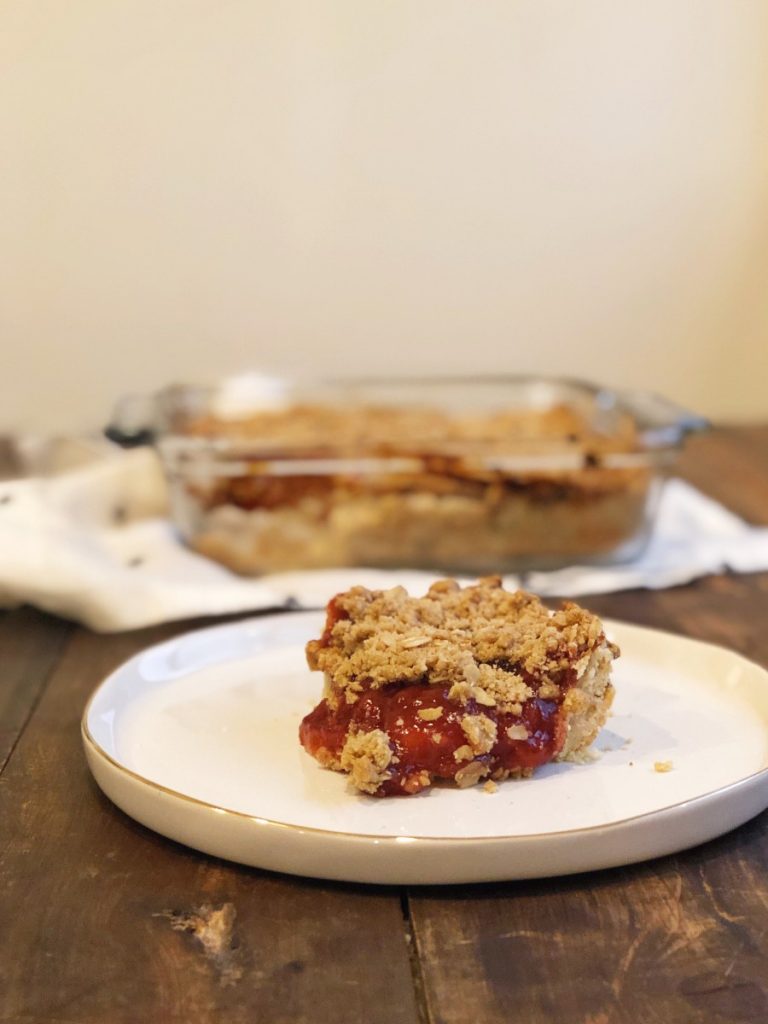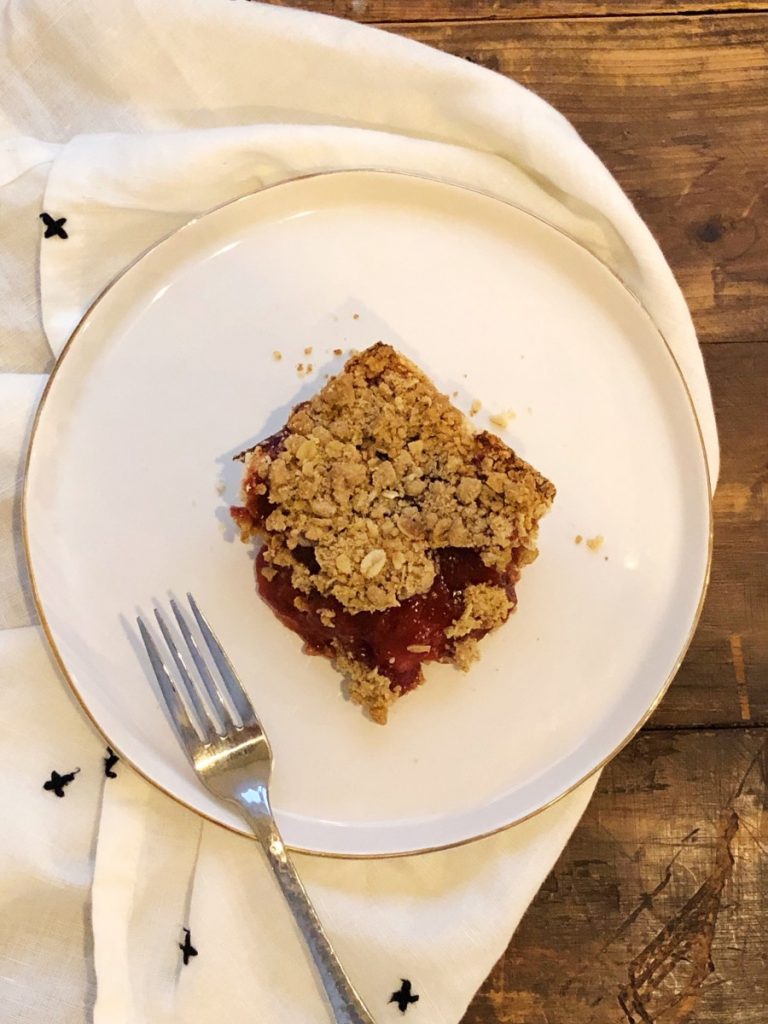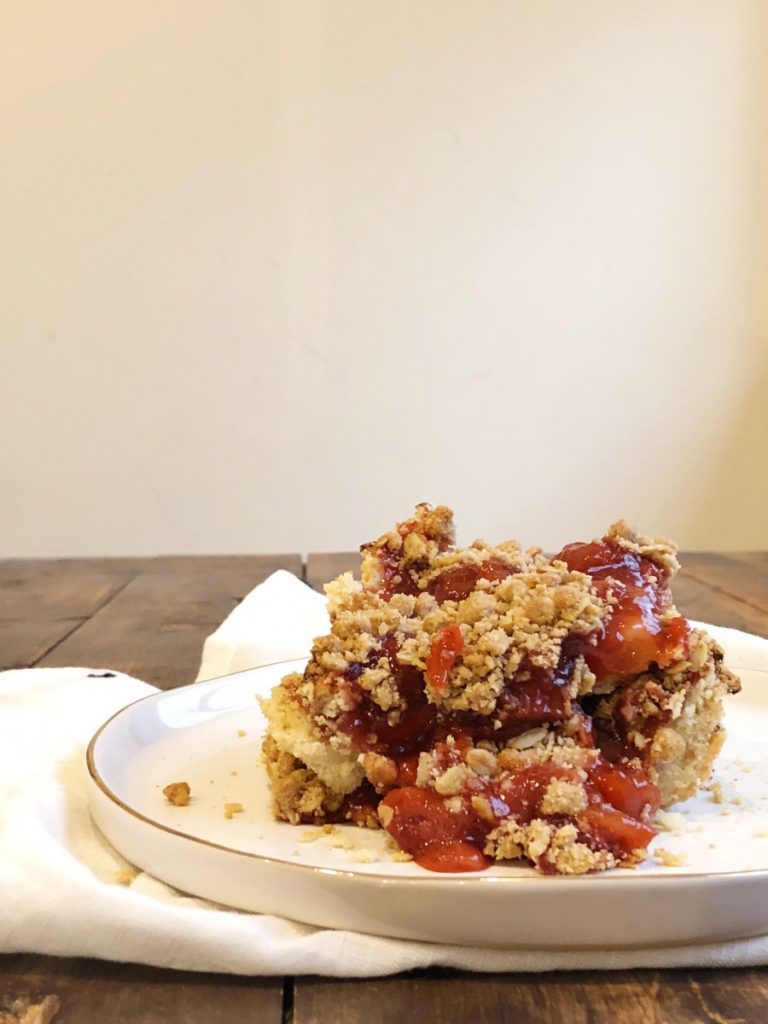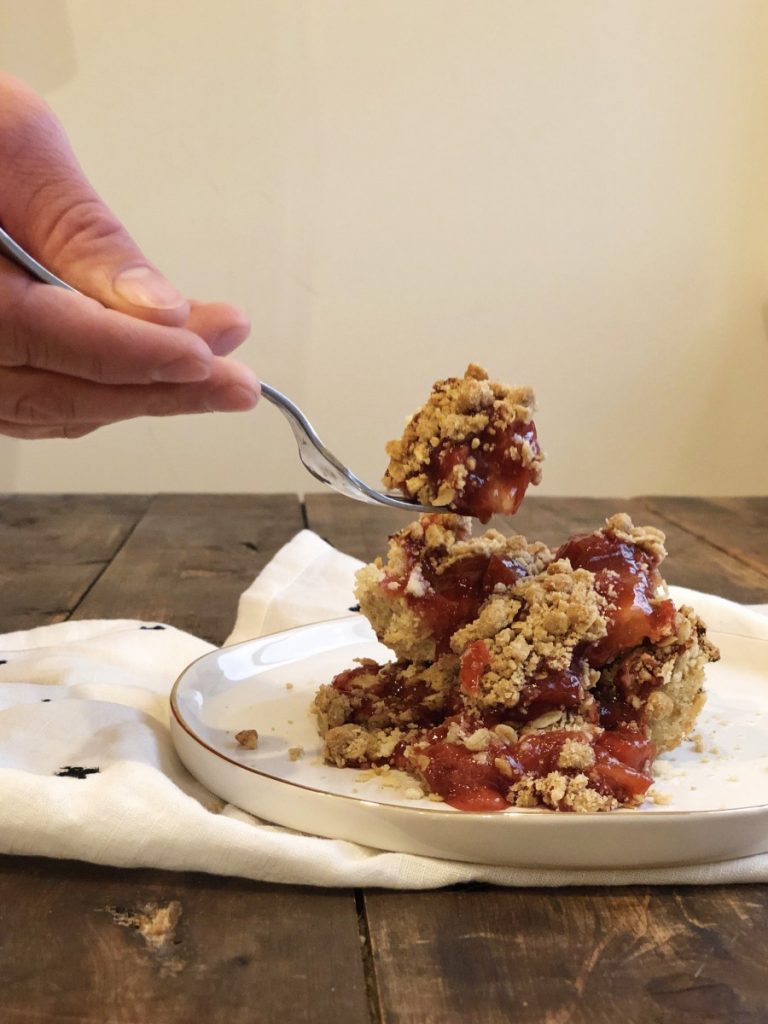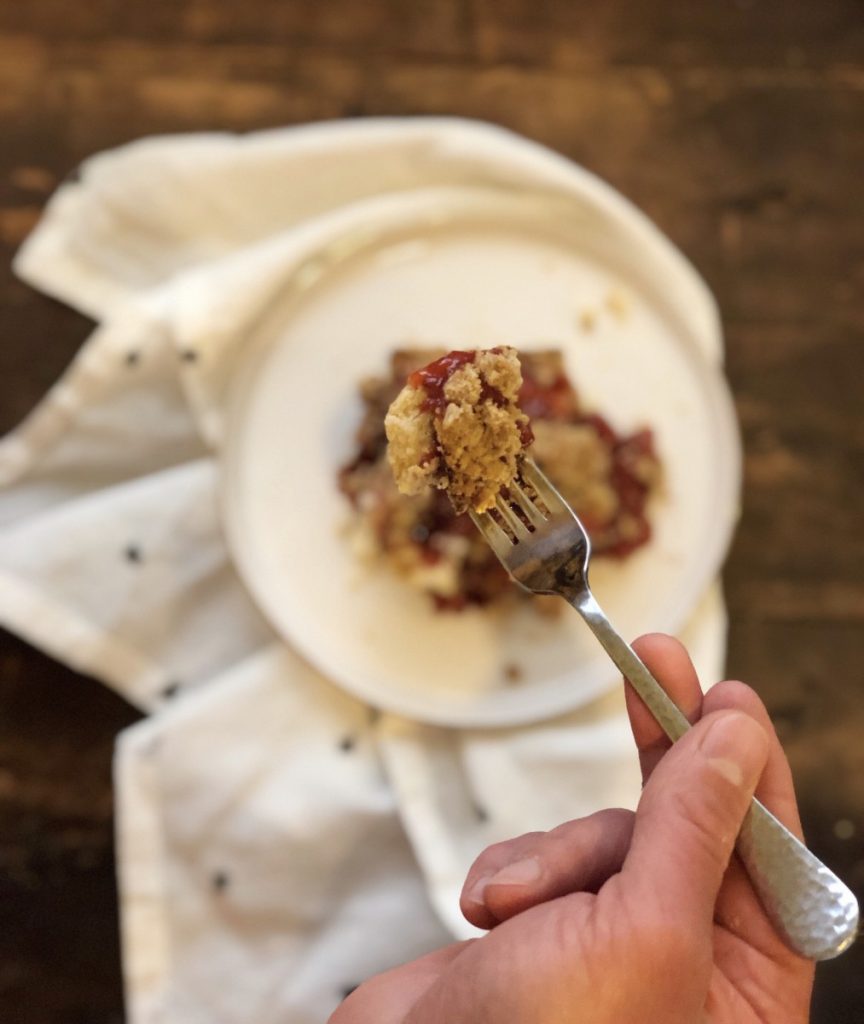 Questions of the Day: Are you a fan of fruits in your dessert? Have you cooked with rhubarb? Did you enjoy fruits and veggies as a kid?
Thanks to Fresh Thyme for sponsoring this post!