This post is sponsored by Hiland Dairy, but the content and opinions expressed here are my own.
If this were a normal year, Josh and I would be getting ready to travel back to Connecticut for Thanksgiving to be with his family. Unfortunately for us, (and the rest of the world) 2020 is not a normal year. So rather than take part in larger Thanksgiving traditions, we're going to be creating our own traditions for just the two of us (and Punkin!) this year.
While I'm so sad to not be spending time with family and friends this Thanksgiving (and getting to eat all the New Haven pizza!), I am looking forward to creating our own menu. Josh and I love a lot of the same foods and I have a feeling the recipes we use for this Thanksgiving will be on our menu for many more holidays to come.
Josh and I both love mac and cheese, but I can find the cheese, cheese, cheese flavor to sometimes be one note and something that my taste buds can burn out on very easily. Am I crazy? Probably! But this year I was on a mission to make a mac and cheese I could eat bite after bite and never grow tired of.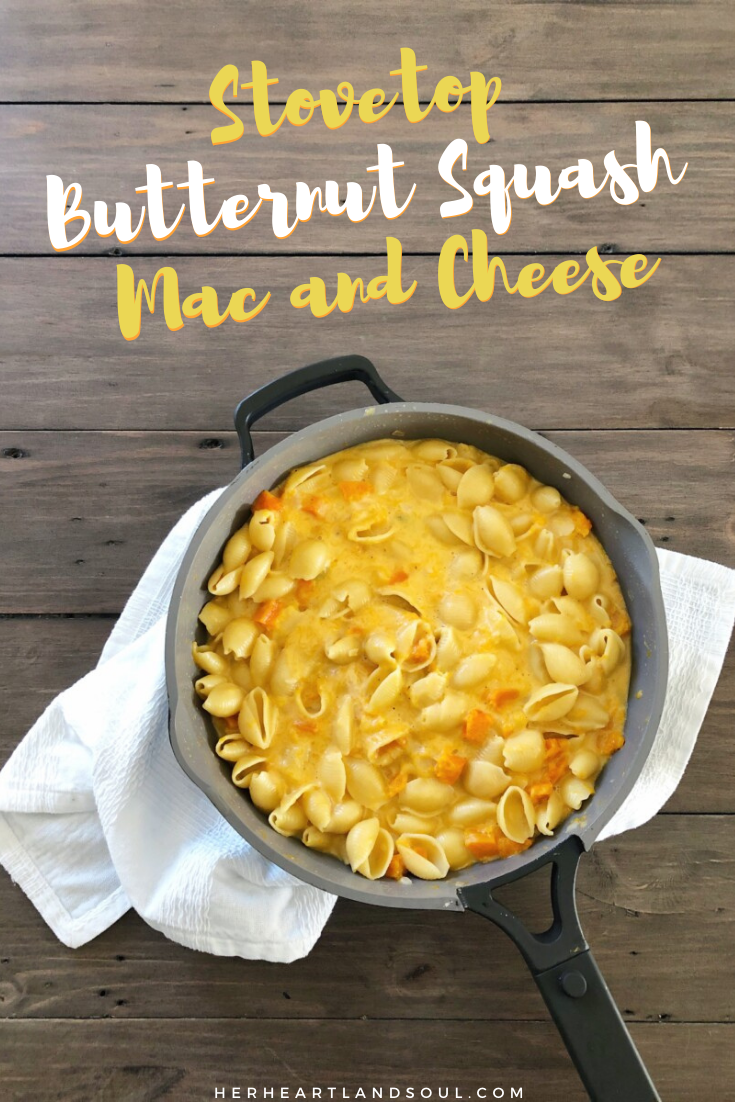 Pin me!
Friends, I am so happy to share I did it! The stovetop butternut squash mac and cheese is perfection. It's cheesy (duh!) but also so well balanced in flavor with a nutty and sweet butternut squash flavor. It's ooey and gooey and warm and cozy and everything you want in a holiday dish. Seriously, if you're looking for a new mac and cheese dish to try I can't recommend this one enough!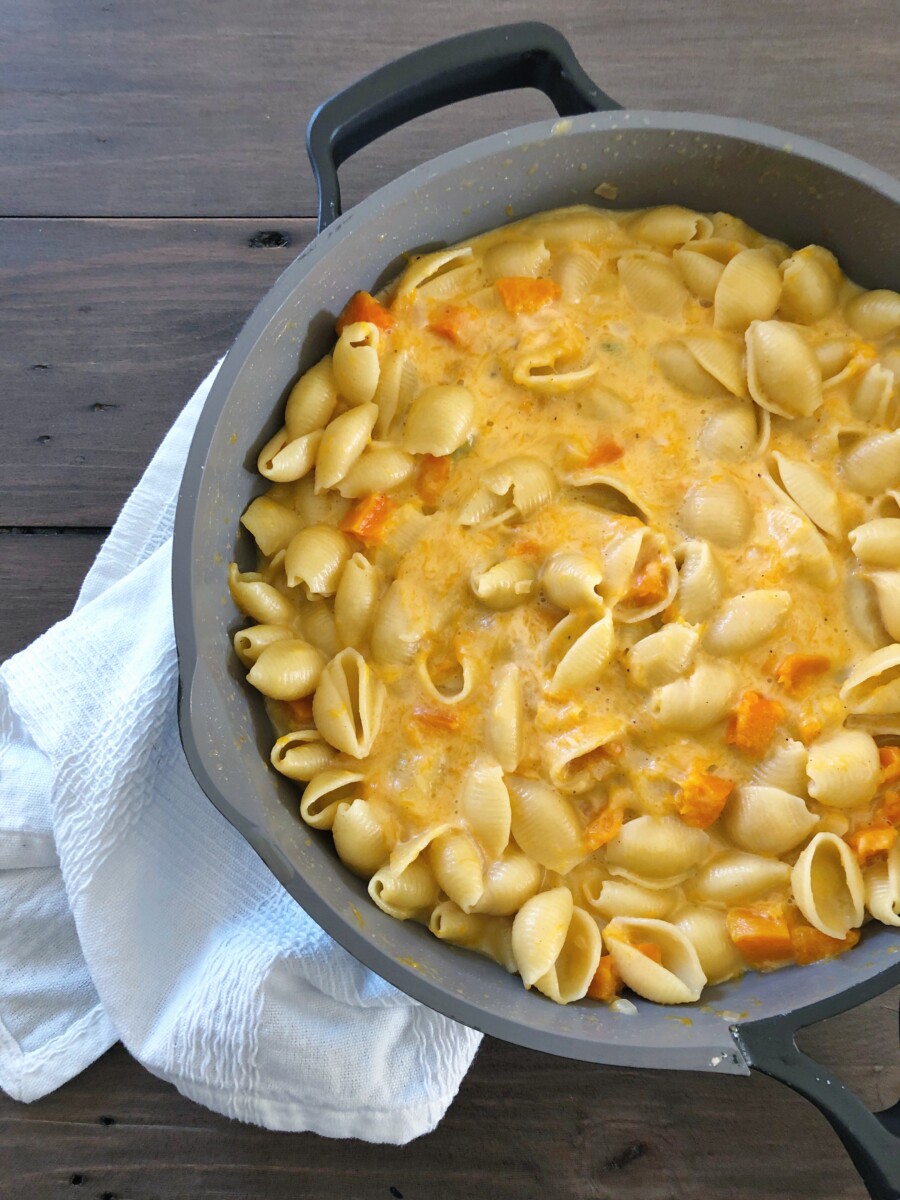 Yield: 4-6 servings
Stovetop Butternut Squash Mac and Cheese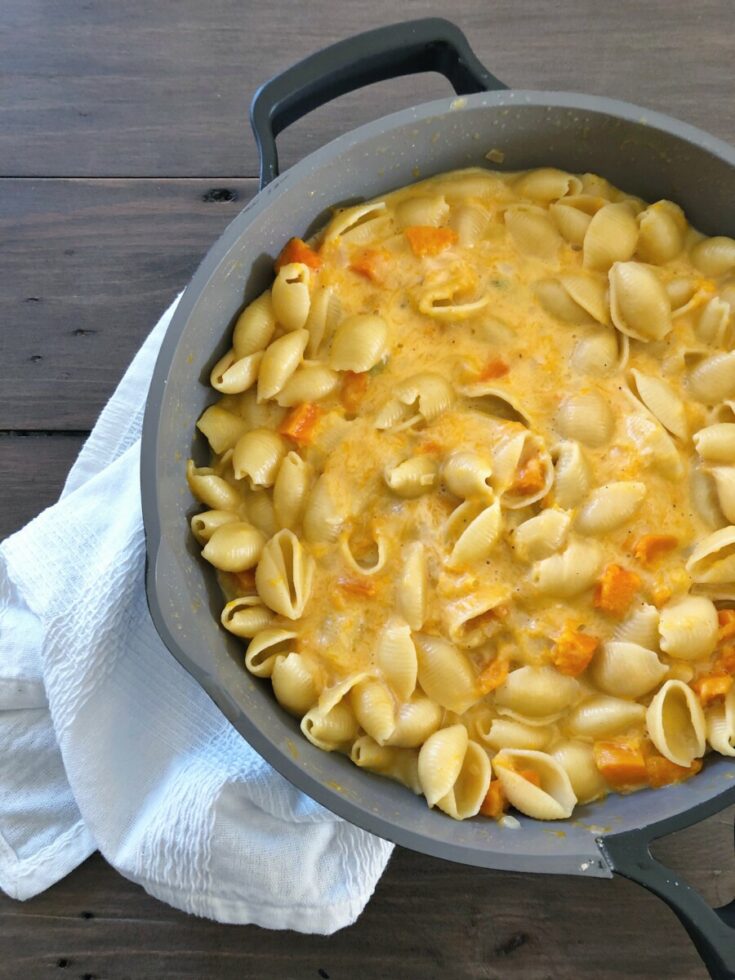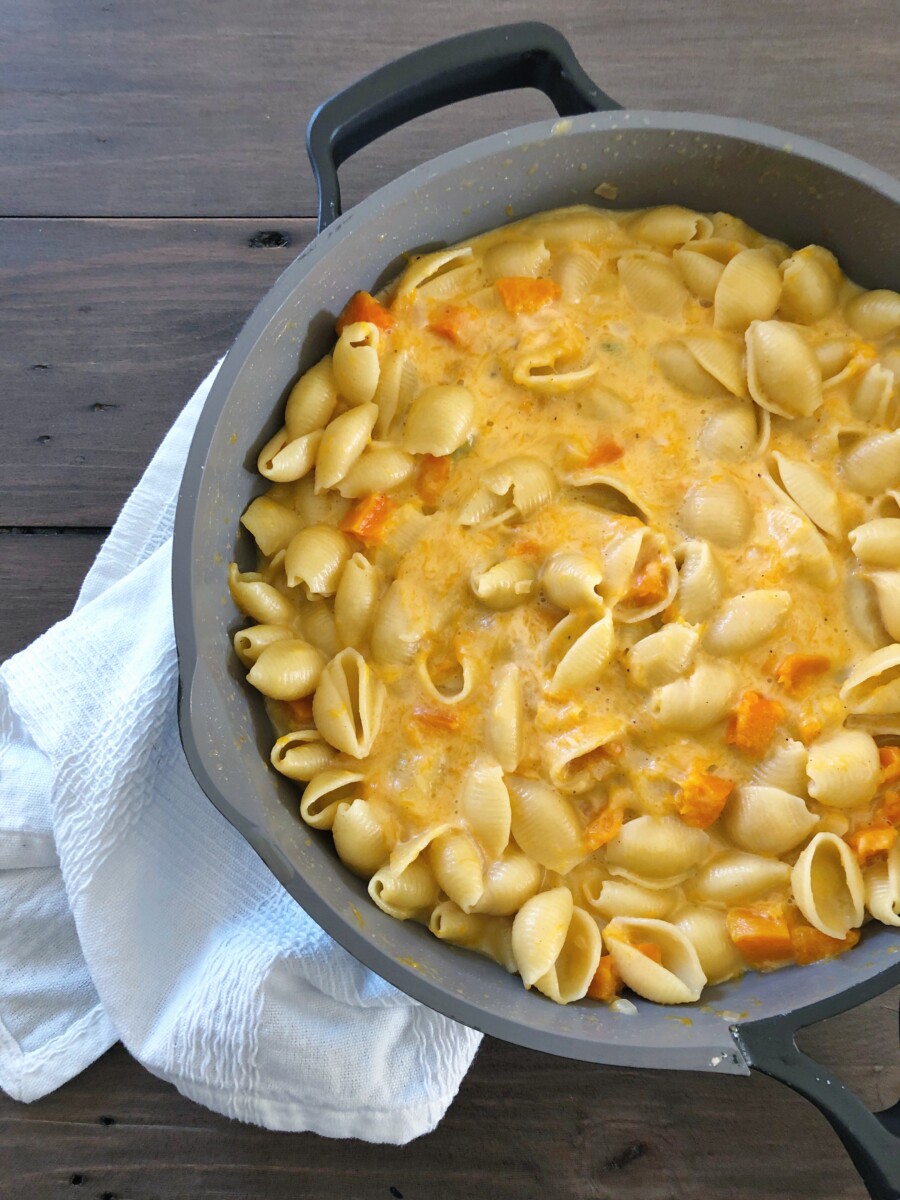 This ooey, gooey, cheesy butternut squash mac and cheese recipe is SO YUMMY and SO EASY to make. Perfect for your holiday celebrations.
Ingredients
12oz shaped pasta noodles (I used large shells)
1 lb butternut squash, diced into small cubes
1 ½ C Hiland Dairy 2% milk
2 Tbsp Hiland Dairy heavy cream
6 Tbsp Hiland Dairy butter
¾ C Hiland Dairy mild cheddar cheese, grated
¾ C Hiland Dairy Monterey jack cheese, grated
1 shallot, diced
6 fresh sage leaves
2 tsp maple syrup
2 tsp olive oil
½ Tsp nutmeg
Salt and pepper (to taste)
Instructions
Preheat oven to 400 degrees.
In a large bowl, toss the cubed squash with olive oil, maple syrup, nutmeg, and salt and pepper.
Spread on a parchment-lined baking sheet and bake until brown and soft (35-40 minutes).
While the squash bakes, boil the pasta until just shy of al dente (about 2 minutes less than the directions on the box say).
Drain the pasta and set aside.
In a large skillet, melt the butter over medium heat and sauté the shallot until soft and translucent (about 1-2 minutes).
Add the sage leaves and cook, stirring constantly, until the mixture is fragrant and the sage starts to crisp up (about 1-2 minutes more).
Add the cooked squash and cook, stirring frequently, until some of the squash begins to melt into the butter.
Add the cheese and milk. Cook, stirring frequently, until the mixture is relatively smooth and all of the cheese is melted.
Stir in the pasta and the cream and continue cooking until everything is evenly incorporated and the sauce is smooth (about 5 minutes).
Turn off the heat and allow it to sit for about five more minutes.
Garnish with sage leaves (if desired).
Serve and enjoy!
Recommended Products
As an Amazon Associate and member of other affiliate programs, I earn from qualifying purchases.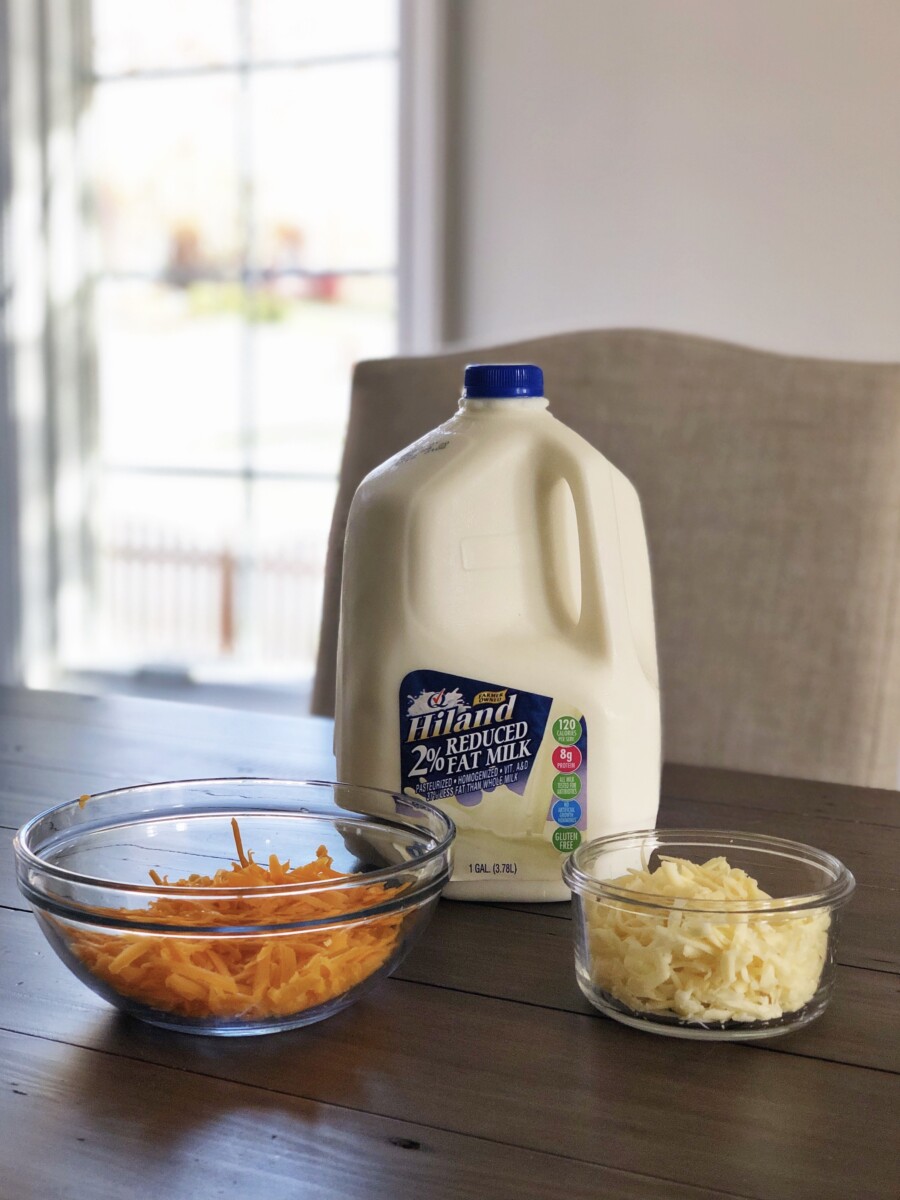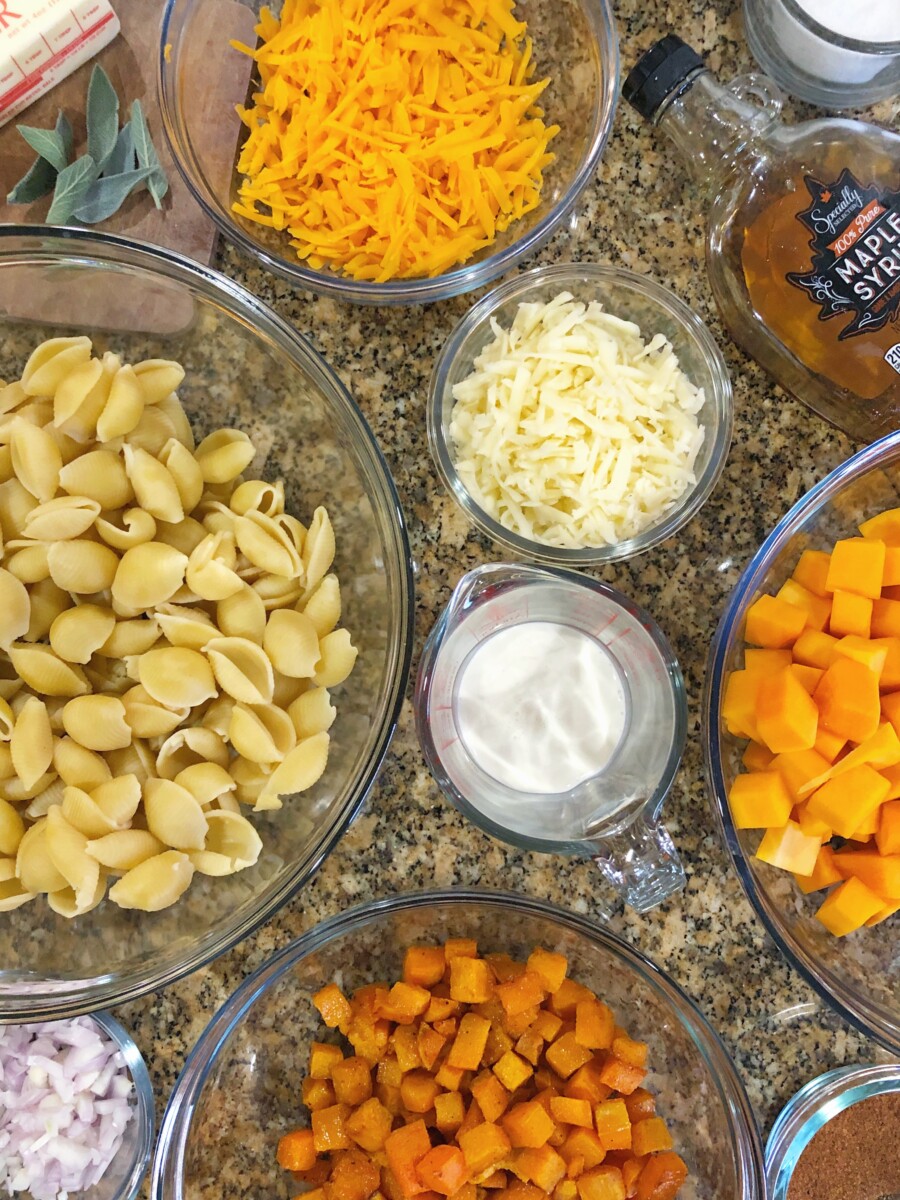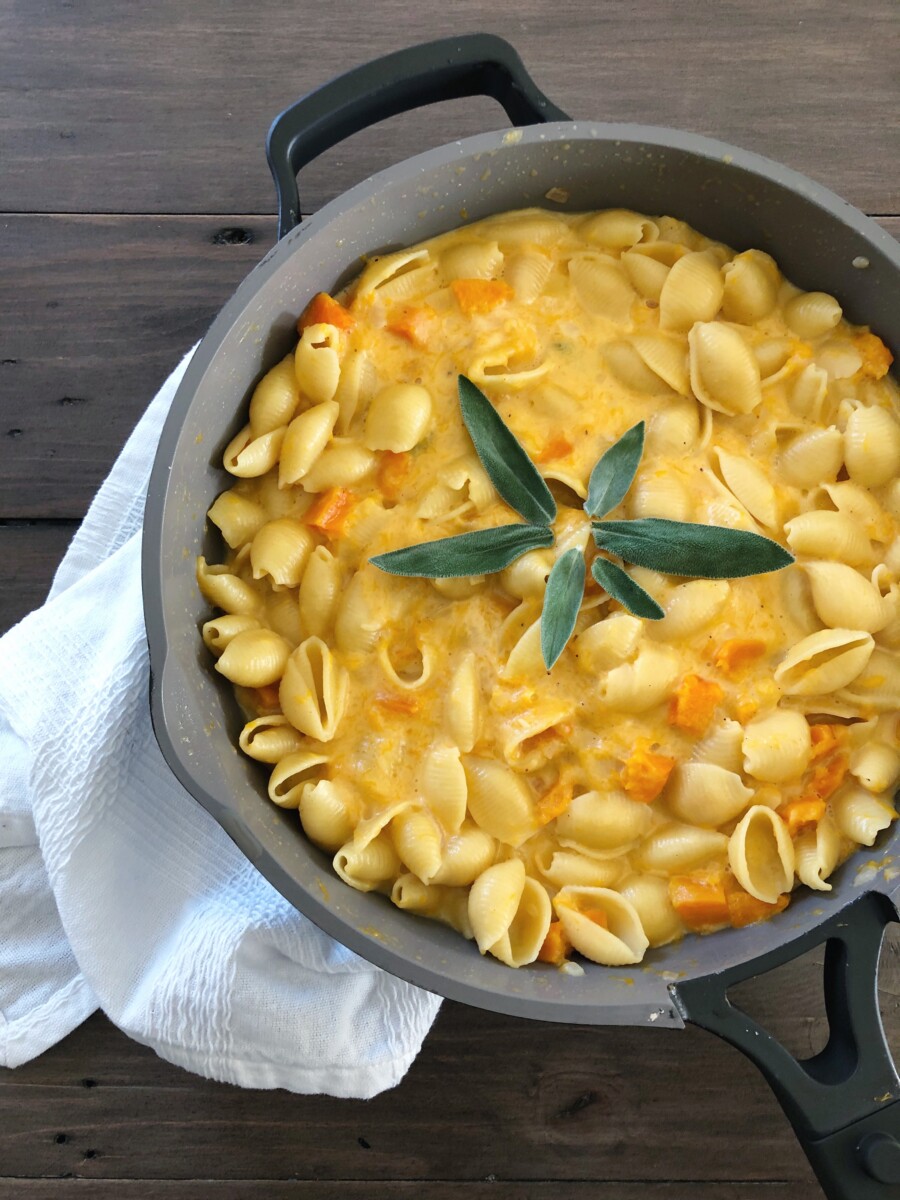 Guys, it's seriously so, so good.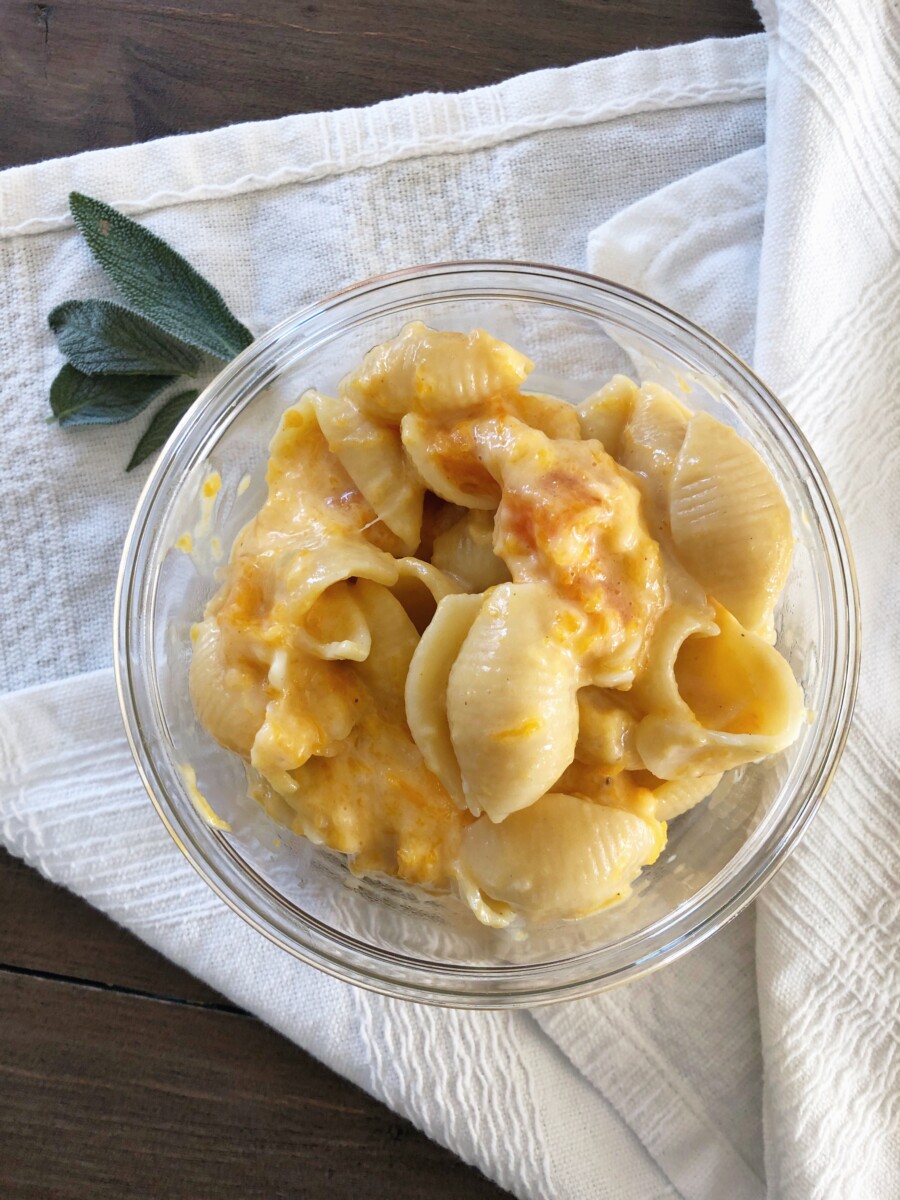 And in the spirit of holiday giving, Hiland Dairy is giving you a chance to win a year's worth of Hiland Dairy products and a holiday baking kit! Enter to win here!



Questions of the Day: Are you a mac and cheese fan? How are you celebrating Thanksgiving this year?