Hey guys! I feel like I haven't talked about Josh and my wedding progress in a while on here. That is mostly because now that we have all the big things done and booked everything is much less rushed and is more about
us taking our time and deciding on small details. One of the last big things we had to do was pick our cake. And this past weekend Josh and I did just that! On Sunday we met with Heather of Delectable Delights. From reading online and talking with people Heather comes highly recommended. She is the executive pastry chef at Penn State and runs her own cake business on the side. She also just had a baby. Talk about a busy woman!
Her cake showroom is in her house and it is filled with truly beautiful cakes. For how many people we are having we were told this cake would be the perfect size for us. And bonus, the top layer is for Josh and I to keep and freeze to eat on our one year wedding anniversary!

Heather was so nice and answered all of our questions thoroughly. You can tell she really knows what she's doing. We also got to meet her new little baby boy who is adorable! Once we discussed design ideas and prices (which are super reasonable) it was cake sampling time! She sent us home with two mini cakes! We couldn't wait to dig into them!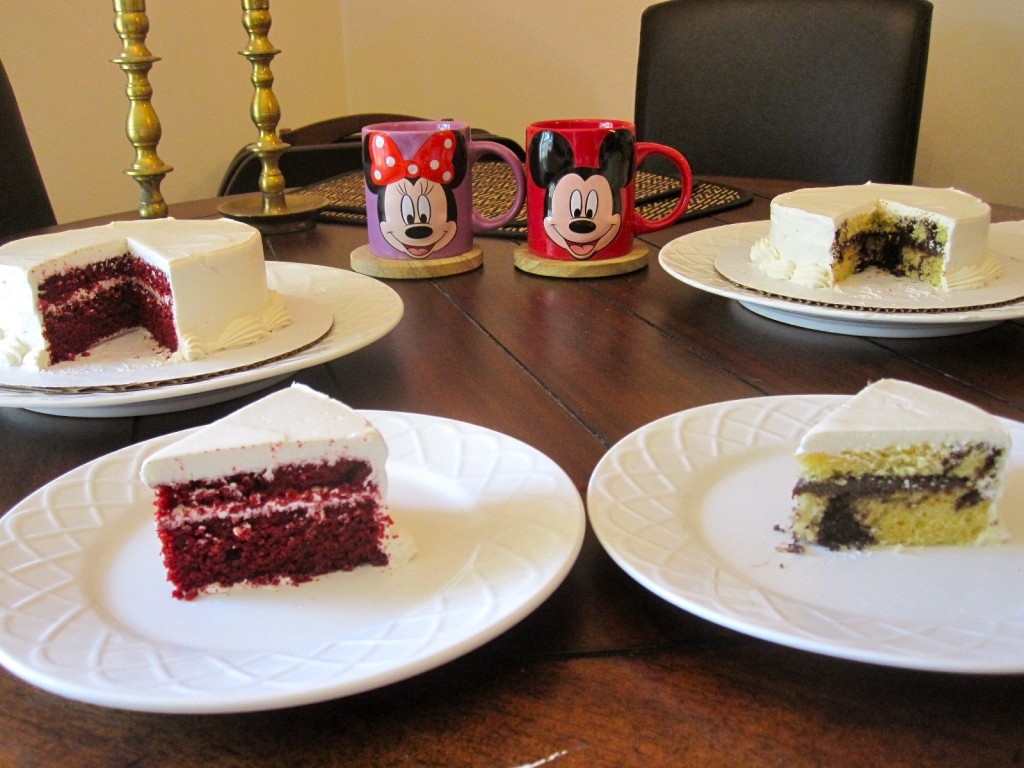 All set up for the cake tasting! I had my big glass of milk ready. 😀
First up was red velvet with buttercream frosting. Red velvet is my favorite but I prefer it with cream cheese frosting. Due to health code issues Heather told us she doesn't work with cream cheese when the cake is going to be sitting out for hours at a time (like at a wedding) because of the potential for someone getting sick. I totally understand that so we decided to pass on this one.
Up next was a marble cake with chocolate ganache filling and buttercream icing. This was so incredibly amazing! The icing is so soft and sweet, the cake is super moist and flavorful, and the ganache is perfect. As soon as Josh and I tried this one we knew it was our wedding cake. We are going to have the whole cake done in this flavor combination.
And that's one more thing checked off our wedding list! The next big one is getting our Save the Dates printed and mailed out. It's crazy to think we have less than 10 months until we're getting married! And I have less than a week until my 22 birthday! Ahh, craziness!
Question of the Day: What is your favorite cake flavor?