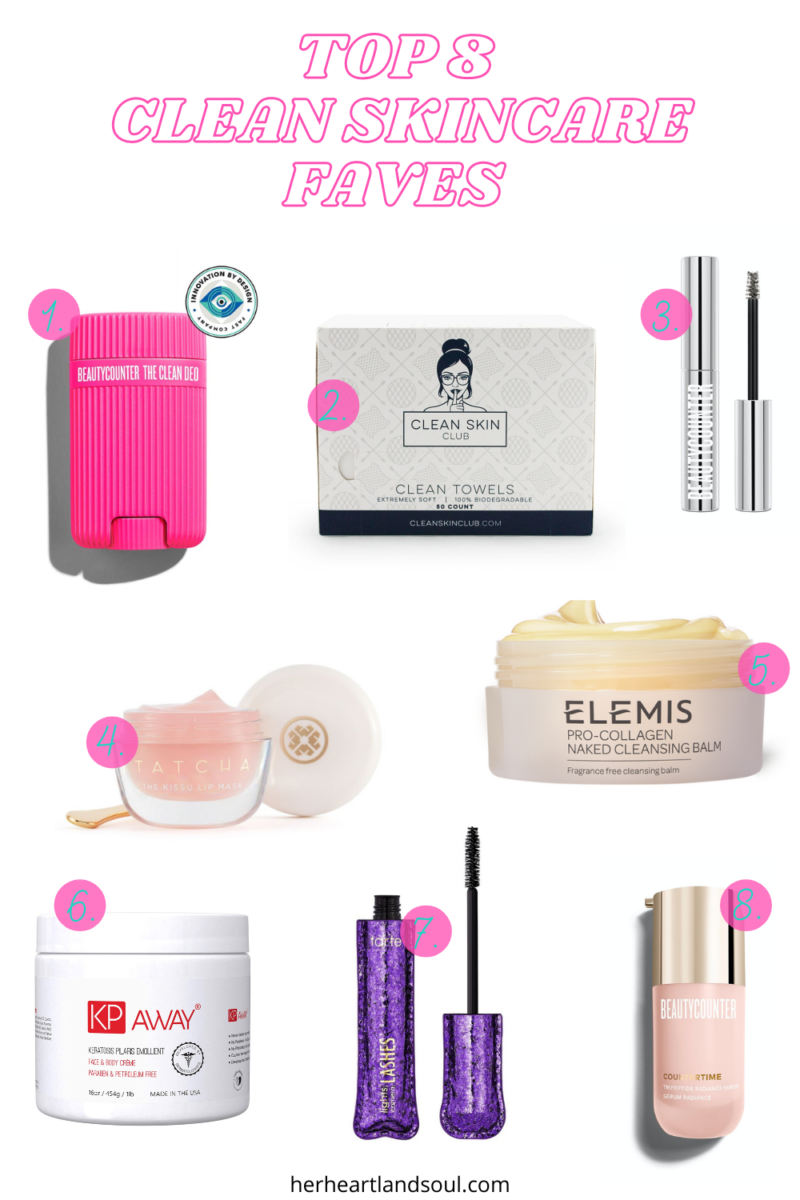 You guys know clean beauty matters to me. I first made the switch to safer four years ago and have learned so much about skincare and beauty in that time. I really believe it's important to know what we're putting on our bodies as that impacts what happens within our bodies.
I use products I feel good about both the safety and efficacy of the ingredients. I want it to be good for me and it has to work. Because if not it's just a waste of time and money.
These 8 products strike the perfect balance of being safe and effective. They're made clean, and they really work. 
1: I finally made the switch to natural deodorant. Clean Deo did it for me. It's aluminum free, formulated to keep you smelling fresh, and designed to not irritate your underarms like many other natural deos. I'm a fan. 
2: Ah, Clean Skin Club towels. How I love you so! These biodegradable, single-use towels make removing makeup easy. I love them so much I ordered a six month supply. Use code HHS for 30% off your purchase.
3: If I could only apply one makeup item to my face it's going to be this brow gel. Nothing makes your face look put together like a well-done brow. They're the frames of your face. And this brow gel makes it so, so easy to get a perfectly-defined natural-looking brow in seconds.
4: You guys. This lip mask is the best lip mask I have ever used. It has kept my lips soft all winter long and that is quite a feat. I'm beyond obsessed. I have nothing else to say except that you need to buy it.
5: Double cleansing is amazing when you want to really deep clean and get the makeup and grime of the day OFF your face. The naked version of the cult favorite cleansing balm is right up my alley. It strips makeup from your face in seconds but is also free of fragrance making it safe to use around your eyes.
6: Does anyone else struggle with Keratosis Pilaris? This KP Away Cream was actually recommended to me by a member of my FB Clean Beauty Lovers group! It really does help!
7: Ah, clean mascara, why are you such a struggle to find? This mascara isn't perfect but it's good, and good is a rare find in clean mascaras, so I figured it was worth a share!
8: This anti-aging serum is the ride or die of my skincare routine. It's made with bakuchiol which is a plant that delivers retionol-level effects without rational-level side effects. Cheers to keeping wrinkles at bay!
Questions of the Day: Do you care about clean beauty? What's a beauty product you're loving lately?