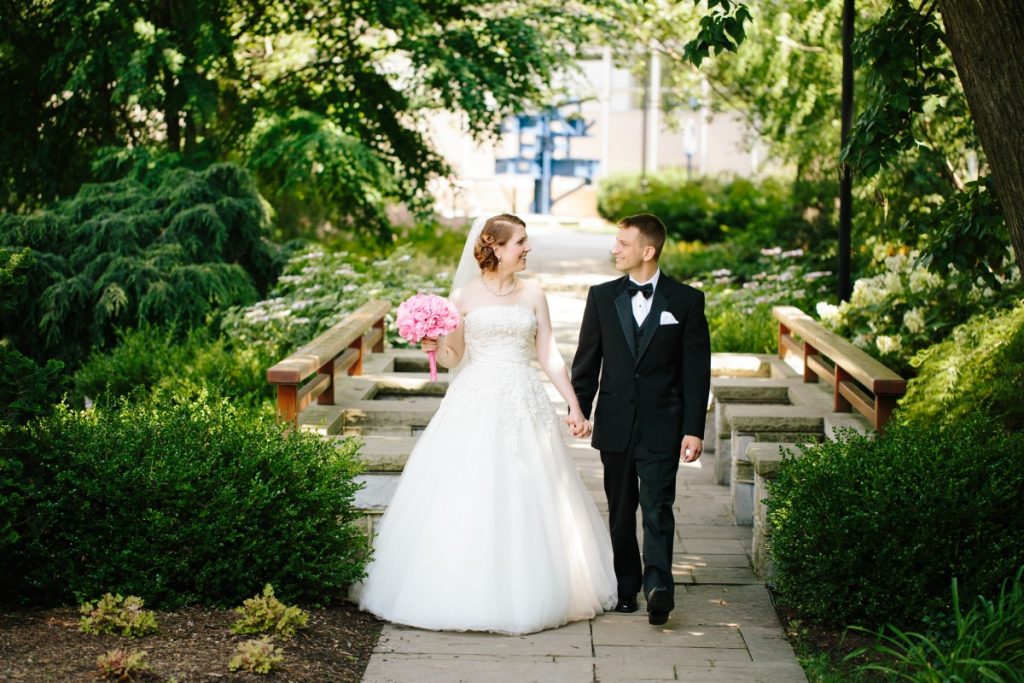 I can't believe it has been six years since Josh and I said I do. When I got married, I was 22 years old, fresh out of college, and preparing to move halfway across the country for Josh's new job. We had no idea what the future would hold, but we were excited to take on this new adventure together.
Growing up I never thought I would be married so young. My plan was to move to New York City, get a job in marketing, and make something of myself. I figured the right guy would come around eventually, but I'd probably be in my 30's when he did. 
Imagine my surprise when I met the guy of my dreams at 19. Someone who was smart, kind, cute, funny, and incredibly caring. I don't know how to explain it other than that I felt such peace when I was with him. I truly felt like my heart had found its home.
Getting married when we did turned out to be the best decision. I'm an old soul for my age and Josh is six years older than me. We were both starting our post-college lives at the exact same time (Me with a bachelors and him with a PhD). We got to have a wedding with all our closest friends and family in attendance before we moved away from everything and everyone we knew, and get married in the town where we first met. 
I feel incredibly lucky that Josh and I met when we did. That I get so much of my life to enjoy with him. That we didn't have to worry about rushing big milestones like starting a family due to ticking biological clocks.
The years after college when you're starting out on your own are incredibly transformational. You're coming into your own and finding out the type of person you want to be. You're learning your likes and dislikes, and what things really bring you happiness and fulfillment. You're like a blank slate that starts coloring in the picture. I feel so grateful that Josh and I were able to go through that time together. We discovered and grew together. And thankfully, stayed compatible during that time of transition.
I've been told by many people that Josh and I are relationship goals. On one hand that makes me very happy because I truly feel like I've won the husband lottery. Our relationship is strong and solid and I cherish it. I think that's why statements like that also makes me nervous. I know how hard we've had to work to make our relationship this way.
We have an incredibly happy, loving marriage that is rather calm and non-volatile. But we have still had moments in our marriage that have taken me to my knees. Moments where I haven't been sure of the path forward. Moments where I doubted myself and us.
And that's because marriage is hard. Even the good ones. Especially the good ones. It's a ton of work. Every day. It's consistently and constantly placing another person's happiness equal or greater to your own. It's weathering storms you could have never imagined when you stood in front of family and friends and exchanged your vows. It's remembering that above all you are a team. 
I don't think this side of marriage gets talked about a lot, because the most successful marriages realize that there should be doors and windows in a relationship. The windows into your marriage are for the public but the doors are the private parts of your relationship that are saved for yourselves and your very closest friends and family. Inviting spectators into your marriage is usually a recipe for a disaster.
So the hard parts of marriage are typically weathered in private. They're not posted to Instagram or shared in emoji-filled Facebook posts like the fun vacations and date nights and mushy love notes are. The hard parts are the quiet moments when a couple has to remove all the noise and distractions and decide whether they're turning toward each other or away from each other. It's the couples that turn toward each other that survive.
When I first got married I thought that marriages without struggles were the happiest. Six years into marriage I've realized that the struggles you endure in a marriage often end up being your biggest blessings. Thanks to the struggles Josh and I have shared, I know that we will always turn in and fight for each other. And that when all the superficial stuff is removed from the equation, our love is the rock-solid foundation of our relationship.
Six years into marriage, I've learned that life is a wild ride. Picking the right partner to share that journey with is one of the most important choices a person can make. Because when you get it right, it's the adventure of a lifetime.
Question of the Day: What has been the biggest lesson you've learned from your marriage?