I have never had as much time in a day as I do during quarantine. It has given me time to get back into working out, to recommit to meditating, and to watch all the Netflix shows. It's also given me a lot of time to shop. I'm using this slower period in my life to try out the products and brands I've always wanted to try. I figure there's no time like the present! Here are my latest Amazon purchases that I absolutely love and am so glad I clicked "add to cart" on.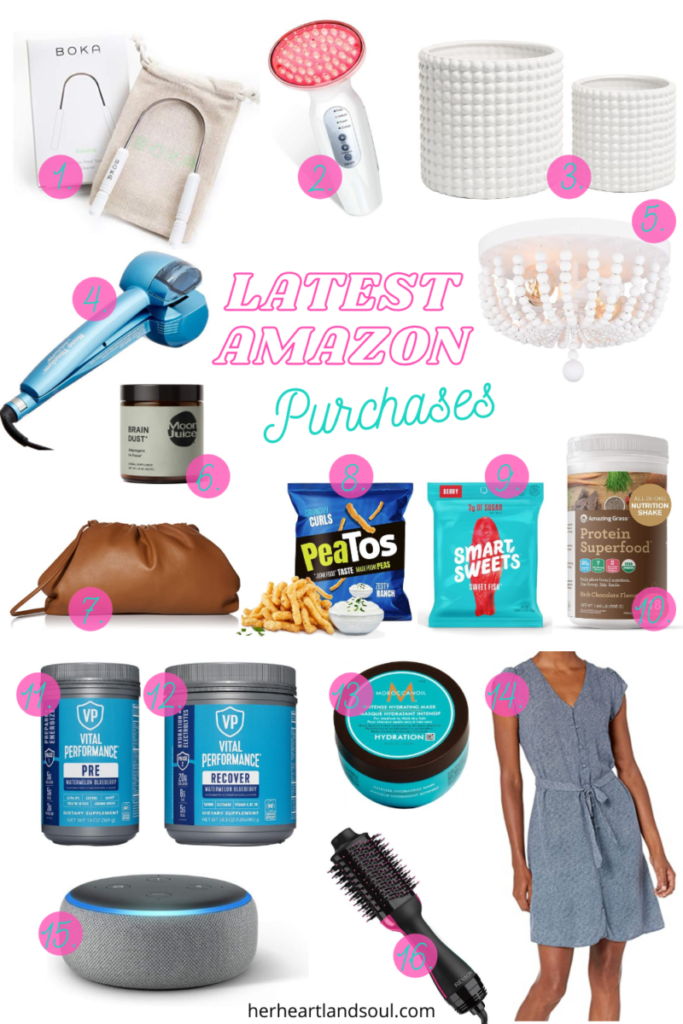 1 | 2 | 3 | 4 | 5 | 6 | 7 | 8 | 9 | 10 | 11 | 12 | 13 | 14 | 15 | 16
1: I have been intrigued by tongue scrapers for a long time. It's a little weird at first, but super easy to do and great for freshening your breath. 
2: Red light treatments are amazing for your skin! It helps firm your skin, shrink pores, and promotes collagen growth. It's important to do it every day so that you see results. I just started, but I'll keep you guys updated. This one has great reviews so I'm really excited.
3: How cute is this planter set? It's super affordable and perfect for decorating my living room built-ins!
4: I love my hair curly but hate doing it. It typically takes forever and I feel like I mess up half the strands I try to curl. This curling iron is idiot proof. Simply clamp down on a strand of hair, the wand sucks up the hair, beeps when you're supposed to release, and boom, curls. It's truly magic.
5: This chandelier is such good quality and so cheap it's ridiculous. It's perfect for my closet. Josh said he'd help me install it once he finishes our dining room.
6: I've been serious about working on my mental health. I recently read up on adaptogens and how they can help your body fight stress. I love to mix this little powder into my morning coffee. Maybe it's placebo affect, but I swear I feel like my brain gets a little extra pep in its step to start the day.
7: This bag is seriously the designer look for less. I love how light and easy it is to wear and think it's perfect for all seasons.
8: Omg. I have a problem. I can't stop eating these chips. They're made from peas (yay protein!) and taste exactly like Doritos Cool Ranch. I love that these are a healthier alternative to regular chips, but I still need to work on my portion control with these. haha
9: Another healthier snack alternative. These gummies taste exactly like Swedish Fish with only 3 grams of sugar in the whole bag. Pro tip: put them in the freezer before snacking!
10: My go-to protein powder for green smoothies. I have this on auto ship every 30 days. It's plant-based, clean, and yummy!
11: Now that I'm trying to do a Peloton spin workout and pilates class five days a week, I've added in this pre-workout drink to give me a little extra pep and effort during my classes. I love that it's made with only clean ingredients.
12: During and after my workout I drink the matching workout recovery drink. It's clean and chock full of BCAA's which is just what my body needs to help me build muscle and fight off DOMS.
13: I have not been to the salon in a loooong time. While I miss it, I still don't feel comfortable with outings like that. A friend who's a stylist recommend this mask to help condition and hydrate my dry ends and it has been a life saver!
14: I am all about simple, comfy shift dresses this summer. This one is cute, breathable, and perfect for moving from the living room to the kitchen to the backyard.
15: I love this portable little speaker and how easy it is to turn on with my voice. I have been playing Taylor Swift's Folklore on repeat. 
16: File this two-in-one hair dryer and volumizing brush under the idiot-proof hair tools category. A salon-worthy blowout from brushing wet hair? Yep, it's amazing.
Question of the day: What Amazon items are you loving lately?