The older I get, the more I realize that in life there are some things you just learn with age.
You see, 24 year old Erin really wanted to not have to shave any more. She was sick of razors, shaving cream, razor bumps, and stubble. So she visited the laser hair removal place she heard advertised on the radio all the time, sat through a very brief consultation, asked next to no questions, read no online reviews, and bought a package on the spot.
Flash forward five years later to present me, and here I am, still sick of razors, shaving cream, razor bumps, and stubble. You see, past-me's lack of proper research wasted a lot of time and money (oh man, the amount I overpaid) at a place that didn't give me the results I was promised, and that left me with hair in the very areas I was hoping to be hair-free.
29 year old me is a lot wiser. When I was recently invited to experience Milan Laser Hair Removal's free consultation, I came armed with questions. If you're looking to kiss shaving and waxing good-bye, I recommend asking these questions, too. They'll help you find the laser hair removal place that's right for you.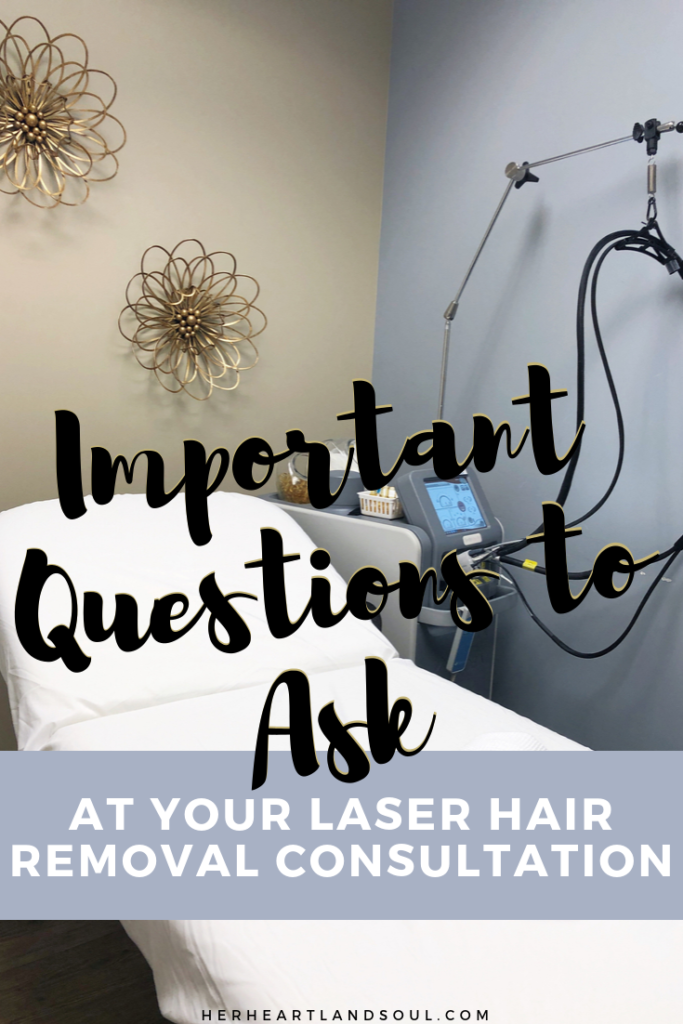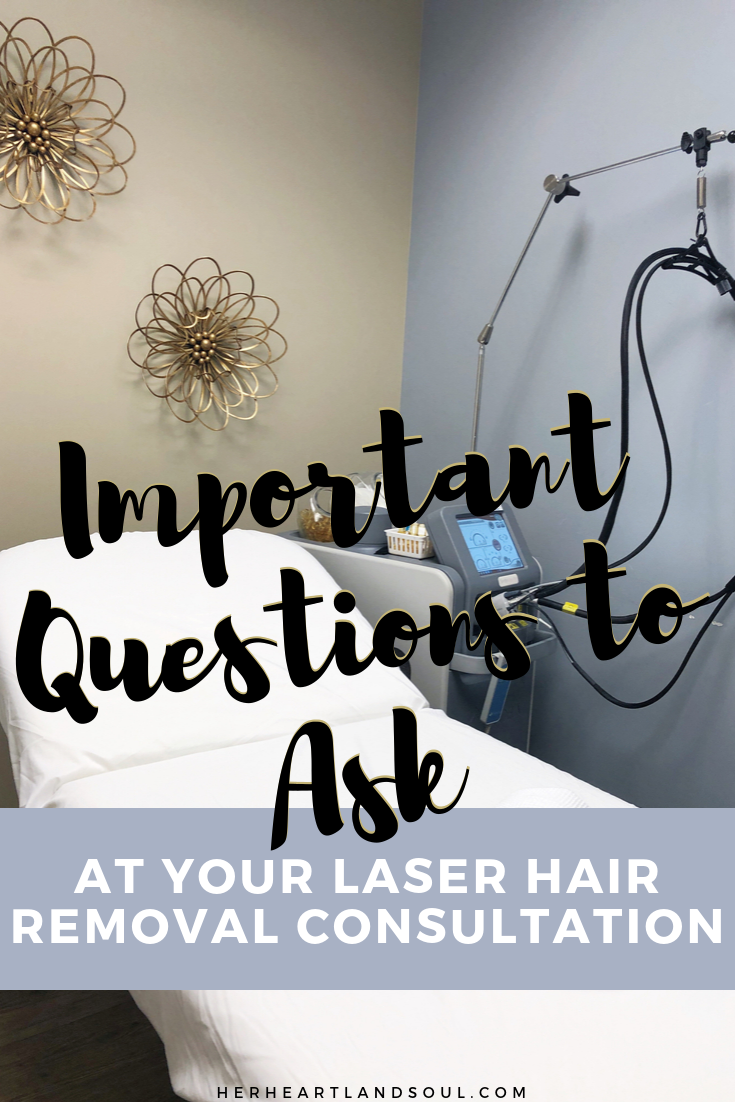 Pin me!
For my laser hair removal consultation at Milan Laser I was offered a beverage, taken to a private room, met with an incredibly knowledgeable staff member, and was shown a video presentation and walked through a booklet explaining the science of laser hair removal. I wasn't rushed, wasn't given a hard sell, and was made to feel like all of my questions were very important. It gave me a really good feeling about the place.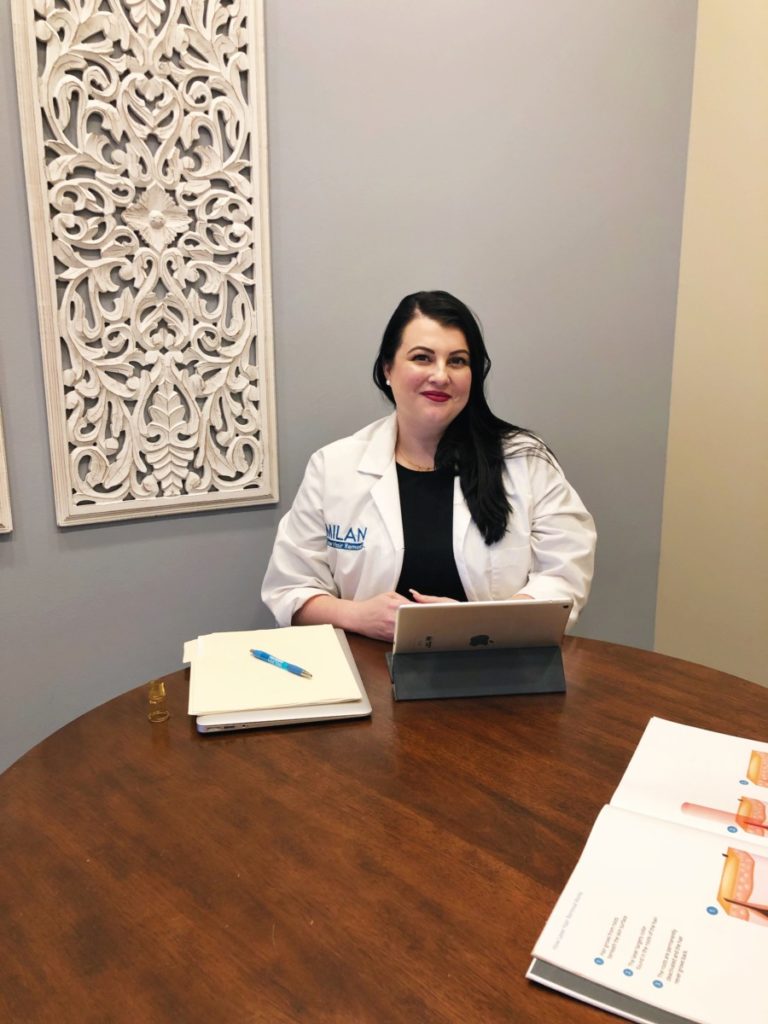 Bione, the manager at the Omaha West clinic.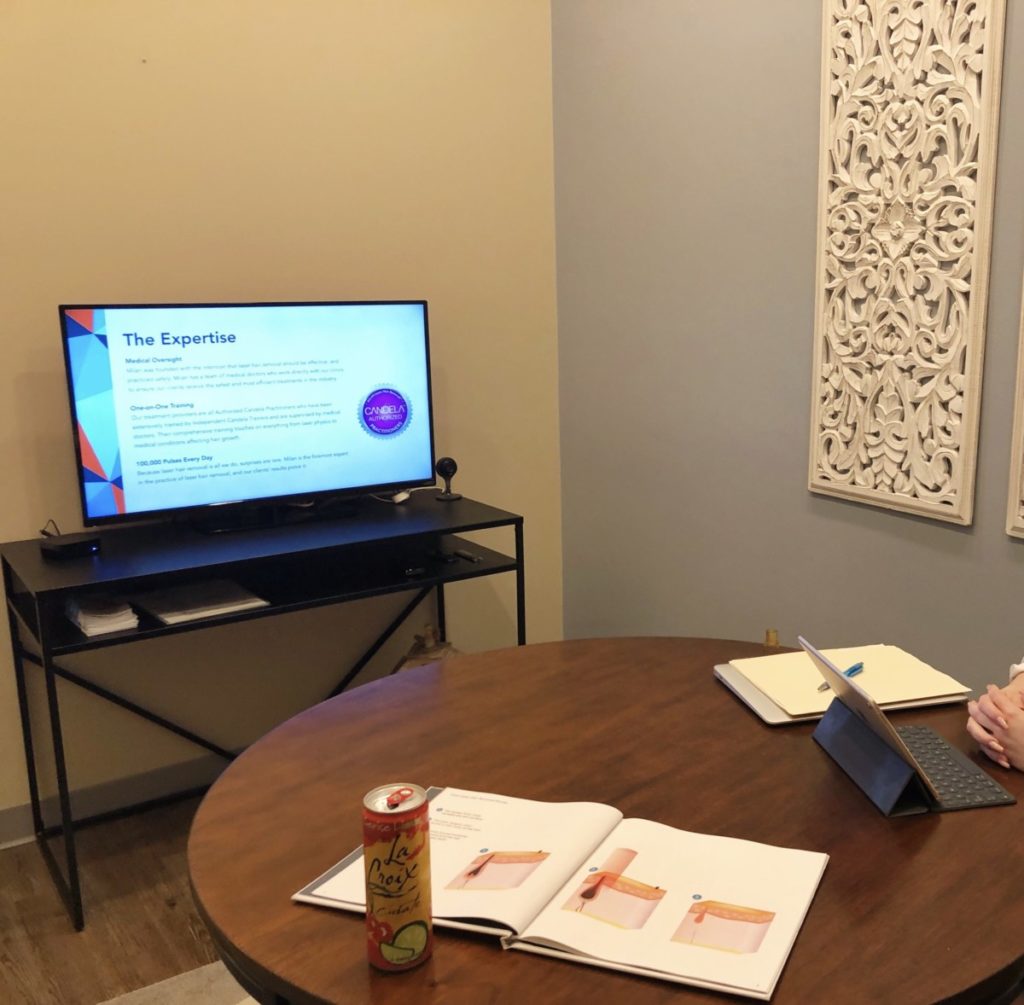 Laser Hair Removal Questions
Here are the questions that I asked. I hope they help you too!
How long have you been in business? Do you have testimonials?
Make sure the place you're considering is legitimate. Have they been around for a while? Do they have reviews online? What are they rated with the BBB? If I would have done 10 minutes of research when I originally was shopping for laser hair removal services I would have saved myself a world of headache.
In Milan Laser's case, they were founded in 2012 by two board-certified medical doctors, right here in Omaha! They have good reviews online, answer all of them, and are rated A+ on the BBB website. Since they opened they've expanded to dozens of states and just opened their 67th location this year!
Who is administering the laser hair removal? 
While laser hair removal is incredibly safe, it is a medical procedure. You want to make sure you're in the hands of a professional. At Milan Laser, all laser hair removal procedures are administered by registered nurses who are Authorized Candela Providers.
How much does the laser hair removal procedure *actually* cost?
A place should be upfront and honest with their prices. Make sure to do your homework to know how much laser hair removal costs in your area. I did not do this when I originally was researching laser hair removal and paid almost double what I should have.
At Milan Laser, laser hair removal is priced by body part, and they have a cost sheet that they walk you through. They're incredibly competitive, especially compared with the rate I originally paid.
How many treatments does my package include?
This is one of the most important questions! I did not ask this when I first bought a laser hair removal package. The answer would have been: not enough! After so many treatments I had to start paying hundreds of dollars for further treatments, even though I still had hair growth.
At Milan Laser, when you buy treatment for a body part, you get unlimited treatments for that body part. 
What type of laser do you use?
All lasers are not created equal. Make sure your laser hair removal place is using one of the latest and greatest. It should work on a variety of hair types, and have a cooling treatment for after the laser is applied to help calm your skin.
Will laser hair removal work on my hair?
This is one of the other most important questions. Laser hair removal has advanced a lot in recent years. Newer lasers can treat a greater variety of skin and hair types. That said, laser hair removal does not work on white, grey, Platinum blonde hair or peach fuzz. And if you have red hair or very dark skin, it can take longer for you to see results. A laser hair removal place should be open and up front with you about this.
They should also discuss things like hormonal hair areas, which are parts of your body where hair can grow back over time as your hormones shift. This was a new concept to me when going through the Milan Laser consultation. If you're looking to get your bikini area treated, it's a very smart idea to go with a place that offers unlimited treatments and touchups, so if/when some hair comes back you can get it taken care of!
What is the required prep work before a treatment?
With my last laser hair removal experience, prep work was not explained at all. At Milan Laser they are very clear that to see the best results you need to do two things: avoid getting a treatment if the treatment area is tan/burned  (as this can cause a reaction with the laser) and to always shave the day of your treatment so the laser can focus on the root of the hair and not the hair itself. They take laser hair removal very seriously and care a lot about safety and efficacy. 
Do you have any promotions?
It's always good to find a deal, and it never hurts to ask to see if you can save more money! 😉 I learned that Milan Laser is offering a 60% off discount through October 20th. They were kind enough to share the deal with me so I could share it with you guys. If you're interested in taking advantage of 60% off laser hair removal, use this link. It's good at all Milan Laser offices throughout the country. You can save serious money and get some serious laser hair removal results!
I was so impressed my Milan Laser I decided to restart my laser hair removal journey and give it another go. This time I'm feeling much more confident that I'll actually be hair-free at the end! I can't wait to take you guys along on the journey!
Questions of the Day: Have you had laser hair removal before? Is laser hair removal something you're interested in?