Ever since I was a little girl I have dreamed of my wedding dress. I didn't have a specific look in mind, I just knew I wanted to feel like a princess. After Josh and I got engaged I couldn't wait to go dress shopping. The only thing I wasn't looking forward to was shopping for a dress on my wedding budget. I am addicted to wedding shows like Say Yes to the Dress that feature beautiful, high-quality, insanely expensive gowns. While I would never feel comfortable spending a huge amount of money on a dress I'll only wear one day I also don't want to walk down the aisle in something cheap or low quality. I figured before I worry about the price though, I should probably find out what kind of dress would look best on me.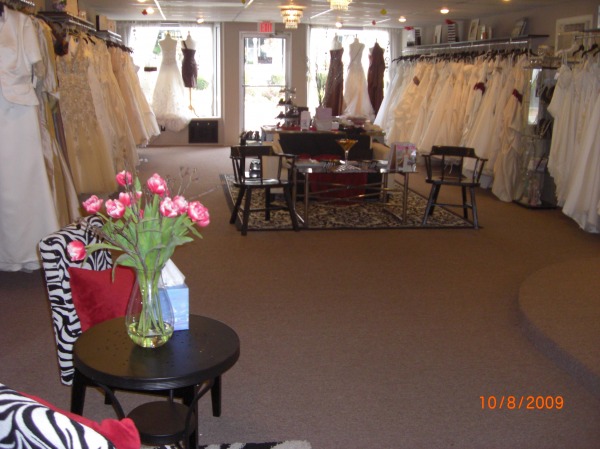 (Source)
Before getting engaged I had never even been to a bridal store. Never having tried on a wedding dress I knew I wanted to try on a variety of different styles to see what would look best on me, regardless of the price. Debbie was so sweet to take me to Diamonds & Lace for my first dress fitting and it was the best experience. The ladies were so wonderful and helpful and really took the time to answer our questions and give suggestions. The first wedding dress I tried on (ever) was a Justin Alexander gown that took my breath away. Looking in the mirror I had this feeling come over me, I really felt like a bride. I felt like that style gown is exactly how I wanted to look on my big day, it was classic and elegant and romantic. The only (big) downfall was the $1500 price tag. If Josh and I had careers and were throwing an average cost wedding that would be a perfectly reasonable amount to pay on a wedding dress. But as we are getting married on student budgets we are having to get very creative with ways to keep costs down. Buying that dress would cost a 1/5 of our wedding budget. I tried on a handful of other dresses at the store and while there were some very beautiful ones, none gave me the feeling that the Justin Alexander gown did.
Now that Debbie and I knew the style of the gown we were looking for we decided to head over to David's Bridal to see if we could find one in my price range. I was not very excited about this because while David's Bridal has beautiful dresses I don't feel like they have particularly gorgeous gowns in my price range. But I knew I had to stay within my price range and that meant making sacrifices. We tried on dress after dress and it was not a fun experience. As Randy always says in Say Yes to the Dress, you should never try on dresses above your price range because then you'll compare them to dresses in your price range, and there is a reason why they are different prices. After trying on soft silks at Diamonds & Lace the harsh synthetics really stood out to me. I left really nervous about how I was going to find a dress that I both liked and could afford. On the plus side I found my bridesmaids dresses while I was there! The thought of asking my bridesmaids to spend hundreds of dollars on a dress for my day has always seemed crazy to me. I found the most adorable Davids Bridal tea-length dresses for $99 in a super cute color that they can hopefully wear again. Done!
When I got home that day I sat down and thought about how I could make my wedding dress dreams come true. I knew I wanted a Justin Alexander dress. I loved Diamonds & Lace and if I could I would have bought from them in a heartbeat to give them the business, but I simply couldn't go so over-budget. It hit me that all my life I have been a bargain shopper. My Marc Jacobs and Louis Vuitton purses, my Canon Rebel XSI camera, my Tiffany jewelery, my Tory Burch flats, they were all bought used and they were all bought for super cheap. Why should my wedding dress be any different?

(Source)
I started researching online and found a Website called Once Wed. It's a beautiful, easy-to-use website that lets you search by designer and size for used wedding dresses. They had quite a large Justin Alexander selection and while they didn't have the exact dress I tried on they had one in the exact same shape, just a different style. Upon further reflection I realized I liked the details of the dress for sale online even more than the one I tried on in the store. It was also heavily discounted to the point it was almost in my price range which was amazing. Now as amazing as finding good deals online is when buying a wedding dress there are some things you really need to make sure you consider before you purchase, since all sales are final. You do not want to have buyer's remorse on such an expensive, and important, purchase.
Size– What is the size of this dress and how does that designer typically run. I would never have bought a used wedding dress without first trying on the exact designer of the dress I was looking at in a store first.
Alterations (including bustle and hem)– You may be a size 6 and the dress may be a size 6 but the previous bride may have had so many alterations done to the dress it now fits like a 4. Get measurements for everything so that you can compare them to your own. Also find out how tall she is, how tall her shoes were, and what length she had the dress taken to. You do not want to get a dress that was cut for your height and then realize you wont be able to wear your adorable 4 inch heels with it. Also ask if the dress was bustled. Having a bustle added to a dress costs money. If you find a sample size dress being sold brand new for $200 cheaper than retail online but it hasn't had any alterations or bustling done you're really not saving any money. Alterations and bustling easily run hundreds of dollars.
Condition– This is kind of an obvious one but the dress has been worn, you want to make sure it's in perfect condition. Are there are rips or tears of any kind? And if so how expensive would they be if you had to fix them?
Cleaning– Another obvious one but you really don't want to wear a dirty dress the day of your wedding.

If they haven't had the dress professionally cleaned after their wedding you're looking at an additional $100-$200 to make sure there are no stains or marks on your dress.
I really lucked out with my dress. The Justin Alexander dress I tried on at Diamonds & Lace was a size six and the woman told me I didn't need any alterations besides hemming the dress to my height. Knowing I was a true six in Justin Alexander I made sure to look for that online. The dress I found on Once Wed was exactly my size with no alterations except the bride hemmed the gown to her height (5'7 when wearing Nikes). It was perfect because I'm 5'7 and wearing TOMS flats with my wedding dress. The bride also already had a bustle put in and had the dress cleaned after the wedding. She was so nice throughout all of our emails, sent me tons of pictures, and was willing to come down further on the price so that it fell in my budget. She wants to see pictures when I wear it on my big day! 😀
There could not have been more signs telling me this dress was meant to be mine. I ordered it, had it shipped here insured and speedy quick, and tried not to think about how I may have just ordered a dress that wouldn't look as good on me as it did in the pictures. Thankfully it fit like a glove and gave me the exact feeling the Justin Alexander I tried on in the store did. It is perfect, beautiful, and exactly what I was looking for. It also is not a dress you'll see on ten other brides or that looks cheap in any way. It looks like I shelled out a lot of dough for that dress, there is so much beauty, and the fabric is so well made with so much attention to detail. I can't wait to wear it on my wedding day! I literally got so lucky with this dress, the situation could not have been any more perfect.
If you're looking for sites to browse used wedding dresses I recommend the following:
Question of the Day: What are some things you have bought used for a good deal?