Have you ever heard of Runza before? If you're not from the Midwest, chances are you probably haven't. When I moved here, I saw all these Runza restaurants and wondered what the heck they were.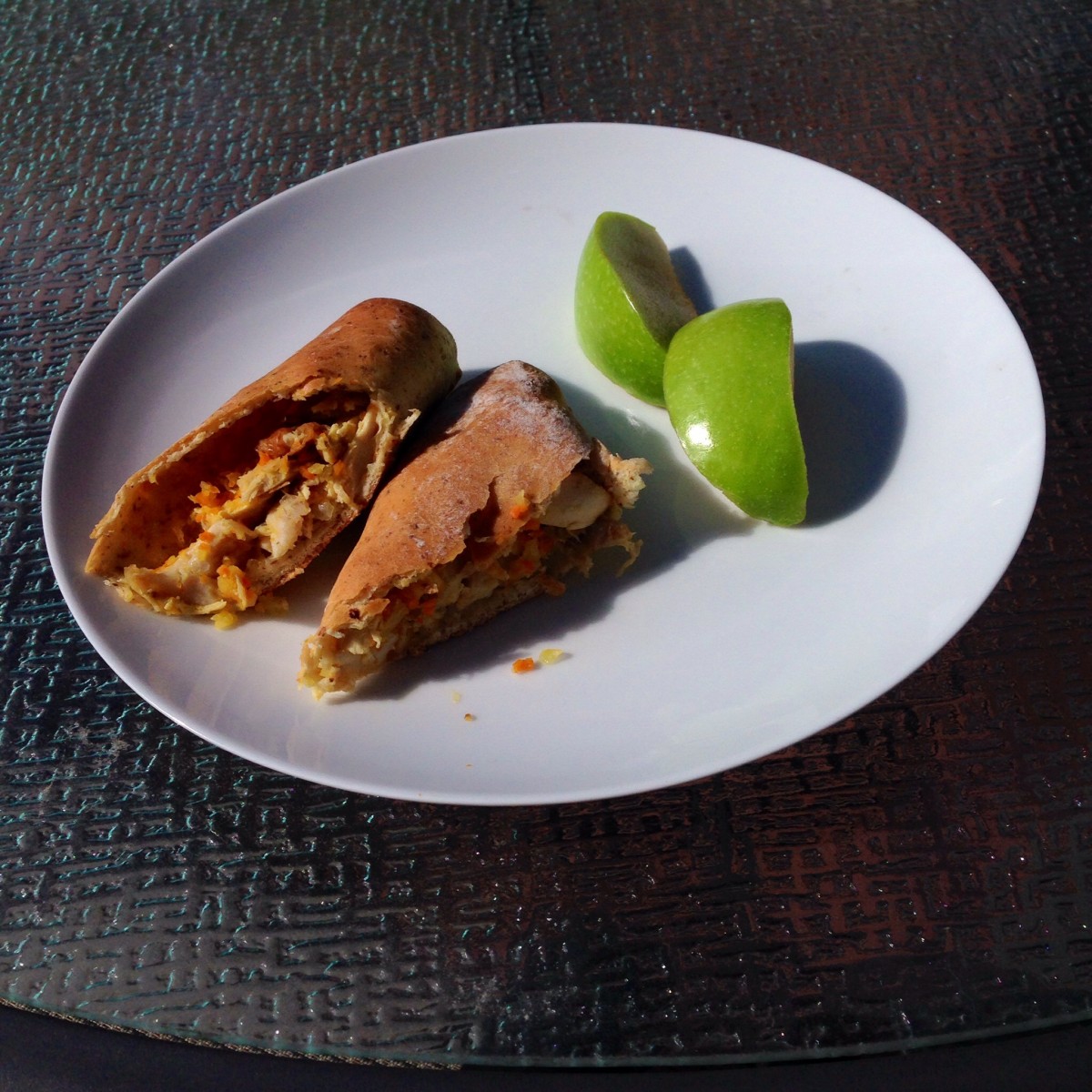 According to handy dandy Wikipedia, Runzas are the Russian term for any food consisting of a dough stuffed with a savory filling. The ones in Nebraska are beef-based. Since I don't eat beef, I haven't been able to try these Nebraska specialities. Lucky for me, Joanna's family has a delicious homemade Runza recipe that could be modified for chicken-eaters and vegetarians. Hannah, Joanna, and myself decided to get together and recreate the classic.
We thought this would be the perfect theme for our October edition of Three Cooks One Kitchen!
In case you aren't familiar, Three Cooks One Kitchen is a monthly cooking installment that  Joanna, Hannah and I do. We pick one of our places to get together and a food theme we want to focus on. For the homemade Runzas, we thought it would be fun if Joanna made the classic beef version, I made a chicken version, and Hannah made a veggie version.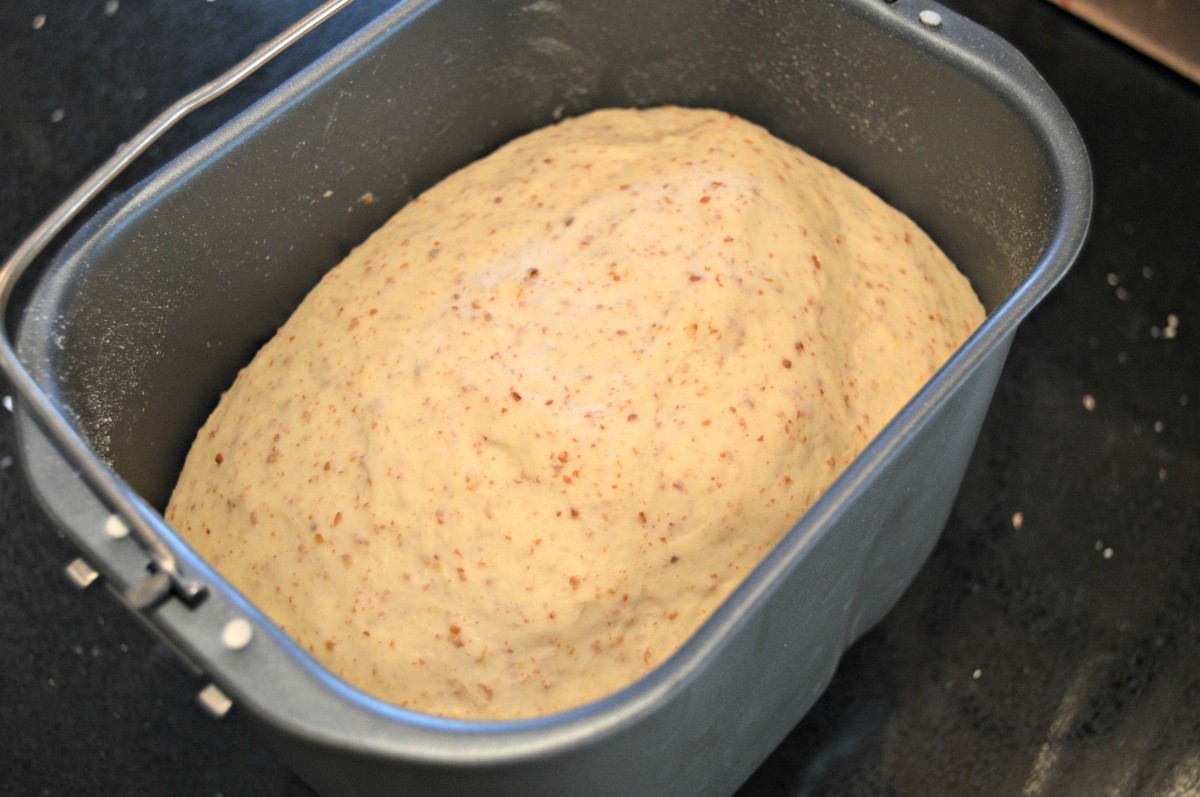 It all started with this delicious dough. A HUGE thanks to Joanna for prepping this ahead of time!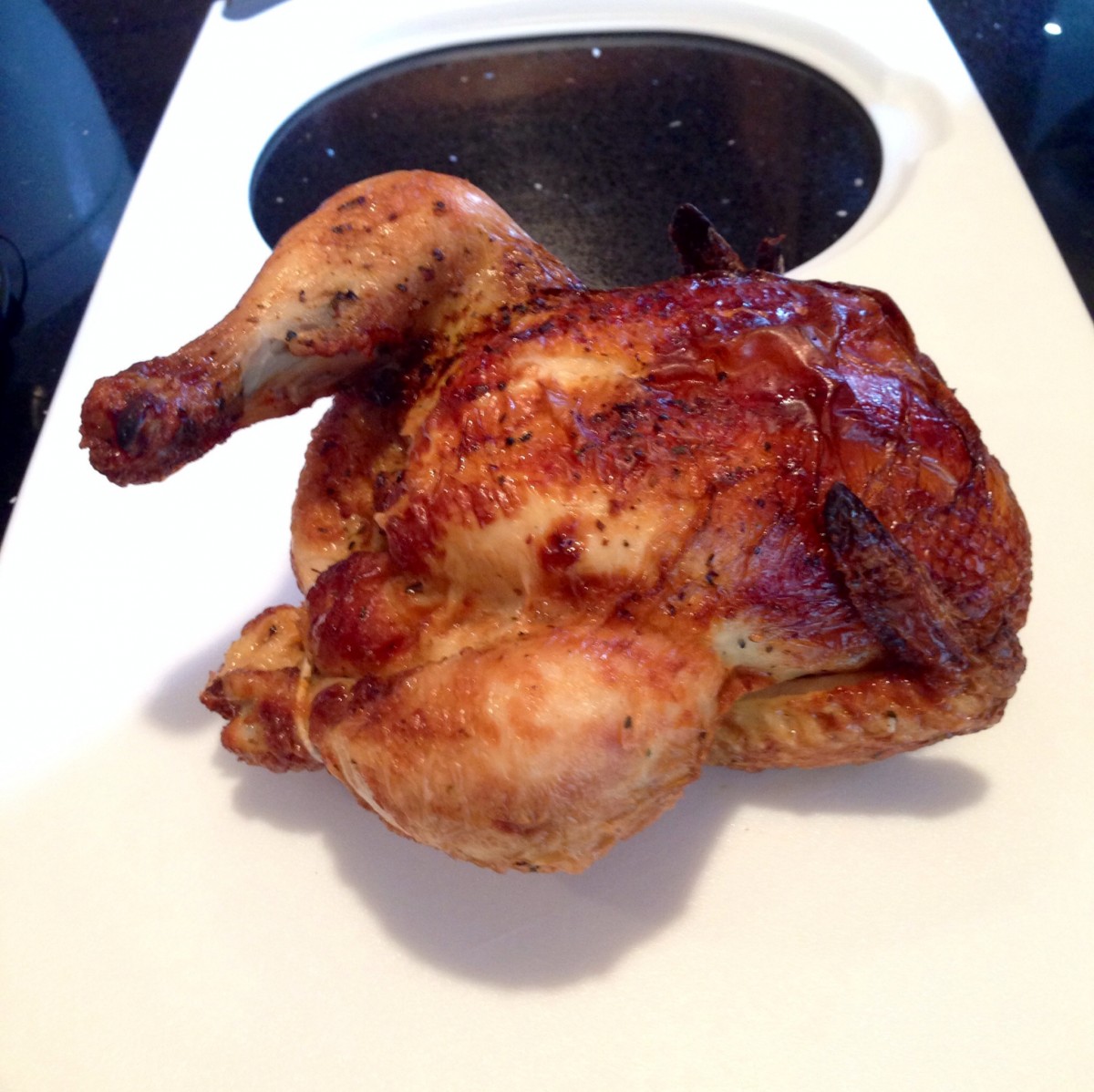 The star of my Runzas. I was planning on making chicken in the crock pot to use, but last week was insane so I picked up a rotisserie chicken on the way to Joanna's instead.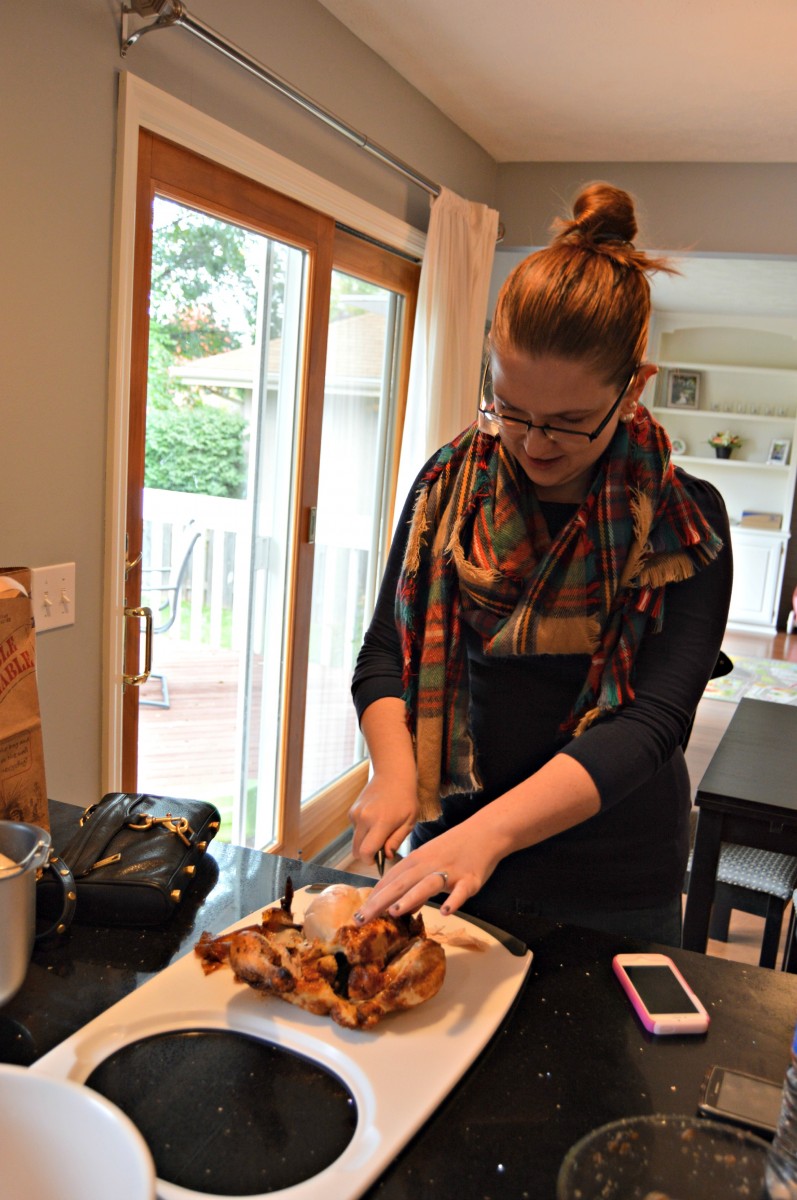 I typically buy precooked chicken breast so I don't have to handle bones and cutting meat. This was the first time I had to do it since being a vegetarian for two years and it was an experience.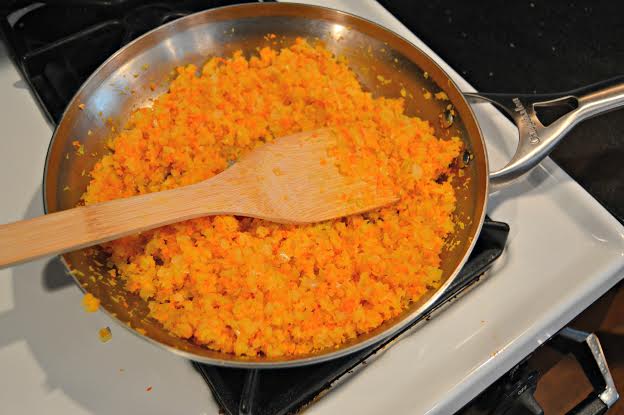 The three ingredients besides meat are carrots, onions and cabbage. Again, another huge thanks to Joanna for prepping this all ahead of time.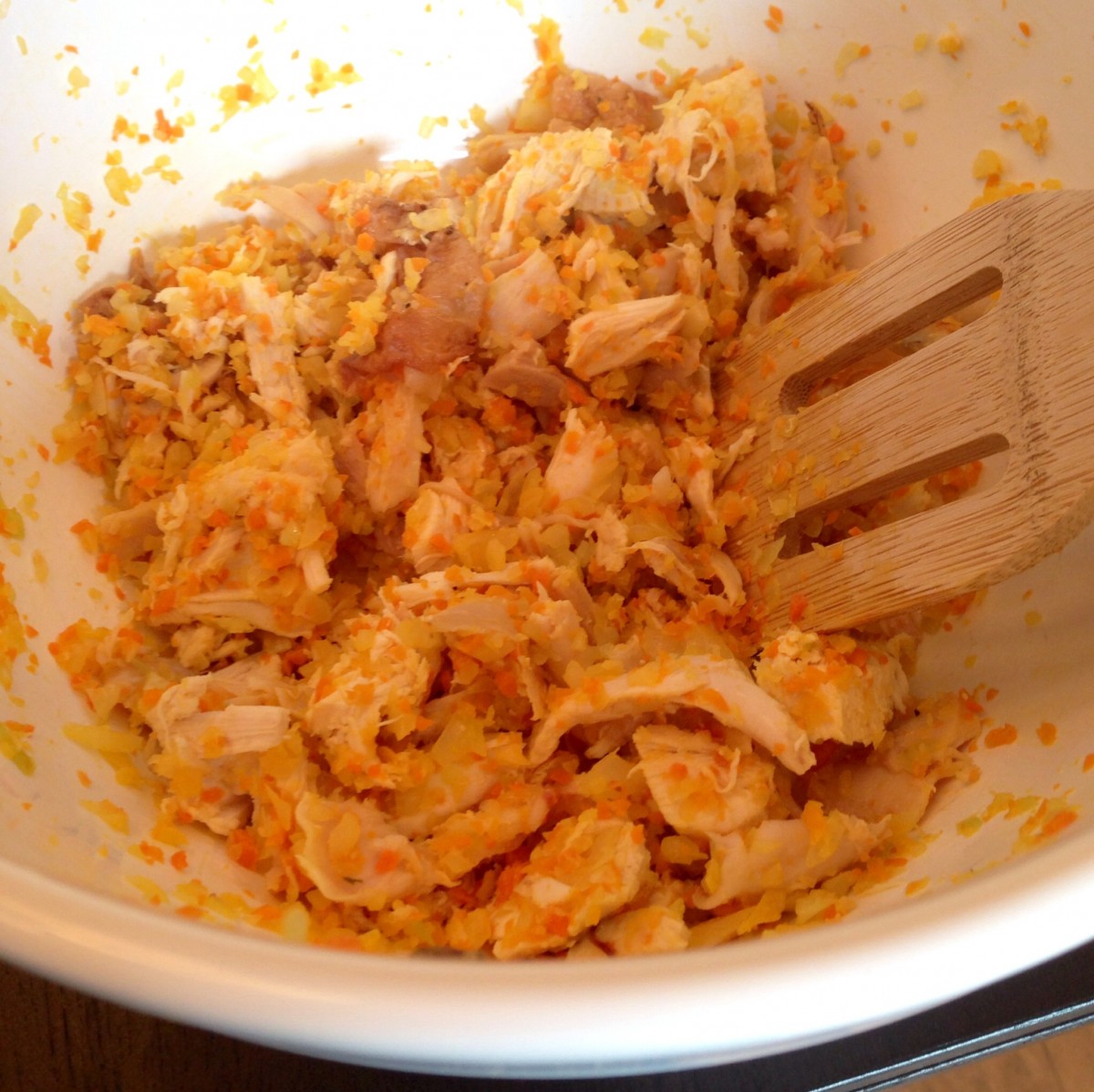 All mixed together!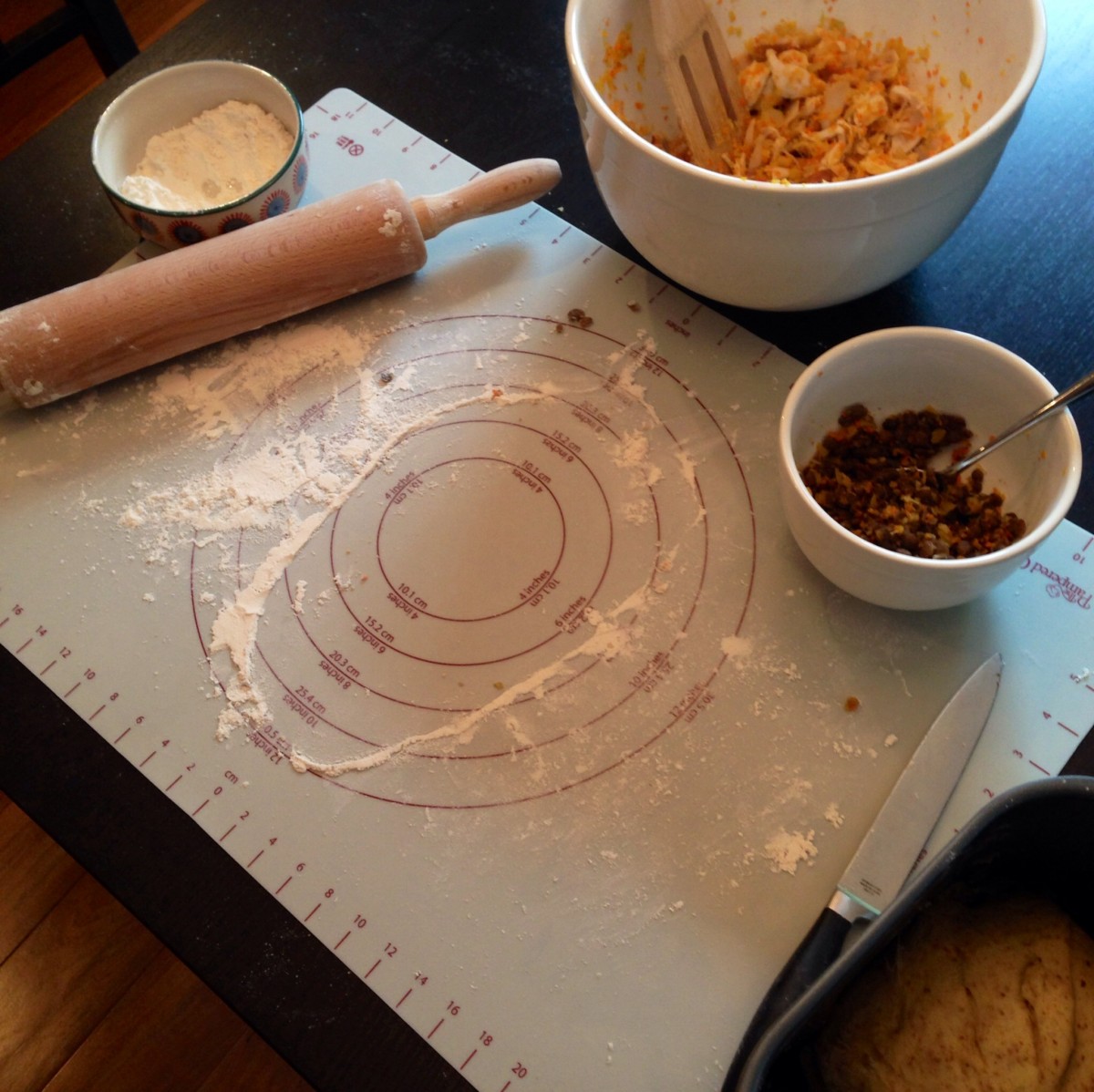 And ready to be rolled and stuffed into Runzas!
Chicken Runzas
Makes 12 Runzas
Dough Ingredients
1/2 Cup milk
1/2 Cup water
1 large egg
1 tablespoon butter
3/4 teaspoon salt
3 Cup bread flour
1/4 Cup flaxseed meal
2 tablespoons sugar
2 teaspoons yeast
Runza Stuffing Ingredients
2 pounds of shredded chicken
1/2 cup grated onion
1/2 cup grated carrot
2 cups grated cabbage
Salt and pepper.
Directions
Assemble dough in bread maker
Stir fry onions, carrots, cabbage, salt and pepper
Mix stir fried veggies  with chicken
Heat oven to 375 degrees
Cut dough into 12 even sections
Roll out one section of dough into a flat oval
Place filling down the middle of dough in a straight line
Pinch the sides of the dough together so that the dough covers the filling
Squeeze each end together so the filling doesn't fall out
Put pinched Runza side down on greased baking sheet
Let rest 20 minutes
Bake 20 minutes
Let cool
Serve and enjoy!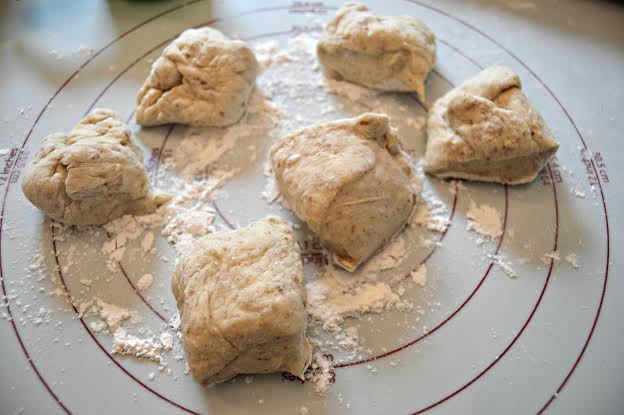 This dough was SO good.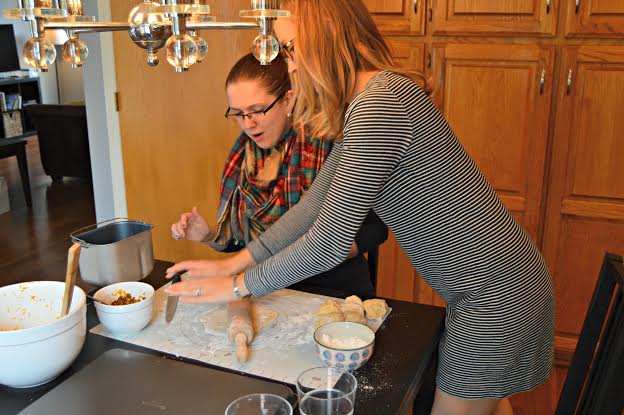 Here is Joanna demonstrating how to properly use a rolling pin for me. I'm pretty sure my kitchen skills would rival those on Food Network's Worst Cooks. Being raised by a single dad meant I grew up cutting everything with a steak knife and thinking garlic salt was the only seasoning worth using. Somehow I've managed to not cut off an appendage and still cook yummy food. 😉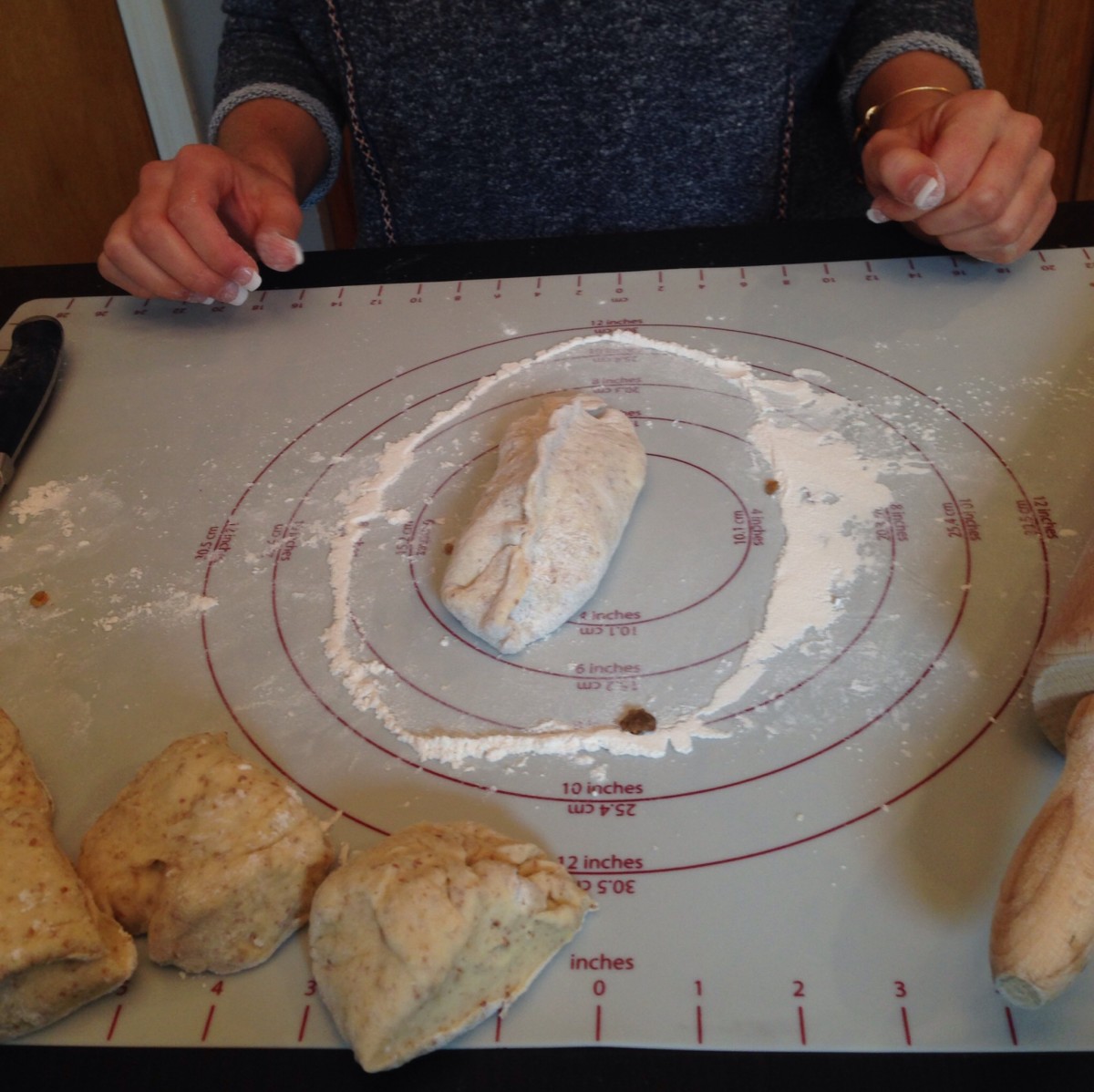 Hannah rolling up her veggie Runzas. I think they look so cute.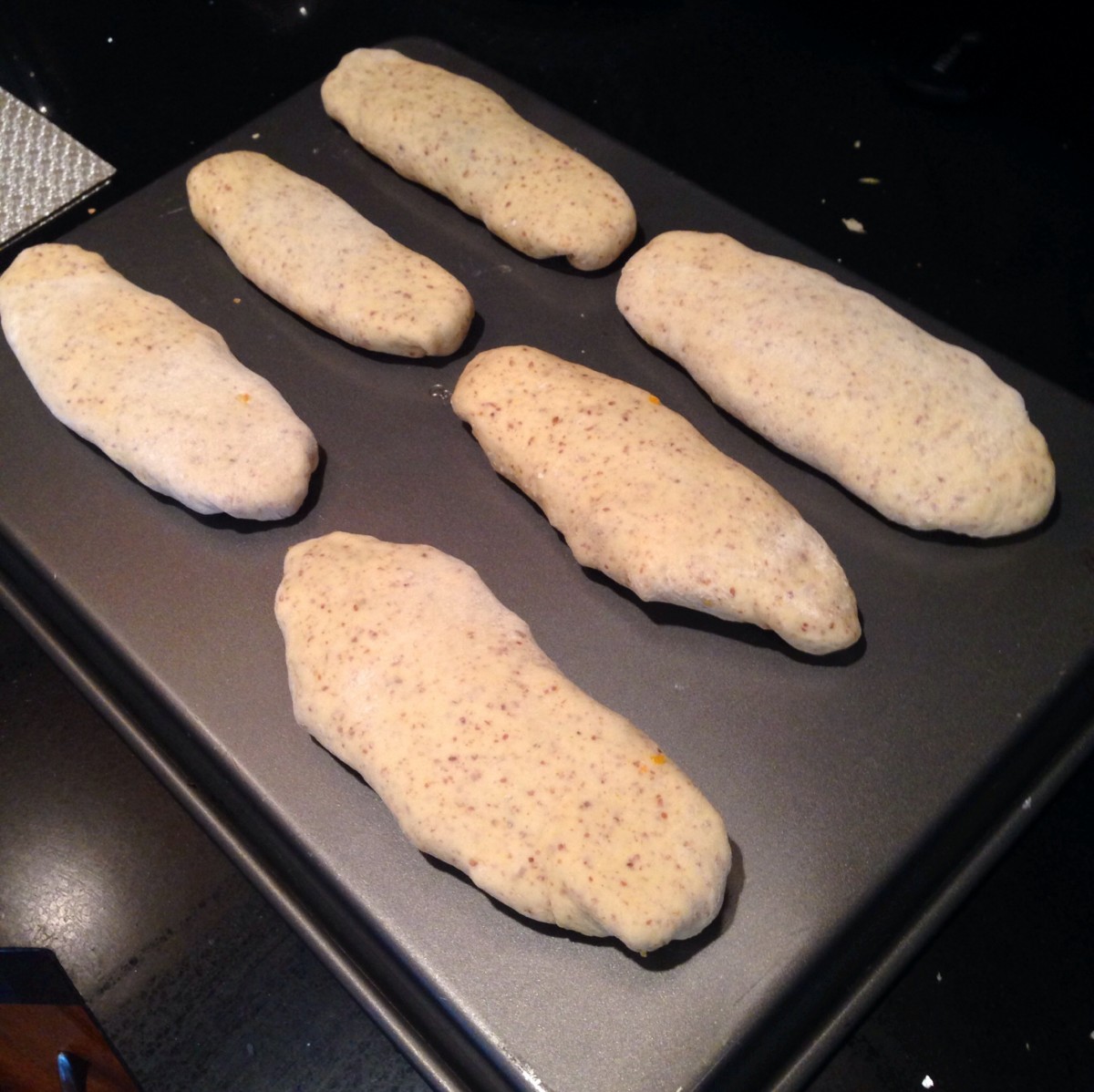 All ready for baking! Joanna taught us this trick of flipping the baking sheet over. She does this for everything, but it's especially useful for cookies. No more crushing cookies into the corners when you're trying to lift them out!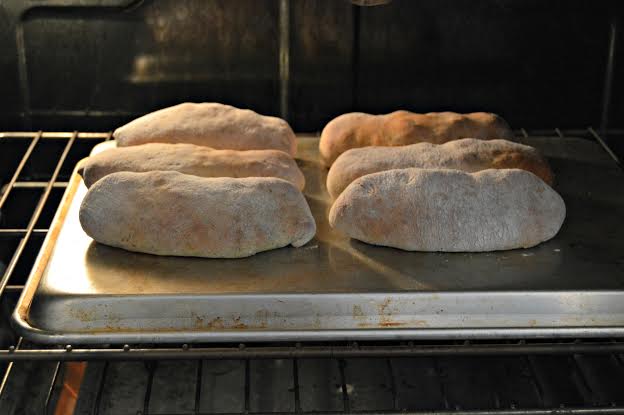 All ready for eating.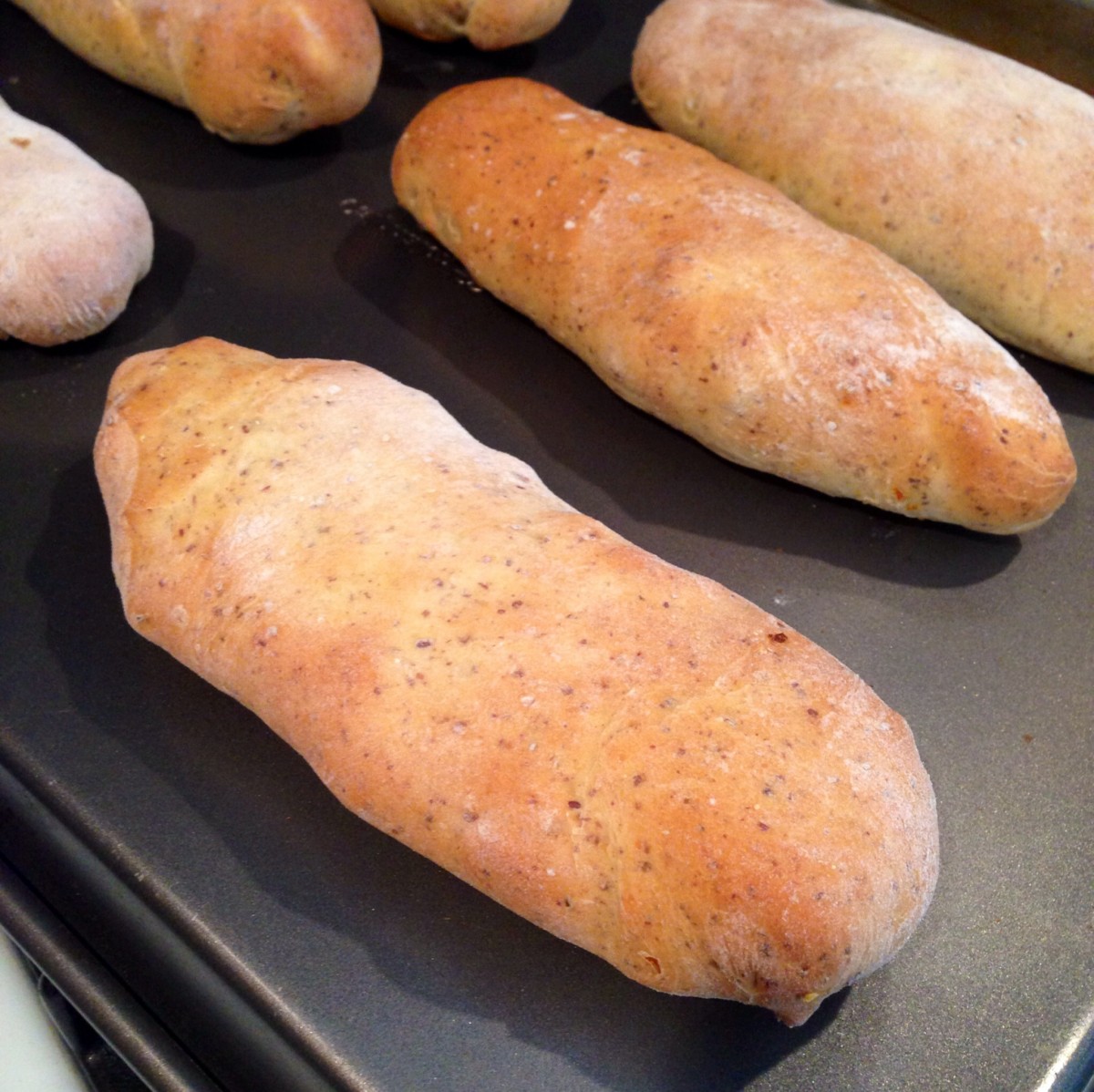 Tell me these don't look delicious.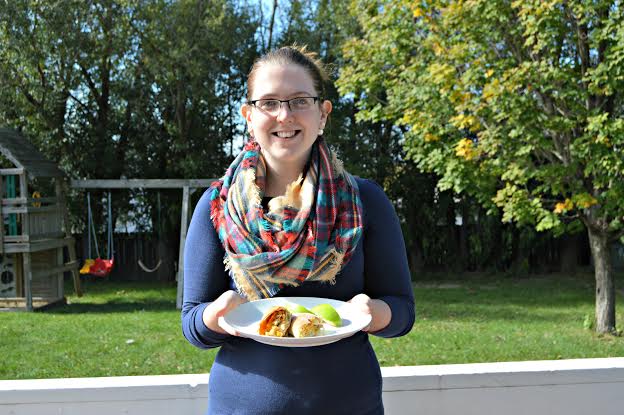 Me with my yummy lunch.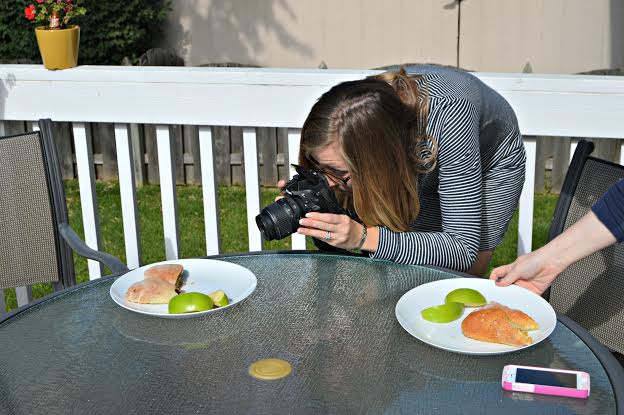 Behind the scenes of what it really means to be a blogger. 😀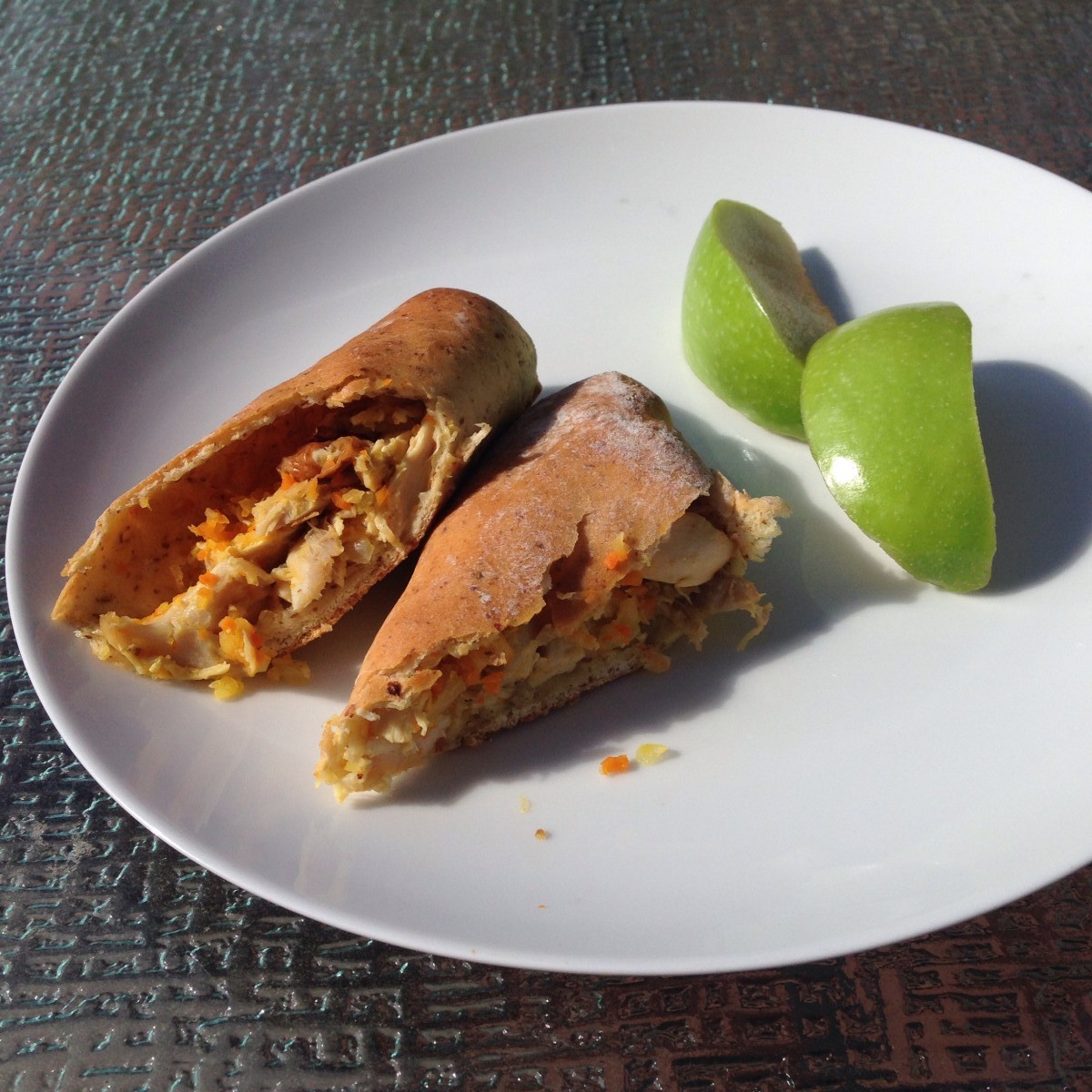 These were fantastic. Flavorful, moist, and perfectly seasoned. This is going to be a weird analogy, as there is no mashed potatoes, turkey, or stuffing involved, but they tasted like thanksgiving to me. That warm, comforting, rich, hearty taste you associate with a Thanksgiving meal.  I'm so thankful Joanna shared her family recipe as I plan on making these A LOT more.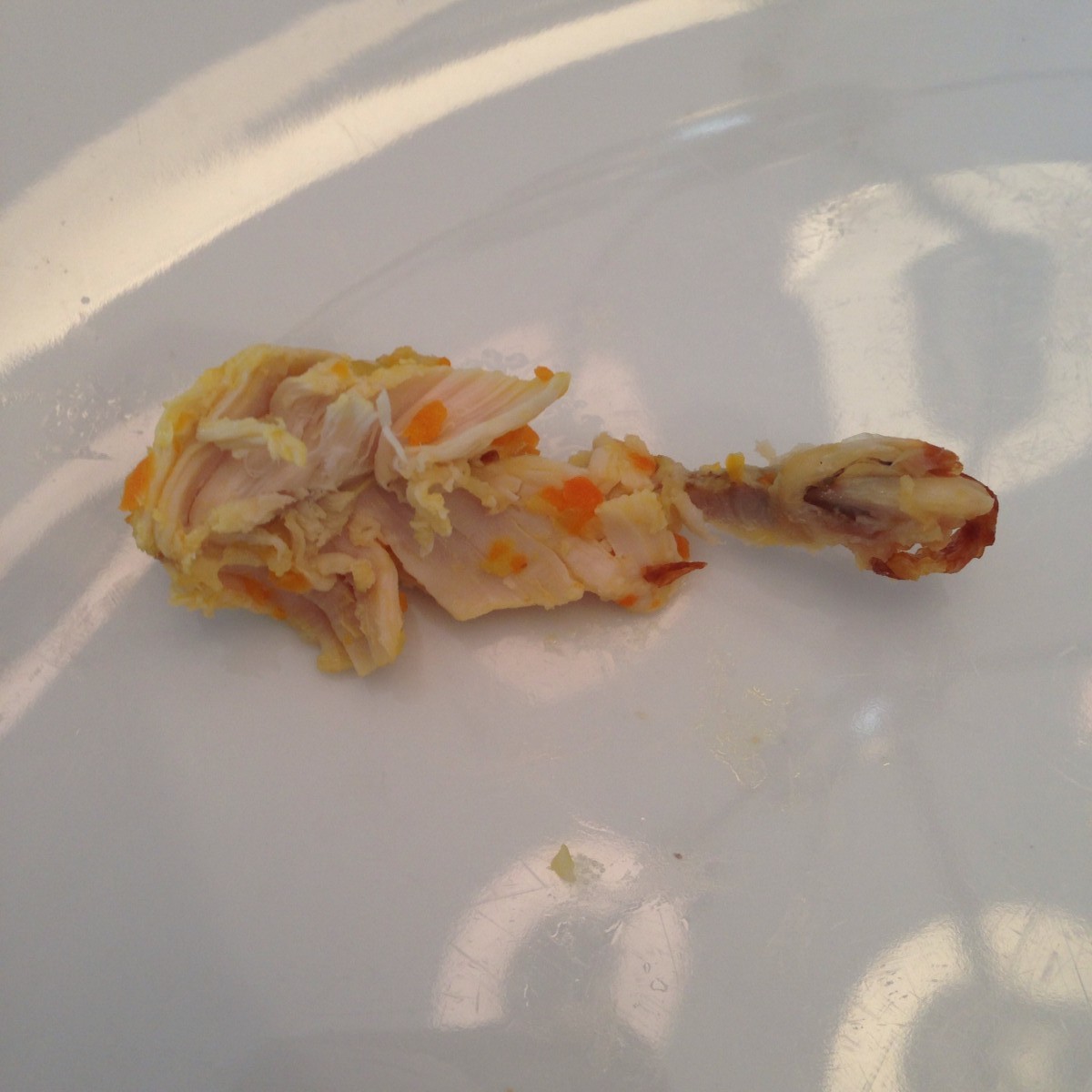 My goal next time? To NOT bake a Runza with an entire chicken bone inside. 😉
For the beef and veggie version of these homemade Runzas make sure to check out Hannah and Joanna's posts:
Questions of the Days: Have you ever had a Runza? Do you own a bread maker? If you had to pick between chicken, beef, and veggies as your filling of choice which would you pick?