One of the things I love most about living in Omaha is what a thriving city it is. People in Omaha are proud to live in Omaha. We have an amazing food scene. There are so many talented makers. There are always fun events, concerts, and shows going on (Pre-COVID anyway). And businesses big and small actively look for ways to invest in and support their local community. 

COVID has been hard for everyone, but especially small businesses. While I know all of us are ordering essentials from Amazon daily at this point (just me??), if you can, it is so important to invest dollars back into the local community. When you shop local you're supporting your neighbors and helping make the fabric of your community stronger. What a powerful way to use your dollar.

I need to caveat this post by saying there are SO MANY talented small businesses in Omaha. I by no means cover all of them. I actually had anxiety putting this list together because I didn't want anyone to think I was trying to overlook or exclude certain businesses. I just wanted to put together a gift guide like I would for any other post highlighting some of my favorite items and pieces. (I also crowdsourced recommendations on Instagram and included some of those!) Please just use this as a starting point for ways to shop and support Omaha. This list just scratches the surface!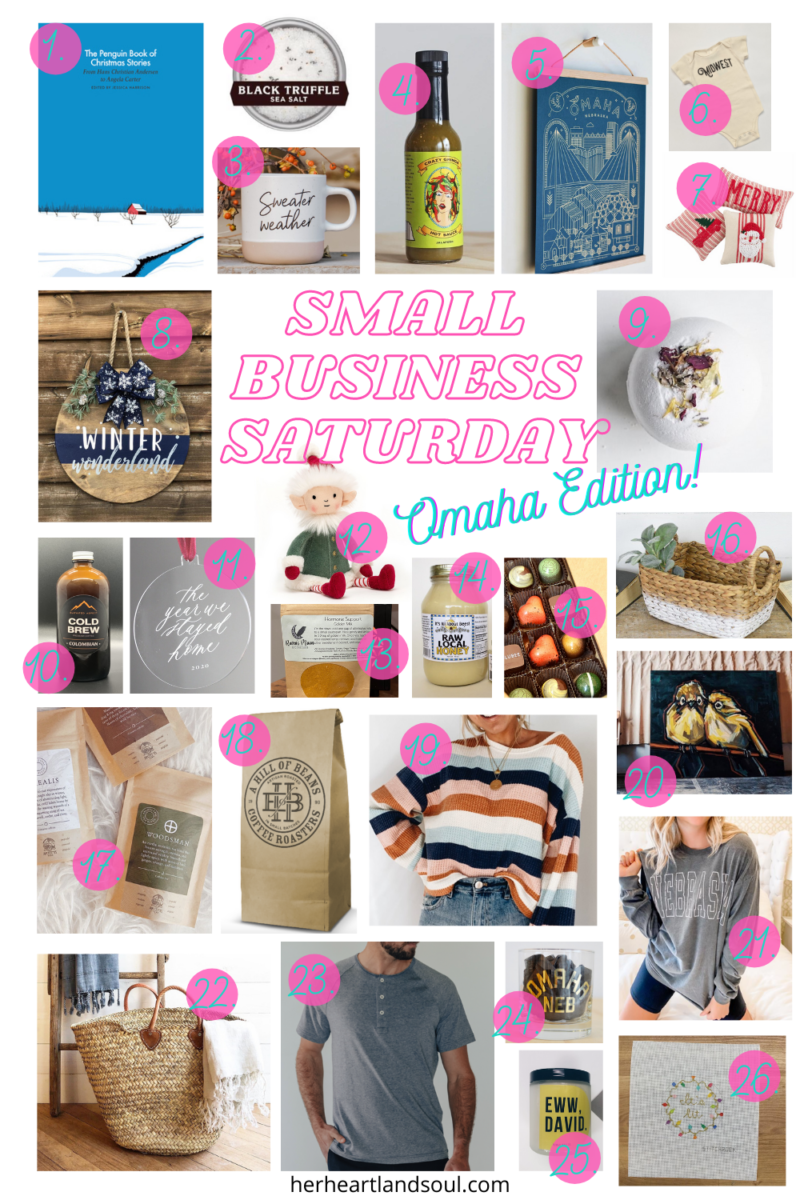 1 | 2 | 3 | 4 | 5 | 6 | 7 | 8 | 9 | 10 | 11 | 12 | 13 | 14 | 15 | 16 | 17 | 18 | 19 | 20 | 21 | 22 | 23 | 24 | 25 | 26
1: PLEASE SUPPORT LOCAL BOOKSTORES! They are such a gift to the community. I love The Bookworm and this collection of Christmas stories would make such a fantastic gift or holiday bedtime read.
2: You've got to love fancy oils, vinegars, and salts. Old World Vinegar has a great selection, including this amazing black truffle salt!
3: This is the perfect mug for sipping something warm on cold winter days. I love absolutely everything from The Anastasia Co. (And the owner, Jillian, is one of the sweetest people on this planet!)
4: Crazy Gringa Hot Sauce is SO GOOD! You seriously can't go wrong with any flavor. Josh's favorite is the Fresno Pepper.
5: I am so thankful that Made in Omaha exists! Everything you buy there is (you guessed it) made in Omaha! I love this Omaha gold foil print.
6: This Midwest onesie is so cute! Suite Child has goodies for mamma, baby, toddler, and tween!
7: You can never have too many Christmas Pillows! Spruce has something for everyone! It's such a great interiors and gifts store!
8: I discovered Mama E's Makery at a craft fair last fall and fell in love. I now own five of her door signs and actually just bought this one! Haha 
9: I love a good bath bomb. Dusk Goods and Gifts has a bunch, along with everything else you could need to decorate your home.
10: Elevated Aspect Cold Brew is my go-to for local coffee delivered right to your doorstep. I can't wait to try their new limited-edition Cinnamon Vanilla flavor!
11: My friend Miranda makes these gorgeous ornaments. Everything in her store (Miranda Writes) is absolutely stunning.
12: This jellycat elf is the perfect gift for a little one. You can get it and lots of other fun kids toys and clothes at Rosie Jane.
13: Golden Milk is one of my favorite teas! I love the looks of all the lotions and potions at Raven's Moon Apothecary.
14: I am obsessed with buying local honey everywhere I travel and eating it while I'm there to help keep me healthy. (And then taking some home to help me remember the trip!) It's All About Bees is my go-to honey when I'm home. You can't beat their raw Nebraska honey.
15: Lulubee makes gorgeous and delicious chocolates! I love this sampler pack.
16: Found Vintage Market is a treasure. I want 17 of these wicker baskets.
17: Artemis Teas are my very favorite! How lucky I am to have discovered they're based right here in Omaha?! You can't go wrong with The Woodsman.
18: A Hill of Beans makes some of my favorite flavored coffees. This caramel walnut shortbread sounds divine.
19: Fia and Belle has such cute designs. I want to cozy up in this striped sweater immediately.
20: Andrea is my favorite Omaha artist. Once I can make up my mind on what I want I'm going to commission a piece from her for our house.
21: I love Four Sisters Boutique! And this Nebraska sweatshirt is too cute.
22: Salt Creek Mercantile is my interior design dream come to life! I'm obsessed with this oversized market tote.
23: The Simple Man has a great clothing and accessories selection for the guys in your life. Thinking I may buy this short-sleeve henley for Josh!
24: I'm a sucker for good glassware. And everything from Made in Omaha!
25: Nomad makes amazingly high quality soy candles. I NEED this Ew, David candle!
26: I've been trying my hand at needlepoint during Quarantine and think this cheeky Christmas pattern is such a fun one! Stitch Rock Designs has so many fun patterns for all seasons!
Questions of the Day: Are you shopping small this year? What's your favorite local store?