Josh and I share a love for good food. We love eating it. We love cooking it. We love going out to eat. Most importantly, we love enjoying good food together.
Josh is pretty fabulous in the kitchen and is able to whip up meals on the spot sans recipes. While I consider myself a pretty good cook, I do much better when I have a recipe handy. At the end of a long day it's nice to be able to let my brain rest, follow some instructions, and be rewarded with a delicious meal.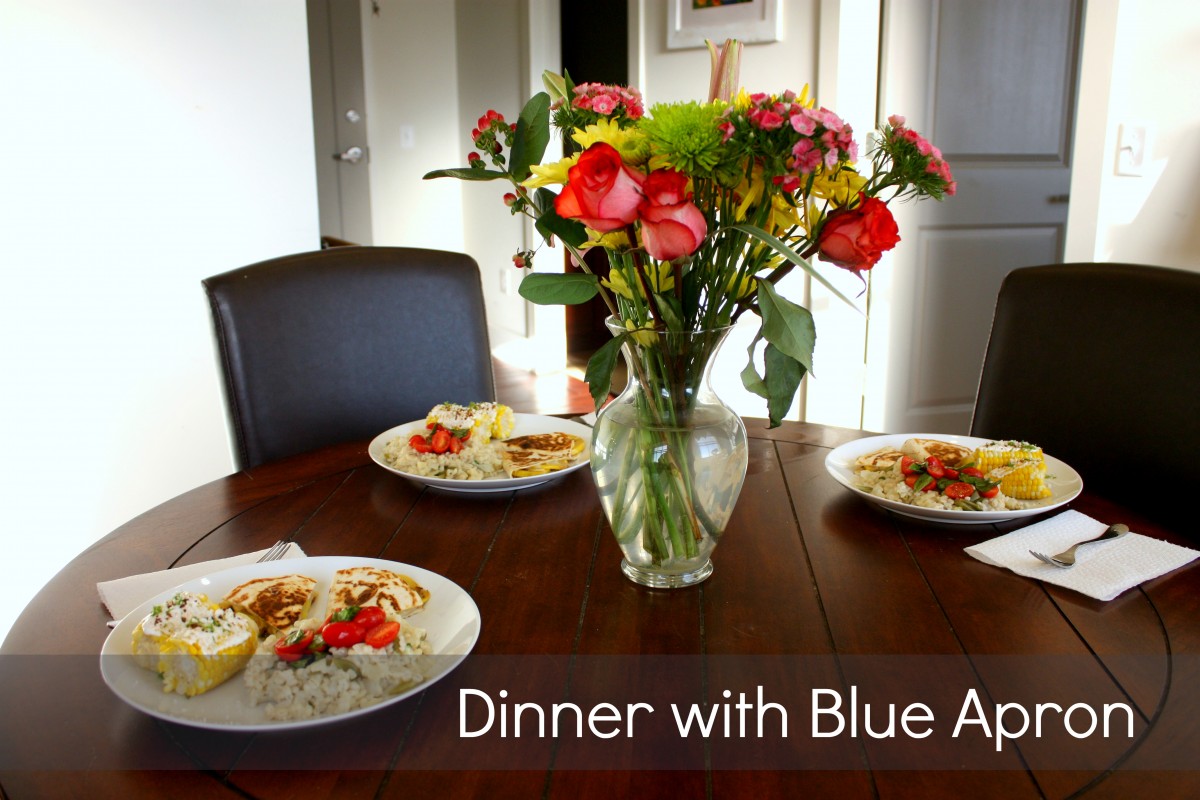 When Blue Apron reached out to me about trying their meals, I was immediately on board. I was excited for the opportunity to get to surprise Josh with delicious home-cooked meals. When you grocery shop with your husband, it's kind of hard to plan a surprise dinner. Blue Apron sends the exact amounts of all the ingredients you need (down to the butter!) right to your doorstep. The ingredients are farm fresh and perfectly portioned. You won't be left with a bunch of ingredients you'll never get to finish.
Okay so how it works:
1. You pick either the 2-person or 4-person meal plan. The 2-person plan is one delivery a week with three meals for two. The cost per person is $9.99 a meal with free shipping. The 4-person plan is either one or two deliveries a week with each delivery containing two meals for four. The cost per person is $8.74 a meal with free shipping.
2. New recipes are created by chefs every week. Once you select your meal plan you're sent a curated menu of recipes based on your dietary preferences. I opted for the 2-person vegetarian meal-plan for the week since I would be sharing these meals with Josh, who is a vegetarian. Our three meals for the week were: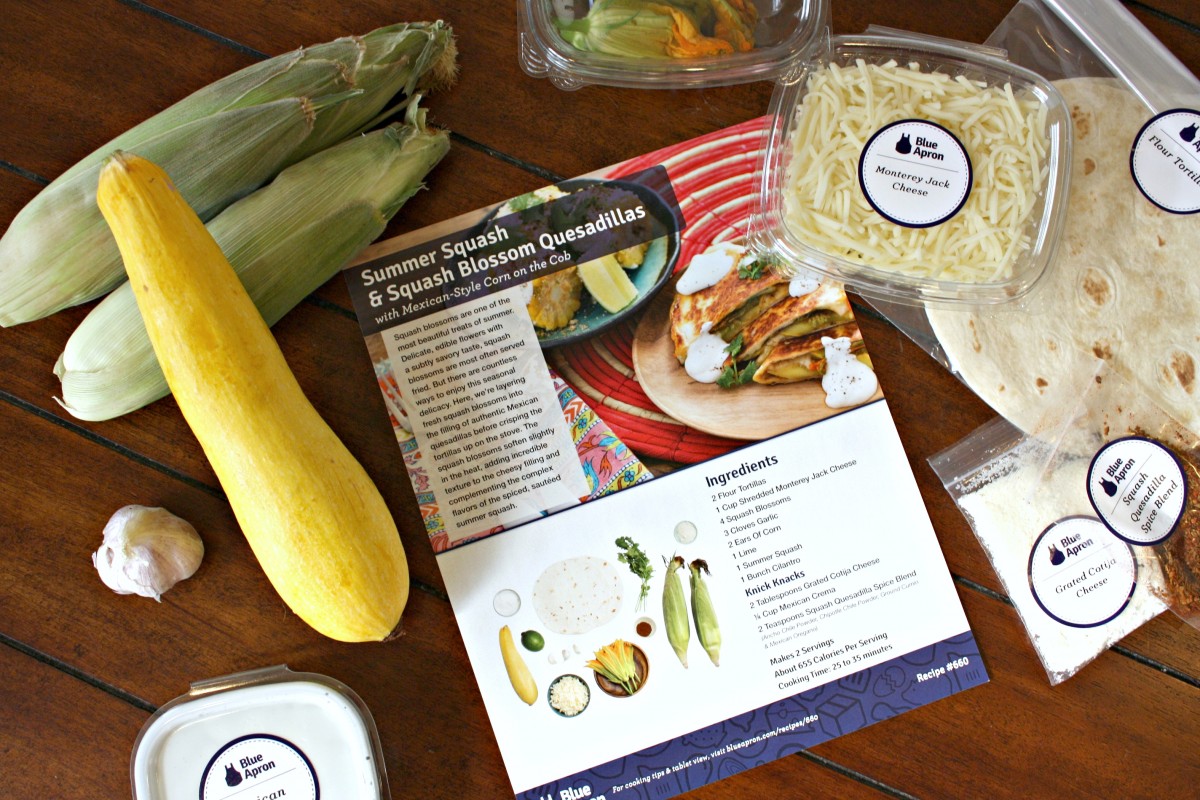 Summer Squash & Squash Blossom Quesadillas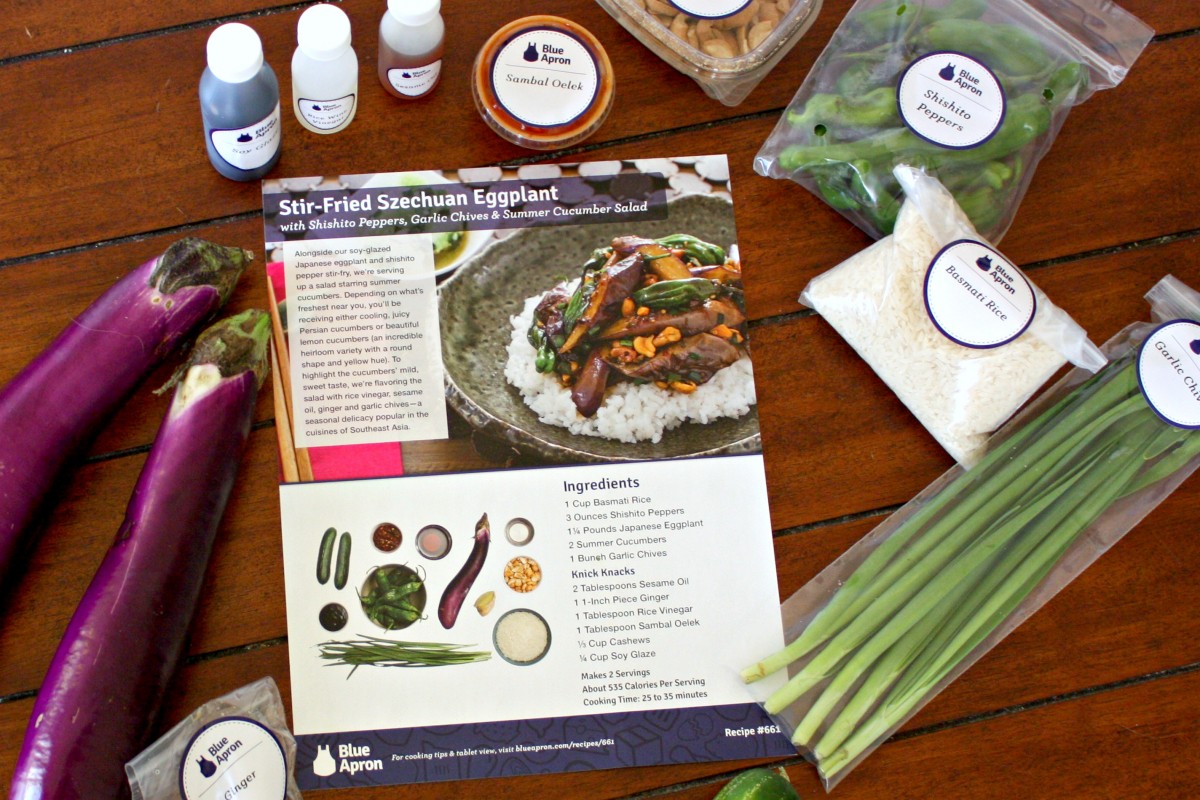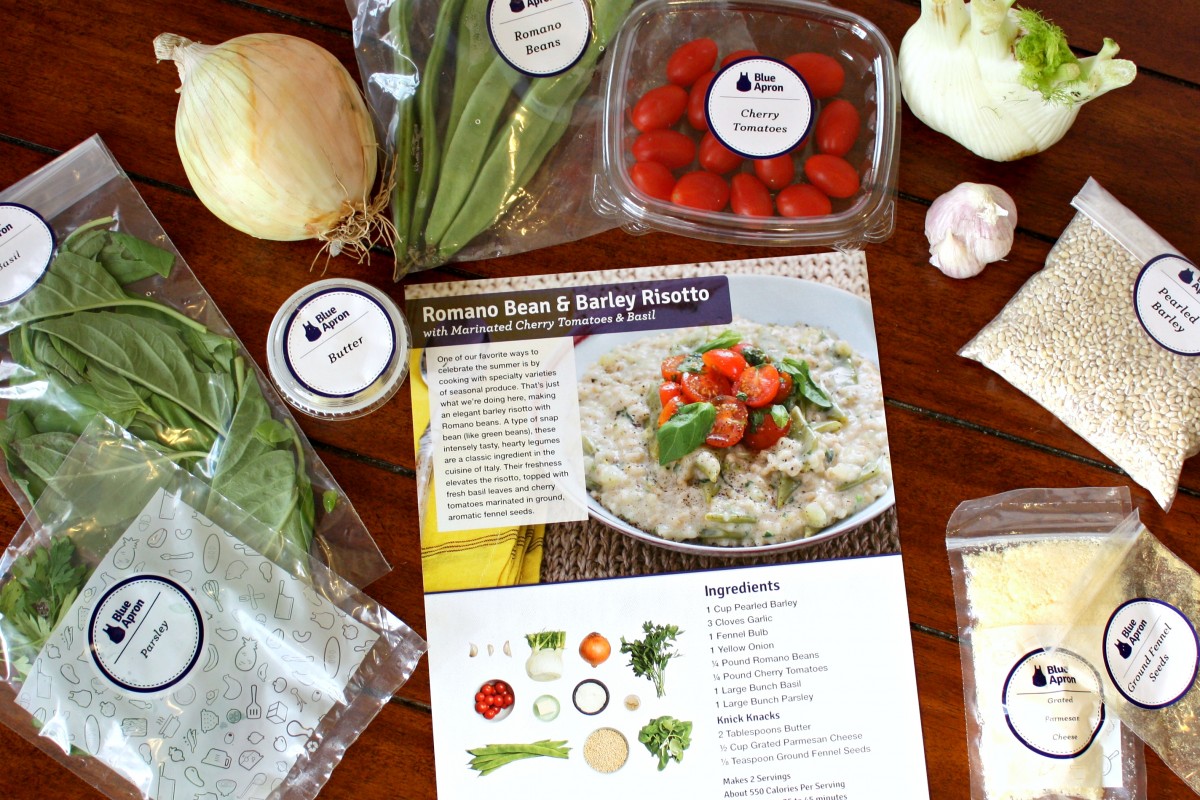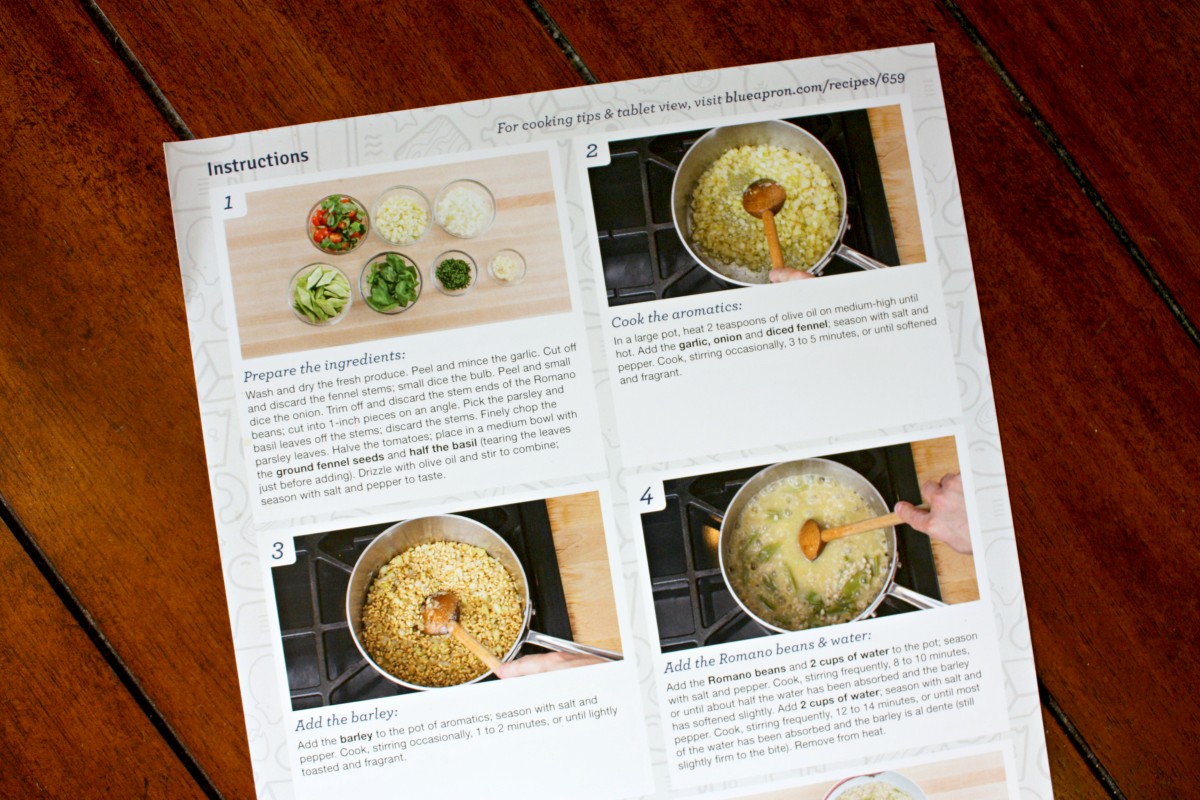 Each recipe comes with step by step instructions and pictures which I found very helpful.
3. You select a date for Blue Apron to arrive. There's no commitment, so you can skip or cancel the service at any time.
4. On the day you selected, a refrigerated Blue Apron box with everything you need for your meals arrives inside. Each meal is between 500-700 calories per person.
5. You get cooking! All meals can be made in 40 minutes or less, which is perfect for people like me who enjoy cooking quick and easy meals but don't enjoy laboring away for hours in the kitchen.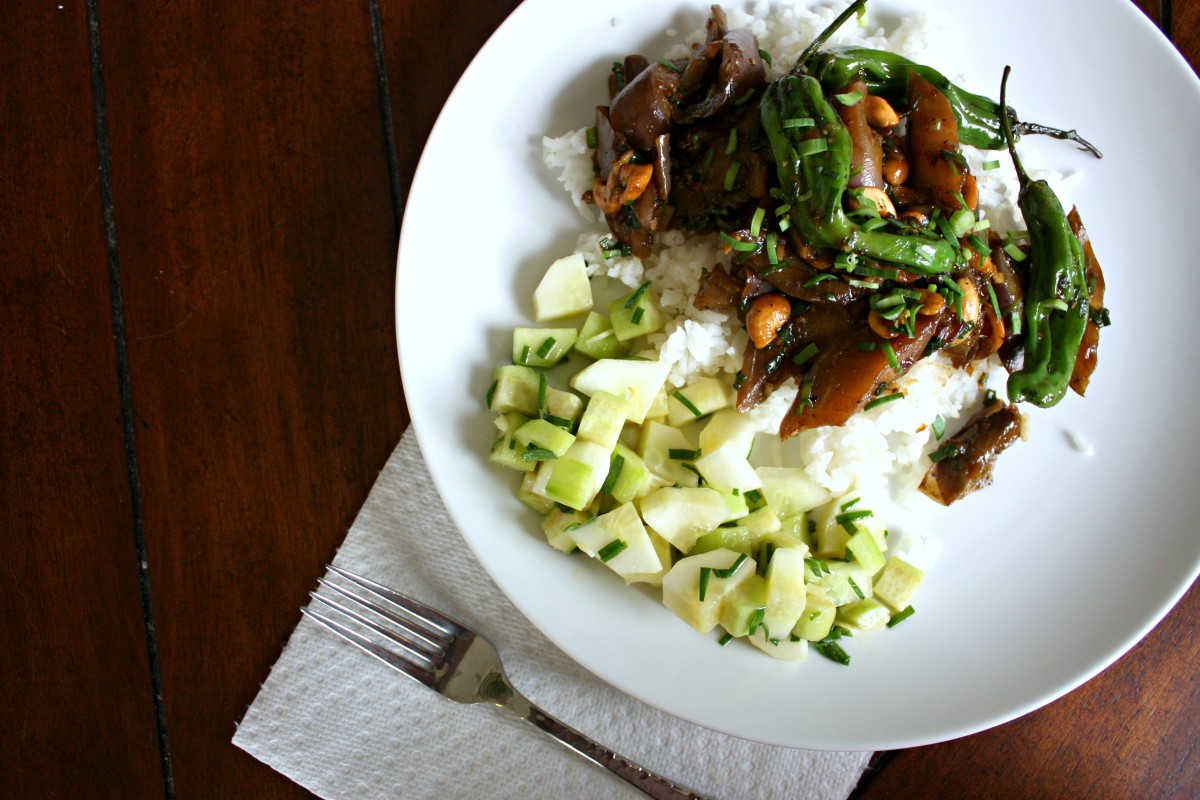 I surprised Josh with the stir-fried szechuan eggplant and it got two big thumbs up from both of us. This is a meal I absolutely need to make again!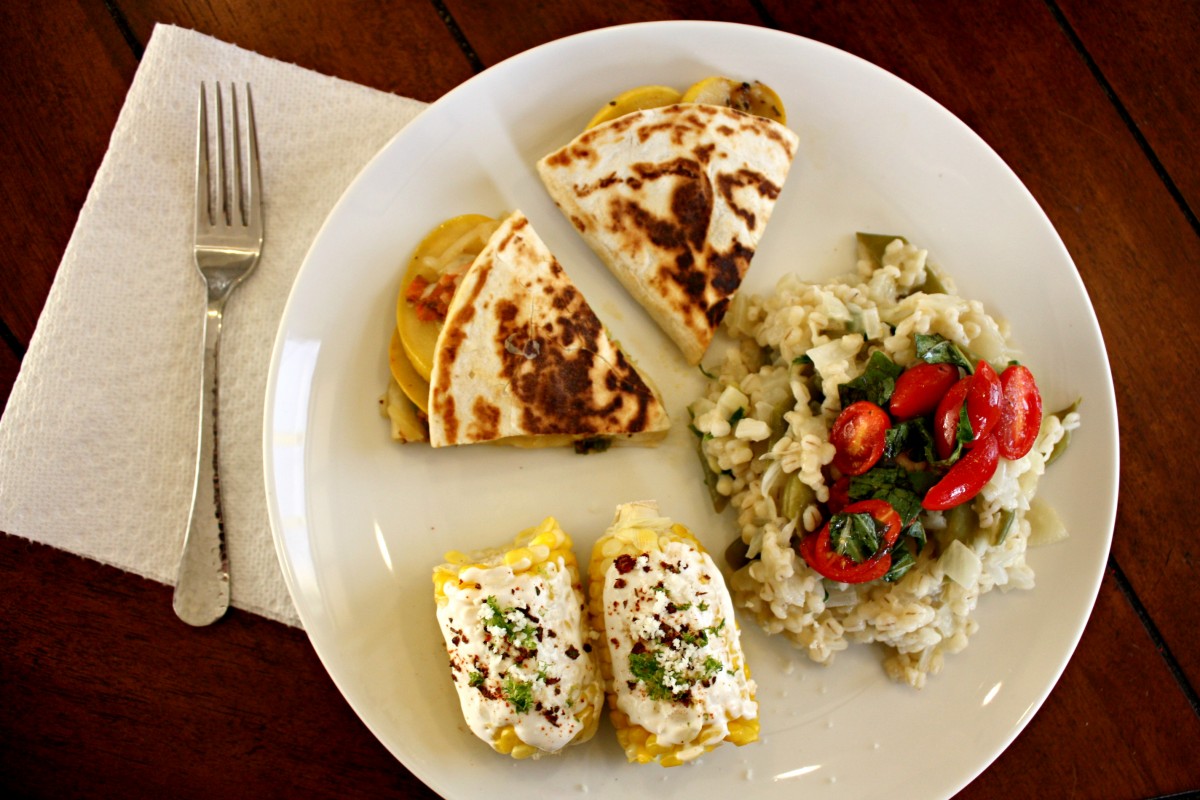 My dad was also here for part of the week we had our Blue Apron box so we thought it would be fun to make the two additional meals and share them between three people. It worked out great with us all having more than enough for dinner. Josh and I made the romano bean & barley risotto and summer squash & squash blossom quesadillas and had a lot of fun cooking together for my dad. It was funny because my favorite part of the meal was the quesadillas, Josh's was the corn, and my dad was the risotto! You can just say we liked it all! 😉
We really enjoyed cooking with Blue Apron and would definitely do it again. It was so nice to get to surprise Josh with a meal and then have family sit-down dinners together. That definitely doesn't happen enough!
If Blue Apron sounds like a service you would be interested in trying, you're in luck! Blue Apron was so kind to offer 2 free meals to the first 20 readers who use this link to order their Blue Apron boxes. If you try it you have to let me know what you think!
Questions of the Day: Have you tried Blue Apron before? Do you prefer following recipes or creating your own? Do you sit down to dinner with your family?
Thanks to Blue Apron for sponsoring this post!