Winter is here, friends! Bring on the comfort, the cozy, and all things warm and cheery this time of year.
When the weather outside is dark and gloomy, I make an extra effort to bring some sunshine indoors. We decorate, we play music, and we cook up all the good food so we can happily hunker down for the season. One of my favorite winter dishes to hunker down with is a casserole. Gooey cheese and melted carbs are the way to my heart. And boy-oh-boy does this dish add a smile to my day.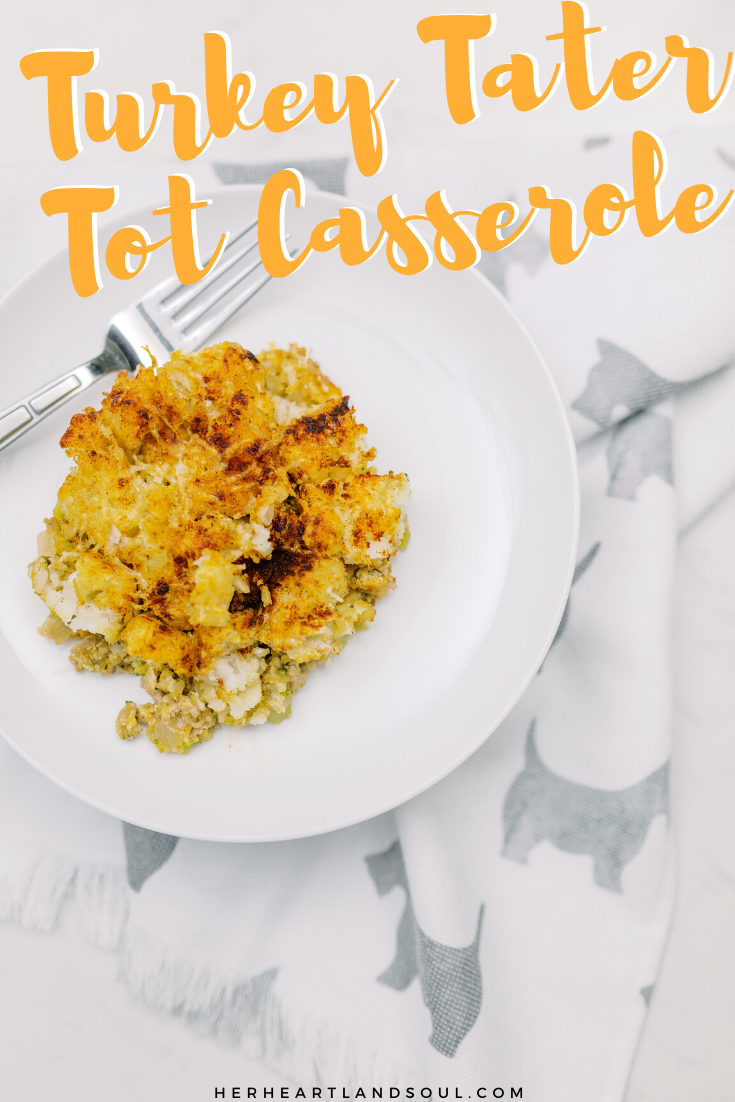 Pin me!
If you haven't made a casserole in a while you are missing out. These dishes are super easy to make and crazy customizable. You just follow a simple formula and add your favorite ingredients. For instance: tater tots. While not a traditional casserole ingredient, they work perfectly with this dish. Who doesn't want a crispy, crunchy tater tot in every bite?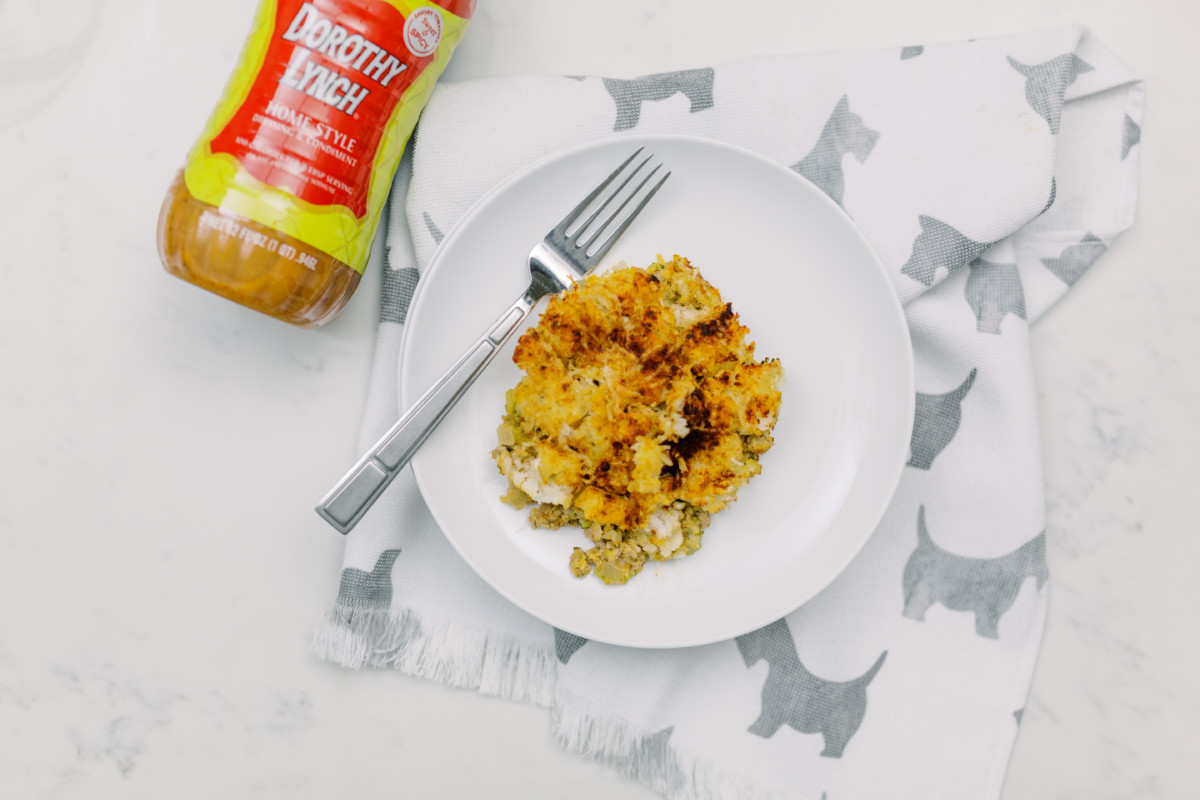 Another favorite ingredient to add to the mix? Dorothy Lynch Dressing & Condiment. Made right here in Nebraska, it's gluten-free and can be found at select grocery stores west of the Mississippi or ordered online. It's available in both original Home Style and Light & Lean versions. It adds the perfect little kick to take your casserole from good to great. It also pairs perfectly with onions, broccoli, cheese, and, of course, tater tots. 😉
Yield: 1 Casserole
The Best Turkey Tater Tot Casserole
This easy, cheesy, slightly healthier tater tot casserole is made with turkey, veggies, seasonings, and a whole lot of love. It's the perfect comfort food for cold winter days. Enjoy this delicious recipe and savor the taste of the best casserole!
Ingredients
1 lb. ground turkey
1 large yellow onion
2 c. broccoli florets
1 c. shredded cheddar cheese
1/2 c. shredded parmesan cheese
1 lb frozen tater tots
1/2 c. Dorothy Lynch
1 tbsp Olive oil
1 tsp hot sauce
1 tsp garlic powder
1/4 tsp nutmeg
2 tsp smoked paprika
Salt and pepper, to taste
Nonstick spray
Instructions
Preheat oven to 375 degrees.
Heat a large skillet over medium heat and spray with nonstick spray. Add ground turkey and season with salt and pepper. Cook, stirring frequently, until turkey is fully cooked and there is no pink left, about 5 minutes. Remove turkey from heat and transfer to a large bowl. Wipe out pan and set aside.
Dice a medium yellow onion. Heat the same pan from the turkey over medium heat with 1 tablespoon olive oil. Add the diced onion and cook, stirring frequently, until light brown, about 5 minutes. Remove from heat and add to the bowl with the turkey.
Roughly chop the broccoli florets and add to the bowl with the turkey and diced onion. Add the Dorothy Lynch, hot sauce, garlic powder, and nutmeg, then season with salt and pepper. Stir in the shredded cheddar and half of the shredded parmesan.
Lightly grease a 9x13 baking dish with nonstick spray, then evenly pour in the casserole contents. Top with the tater tots and bake until the they are golden brown, about 30 minutes.
Remove from the oven and carefully mash the tots. Sprinkle with the remaining parmesan cheese and a sprinkle of paprika. Turn on the broiler and broil until top is a rich golden brown.
Remove from the oven and allow to cool slightly, then serve and enjoy!
Recommended Products
As an Amazon Associate and member of other affiliate programs, I earn from qualifying purchases.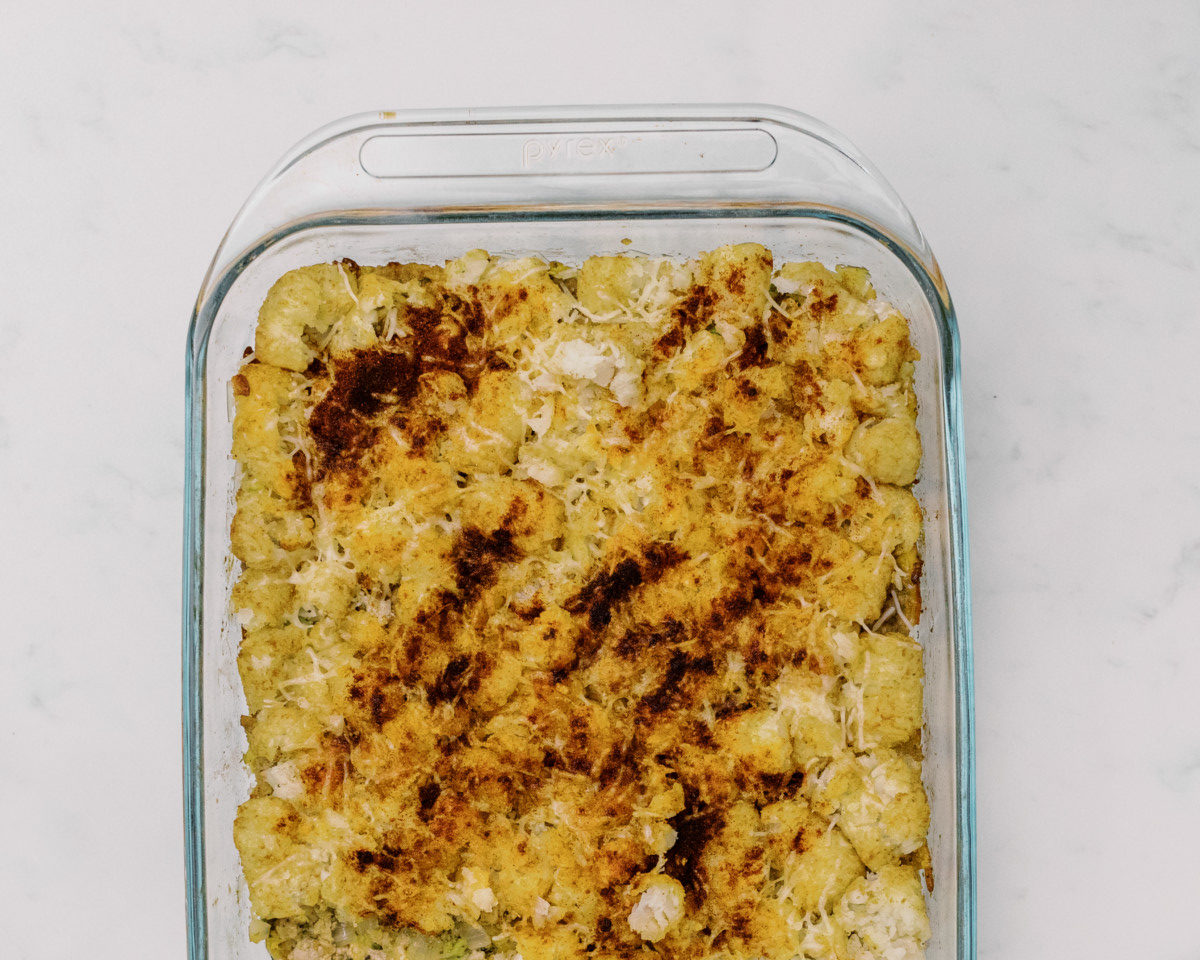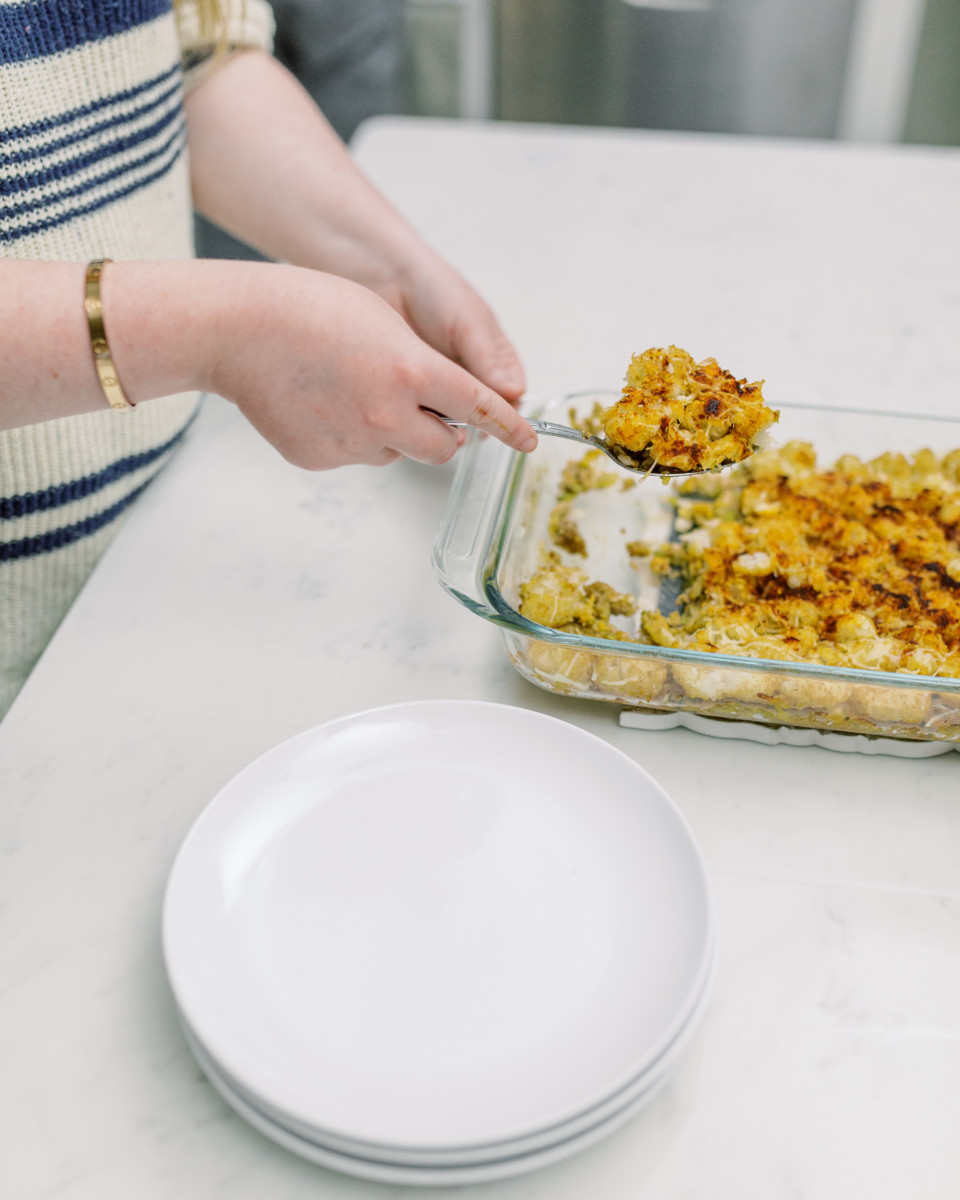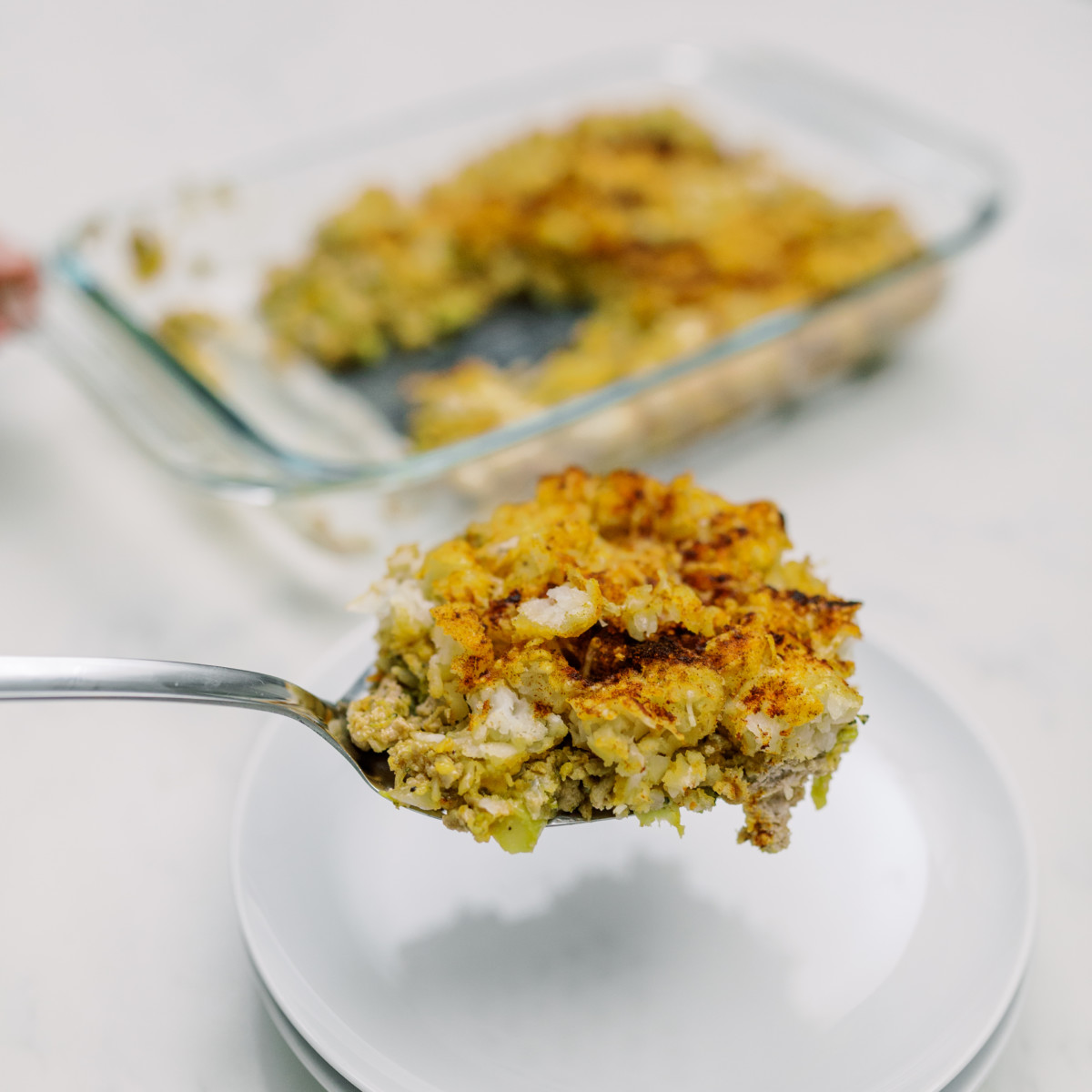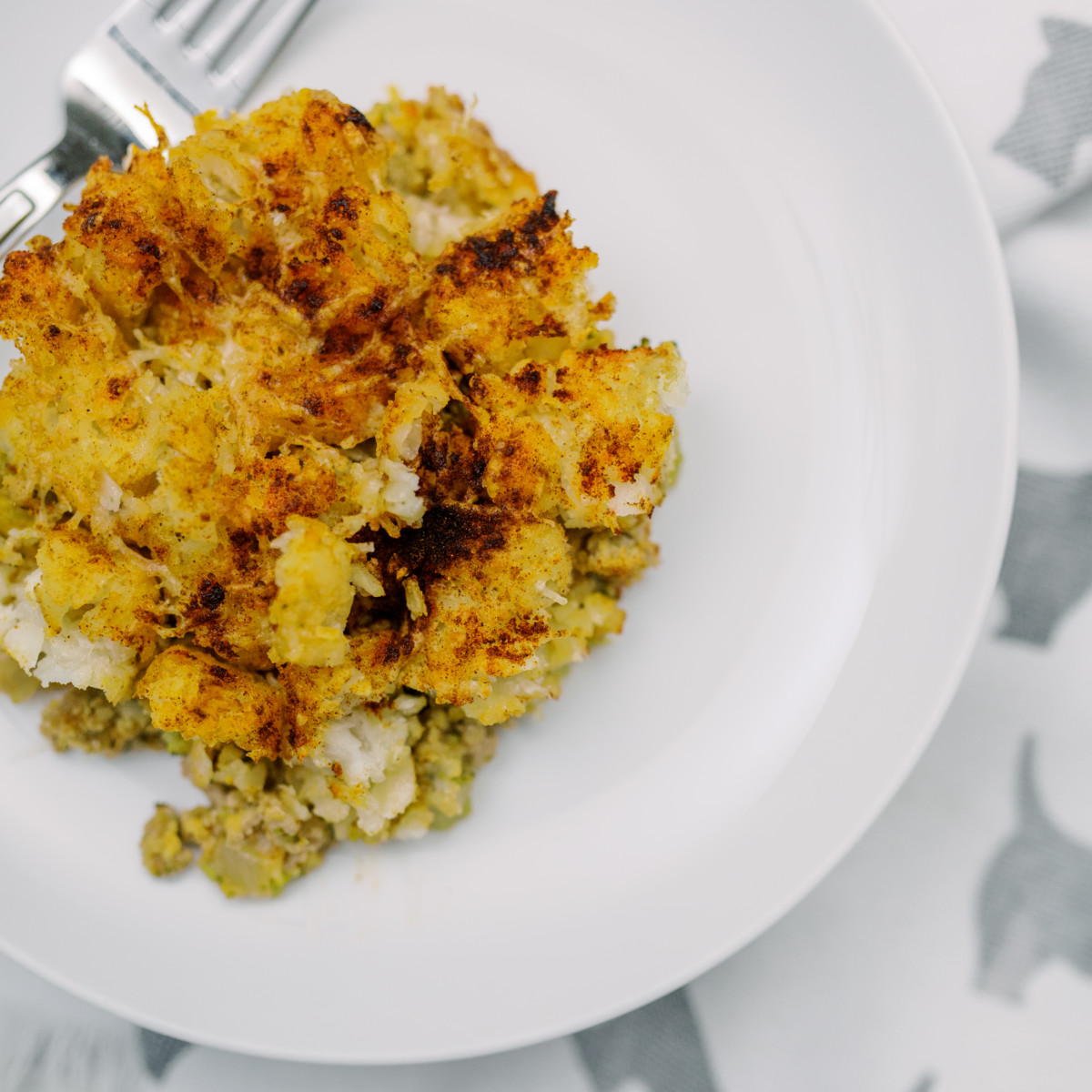 A big thanks to Ashley for the fabulous photos and video in this post!
Questions of the Day: Are you a fan of casseroles? Have you ever put tater tots in a casserole?
Thanks to Dorothy Lynch for sponsoring this post! For more delicious recipe ideas, check out their online recipe catalog.