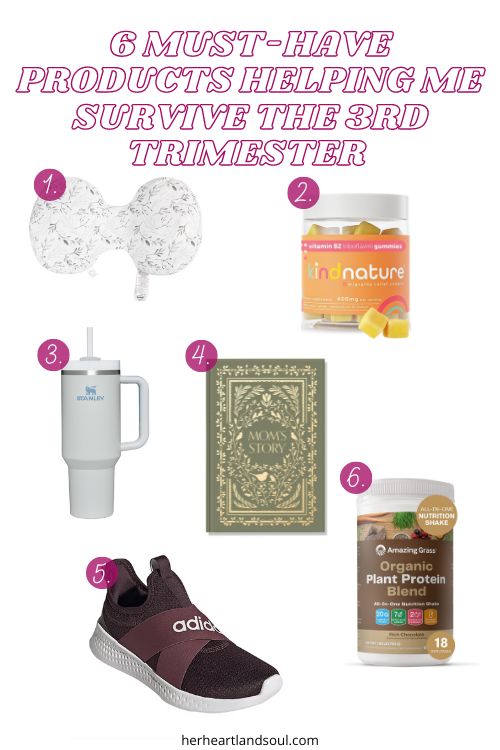 Wow you guys, 3rd trimester has been a wild ride. Between the hormones, the body changes, the start of new aches and pains, and the ever-looming countdown to baby girl's birth, it's all starting to get really real.

While no pregnancy is the same, these are some products I have been using daily that have helped me immensely this pregnancy, especially in the third trimester. If you're an expectant mama, I highly recommend you look into these items in case they can offer you some relief too.

1: I originally ordered a more traditional pregnancy pillow and was not a fan at all. It's big and bulky and didn't support me in the ways I wanted. Thankfully Penny likes it and has taken to snuggling it on the floor, so it hasn't gone to waste. Getting this side sleeper pillow has been a game changer. It props up my back and supports my belly and makes sure no matter which way I roll I'm never laying flat. It's also very compact and easy to travel with. 10 out of 10 recommend.
2. My doctor recommended these B2 gummies to help with headaches I was experiencing earlier in my pregnancy and they really have made a difference. I take one every night and haven't had a headache since, hallelujah!
3. If I've learned one thing this pregnancy is that good water intake is everything. I know loving this water bottle makes me so basic but I don't even care. It keeps me hydrated, is super cute, holds a crap ton of water, and fits in every cup holder. I'm a fan.
4. When I was shopping for Josh for Father's Day I picked myself up a little gift too. This journal allows me to document stories and memories for baby girl during this time of my life. It also lets me get my thought and feelings out in a productive and healthy way. (3rd trimester stress and worrying is a real thing!) I wish I had something like this from my mom so hopefully baby girl will appreciate this one day.
5. Comfy shoes are everything at this point. I love love love this pair because they're cute and I don't have to try to bend down and tie my shoes. I can just slip them on. Winning!
6. Something my doctor stressed to me is how important it is to make sure I'm getting enough protein. Growing a human takes a lot of energy! I love using this protein powder to make a daily green smoothie. It fills me up and pairs perfectly with spinach and berries to ensure I'm getting enough fiber every day. (Another very important thing to get enough of during pregnancy!)
Question of the Day: What helped you survive the third trimester?