I can't believe how fast this summer is flying. I feel like I'm going to blink and July is going to be here! And that means it's time to start planning for 4th of July concerts, cookouts, pool parties, and celebrations with family and friends. A big part of my 4th of July planning is picking out an outfit. I love getting decked out in red, white, and blue. I'm so proud to be an American, and love to wear an extra-special outfit to celebrate the day.
Here's a roundup of some of the cutest 4th of July-inspired pieces from my favorite stores. I hope you like them as much as I do. Now for the hard part of picking which ones to buy and wear!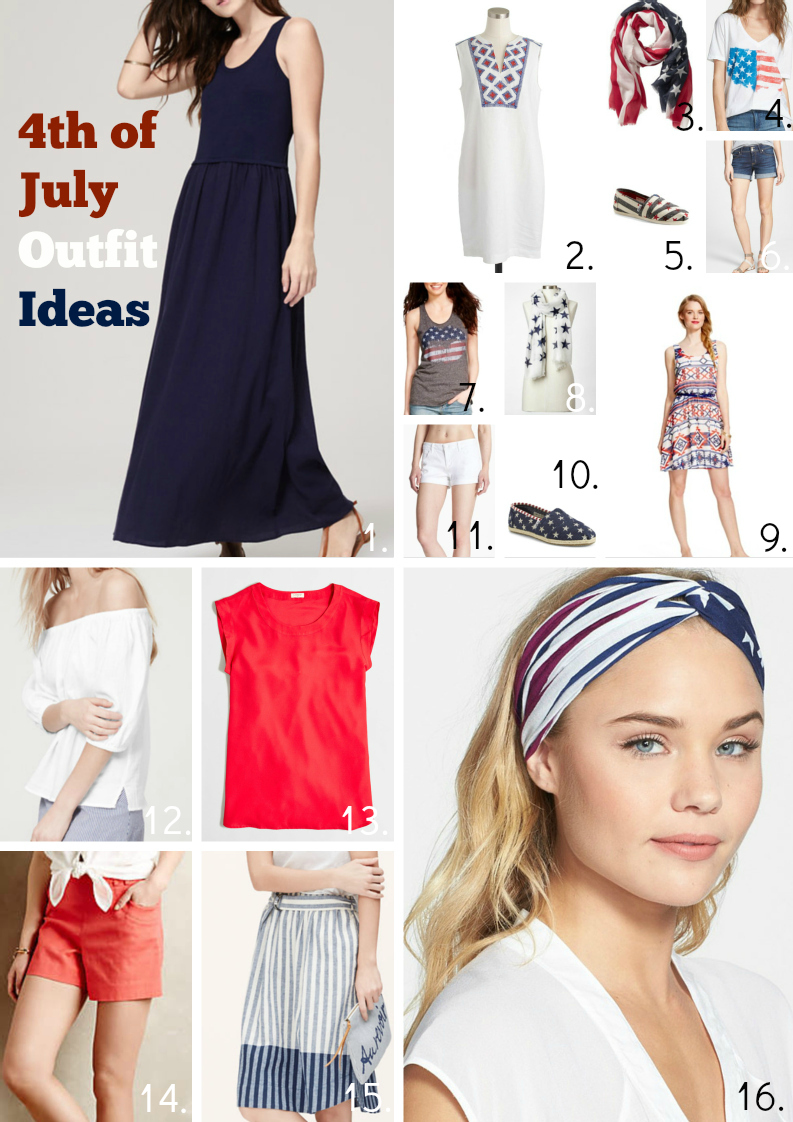 1. LOFT mixed media maxi dress
2. J.Crew sleeveless embroidered sunburst dress
4. Nordstrom painted flag v-neck tee
9. Target cage back blouson dress
10. TOMS freetown star canvas slip-ons
13. J.Crew Factory drapey sleeveless top
14. Anthropologie safra shorts
15. LOFT border stripe midi skirt
16. Nordstrom 4th of July head wrap
Heads up! Are you noticing something different when you click these clothing links? I recently found out about ShopAtHome.com. It's a site that gives you cash back on the purchases you make from your favorite stores. So for instance if you sign up for a free account, click my J.Crew sleeveless embroidered sunburst dress link, and then make a purchase on the J.Crew website you'll earn 6% cash back on your entire order! ShopAtHome.com keeps track of how much you're earning at every site (each site offers a different cash back percentage) and mails you a check each time you earn $20. It's pretty awesome to save money just by clicking through a site when shopping! I'll be writing a whole post dedicated to ShopAtHome.com later this month!
In the meantime try out this feature and let me know what you think. Is it helpful? Is it annoying? Do you have questions? I'm all ears!
Questions of the Day: Do you dress in red, white and blue on Independence Day? Did any of these items catch your eye? Have you used ShopAtHome.com before?