Before Josh and I moved to Omaha we were pretty nervous. Our entire life was on the East Coast. We didn't know a soul in the Midwest and had never even taken a vacation here. I remember being so excited for our first big adventure as a newly married couple, but so nervous for being really and truly off on our own. It's hard to not have family around for special milestones, or friends to hang out with that you've known forever and can be totally yourself with. We moved to Omaha for Josh's job and we knew this would be a long term move. We plan on buying a house here one day, and raising a family, and putting down permanent roots. Knowing that having a team of people we could celebrate the ups and downs of life with here was essential to Omaha feeling like home for us, as soon as we moved here, I hit the ground running trying to meet new people and find good friends for us.
And oh the people we've met and the friends we've made. We've lived in Omaha a little less than a year and have made life-long friends in our new city. Their families have opened up their homes to us for holidays, we've celebrated major milestones together, and we can truly be ourselves around each other. I've had a lot of people ask me what it was that helped make us feel settled and established and happy in Omaha so quickly. The answer is without a doubt our friends. I know getting to know new people when you're new in town can seem daunting, but it is definitely possible. And you don't have to rely on traditional advice such as looking to your workplace for new friends or hanging out at a bar or club hoping to strike up a conversation with someone. Looking back, I realized that there were three things I did that really helped us make the awesome friends that we did. I thought it would be fun to share them with you in case you're ever in a similar situation.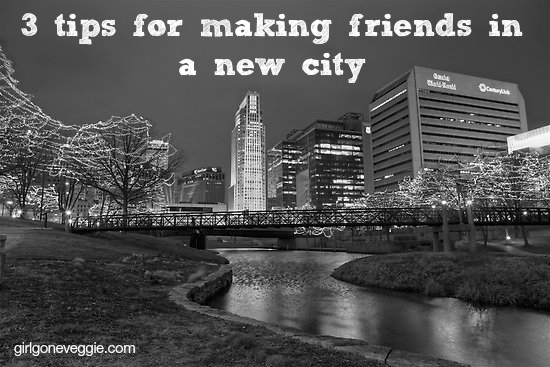 3 tips for making friends in a new city:
1. Connect with local bloggers
Whether you blog yourself or just love to read blogs, do a bit of Googling and start reading and getting to know bloggers in your new area. I tend to trust bloggers. We're a big group of over-sharers who put our lives online. Most of us tend to be pretty friendly. At the very least, their blogs will have lots of useful advice on fun things to do and see in your new home. At best, you could wind up with some new friends (And maybe even start a blogger group!). Take a chance and send a blogger an email. Explain that you're new to town and ask if you guys could grab coffee sometime. I've met some of my best friends this way.
2. Join Meetup
Meetup is a free to join site where you can find local interest groups based on your hobbies. These interest groups have frequnt meetings and are a great way to get to know people you have stuff in common with. At the suggestion of Hannah (my then new blogging friend) I joined the "20 and 30 Something Women" Meetup group in Omaha. I went out to eat with the group a few times before getting to know some of the girls that I could really see myself being friends with. We started hanging out outside of the Meetup group, introduced our spouses, and are now a really close group of friends. I owe meeting some of my best friends to this Meetup group.
(Just a fair warning that not all the Meetup groups are this great. Josh and I went to a couples Meetup group where I sat next to an avid bird watcher. He spent the entire evening talking about birds. When I tried to chime in conversationally that I love penguins, he looked me straight in the eye and remarked in disgust, "Penguins are not real birds." We never went back to that Meetup group.)
3. Become a member of local organizations
Josh and I love planning fun stuff to do together. It gives us things to look forward to and provides a way to bond over shared experiences. When we moved to Omaha we looked into local organizations for young professionals. We joined the Young Art Patrons of Omaha and the Omaha Young Professionals Group. Both groups are filled with young people living in the city who like art, like to drink, and want to make new friends. There's not much better than that. The New Year's ball Josh and I went to was put on by the Young Art Patrons. They also do art classes and bar crawls. The networking conference I attended last fall was organized by the Omaha Young Professionals Group.  It introduced me to a lot of people in the city. Organizational groups are a great way to become involved in your community and meet new people at the same time. They're really a win-win. Even the membership fees go to a good cause (At least in my case).
In an effort to become more connected with the Omaha community and to start doing more philanthropic work, I recently joined the Junior League of Omaha. I know everyone has their own opinion of Junior League, but I have had nothing but positive experiences so far. Our new member training starts next Monday. I'll be sure to keep you guys updated on my progress and experiences with Junior League.
You can't choose your family (or where they live), but you can choose your friends. And I am so thankful for the friends that I've made in Omaha. They are one of the biggest reasons I love living in this city so much.
Questions of the Day: What is a tip you have that has helped you make new friends in a new city? Have you ever moved somewhere without knowing a soul?