I have been doing some damage on Amazon recently. Partly holiday season shopping. Partly bored and stuck at home shopping. 😉 You can't beat the absolute random assortment of items you can find within just a few clicks. I wonder if the Amazon algorithm can make sense of it because I would love some help organizing and understanding my brain. 😀

If you're as obsessed with random Amazon finds as I am, here are 27 products I recently bought that I am absolutely loving!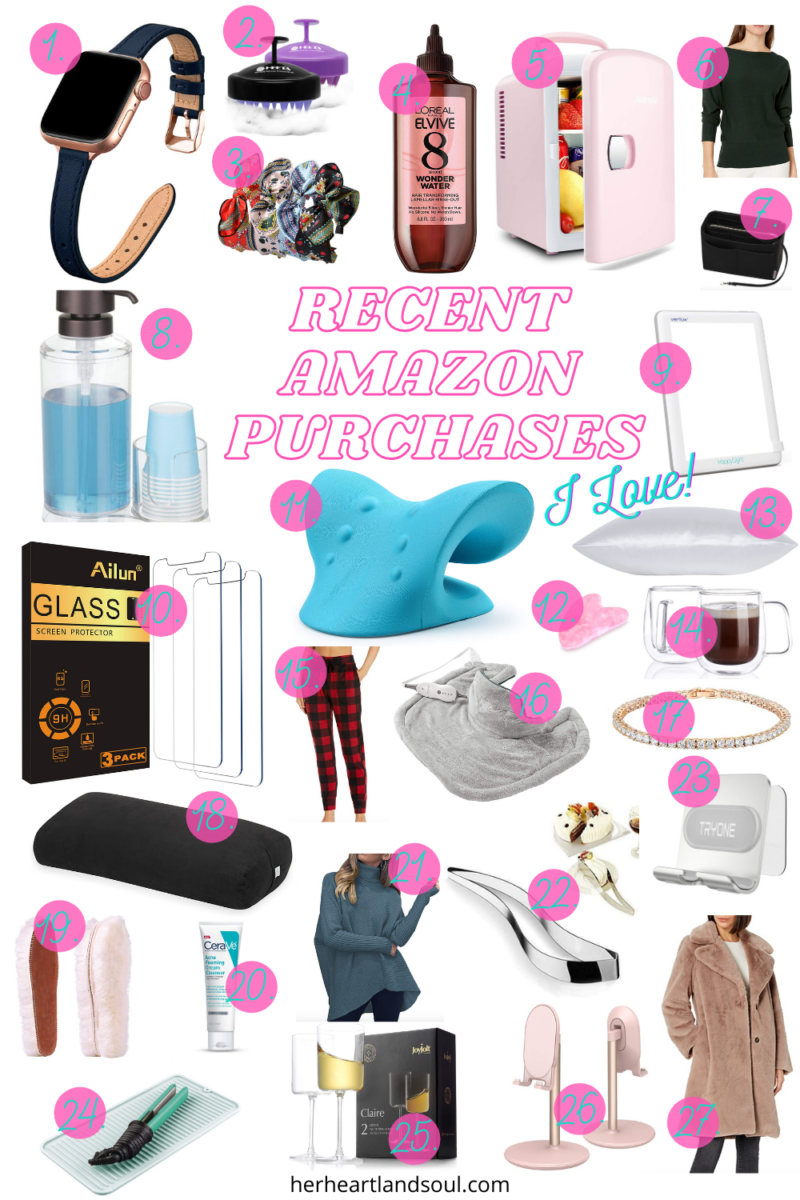 1 | 2 | 3 | 4 | 5 | 6 | 7 | 8 | 9 | 10 | 11 | 12 | 13 | 14 | 15 | 16 | 17 | 18 | 19 | 20 | 21 | 22 | 23 | 24 | 25 | 26 | 27

1: I love this skinny leather Apple Watch band. It helps make the Apple Watch look a lot chicer and more feminine. 

2: I am all about making my home feel like a spa as much as possible right now. These shower scalp massagers are amazing and so relaxing. 

3: A hair hack I love for when I have messy hair and a Zoom call to jump on: throw on a cute headband! Instant distraction. These knotted headbands are so cute and go with anything if you wear a lot of solids. (Which I do!)

4: This shine serum is must for all my fellow fine-haired girls. If you have thick hair that can take any product without getting weighed down or oily, this is not for you. But if you struggle like I do, you will love this!

5: I mean can you even handle how cute this pink mini fridge is?! And you can't beat the price. I'm using it for my face serums to keep the fresh and potent. One day when we can travel again it's going to do double duty for food and drinks on road trips. (It comes with a car adaptor!)
6: This sweater is so nice, I bought it twice! (In a different color.) Seriously, it's comfy and looks profesh on work Zooms. Two thumbs up!
7: If you love carrying around extra large totes, this organizer will change your purse game. No more rummaging for items in the bottom of your bag or not being able to find your phone when you need it. Everything has a place and stays put.
8: You know you're an adult when you get excited by purchases like this one. If you use mouthwash (which my dentist and orthodontist recommend for good oral health!) then you need a mess-free way to store it on your counter. Enter: this mouthwash dispenser. Seriously, it's awesome.

9: I should have bought a Happy Light ages ago!! Unless you live in somewhere year-round sunny like Hawaii, you likely do not get enough sun in the winter. This directly impacts your mood. I've been using this bad boy for a few weeks now and can feel my mood lifting when I do.

10: I recently upgraded my phone and ordered a cute case off Etsy and these screen protectors from Amazon. The cases have been delayed for over a week, but I got my screen protectors the very next day. You truly can't beat Amazon's speed.
11: This neck pillow is amazing at stretching out your upper back if you hunch forward all day on your computer and phone. You don't need to be in pain to feel it's benefits, but if you do struggle from neck/back pain I can't recommend it enough!
12: Ever since my jaw surgery I have been obsessed with lymphatic massages. Give yourself one at home with this nifty little tool.

13: Silk pillowcases help keep your hair shiny and your skin smooth and wrinkle-free. I love this one.

14: These glass mugs make any coffee drink look fancy. It's all about the small joys this year.

15: These buffalo plaid PJ pants are warm and comfy and match a pair Josh has. Expect to see us wearing them Christmas morning for our annual PJ photo!

16: This neck heating blanket is amazing if you struggle with neck/upper back pain. (Or if you just want to be wrapped in a warm neck blanket.)

17: I love this tennis bracelet so much I wear it every day! It looks stunning, is super cheap, and is holding up perfectly!

18: If you have been getting your om on at home and love yoga nidra as much as I do, you'll love this bolster pillow.

19: Slip these in any boots and they're instantly comfy and cozy. They're also great to help make a pair of slightly-roomy boots fit more snugly.

20: I've been trying this out as a body wash after workouts and I'm liking it! Kind of a random, impulse purchase based on an article I read online but I have no complaints.

21: Swingy, snuggly sweaters are part of what make winter so special. I bought this in three colors.

22: I was influenced by TikTok and I'm so happy I was. This is such an easier way to slice and serve cake!
23: Another great purchase I wish I bought sooner. This mirror mount gives you an easy place to put your phone while you're getting ready in the morning without having to worry about it getting wet or covered in makeup on your counter. Bonus if you record getting ready videos or stories from your vanity!

24: Another why did I wait so long to buy purchase. Keep your hot tools safe and off your countertops with this silicone mat.
25: I love these square wine glasses! They're so chic and beautiful. We actually used them for our holiday cards!

26: If you are always wishing you had a way to better hold your phone for videos and stories this is what you need. I don't know why I waited so long to buy something like this!

27: I may not go many places this winter, but when I do, I'm going to look and feel like a teddy bear is giving me a warm hug in this coat.
Questions of the Day: Do you also buy the most random things on Amazon? Which of my purchases is one you need? What have you found and loved on Amazon recently?