Ah, Amazon. If there was an MVP for shopping during the Pandemic, it would be Amazon. They basically take all my money at this point as you can buy anything and everything there. And it's so dang convenient. You don't even have to leave your couch!

Amazon is going all out this Prime Day with deals galore. I had so much fun shopping the sales and hope you like my top 20 picks!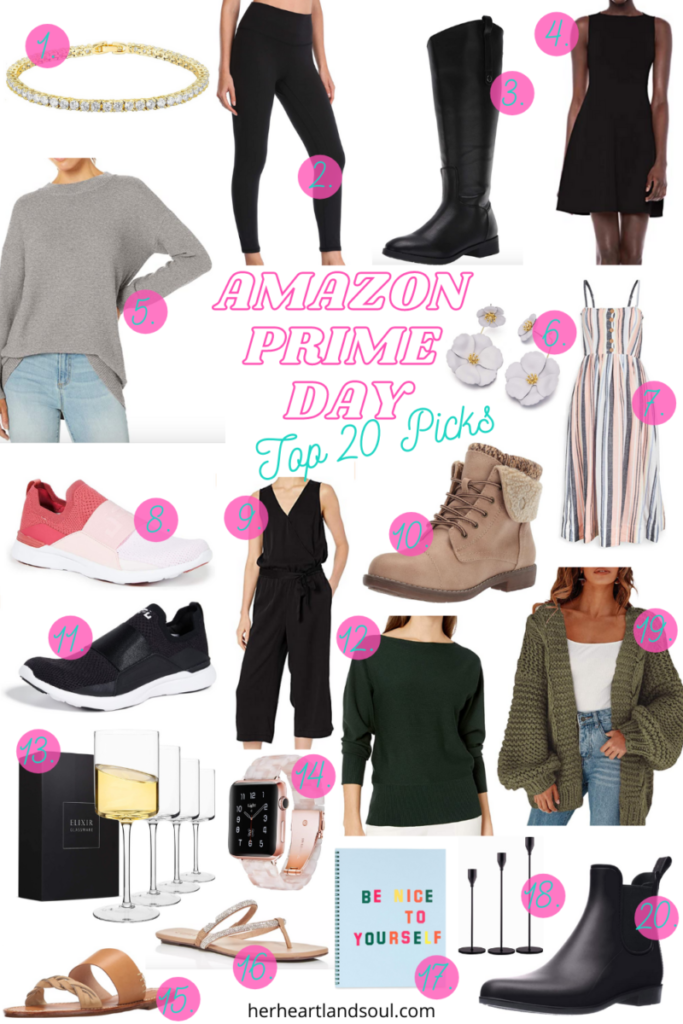 1 | 2 | 3 | 4 | 5 | 6 | 7 | 8 | 9 | 10 | 11 | 12 | 13 | 14 | 15
16 | 17 | 18 | 19 | 20
1: Tennis bracelets are such a fun way to glam up an outfit. And this one is under $15! You can't beat it.

2: I love my Lululemon Align pants. These Amazon dupes have insane reviews at a fraction of the price. I'm excited to try them out!

3: Ladies with wide-calves, these are the equestrian boots for you! They're available in brown and black and are under $40!

4: I love this dress. It's a perfect silhouette for work and you can pair it with a cardigan in the winter.

5: I'm going to be refreshing this listing all day in hopes more colors will be re-stocked so I can buy them all. This sweater looks great tucked into jeans and paired with leggings.
6: Fun, playful earrings that are available in a variety of colors all on sale for less than $10!

7: This is one of my favorite sundresses, and it's over half off! Ah, even looking at it reminds me of when I wore it around Santorini. Take me back!

8: I love this shoe brand and am so tempted to splurge on this cute pair while they're on sale.
9: I am using Amazon Prime Day as an excuse to break down and finally buy a jumpsuit. It looks so comfy.

10: These chunky winter boots are SO cute, very affordable, and come in a  variety of colors.
11: I have these sneakers and love them so much. This is a great opportunity to snag them at a fantastic deal.
12: I want this sweater in every color. It's perfect for work Zoom calls!
13: It's funny, for nearly a decade I thought stemless wine glasses were so chic and now I can't get enough of these square wine glasses. Just goes to show how everything goes in and out of style.
14: I love how you can swap out an Apple Watch with fun bands. This one is so cute and under $25.
15: These are some of my most-worn sandals. I'm actually stocking up on an extra pair because the sale is so good.
16: Sales are a fun time to step outside of your comfort zone and try something new. These sandals are fun and blingy and calling my name!
17: One of the nice things about quarantine has been the slower pace of life. I've started keeping a daily gratitude journal and absolutely love this notebook.
18: These candle stick holders are so classic and so chic. I want them in black and gold.
19: Hi, my name is Erin and I'm basic AF. It is now fall which means I need all the pumpkin spice lattes and chunky cardigans. This one is especially cute.
20: I love a good rain boot and this one is so versatile.
Questions of the Day: Are you shopping Prime Day? Which pick is your favorite?