'Tis the season for gift shopping! I feel like it is always a challenge to find fun, unique gifts for loved ones. So many items are consistently featured on gift guides, it makes it start to feel like everyone is giving everyone the same gifts! As much as I love a nugget ice maker and UGG slippers, sometimes I want to give something a little different.
These 10 products are ones that I have discovered in the past year and absolutely love. I think they would make great gifts and add a little spice to your gift giving game. I hope you find a few that pique your interest!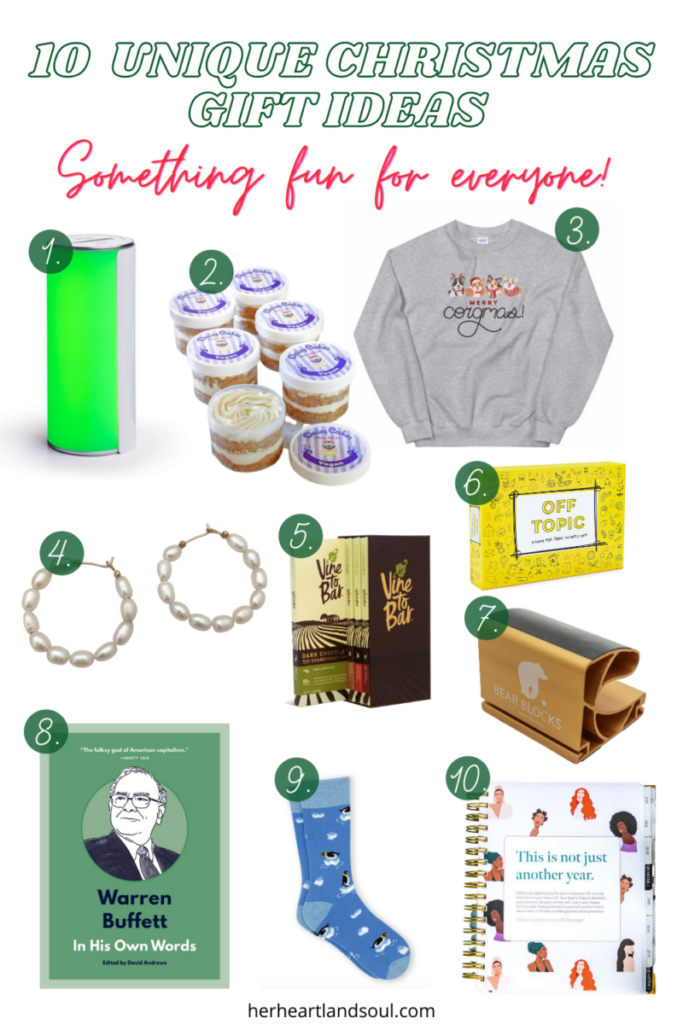 1 | 2 | 3 | 4 | 5 | 6 | 7 | 8 | 9 | 10
1: Gift the gift of sleep this winter with an Allay light-therapy lamp. Based on Harvard Medical School research, and designed by a NASA engineer, Allay uses green light to combat migraines, reduce stress, and promote better sleep.

2: For those with a sweet tooth, you can't go wrong with Daisy Cakes. These cakes were made famous on Shark Tank and now come in single-serving minikins.

3: For my fellow pet parents, Sassy Woof offers adorable gear for pets and parents. I'm particularly obsessed with this Merry Corgmas sweatshirt.

4: These pearl hoop earrings are a fun take on the classic hoop. They'd complement any holiday outfit.

5: Wine-infused chocolate bars. Need I say more? Vine to Bar offers a memorable (and delicious!) gift.
6: I love party games! Off Topic is a fun, grown-up take on Scategories. (One of my favorite games as a kid!) This is perfect for taking as a hosting gift to a holiday party.

7: For those who love workout gear and gadgets, Bear Blocks are perfect. They're push-up adaptors to take the strain off your wrists. Anything that makes working out easier, I'm all for!
8: The In Their Own Words book series is such a good one! It's a compilation of quotes from various notable people. In Omaha, Warren Buffett's book would be a hit at any White Elephant party. I have Michelle Obama's and want to get Taylor Swift's and Ruth Bader Ginsburg's for my office.
9: What guy doesn't love fun socks? Society Socks are extra special because they donate a pair of socks to someone in need for every pair sold. They come in a variety of patterns and colors.
10: For my fellow planner lovers, I recently discovered The Layered Living Planner. It's a daily planner meets goal tracker meets journal. I love that it's a fun, fresh take on yearly planners.
Questions of the Day: Which of my finds are your favorite? Are you almost done with your Christmas shopping?