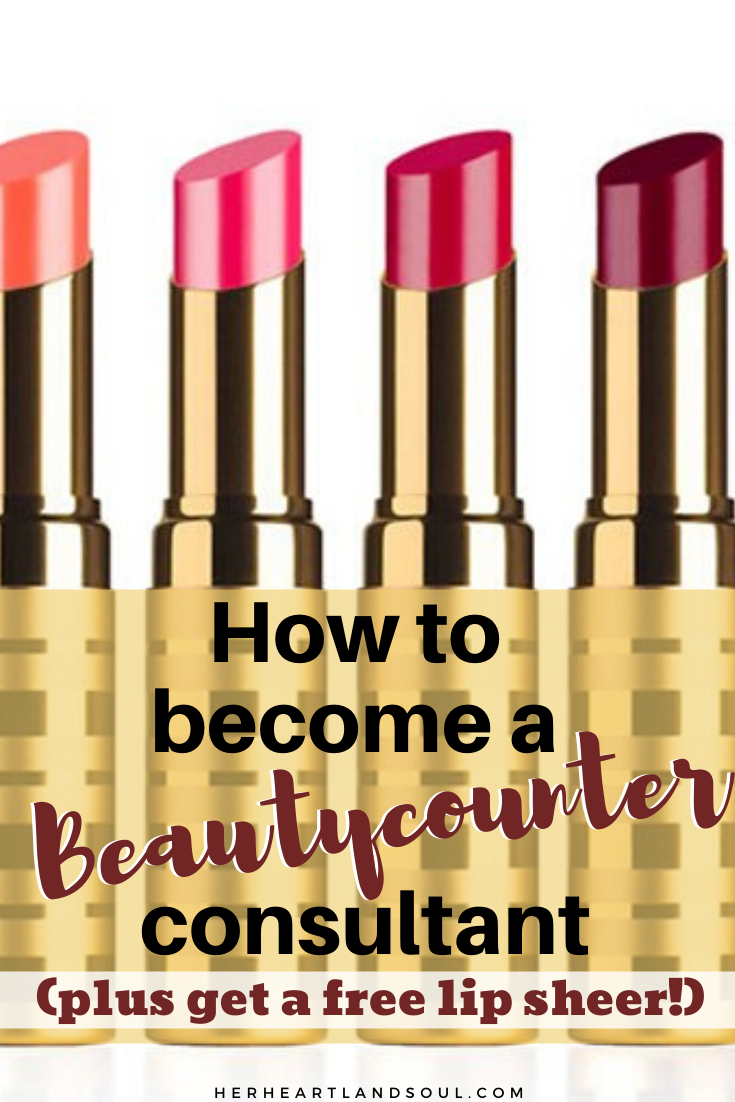 Pin me!
Are you looking for a side hustle that lets you make a difference in the world and earn money doing something you love?
Then Beautycounter is the answer for you. With more and more women embracing clean beauty and products made with safe, natural ingredients, the time could not be better to join this business.
Beautycounter is more than just talk, it's a mission. They are shaking up the cosmetic industry and pushing for clean beauty for all. In the last six years they have sent hundreds of consultants to Washington, D.C. to push for change. This year alone they are working on 12 bills that have significant impact on public health. What other direct sales company is like that?!
I wanted to write a post that clearly laid out for others how to become a Beautycounter consultant. I also wanted to share my journey, the compensation plan for Beautycounter, and how to sign up and start selling in less than five minutes!
My journey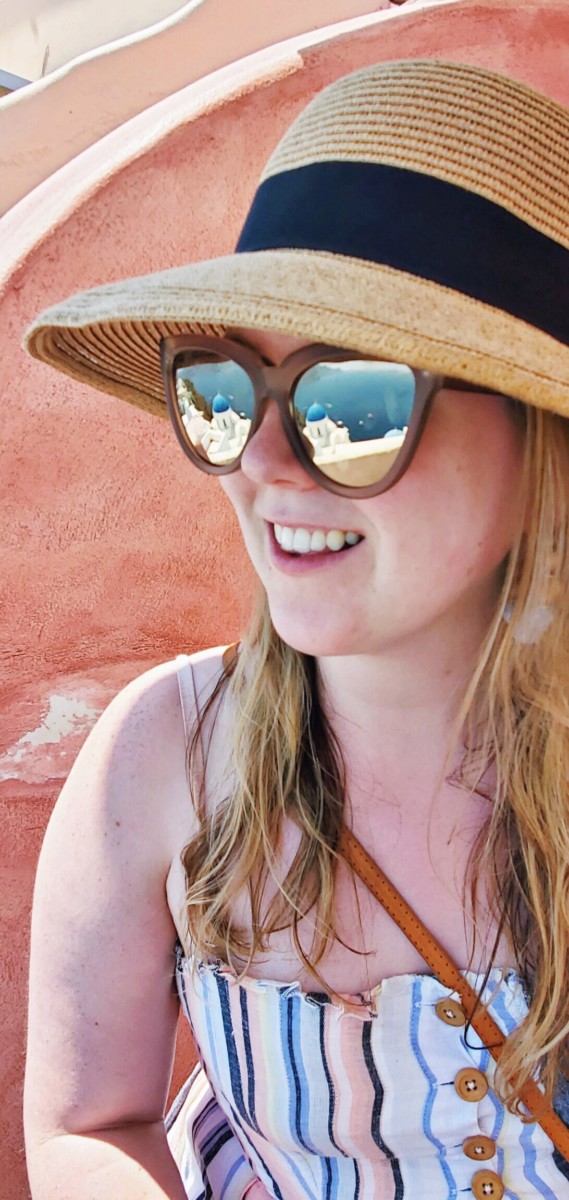 I wrote a whole blog post about why I believe in the clean beauty mission. Skincare should be good for you. And everyone deserves access to safe, effective products.
I started selling Beautycounter because I absolutely love the products, and saw an opportunity to turn my passion into an income stream.
Growing up, I didn't have a lot. While I would never wish poverty on any child, pressure creates diamonds, and fire refines gold. I learned quickly that it is up to me to make my dreams a reality, and to create the life I always wanted.
And so I started working hard. I created a blog, I became a corporate marketer, and I started earning six figures at a relatively young age.

One thing was missing though, and that was a cause and a mission I could rally behind. In Beautycounter I have found it. The mission to better people's lives, to provide leadership and mentorship to others, and to provide safe, effective beauty products to women.
This is not a business that is going to encourage you to be a sleazy salesman and pressure your friends and family to buy from you. What it is is a business that allows you to provide value to others and serve them. I teach my team how to leverage social media and effective marketing strategies to build profitable businesses without being sales-y.
Why become a Beautycounter consultant?
Here are my favorite things about being a Beautycounter consultant.
1. 25% off all orders. If you love makeup, you can't ask for a better deal.
2. It is only $98 to sign up! For the cost of a nice date night out you can start your own business.
3. You don't have to carry an inventory. Customers can shop from the convenience of a computer and Beautycounter will ship right to them.
4. Beautycounter has a 60-day money-back guarantee. If your customers don't like a product, have them send it back. No questions asked.
5. You can earn free trips, free products, and cash bonuses for hitting your goals. Who doesn't want some nice incentives for working hard?
6. The women you will meet as a part of Beautycounter are amazing. They are strong, driven, kind, smart, funny women on a mission to change the beauty industry and change the world. We work hard and have a heck of a lot of fun together.
7. The products are legit. When women try Beautycounter products, they are usually blown away. They're high-quality and effective products they can feel good about using and putting on their bodies. It's a win-win.
8. Learn and grow with me! I created the Girls with Glambition team for girls who go all in on life. If you've got a dream, a work-ethic, and a kind heart, you are in the right place. I would be honored to get to work with you to help you make your dreams a reality.
9. Beautycounter was just awarded the Corporate Social Responsibility award by WWD. They also are a Certified B Corporation which means they don't just think about profit when making a decision but people and planet equally. Talk about a company you can stand behind!
Beautycounter compensation plan
It costs $98 to become a Beautycounter consultant.
The only requirement Beautycounter has is that you sell at least $1,200 every six months to stay an active consultant. This includes your own purchases as well, so hitting this number is not very hard. If you don't hit that number in six months, it's no big deal. You become a Band of Beauty member and are given discounts on your purchases and free shipping. You simply stop earning commission on other people's purchases.
As a consultant you automatically get 25% off your purchases and earn 25% on all purchases your friends and family make. The more you sell, the more these numbers increase and you start earning even more.
Beautycounter is a lot of fun to sell, and (dare I say) even easy to talk about and share with others. When you're passionate about the mission, the company, and the products, it's easy to spread the word and recommend it to others.
If you're a digital girl you can create a Facebook group, host pop-up parties, share your skincare routine on Instagram stories and more. If you love face-to-face connections you can host wine and makeup parties, sponsor a booth at a local event, or partner with a local business in your area. There are so many opportunities to make this business a success. The more time and effort you put into it, the more your efforts will be rewarded.
Girls who join the Girls with Glambition team get all my marketing advice and tips and tricks for how to sell without being sales-y. I would truly love to mentor and work with you.
If you are ready to say yes and jump on this opportunity, follow the steps below to get started. And if you are still interested but have more questions, leave a comment on this post or shoot me an email at [email protected]
Steps to become a Beautycounter Consultant
Enrolling with Beautycounter is so easy. Here are the seven simple steps.
Step 1:
Either use my direct join link or go to Beautycounter's website and scroll to the bottom of the page where it says "Become a consultant"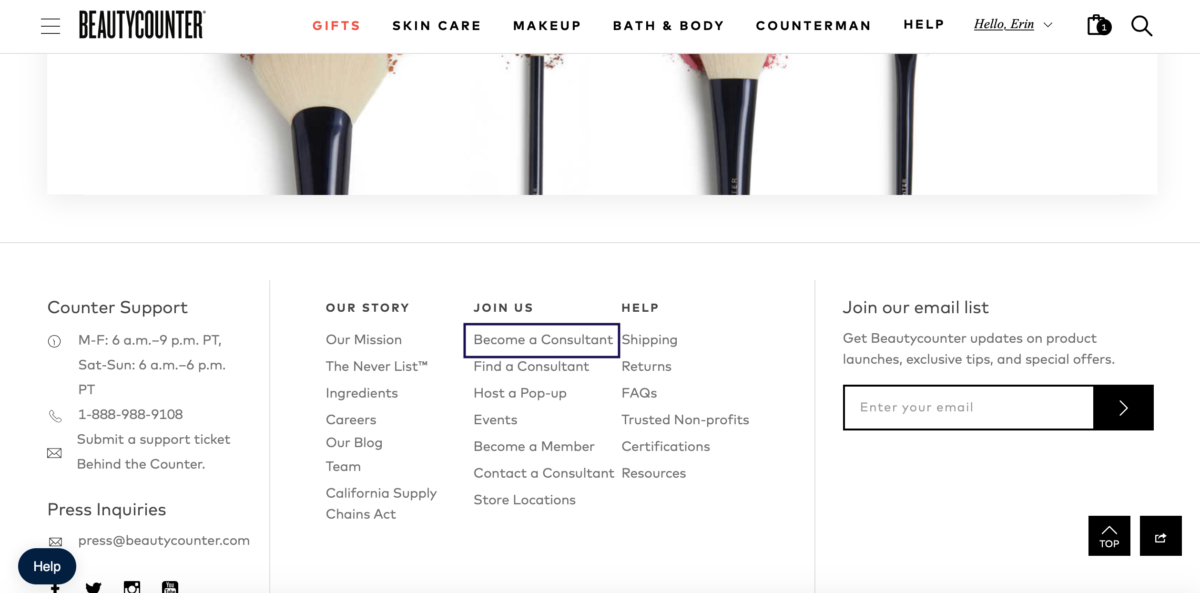 Step 2:
Click "Enroll now"
Create a username and password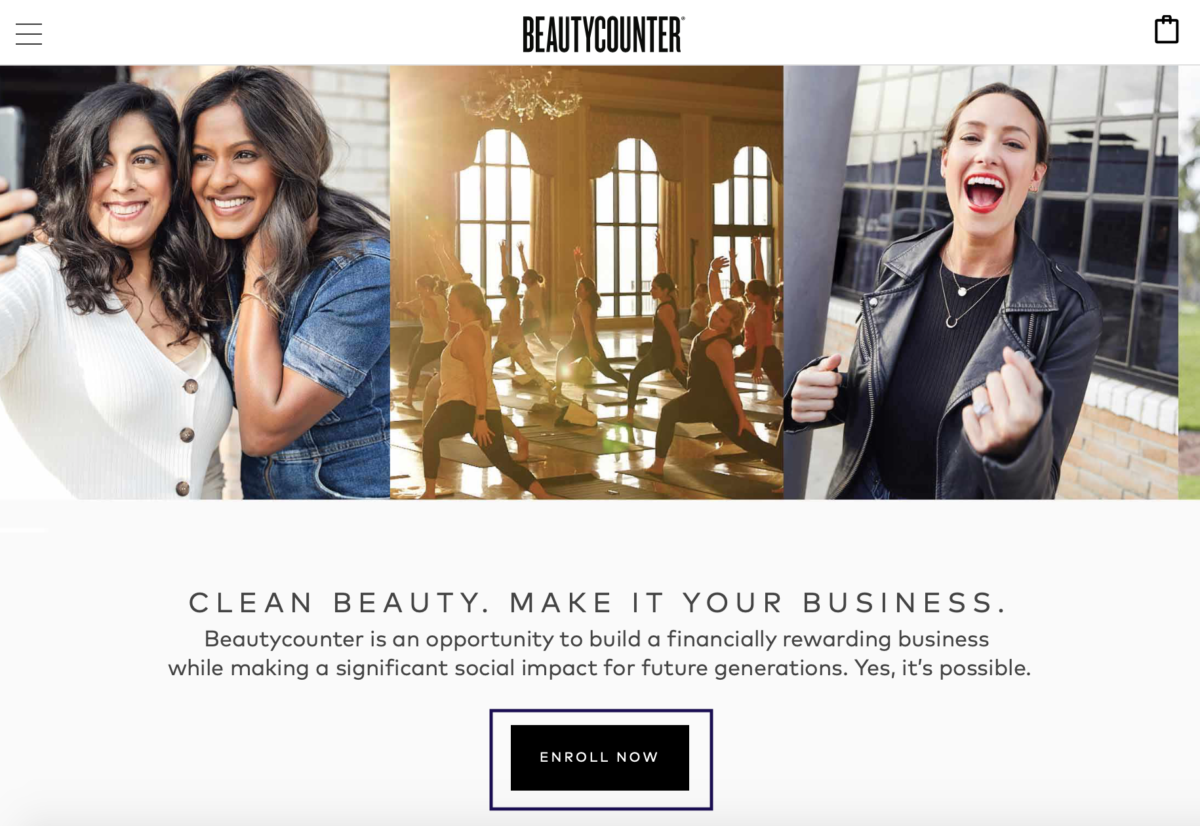 Step 3:
Accept the policies and procedures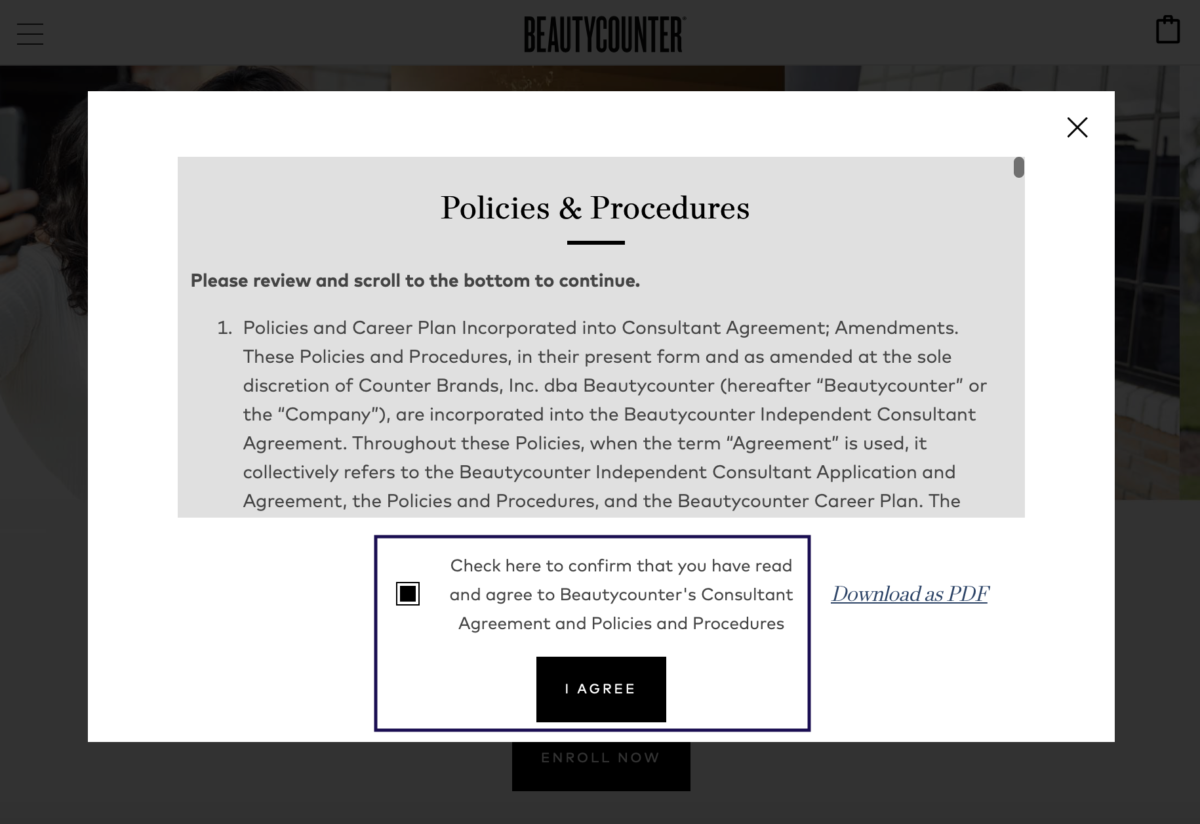 Step 4:
Verify that it says "Erin Fairchild" (aka: me!) as your mentor. This means I get to train and help coach you!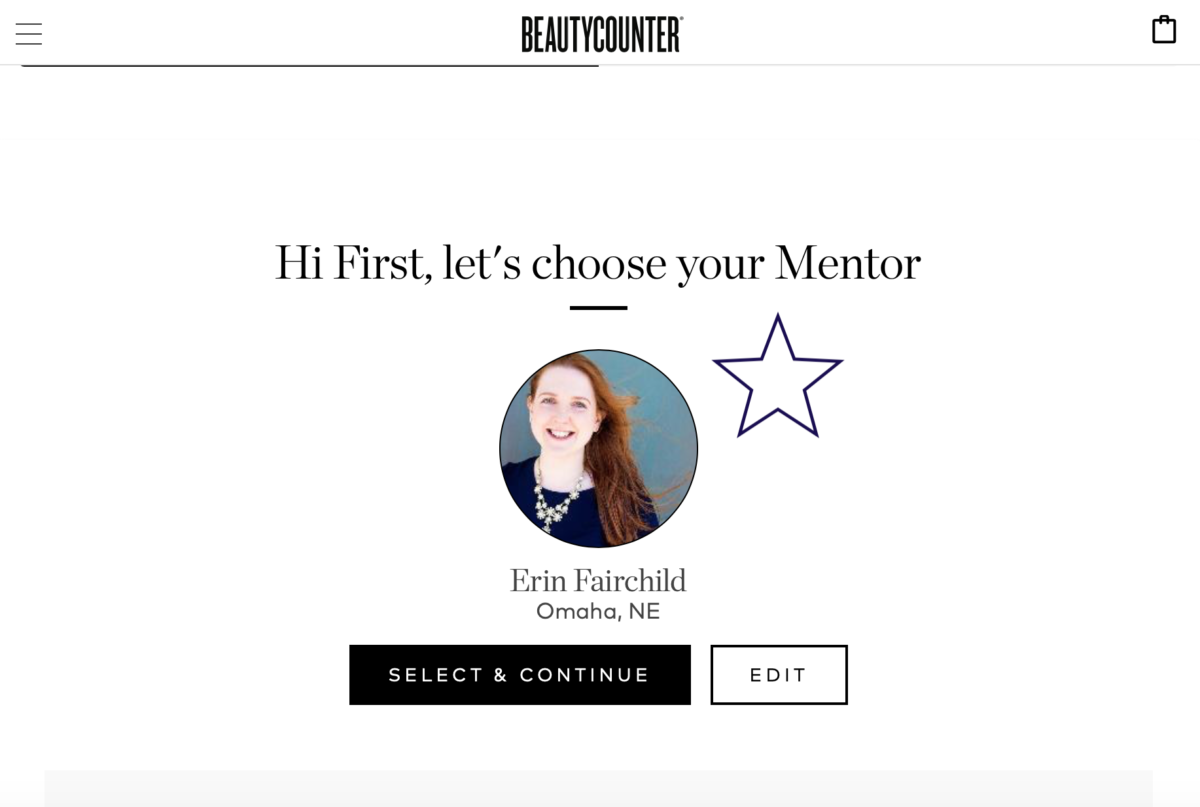 Step 5:
Fill out the required personal information. This is a business which means you are going to get taxed on it which is why they require your social security number.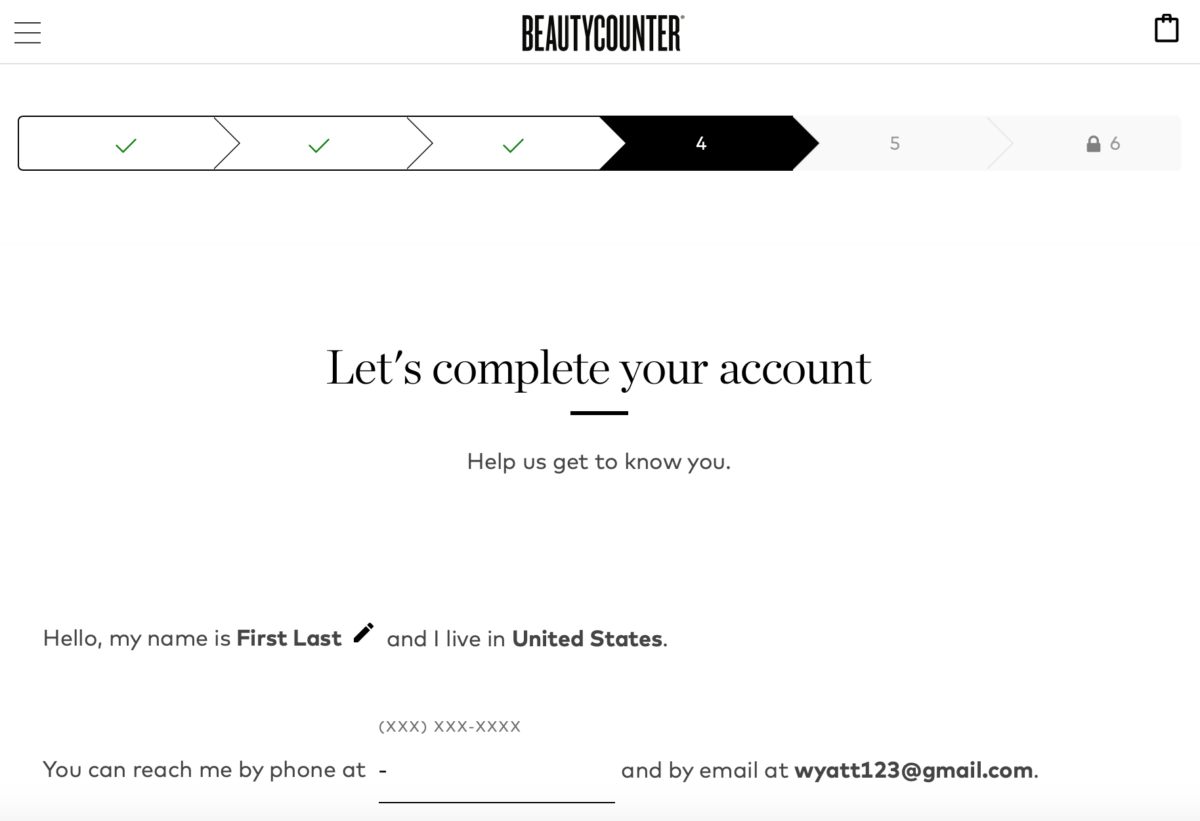 Step 6:
Once you've completed this page you'll be able to purchase Beautycounter's starter kits. These kits are 44% off retail, are only available when you're signing up as a consultant. They're completely optional but are a fantastic way to invest in your business and start to try out all the products and build up samples and testers.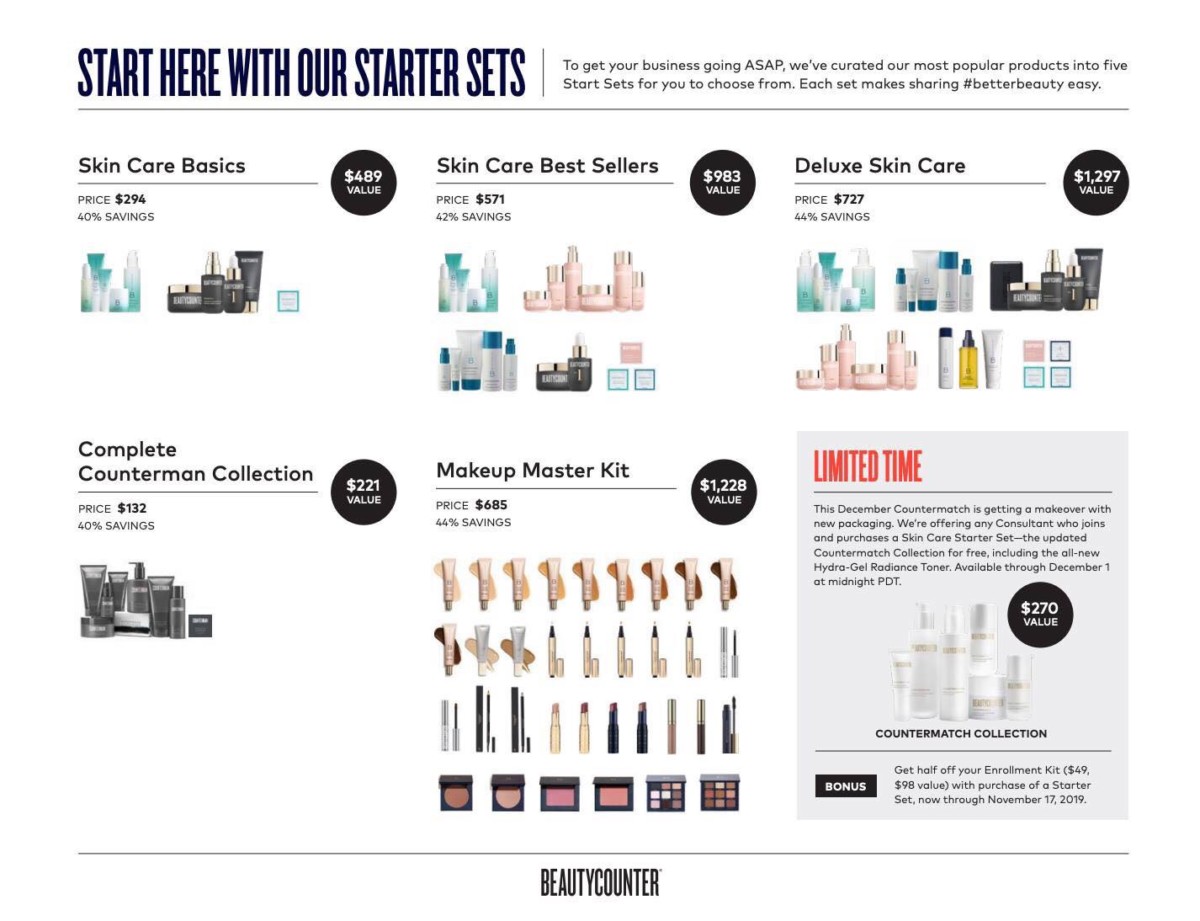 Step 7:
At this point you and I both get an email from Beautycounter notifying us that you joined my team. Once I receive this email I will reach out to help you get started. You'll be added to a Facebook group and Facebook chat chock full of information to set you up for success in your business.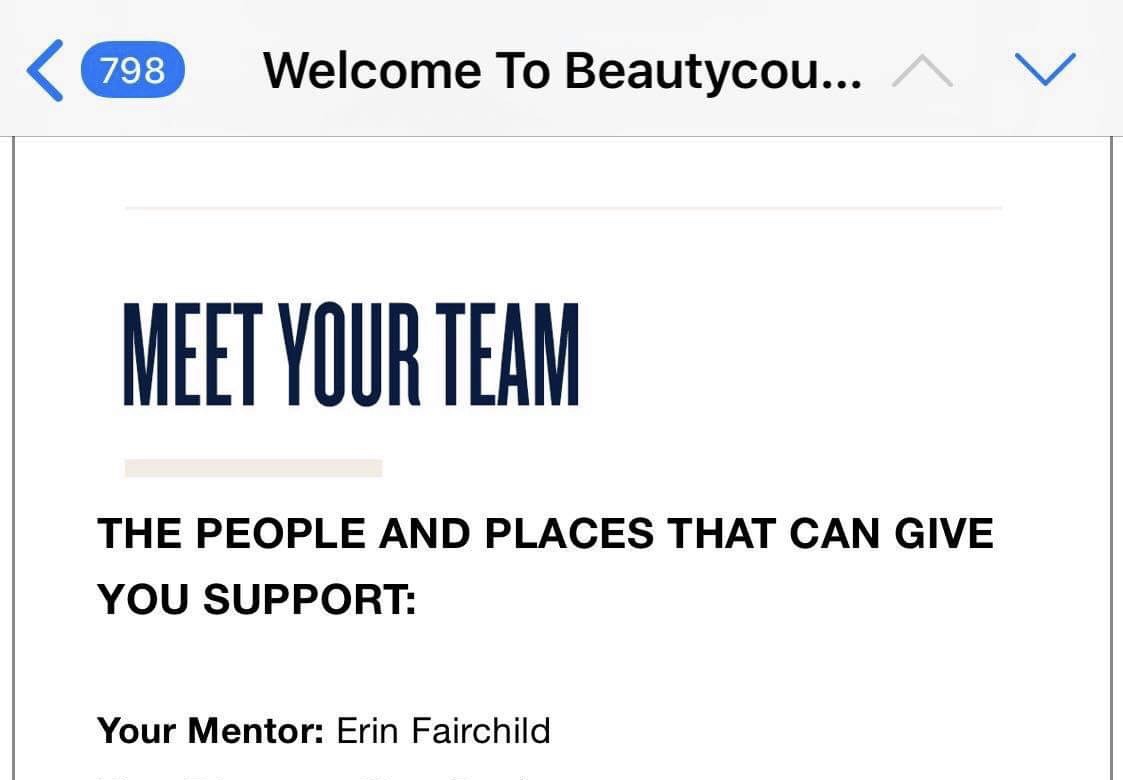 P.S. As a welcome gift you will receive a free lip sheer from me when you sign up under me and place your first order! (It was Glamour's lipstick of the year this year!)
I am so excited for you and the journey you're about to embark on. I can't wait to hear what dreams you have for your business, and help make them a reality.
Do you have any other questions about how to become a Beautycounter consultant?
If so, please email me at [email protected] I'd love to hear from you!