A note from Erin: Hey everyone! Josh and I took the redeye home from Hawaii last night so while you're reading this I'm either up in the air, staggering around some airport trying to find coffee, or passed out at home trying to adjust to the time change. Fun times! It meant so much that Ashley from If You Give a Girl a Ring agreed to be my last guest poster for this trip. She reached out to me when I said I was moving to Omaha and invited me to dinner once I got here. It meant so much to have a friendly face in a new-to-me city where I knew no one. She's also a marketer so it's fun to get to talk shop. A word I would use to describe Ashley would be fabulous. She has fabulous clothes, is in fabulous shape, and takes fabulous trips. We're both joining Junior League this year and I'm really looking forward to getting to spend more time with her. Take it away, Ashley!
——

Four years ago if you would have told me I'd run a half marathon one year later, I would have laughed at you. One year ago if you would have told me I would run a marathon  just a few months later, I would have thought you were crazy.
I didn't grow up running. I never ran track and I thought my high school classmates who ran cross country were insane for wanting to run for fun. I was the girly-girl who competed in pageants and made sure my purse matched my outfit each day for school. I really didn't believe in sweating, although I do believe in sparkling. 🙂
Once I graduated college and hung up my heels and rhinestone dresses, I still felt the need to compete in something. Enter a half-marathon. I admired one of my friends who could run 13 miles and since I loved a good challenge, I figured why not start running.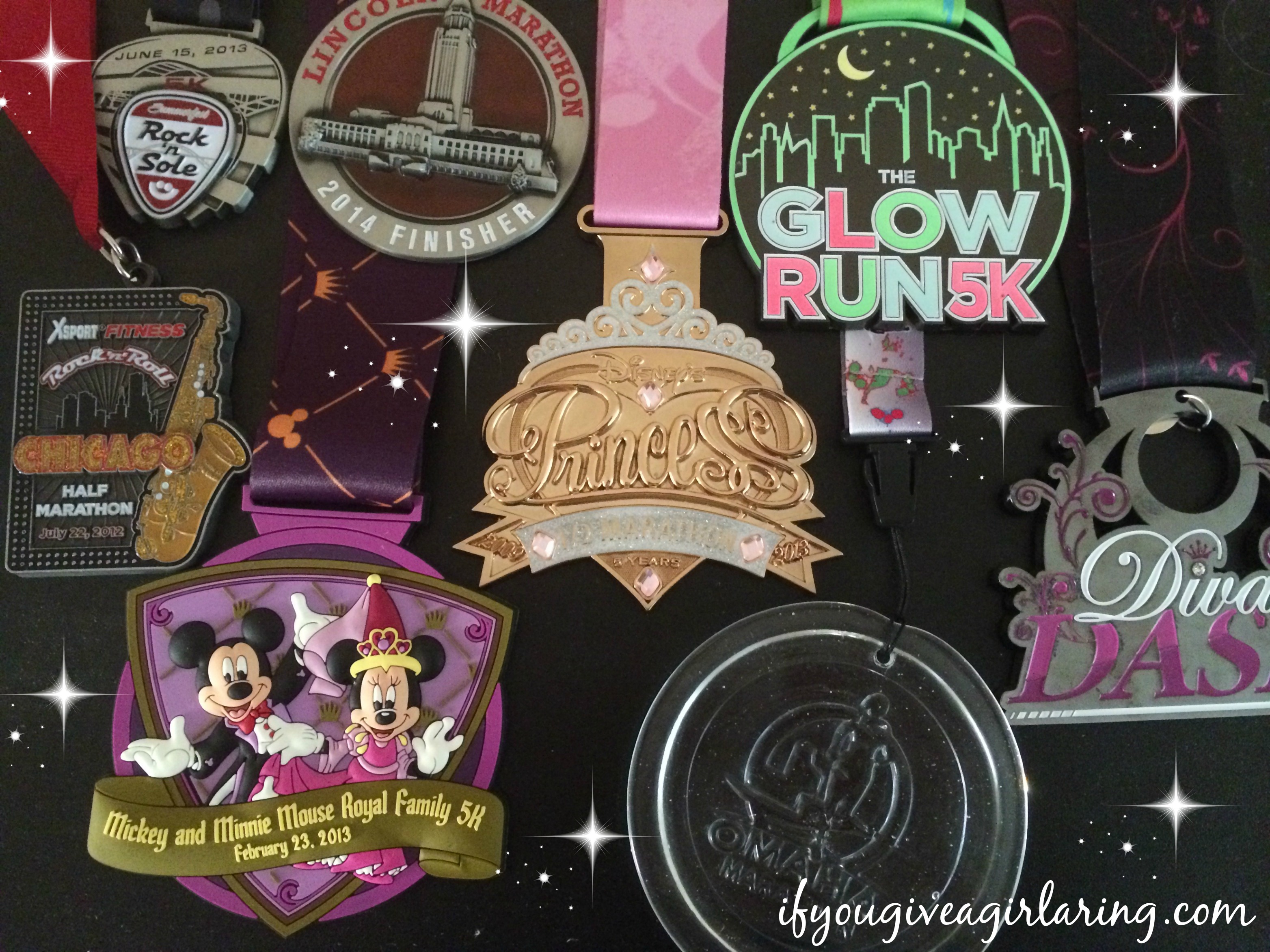 Slowly but surely, I started running. I wasn't the fastest, but at least I was lacing up my sneakers and hitting the pavement. Each time I finished a race, I craved the next one. First a 5k, then a 10k…now 6 half marathons and one marathon just 3.5 years later, I've really come to love running. It's not only my favorite way to stay in shape, but it's also a time that I can just be by myself. While I'm not collecting rhinestone tiaras anymore, there sure is something about getting some new running "bling"  after crossing that finish line.
Since I started running before the Pinterest rage began, I had wished there was an easier way to find tips and tricks on running. Over the years, I have learned a few things about running so here are some of my pass along tips if you're looking to take the next step and get into running a race.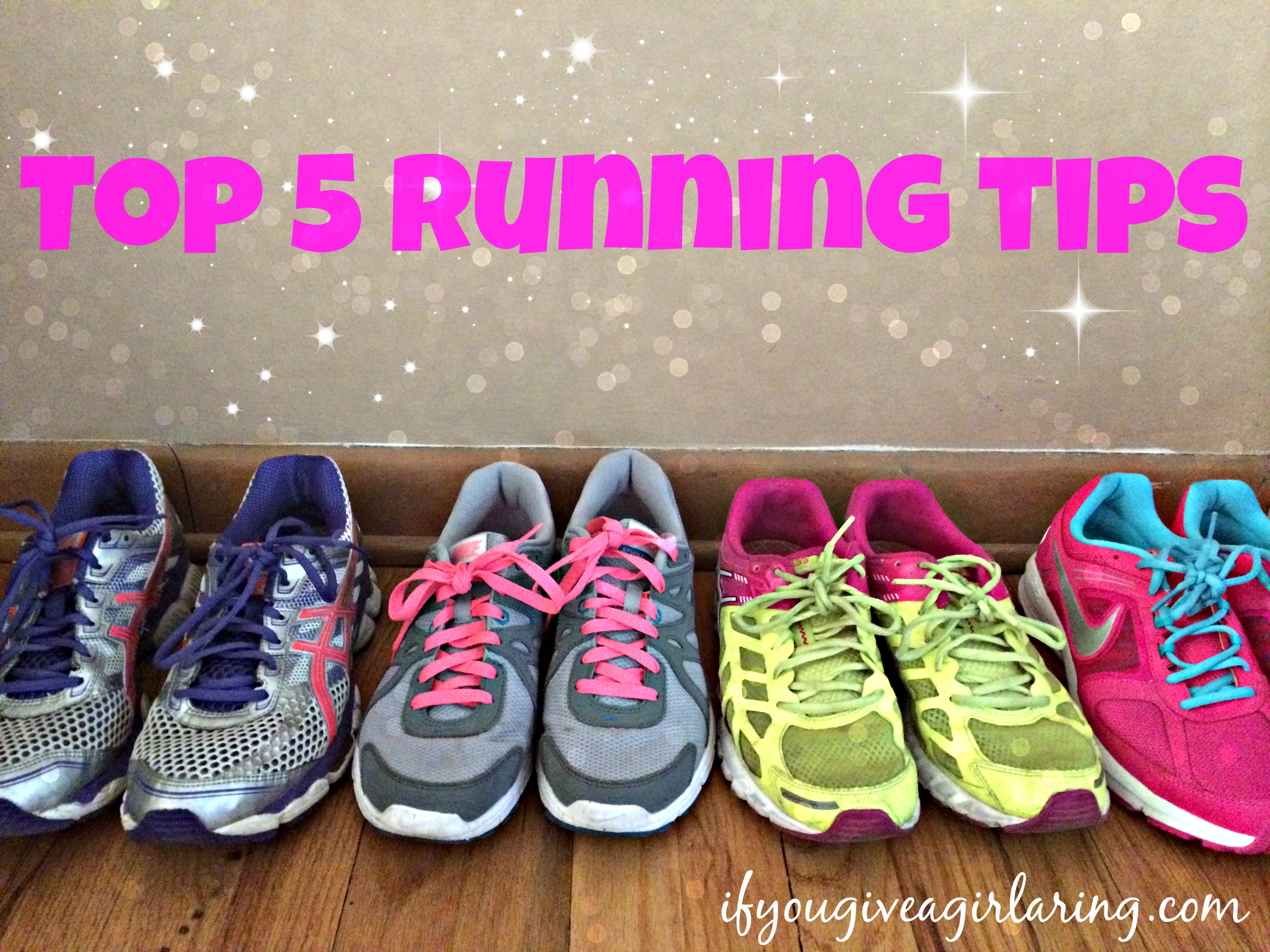 1. Pick a training schedule that fits your needs.
Are you looking to challenge yourself and run a marathon? Or do you just want to cross the finish line at a 5K? Whatever you goal is, there are lots of training programs out there. Couch to 5K is a good starting point if you're a newbie runner. A tried and true marathon training program that many follow is available from Hal Higdon.
2. Get fitted for the proper running shoes.
Did you know that running shoes should be at least a half size bigger than your normal shoe size? Yeah, neither did I the first time I ran a half-marathon. If your running shoes don't fit properly, it can lead to injury and some not so pedicure ready toes. Find a local running store and have a professional look at your stride so you can find your perfect shoe.
3. Don't try anything new on race day.
No new foods or drinks and no new shoes or outfits. Stick to what you know works best for you.
4. Stretch, stretch, stretch!
Whatever your running goal is, your body will be asking for a good stretch after each run. This also will help lessen your chance of injury. To really make yourself feel better, invest in a foam roller. It will help your muscles relax and it aids in a faster recovery. Plus, it's like having your own personal masseuse!
5. Reward yourself after the race!
Personally I love a good cupcake after a race I've been training for. Whatever motivates you, a massage, retail therapy or a sweet treat, it's time to reward yourself for all of your hard work!
There are so many races out there these days. Some are fun themed races like The Color Run, others are a challenge like the Spartan Race, or there's a lot of  long distance runs available anywhere in the country. It doesn't matter whether you're running a 5k or a full 26 miles, what matters most is that you're staying healthy!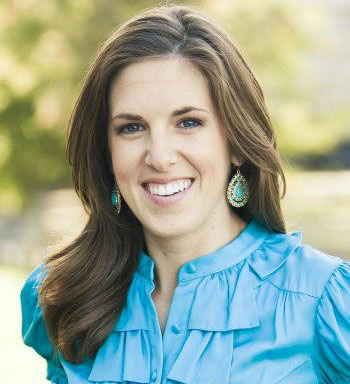 Ashley is a full-time marketing and advertising professional from Omaha, NE who strives to break a sweat while still looking fabulous. Her blog, If You Give A Girl A Ring, shares her adventures as a newlywed and love of fashion, beauty and fitness.
Question of the Day: What got you into running?