Who doesn't like birthday freebies? These are the 25 best rewards programs that give you free food on your birthday. Celebrate with all the free birthday food! 
I went a little down the rabbit hole this year researching all the restaurants and fast food chains that offer free food on your birthday. It turns out, there's a lot. It also turns out, there's a ton that say free but are really BOGO deals or require minimum purchases. To me, that is not a free birthday treat.
To save you some time, and money, here are my picks for the very best, completely free birthday foods. A bonus is that most of these companies also offer free treats when you join their rewards programs in addition to your birthday treat. Prepare yourself for allll the free food. 😉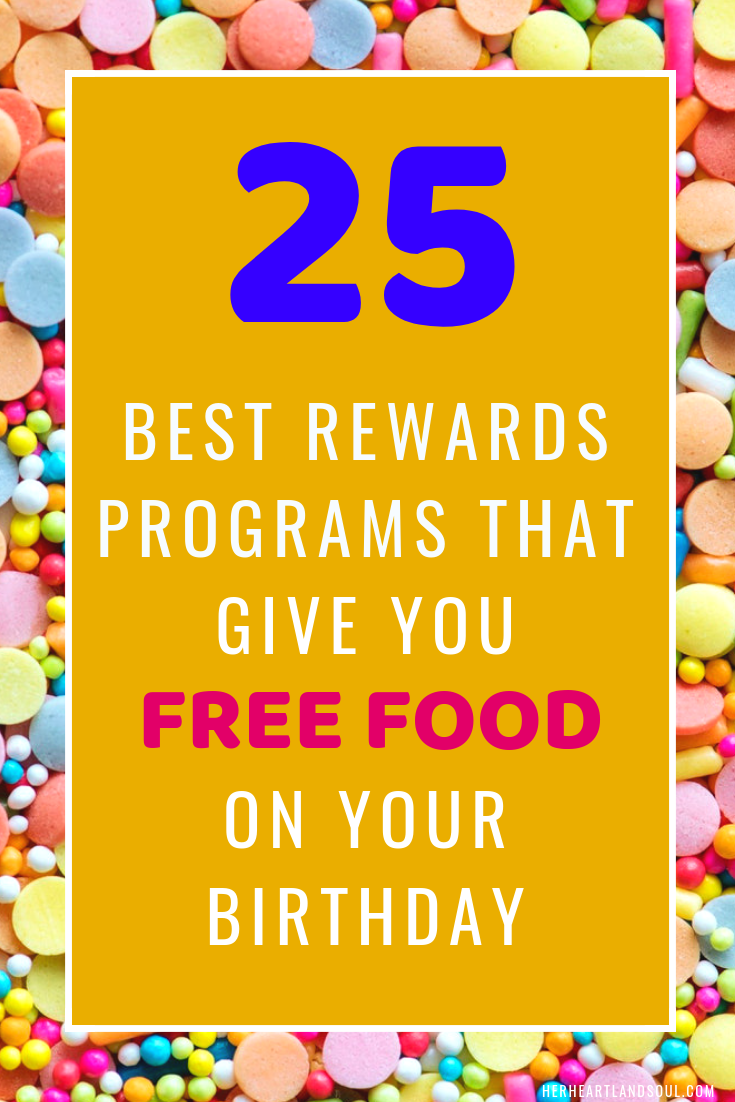 Pin me!
The 25 Best Birthday Food Freebies
1. Starbucks – free food or drink item of your choice
2. Twin Peaks – free birthday meal
3. Bruegger's Bagels – free bagel with cream cheese
4. Nothing Bundt Cake – free bundtini
5. iHop – free pancakes
6. Wingstop – free cheesy fries
7. Perkins – free breakfast
8. Ruby Tuesday – free burger
9. Texas Roadhouse – free appetizer
10. Kona Grill – $15 off (no minimum purchase)
11. Culver's – free sundae
12. Cantina Laredo – free guacamole
13. Schlotsky's – free sandwich
14. Chick-fil-A – free cookie
15. Jersey Mikes – free sub
16. Hooters – free boneless wings
17. Firehouse Subs – free sub
18. Scooters Coffee – free coffee
19. Which Which – free sandwich
20. Taco John's – free Mexican donut bites
21. Sonic – free shake
22. Olive Garden – free dessert
23. Chili's – free dessert
24. Krispy Kreme – free donut
25. Jamba Juice – free small smoothie
Questions of the Day: Do you look for freebies on your birthday? Which of these rewards do you most want to redeem?