In Nebraska, tailgating is no joke. We take cheering on our Huskers seriously, which is why I wanted to create a seriously delicious tailgate BBQ Black Bean Veggie Burger recipe to share with you. I haven't eaten red meat in over five years and I do not miss it at all with delicious veggie burgers like this one. It tastes even better paired with a cider beer, some Cape Cod® Potato Chips, and a big win for the Big Red!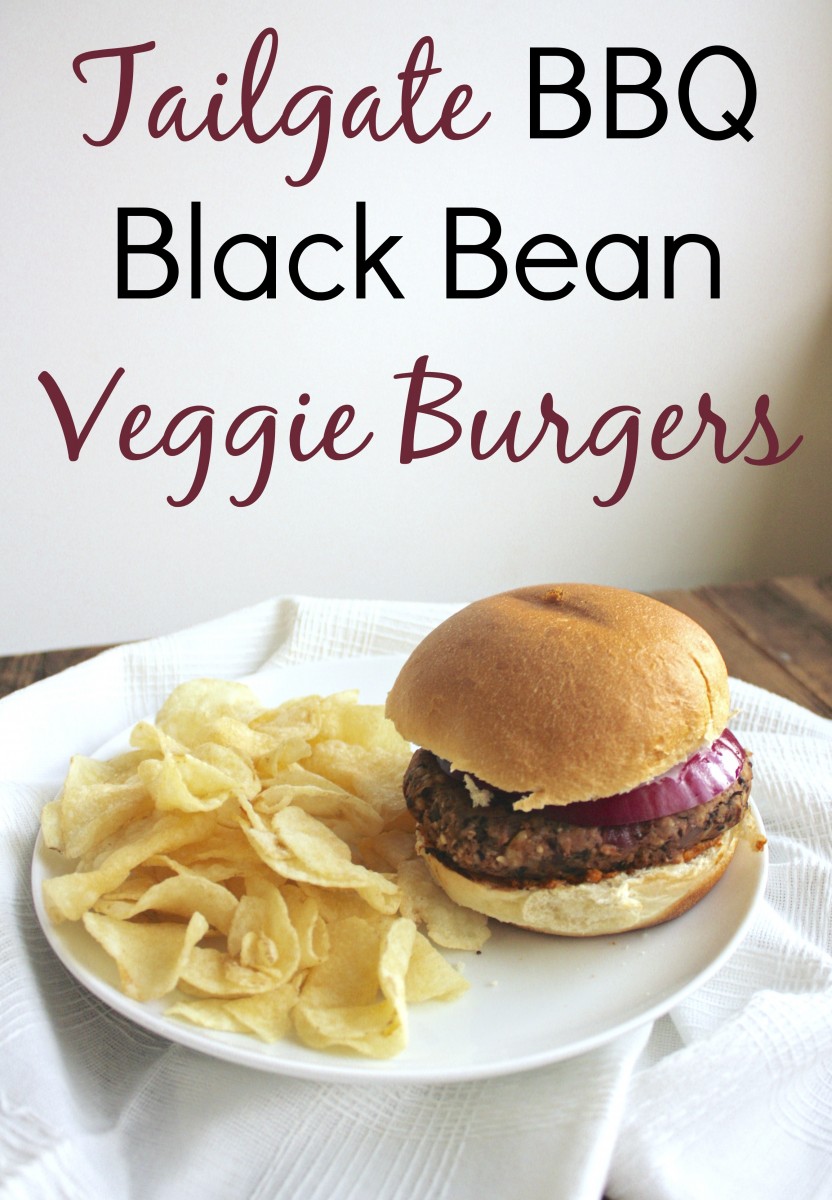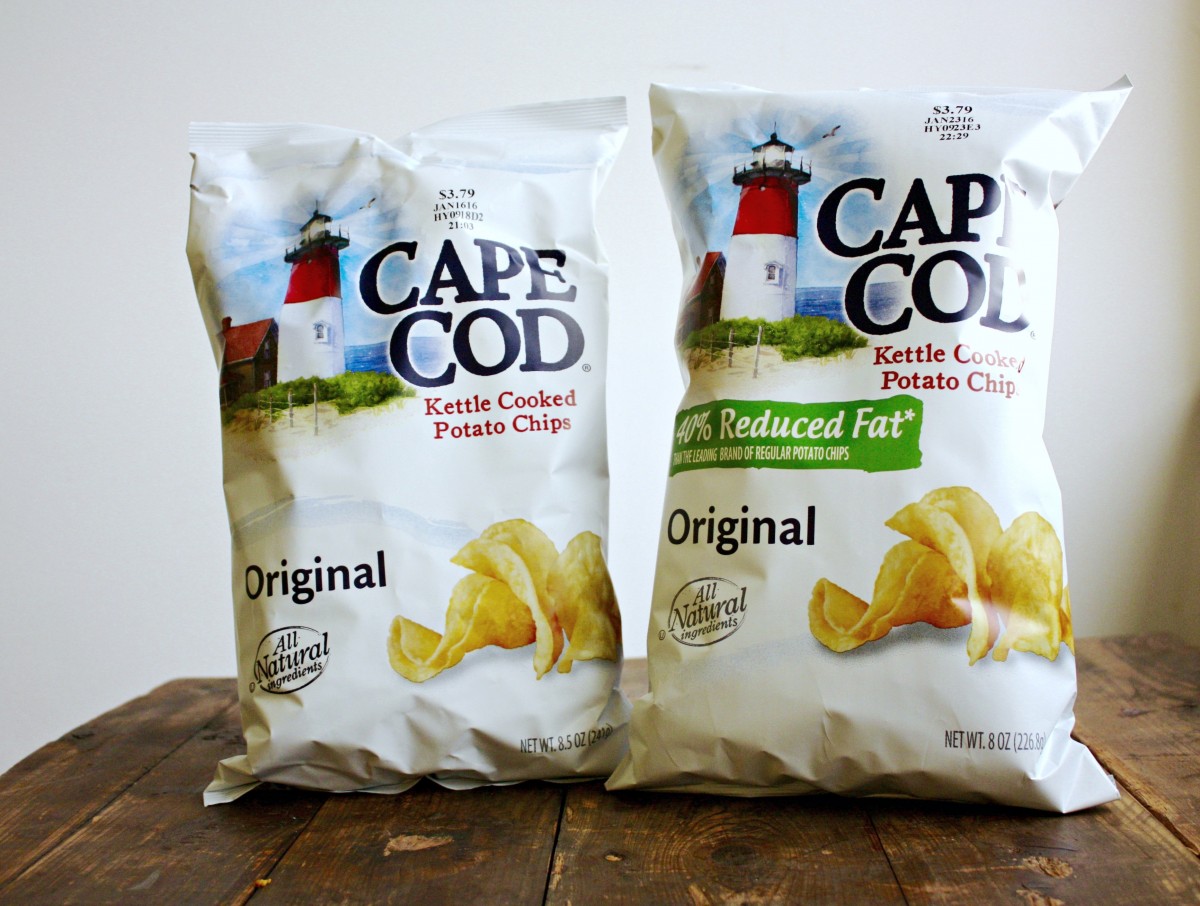 When Cape Cod reached out to me and asked me to highlight their chips in a tailgate post, I knew I had to pair their crunchy, flavorful chips with a soft, moist veggie burger. It's the perfect juxtaposition of flavors that compliments perfectly.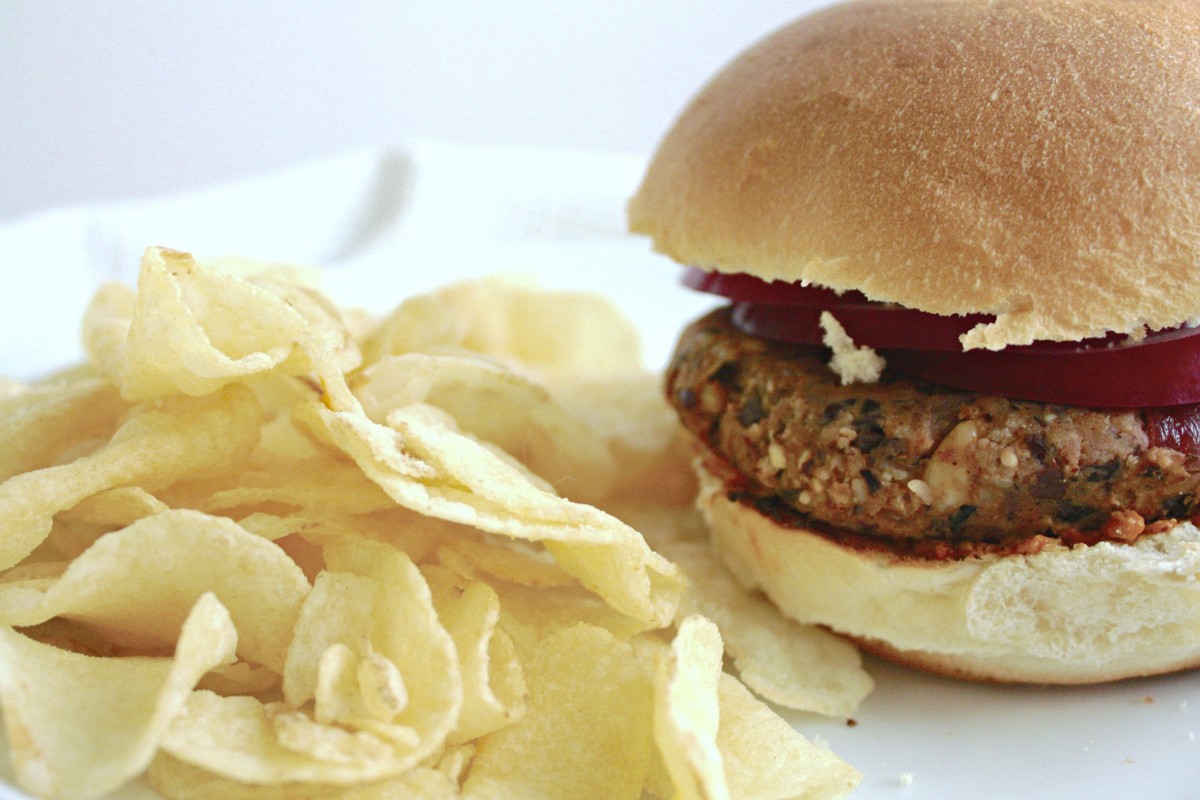 What I love about Cape Cod chips is how they stayed true to their origins in a small storefront in Hyannis, Massachusetts. They're handmade, crunchy, thick-cut, and don't leave my hands all oily like other chips do. My favorite way to eat them is actually piled on the burger for a nice crunch with every bite.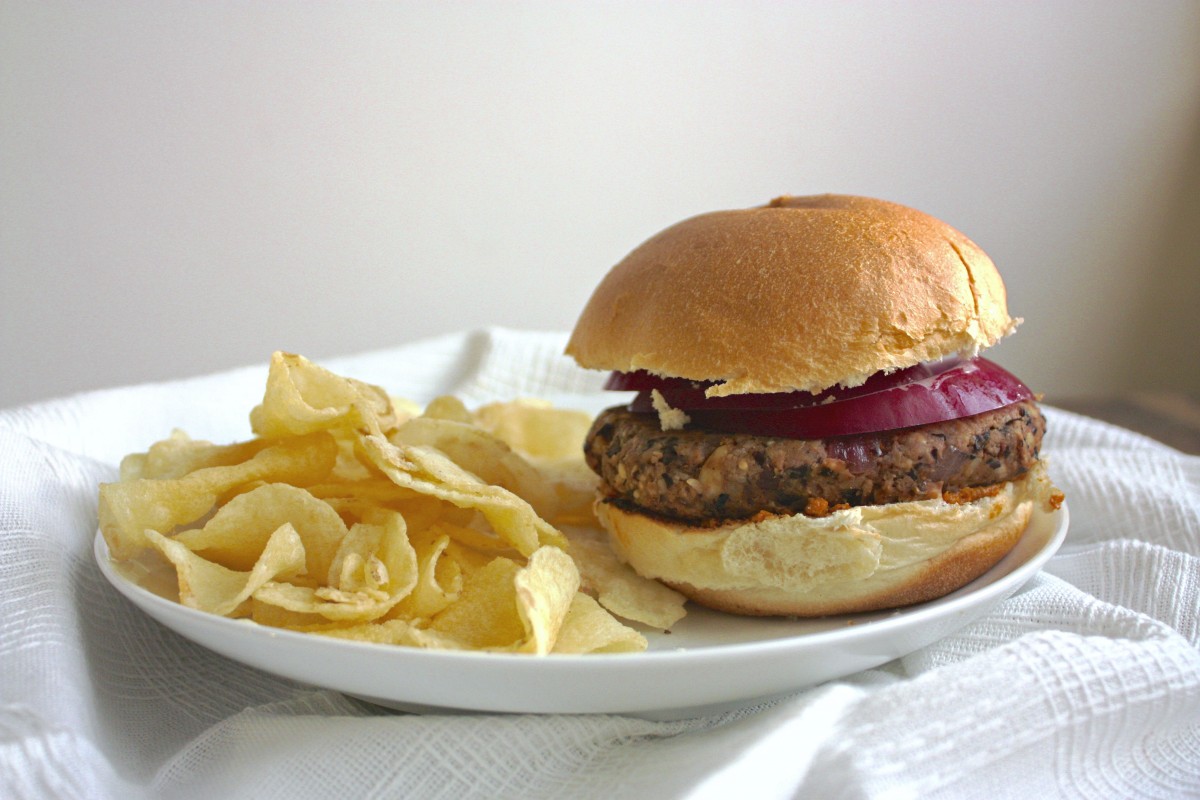 Tailgate BBQ Black Bean Veggie Burger Recipe
This recipe was adapted from the "Really Awesome Black Bean Burger" recipe on Serious Eats.
Ingredients

2 cans black beans, drained and rinsed
4 cloves garlic, minced
1 large red onion, medium diced
2 Chipotle peppers in adobo sauce, finely diced
3/4 cup crumbled feta cheese
3/4 cup toasted cashews
3/4 cup Panko bread crumbs
3 tbsp nonfat plain Greek yogurt
3/4 cup barbecue sauce
1 egg, lightly beaten
2 tbsp chili powder
1 tsp cumin
Salt and pepper, to taste
Directions
Preheat oven to 350 degrees.
Spread beans on a baking sheet and bake for 15 minutes or until beans begin go darken and crack of open. While beans cool, sauté onion, chipotle peppers, and garlic in a medium skillet, then transfer to a large bowl to cool.
In a food processor, combine beans and feta and pulse several times until the beans are in small chunks.
Transfer the bean and feta mixture to the bowl with the onions and garlic.
Add the cashews to the food processor and pulse until the nuts are reduced to large granules, then add them to the bowl with the other ingredients.
Add the chili powder and cumin and stir to combine everything.
Add the egg, Greek yogurt, and barbecue sauce and stir until everything is evenly incorporated.
Add the Panko bread crumbs and then thoroughly mix the ingredients with your bare hands. The mixture should be sticky and damp, but not runny. If it is too loose, add a bit more Panko. If it is too dry, add a bit more barbecue sauce.
Preheat a cast iron skillet over medium heat and spray with nonstick spray
Scoop a ball of the burger mixture a little larger than a golf ball and then flatten into a patty.
Place on the skillet and cook for about 3-5 minutes per side, or until the surface of the burger browns and gets lightly crispy.
Serve on a toasted bun with your choice of toppings.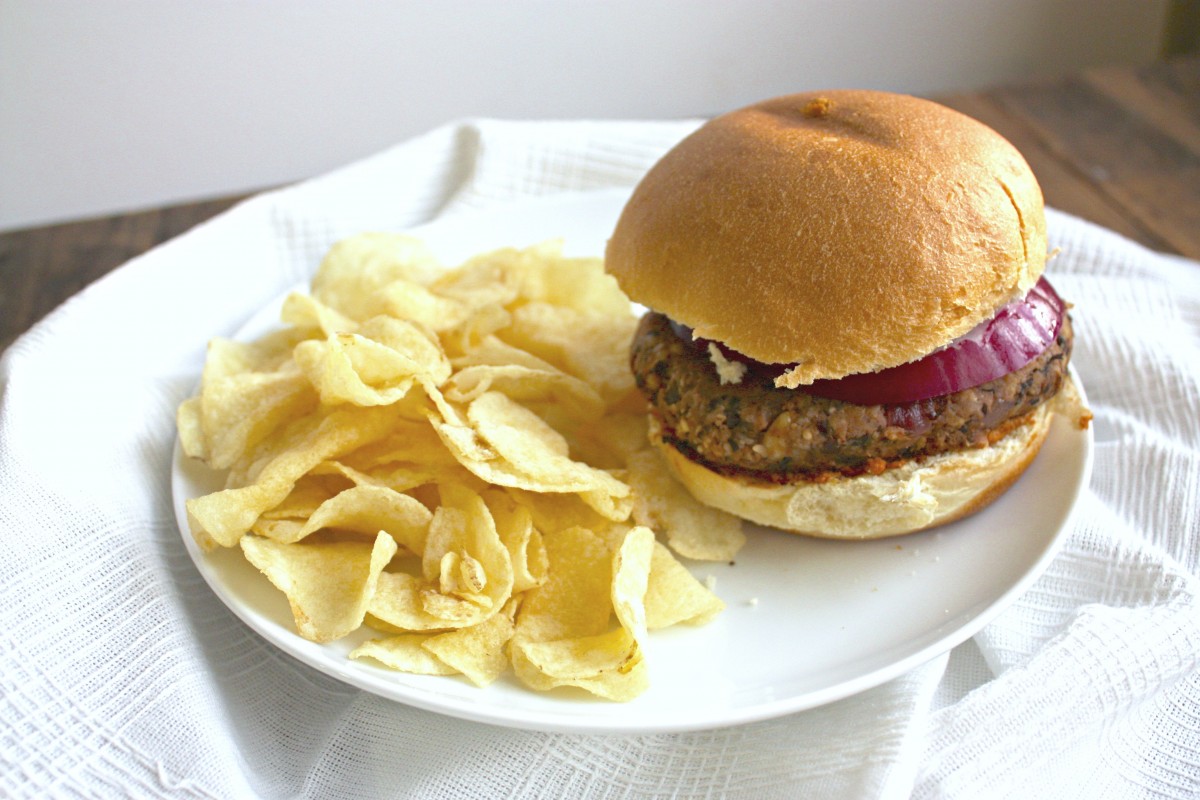 I like to top my burger with some red onion slices, goat cheese crumbles, and Muhammara spread.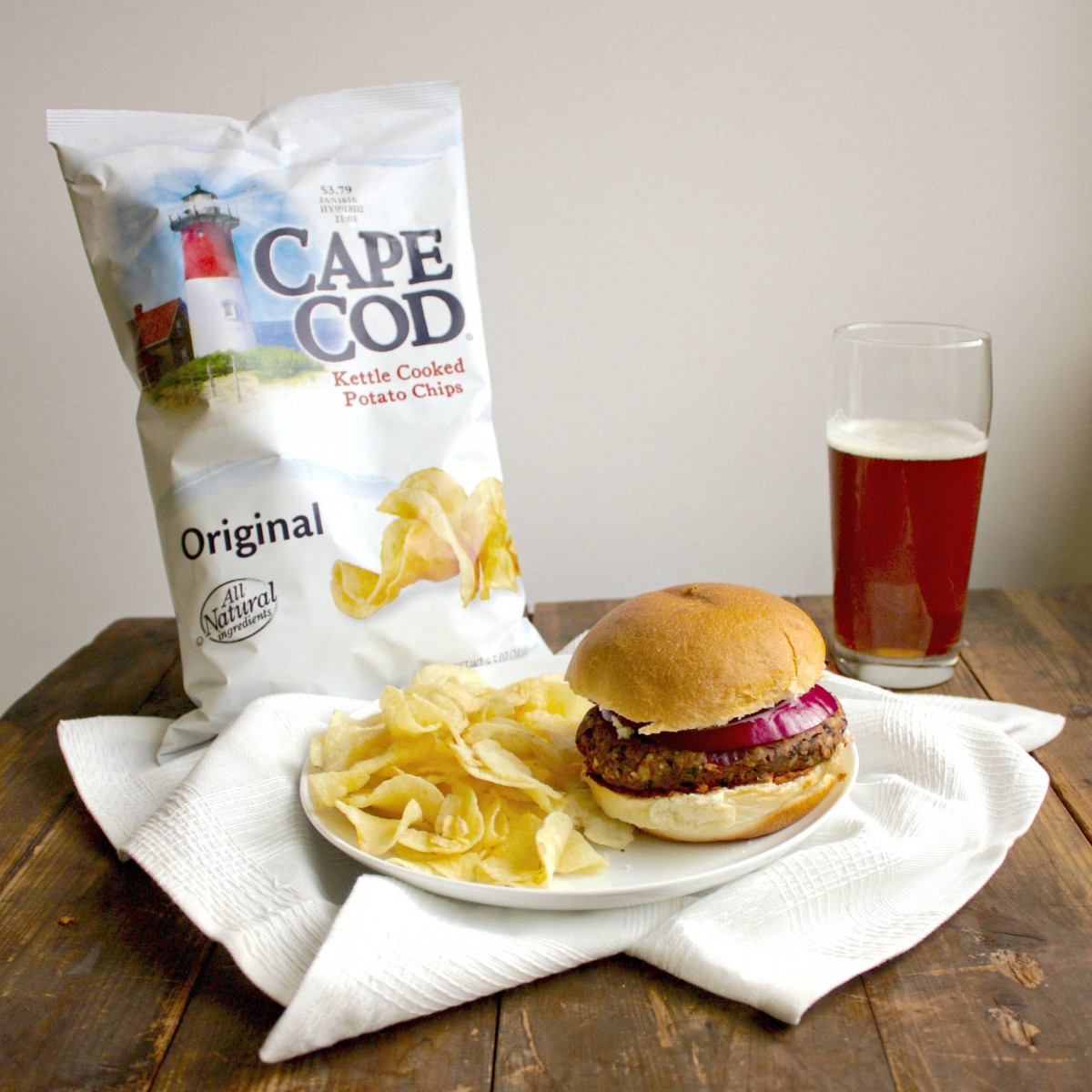 The next time you find yourself in need of a tailgate recipe that will really impress whip up this veggie burger recipe, pull out a few bags of Cape Cod chips, and open a few cold ones. They'll be in for a treat!
Questions of the Day: Are you a fan of veggie burgers? Have you had Cape Cod chips? What's your favorite potato chip flavor?
This is a sponsored post written by me on behalf of Cape Cod® Potato Chips.