I love oatmeal. It's crazy to think that something I eat and crave daily seemed gross and foreign to me until I was 18. I just didn't understand why people would want to eat mush for breakfast. And then I stopped judging it and actually tried it and the rest is now history. Typically I make oats with water in the microwave. It's easy and quick and in minutes I can have it packed up and be out the door. Oats taste perfectly fine that way, but when I really want to enjoy a good bowl of oats I take the time to make them on the stove and use milk to make them thick and creamy.
The cold weather has me craving comfort flavors and my favorite by far is pumpkin.  It tastes great in coffee, in cake, in pancakes, and in oats. It also tastes good with other flavors, like nuts, and Nutella, and milk/almondmilk. I've been on a huge Silk kick lately ever since I made that cookie butter smoothie. A glass of their PureAlmond Unsweetened Vanilla has a great taste, only 30 calories, and is packed with essential vitamins like B12 and D that my body needs. The subtle vanilla taste also goes great with all the earthy flavors of this recipe. This Nutty Pumpkin Oat recipe is a great one. It's easy, it's healthy, and it's absolutely delicious.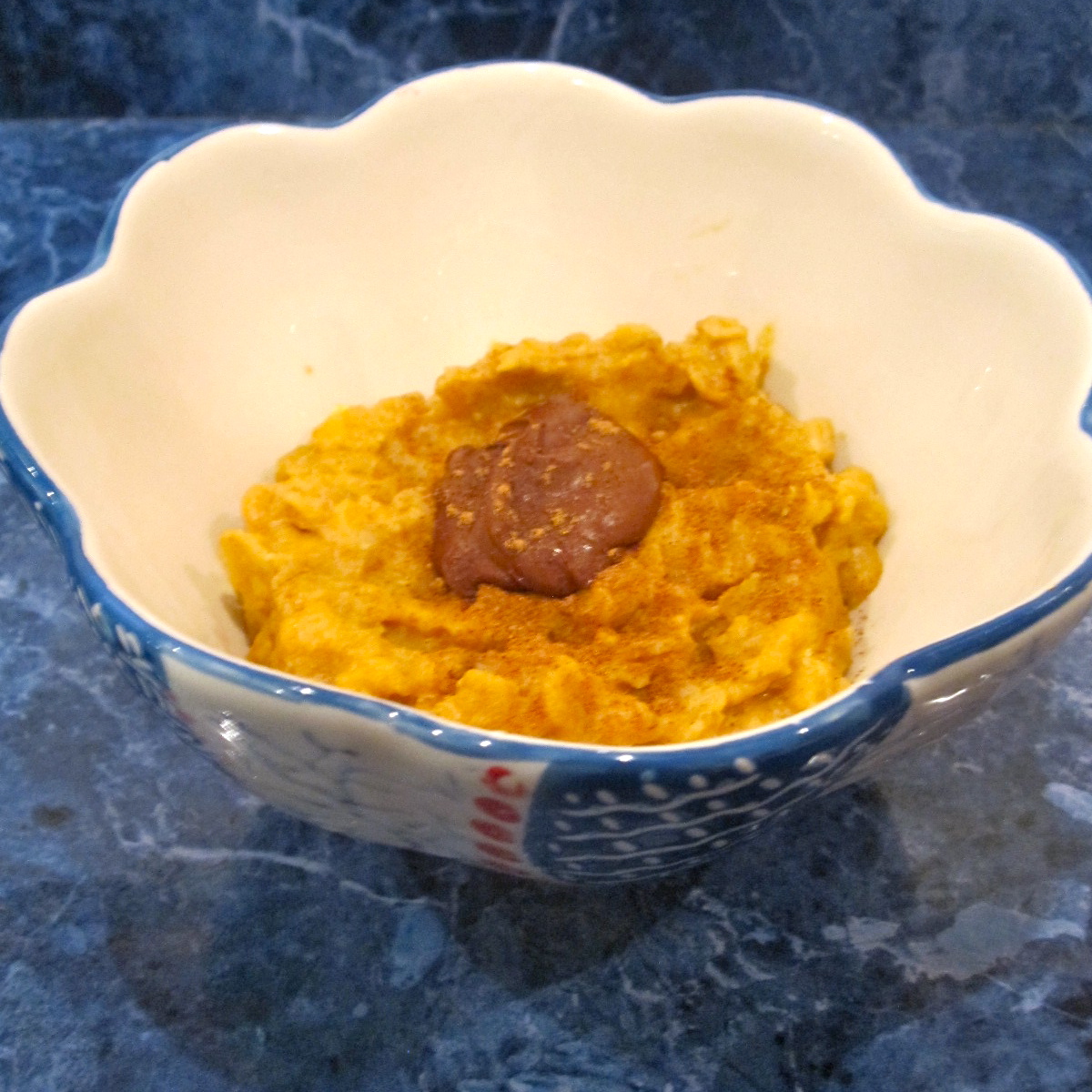 Nutty Pumpkin Oats
½ cup old fashioned oatmeal
1 cup milk/almondmilk
2 tablespoons pumpkin
1 tablespoon chopped walnuts
1 tablespoon Nutella
Dash of pumpkin pie spice
Add milk/almondmilk to a pan and heat until it begins to boil.

Stir in the oats.

Cook for one minute over medium heat.

Add in pumpkin and walnuts.

Stirring occasionally let cook until the oatmeal has reached your preferred consistency. (I love mine super thick.)

Remove from heat and spoon into a bowl.

Top with Nutella and pumpkin spice.

Enjoy!
These oats are rich and creamy but good for you and filling at the same time. They're also super tasty. I hope you enjoy them!
Question of the Day: What is your favorite oats combination?