We live in an age of non-stop busy. It's almost expected that when you ask someone how they are doing they answer, "Good. Busy."
I get it. Like a lot of people I like being busy. It gives me a sense of purpose, makes me feel productive, and can even be fun.
Something I've had to learn the hard way though is that while busy can be great, non-stop busyness is a one way ticket to burnout. You can only burn the candle at both ends for so long before it's going to extinguish. When you start to feel that all-encompassing sense of overwhelm hit you, it's important to press pause. Here are 8 tips to keep you from burning out.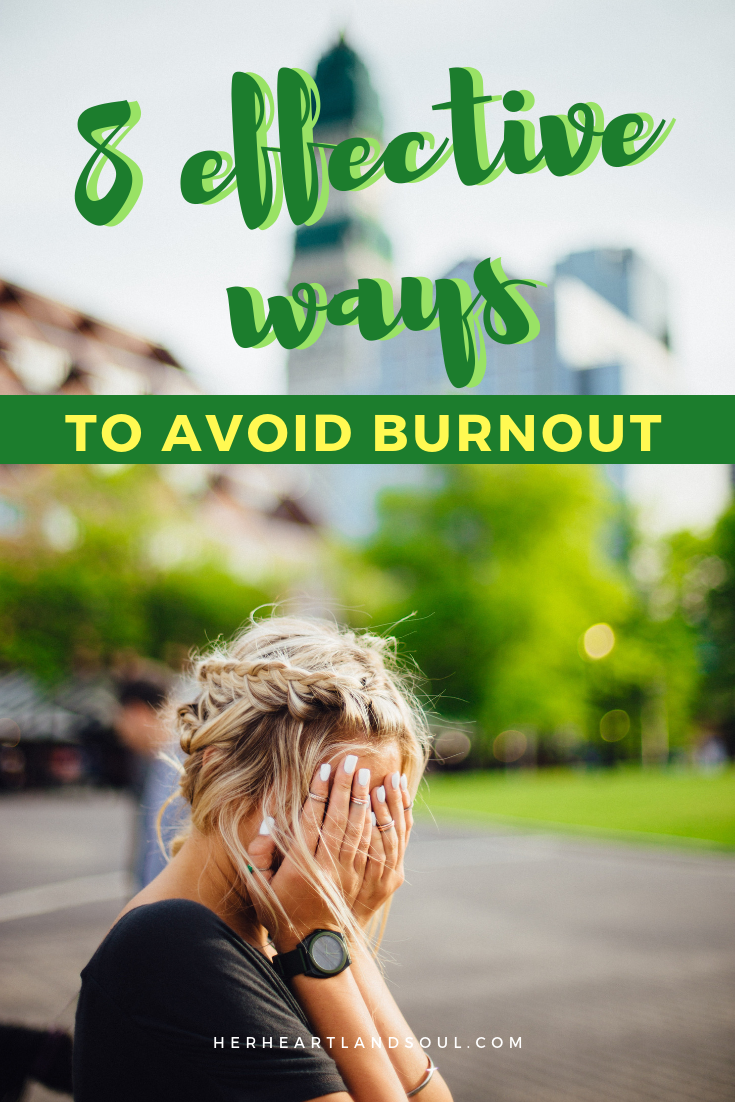 How to avoid burnout
1. Prioritize sleep
Sleep is truly a miracle drug. Unfortunately, it's also the first thing to go when we're feeling overwhelmed as we want to use all of the hours to do all of the things. When we sleep, our body and mind are refreshed. There's actually a process when you sleep where your brain archives your memories for the day and helps put them into perspective and into context within the rest of your life. It's why "sleeping on it" is so important. More sleep = less stress. Do it.
2. Take a tech detox
I live and breathe technology. I also am acutely aware of how addicted I am to it and how negative that addiction can be. In addition to the constant notifications and reminders adding to our feeling of overwhelm and decreasing productivity, the bright lights from our devices interfere with our brains as we're winding down for the night and trying to get a good nights sleep. Challenge yourself to do a 24 hour device detox. It is so hard but so worth it. Josh and I did an 11 day digital detox vacation and I have never felt so renewed. We also had the best conversations.
3. Meditate
I am a big believer in meditation. What is good for the mind is good for the body and meditation is seriously good for the mind. Meditation can take as little or as much time as you can give it, and really helps center and calm the brain. While it might not seem like it's doing much at first, it's important to remain consistent as it really does make a difference. I personally get that zen feeling after I meditate that feels like when you're getting a massage and start to drift off and then wake up and are so blissed out. It's the best.
4. Take time to do something you love
While it can seem daunting to add one more thing to your to-do list when it feels like your current list is a weight bearing down on your shoulders, it's important to have fun and take time for yourself! Go watch a movie, read a book, check out an art exhibit, or meet up with friends for brunch. No action is too silly or small. When I feel like I've been in "serious Erin" mode for too long, I reach for a romance book. Whatever works!
5. Get physical
Exercise high is a real thing my friends. Bodies are made to move and we feel so much better when they do. Find a type of movement that you love and go do it. I'm all about Orange Theory, Soul Cycle, and Zumba. It's amazing what a boost to mental clarity a workout can bring.
6. List out your to-dos
"What is measured is managed" is one of the most true statements in life. When I don't have a to-do list my mind is whirling with panic and worry for of all the things I am forgetting to do and all the balls I must be dropping. Make a list, check it twice, and feel like a badass when you get to check a to-do item off your list. The to-do's are never as overwhelming as they seem in your head and writing it all down really helps.
7. Get outside
At the end of the day, we ain't nothing but mammals baby. And mammals are made to spend time out in nature. Go for a trail run. Walk barefoot in the sand. Take a book and sit outside under a tree. Breathe in the air and remember that at the end of the day you're one of eight billion humans calling this giant rock known as Earth home as it moves through the universe. If that doesn't put a bad day into perspective I don't know what will.
8. Love on some animals
Because they are cute and fluffy and most days I like them more than humans. 😉 They also help reduce stress and provide us with an amazing sense of purpose. It's hard to feel bad when I have a purring kitty on my lap.
Questions of the Day: Do you find yourself in a constant state of busy? How do you keep burnout at bay?