Something I have been really wanting to do lately is step up my fashion game. I have a closet full of clothes I love and a drawer full of designer denim that is truly drool worthy. (The State College T.J. Maxx has high fashion brands for rock bottom prices.)
The problem with these awesome clothes? I can't fit any of them. So since last winter I have been slowly wearing less and less of my closet until I am now down to a few items that I rotate through throughout the week.
Last winter I broke down and bought a pair of jeans when none of my old ones fit me any more. It's now the only pair of jeans I can wear.
While I'm not getting rid of my old clothes I'm also sick of torturing myself with a closet full of clothes I can't wear. So I have decided to invest in some new pieces for fall. They're all in sizes that will fit me and will hopefully help me step up my game for fall. While online shopping I came across a lot of cute pieces and thought I would share my fall fashion picks with you. I hope a piece or two catches your eye! 😀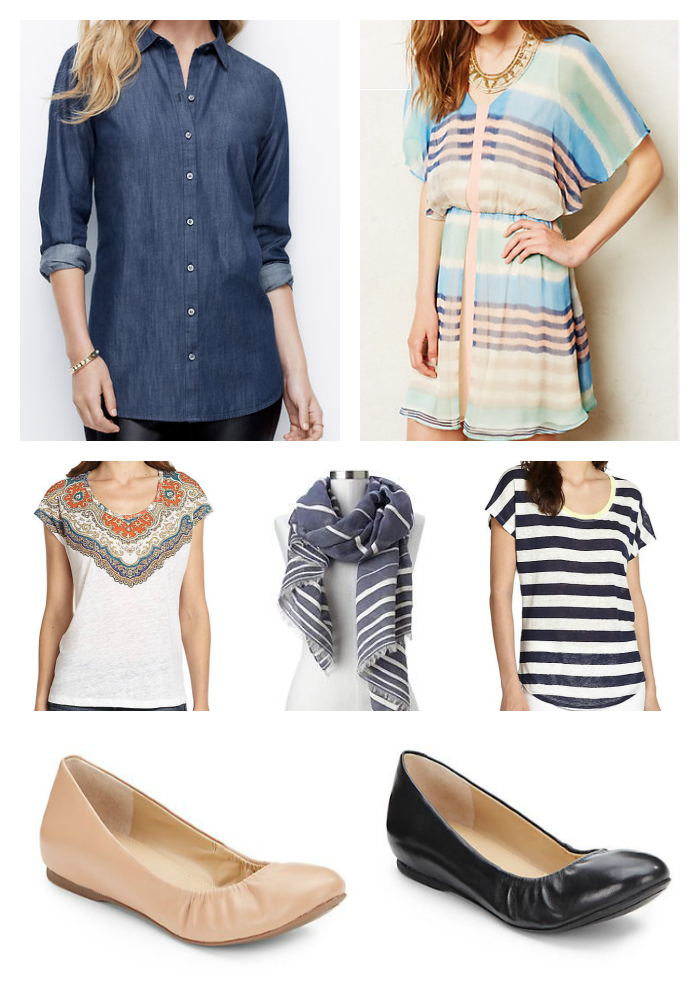 Chambray Shirt. Flowy Dress. Printed Tee. Striped Scarf. Striped Tee. Ballet Flats.
The Saks Blue ballet flats are my tried and true shoes. They're on my feet nearly every day and are so incredibly comfy. They also have a hidden inch wedge in the heel. After living in these shoes for the last few months they're starting to show their age. I just went ahead and ordered a new pair in both colors. I will keep ordering these shoes as long as they keep making them.
The flowy dress is on sale at Anthropologie and is the same shape as the one I picked up for my Honeymoon in Cancun. It is so flattering on pear shapes like myself. I know this isn't really a fall pick but I'm so tempted to pick this up to have in my closet year round.
I love chambray but will not do double denim. I think this shirt is so cute but wish it were longer so I could wear it with tights. I'm hesitant to buy this because I don't know what pants I would wear with it. Suggestions?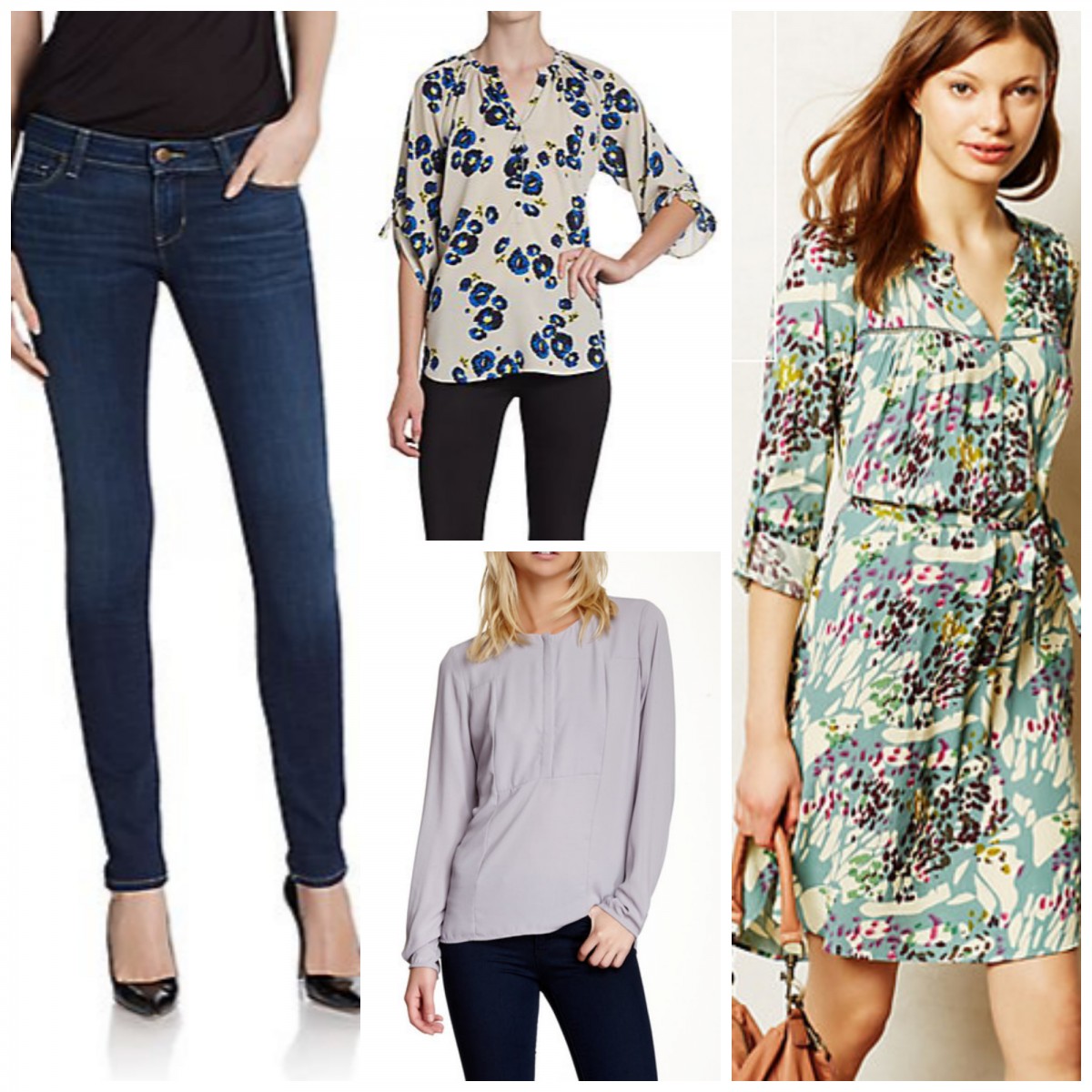 Skinny Jeans. Floral Blouse. Grey Blouse. Wanderlust Dress.
I'm not ready to splurge on too many pairs of jeans just yet but I did pick up another pair in my current size. On sale for $35 they were a must buy.
How cute is that waderlust dress? I'm already picturing myself running around town in it and my nude ballet flats.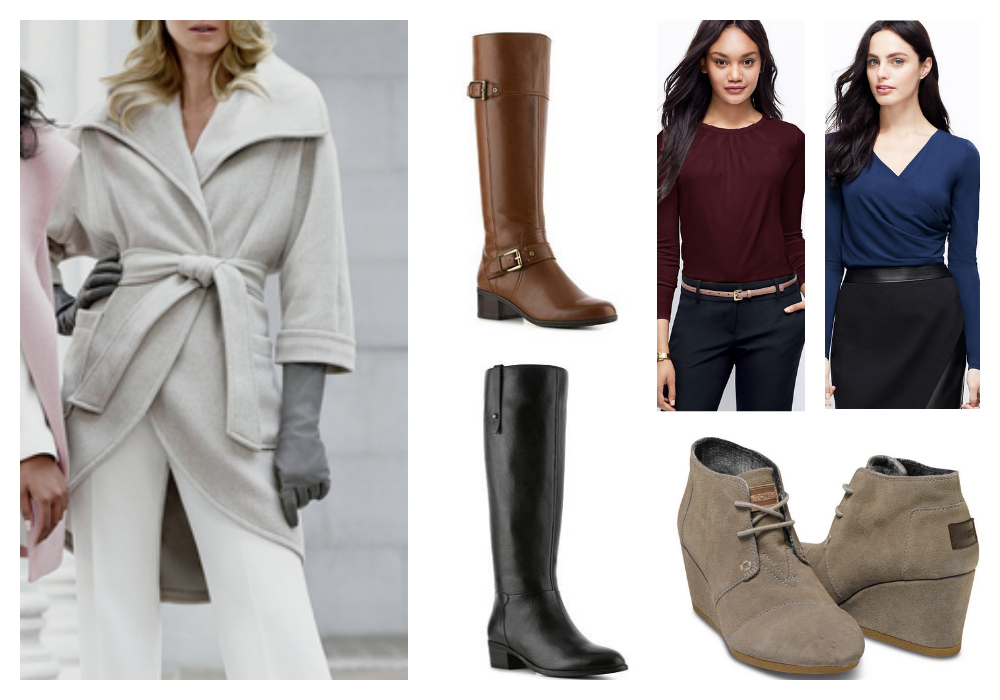 The Limited Scandal Coat. Brown Riding Boots. Black Riding Boots. Pleated Top. V-Neck Top. Suede Wedges.
Scandal comes back in a little less than a week. I can hardly wait. When I heard Scandal was coming out with a collection at The Limited I knew I had to check it out. Olivia Pope always looks fabulous. Unfortunately the collection isn't available yet, but I am loving this coat from the ads. Fingers crossed the price point isn't ridiculous and it doesn't sell out before they start offering discounts on it.
I love boots. What I do not love is boot shopping. My big fat calves require wide calf sizes. These cute options from DSW fit the bill nicely.
I saw a girl wearing Toms Wedge Boots the other day and I instantly fell in love. I have a credit to their site and am totally buying this pair. Love love love.
Questions of the Day: Do you like my fall fashion picks? How would you describe your style? What is one piece you're investing in this season? Are you a bootcut or a skinny jean kind of girl?