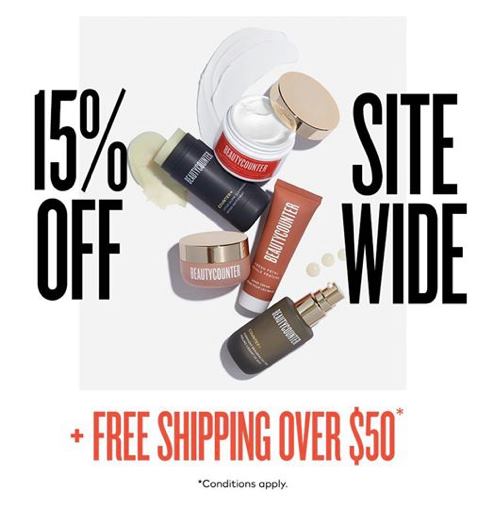 Black Friday for beauty products starts NOW!
Enjoy 15% OFF SITEWIDE at Beautycounter from Friday, November 22 through Sunday, December 1. PLUS receive FREE ground shipping on all orders over $50 USD/$65 CAD!!! This includes all holiday sets (while supplies last!).
I've shared on here about why clean beauty matters to me, and how you can start your own side-hustle and become a Beautycounter consultant. Today I wanted to share all the amazing Black Friday deals you can take advantage of today. Shop my very favorite beauty, cosmetics, and skincare products, all on sale!
My number one don't miss gift set for yourself or a friend is the Glow Getters Trio!! Get the resurfacing peel (a must!), our AMAZING Illuminating Countermatch Lotion (daily hydration with glow) and a Rose Glow Highlighter that I use as blush and on my lips!
---
My Three Everyday Favorites To Stock Up On:
Formulated with 15 botanically-derived acids, this leave-on AHA/BHA peel improves skin texture and minimizes the appearance of pores, fine lines, and dark spots without irritation or over-drying, revealing brighter, more youthful-looking complexion. And who doesn't want that?!? Most of my clients report seeing an improvement in their skin in just one use! Best part? It's super easy to use, just apply, go to bed and let the magic happen while you sleep! KEEP READING to see how you can get this for FREE!
Increases skin firmness and elasticity, while reducing the appearance of fine lines and wrinkles. Formulated with a powerful blend of peptides, amino acids, and our Retinatural Complex, it helps enhance the skin's moisture barrier function to optimize hydration for a radiant complexion. If you want something that works like retinol without the irritation and redness, this is your item!!
My original gateway product and the one I still recommend to EVERYONE! I don't like to look too done up, and Dew Skin is the perfect blend of minimal coverage with skin protection. It has my daily SPF in it and makes my skin look just a little bit fresher. Ask for help on which shade if you need it! I'm #1.
My Holiday Must Haves:
Do these remind you of the Lancome Juicy Tubes like they do me? I FINALLY tried these last week and I love them!! Not sticky, a teeny bit of color and they taste so yummy due to the stevia! The lightweight texture delivers an ultra glossy hint of color. Each of the five shades has its own unique scent experience: Raspberry, Butterscotch, Orange Cream, Peppermint and Sorbet! These are a must for all the young girls in your life, or for those of us that are just young at heart!! ($39 pack of 5)
We finally have a lip protector that's a stick AND a lip scrub for my sad, chapped winter lips!! I have been waiting forever for this and the formula helps reduce fine lines…yes please! The lip scrub. It exfoliates your lips with organic sugar – even Josh likes it! The gloss in this set also moisturizes and nourishes your lips. You can never have enough lip products! ($49 for 3 full size products)
My go-to gifts every year. I buy this and split them up to add on to gifts. I love to tie them to the bow as a fun surprise! And who doesn't love lip gloss? Ours aren't sticky and add the perfect amount of color – even the ones that seem bold are super wearable! ($89 for 10 lip glosses)
Includes the brand new Louts Glow Cleansing Stick and three other high performance treatments that are always our best sellers. This new stick is a hybrid of our best selling Cleansing Balm and Countertime Cleansing Oil. It moisturizes and brightens the skin and is perfect for travel!! Set also includes the best selling Overnight Resurfacing Peel, Charcoal Mask and Allure's Best of Beauty winning Brightening Oil. ($89 – This is steal of a deal for these 4 products!! The peel alone is $63!)
This high-performing, nutrient-rich eye-brightening duo is the ultimate defense against fatigued holiday eyes. Full size Countertime Ultra Renewal Eye Cream (includes retinatural, our safe, plant-based alternative to retinol) is designed to revitalize the eye area for a youthful, brighter appearance and our Eye Revive Cooling Masks provide instant hydration, help reduce the appearance of puffiness, and refresh tired skin. This set is a must for holiday party and sugar season! The eye cream works wonders! ($89)
Hand cream is like chapstick, you need a tube everywhere! And these are the perfect gift that everyone wants but hates to spend money on themselves – so perfect for stockings or hostess gifts! These rich creams provide non greasy hydration to protect your hands all winter long. Scents: Fresh Petal, Mandarin Violet and Soft Neroli. ($34)
This is what I'm gifting my mother-in-law this year! A luxury spa set with the most incredible scent! Refresh your skin while you awake your senses with this lemongrass scented set of sugar scrub and body butter. These are perfect self-care essentials for anyone (including yourself) that needs a little pampering. It smells amazing!! ($49)
---
WANT A FREE OVERNIGHT RESURFACING PEEL?
Are you a Band of Beauty Member yet? If not and If you plan to shop more than once, this is a must!! BOB is our perks program with no strings attached! No auto ship. Not catches. It's like Amazon Prime + you get credits back each time you shop!
Cost: $29 for the year
You receive:
FREE Overnight Resurfacing Peel ($63 value) with any purchase over $50
FREE Shipping all year on all orders over $100
10% back in Product Credit on every order
Don't forget to add it to your cart!
We have so much purchasing power this time of year, and considering Beautycounter or another B Corporation makes a big difference. Change through commerce is a powerful tool. Choose safer this holiday season and support the movement for better beauty! 
Questions of the Day: Do you use clean beauty? What is on your wish list this year?